Addison (San Diego, CA) [2]
Addison Restaurant at Fairmont Grand Del Mar
5200 Grand Del Mar Way, San Diego, CA 92130
858.314.1900
www.addisondelmar.com
Sat 08/05/2023, 07:00p-11:05p

Longtime readers may remember that I last visited
Addison
a decade ago. Helmed by Executive Chef William Bradley, the place opened back in 2006, and soon established itself as
the
fine dining spot in the San Diego area. Addison's repute has only grown over the years as it landed its first Michelin star in 2019, its second in 2021, and its third in 2022, becoming the first establishment in Southern California to achieve the feat. Given the restaurant's newfound acclaim, it felt appropriate to pay the place a revisit, and a friend's birthday dinner served as a fitting opportunity to do so.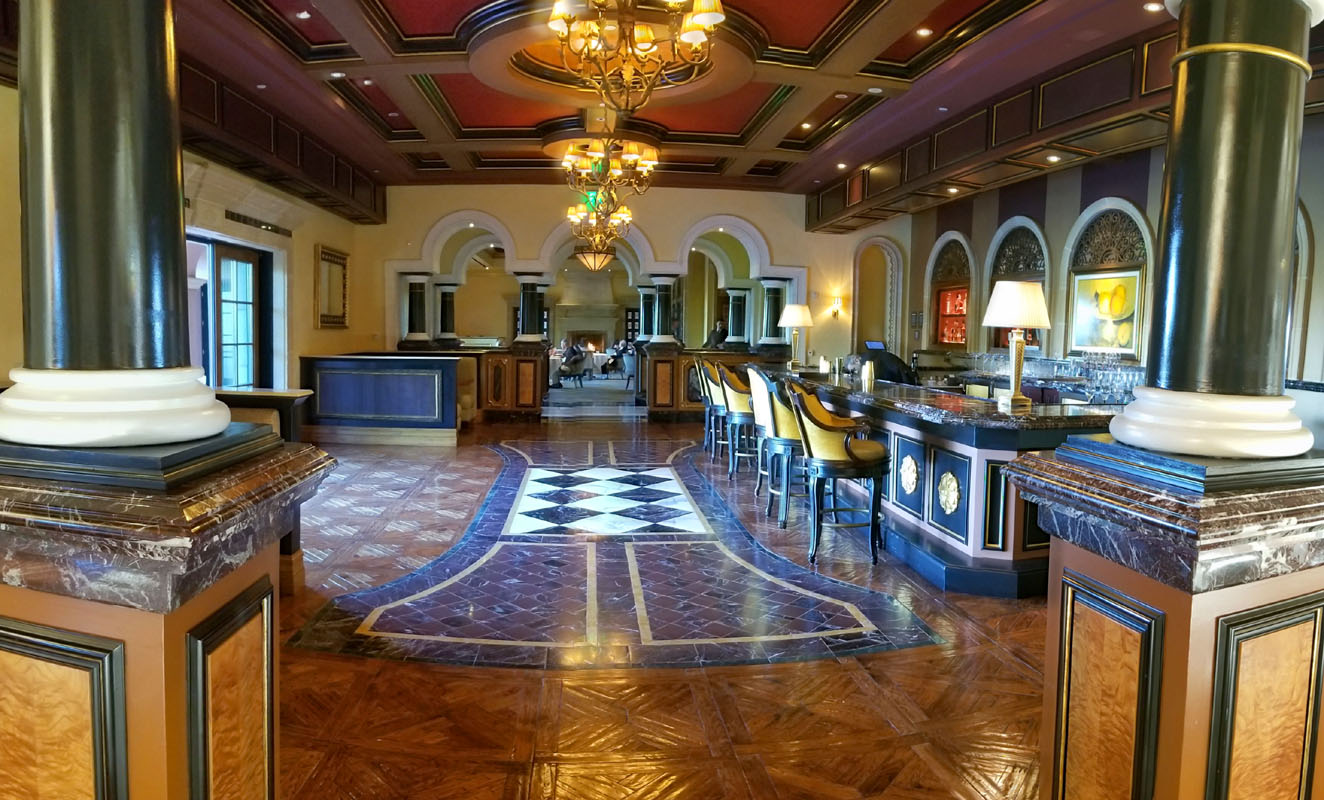 Shown above is Addison's bar area, photographed prior to our meal's start.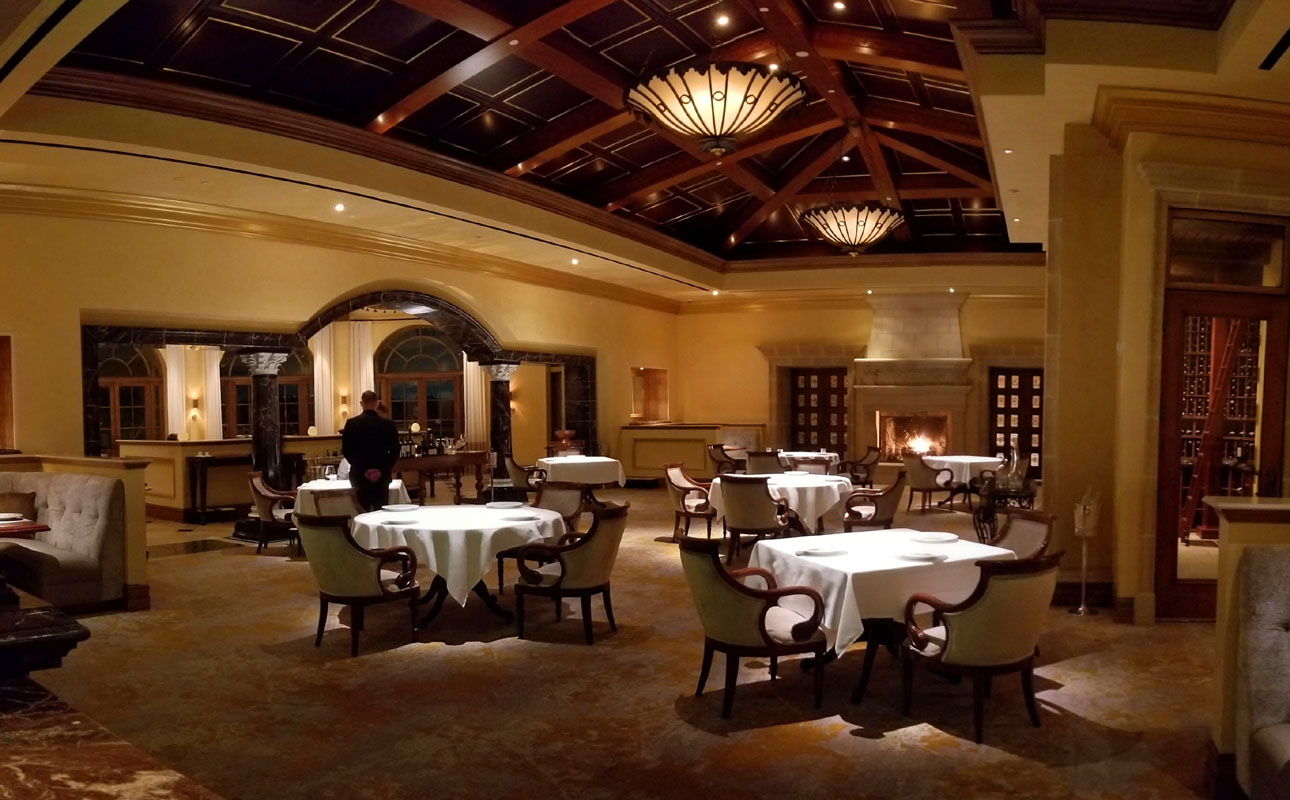 And here we see the main dining room at the end of our experience. The decor basically hasn't changed much at all since my last visit, and that's not necessarily a bad thing.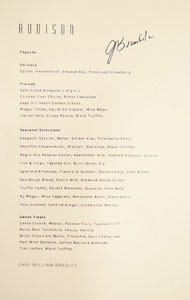 Addison offers a roughly 20 course Californian tasting menu priced at $365 a head. However, there was also a fancier "Summer Series" option at a grimace-inducing $840 per person that we also tried (shown above); differences between the two menus are specified below. Click for a larger version.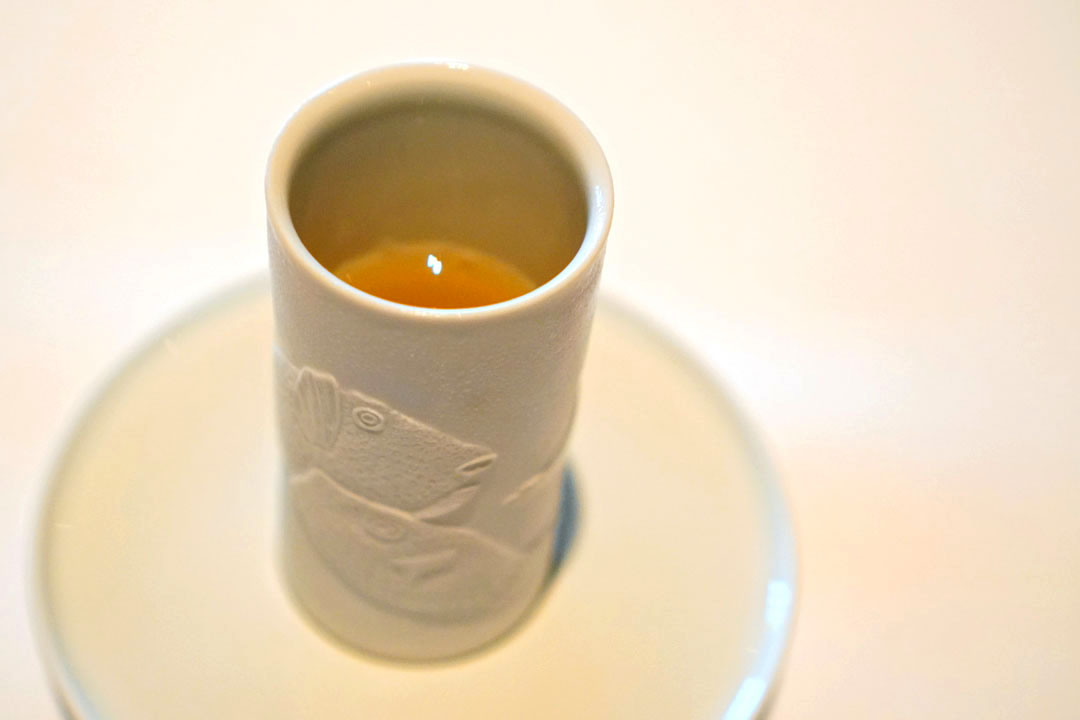 1: Tepache
Our meal commenced with a welcome beverage that was ostensibly inspired by a recipe from the family of new Chef de Cuisine Jonathan Brambila, who took over from Stefani De Palma at the start of the year. A take on tepache incorporating pineapple, piloncillo, clove, and anise, the drink went in a fresh, funky, fruity direction, with a dash of sweet spices and a backbone of citric astringency.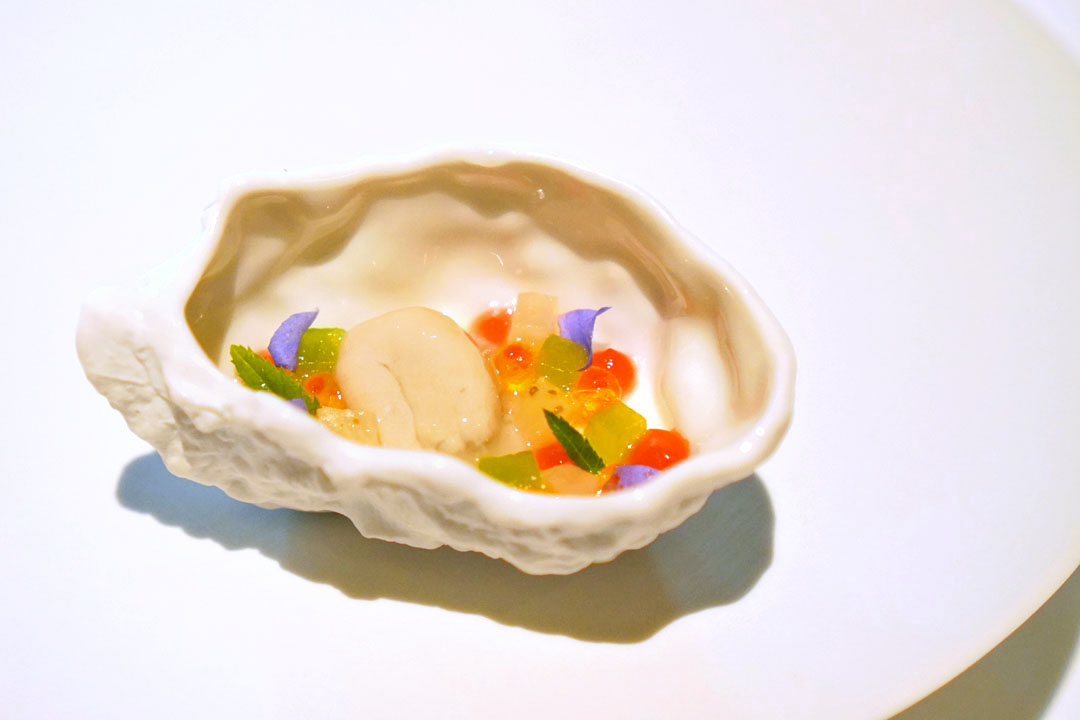 2: Oyster, Horseradish, Smoked Roe, Preserved Strawberry
The first of several amuse-bouches was a definite winner, and really set the stage for what was to come. You got the refined brine that you'd expect from the oyster, boosted by smoky ikura, but the crux here was how the dish was able to convey traditional elements of horseradish and mignonette in such a new, complementary manner, while lighter, vegetal flavors uplifted the bite even further.
Yuzu [$25.00]
| Sesame, Egg White, Whisky
Beverage-wise, we started with a round of cocktails, which are the responsibility of Bar Manager Ian Ward. The sweet, fragrant nature of the drink's namesake citrus was well-expressed, set off by a ginger-y pungency while the frothy egg whites toned thing down. This was quite tasty, though I wouldn't have minded more sesame.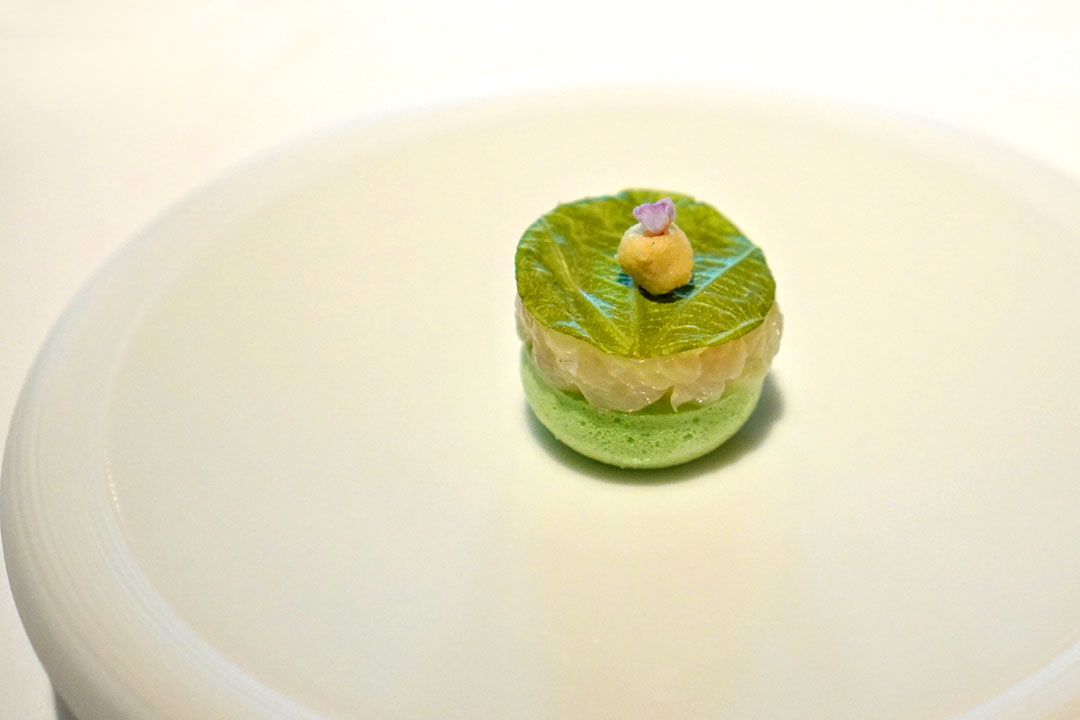 3: Sake Cured Kanpachi « Nigiri »
A thoroughly reworked piece of
nigirizushi
comprised cured amberjack, dashi meringue, shiso leaf, and wasabi. I appreciated the sophisticated manner in which the clean, saline taste of the fish was presented, set against refreshing notes of shiso and the palpable heat of wasabi, all while the meringue moderated everything with its sweetness.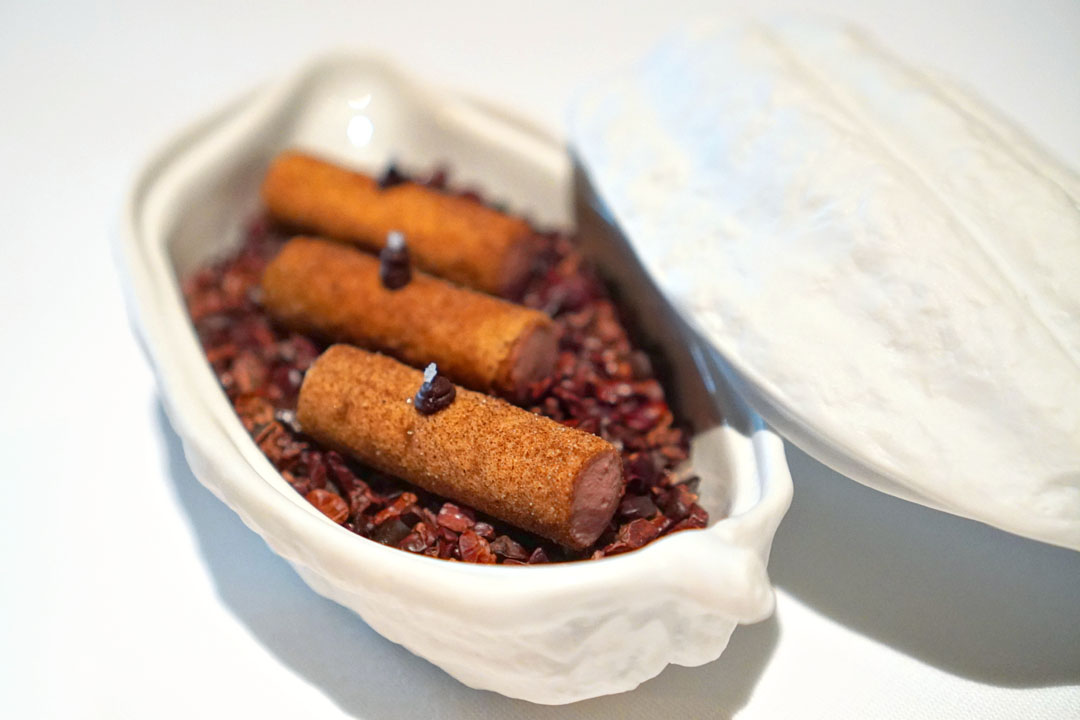 4: Chicken Liver Churro, Bitter Chocolate
These reimagined churros were excellent, and represented the best chicken liver I've had all year. The foie de poulet showed off plenty of earthiness and umami, but was perfectly offset by the one-two, sweet-spicy punch of toasted cinnamon and bitter cocoa. I was a big fan of those delicately crisp, brittle feuille de brick exteriors, too.
Chai [$25.00]
| Saffron, Egg White, Gin
This was my choice of cocktail, and it ended up being the favorite of the three we tried. I was impressed by the drink's tea-like aromatics and zippy, bittersweet spices, all punctuated by the grassy warmth of saffron.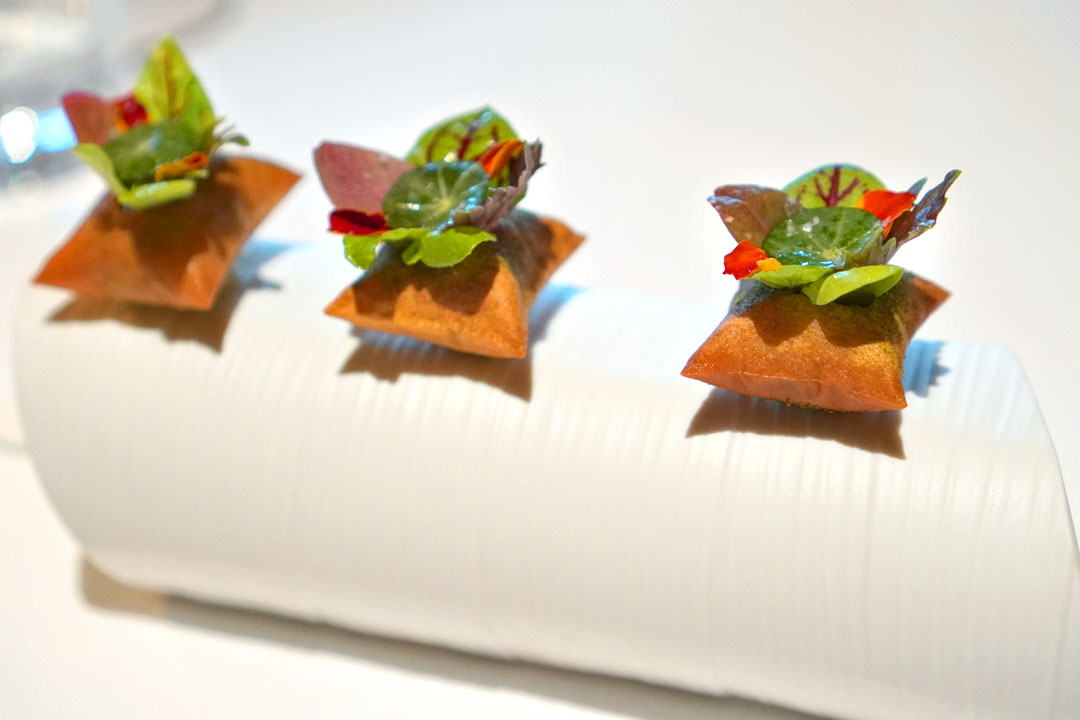 5: Sage Hill Ranch Garden Greens
Next came a refreshing bite of greens (I think I tasted basil in there) from Sage Hill Ranch Gardens out in Escondido, set over an impossibly light, shattery puffed dough cracker. Extra virgin olive oil helped to tie everything together, and I even detected a smidge of sweet spice on the finish.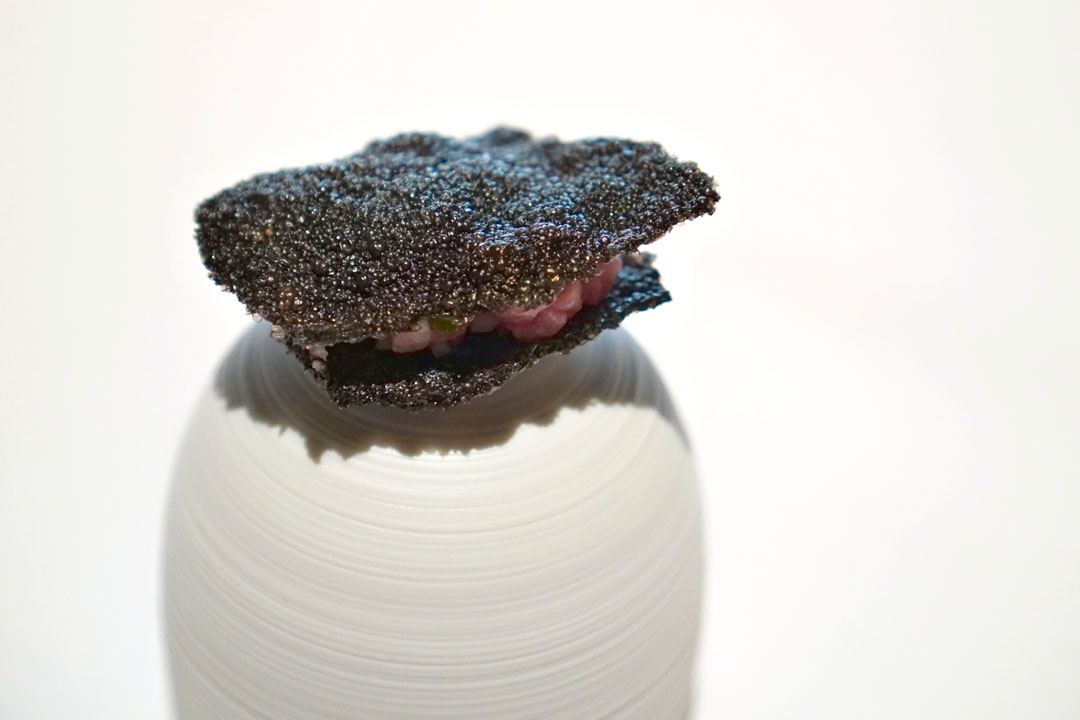 6: Wagyu Tartar, Squid Ink Cracker, Miso Mayo
And now we come to an extra course from the Summer Series menu. This was a particularly umami-forward example of A5 Japanese beef, one further boosted by the oomph of miso, the whole thing sandwiched in an airy, frangible cracker shell.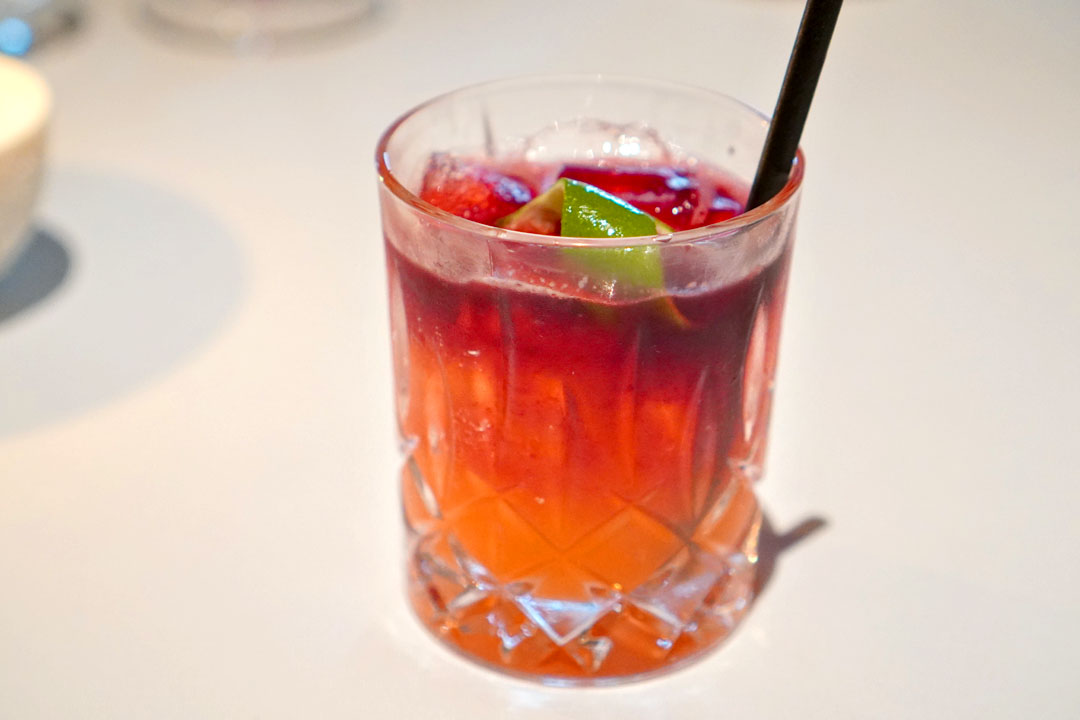 Strawberry [$25.00]
| Rhubarb, Almond, Rum
Our third and final cocktail was just teeming with rich, deep, floral berry flavors, while the heft of the rum barely peeked through. I was actually reminded of a cherry Icee.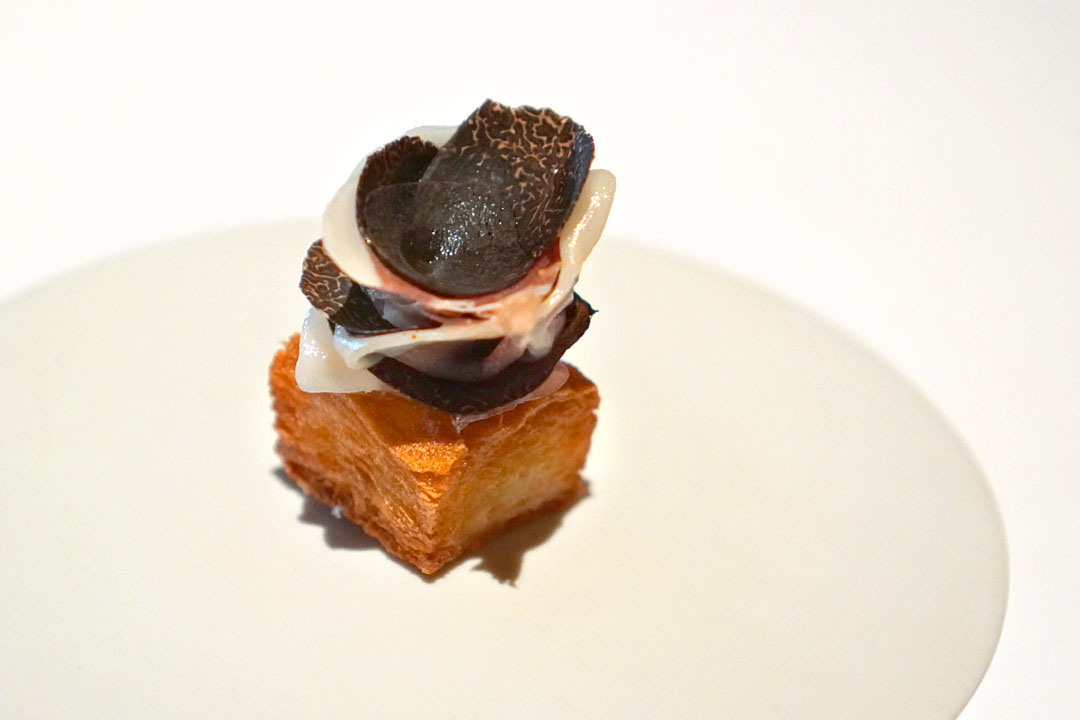 7: Iberian Ham, Crispy Potato, Black Truffles
The last amuse of the quintet was another favorite, and was composed of a wonderfully crispy, salty, potato rösti base, atop pepper jam, stacked with fatty cuts of Cinco Jotas jamón ibérico, Australian black truffle, and espelette. I mean, it's hard to go wrong with this, since that three-way of potato-ham-truffle is a winning combination if there ever was one--simply delicious. Do note, however, that the regular version of this course lacked the truffle.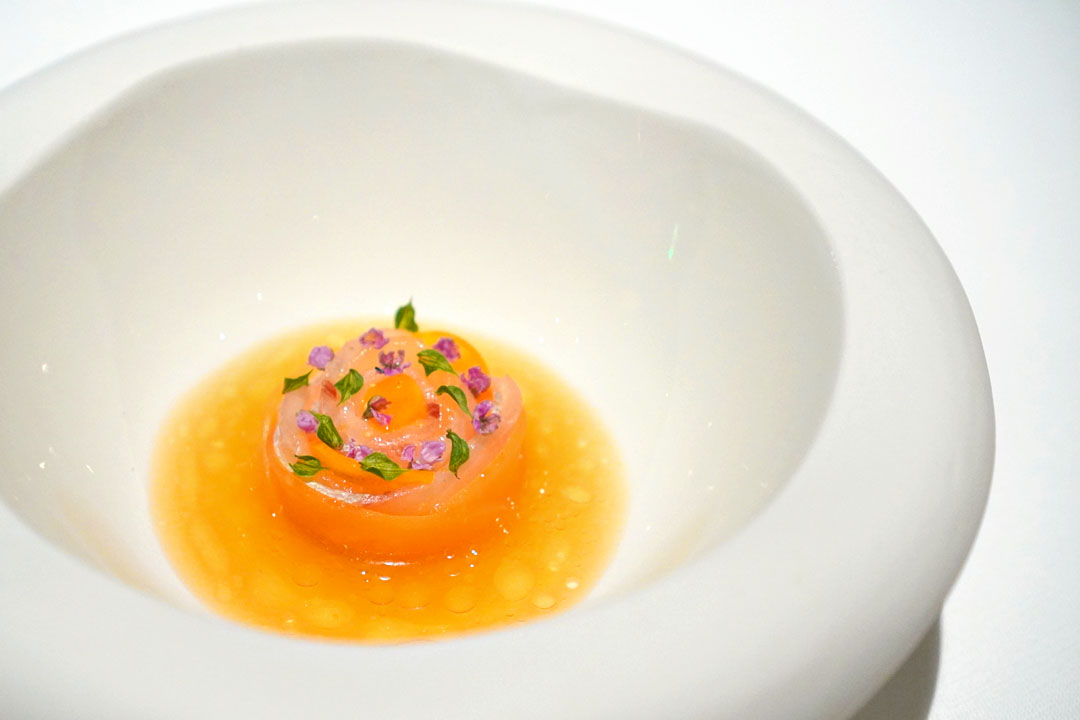 8: Kanpachi Sashimi, Melon, Golden Kiwi, Pichuberry-Ponzu
For our first proper course, we were served a rose of cured kampachi and summer melon, crowned with shiso flowers, and dressed in a Cape gooseberry-enriched ponzu. We were instructed to unravel the layers, and were thus able to enjoy the flavors of the fish, enhanced by the sour-n-savory ponzu, while the fruit provided a sweet edge.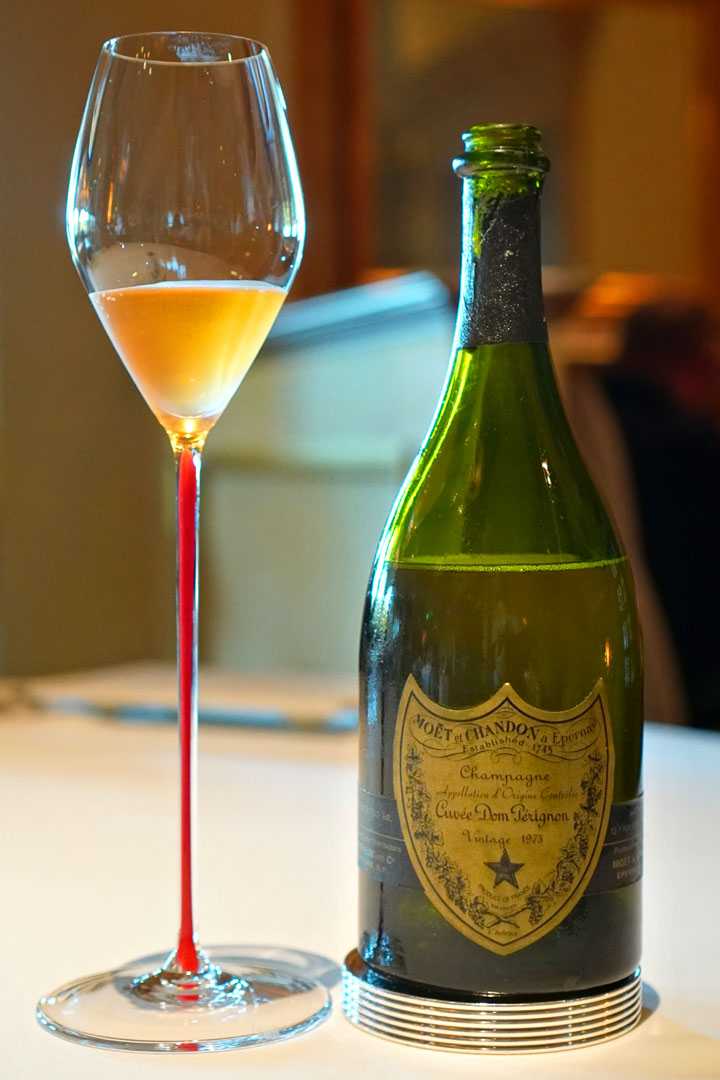 The
1973 Moët & Chandon Champagne Cuvée Dom Pérignon
was a bottle that I'd purchased over a decade ago, and had been cellaring ever since, waiting for it to celebrate its 50th birthday. Well, that five-decade mark was crossed this year, so I figured that it'd be a fitting time to bust it out, and I was not disappointed. I found the bouquet ultra concentrated, with a slight oxidative bent alongside loads of juicy apples and some oaky, nutty nuances. On the palate, I was greeted with ultra-fine bubbles that dissipated quickly, while flavors included caramel, honey, brioche, and ripe orchard fruits, countered by a still-lively acidity and minerality. With some time, I began getting some
suanmei
-esque notes on the nose, and with still more time, I started tasting even more honey and caramel, and the wine became noticeably weightier and darker-toned. I felt that this was pretty much a perfectly matured bottle, one with a good amount of life still left inside of it, and it'd be amazing to revisit the vintage again in a decade's time. In fact, this is likely my wine of the year thus far. Also, I'll mention that corkage was $150, and expert wine service was provided tonight by Sommelier Kyle South.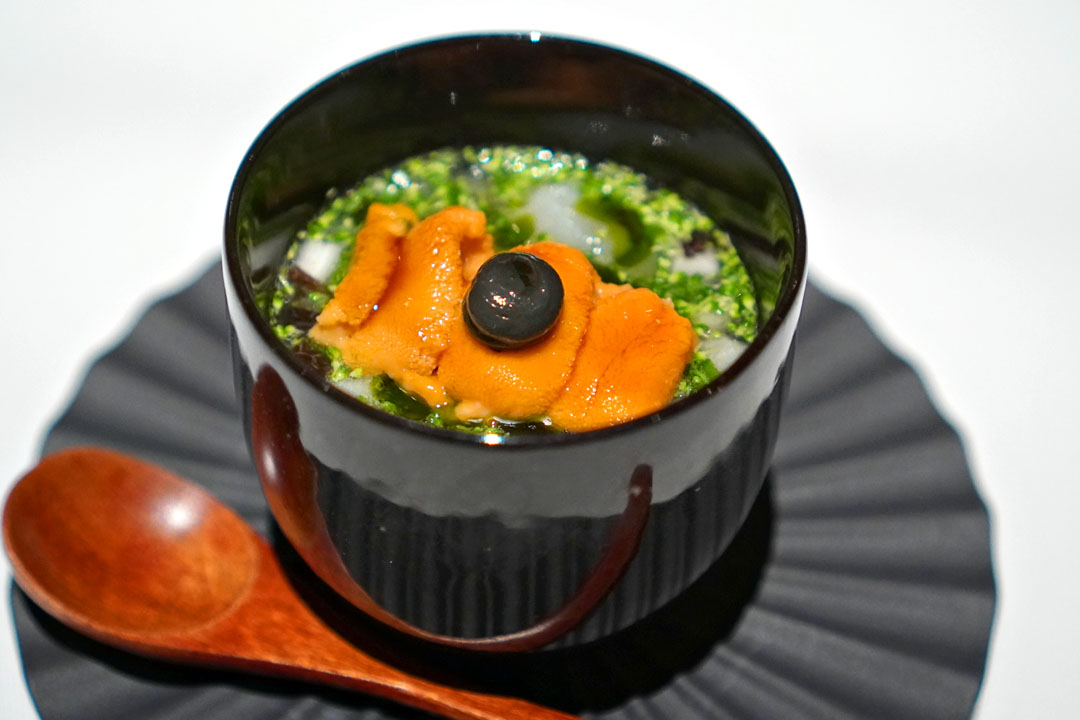 9: Shellfish Chawanmushi, Broccoli, Bok Choy, Black Truffles
I do love a good chawanmushi, and this was a damn good chawanmushi, and one of the best things I've eaten all year. I was impressed by the dish's silky egg base and incorporation of both Hokkaido sea scallop and uni. However, what really took this to the next level was the countervailing crunch and bitterness provided by the broccoli-bok choy duet, which was masterful, and I was further smitten by the enveloping musk from those truffles. This was something that I just wanted to eat a big bowl of. Once again, do note that the regular version of this course lacked the truffle.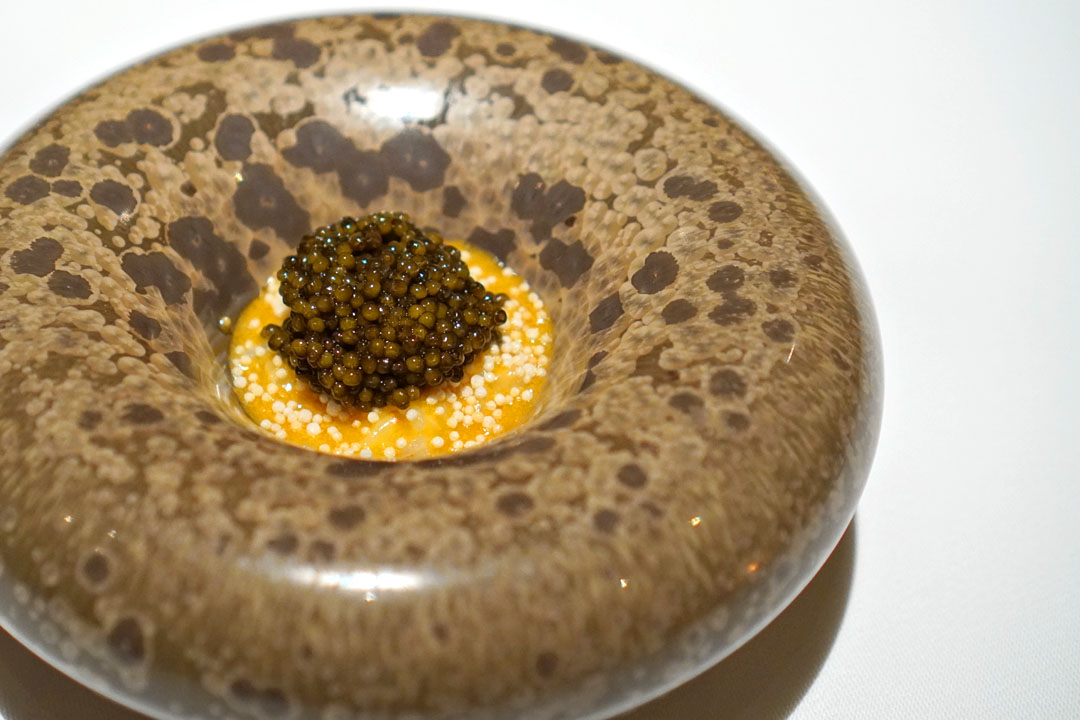 10: Regiis Ova Reserve Caviar, Koshihikari Rice, Smoked Sabayon, Sesame
Up next was another contender for my favorite course of the night. I was enamored with how seamlessly the smoke from the sabayon linked up with the saline characteristics of the caviar. It was super effective, and if that wasn't enough, the sesame contributed a pervasive nuttiness, and I loved the "puffed" rice textures here, too. Super smart, yet cozy, this was something that I could've easily demolished a much larger serving of, and was a marvelous pairing with the Champagne to boot.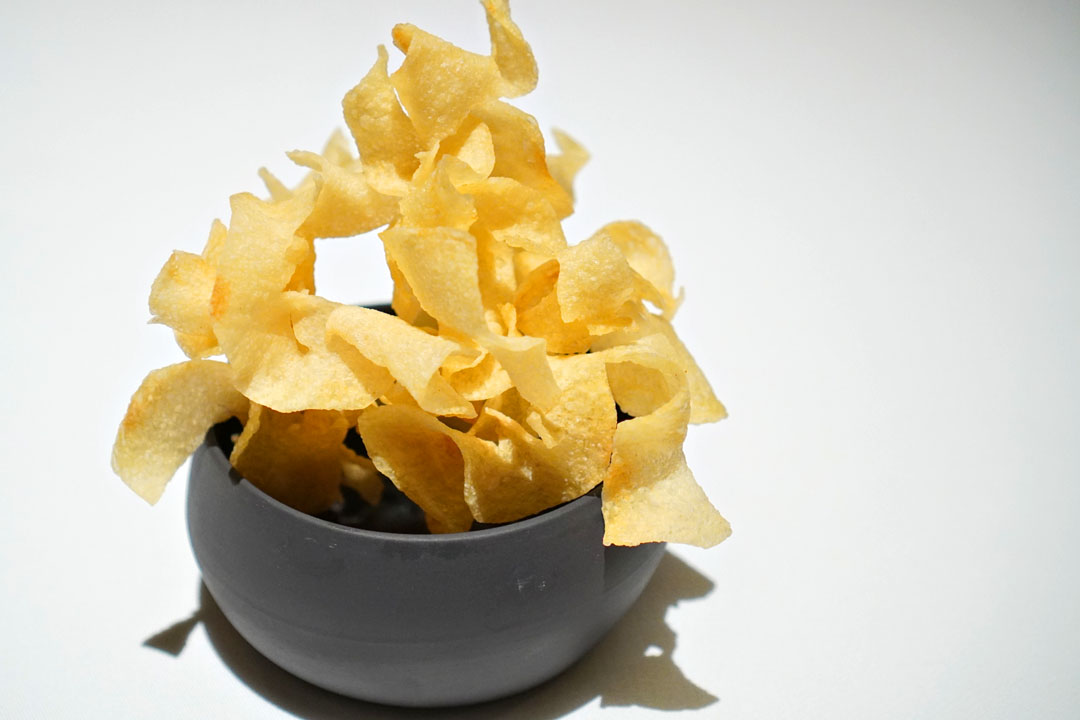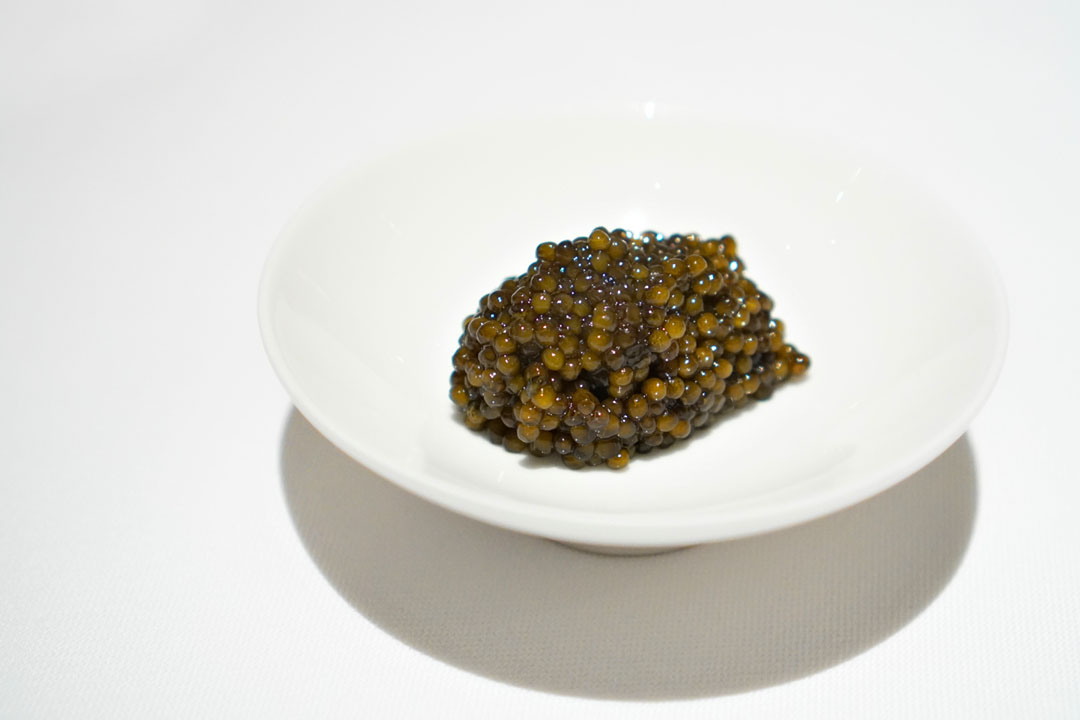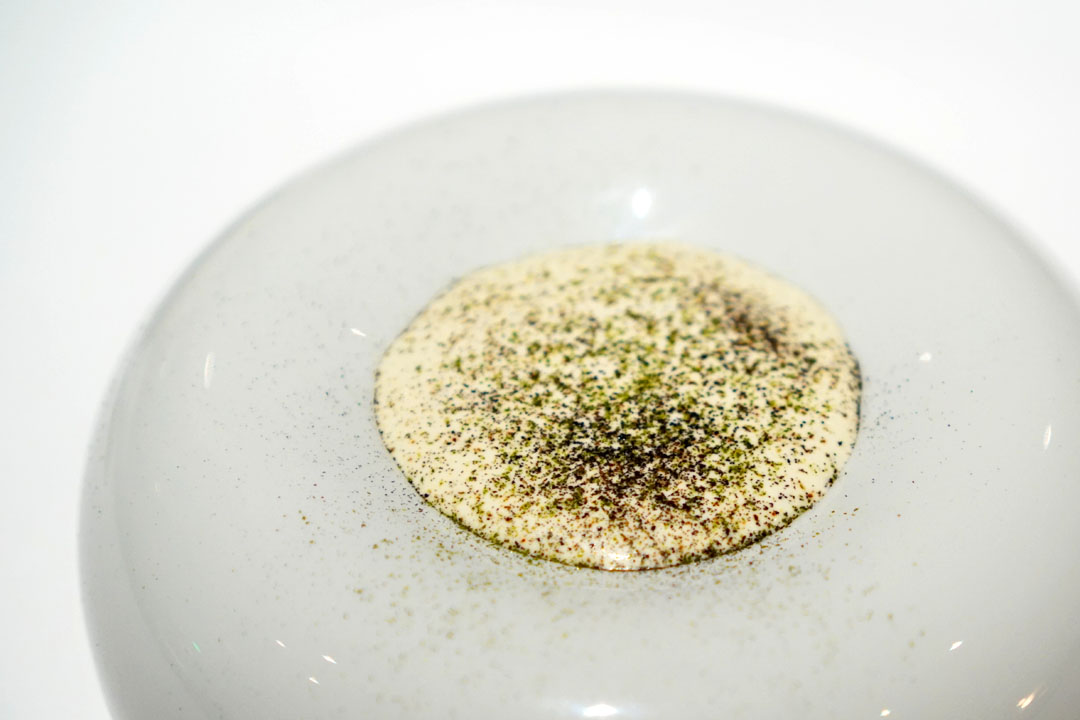 11: Fish & Chips, Toasted Dill, Burnt Onion Dip
This was a fun course. Salted vinegar crisps were a treat texturally, with just the right amount of crunch, and the chips made a whole lot of sense when taken with the refreshingly lactic dip, which was loaded with both deep, smoky Allium flavors and herby dill. The Regiis Ova caviar boosted the salinity factor even further, and the trio of chip-dip-roe was oh-so satisfying, though I do have to point out that the regular version of this course lacked the caviar.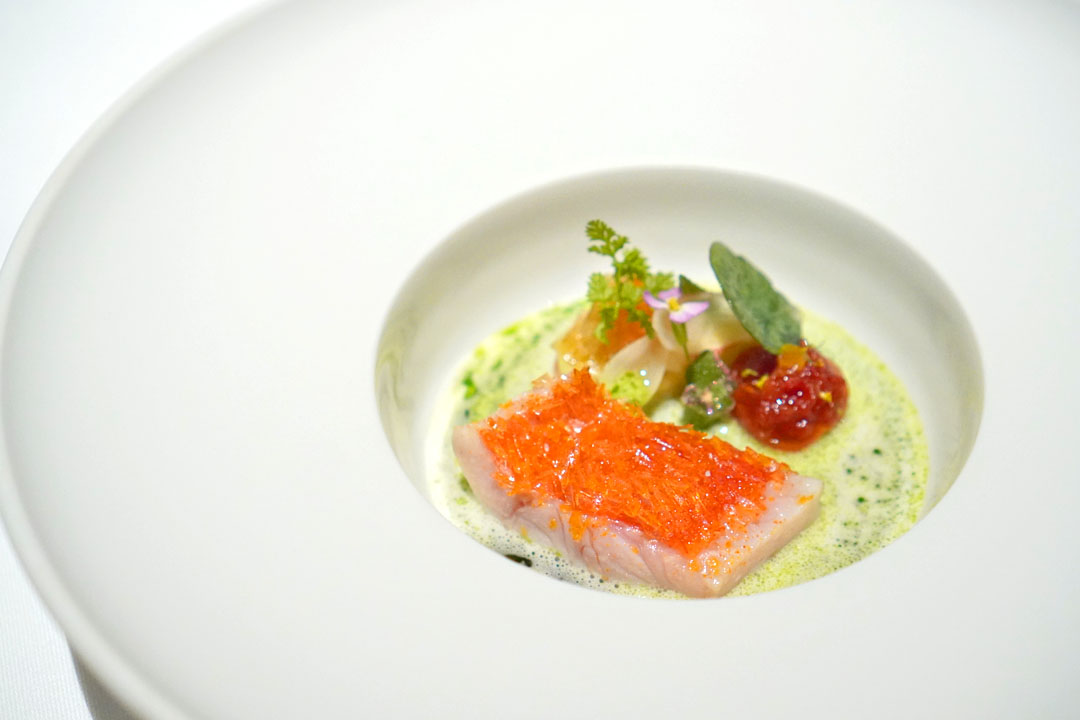 12: Splendid Alfonsino, Flavors of Summer, Battera Kelp, Clam Butter
Kinmedai
is one of my preferred sushi toppings, so I was happy to see it on the menu tonight. Hot oil was used in expert fashion to cook the fish and puff up its skin to a crispy consistency. The alfonsino was tasty alone, but really sang when matched with the accompanying clam-
battera kombu
fumet, while fennel and tomato lightened the mood.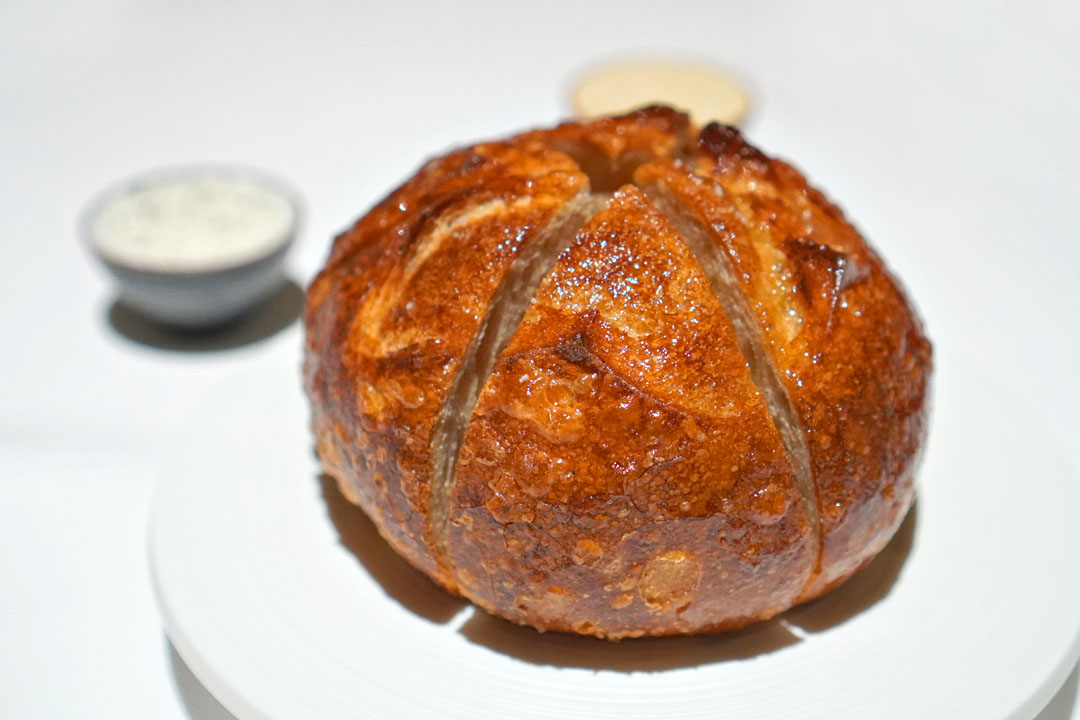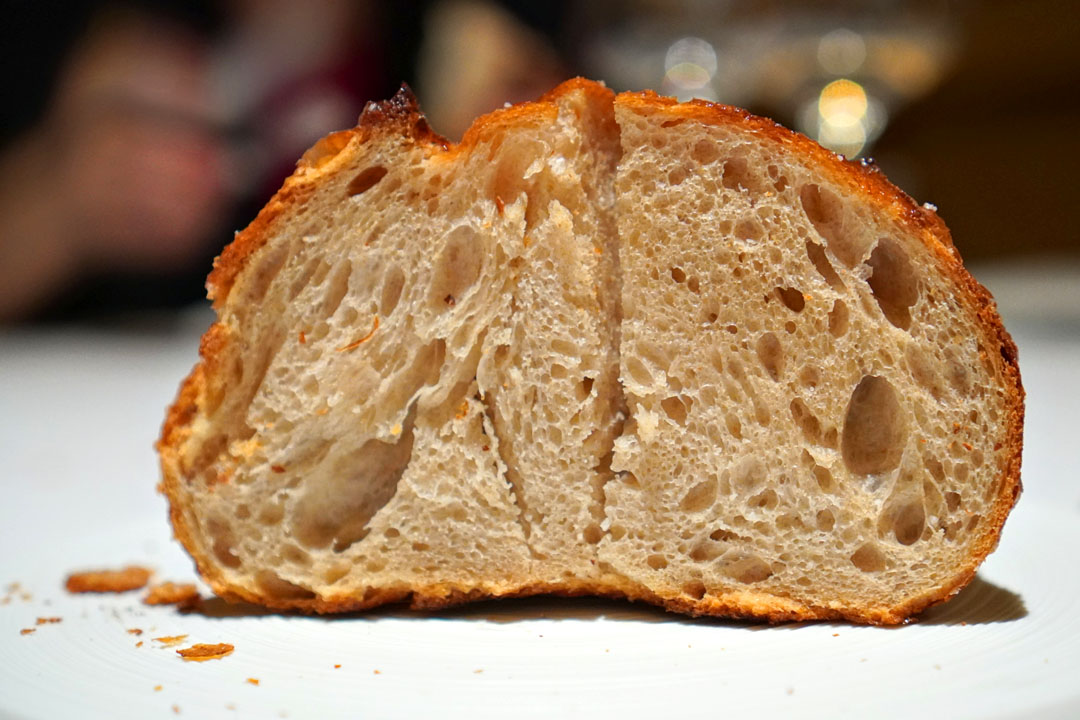 13: Sourdough Bread, Goat's Milk, Browned Honey Butter
Housemade sourdough utilized Red Fife flour from the Tehachapi Grain Project, and was some of the best bread I've had all year. The loaf featured a delightfully crisp crust and a tender crumb, and possessed this undercurrent of sweetness to go along with its intrinsically lactic nature. Accompaniments were a honey butter boasting an almost maple syrup-like sugariness, as well as a salty, tangy goat milk butter.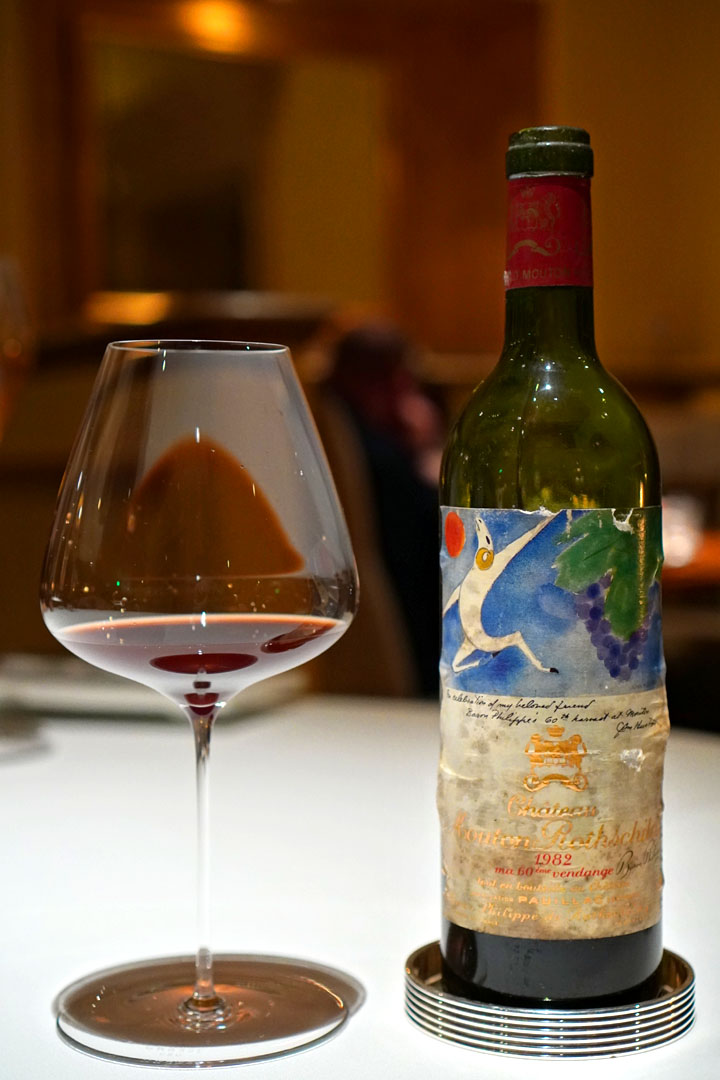 Next to imbibe was a bottle from my friend's cellar: the legendary
1982 Château Mouton Rothschild
. Amazingly, the wine had a bouquet bursting with banana chips right up front, overlaid on top of dark, dark cassis and touches of cedar and earth. Taking a sip, this was so soft, so smooth, and just glided over the tongue, with a bit of banana still in there, but primary flavors were of ripe berries, pencil lead, cigar box, and forest floor--still quite vivacious I have to say. With time, the banana on the nose disappeared, replaced by much more herbaceous nuances, while the palate remained velvety, but also displayed more savory herbs, set over a nearly jammy backbone of fruit; that herbal-earthy interplay was key here. Toward the end of the night, I began detecting aromas of bell pepper and roasted meats, along with a marked sweetness, while the palate demonstrated a certain austerity, but offset by a distinctly fruity finish. Overall, I was very happy with how this bottle turned out, and I suspect that the vintage will still have plenty more to give in the years to come. Easily another top wine of 2023 for me.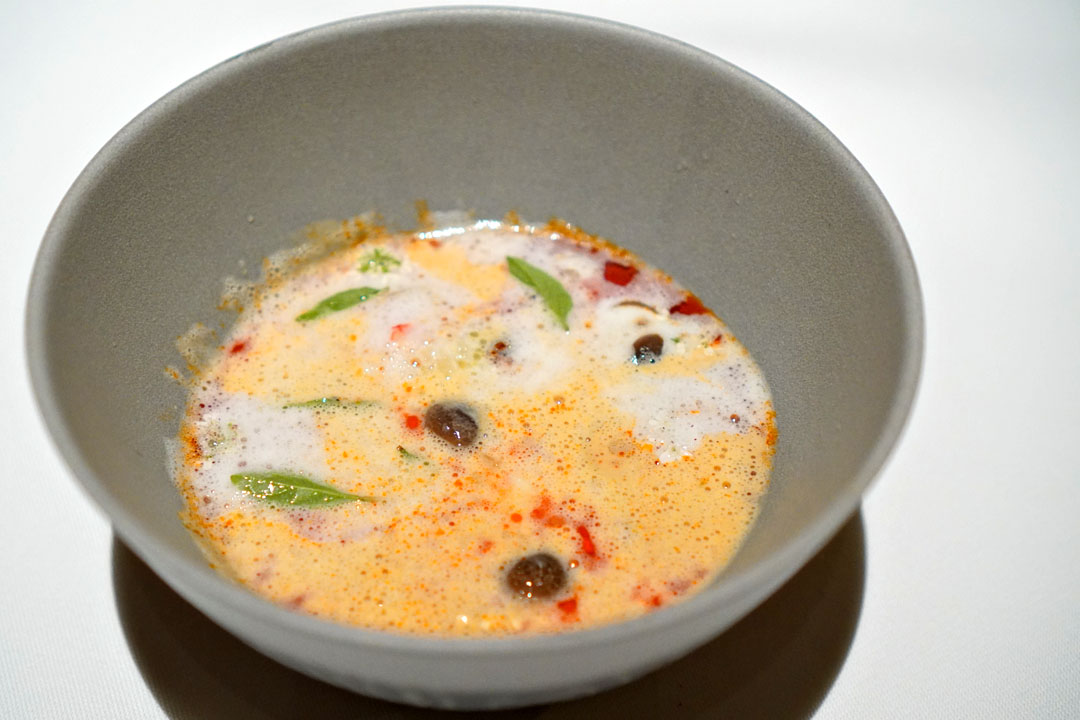 14a: Tom Kha Goong, Sweet and Sour Fowl, King Crab, Swarnadwipa
An aromatic soup that incorporated Norwegian crab, coconut milk, chili oil, coriander, lemongrass, and basil really did recall the essence of its
Tom kha kung
inspiration. The coconut-heavy Thai flavors matched especially well with the fruitiness of the dish, especially the pops of citrus (finger lime?), and I liked how the heat kept growing, but never got in the way. Nuggets of sweet 'n' sour chicken were included on the side, but weren't really necessary for me; the soup was tasty enough on its own.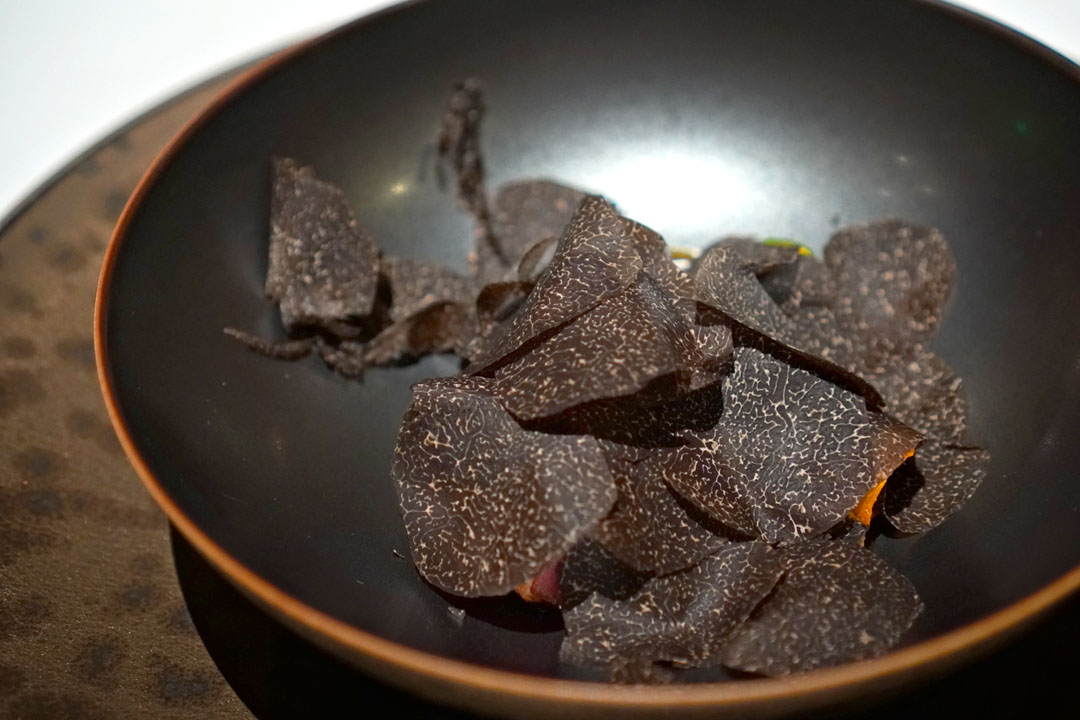 14b: Truffle Tamal, Squash Blossoms, Quessila, Pork Belly
In place of the soup above, the Summer Series menu featured a tamal with queso Oaxaca, summer squash, crispy pork, and brown butter, covered with shavings of Australian black truffle. The marriage of those cozy, rustic, familiar flavors of corn with the woodsy, heady truffles was pretty genius--seemingly simple, yet a bit profound. Another highlight.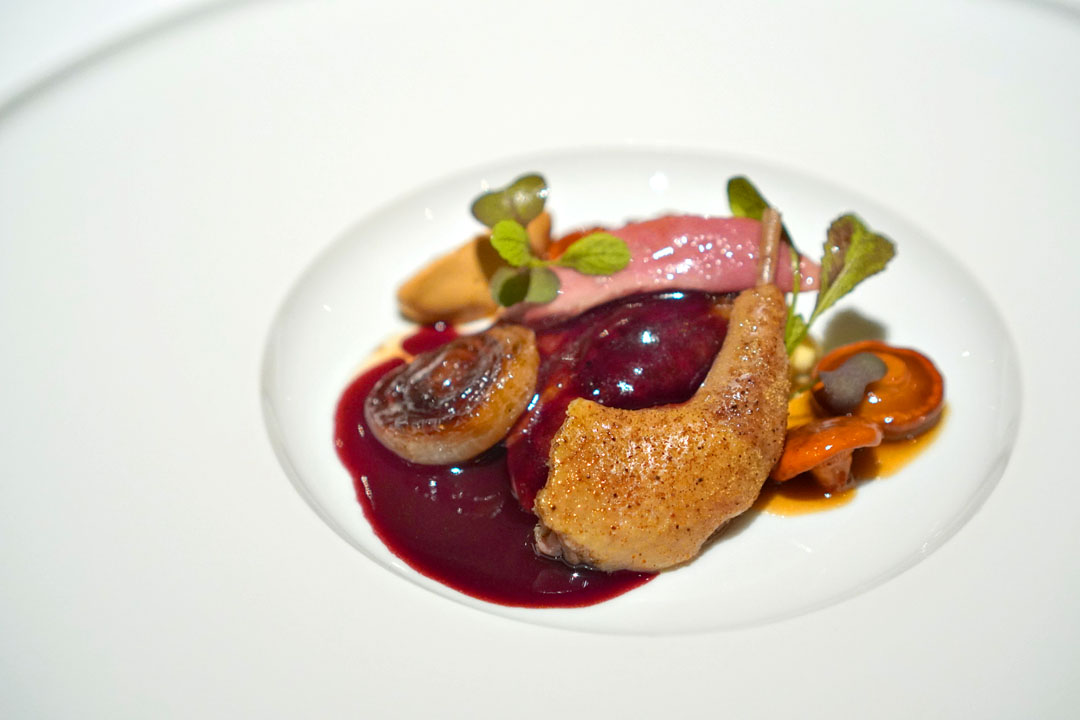 15a: Barbequed Squab, Wild Porcinis, Whipped Onions, Red Cabbage Syrup
Binchotan-grilled California squab was presented in three ways, and the bird was one of the more interesting preparations I've had, showing off an amalgamation of sweet, tangy, earthy, and nearly grassy qualities, all somehow kept in check by the porcinis.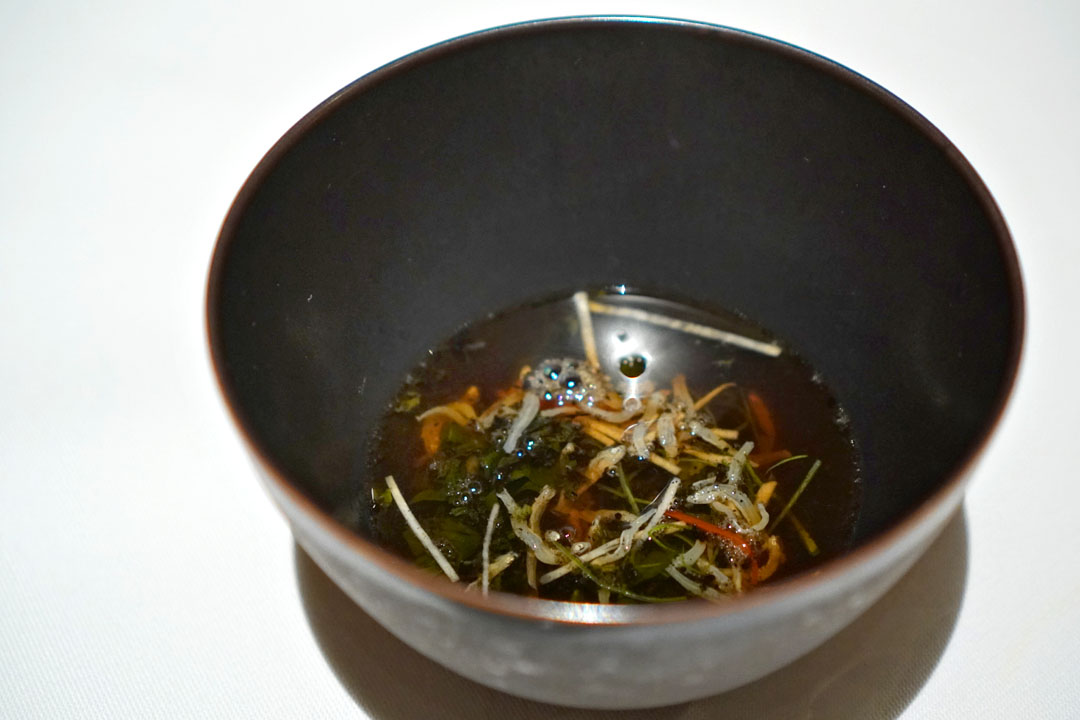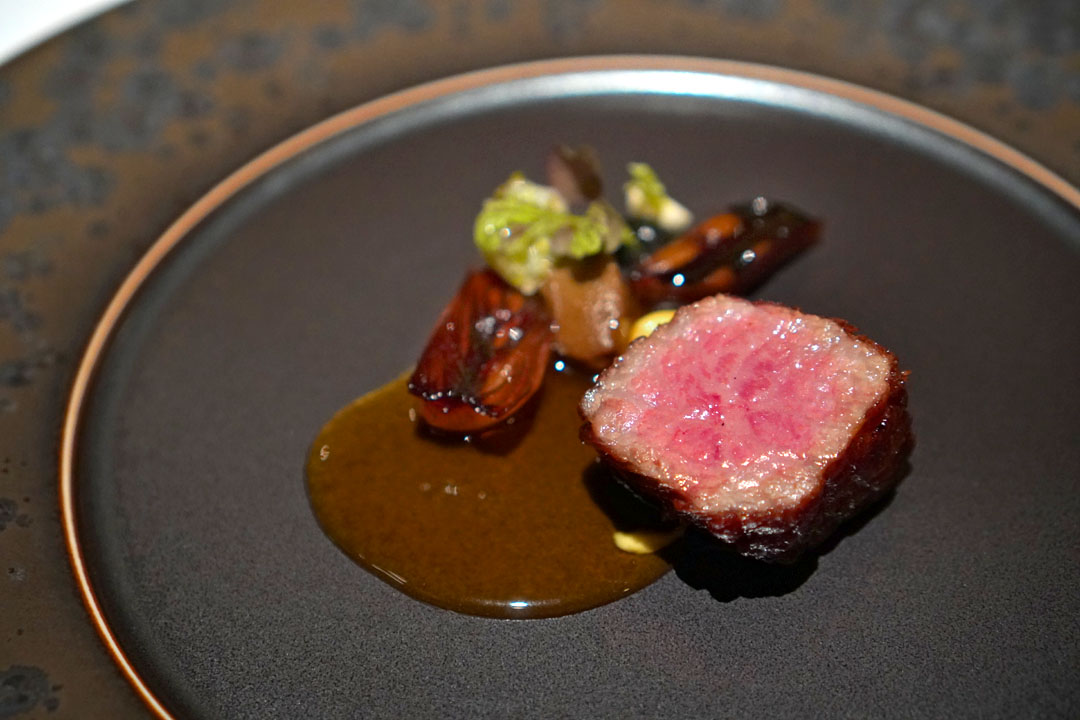 15b: A5 Wagyu, Miso-Eggplant, Matsutake Broth, Black Garlic
In place of the squab, the Summer Series menu featured binchotan-grilled A5 Japanese beef. The wagyu was one of the better ones I've had in a while, and really showcased that perfect union of fat, lean, sear, and smoke I was looking for. Garnishes included caramelized shallot, tempura'd broccoli, and a shoyu-based sauce to bind it all together. Meanwhile, accompanying the meat was a dark, brooding, dashi-based broth with what I believe was celtuce that was nevertheless homey and heartwarming.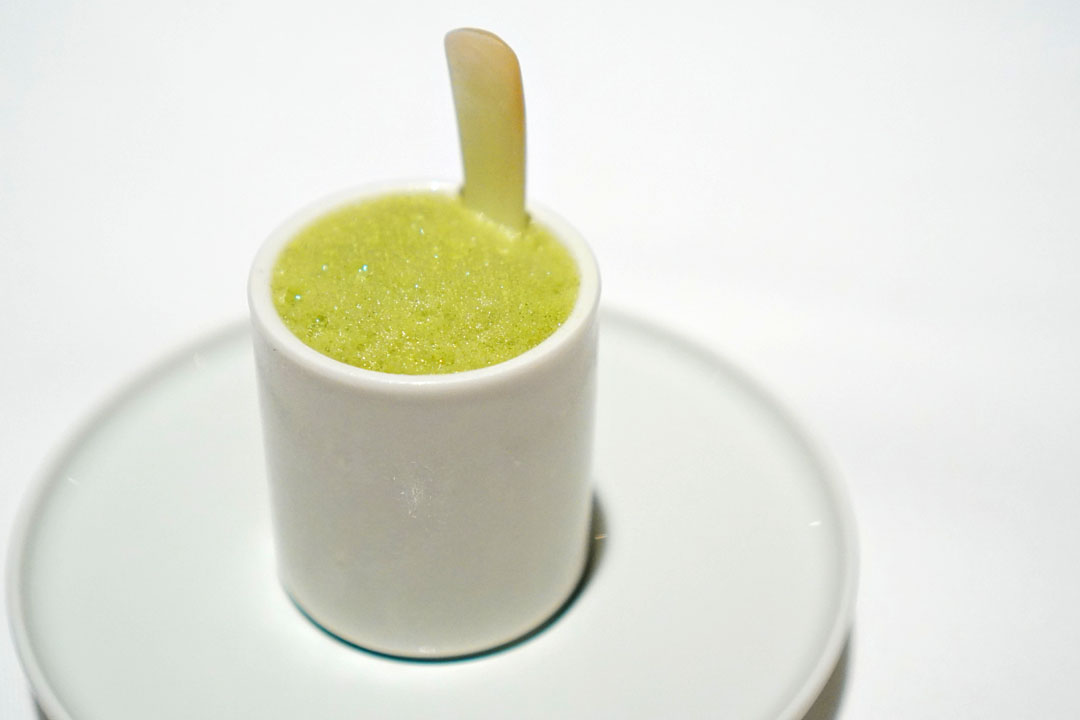 16: Yuzu Custard, Candied Ginger, Ceremonial Matcha
A pre-dessert intermezzo course combined bittersweet, grassy green tea with the softly sweet notes of a yuzu custard.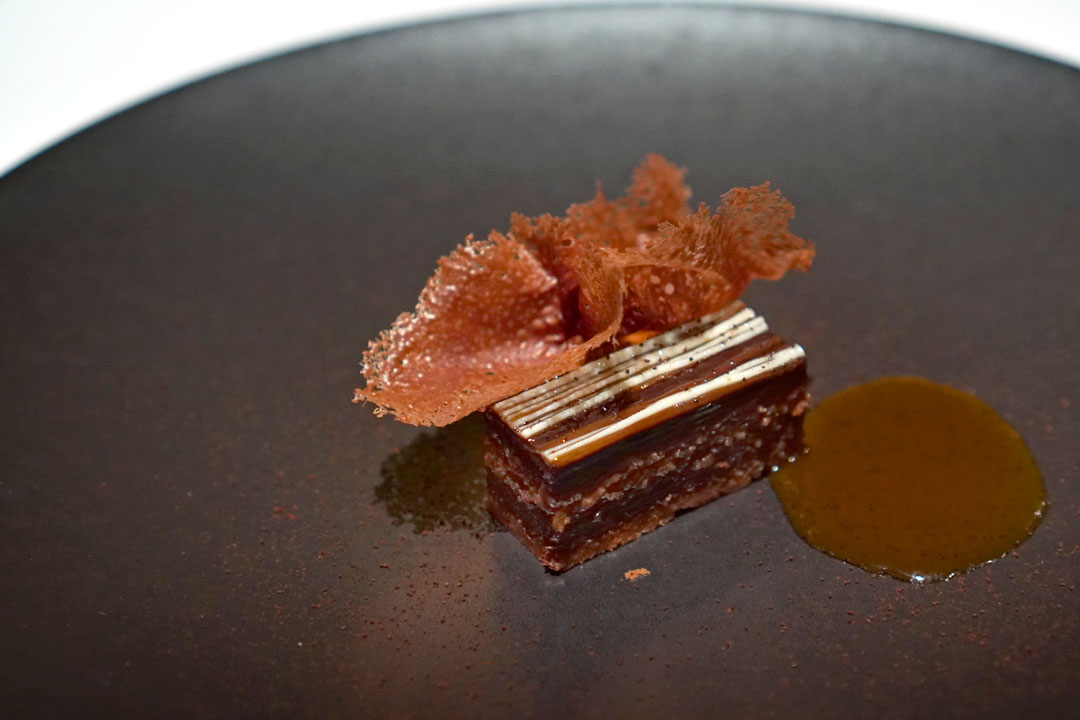 17: Cocoa Crunch, Mezcal, Passion Fruit, Toasted Fluff
Here we had a time-tested mash-up of chocolate and hazelnut, rendered in a crunchy package and juxtaposed against passionfruit and marshmallow-y bits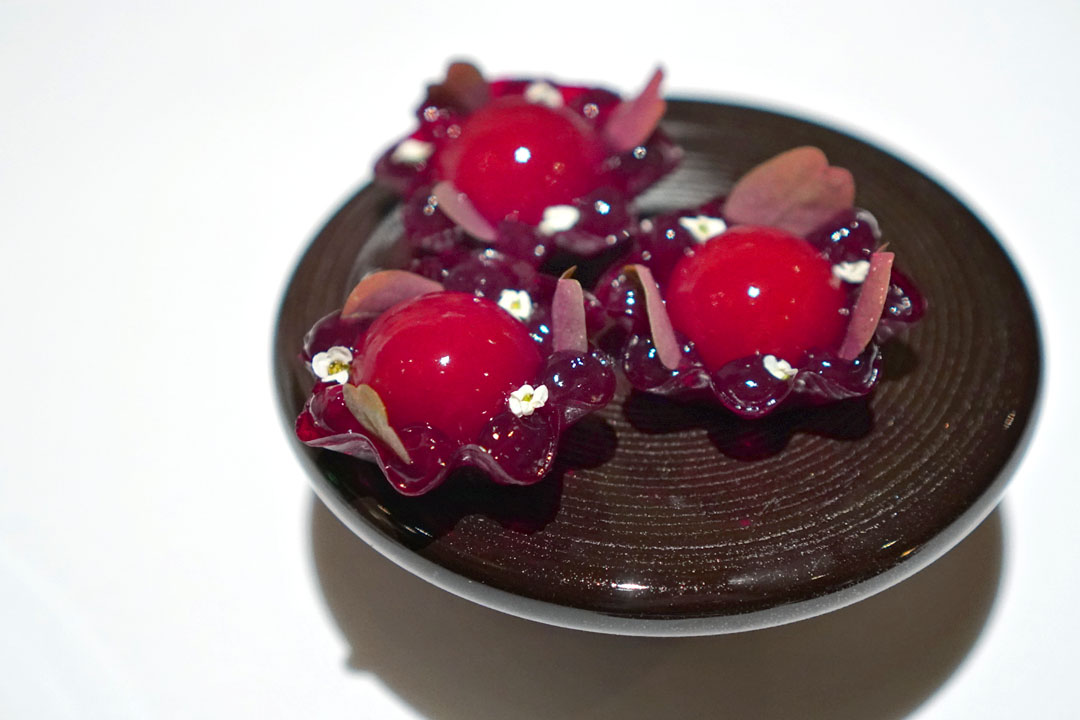 18: Berry-Beet Tartelette, Verjus, Vanilla
Miniature tarts went in an unabashedly fruity direction, their pastry bases tempering things just a touch.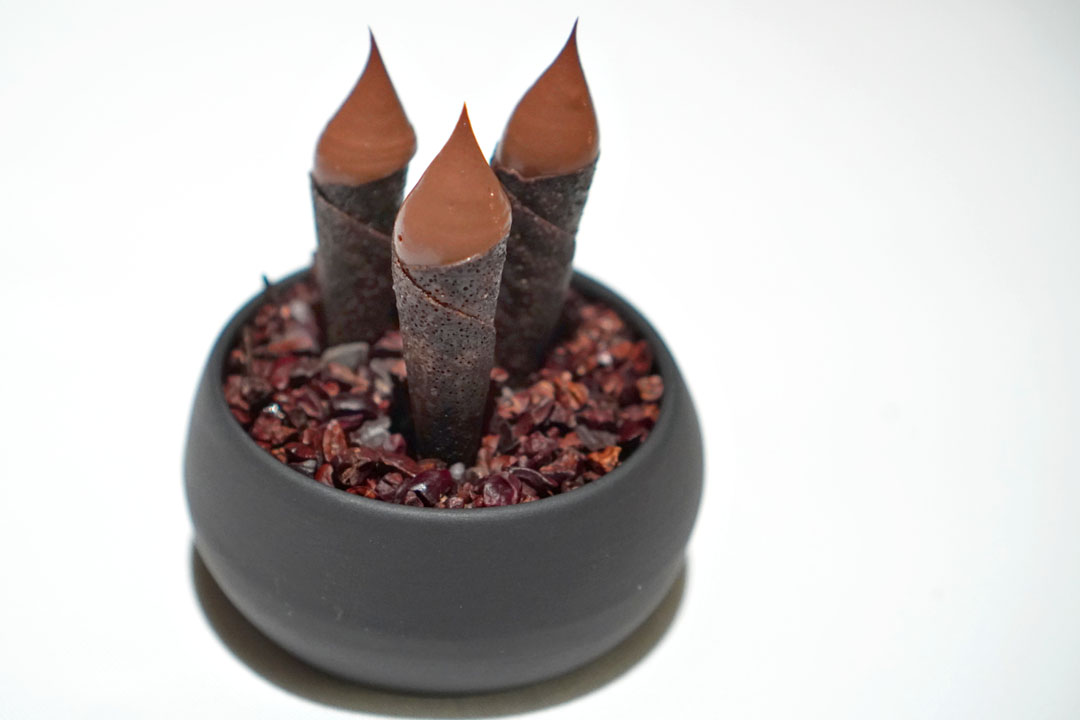 19: Bitter Chocolate Wafer, Pistachio, Sour Cherry Jam
Dark chocolate cones were matched with sour cherry jam and toasted pistachios, but there was also this herbaceous element that worked for me.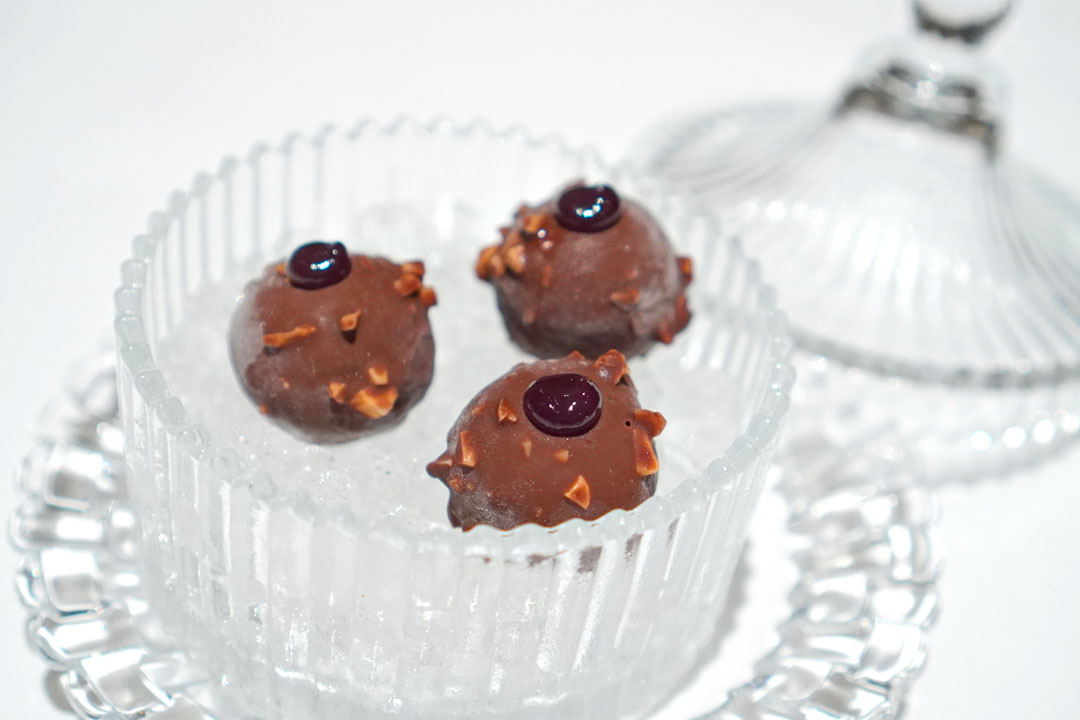 20: Port Wine Bonbons, Salted Marcona Almonds
Frozen bonbons were filled with a delightful port ice cream and studded with toasted Marconas. Yum.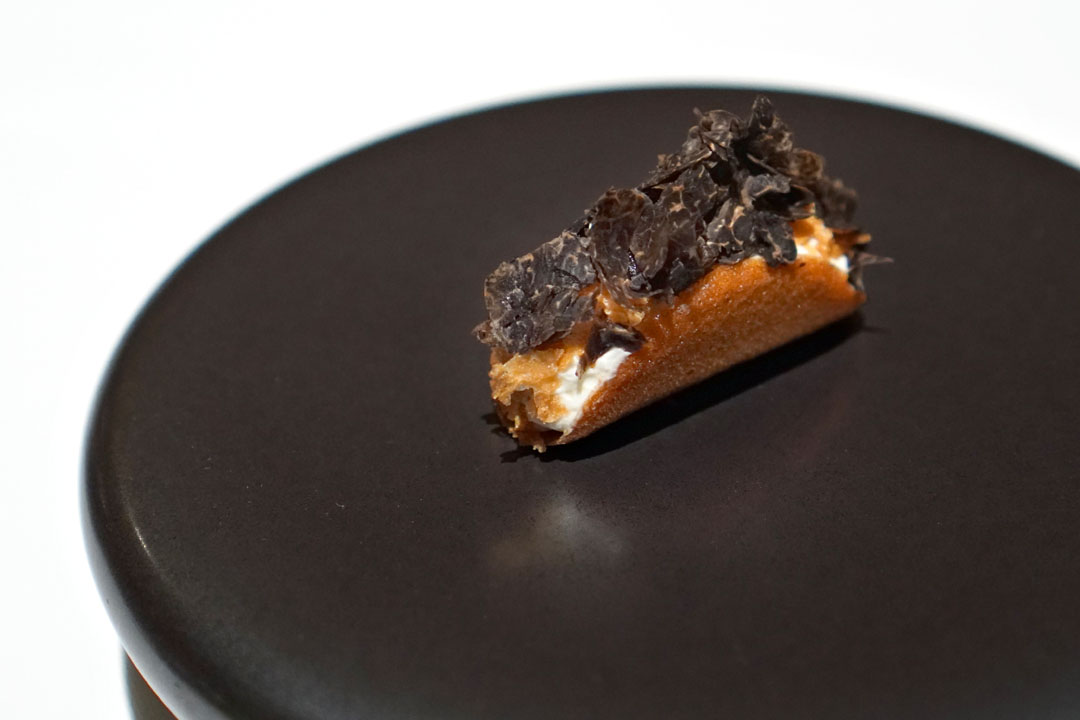 21: Tres Leches, Black Truffles
In this final, fun bite, the earthiness of Australian truffles worked surprisingly well with the vanilla-like, fruity notes of the tres leches. However, I'll point out that the regular version of this course did indeed omit those truffles.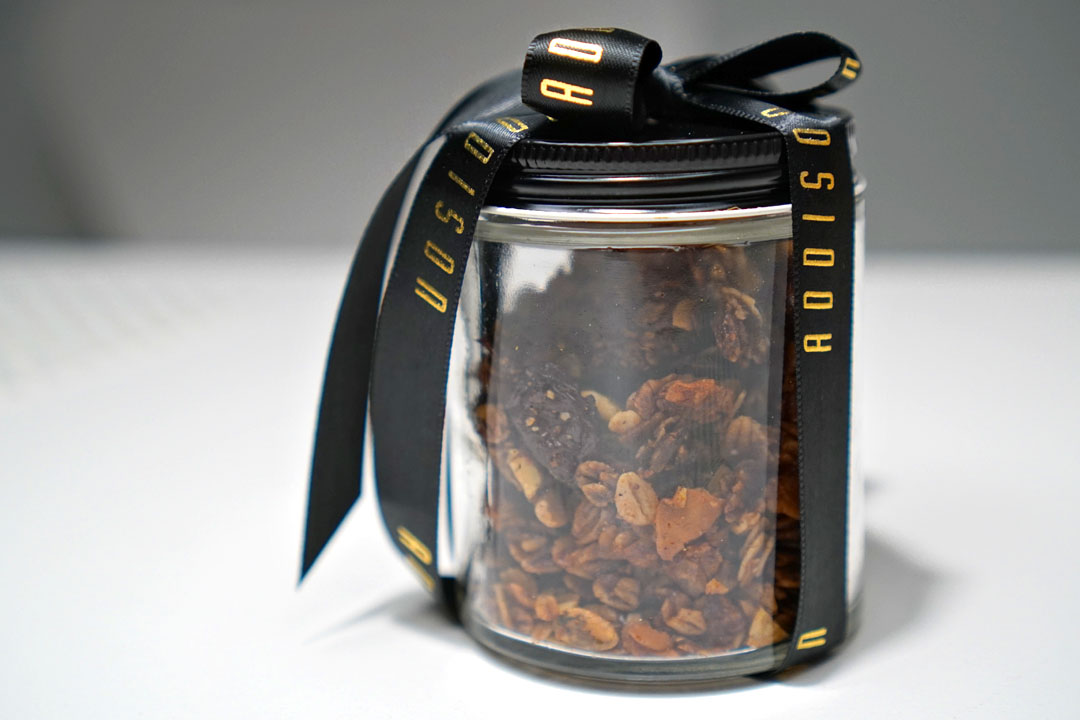 To take home: toasted coconut granola with dried cherries.
We enjoyed a superb birthday dinner at Addison, and this was easily one of my top meals of the year. The cooking here is pretty much a prime example of Cal-French cuisine, and sort of represents a middle point between the classic and the more contemporary, which I think makes a lot of sense in this case. Chef Bradley and his team have clearly been hard at work in the 10 years since my last meal here, and they've definitely upped their game considerably. Back in 2013, I would've awarded Addison a Michelin star, but these days, three actually doesn't seem too surprising.