El Cielo (Washington, DC)
ElCielo Restaurant at La Cosecha
1280 4th St NE, Washington, DC 20002
202.569.9855
www.elcielowashington.com
Wed 07/26/2023, 08:10p-10:35p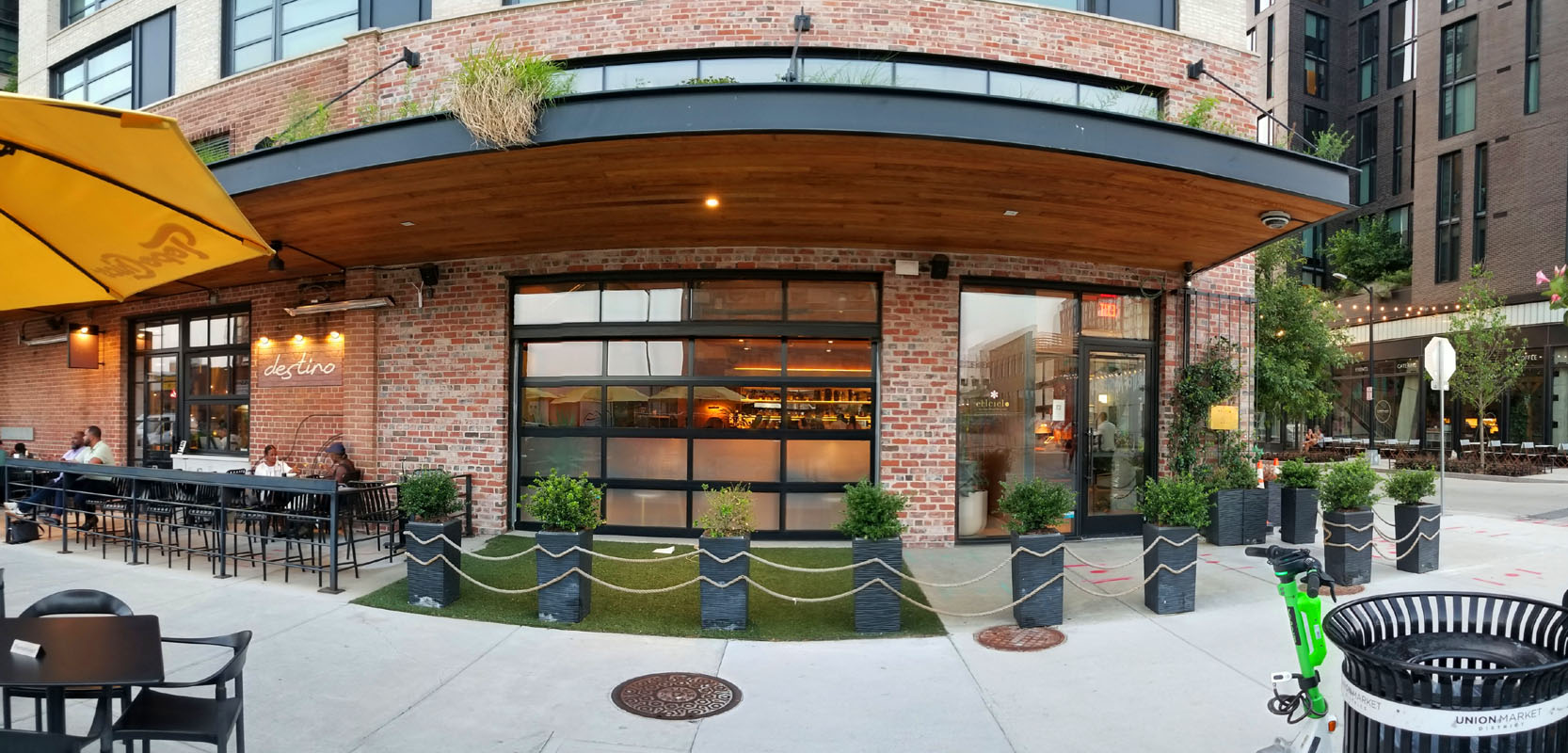 For the final meal of my latest visit to the District, I decided to check out El Cielo ("heaven"), which had been previously recommended to me by the staff at
Cranes
,
Xiquet
, and
Seven Reasons
. Situated in the Union Market neighborhood, the restaurant is the brainchild of Chef Juan Manuel "Juanma" Barrientos, and serves a menu of modernist Colombian cuisine. The food certainly looked intriguing, so I was very curious to try the place out.
About the Chef
: Juan Manuel Barrientos Valencia was born in Medellín in June 1983. As a youngster, he spent time on a coffee farm with his grandfather, got interested in food from watching his mom and grandma cook, and also worked at his father's company. When he turned 18, he still didn't know what to do with his life, and tried his hand at business and engineering, another other disciplines. However, after reading about Ferran Adrià, Juan Mari Arzak, and the Roca brothers, Barrientos decided that he wanted to become a chef. He thus enrolled in culinary school at Colegiatura Colombiana in Medellín, but apparently got kicked out. From there, he relocated to Argentina and attended Instituto Superior Mariano Moreno in Buenos Aires, where he took classes taught by Chef Alejandro "Iwao" Komiyama, and soon began apprenticing under him. Barrientos then spent 2005 as an intern at San Sebastián's famed Arzak, a position he secured through a former schoolmate.
Upon returning to Colombia, he began work on opening his own spot, and thus the original El Cielo would debut in Medellín in 2006. The place soon made a name for itself due to its creative interpretation of Colombian cuisine, and formed the basis of Barrientos' burgeoning restaurant empire. A second El Cielo launched in Bogotá in 2011, while Miami followed at the start of 2015, and DC in January 2020 (following a few weeks of pop-up status). The DC outpost thus debuted right before the pandemic, and did shift to takeout before resuming on-site dining around September 2020. In April 2021, it received a Michelin star, which was retained in May last year. Meanwhile, the Miami location landed its own Michelin star in June 2022, which it also kept in this year's release of the guide.
Chef Barrientos has not limited himself to the El Cielo brand, either. In Medellín, his other ventures include La Sere (formerly La Serenissima, Italian, 2014), Cuon (pan-Asian, 2018), Shibari (Japanese-inspired bar, 2018), Kaime (formerly Kai, plant-based, 2018), Elcielo Classic at the InterContinental (more formal Colombian, 2019), Cerdología (porcine, 2019), and Aguafresca (Mexican, 2019). He also opened Papaya Guacamaya in Rionegro (casual Colombian, 2019) and AO Asia Tropical in Bogotá (Asian fusion, 2020). Most recently, the Chef launched Elcielo Hotel in March 2021, and the property now houses the Medellín outpost of Elcielo as well as a pirate-themed bar by the name of El Navegante. Barrientos is also the author of
La Receta del Éxito
("The Recipe for Success"), published in 2018.

Inside, things were more casual than I was anticipating, but I suppose that makes sense given the restaurant's location at La Cosecha, a sort of Latin-American market-slash-food hall.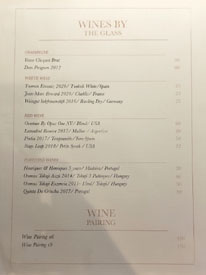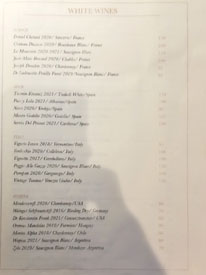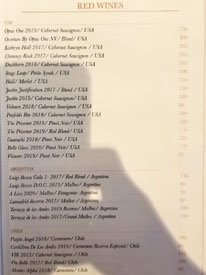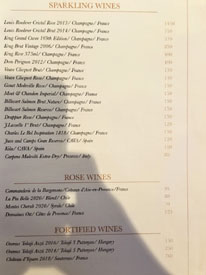 There are a few menu options available here. I opted for the flagship Elcielo Experience, which offers 20 courses (or "touches" as they like to say) at $289 a head, plus 20% service, 10% tax, and $5 Tock fee. There's also the shorter Journey at $235, the even shorter Chef's Choice at $198, or the bar tasting at $155. À la carte ordering was an option when the place first opened, but doesn't appear to be available anymore. Drink-wise, I went with the cocktail pairing, priced at $100; there are also wine pairing options as well as a relatively short wine list to choose from. Click for larger versions.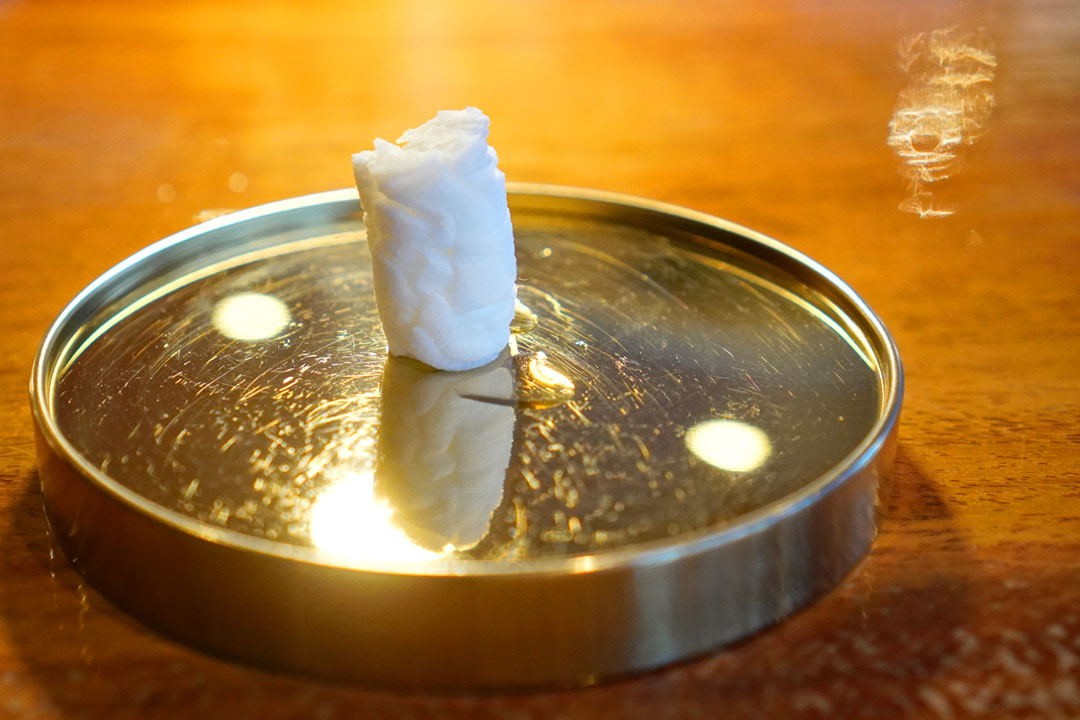 A moist napkin was presented soon after I sat down. For some reason, I cleaned my hands more thoroughly than usual this evening, which proved to be quite prescient (see "Choco-therapy" below).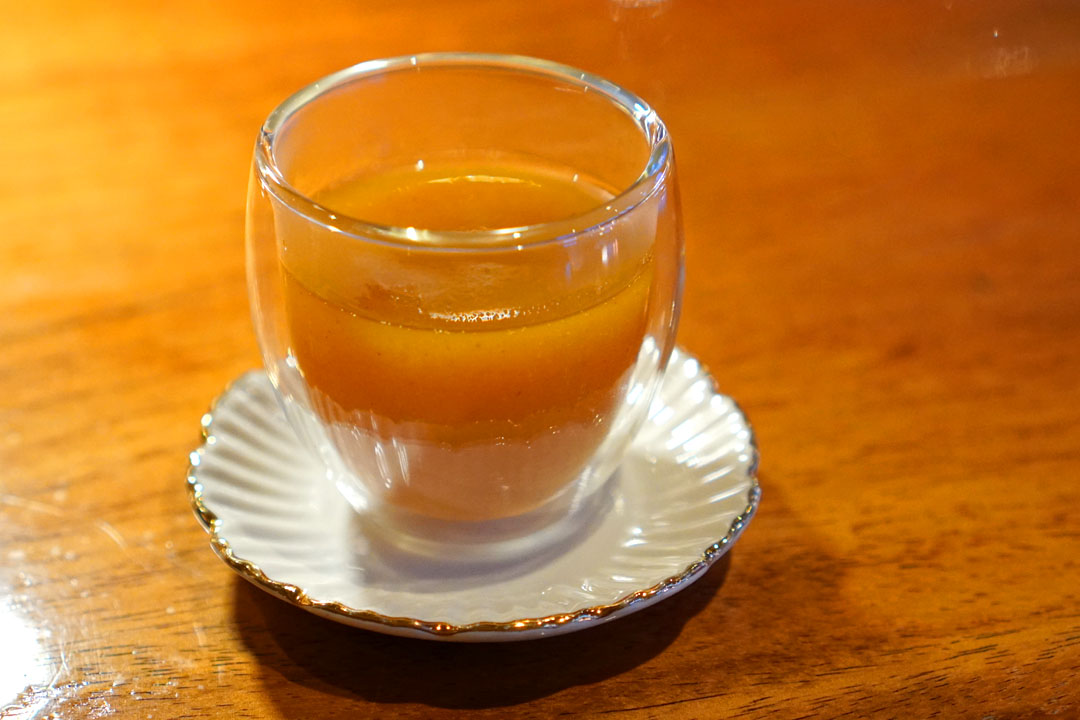 1: Aguardiente & Passion Fruit Toddy
My meal began with a welcome cocktail, one that was essentially a hot toddy comprised of Licor 43, aguardiente, passionfruit, coffee, and rosemary. I found it to be a cozy apéritif, one with plenty of the advertised passion fruit and coffee to go along with a distinct cinnamon-like spice and an overarching lemon-y tartness.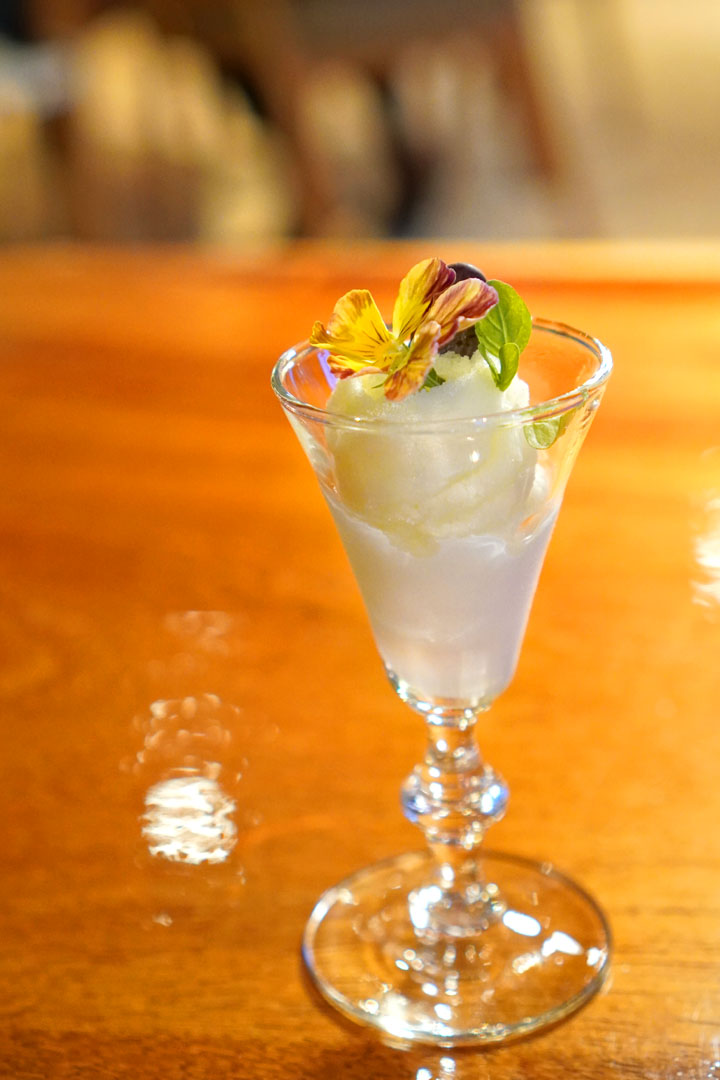 2: Spring Blossom Sorbet
Served alongside the toddy above was a sorbet composed of lulo (I think), shochu, chocolate, and mint. This made for a fun few bites, as the dessert ended up tasting like mint chocolate chip ice cream, but with a boozy tang.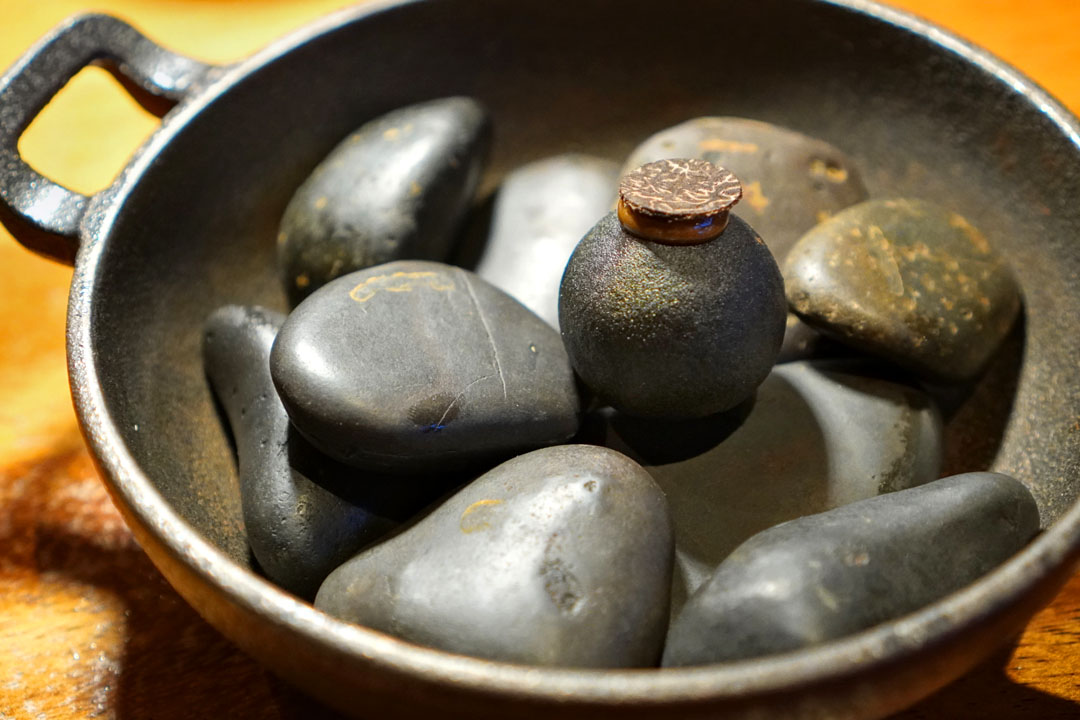 3: Truffle Buñuelo
This one-bite course was certainly one of the more decadent of the night. The fritter was filled with loads of creamy, truffle-y, mushroom-y goodness, its richness kept in check by that thick, chewy dough and a dab of garlic mayo on top.
Chimberito
| Soursop, Yuzu, Aguardiente, Cachaza & Thyme
My first cocktail derived its name from the term
chimba
, which apparently denotes something that's cool or amazing. I found the yuzu very apparent here, and its soft, sweet flavors were countered by sour, astringent elements. My quibble what that I would've liked less ice in the drink.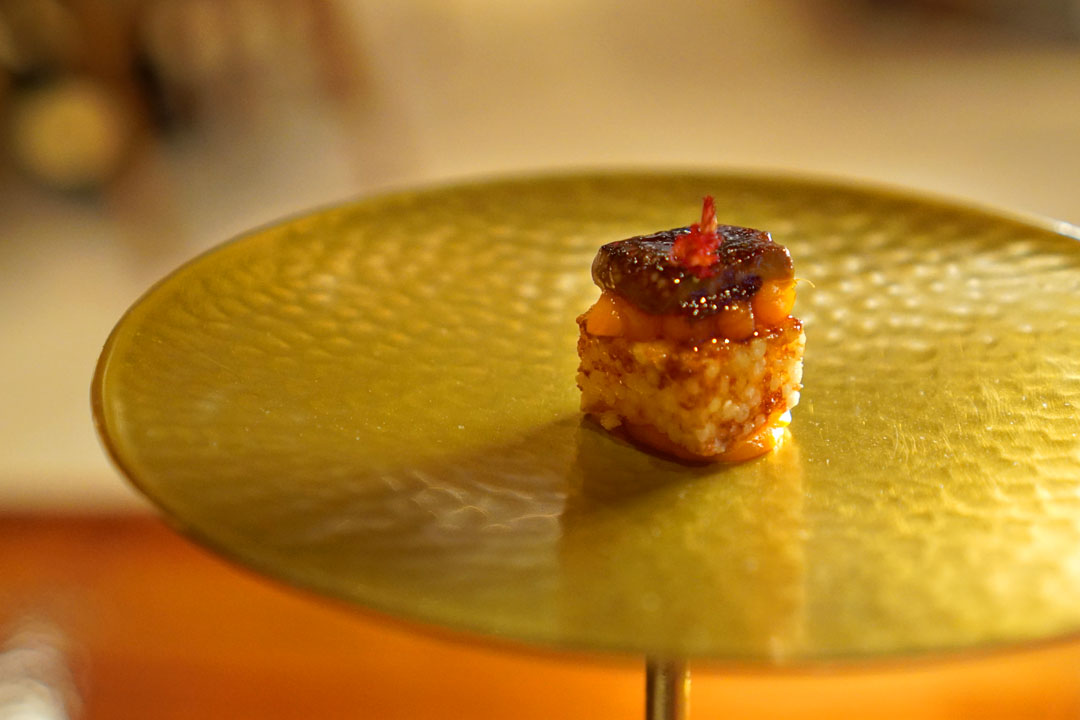 4: Tapioca & Foie
This bite--comprising tapioca,
chontaduro
(I think) sauce, foie gras, and vanilla--just might've been my favorite of the night. I loved how the sweet, savory, earthy nature of the liver meshed with the fruit and vanilla, all while the dish's chewy tapioca base moderated everything going on.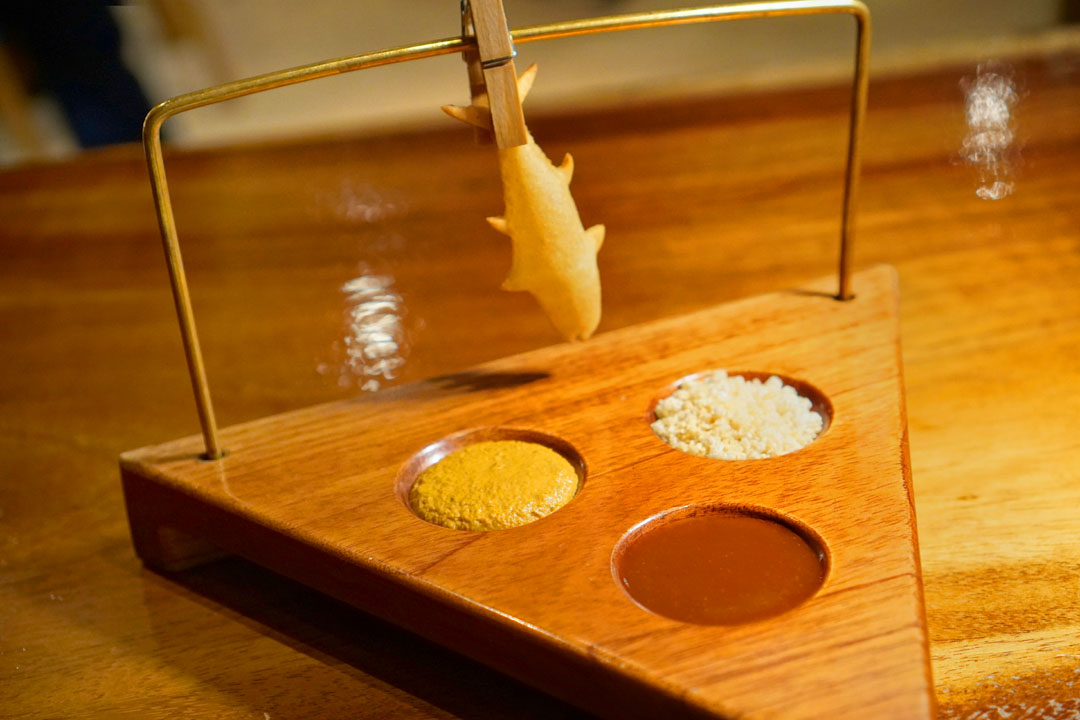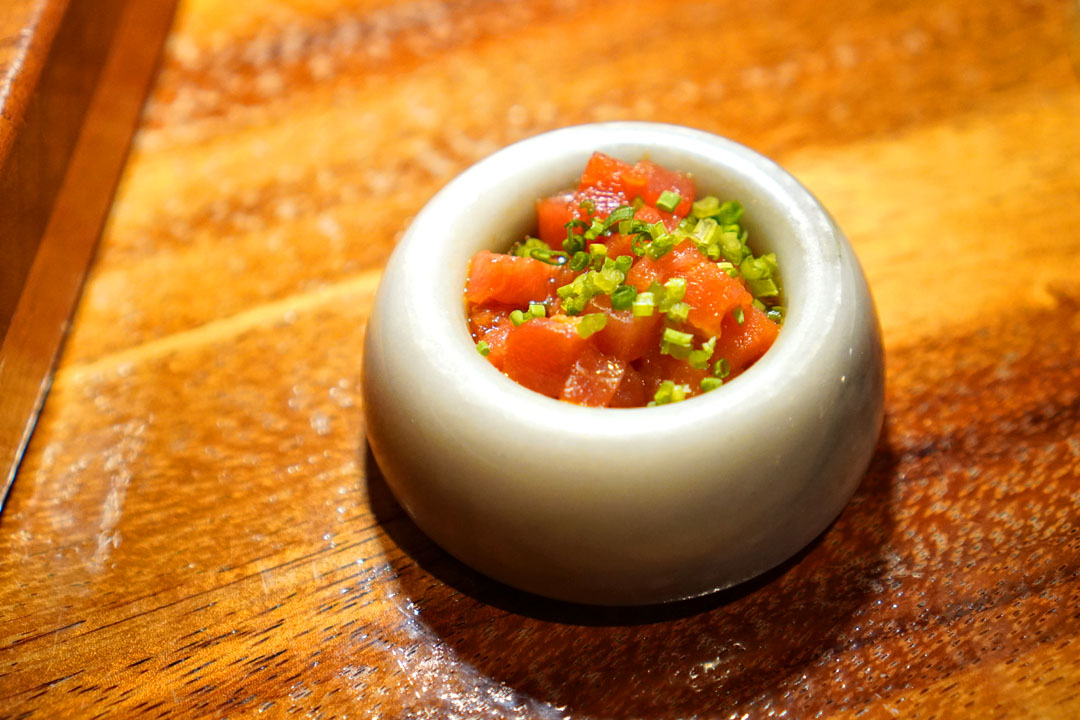 5: Tuna Tartare
Next was a Japanese-inspired course that was somewhat awkward to actually eat. We had here diced bluefin, paired with a gratifyingly-textured corn flour "tuna," along with three condiments:
ají de maní
, chicharrón, and sesame oil-soy sauce. The tuna itself showed off a pleasant mix of umami and brine, and worked great with the zing of scallion. I was pretty enamored with how the fish meshed with the peanut sauce, which had this wonderfully nutty heat that made me want to pair it with other foods. I also enjoyed the chicharrones, which ate super light, with a subtle porkiness. However, I found the sesame-soy a bit overwhelming in its sourness and savor. Overall, this dish could use some tweaking to make it more cohesive.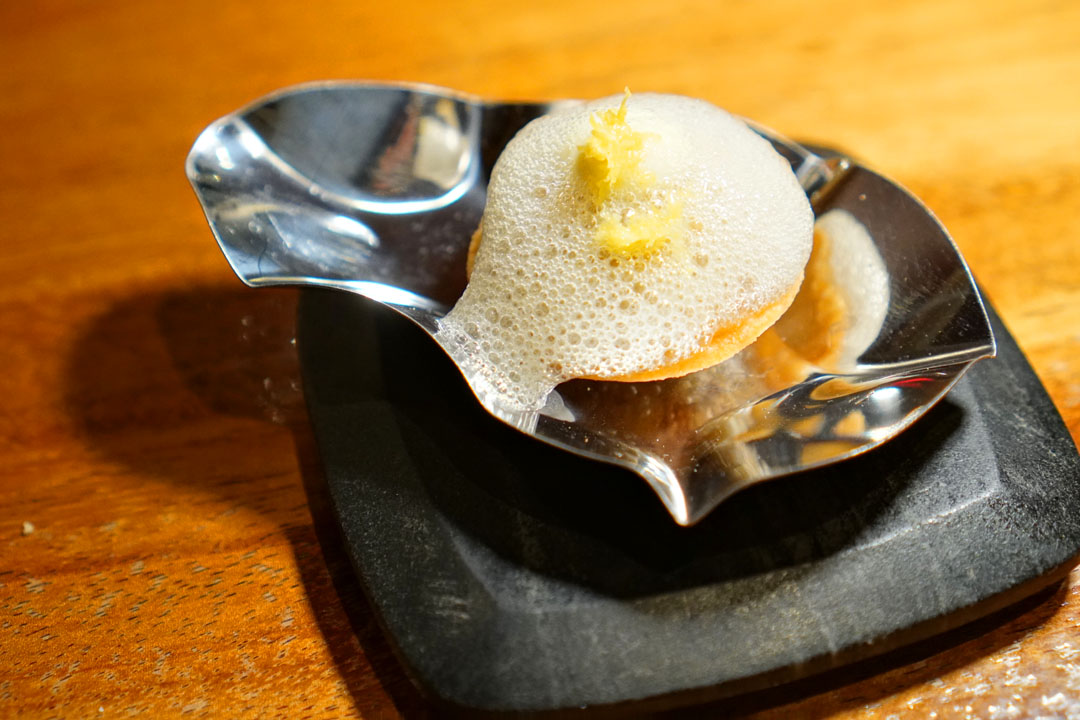 6: Guajira's Dry Shrimp Rice
Another highlight for me was El Cielo's take on
arroz con camarones
, a staple of Colombia's Guajira Peninsula in the northeast. I was a fan of the growing, lingering salinity from the dried shrimp, and how that was tempered by the rice, fried dough, and acidity from the lime foam.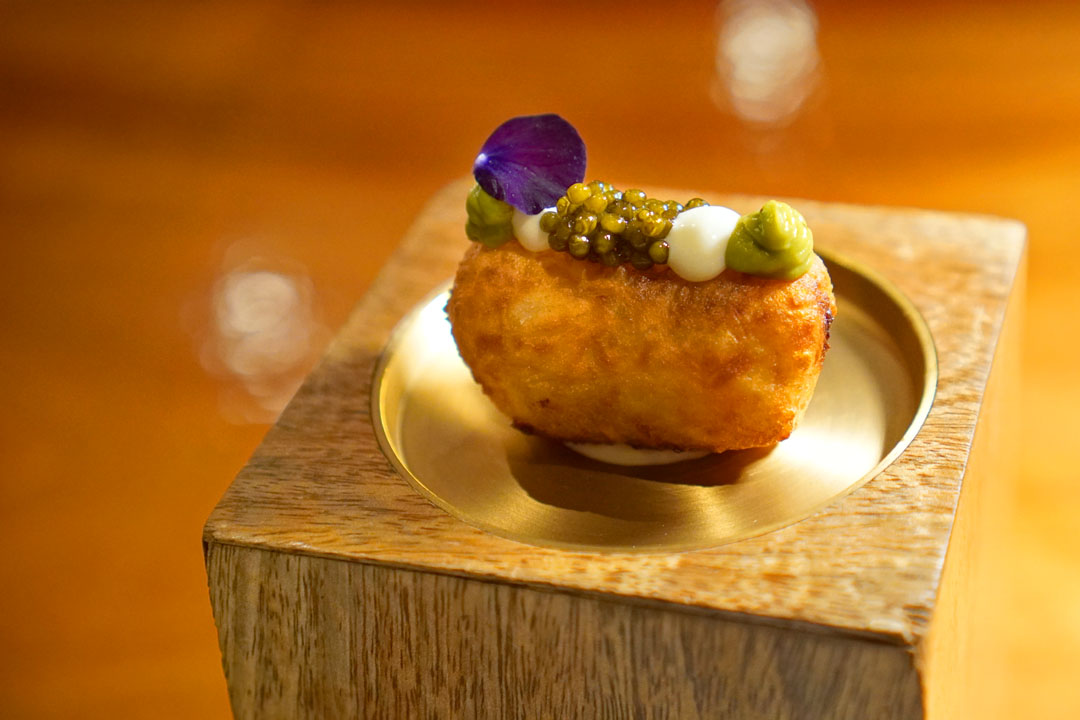 7: Carimañola
The last of the "snacks," this meat fritter from Colombia's Caribbean coast was another standout. I loved its super satisfying pork filling, which seemed to be accompanied by beans of some sort. This was set against the forces of sour cream, avocado, and caviar, while the bite's yuca-based exterior also worked for contrast.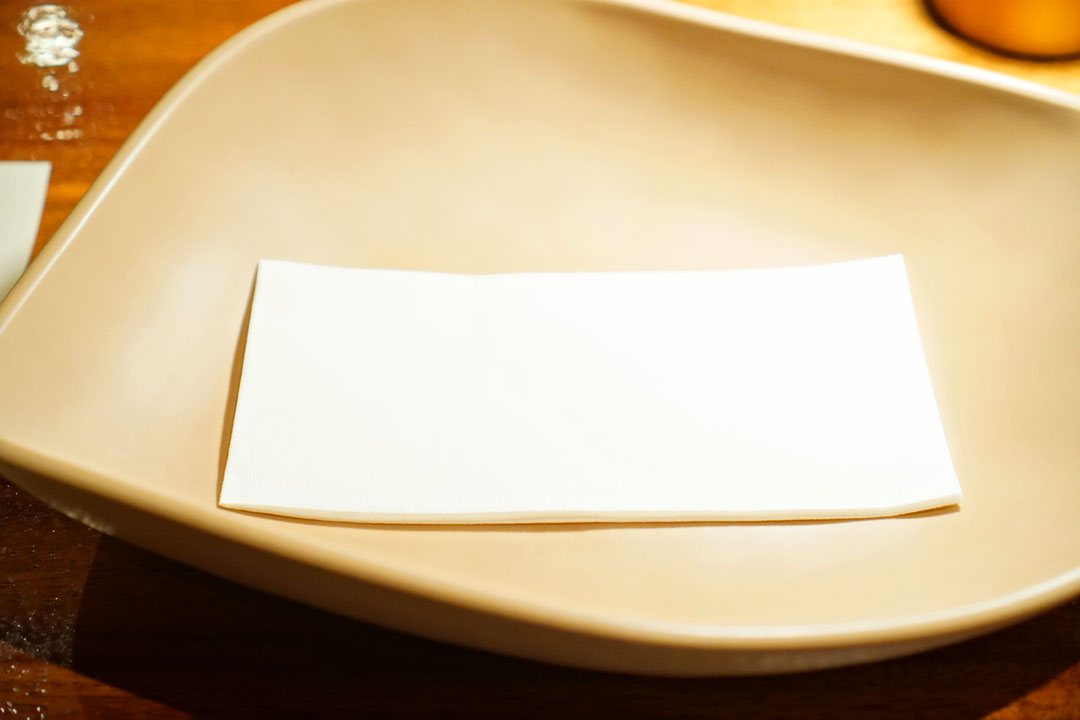 At this point, a large bowl (replete with napkin) was placed in front of me, confusingly.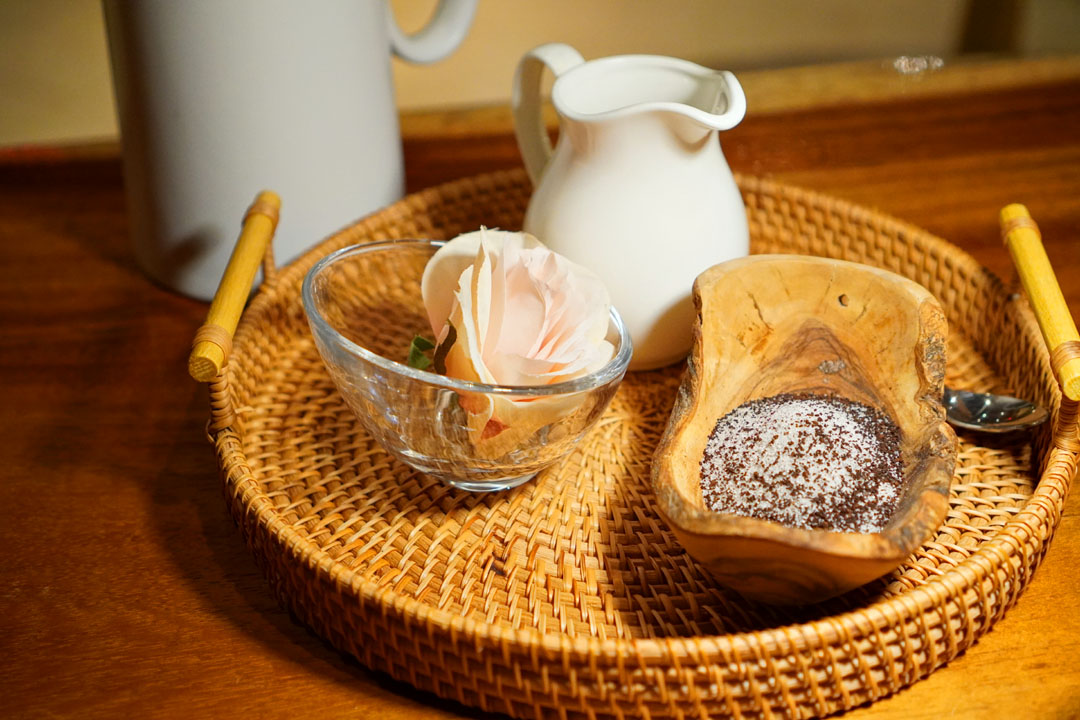 8: Chocotherapy
The bowl above was soon joined by a tray holding a pitcher of Colombian chocolate and some seasoning, and what came next was unlike anything I'd experienced at a restaurant before. I was instructed to close my eyes and stick out my hands over the bowl, and my server proceeded to pour warm liquid chocolate over them, and what I believe was salt. I was then asked to rub my hands together (making for a bit of an exfoliating process--my hands were indeed quite soft afterward), and lick the chocolate off my fingers as a sort of homage to the playfulness of childhood. Unfortunately, I don't have any photos of this whole procedure, as understandably, my hands were kept rather busy during the ordeal.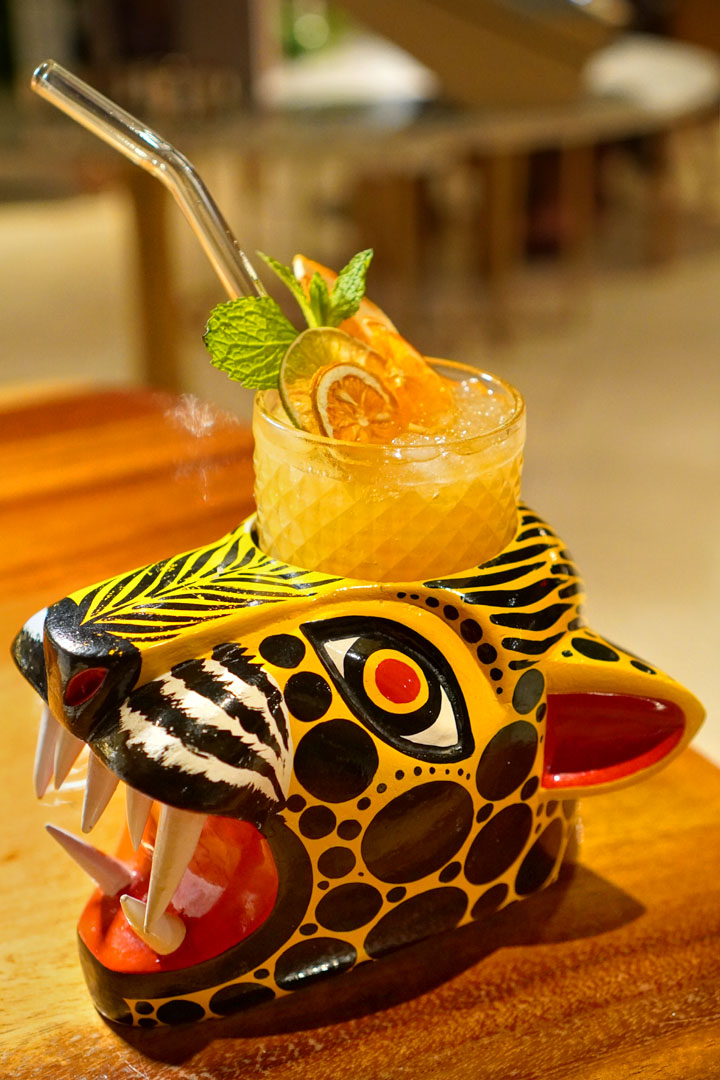 Don't Give Papaya
| Mezcal, Rum, Papaya, Mango & Lime
Set in a wooden jaguar's head, my second cocktail married a backbone of smoke and bitterness with a supporting cast of citrusy, tropical flavors. Pretty easy-going overall.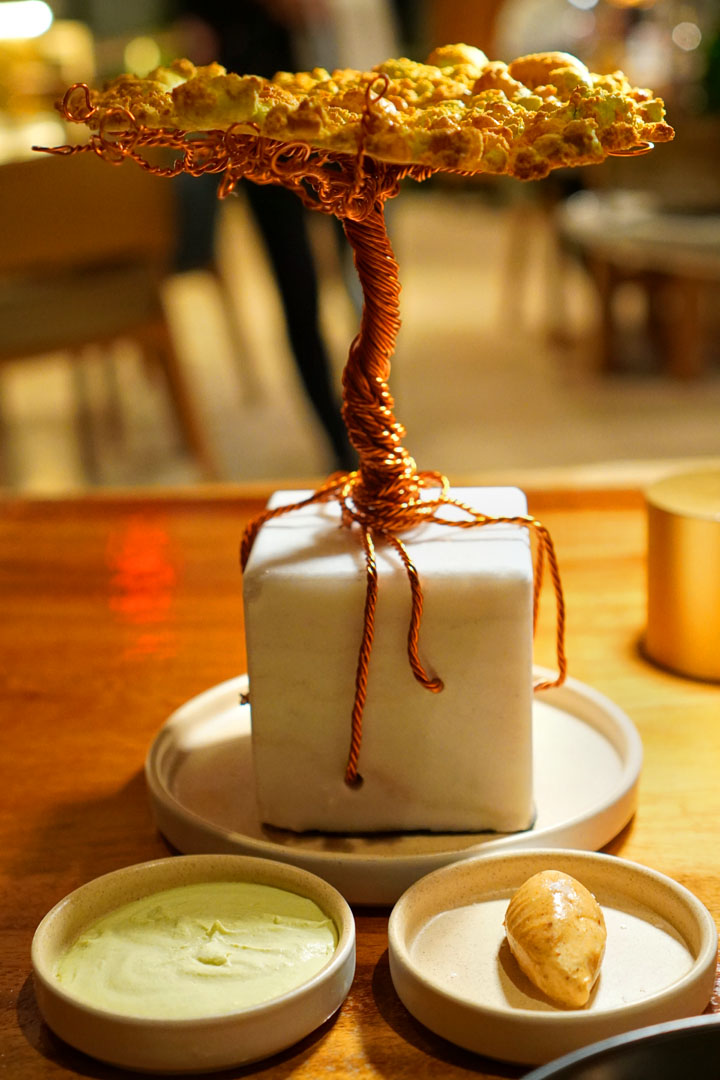 9: Tree Of Life
The bread service was perhaps the most unique I've encountered. It was essentially a
pan de yuca
, and had this fascinatingly stretchy, chewy texture (due to the use of tapioca flour), along with a pervasively herbaceous, zingy flavor profile. Accompaniments were cilantro sour cream and caramelized butter with sea salt, and they were crucial, given that the bread got monotonous, and a bit dry, toward the end of the meal.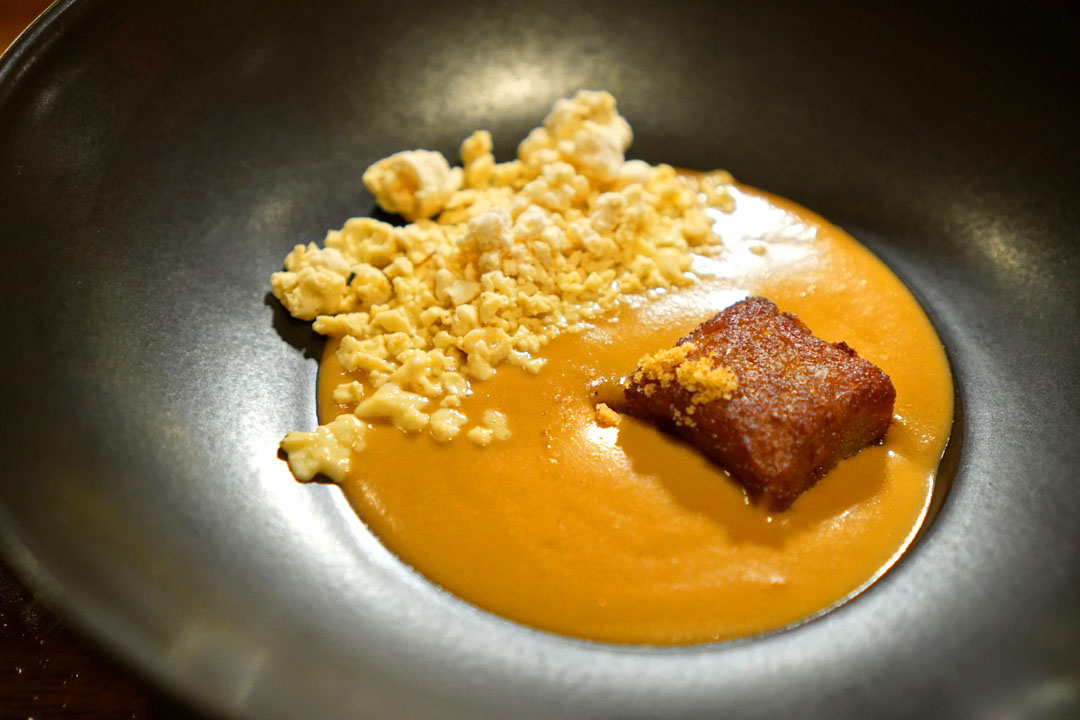 10: Corn Soup
This soup was intended to highlight corn, a major ingredient in Colombian cuisine. The maíz was presented in multiple ways, making for some nice textures, and I especially appreciated the juxtaposition of taste and mouthfeel offered up by that nitro popcorn. However, the dish just veered overly sweet for me, and was lacking in balance.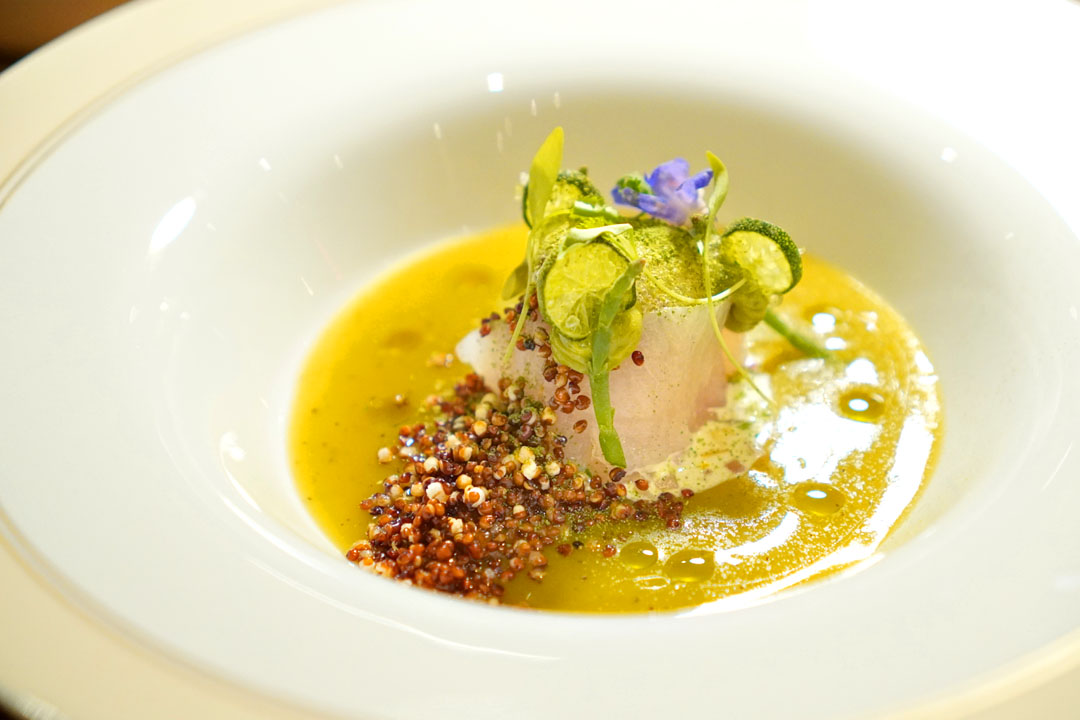 11: Shima Aji, Lulo & Quinoa
Here we have one of the more unconventional ceviches I've tasted. The striped jack itself was pretty spot-on, and paired well with the surprisingly astringent, puckering, citric bite of the accompanying lulo sauce and three varieties of lime. Fortunately, that crunchy, nutty quinoa toned things down just enough, and was absolutely crucial.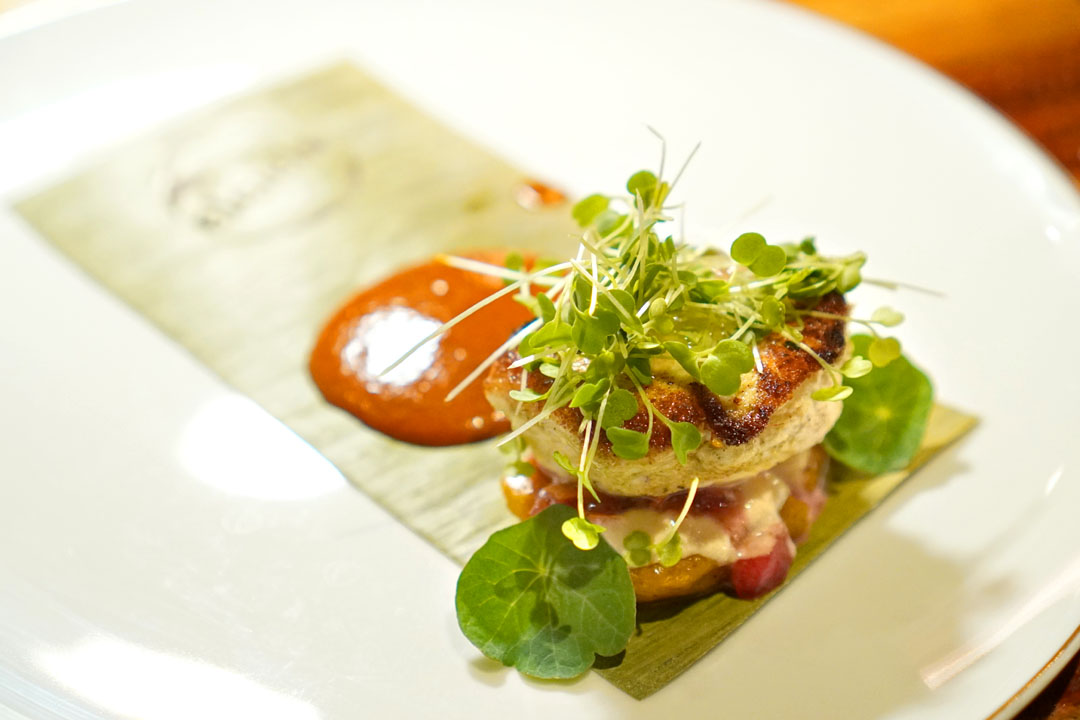 12: Catch Of The Day Tamal
Alfonsino was prepared by wrapping it in a banana leaf, then steaming. The fish's taste and texture were on point, and I liked the smoky, bitter nuances present, while that pungent, piquant dollop of sauce (red peppers, tomato, onions, carrot, achiote) on the side provided further interest. Nice use of sesame cream and onions, too.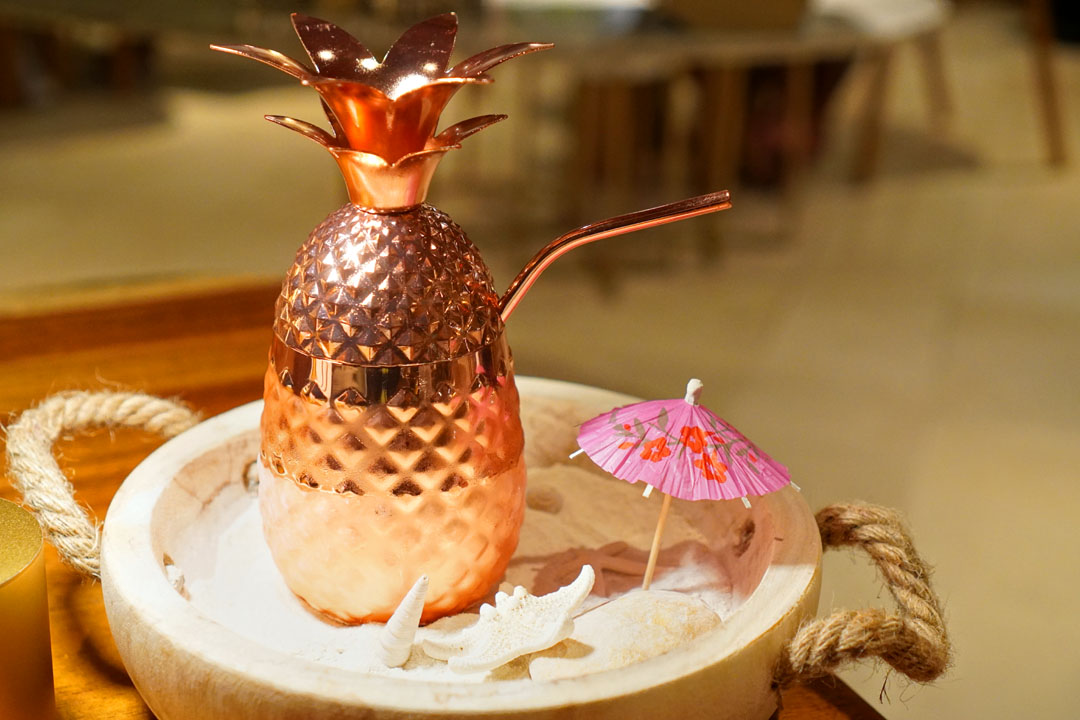 La Playa
| Rum, Tequila, Coconut & Pineapple
Cocktail #3 was a riff on a piña colada, and incorporated coconut milk, coconut water, and coconut rum. And indeed, it was super coconut-y, presenting itself in an unabashedly soft, smooth, sweet manner, though I could've used more acidity.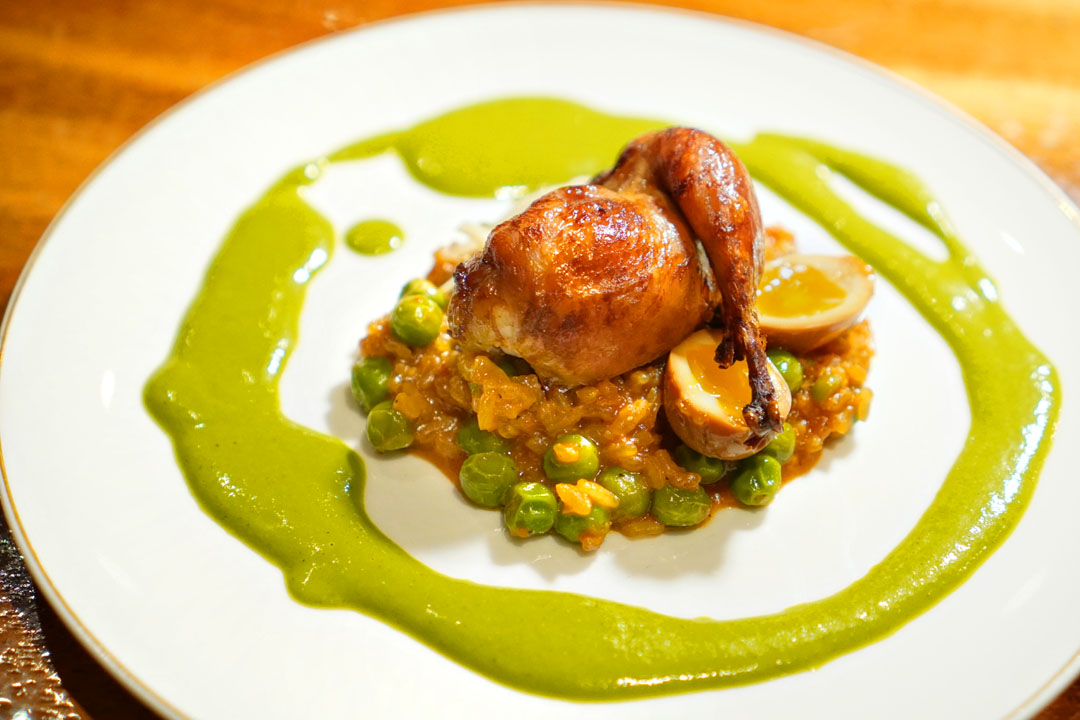 13: Quail, Wild Onion & Rice
Quail was prepared with what I believe were shallot, shiitake, and port, and featured a lovely smoke. The bird sat atop a bed of rice with green peas, carrots, and onions, which was simultaneously homey, yet somehow acerbic. Around the quail was a intensely fruity, almost severe ramp sauce, and we also had a somewhat extraneous soy-marinated quail egg.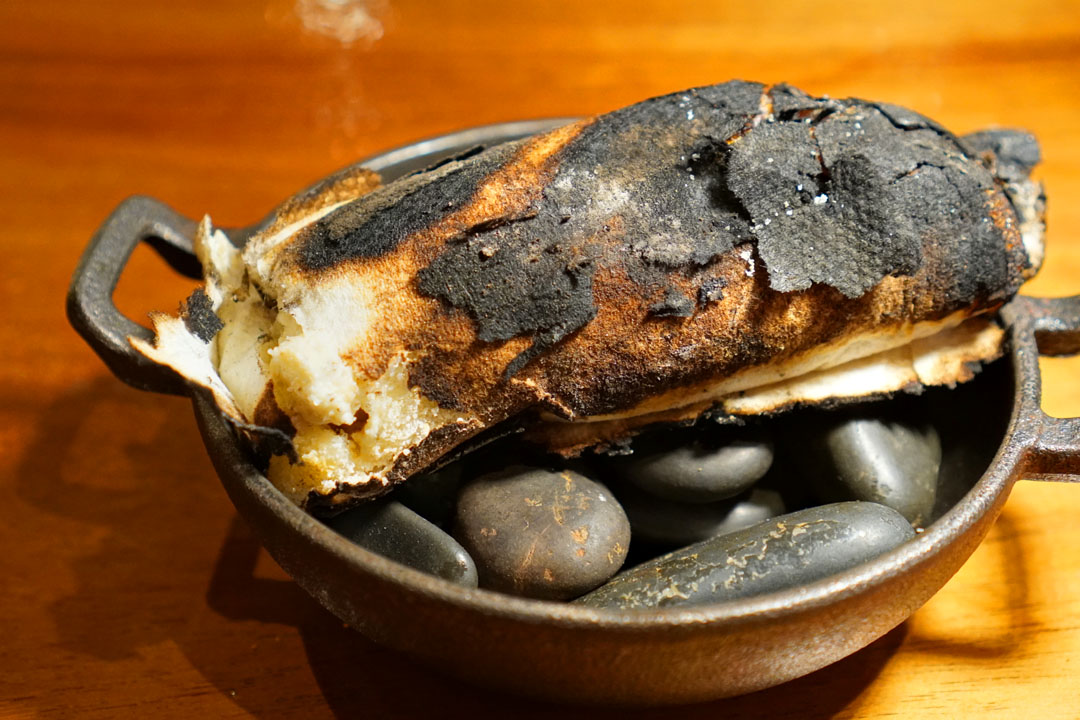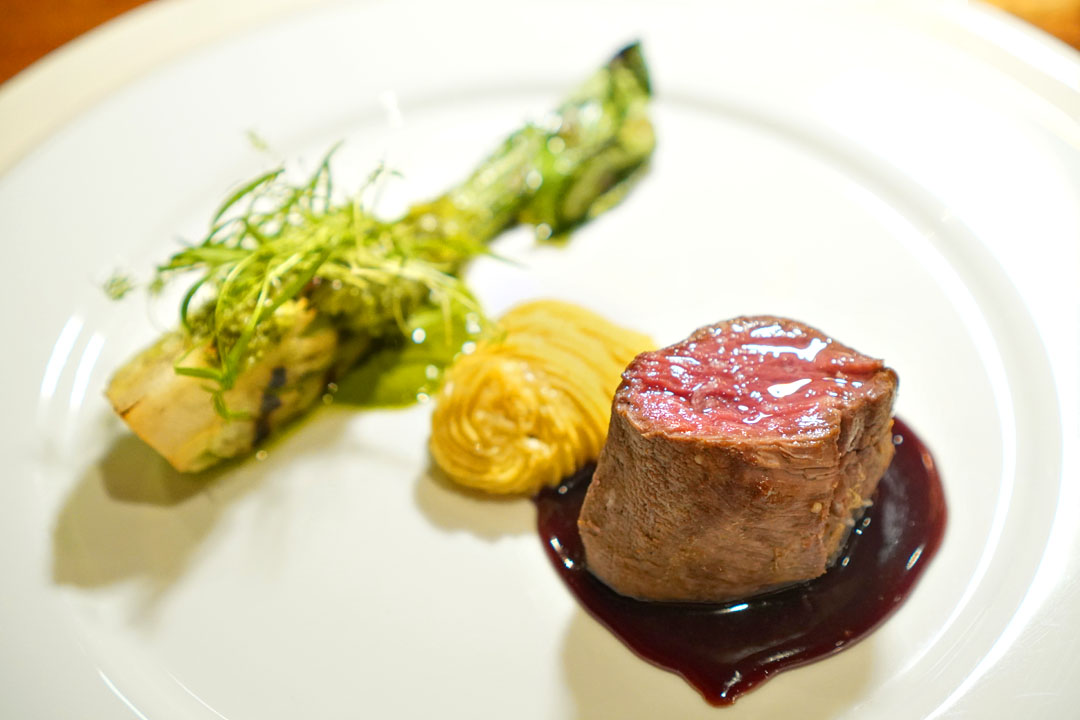 14: Bison "Al Trapo"
Bison was cooked "al trapo" style, meaning wrapped in cloth and grilled over charcoal. The meat showed off this almost "hammy" savor, which made sense with its smoky, fruity sauce, but unfortunately, it was way tougher than it should've been, and was actually a bit difficult to eat. On the side was a purée of
papa criolla
that was denser and gummier than I would've liked, while my favorite item here was that bright, crunchy stalk of bok choy, dressed in a super zesty chimichurri.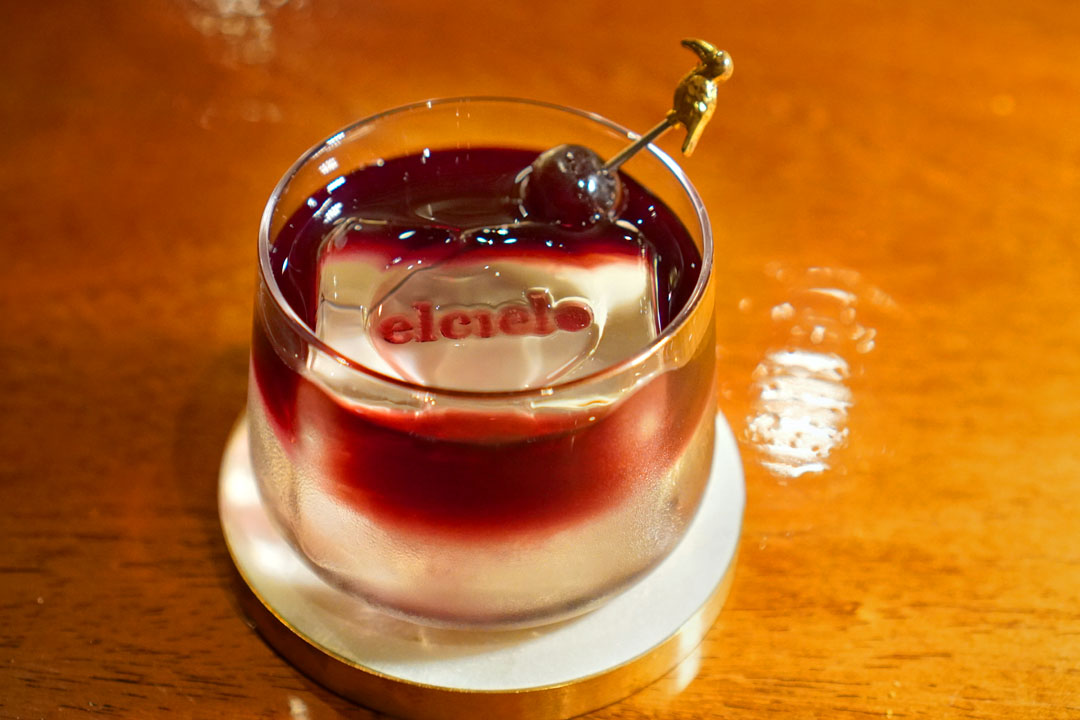 New York Sour
| Bourbon & Red Wine
My favorite cocktail was this clarified New York sour, which featured some superbly vinous, fruity, tannic flavors from a wine syrup, while the rest of the drink went in a smooth, sweet-n-spicy direction with just enough booziness.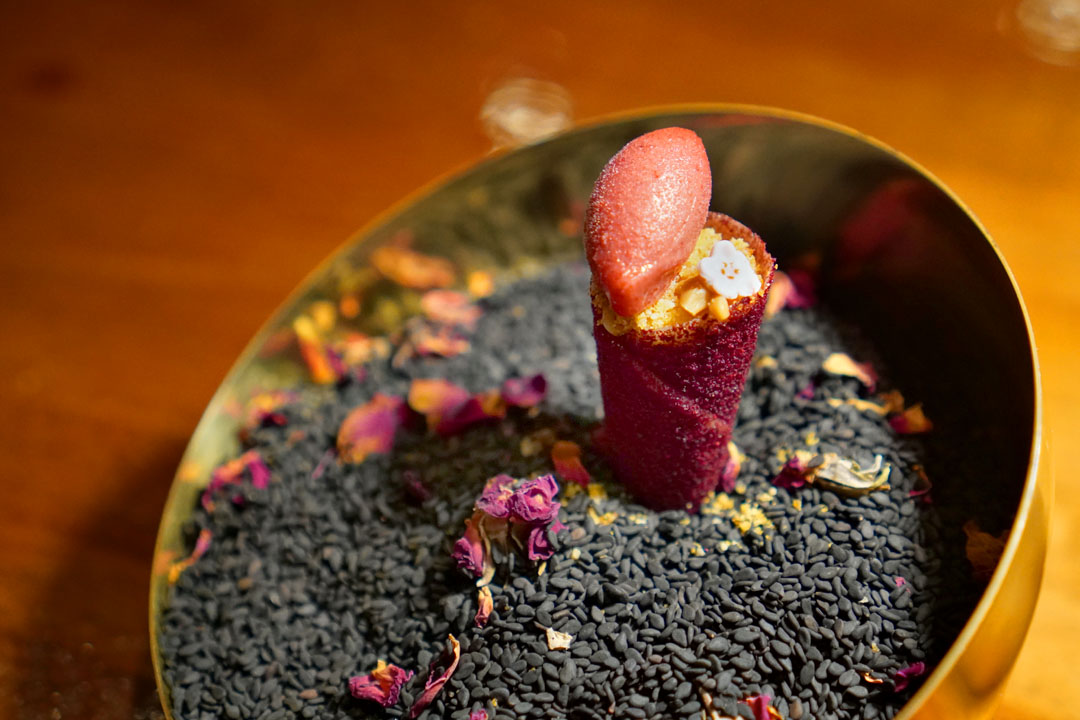 15: Cherry Blossom Cone
It was now time to get into dessert, and my first one was inspired by DC's famed Cherry Blossom Festival. This was a cone made with freeze-dried cherries, filled with cherry blossom-almond cream, topped with cherry sorbet and a cherry blossom-inspired sugar flower. As you might expect, the bite was teeming with cherry, but I also appreciated all the nutty notes present, and even detected some chocolate.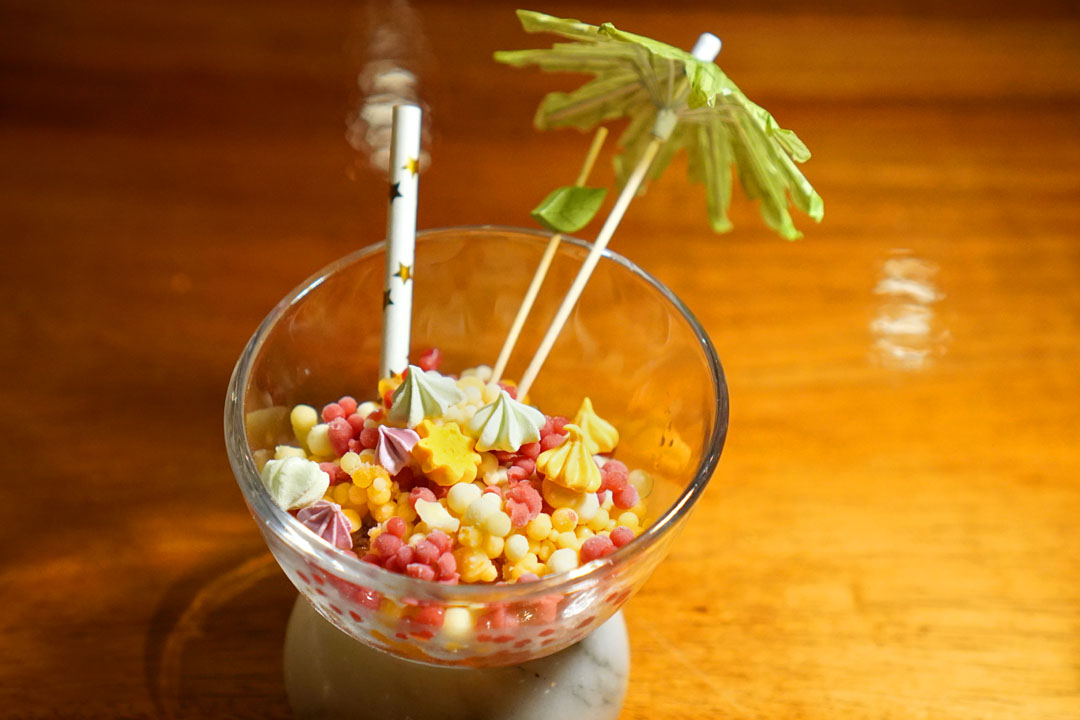 16: Cholao
A take on
cholado
consisted of shaved ice mixed with soursop, passion fruit, lulo, blackberry meringues, pineapple jellies, and pop rocks. This was a fun, refreshing dessert for sure, and I was a fan of its super fruity soursop base and tropical, almost candied sweetness, while the pop rocks mixed things up texturally. I even got a hint of black pepper in there, which was great.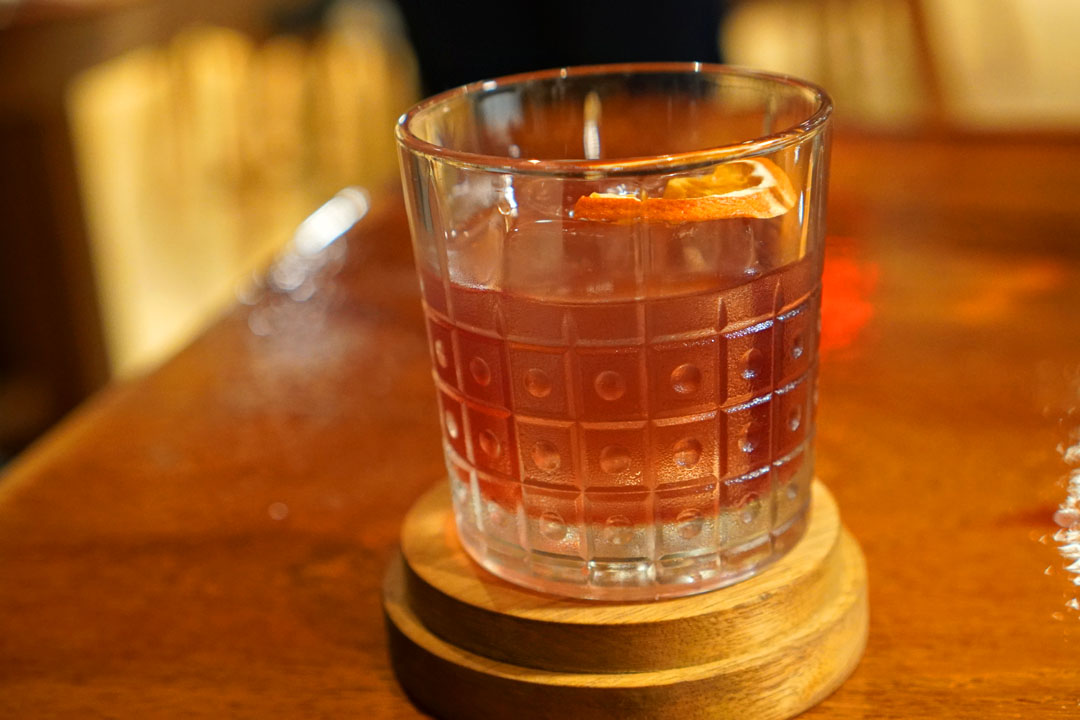 Murrapo Old Fashioned
| Lemongrass, Murrapo, Bourbon & Bitters
My final cocktail was basically a reworked smoked old fashioned. Think smoky and fruity on the nose, with a palate that highlighted spice, tobacco box, bitters, bananas, and more smoke of course. Not too shabby.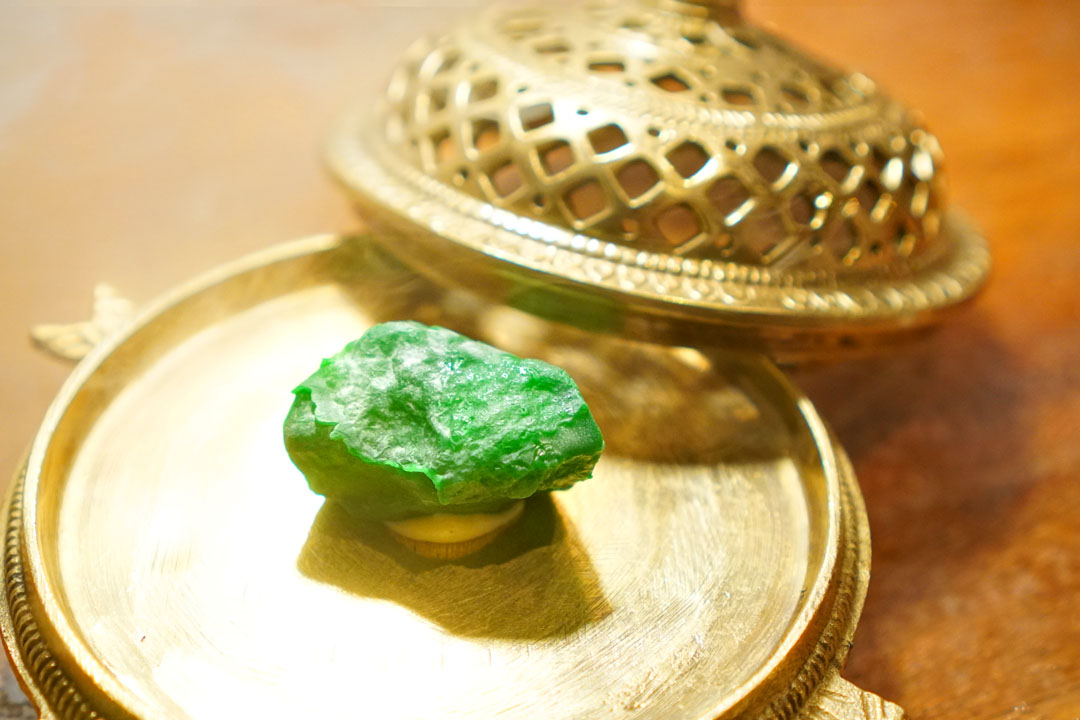 17: Colombian Emerald
This next course was a nod to Colombia's status as the largest emerald producer in the world. What we had was white chocolate ganache and lulo gel, encased in an unexpectedly hard, brittle shell. Though visually impressive, the bite wasn't all that enjoyable to actually eat.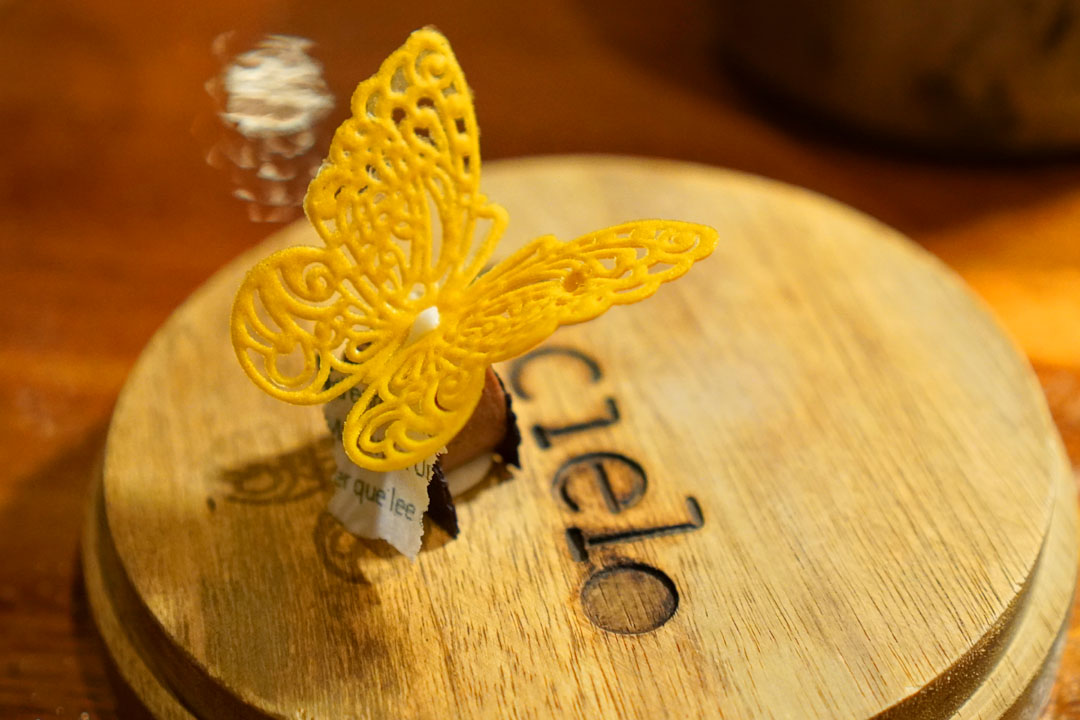 18: Yellow Butterfly
An homage to Gabriel García Márquez's landmark novel
Cien Años de Soledad
, this butterfly was constructed of turmeric wings with a coconut gel center, dark chocolate body, and rice paper printed with actual words from the book. I found the bite marshmallow-y and chocolate-y, with a nutty accent.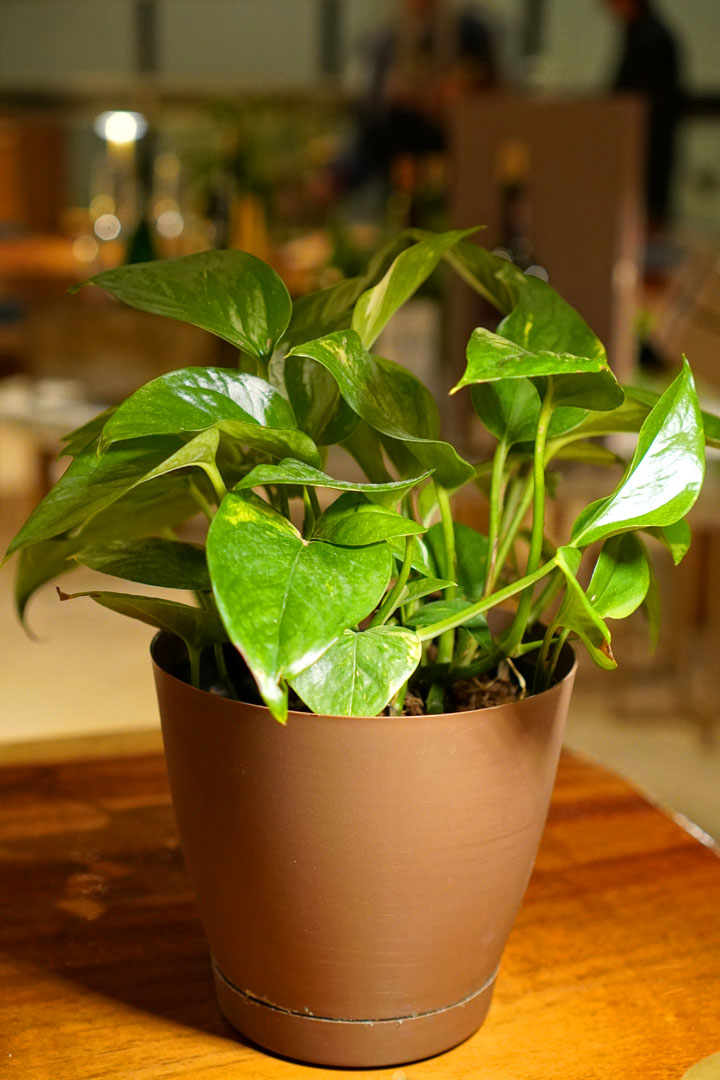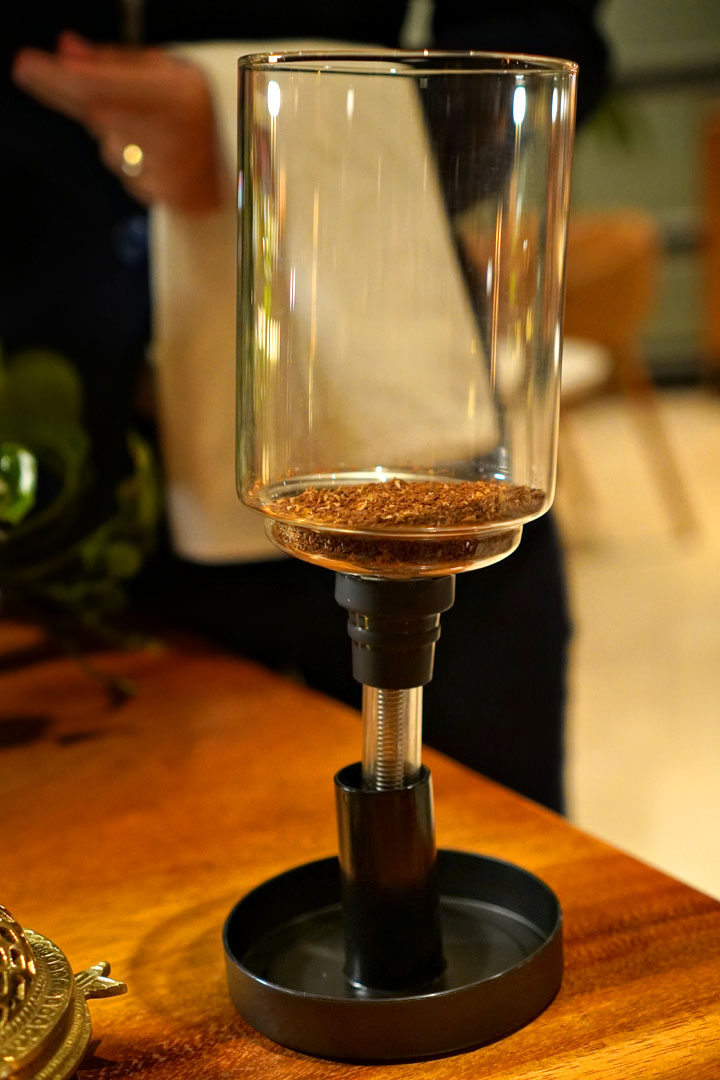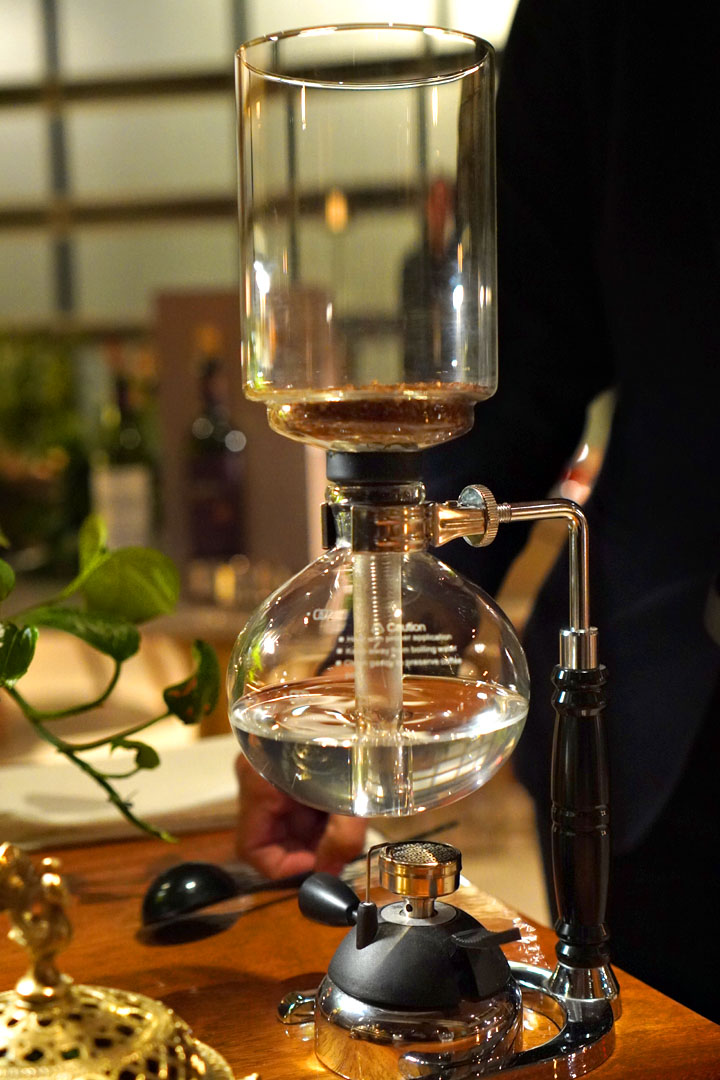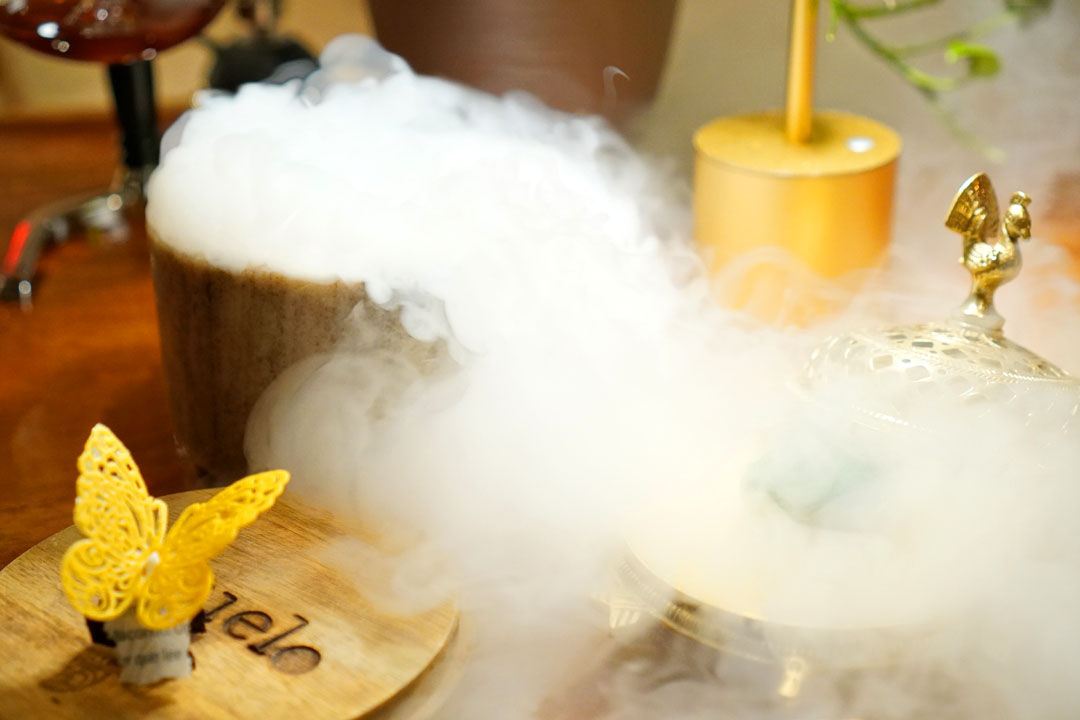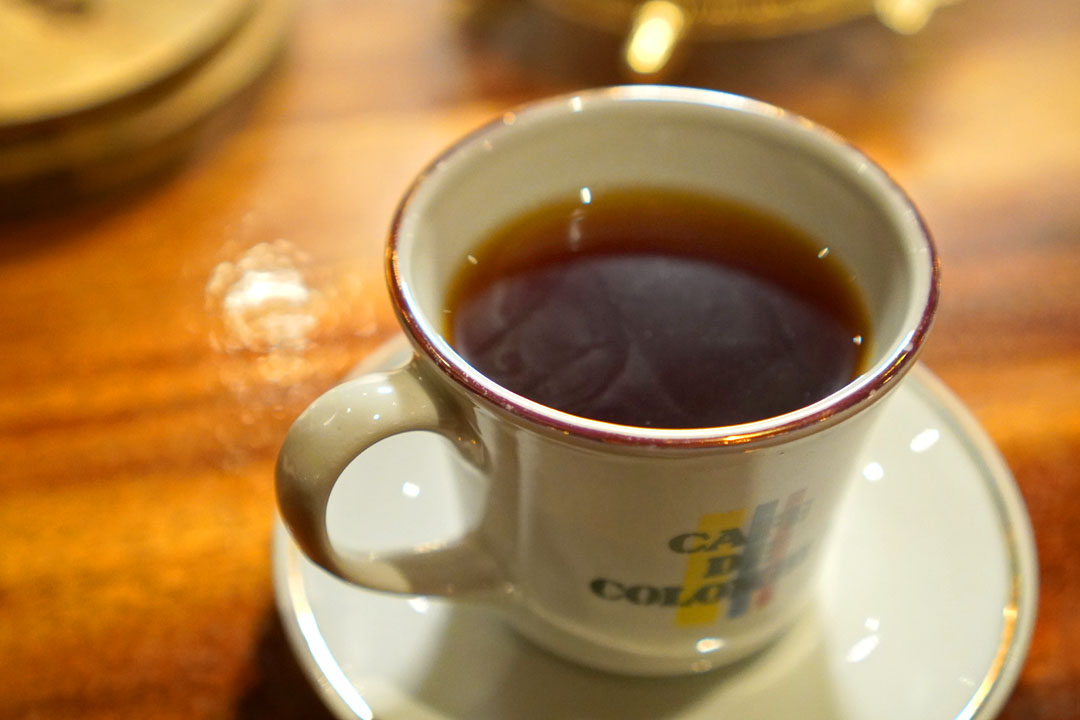 19: Coffee Field
Along with the two mignardises above came coffee service, accompanied by aromatics meant to mimic the fog of the early morning, when coffee beans are generally picked. The coffee itself was of a medium roast, and was generally light and smooth, with a fruity, nutty flavor profile that made for easy drinking.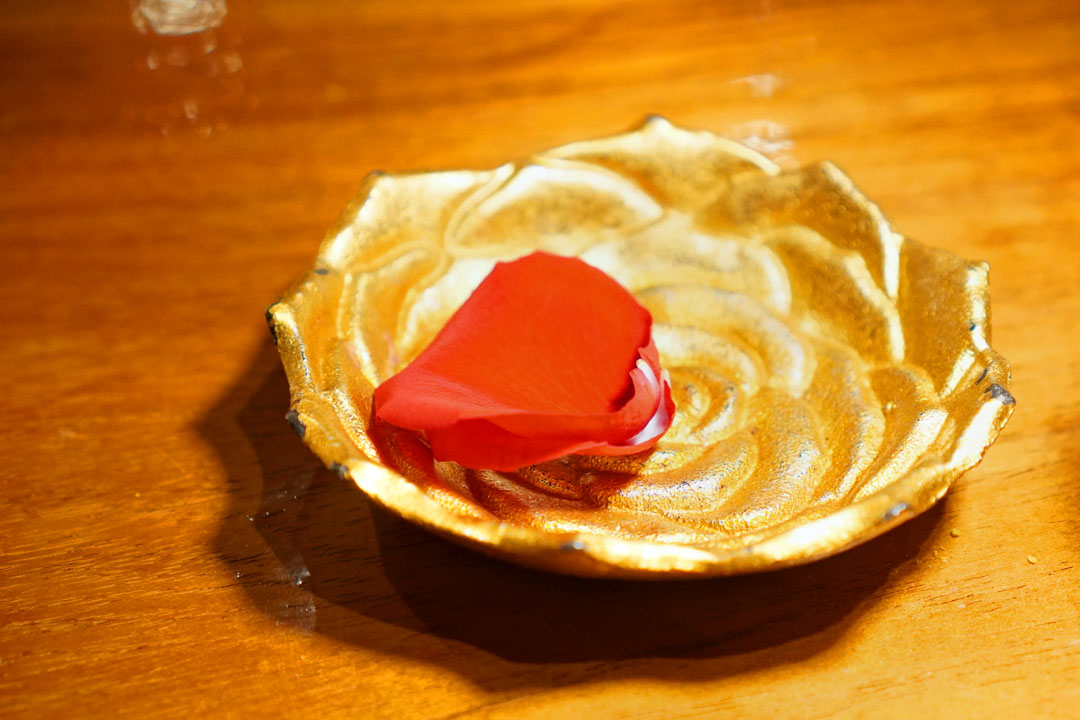 20: Rose Petals
For my final "course," I was presented with rose petals, which I was instructed to rub vigorously between my palms. The result of this was that my hands became floral-scented and almost "lotioned," which was pretty neat I suppose.
I can safely say that my experience at El Cielo was unlike any other Colombian meal I've had, or any meal for that matter. The team here really emphasizes the multisensory, experimental, theatrical, story-telling nature of the cuisine, but behind all the pomp, there's some solid cooking going on, with flavors that I don't often encounter. That being said, the kitchen should look into refining certain elements of the cuisine, as some things just didn't work tonight. More polish would surely help take this place to the next level.