Taberu (Los Angeles, CA)
Taberu Restaurant
806 E 3rd St, Los Angeles, CA 90013
213.278.0198
www.taberu-la.com
Wed 07/19/2023, 09:20p-10:45p

I was recently looking for a place to try in Downtown, and stumbled across Taberu, a new spot in the Arts District that opened just a few months ago. Named after the Japanese word 食べる ("eat"), the restaurant seems to fall into the izakaya category, but in a somewhat non-traditional manner. Taberu is the creation of Gisen Sawamura (also known simply as "G"), in collaboration with
AD Emotion Co.
, a Tokyo-based hospitality group founded in 1996.
About the Owner
: An LA native, Gisen Crawford Sawamura was born in September 1973. He attended Westchester Senior High School, and after graduating in 1991, studied at California State University, Northridge. He eventually made a name for himself as a club promoter in SoCal, but decided that he wanted to become an actor, and thus moved to Tokyo in 2001. Sawamura was able to land a decent number of film, radio, and emcee gigs, but in 2006, was tasked by the folks behind the legendary
Velfarre
discothèque to open a new restaurant/bar called Pandoras. The place was short-lived though, and following, "G" went to work at Cardenas Charcoal Grill in Ebisu, which is where he first met the team at AD Emotion.
Sawamura then partnered with AD Emotion to launch frozen yogurt shop RazzleBerry in 2008; this was followed by Shibuya's Lil' Rire Café in 2014 and Minato's LAMEX Mexican Cantina in 2016, all of which have since shuttered. He later decided to return to the Southland, and thus moved back to Los Angeles in 2022. However, his colleagues at AD Emotion wanted to use this as opportunity to open up a spot in the US, and thus the idea for Taberu was born. Chef Takashi Yoshida (owner of three Western-inspired eateries in Tokyo under the Arbol umbrella) was therefore recruited to head the kitchen, and the restaurant ended up debuting in February this year.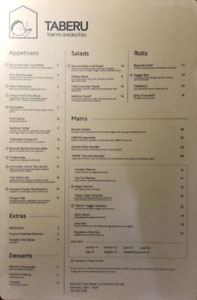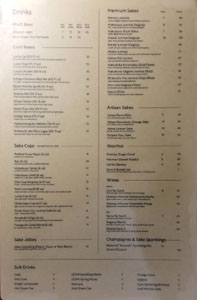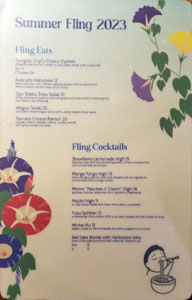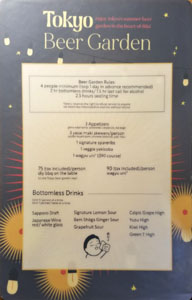 Taberu's menu is fairly wide-ranging, but is centered on
yasai maki
, or skewers of pork-wrapped vegetables. Meanwhile, the beverage selection is even broader, encompassing beers, sakes, shochus, wines, and cocktails. Click for larger versions.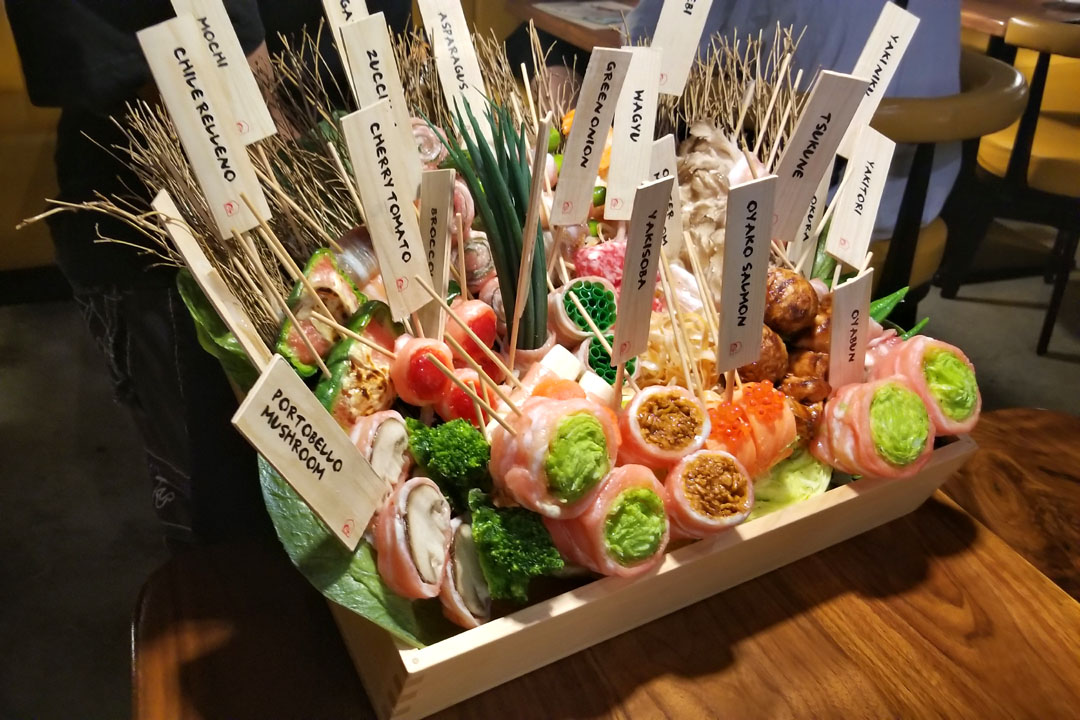 Not too long after being seated, we were presented with a rather impressive display of
shokuhin sanpuru
, or plastic food models meant to represent the various skewers on offer. They were quite realistic I have to say, and I initially mistook them for the real thing.
Yellowtail Carpaccio [$16.00]
| green onions, creamy sesame koji sauce
To kick things off, we had fatty cuts of hamachi paired with a super nutty sesame sauce. In fact, that sauce was on the verge of being overpowering, but fortunately, all that green onion kept things in check.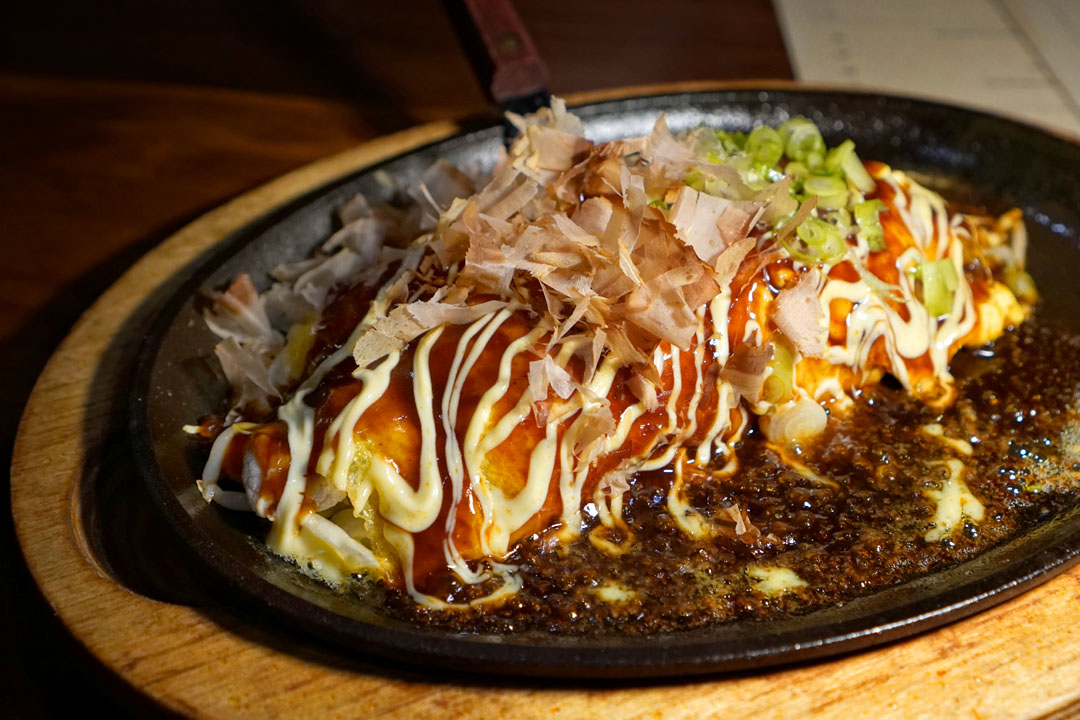 Tonpei Yaki [$11.00]
| sautéed pork strips, vegetables, melted cheese omelette in spicy mayo okonomiyaki sauce
Tonpeiyaki
is a dish that I don't think I've had before, which is sort of a shame, since it was pretty damn tasty. I enjoyed the whole sweet-savory back-and-forth going on, and also crucial was the contrast provided by the bean sprouts. Everything just came together here.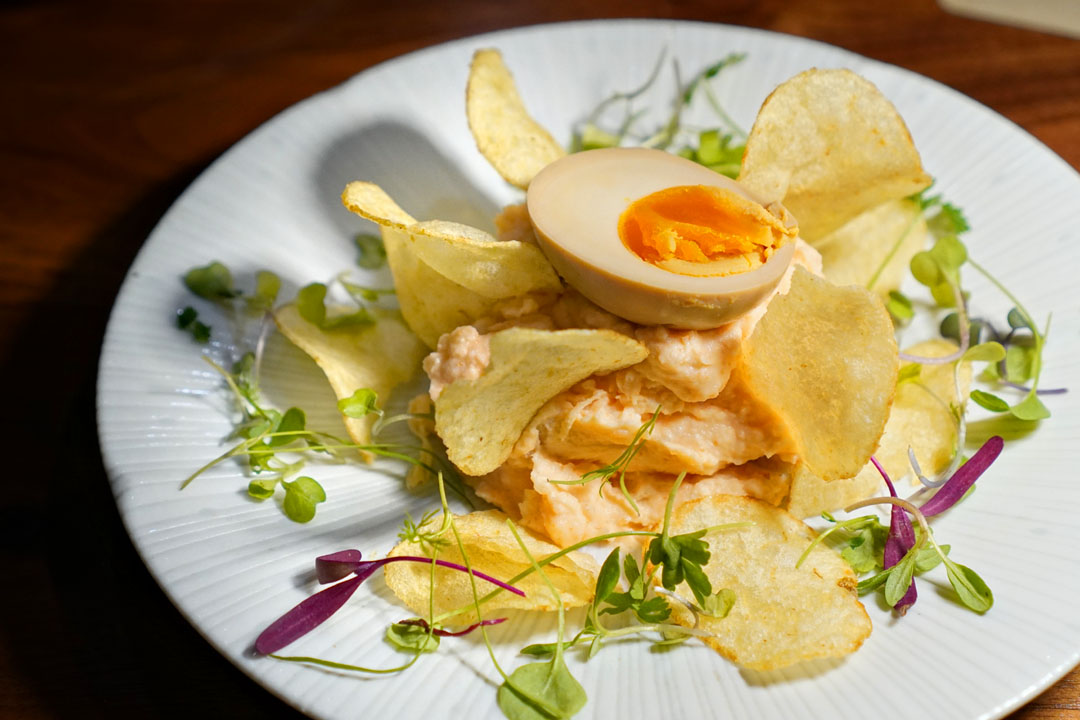 Potato Salad [$8.00]
| tokyo style potato salad with mentaiko, poached egg, potato chips
I'm a sucker for
potesara
, so this was a must-try for me. I found the salad on the smooth, creamy side, perked up by some crunchy, tangy bits, while the pollock roe imparted a touch of umami to the mix. I got a welcomed saltiness and crispiness from the potato chips, too.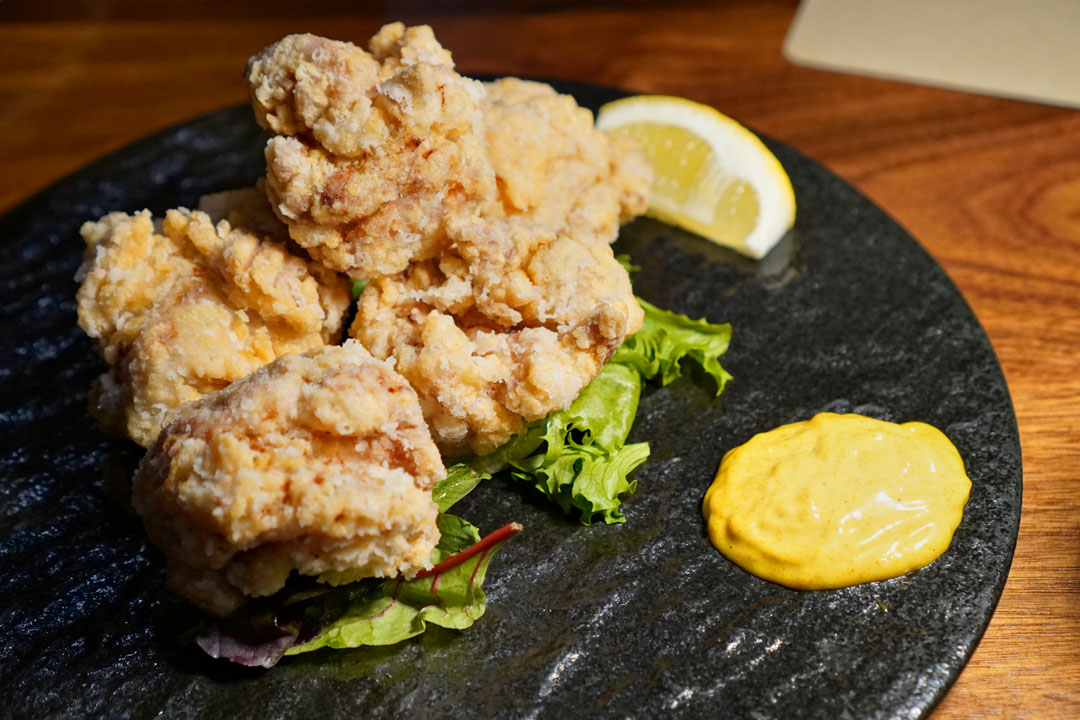 Shio Koji Karaage [$11.00]
| Japanese style fried chicken marinated in shio koji (umami) marinade (5pcs)
The fried chicken was a crowd-pleaser, the pieces coming out juicy and tender, with crisp exteriors to boot. Just as important was the marinade, which seemingly enhanced the bird's umami factor while still letting its natural flavors shine. On the side was what appeared to be a curry-boosted mustard, but I think I actually preferred the chicken by itself.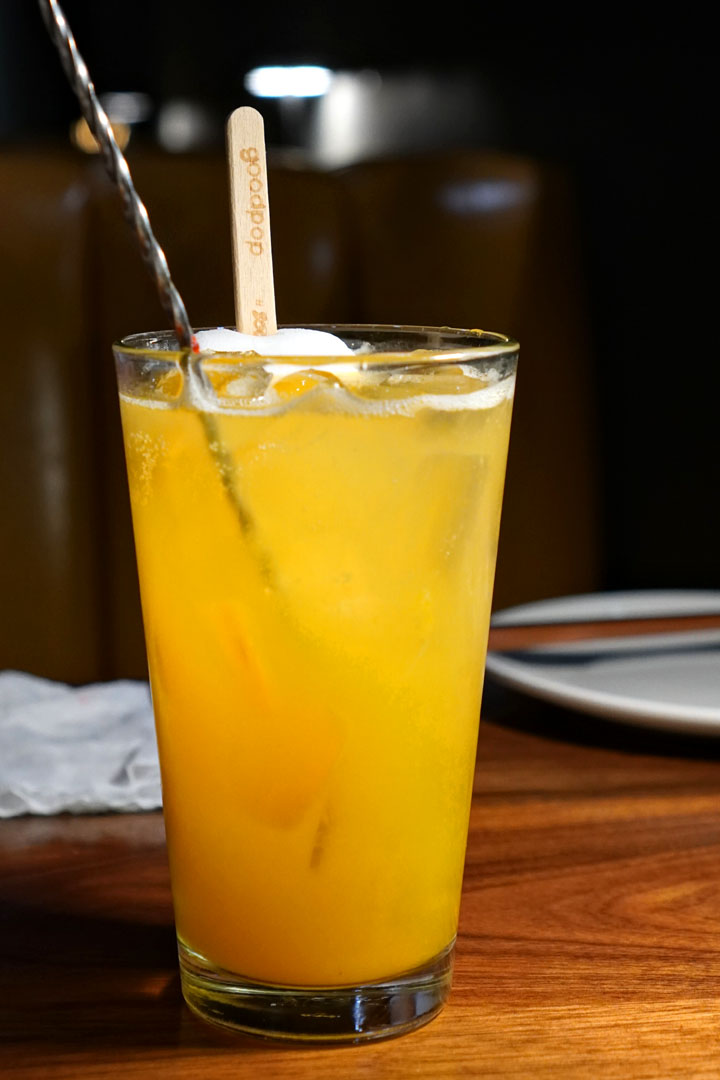 Momo "Peaches n' Cream" High [$14.00]
| peaches, shochu, soda and mix it up with a creamsicle
My first
chuhai
was surprisingly not sweet, yet at the same time, featured some pretty true to life peach flavors. The included GoodPop provided a somewhat creamy element, but didn't really integrate into the highball itself.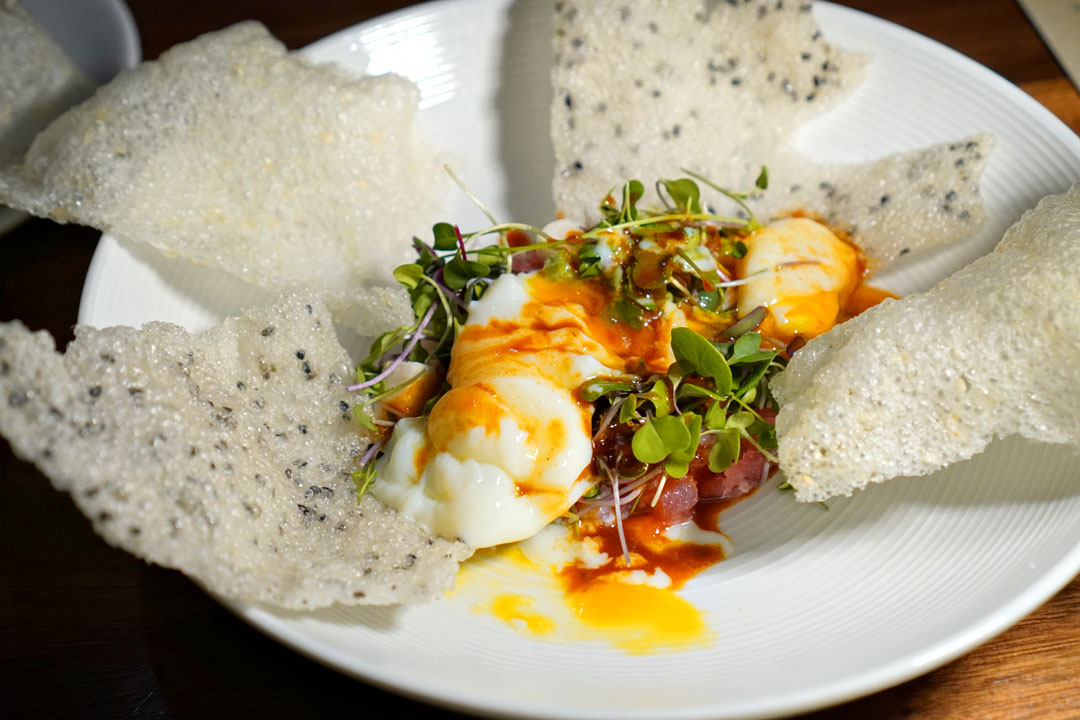 Seafood Tartar [$17.00]
| avocado, tuna, salmon, yellowtail, okura, ginger, onsen egg, crispy rice cakes in citrus dressing
Though there were ostensibly three types of fish utilized in this tartare, they all basically blended together. And indeed, that was sort of the theme for the dish, as flavors were more muddled than I would've liked. I also found the egg a bit much.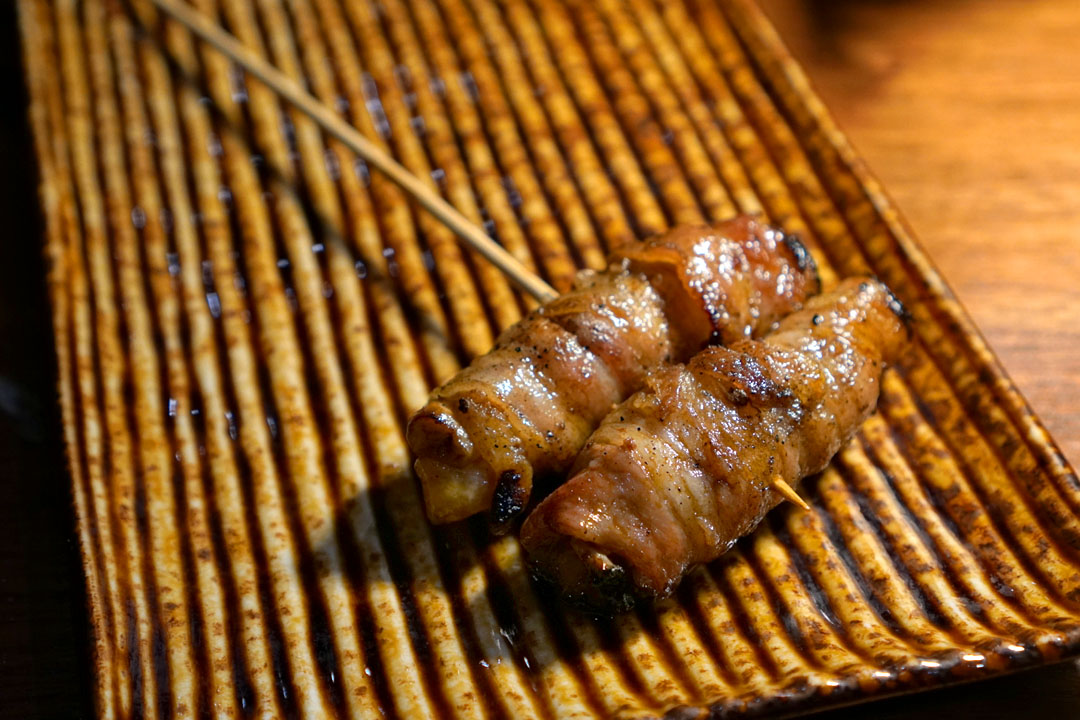 Oyster Mushroom [$5.00]
We ordered the "Sautéed Oyster Mushrooms," but apparently our server misunderstood, and we were given the skewered version instead. The 'shrooms were on point texturally, but seemed a touch underseasoned, despite their pork wrapper.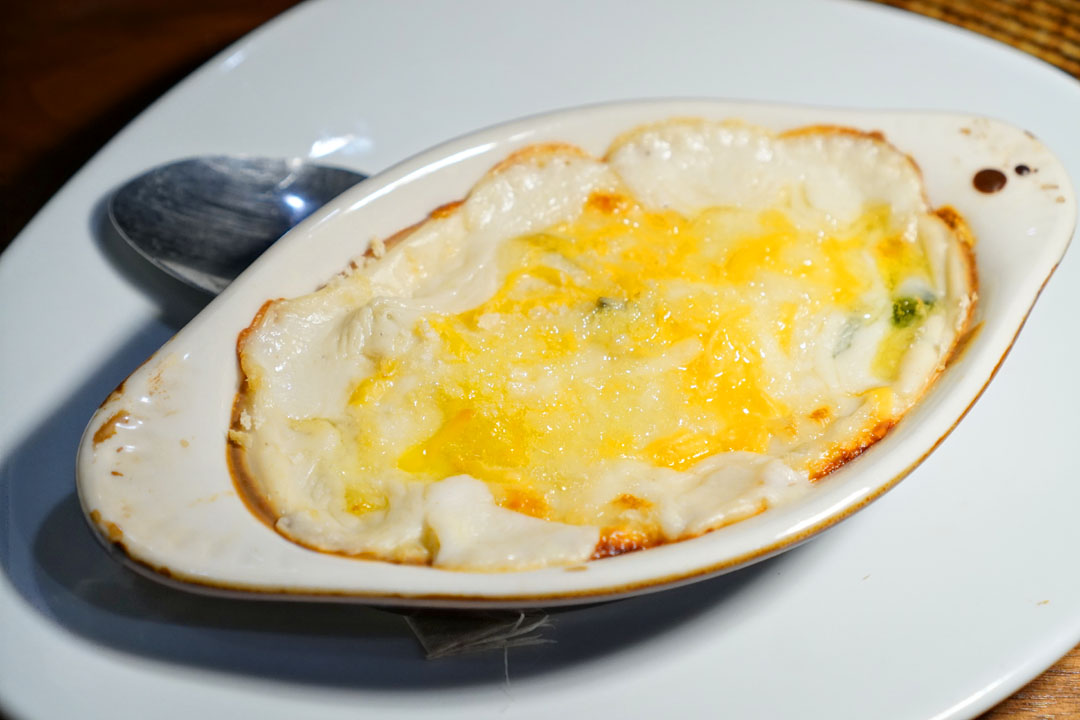 Artichoke, Mochi Tofu Gratin [$10.00]
| white sauce and mozzarella cheese; healthier version of mac n' cheese
The menu described this as a healthier version of macaroni and cheese. That's probably true, but it also wasn't nearly as gratifying.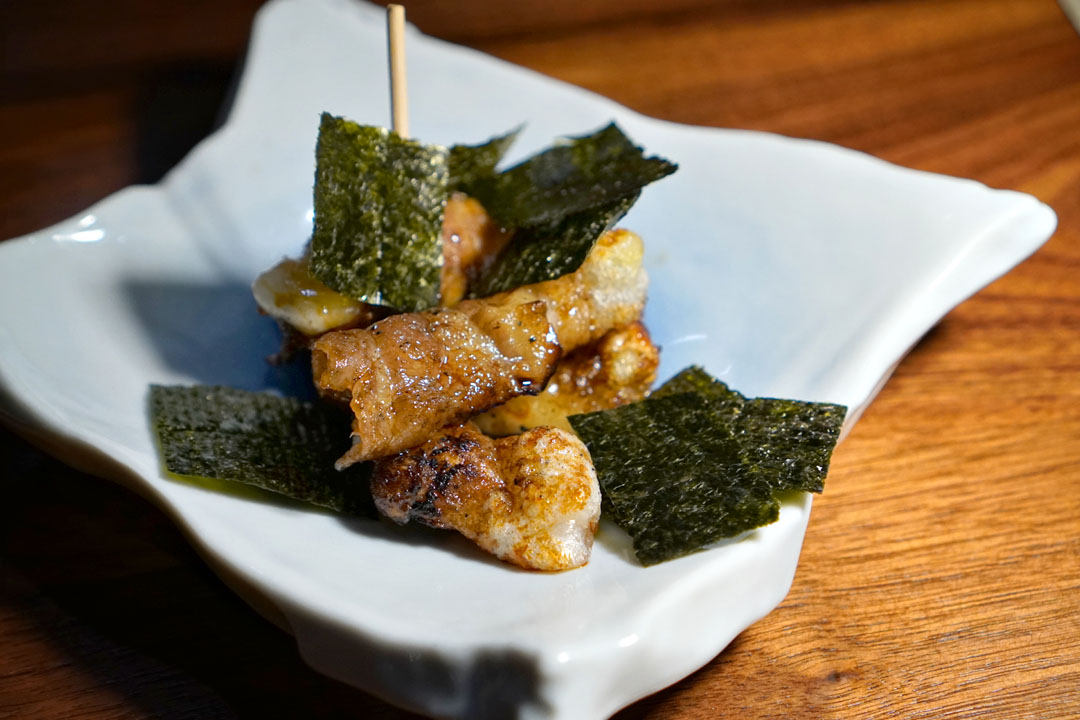 Mochi [$5.00]
| wrapped in seaweed (nori)
The skewered mochi managed to be a surprise standout. I loved its chew, but even more important was the dish's interplay between sweetness and smoke, perfectly accented by the grassy umami of nori.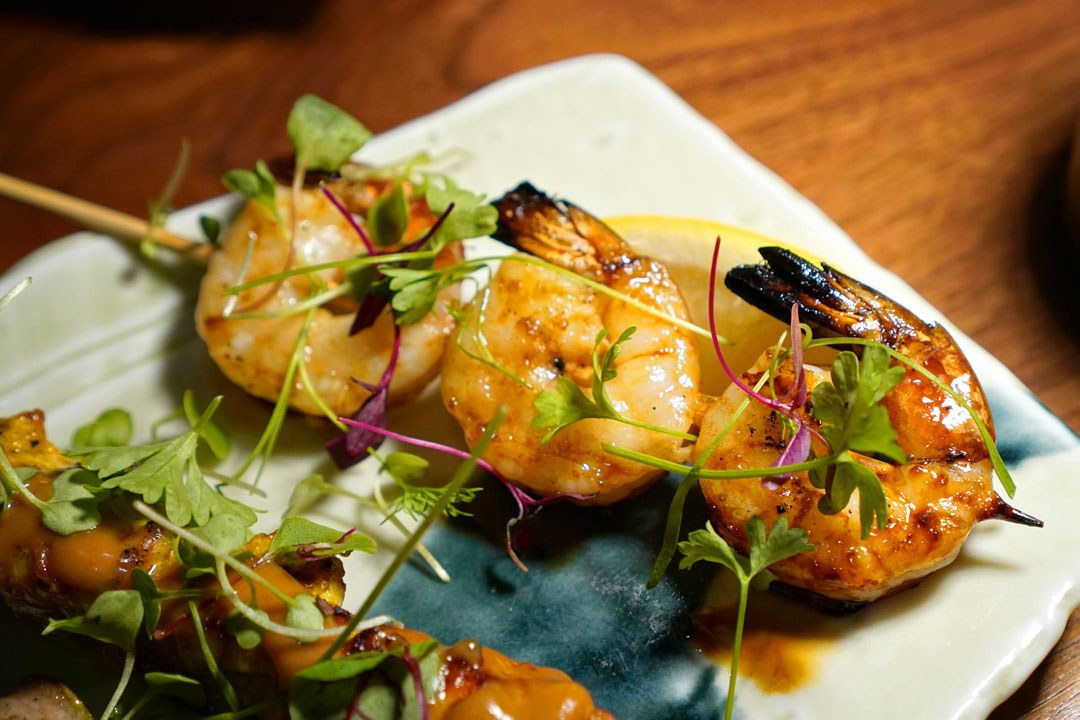 Ebi [$9.00]
| plump shrimp trio
Shrimp were cooked a tad more than I wanted, but were still decently textured, and showed off just enough char.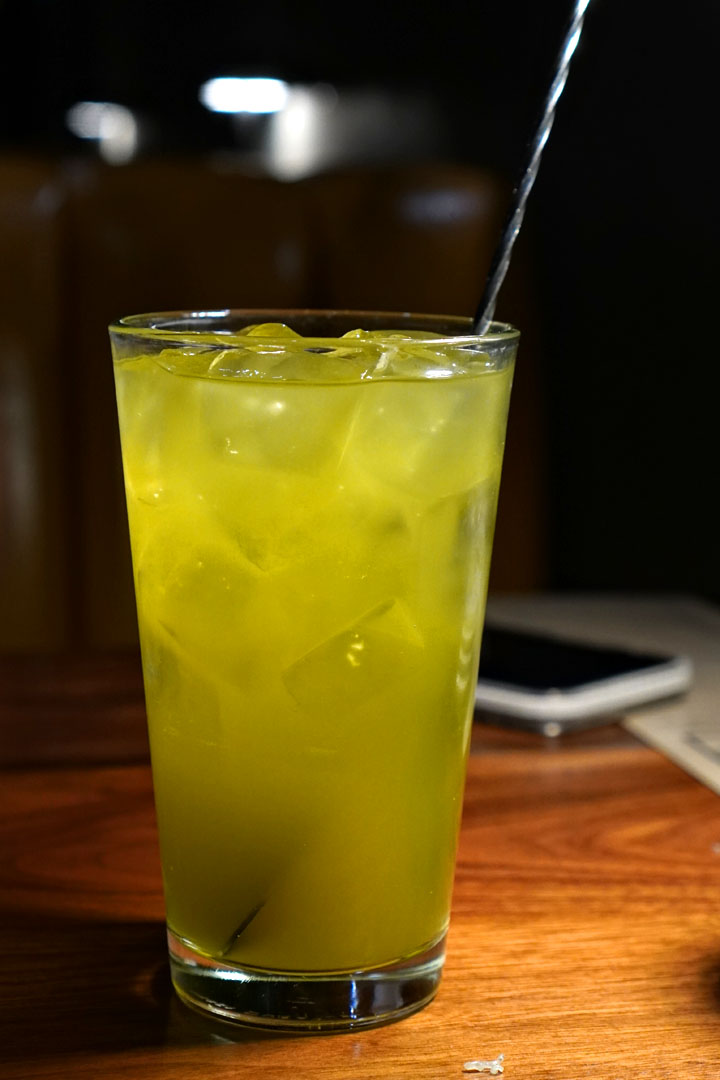 Green T High [$9.00]
| green tea, shochu
My second
chuhai
was quite dry, definitely highlighting the grassy bitterness of green tea, and really let the shochu make itself known.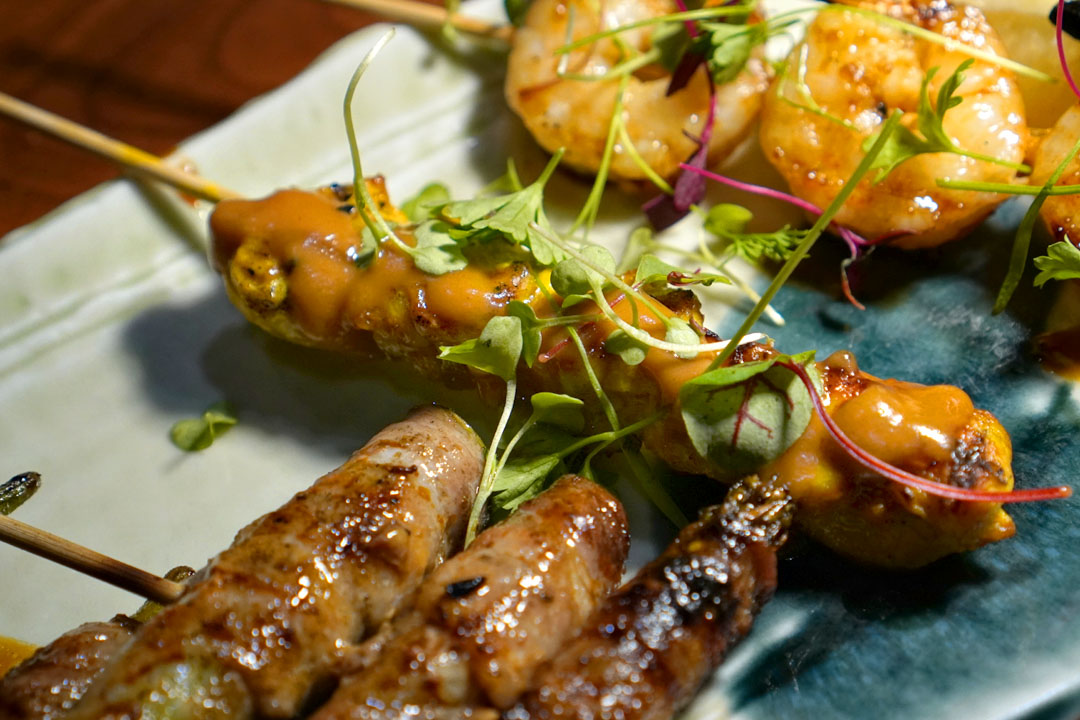 Yakitori Satay Style [$5.00]
| chicken thigh
I wish the kitchen had stuck with a classic preparation of
momo
, as I found the peanut sauce overly sweet, and wanted to taste more from the chicken itself.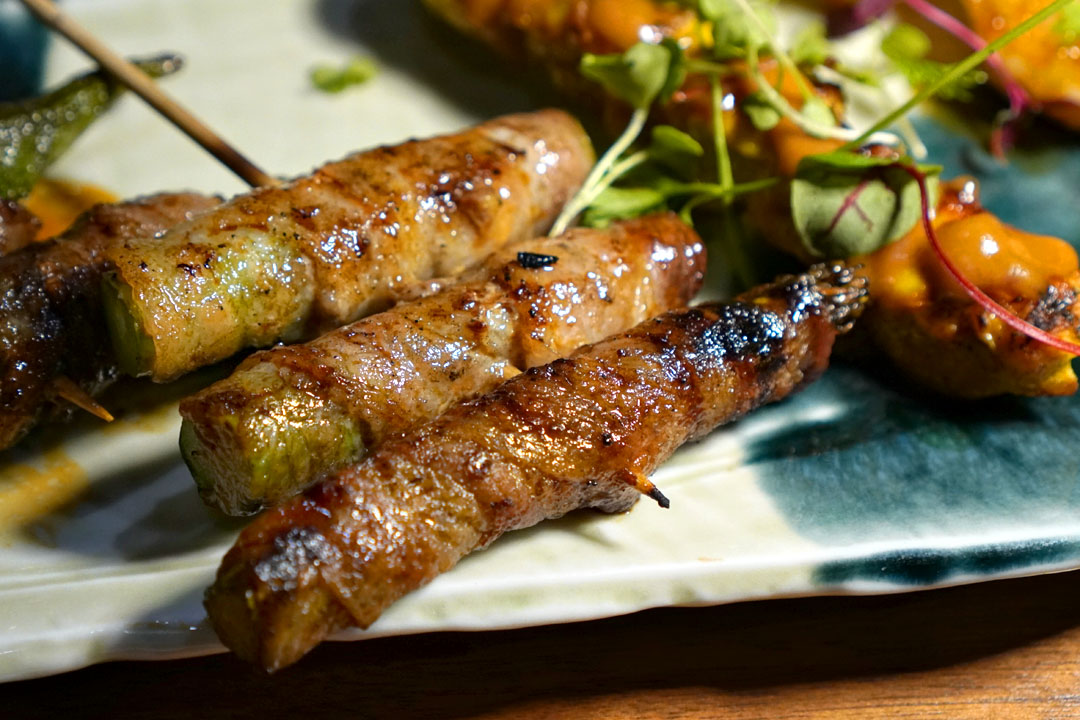 Asparagus [$4.00]
Firm, juicy spears of asparagus worked as a natural pairing with the pork.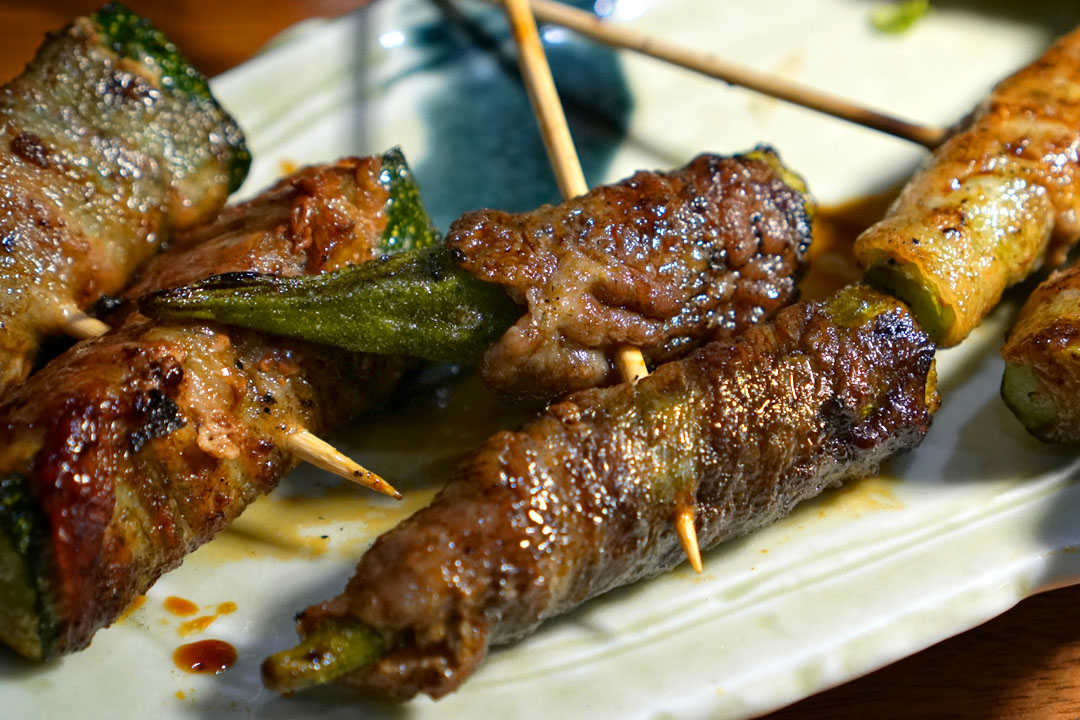 Okura [$5.00]
Okra came out well-textured and just barely mucilaginous, and made a lot of sense with its pork belly wrapper.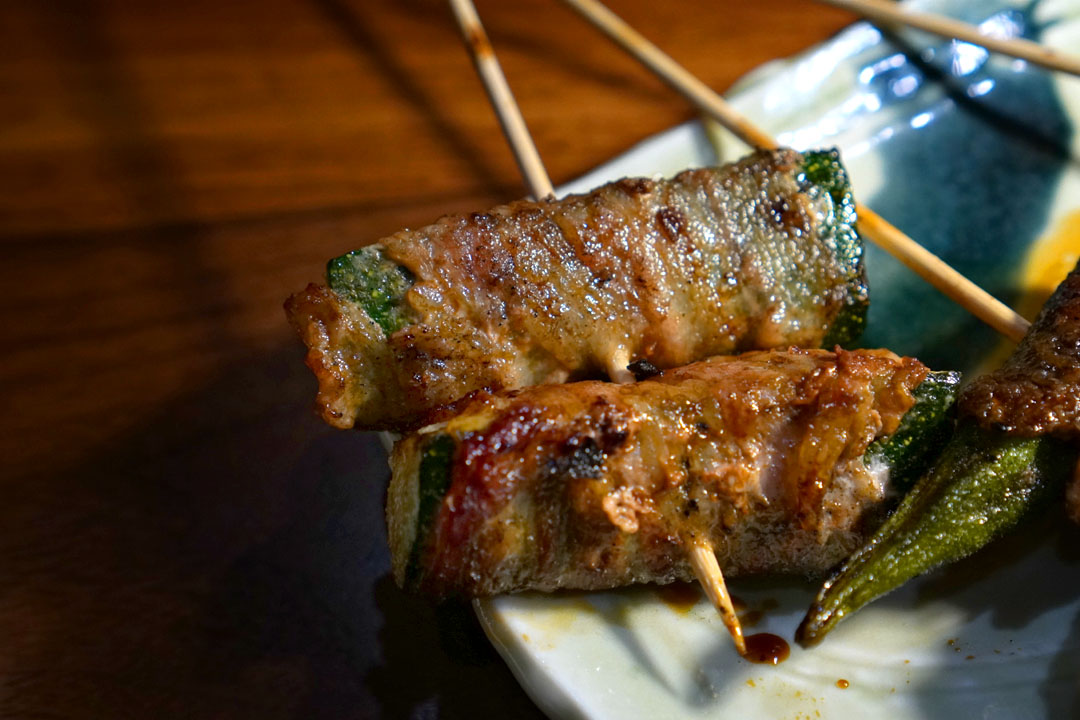 Zucchini [$4.00]
The evening's final skewer was the zucchini, which was actually a mistake, given that I'd ordered
tsukune
but was misheard by our server. In any case, given the rather mild flavors of the veggie, the saltiness of the pork was crucial here.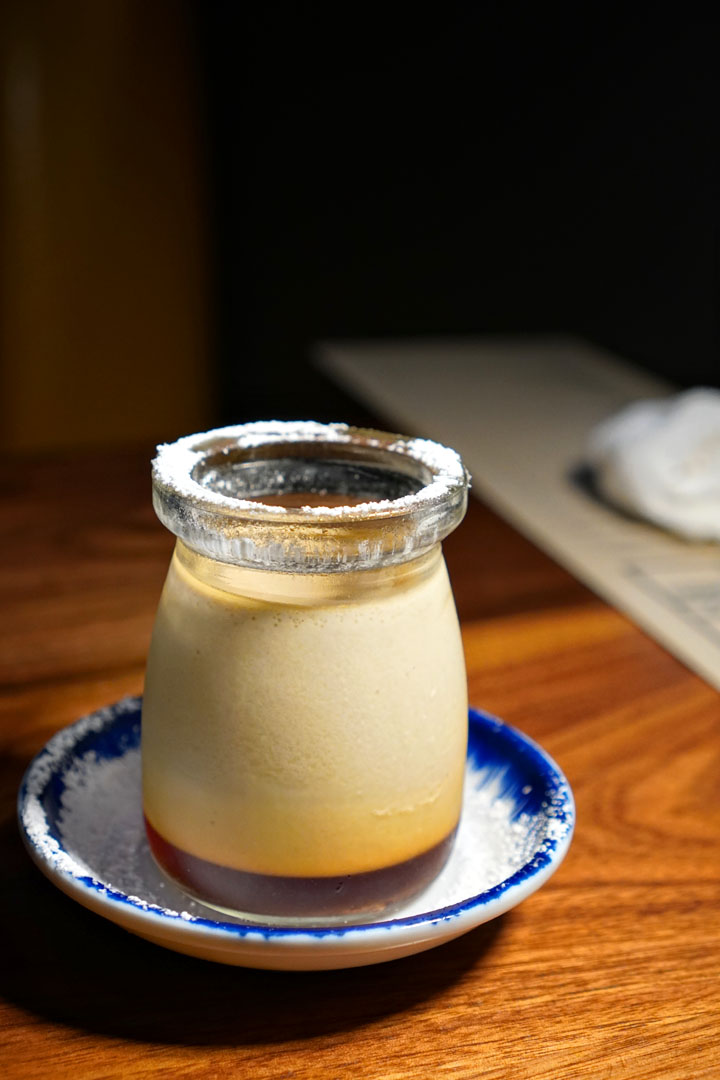 Hojicha Pudding [$6.00]
| roasted green tea
Dessert consisted of a roasted tea pudding. It was generally enjoyable, though the actual roastiness should've been more apparent to match up with the sweetness of what seemed like
kuromitsu
.
We had a few misfires with our meal tonight, though nothing too egregious, while on the other hand, there were a number of standout dishes as well, so overall this was a pretty decent dinner. It's appreciated that the team here is doing things a bit differently than the norm, and I wouldn't mind trying more of the menu. A solid addition to the Arts District dining scene.