The Fat Duck (Bray, United Kingdom)
The Fat Duck Restaurant
High St, Bray, Berkshire, SL6 2AQ, United Kingdom
+44 1628 580333
www.thefatduck.co.uk
Tue 10/10/2023, 08:00p-01:05a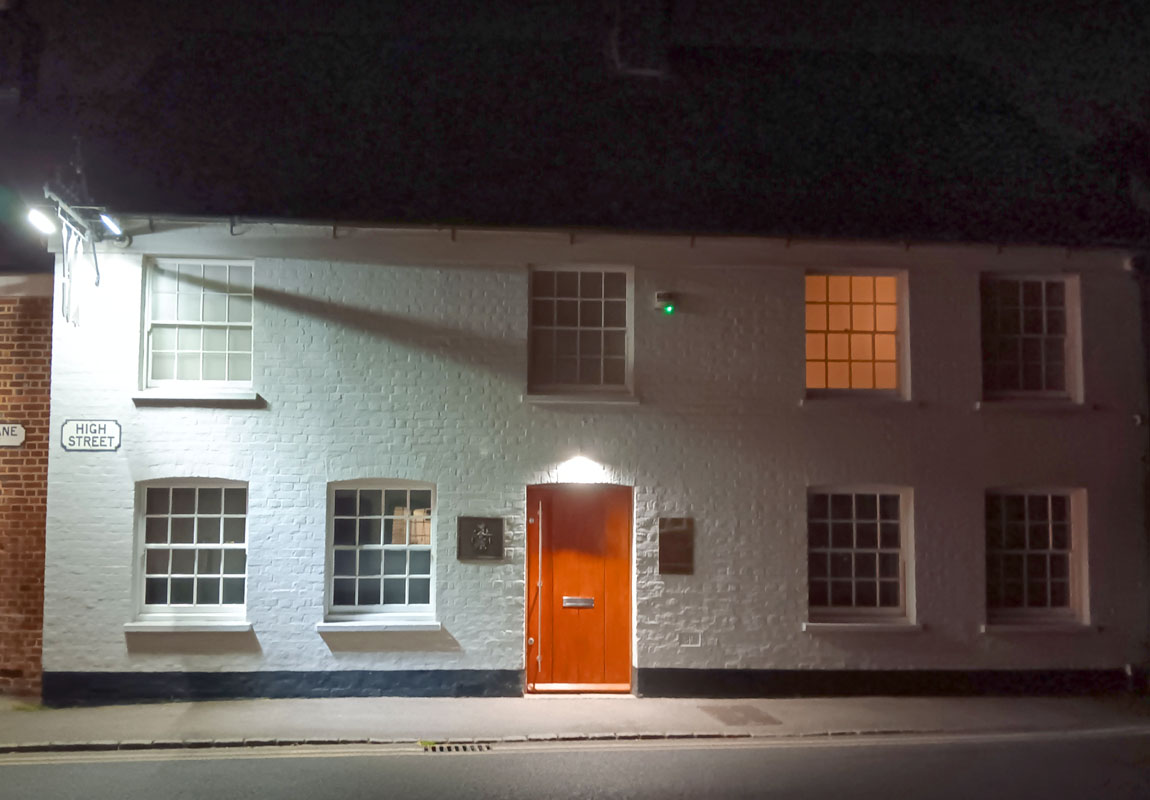 If we're talking about my bucket list restaurants, Heston Blumenthal's The Fat Duck has got to be on there. Blumenthal is, of course, considered one of the foremost practitioners of modernist cuisine (or molecular gastronomy, if you prefer), known for his scientific-minded approach to what he deems "multi-sensory cooking" (though I think he prefers the term "quantum gastronomy" these days). I'd initially heard about him and his pioneering creations back in the early-to-mid 2000s, right when I first began getting really into food, and thus a dinner at The Fat Duck was an absolute must for me on this recent visit to England.
About the Chef
: Heston Marc Blumenthal was born in May 1966 in Kensington to a Jewish family, but was largely raised in Paddington, then Buckinghamshire. He attended Latymer Upper School in Hammersmith for a year, then went to St John's Church of England School in Lacey Green until the age of 12, and finished his studies at John Hampden Grammar School in High Wycombe. He got interested in cooking at age 16, when he went on a family vacation to Provence and was able to dine at Raymond Thuilier's three-star L'Oustau de Baumanière. Following, Blumenthal continued to eat at Michelin-level restaurants, apparently making his way to well over 100 just in France, and furthermore, amassed a collection of dozens upon dozens of cookbooks. In 1984, he began a
stage
at Raymond Blanc's two-star Le Manoir aux Quat'Saisons in Oxford, but lasted a mere week, though he did meet a fellow cook named Marco Pierre White, with whom he would keep in touch.
Over the course of the next decade or so, Blumenthal taught himself to cook while working a variety of unglamorous jobs, making good use of that aforementioned cookbook collection (the most influential being Harold McGee's
On Food and Cooking
). In 1989, he married his first wife Zanna, with whom he had three children. Reinvigorated in his desire to cook, he contacted his former colleague Marco Pierre White and was able to land a gig at White's London restaurant The Canteen (which he'd opened in 1992 with actor Michael Caine). Blumenthal only worked there for three weeks, but that was apparently enough, as he opened up The Fat Duck on August 16, 1995 in the former home of a pub called The Ringers (and before that, The Bell Inn). The food served was originally modeled after bistro fare, and business wasn't great at first (the place was close to bankruptcy early on), but the cooking began to get more and more inventive, thus drawing more and more attention. The restaurant got its first Michelin star in 1999, which was followed by another in 2001 and yet another in 2004.
In 2002, Blumenthal released his first cookbook, the family-focused
Family Food: A New Approach to Cooking
, and also opened Riverside Brasserie at the Bray Marina, but sold his interest in the eatery in 2004 to its longtime head chef Garrey Dawson. Following, using funds from the sale, he debuted The Hind's Head just up the street from The Fat Duck. The modern gastropub was well-received, and eventually received a Michelin star in the 2013 edition of the guide. In 2005, The Fat Duck achieved the #1 spot in
Restaurant
magazine's "The World's 50 Best Restaurants" ranking, while in January 2006, Blumenthal was awarded an OBE for his contributions to the UK's dining scene. A second cookbook called
In Search of Perfection
came in December that year, while
Further Adventures in Search of Perfection
was released in December 2007, and
The Big Fat Duck Cookbook
in October 2008. In addition, the Chef reportedly sold his stake in his restaurants in 2008 to Ronnie Lowenthal, his father's step-brother.
Tragedy struck in January 2009, when over 400 diners fell ill due to a norovirus outbreak at The Fat Duck, which was eventually traced back to bad oysters. The restaurant shut down for a while, but was back in business by March. Two more books came in July 2009 (
Total Perfection
) and May 2010 (
Heston's Fantastical Feasts
). 2010 also saw Blumenthal's semi-controversial takeover of The Crown, a traditional pub located just down the street from The Fat Duck (he recently sold the place off). In January 2011, he launched Dinner by Heston Blumenthal at the Mandarin Oriental Hyde Park. The Adam Tihany-designed spot focuses on modern takes of historic British fare, and received its first Michelin star in the 2012 guide, and its second in the 2014 edition. The Chef separated from wife Zanna in August 2011 (they got officially divorced in 2017), and soon started openly dating writer-slash-actor Suzanne Pirret (they were allegedly having an affair prior). However, he would eventually "marry" Stephanie Gouveia in May 2018, with whom he had daughter Shea-Rose in 2017.
Heston Blumenthal at Home
was released in November 2011, while
Historic Heston
arrived in November 2013. In June 2014, Blumenthal opened The Perfectionists' Café, a casual eatery located at Heathrow's Terminal 2. At the end of 2014, The Fat Duck closed temporarily for renovations, and as a result, the team actually moved the restaurant to the Crown Towers hotel/casino in Melbourne, Australia. This pop-up of sorts started on February 15th, 2015, and ran for roughly six months. At the end of that duration, the space was turned into the second iteration of Dinner by Heston Blumenthal (which actually shuttered on Valentine's Day 2020 due to insolvency triggered by massive unpaid wages). The Fat Duck finally re-opened on September 29th that year with a new, supposedly more personalized menu concept.
At the end of summer 2018, the Chef and his family relocated to Eygalières, a village in southern France not far from L'Oustau de Baumanière, reportedly to get away from "distractions." He began focusing his time on researching and experimenting with water, curiously enough, but also started a period of introspection. By early 2022, Blumenthal had largely rekindled his love of cooking, and even released a new book (
Is This a Cookbook?
) last fall. At the start of 2023, he announced his split from Gouveia and subsequent engagement to Frenchwoman Melanie Ceysson (they married in March), and just days later, an outpost of Dinner by Heston Blumenthal debuted at Atlantis The Royal in Dubai (along with a bar called Resonance by Heston Blumenthal, which appears to have already shuttered).
Given what you just read, you'll not be surprised to hear that Blumenthal isn't in the kitchen much these days. Rather, the day-to-day is the charge of Executive Head Chef Edward Cooke. He trained at Cornwall College in St Austell, and got his first real cooking job in 2005, as an apprentice at Rick Stein's Seafood Restaurant in Padstow. He joined The Fat Duck in February 2010 as a chef de partie, then rose to senior sous, Head Chef in August 2016, and finally Executive Head Chef in September 2021.

The Fat Duck occupies a building that reportedly dates back to the 1500s, though you wouldn't be able to tell by looking inside. The aforementioned 2015 refurbishment cost £2.7 million, and included structural work as well as a new kitchen. The dining room hasn't changed all that much, though it does sport a more contemporary look these days. Shown above is the view from my seat, and as you can see, it's a rather spare space, better to focus your attention on the food I suppose.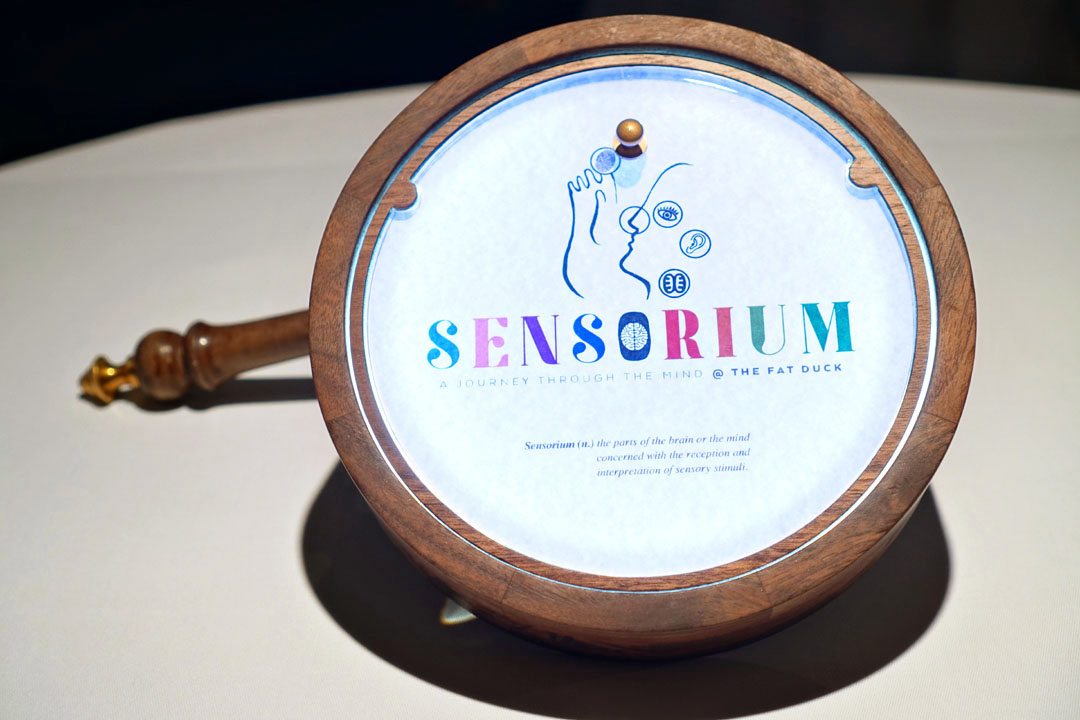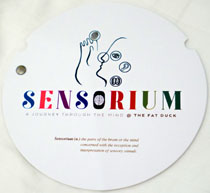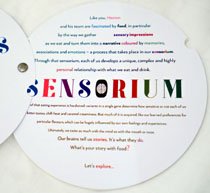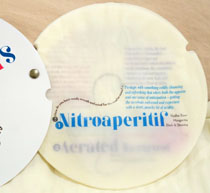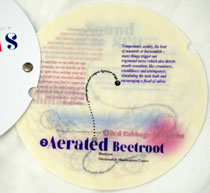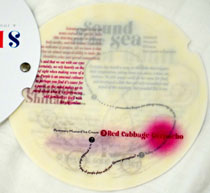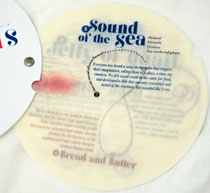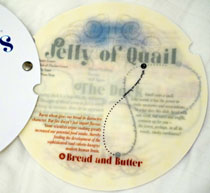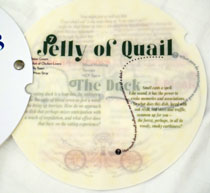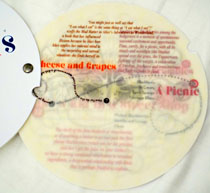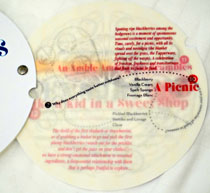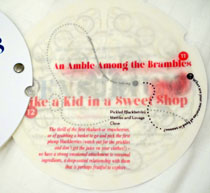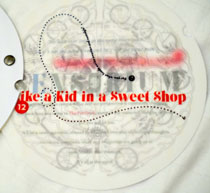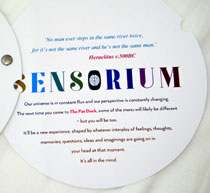 Introduced this year following a series of five anthology menus launched in August 2020 to celebrate The Fat Duck's 25th anniversary, tonight's menu was entitled "Sensorium: A Journey Through the Mind," and the theme of it was to explore how one's senses combine with the brain to create our perception of food and taste. The menu was revealed in a series of cards, which were placed on a light box at the table, swapped out between courses. It was a super creative presentation, and something I'd never seen before, so hats off to the team for coming up with it. Click for larger versions.
Pricing was £350 ($446.88), pre-paid on Tock (though they moved to SevenRooms shortly after I booked my ticket), with an additional 12.5% service charged at the time of the meal. Wine pairings were available at £145 ($178.28), £295 ($362.70), and a whopping £1420 ($1745.90), while sake and non-alcoholic pairings cost £290 ($356.56) and £110 ($135.25), respectively. Do note that parties of one aren't permitted, so I was forced to book for two even though I was dining solo, which was obviously annoying.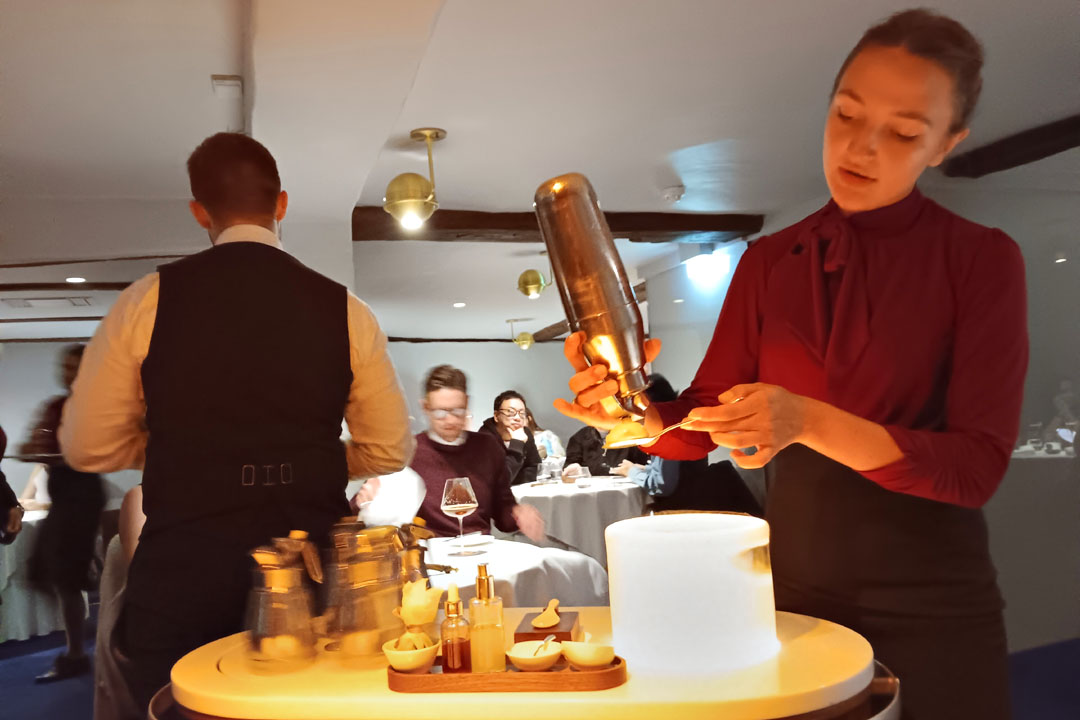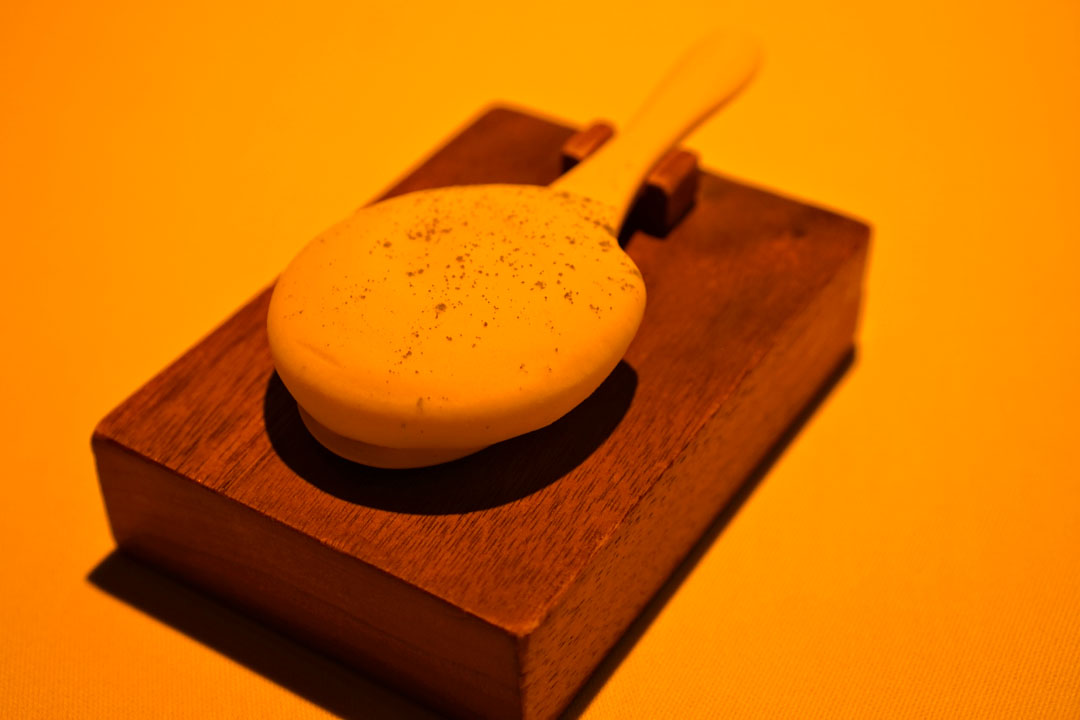 1: Nitroaperitif
| Vodka Sour
My meal commenced with liquid nitrogen-enhanced apéritif, prepared tableside. I opted for the vodka sour at my server's recommendation, but I could've also chosen a margarita or dark 'n' stormy. Taken as a sort of a shot, the frozen meringue was indeed utterly bright, bracing, and refreshing, and really did awaken the palate. And yes, the lighting at my table did in fact turn to an amber hue during this course, so what's pictured above is correct.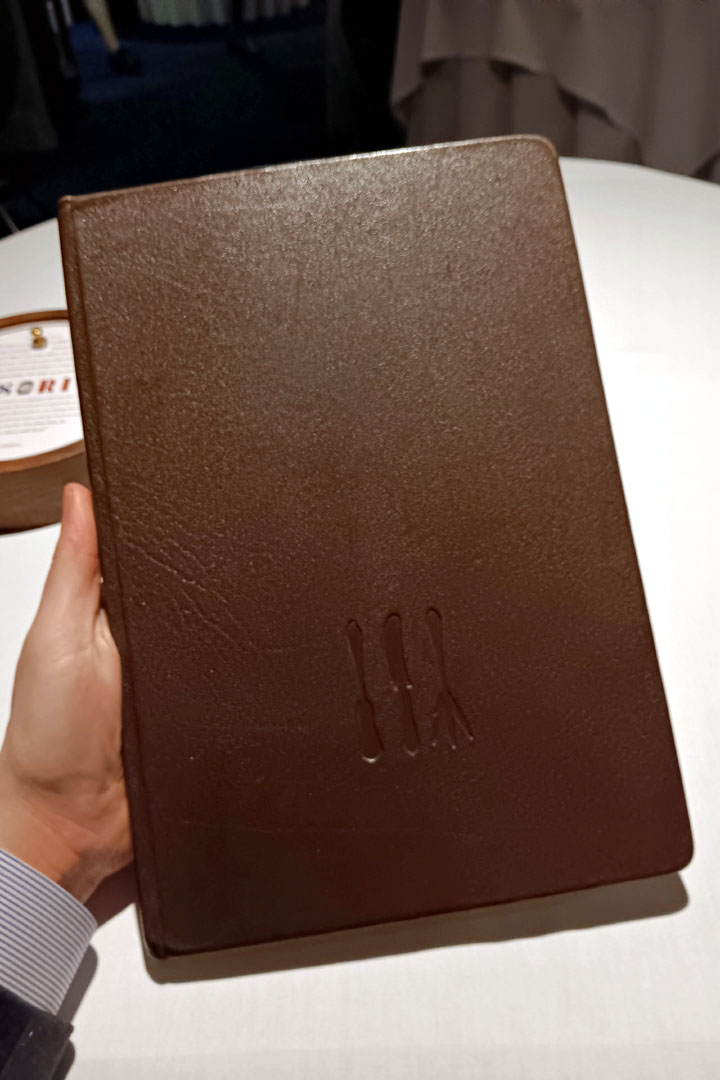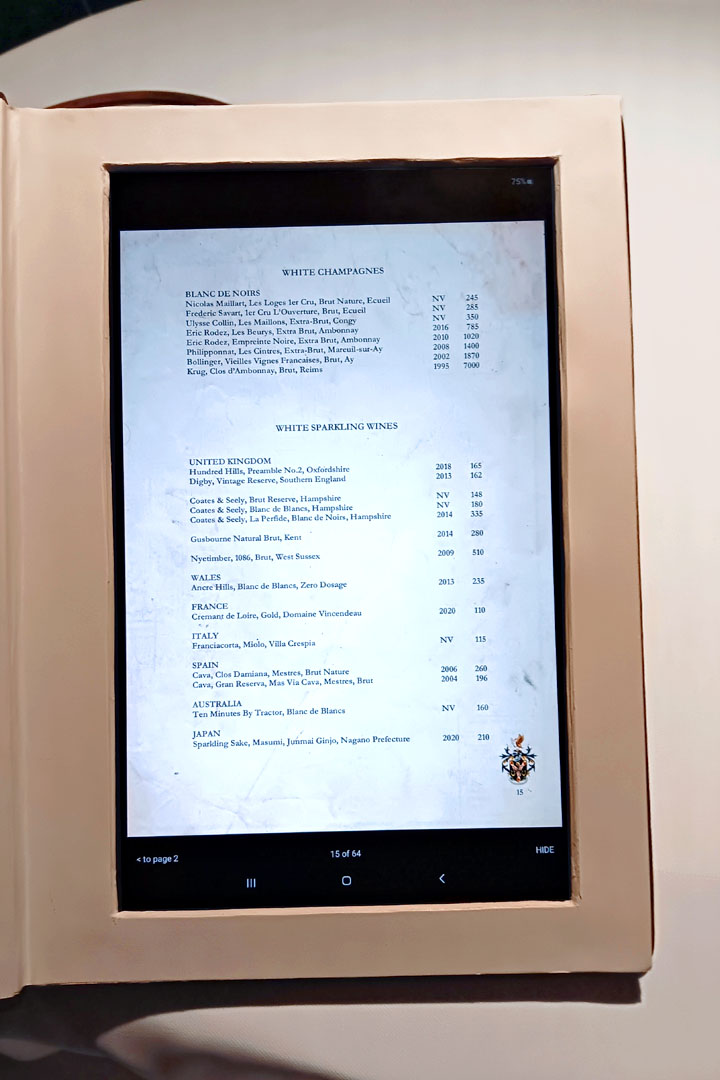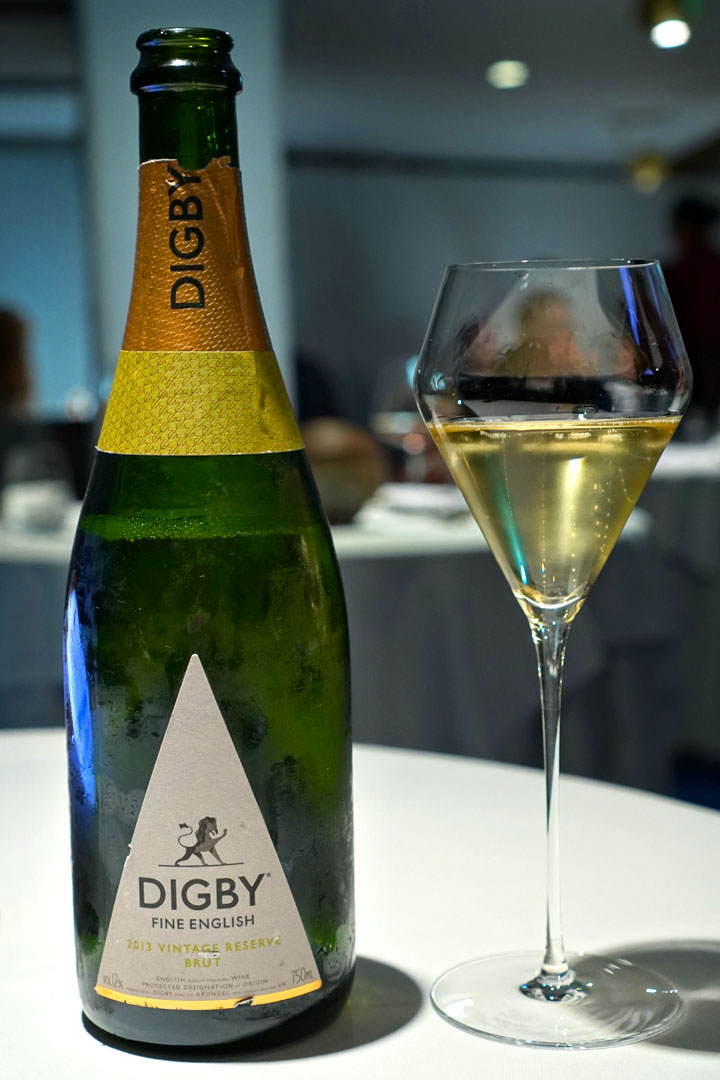 The wine list consisted of a tablet tucked away in a book, which seemed somehow appropriate. The full list can be seen
here
, and contains a pretty nice selection of wine, mostly Old World, along with an array of beers, ciders, sakes, cocktails, and spirits. There are some gems in there, such as the 1949 Leroy Chambertin at only £290 ($356.56) a glass (yes, it was available by the glass); I totally would've ordered that had I noticed it while I was at the restaurant.
In any case, it just felt right to drink something English given where I was, so I opted for a bottle of the
Digby, Vintage Reserve Brut, Southern England, 2013 [£162 ($199.18)]
, which was disgorged in 2021. Initially, the wine showed off a deeply aromatic nose filled with cheese-like nuances and sweet brioche, while the taste was all about soft, ripe apples backed by a crisp minerality. As the night progressed, the sparkler really began smelling like apple pie, while the taste went in an unabashedly bready direction, with elements of orchard fruits all over the place. This was the first English wine I'd ever tasted, and I have to say that I was quite happy with it.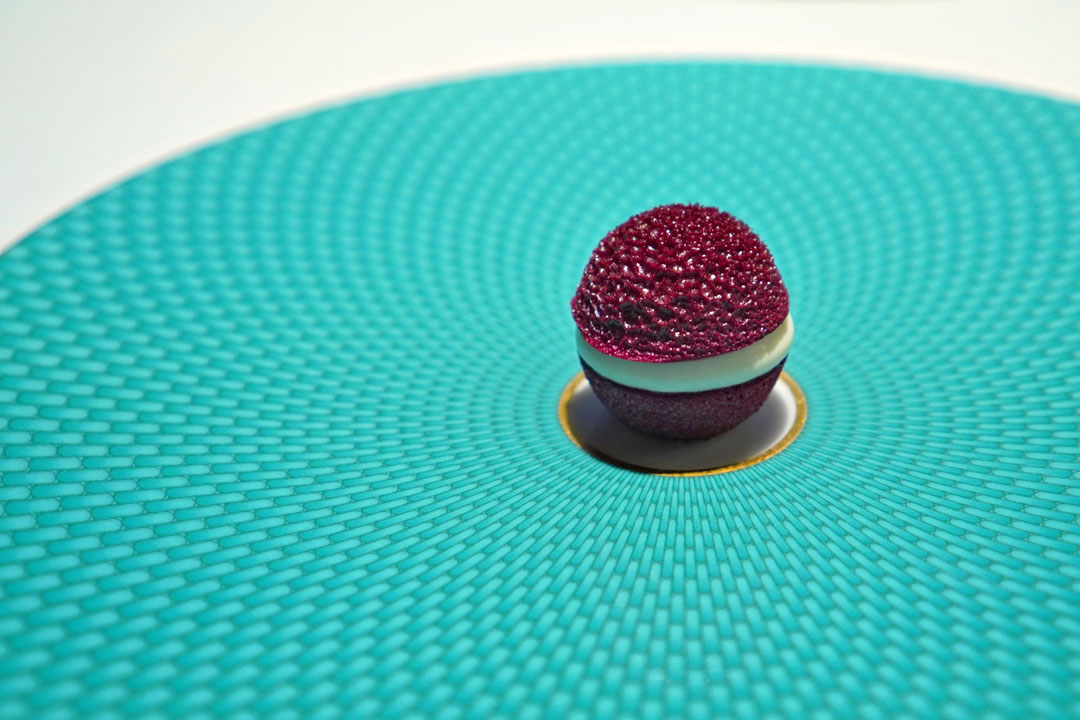 2: Aerated Beetroot
| Beetroot, Horseradish Mascarpone Cream
A superb amuse-bouche, this bite perfectly combined the sweetness of beet with the lingering heat of horseradish. Really neat and again, very stimulating on the palate. I wouldn't have minded popping a few more of these guys.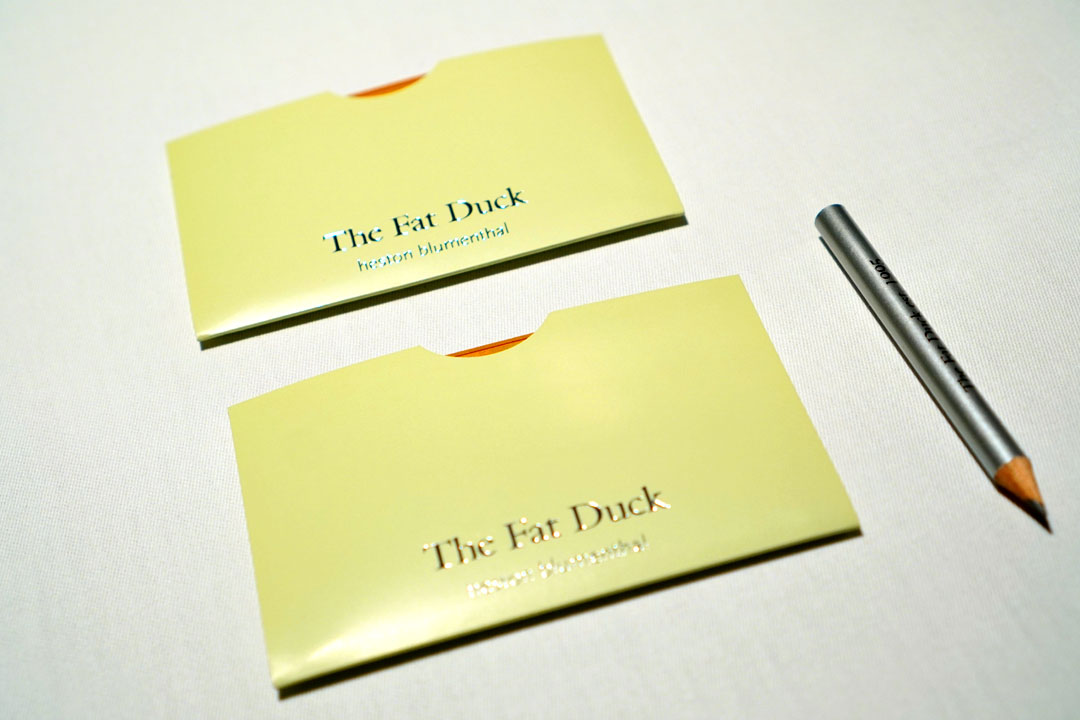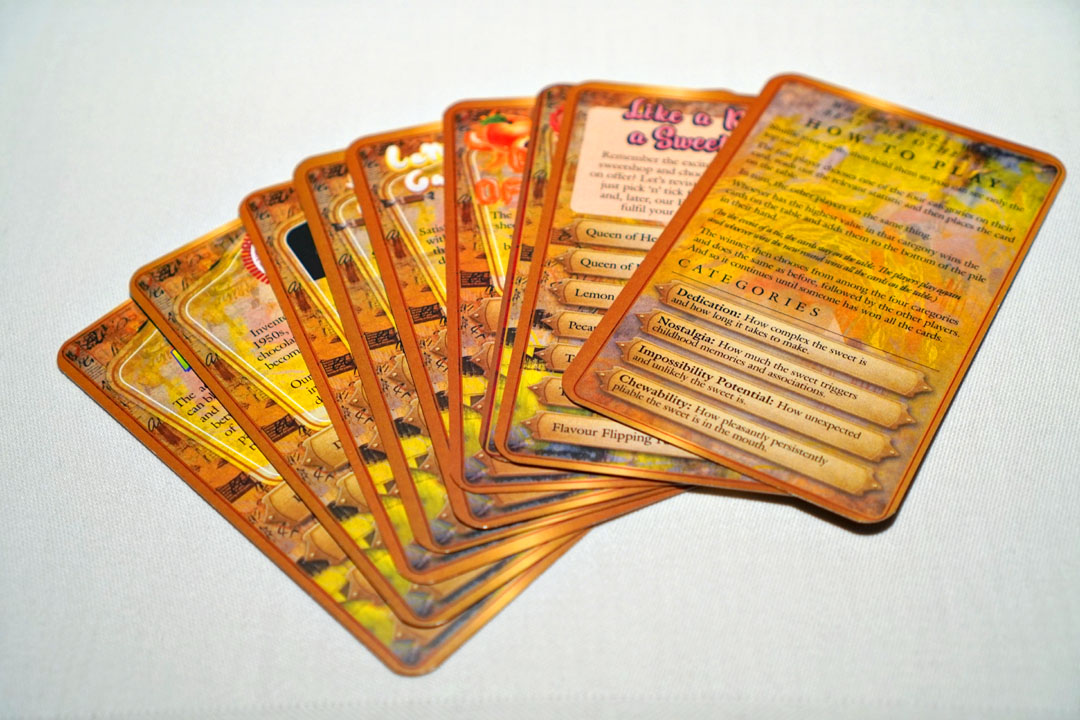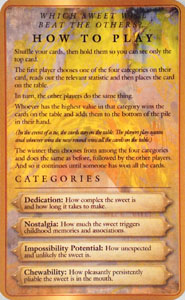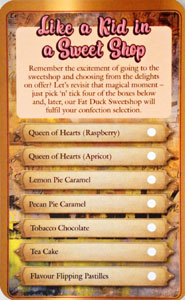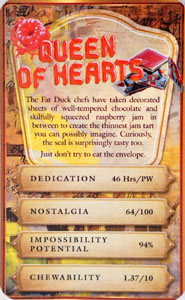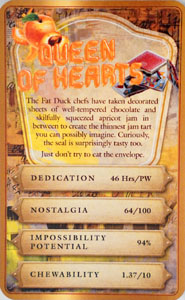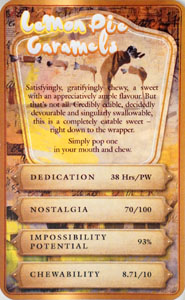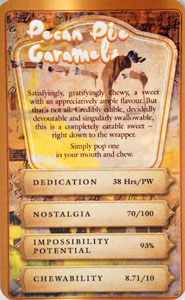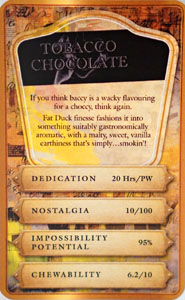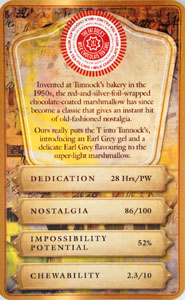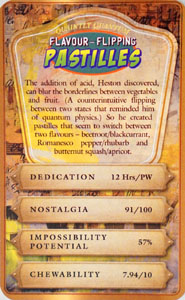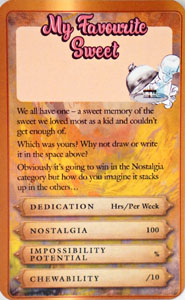 Much to my surprise, I was now presented with two stacks of cards, which served two purposes. Firstly, there was the game element (read the rules on the first card), which I wasn't able to partake in on account of me being here by myself. In addition, the cards were supposed to help guests select mignardises for the end of the meal, as we had a choice of four. The back of the cards can be seen
here
. Click for larger versions.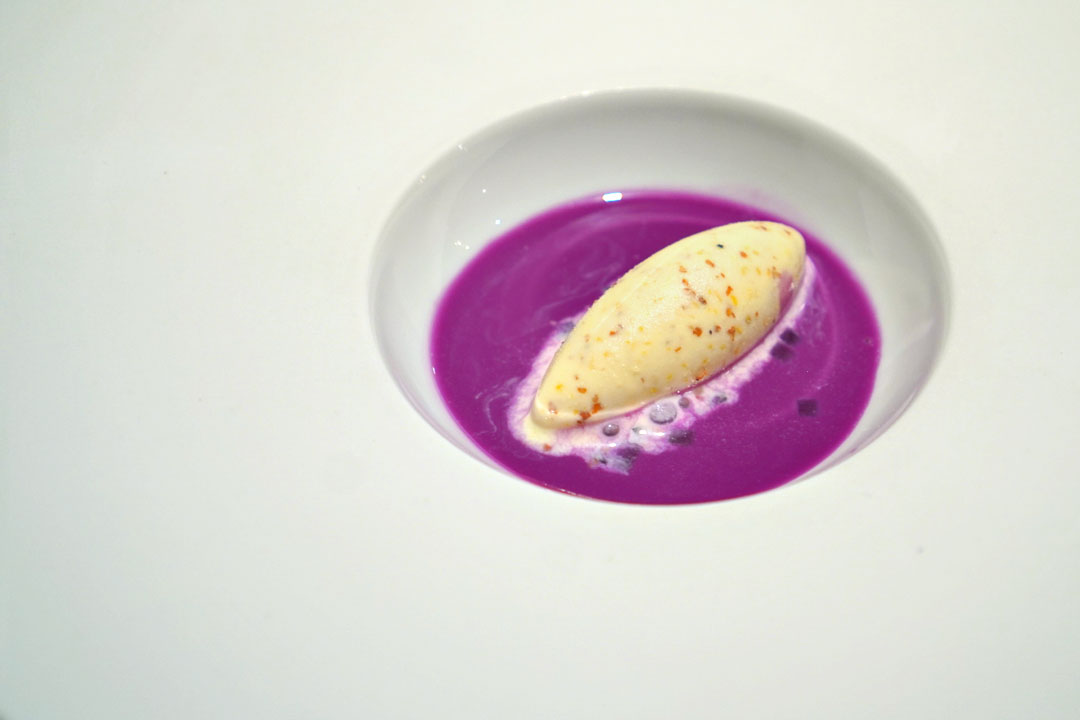 3: Red Cabbage Gazpacho
| Pommery Mustard Ice Cream
A vibrantly purple-hued gazpacho was also very much to my liking. I was a big fan of the amalgamation of sweet, vegetal, mustard-y flavors, all punctuated by a temperature contrast.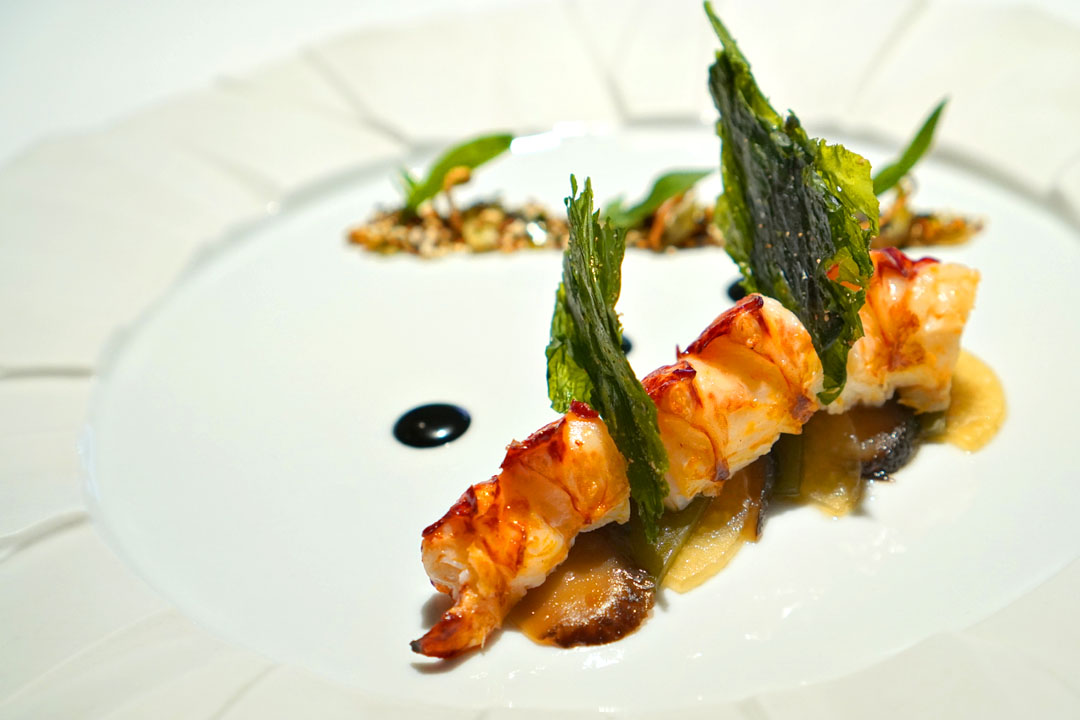 4: Lobster & Shiitake
| Kombu, Plum, Sesame
This next course was meant as an exploration of the various forms of umami. Cornish blue lobster was gratifyingly textured to be sure, its sweetness matched by a healthy dosing of smoke and savor. I also appreciated all the nutty, crunchy, umami-rich components on the plate (e.g. shiitake, sesame, caramelized onion), while pickled lemon perked up the dish.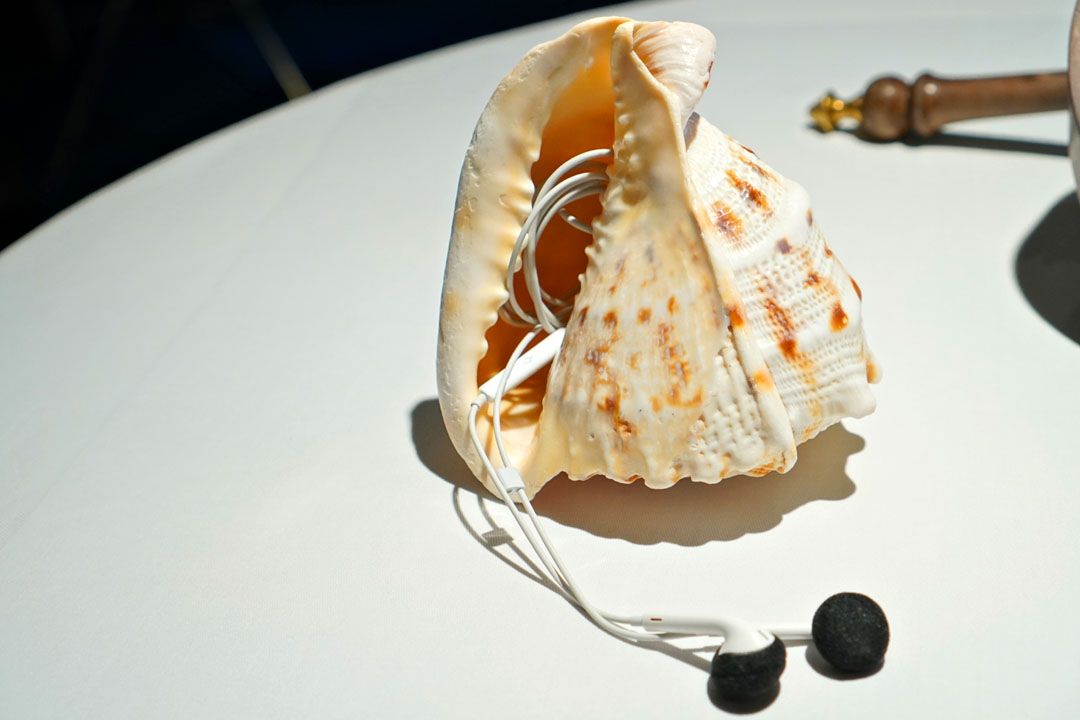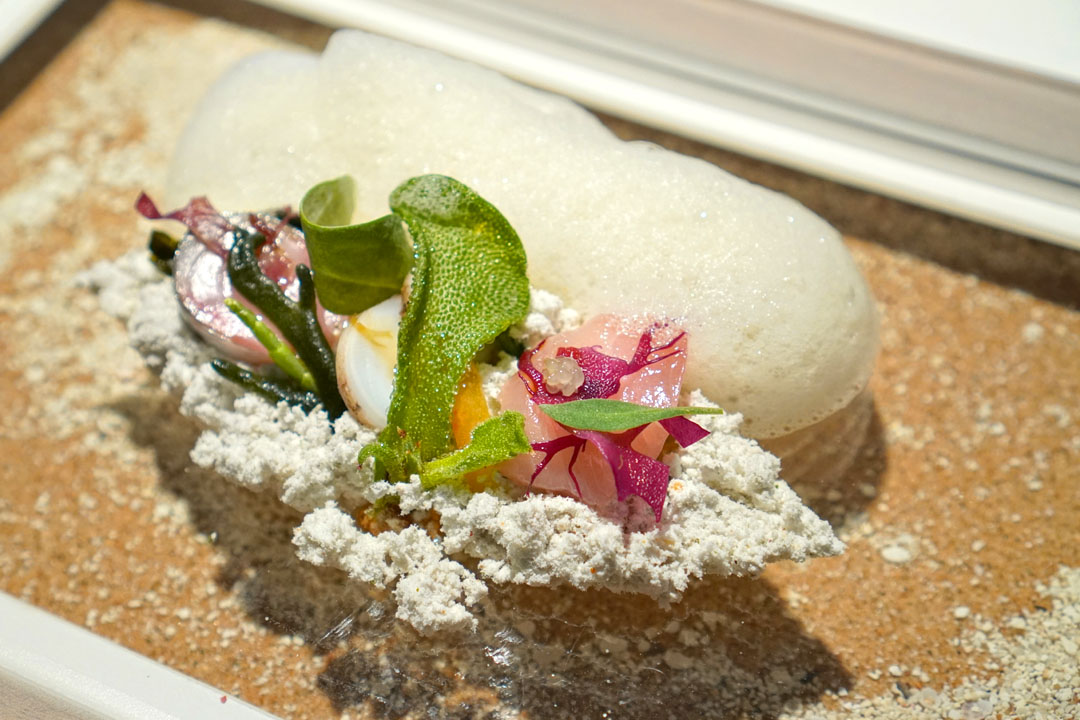 5: Sound of the Sea
| Mackerel, Hamachi, Octopus, Sea weeds and greens
And here we have one of The Fat Duck's most (in)famous dishes. I was not told what was on the plate beforehand, but what we had here was yellowtail kingfish, mackerel, and octopus, topped with ice lettuce, samphire, sea jelly bean, and oyster leaf, with kombu-shiitake foam, as well as miso-tapioca starch-panko breadcrumb "sand." A seashore soundtrack played through the headphones, and though the sounds didn't make me recall any particular childhood moments at the beach, I will say that the brininess, the salinity of the dish was seemingly amplified. There may very well have been some mental tricks going on here.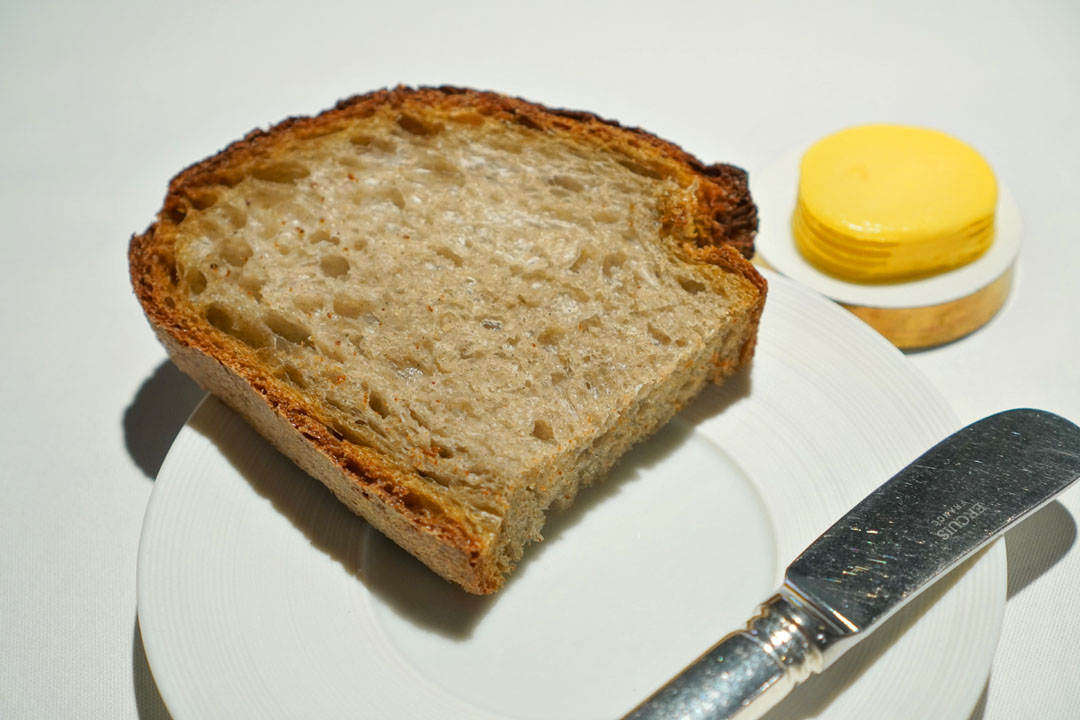 6: Bread and Butter
This burnt wheat-sourdough may not have looked like anything special, but was excellent, with a great crustiness, tender crumb, and a delectably nutty smoke. It was served with a stout cylinder of supple double cream butter that I found generally subdued, but with a bit of a salty edge and a hint of fruitiness.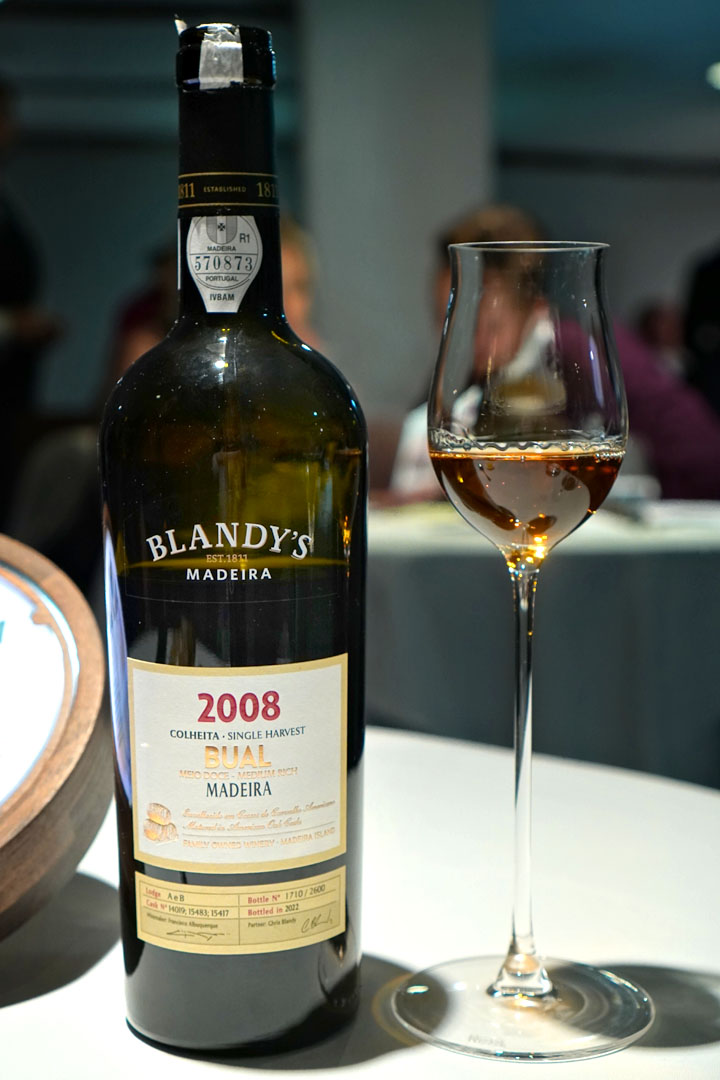 To pair with the next course, Head Sommelier Melania Bellesini poured me a complimentary glass of the
Bual Colheita, Madeira, Blandy's, Madeira, Portugal, 2008
, bottled in 2022. The wine smelled of salted nuts, wood, and oxidation, along with dried, dark fruits. Tasting it, I got boatloads of raisin, as well as fruity spices, saline, nuttiness, and lots of oxidative nuances.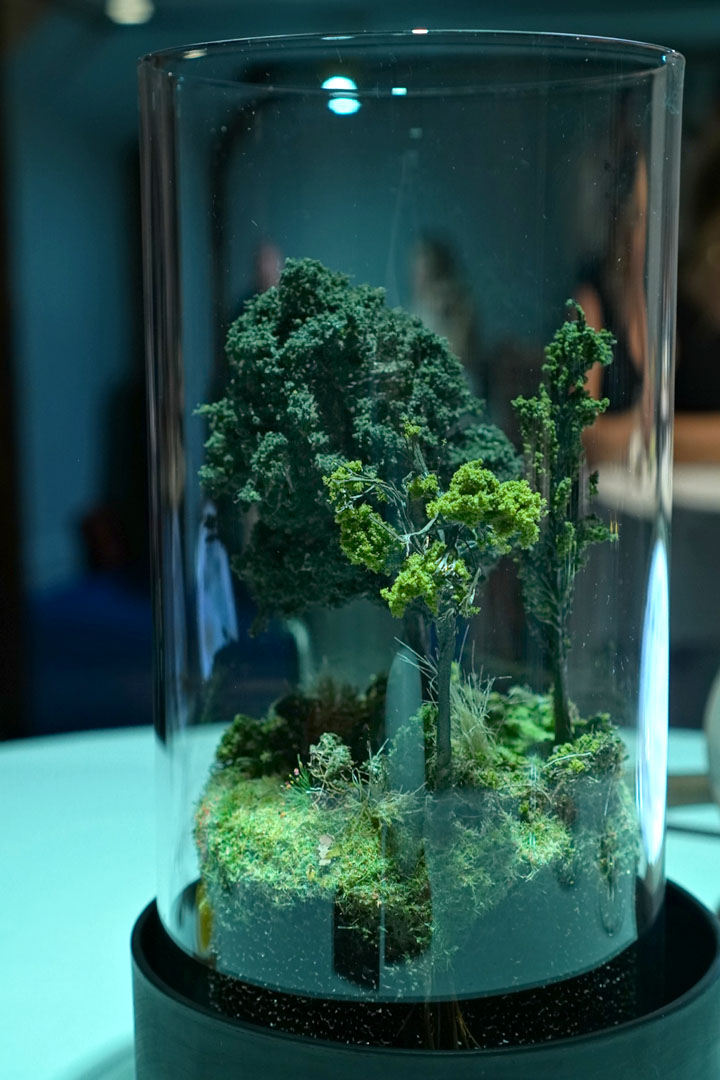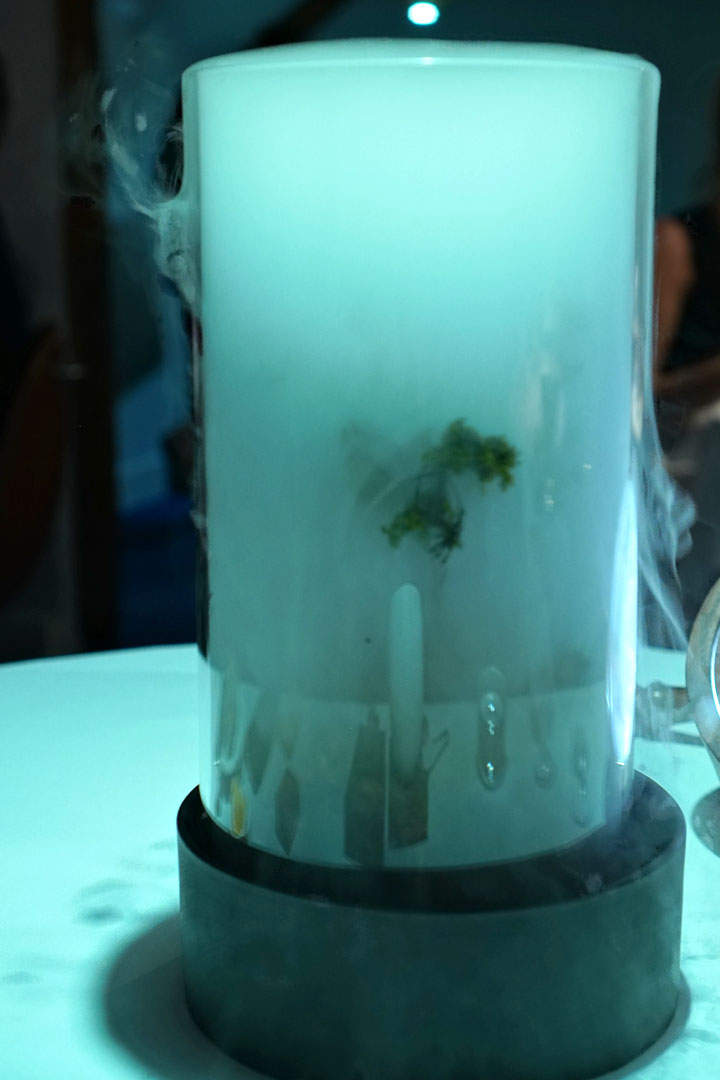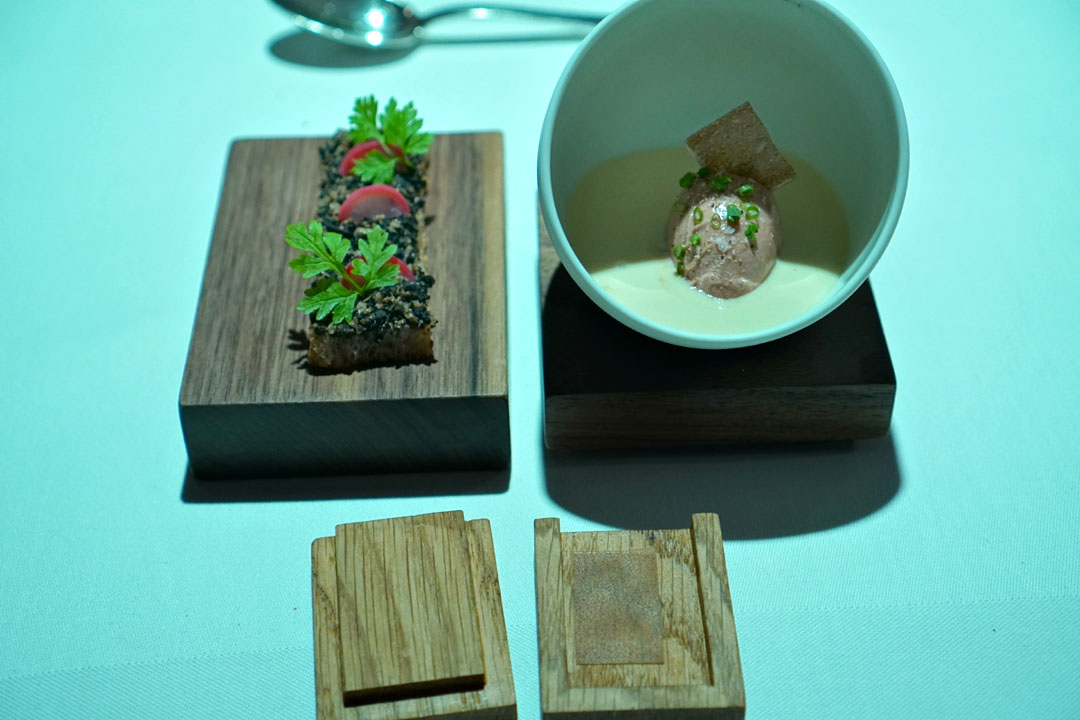 7: Jelly of Quail
| Lobster Cream, Parfait of Chicken Livers, Truffle Toast, Oak Moss Strip
The lighting at my table suddenly turned turquoise and a terrarium-like cylinder was brought out, which, through the magic of dry ice, gave rise to a bevy of forest-y aromas that were indeed a bit transportive. The edible part of the course began with a strip of oak moss, which, when dissolved on the tongue, lent a marked muskiness to the palate. That musk linked up swimmingly with the woodsiness of a delectable black truffle toast, and I loved how the earthiness of chicken liver was juxtaposed against this almost
xiami
-esque umami note.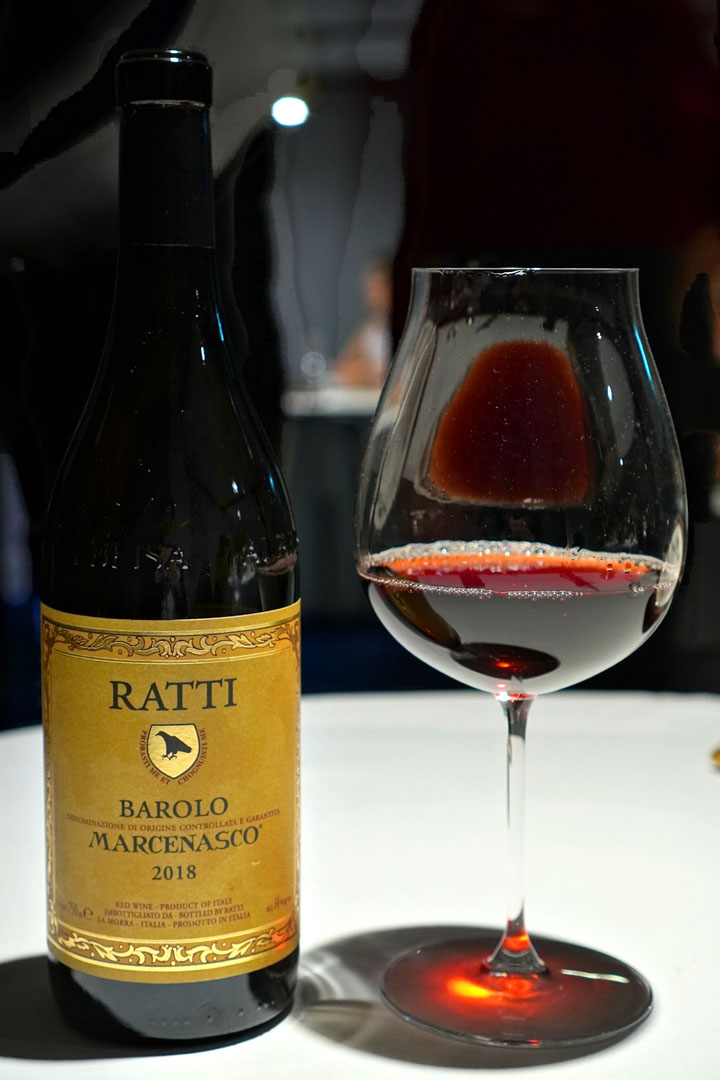 I requested a glass of red wine to go with the duck below, and was poured the
Barolo, Marcenasco, Renato Ratti, 2018 [£36 ($44.26)]
. The Nebbiolo demonstrated a bouquet filled with lush cherries, cola, and a surprising amount of heat. Taste-wise, think young, brash, and hot, with more bright red berries abound, along with a touch of tobacco-y spice.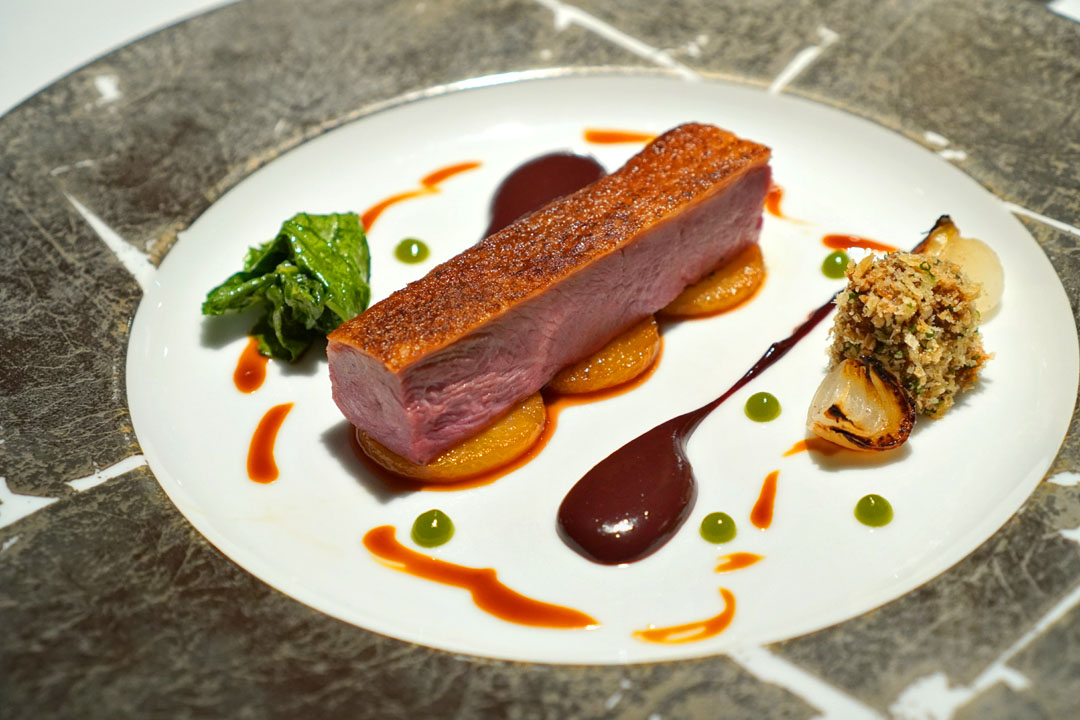 8: The Duck
| Blood Pudding, Turnips, VCF Spice
For a restaurant named The Fat Duck, I expected the duck to be a standout, and indeed it was. The bird came out oh-so juicy, and showcased a wonderfully deep, satisfying, anatine savor that was further boosted by its crisp, assertively flavored skin. The duck was joined by its own blood and a crispy-yet-tender chunk of heart, while bitter greens, turnips, and grilled onions worked flawlessly for contrast. On the side was an almost bracingly herbaceous duck cracker, as well as a shattery spring roll filled with hefty shreds of confit duck leg and topped with a tangy-sweet plum fluid gel.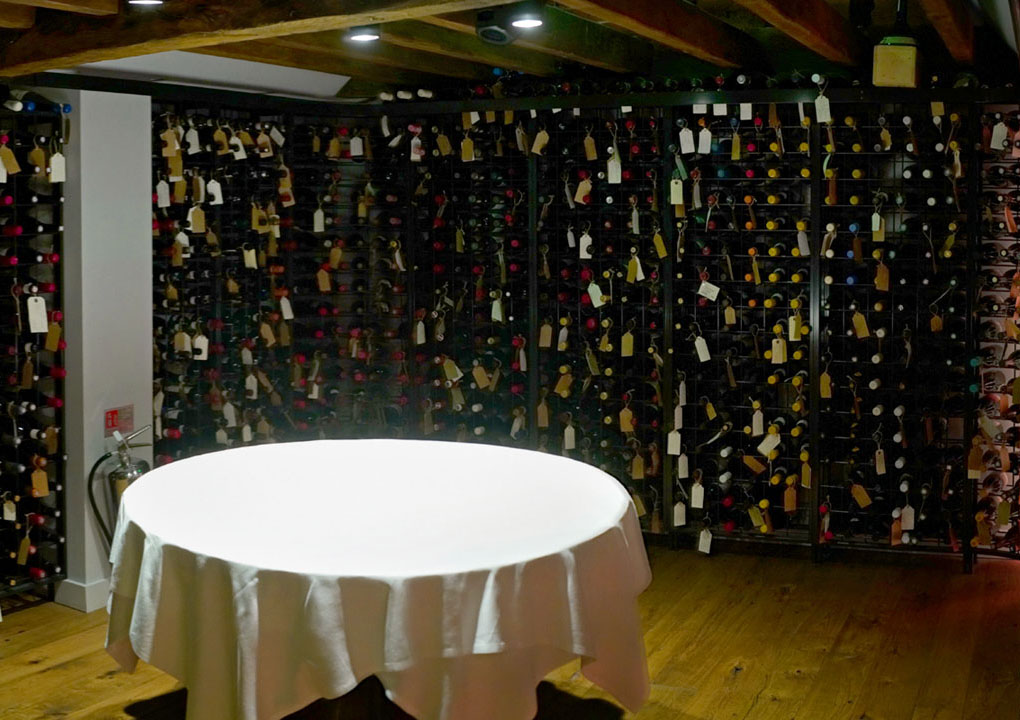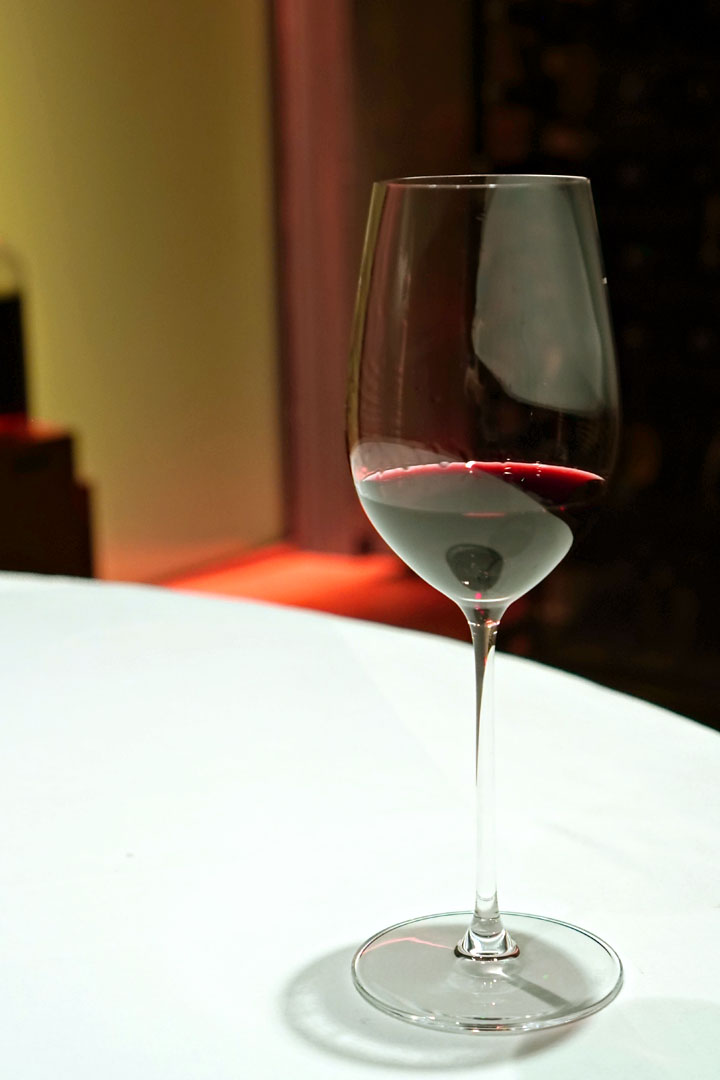 At this point, I was led upstairs into the restaurant's wine cellar and handed a glass of Montepulciano to sample, which I found generally easy-going, with a straightforward presentation of florals and juicy red berries. Then, some rather aggressive music began playing through the sound system, and while I continued to sip the wine, it seemed to become more bitter, astringent, and less enjoyable overall, so again, some interesting mental tricks happening here.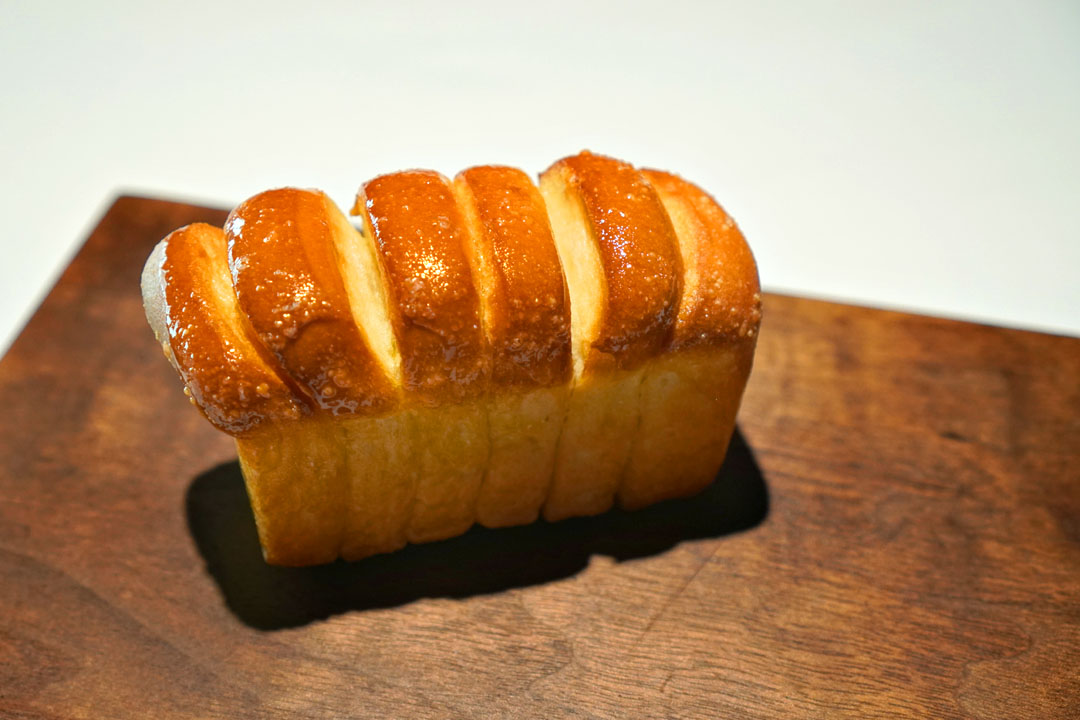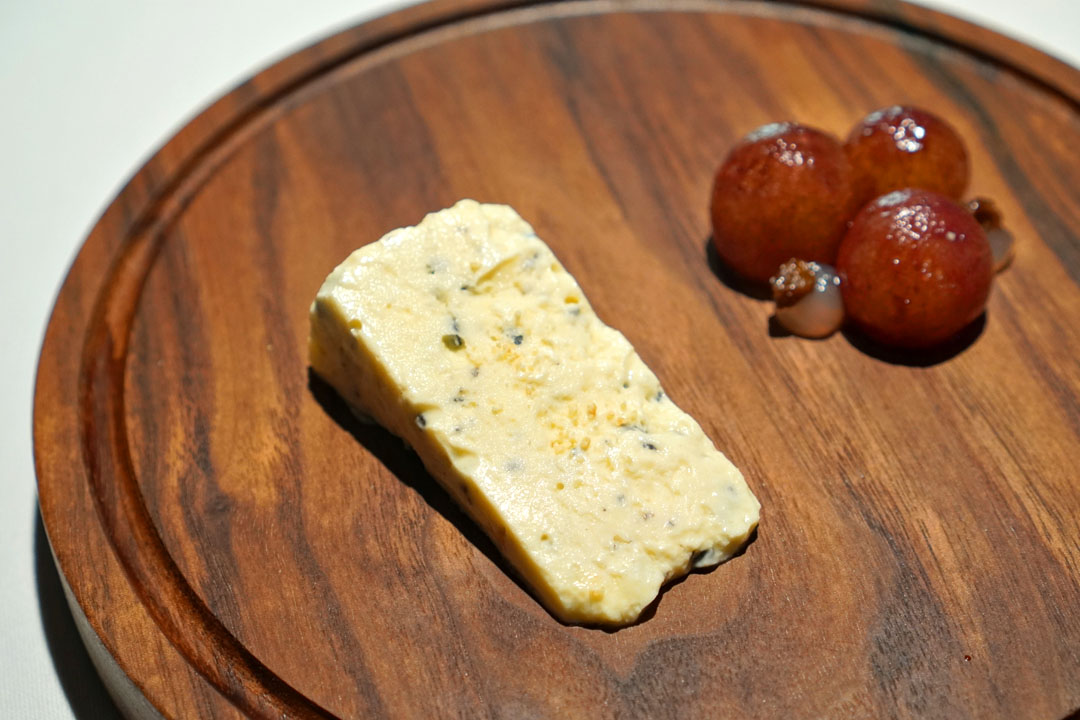 9: Cheese and Grapes
Now back in the dining room, this decidedly untraditional cheese course was centered on a cheesecake ice cream of sorts, one with a semifreddo-like consistency and immensely appealing flavors of blue cheese, offset by a smidge of nuttiness. The "cheese" was joined by a trio of peeled grapes which had been soaked in grape juice and port wine, then carbonated, giving them a fun fizziness. Off to the side, meanwhile, was a miniature loaf of delightfully dense, eggy brioche.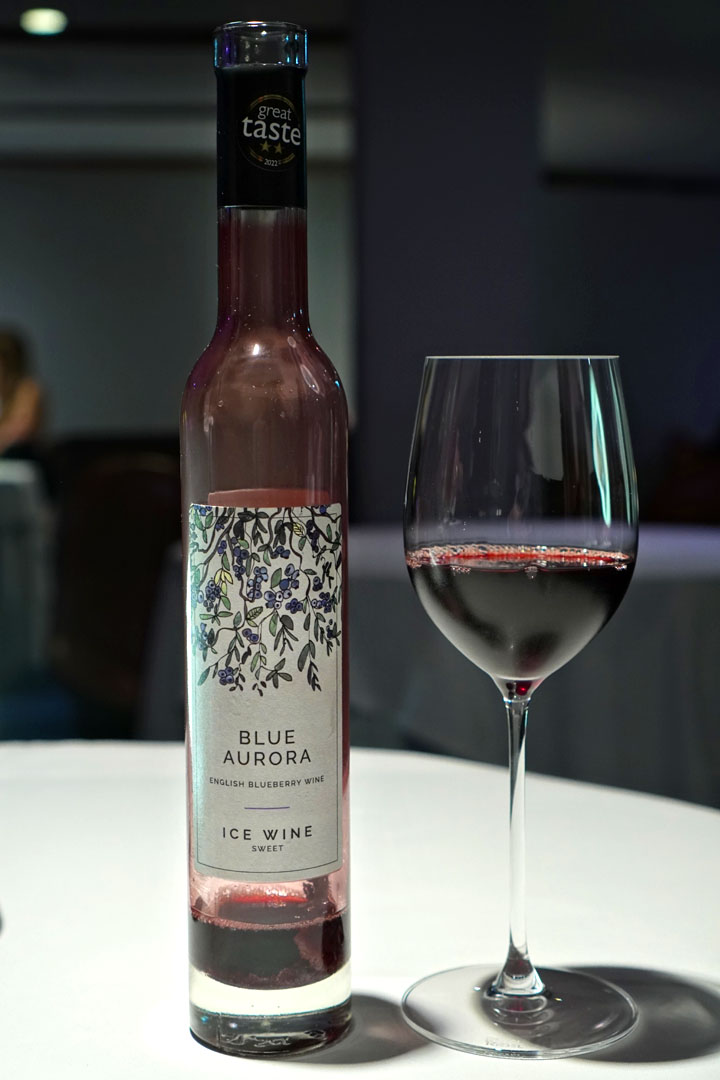 Dessert wine duties were handled by a pour of the
Blue Aurora Ice Wine Blueberry, UK, 2019 [£28 ($34.43)]
. Made from frozen blueberries, this was all about dark, ripe, juicy fruit, but fortunately, the wine never got cloyingly sweet, as there was a certain freshness to it.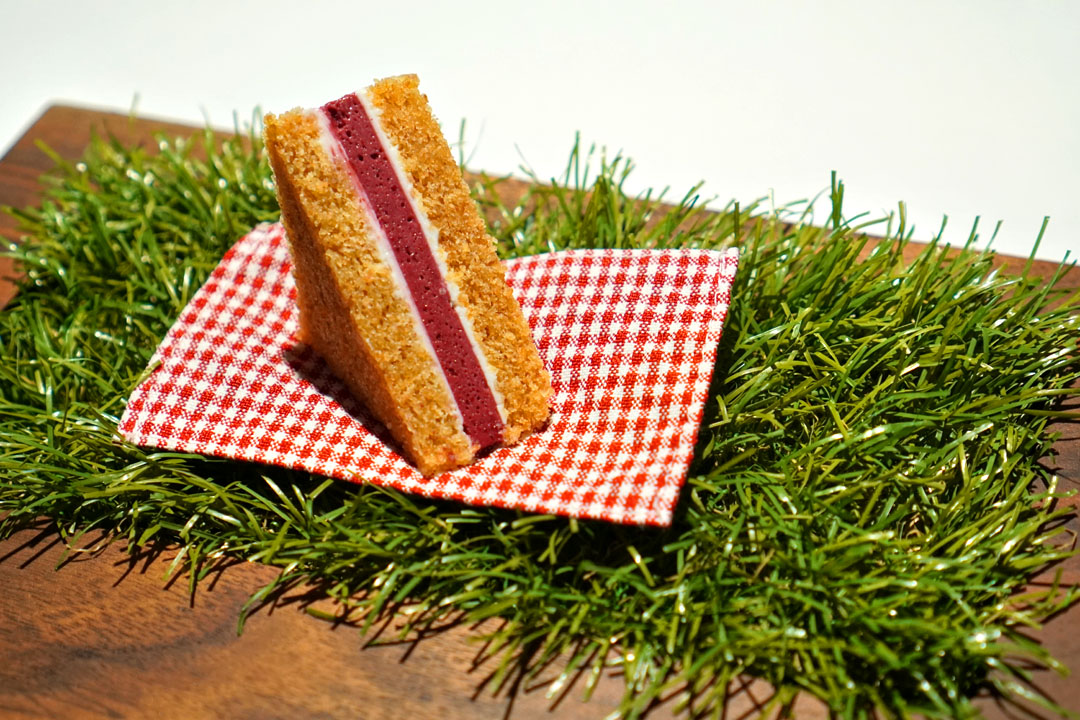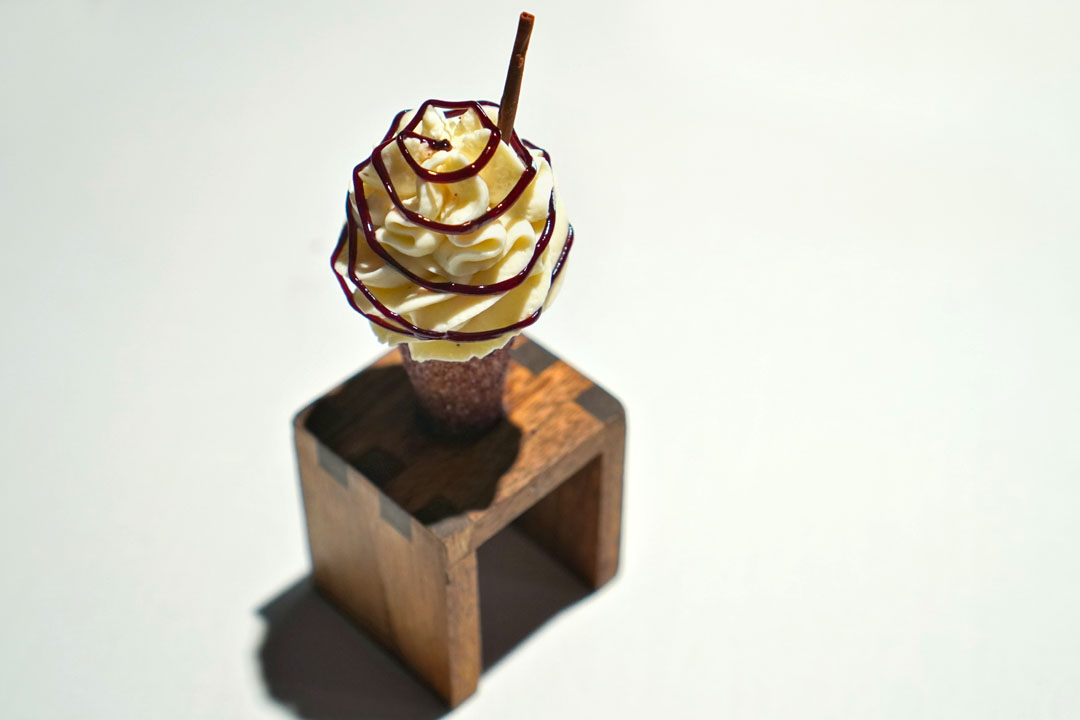 10: A Picnic
| Blackberry, Vanilla Cream, Spelt Sponge, Fromage Blanc
Pre-dessert bites were meant as an ode to the humble picnic. A reimagined jam sandwich offered up a thoroughly agreeable fruitiness that was well-moderated by an airy sponge cake. We also had a 99 Flake-inspired ice cream cone, which featured a particularly fruity chocolate, along with a thin, delicate cone that had a bit of a vegetal bent, surprisingly.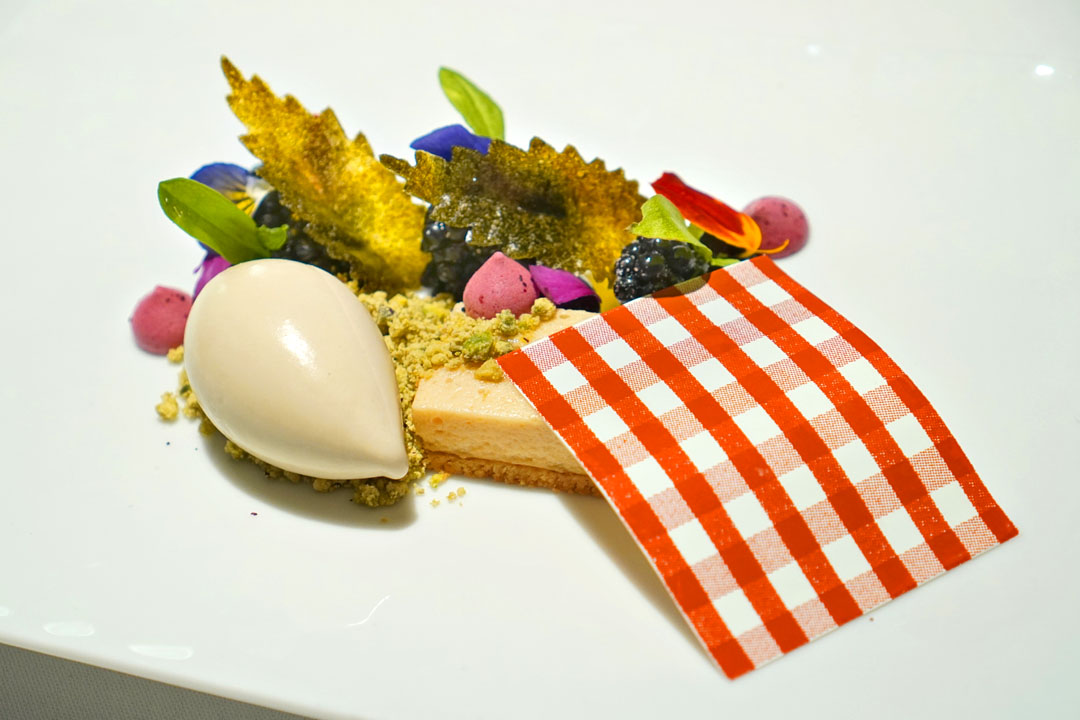 11: An Amble Among the Brambles
| Pickled Blackberries, Nettles and Lovage, Clove
Dessert proper was an homage to the changing of seasons, highlighted by these end-of-summer blackberries, which were combined with a curry-like spice from the cloves, zippy greens, and a blanket of white chocolate. However, my favorite thing here was probably that roasted green tea ice cream, with its enticingly grassy bitterness.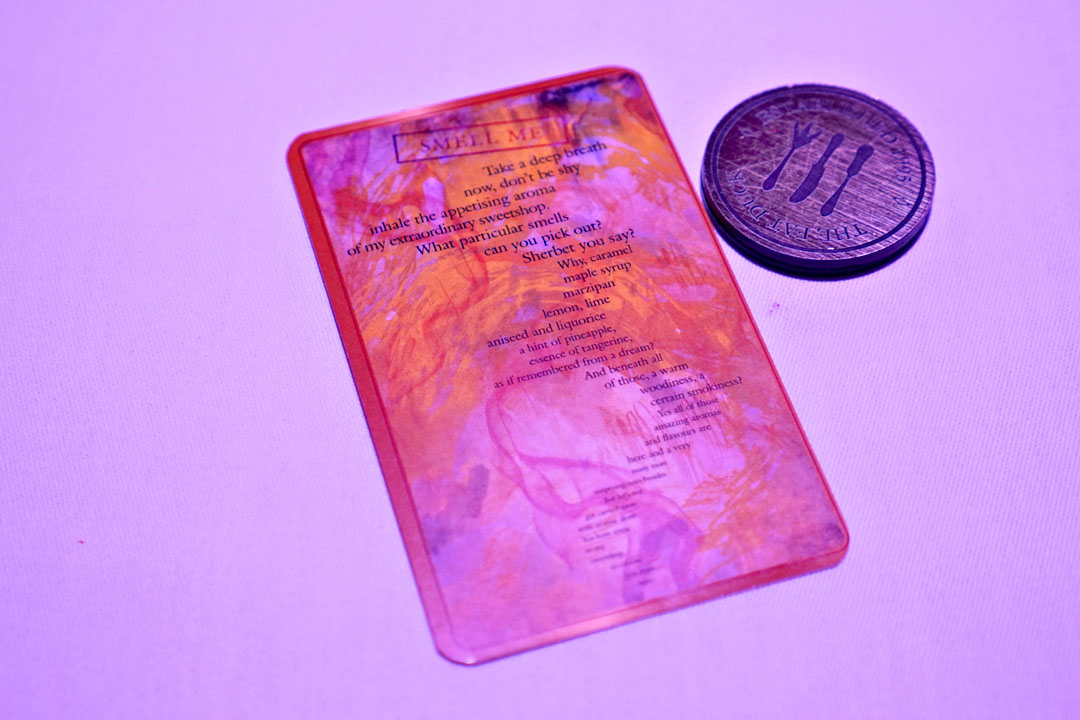 Next, the lights turned violet, and I was presented with a token and an aromatized card, which had a wonderfully woodsy, spicy smoke that I kept going back to. A larger version of the card can be seen
here
.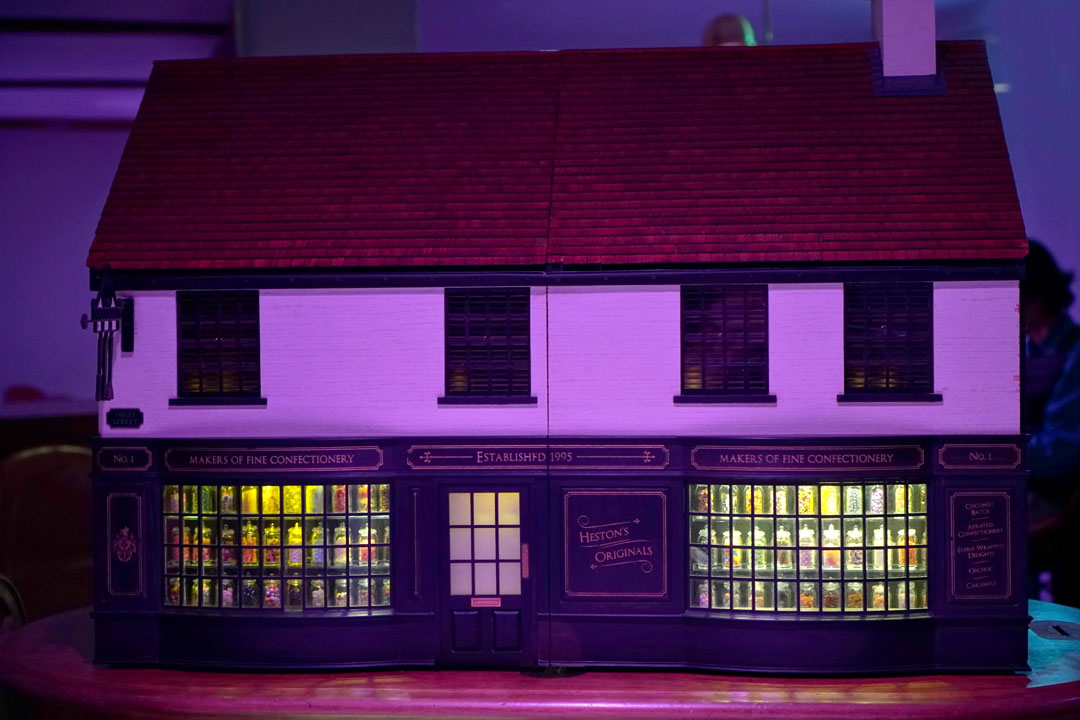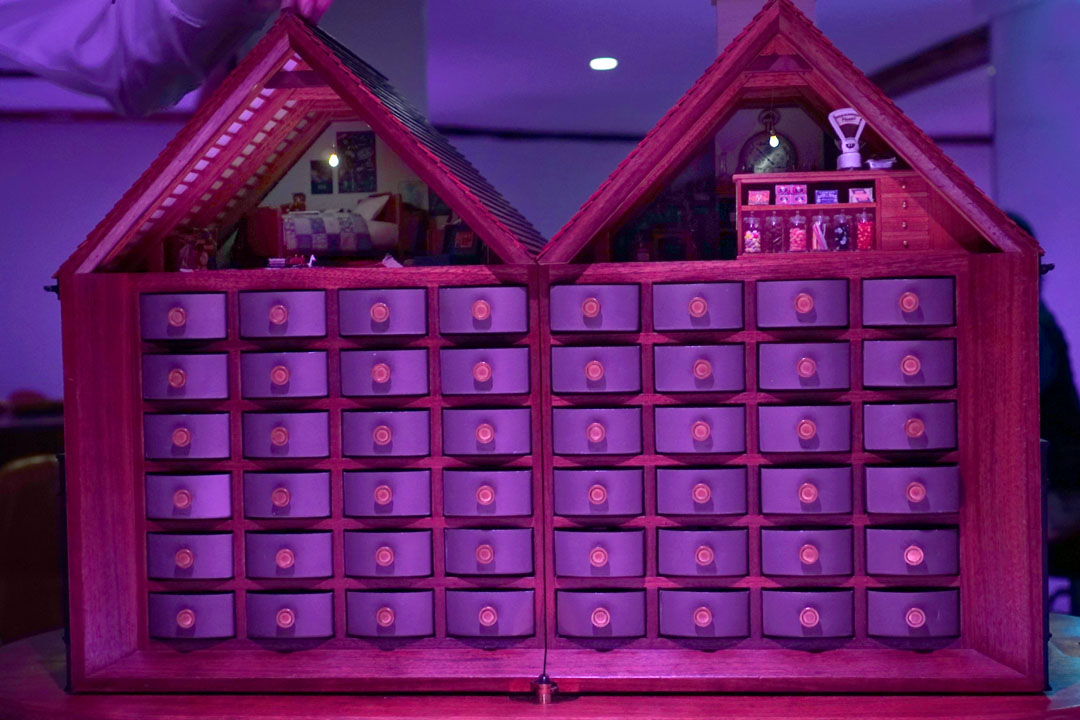 A "doll house" rendition of The Fat Duck (replete with a recreation of Blumenthal's childhood bedroom) was then carted over, and opened to reveal various compartments. The token above was placed in a slot on the side, resulting in one of the compartments opening up, which contained the petits fours I'd chosen earlier (remember the card game?).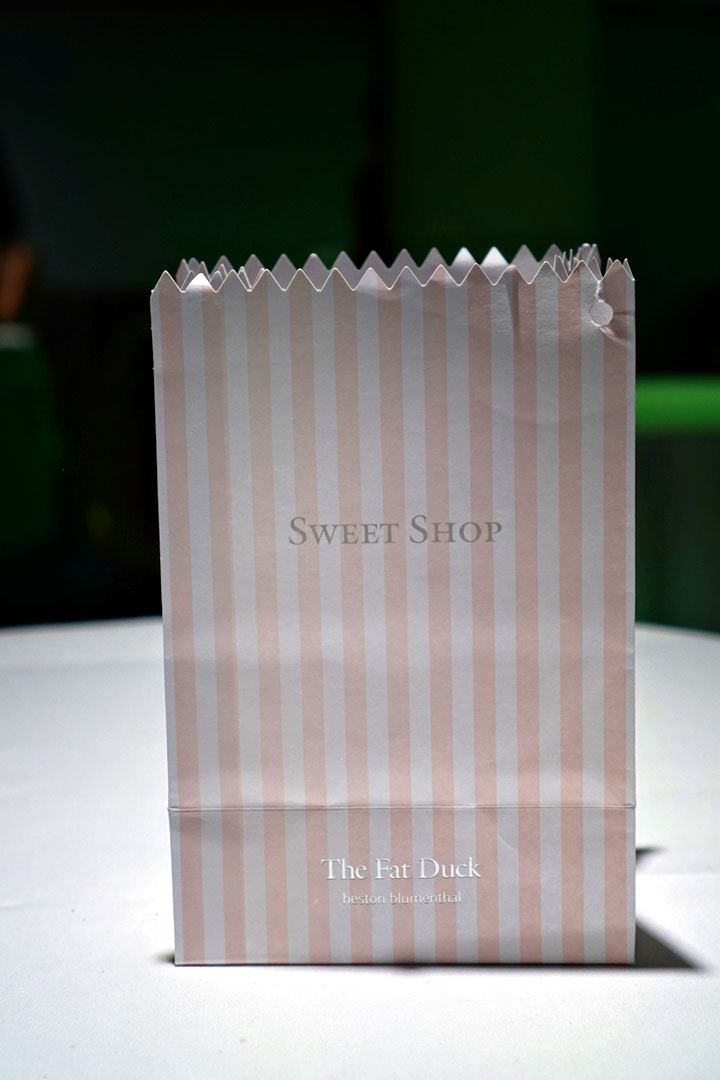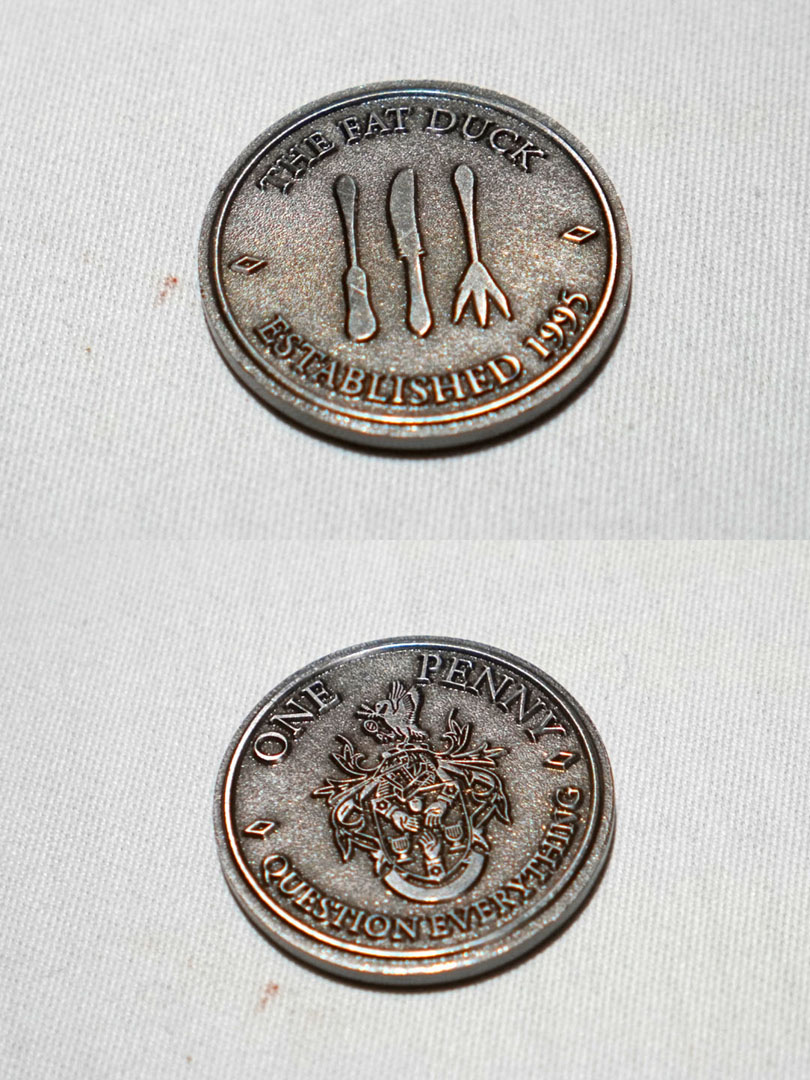 The sweets were placed in a bag, and I was also handed a coin-like version of the token above to take home as a souvenir.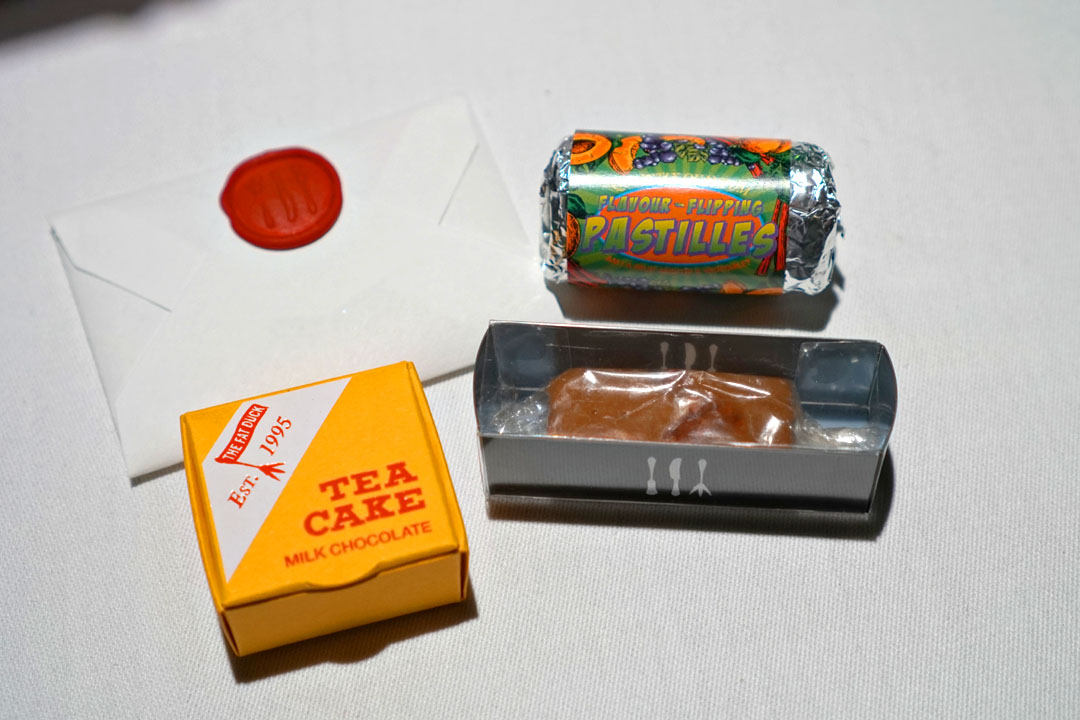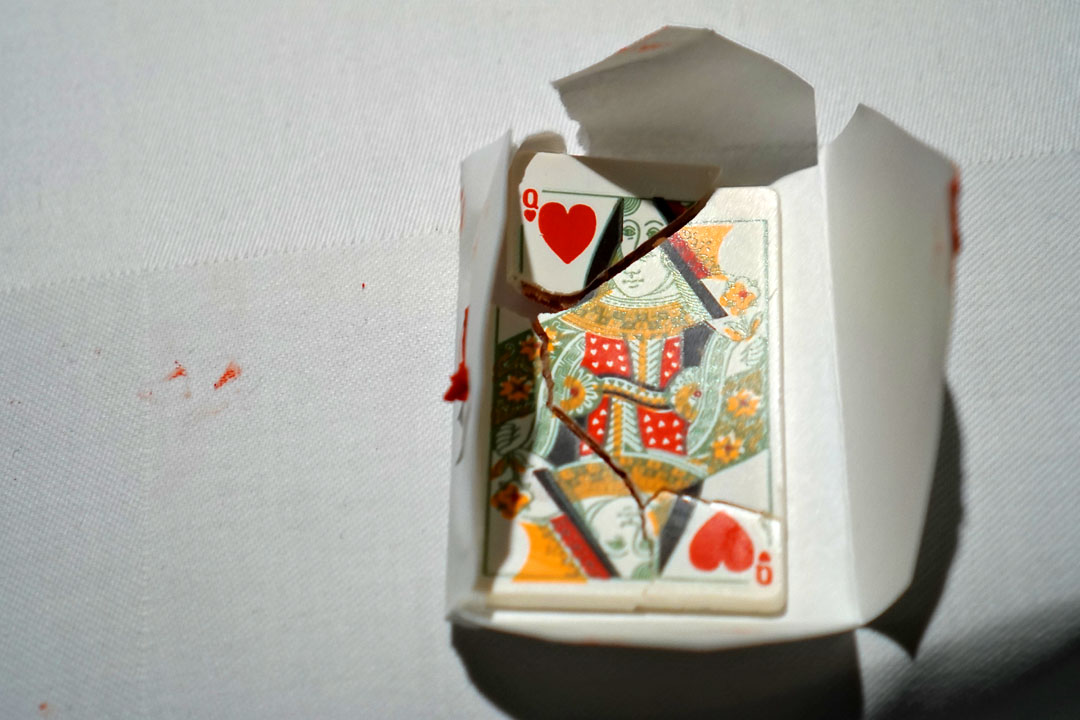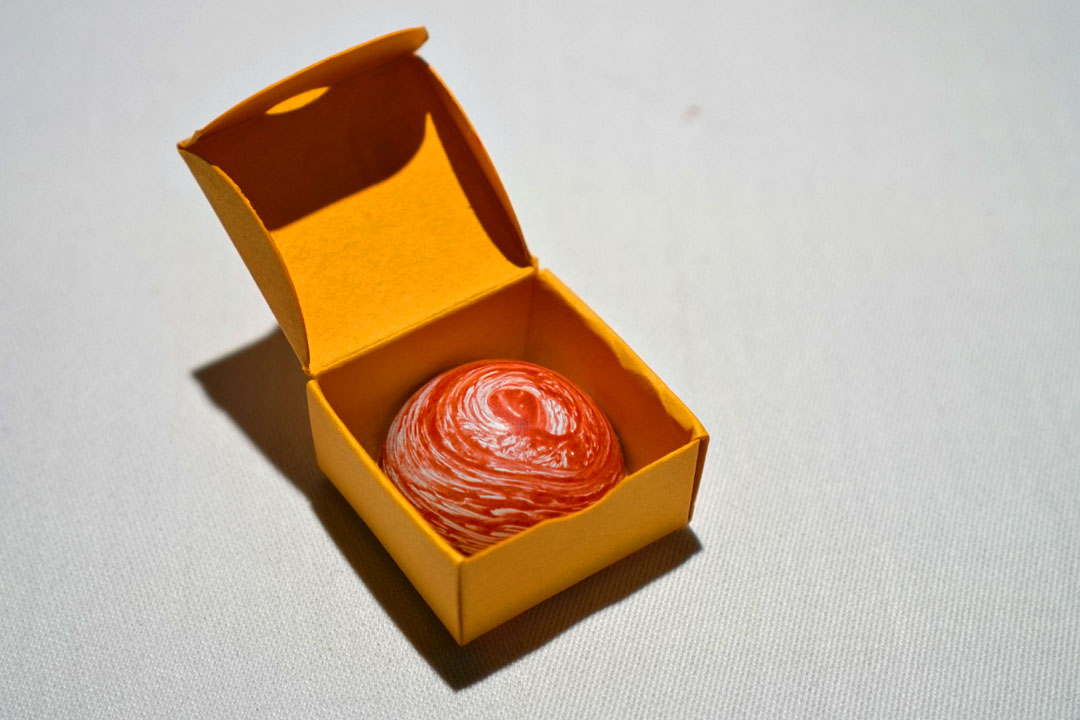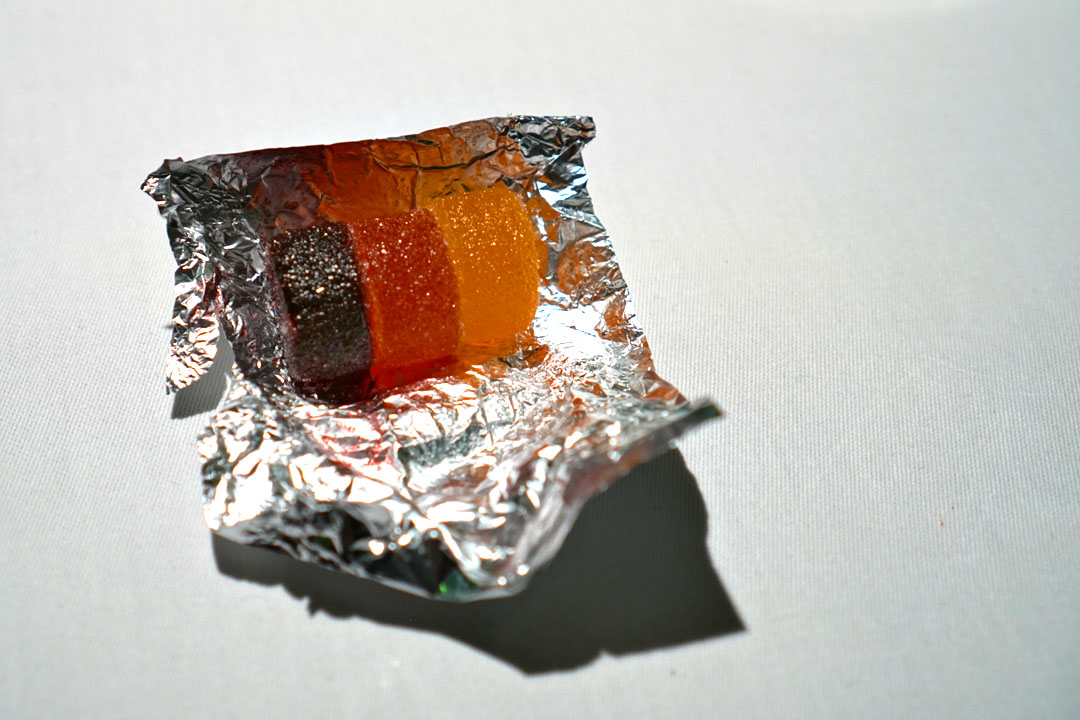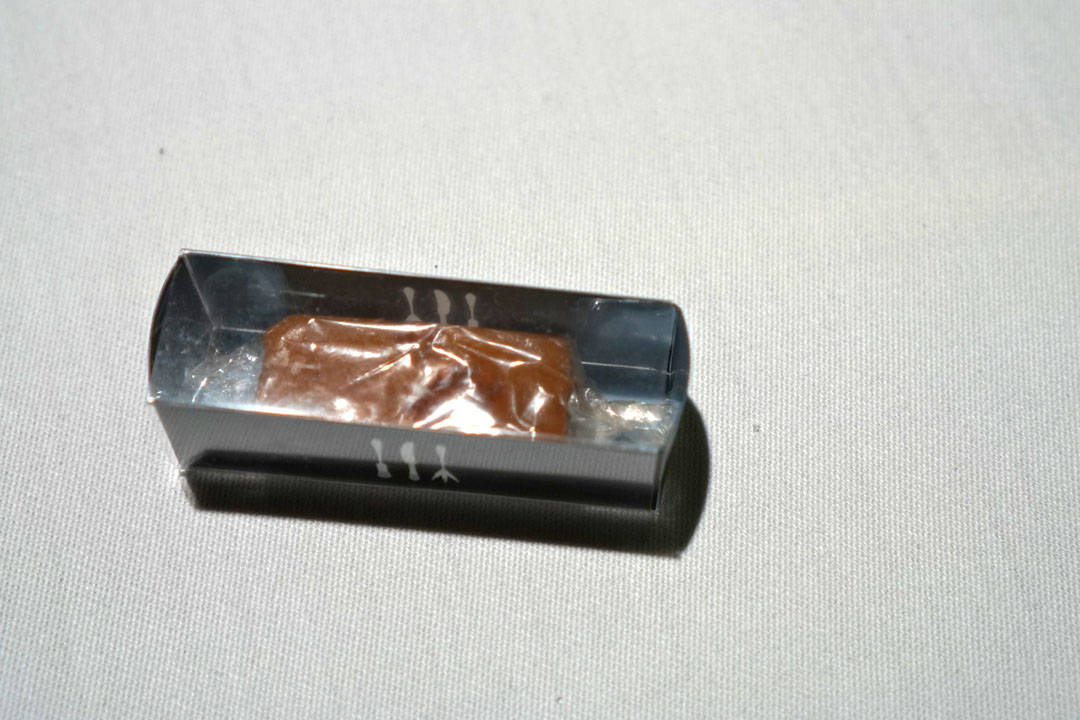 12: Like a Kid in a Sweet Shop
My four choices were the following:
Queen of Hearts (Raspberry) – Unfortunately, I'd broken mine, but this was essentially tangy raspberry jam encased in thin sheets of chocolate. Curiously enough, the "wax" seal was also edible (though not the envelope).
Tea Cake – Inspired by the iconic Tunnock's Teacake, this bite conveyed some lovely aromatics from the incorporation of Earl Grey.
Flavour Flipping Pastilles – Three variations were on offer: a sugary, dark-toned beetroot/blackcurrant; a vegetal, prickly, peppery, yet fruity Romanesco pepper/rhubarb; and an unexpectedly herbaceous butternut squash/apricot.
Pecan Pie Caramel – I often find caramels overly sticky, but that wasn't the case here. I got a great nuttiness from the pecan to boot, while the wrapper was actually edible as well.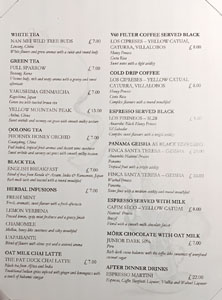 With the evening winding down, I requested the tea and coffee list, and asked my server to pick out whatever she'd like for me. Click for a larger version.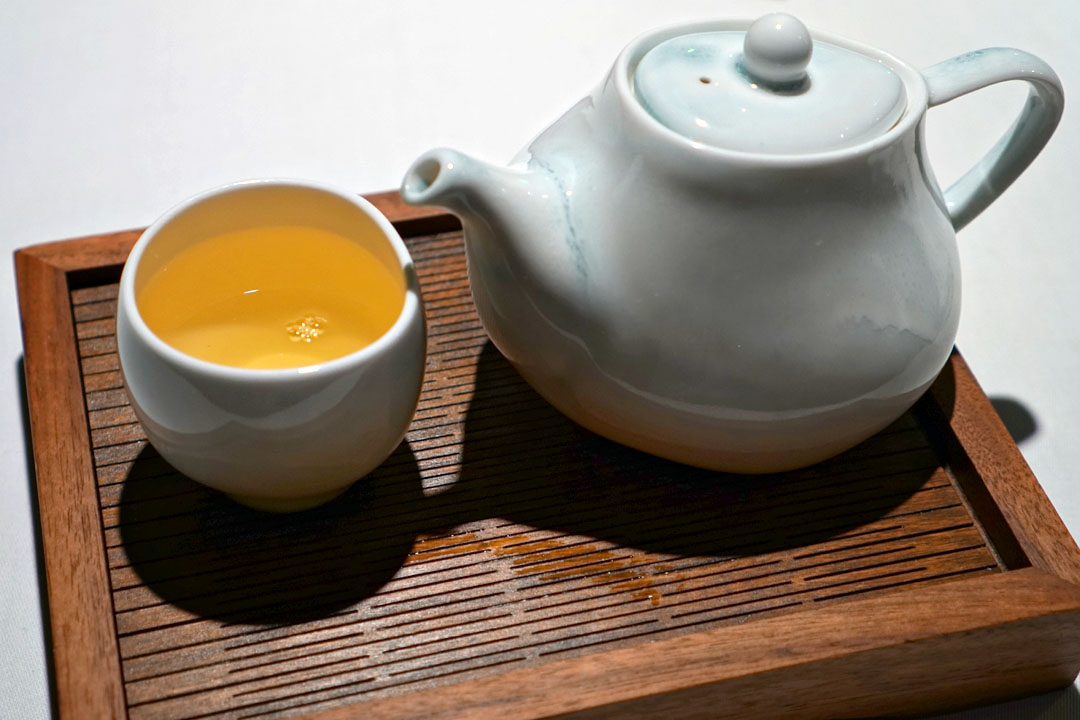 She ended up choosing the
Full Sparrow [£7 ($8.61)]
, a Korean third flush green tea from Boseong, an area known for its tea production. Aromas here were very briny, with grassy elements as well. In terms of taste, that grassiness was at the fore, commingled with toasty, nutty nuances. Cozy and homey overall, and a fitting beverage to end with.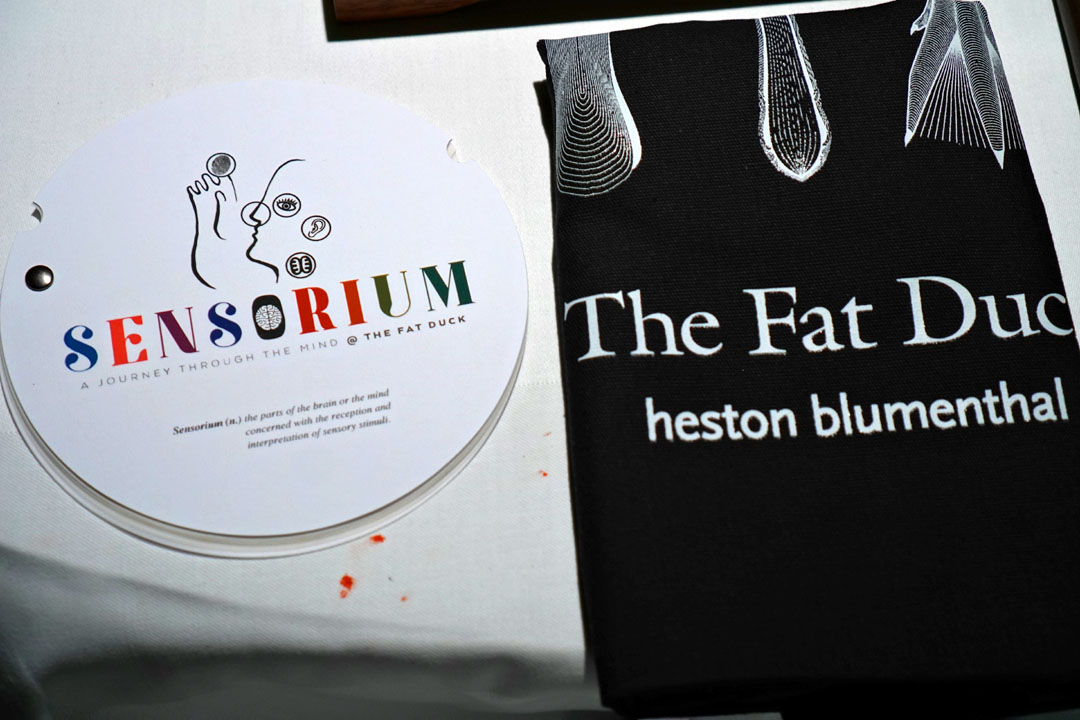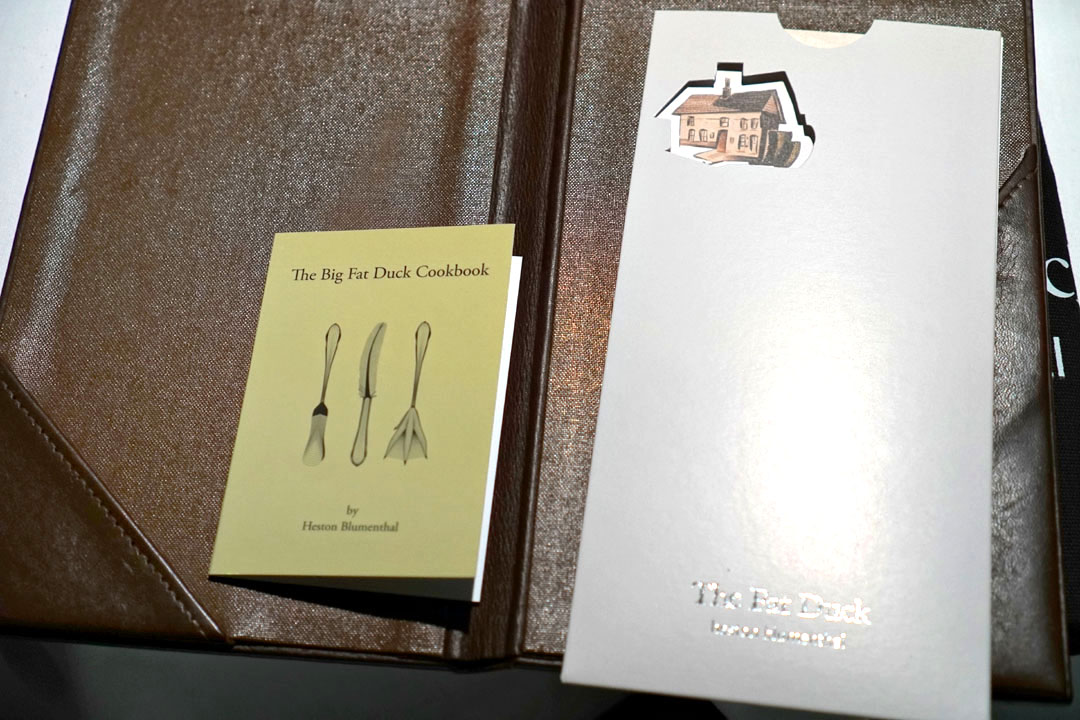 Along with the bill, I was given a copy of all the menu cards as well as a nifty tote bag.
There's been a lot said about The Fat Duck, and indeed, of Heston Blumenthal. The Chef is a bit of a controversial figure, but if we put aside his personality, his antics, all of the restaurant's cerebral-slash-multisensory elements and nostalgic tropes, all of the theatrics, we're left with some damn fine cooking. The Fat Duck has been a gamechanger, and though the restaurant isn't nearly as hyped as it once was, it still makes for an exciting, memorable, and delicious meal, one with flashes of whimsy, sure, but also an innocence to it that's quite endearing. I'm very glad to have finally made it out here.
---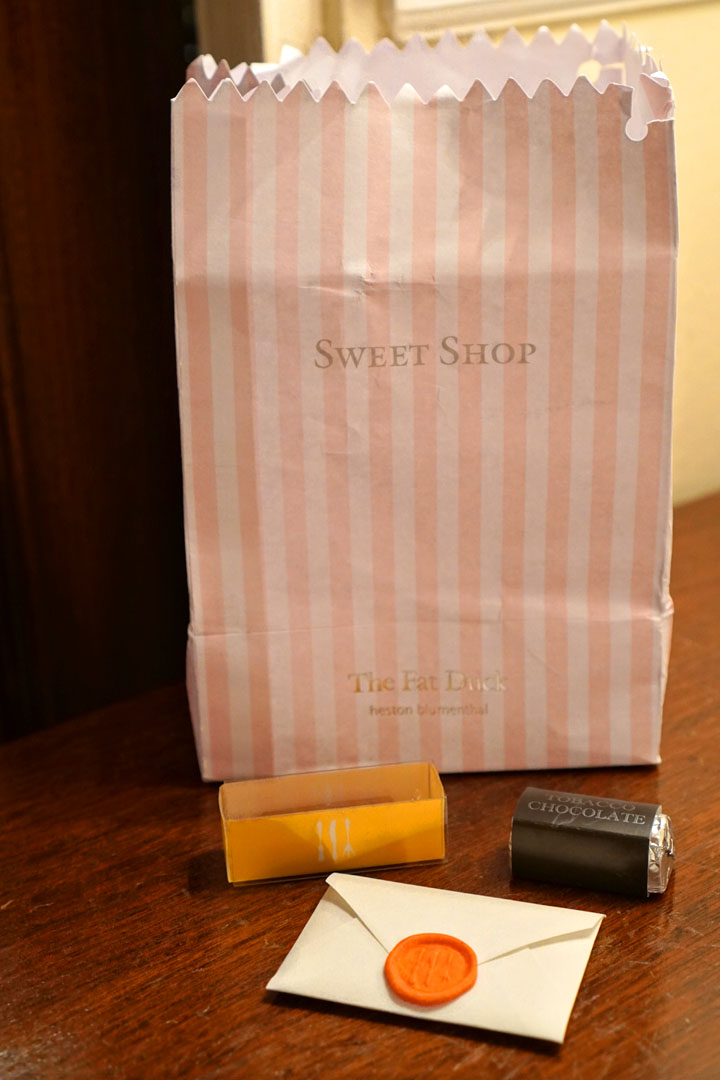 Remember how I'd selected four treats from the sweet shop above? Well, naturally I was curious about the three items I didn't pick, so I requested them to take with me for later enjoyment.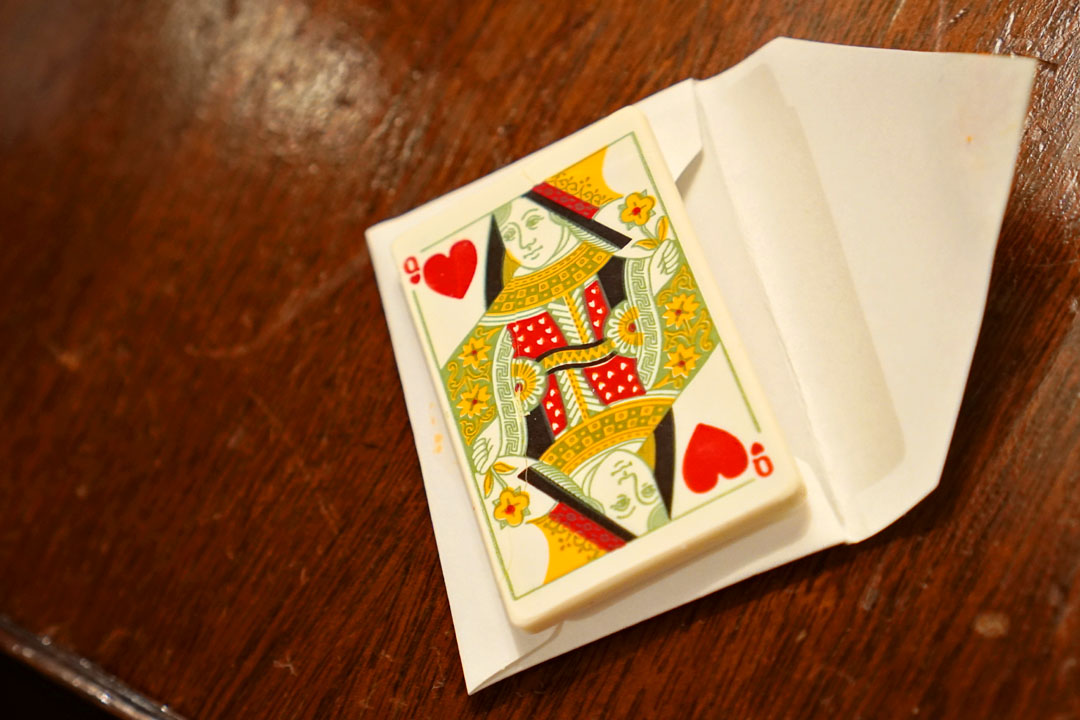 Queen of Hearts (Apricot)
I managed not to break my "card" this time around, which makes for a much more attractive photo. This actually tasted like one of those shortbread cookies with apricot jam.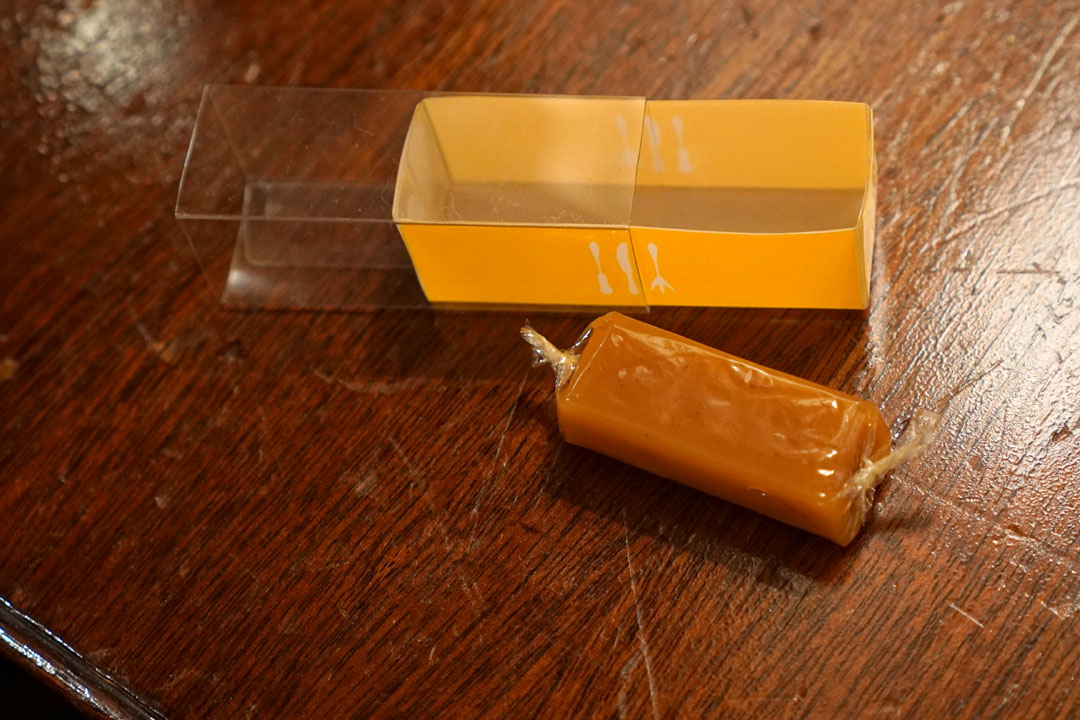 Lemon Pie Caramel
Quite citrusy at first, with restrained caramel coming through later.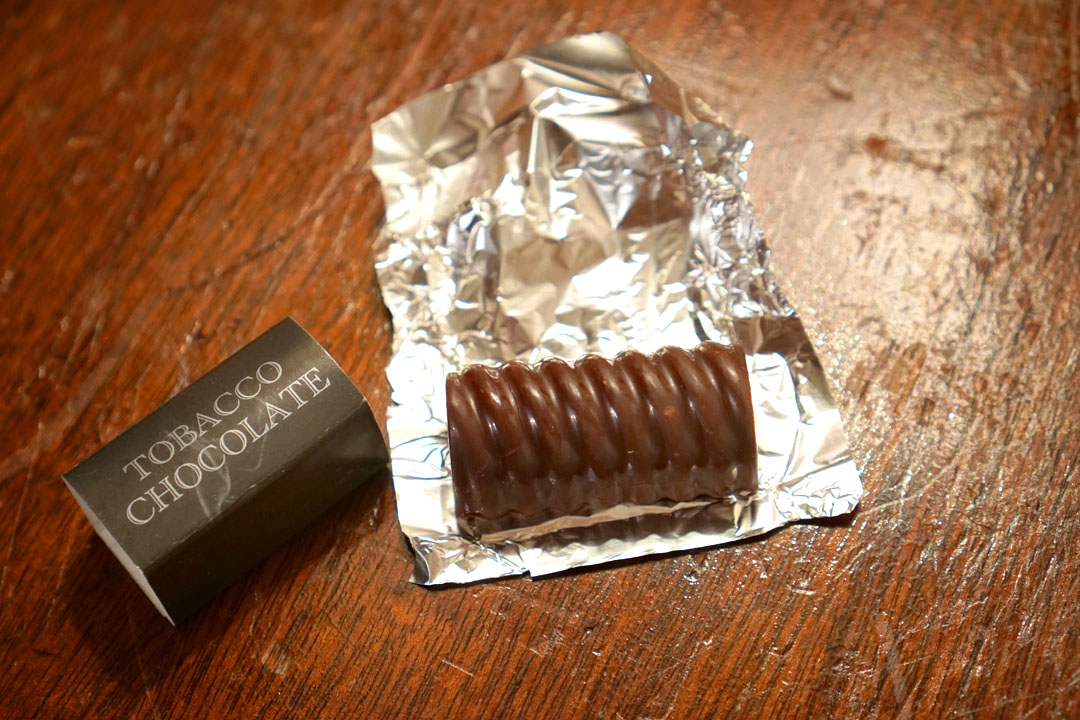 Tobacco Chocolate
Sweet and smoky, this reminded me of a stout-style beer (right up my alley, of course).