Rebel Omakase (Laguna Beach, CA)
Rebel Omakase
361 Forest Ave, Laguna Beach, CA 92651
949.664.3186
www.instagram.com/rebelomakase/
Sat 09/23/2023, 05:00p-07:10p

I was recently down at South Coast Plaza purchasing a new suit, and thought it'd be appropriate to grab some dinner in south Orange County afterward. After considering a couple options, Rebel Omakase turned out to be the pick for the evening. One of the newer additions to OC's high-end sushi scene, the restaurant is the creation of Chef Jordan Nakasone (a.k.a. Jordan Reyes) and wife Debrah Cha. The place opened up about two years ago, and had been on my list to try ever since.
About the Chef
: Nakasone actually hails from Peru, and started his culinary career in his home country, serving in both FOH and BOH roles. He then lived and worked in Japan for around three years, and after receiving his green card, moved to the US in 2014 and studied hospitality management. After spending some time in New York, he moved to the Los Angeles area in 2016 and began working with an old high school friend at Kotosh, a Nikkei-style Peruvian eatery in Lomita. Nakasone then began taking classes at the Sushi Chef Institute, and later apprenticed briefly back in Japan.
After finishing his studies, he worked at Terranea Resort and, in the middle of 2018, operated a short-lived Peruvian concept called Lomo Saltado by Nakasone at 626 Night Market. He then secured a position at Kimiyasu Enya's eponymous
Sushi Enya
in Little Tokyo, and later transitioned over to Enya's Marina del Rey location. The Chef stayed until the end of 2020, then began working on debuting his own restaurant in the South Bay. However, the pandemic scuttled those plans, and he and Cha eventually chose Laguna Beach instead, opening Rebel Omakase on August 17th, 2021.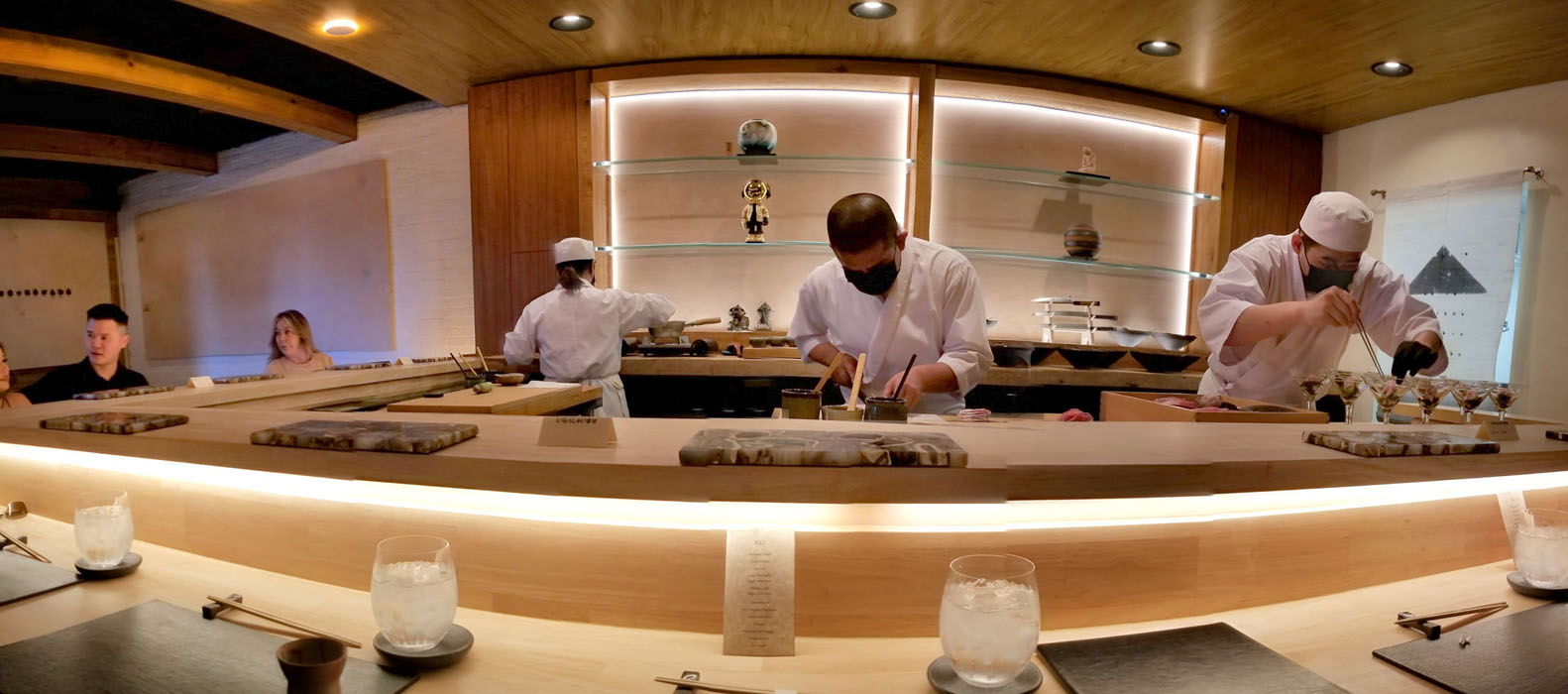 The restaurant takes over a storefront that was previously home to the likes of Central, Sundried Tomato Café, Jack Shrimp, and interestingly enough, the first location of Zpizza. The space has been reimagined with the aid of Peruvian designer Masaki Gaja, and now sports an aesthetic appropriate for the food being served. Shown above is the view from my seat at the sushi bar.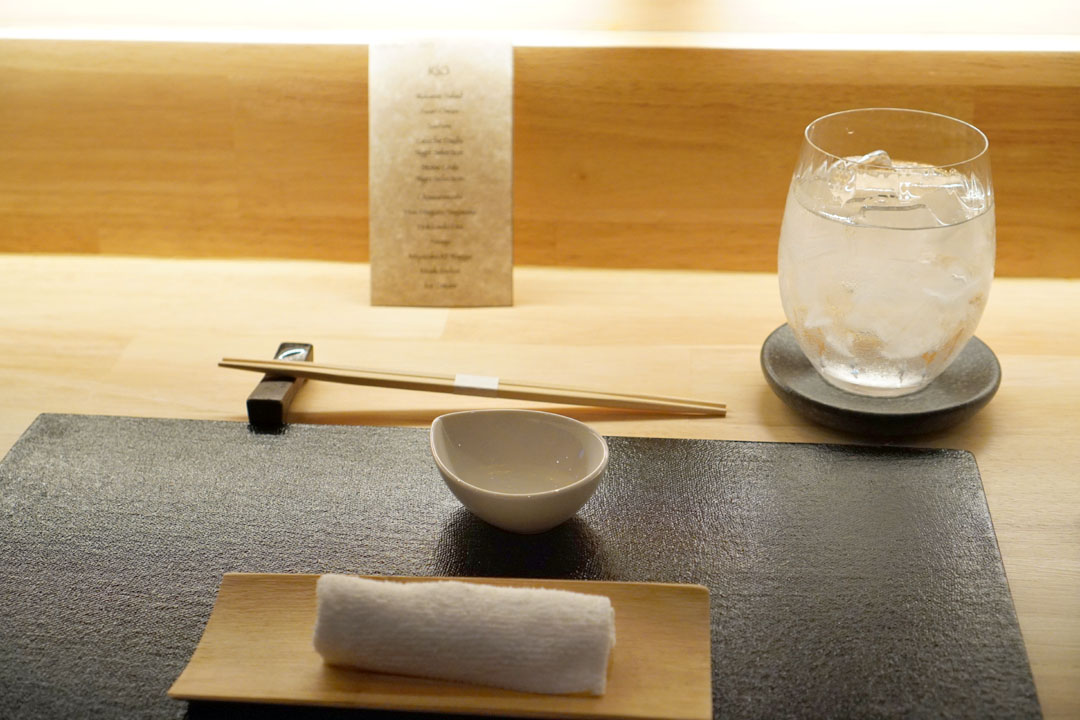 Tonight's place setting included a chilled
oshibori
as well as a copy of the menu.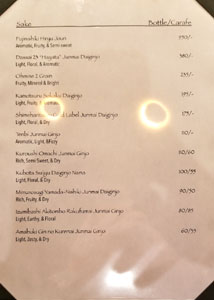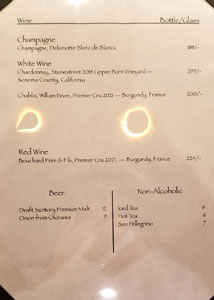 And here we see that aforementioned menu (rendered in Papyrus font, no less). Though the restaurant used to offer à la carte when it first opened, these days it's omakase-only, at a price point of $260 a head. To drink, you get a brief list of sake and a smattering of wine and beer. Corkage isn't allowed, which is unfortunate given the limited beverage selection. Click for larger versions.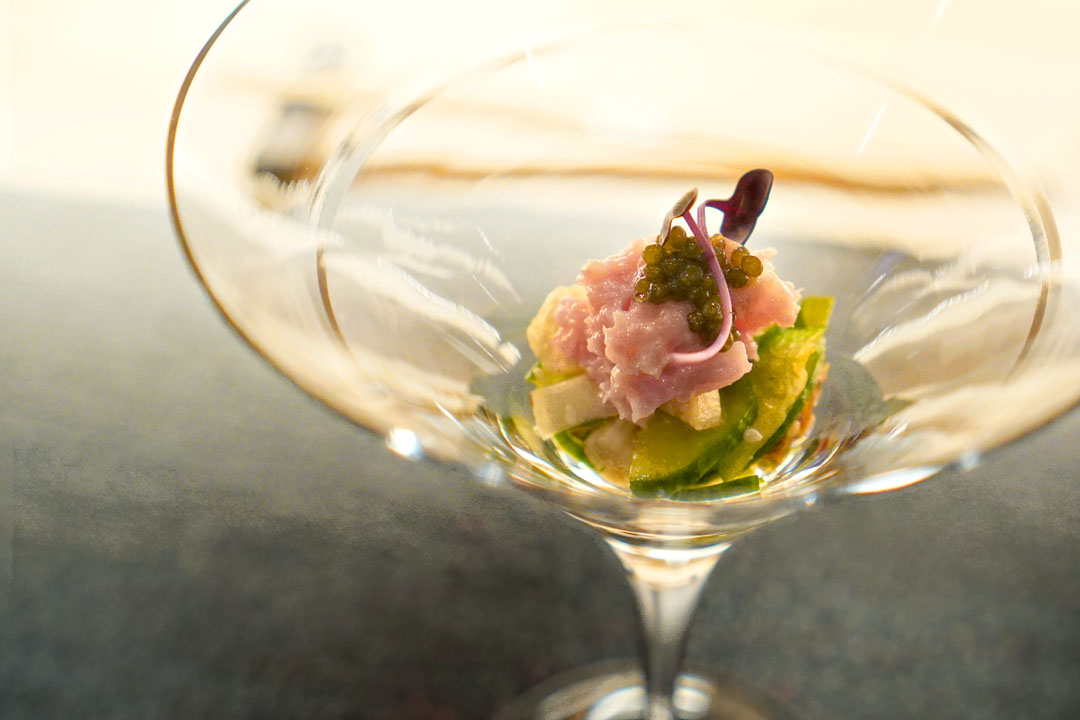 1: Wakame Salad
Our first course served as a bit of an amuse bouche, and combined a tartare of Japanese hamachi and Ossetra caviar with bright cucumber notes and a nutty, sesame-laced finish. What was a tad surprising was the incorporation of
yamaimo
, which moderated the flavors at play and also imparted its signature mucilaginous consistency to the dish.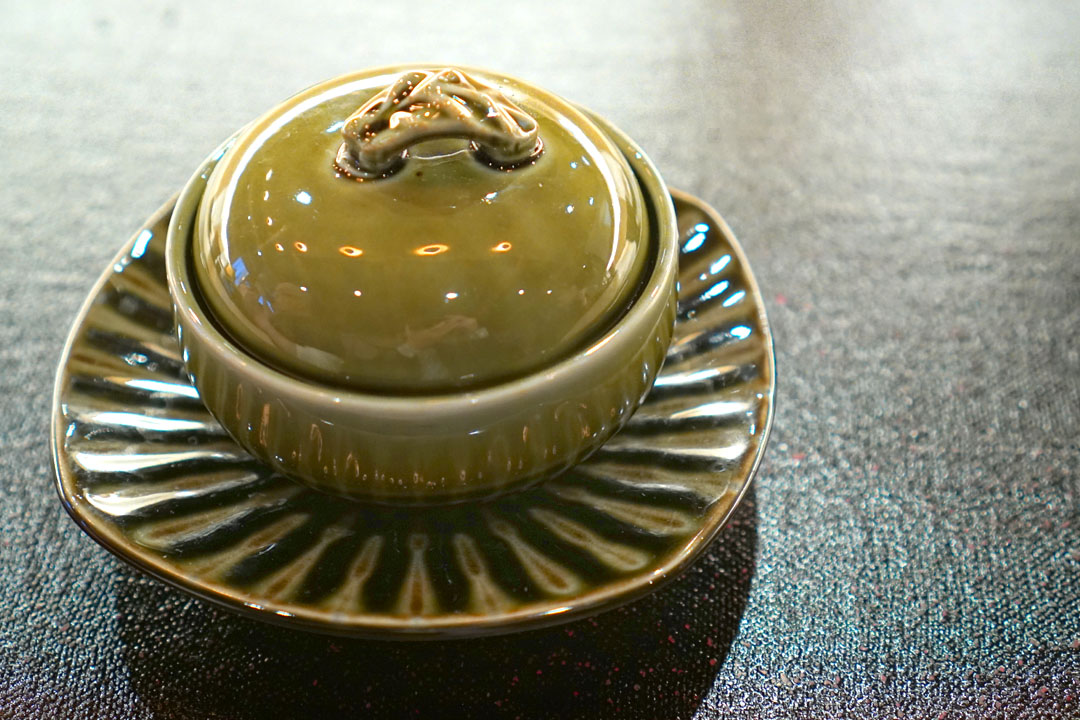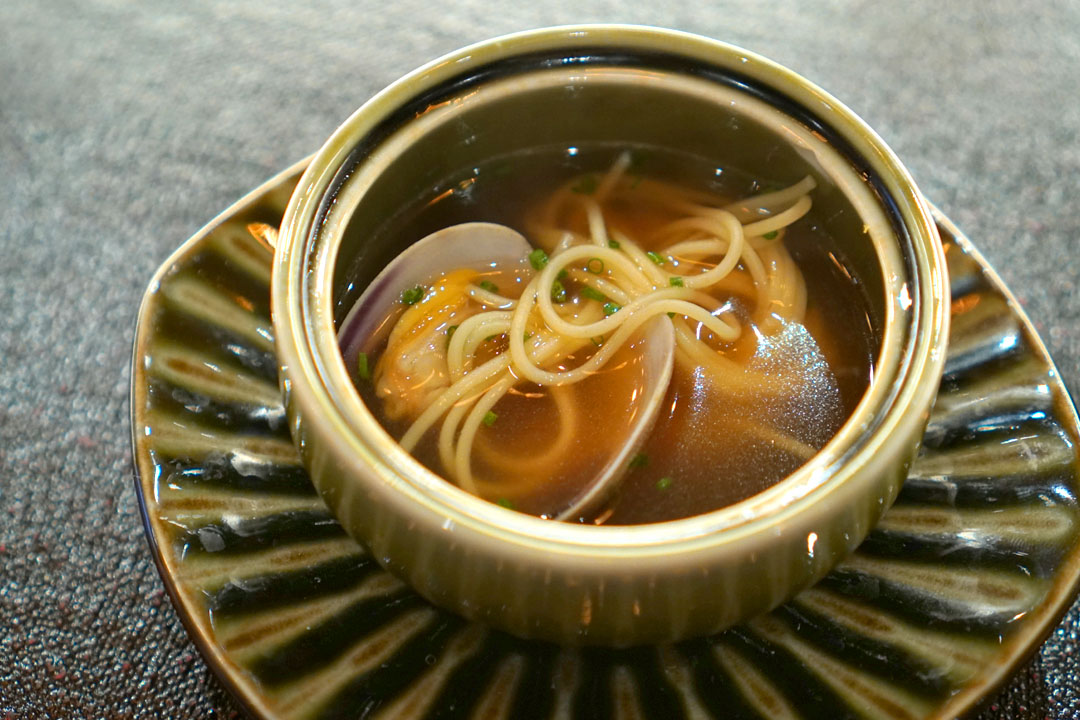 2: Asari Owan
Our soup course featured a dashi broth that was a bit light on the umami for me, but nevertheless still quite cozy. Meanwhile, the Japanese clam itself was pretty much spot-on, and I quite liked the textural contribution from the angel hair pasta.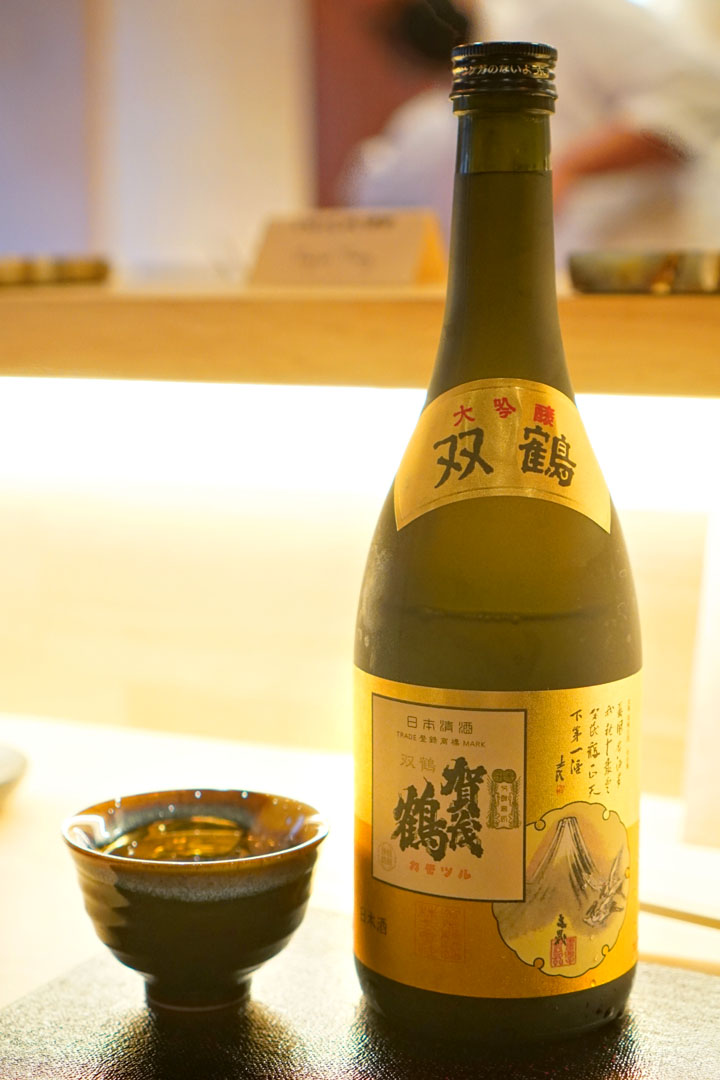 To drink, we started with the
Kamotsuru Sokaku Daiginjo [$195]
, a 32%
seimai-buai
bottling that comes to us from Hiroshima. The nose went in a floral, fragrant direction, with an almost bubble gum-esque quality undergirded by distinct elements of grain. On the palate, the sake was as soft and sweet as I expected, but also displayed a woodsy tang and subtle minerality that kept things interesting.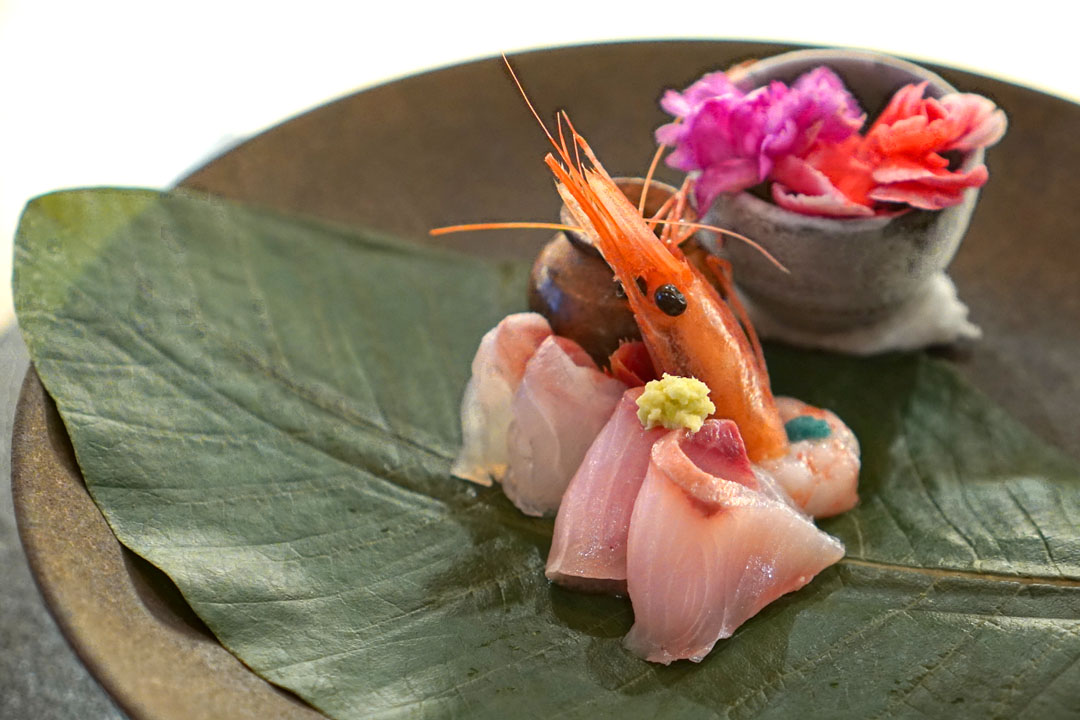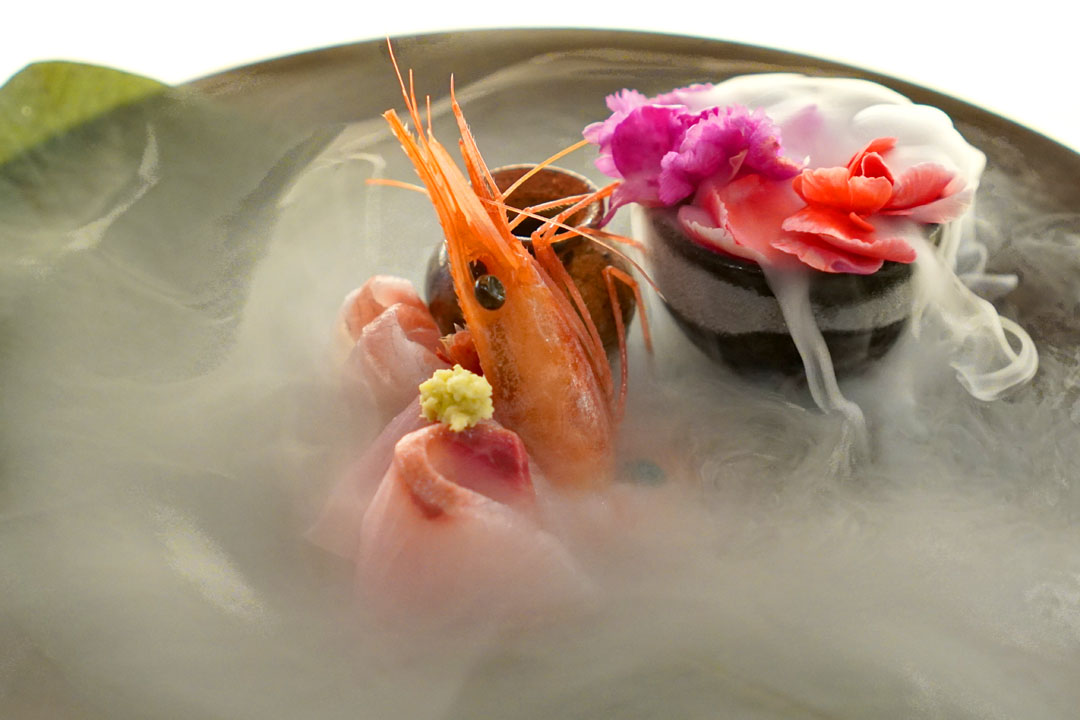 3: Sashimi
Three types of sashimi were offered tonight, presented with some dry ice theatrics:
Madai – Red seabream ate supple, lean, and clean, with a building brine that linked up swimmingly with a dash of that housemade soy sauce.
Hiramasa – The yellowtail kingfish was my favorite of the three thanks to its gratifyingly meaty texture and fine-spun savor, which matched up beautifully with freshly-grated wasabi.
Amaebi – An utterly creamy Japanese sweet shrimp was served with a dollop of its azure-tinted roe.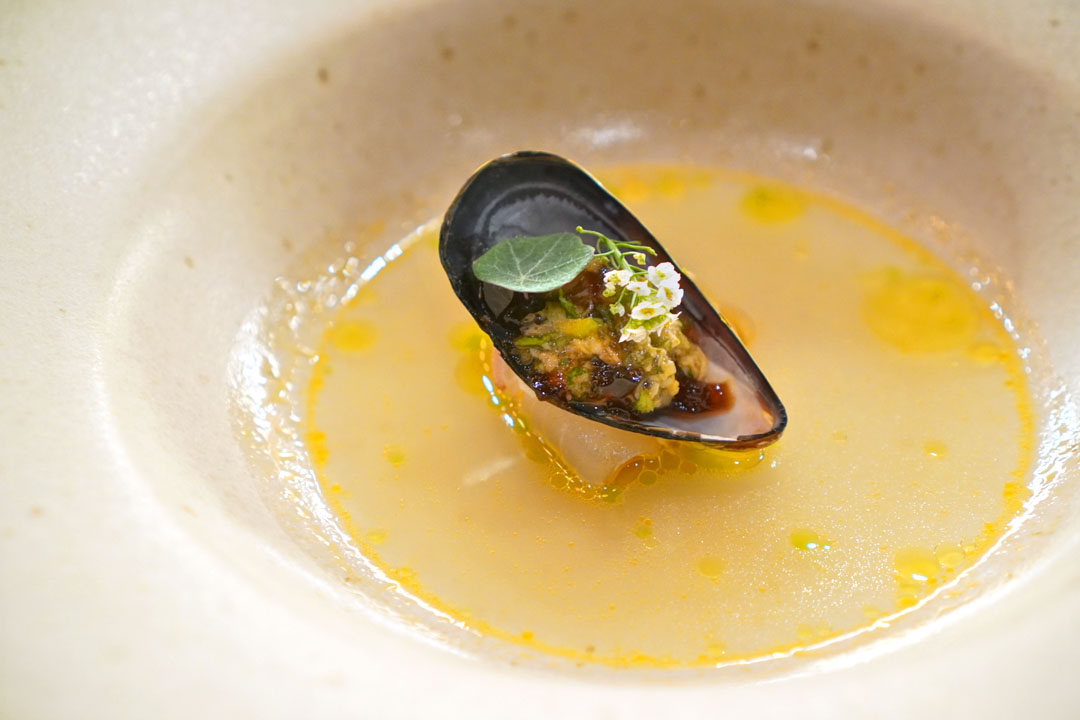 4: Ceviche Dashi
This ostensibly ceviche-inspired dish was perhaps the most unconventional of the night. On top was minced mussel with ponzu gel, which showed off a lovely brine set against a celery-like zestiness. Next was a cut of octopus leg, which only seemed to intensify in terms of umami the more I chewed, while on the bottom was a cut of savory
kurodai
snapper. The seafood was all set in a light, vegetal, citrus-dashi broth with yuzu and chive oil.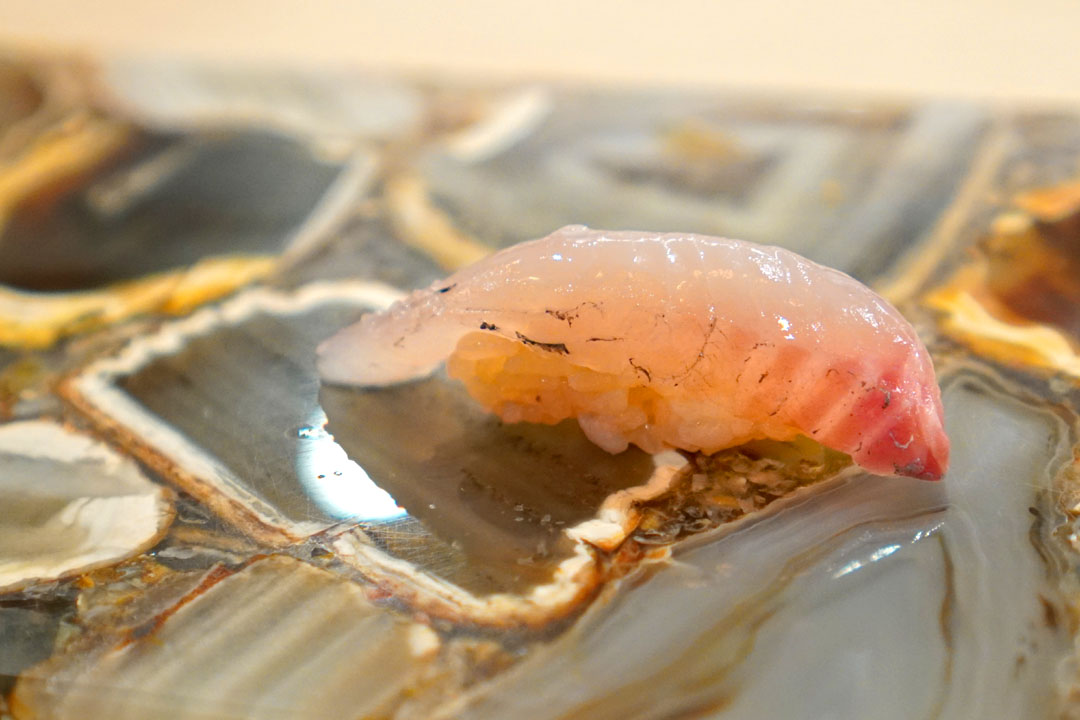 5: Yuki Masu
The nigiri portion of our meal began with snow trout (or white salmon), a somewhat uncommon
neta
. I found it relatively mild tasting and of moderate fattiness, perked up by pricks of citrus. Texturally, both the fish and the rice were on the sticky side.
6: Isaki
Threeline grunt (a.k.a. chicken grunt) showcased a snappy, almost sinewy chew, as well as a delicate taste with a sweet-n-sour, plum-like finish.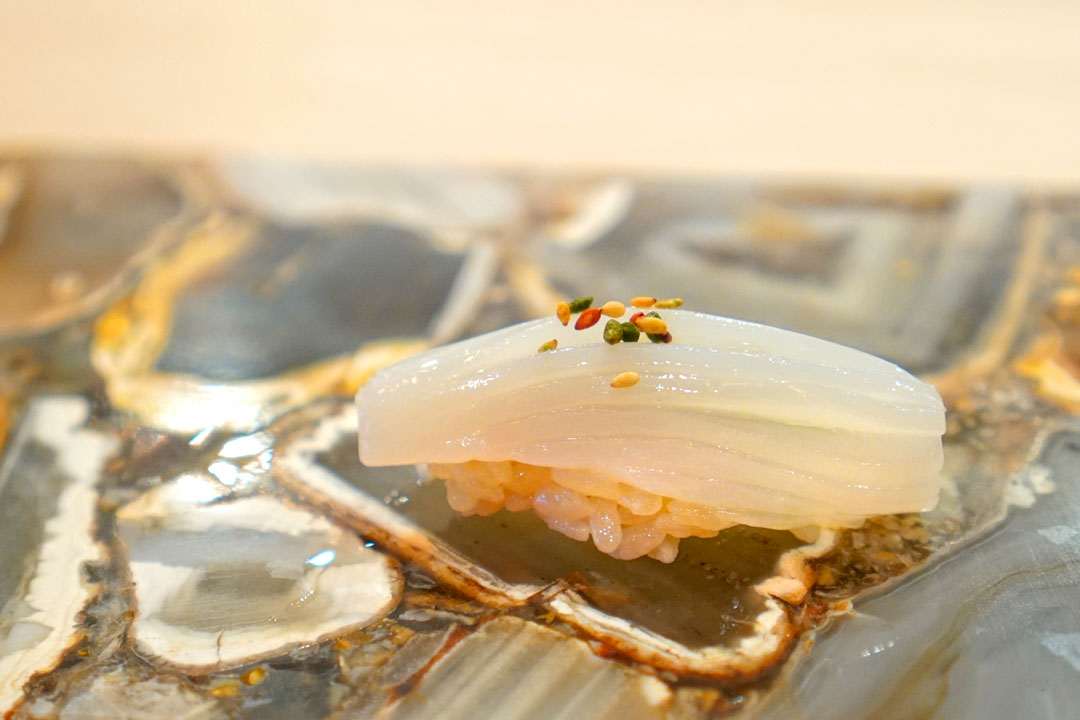 7: Ika
The squid was a standout, and likely one of the best preparations I've had. What struck me first was its silky, substantial, satisfying texture, while the use of yuzu, shiso, and sesame made for a delicious amalgam of minty, nutty, and savory nuances.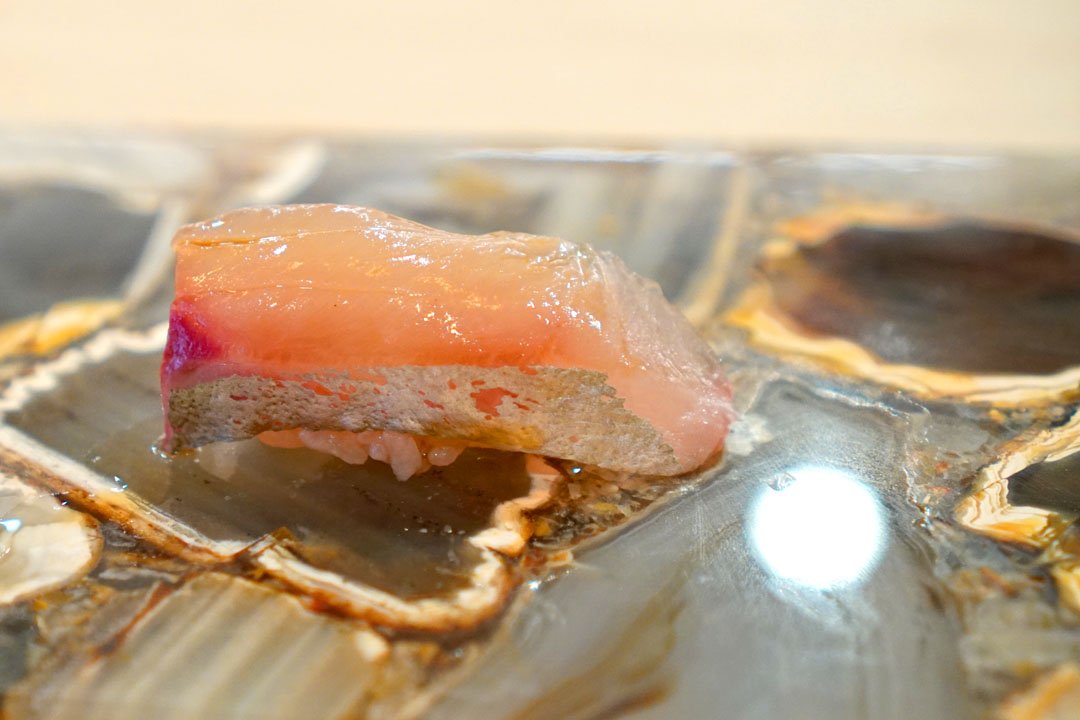 8: Shima Aji
Striped jack demonstrated a delightfully meaty consistency and a subtly sweet flavor profile. However, the rice here didn't quite stand up to the fish, as it veered gummy.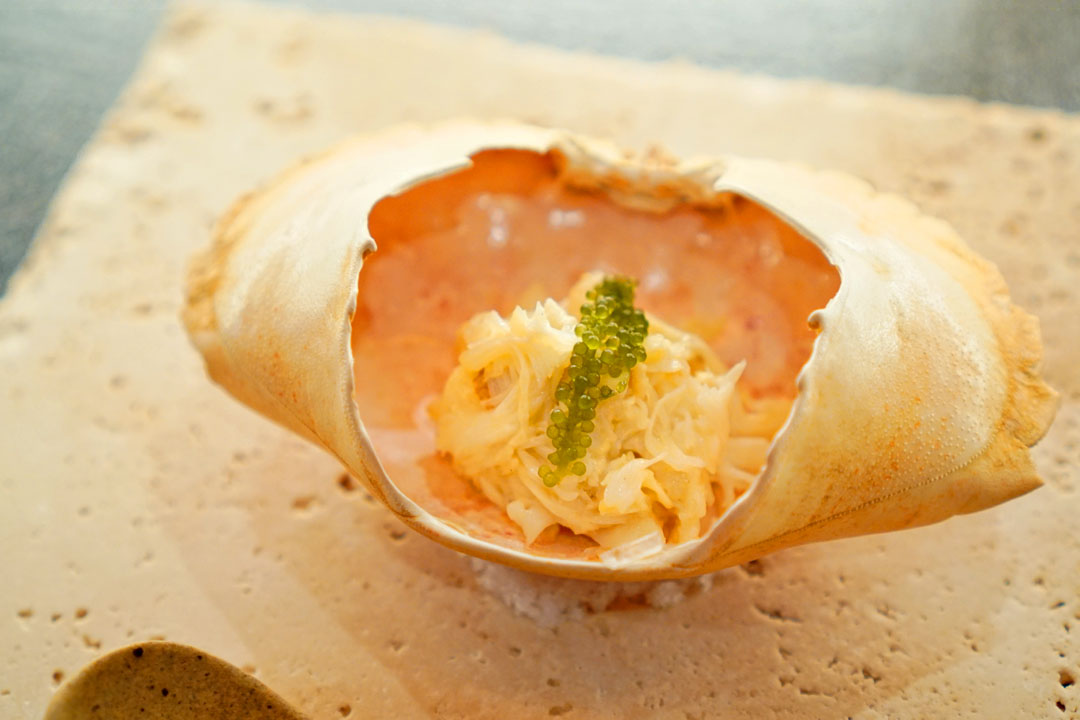 9: Stone Crab
Served in a light cream sauce, stone crab conveyed a wonderful interplay of sweet and saline tastes, with the
umibudo
offering up even more of an oceany accent. Really well balanced--another favorite.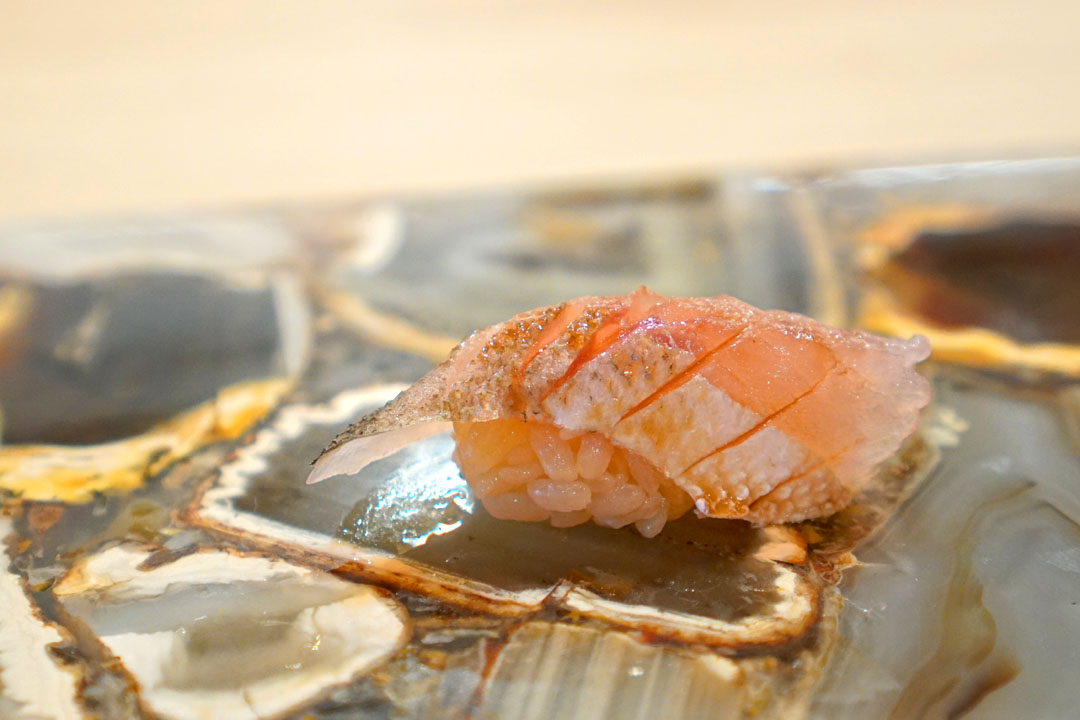 10: Kamasu
Barracuda was rather elegant in terms of both taste and texture, but was a bit overshadowed by the
shari
, which leaned sweet.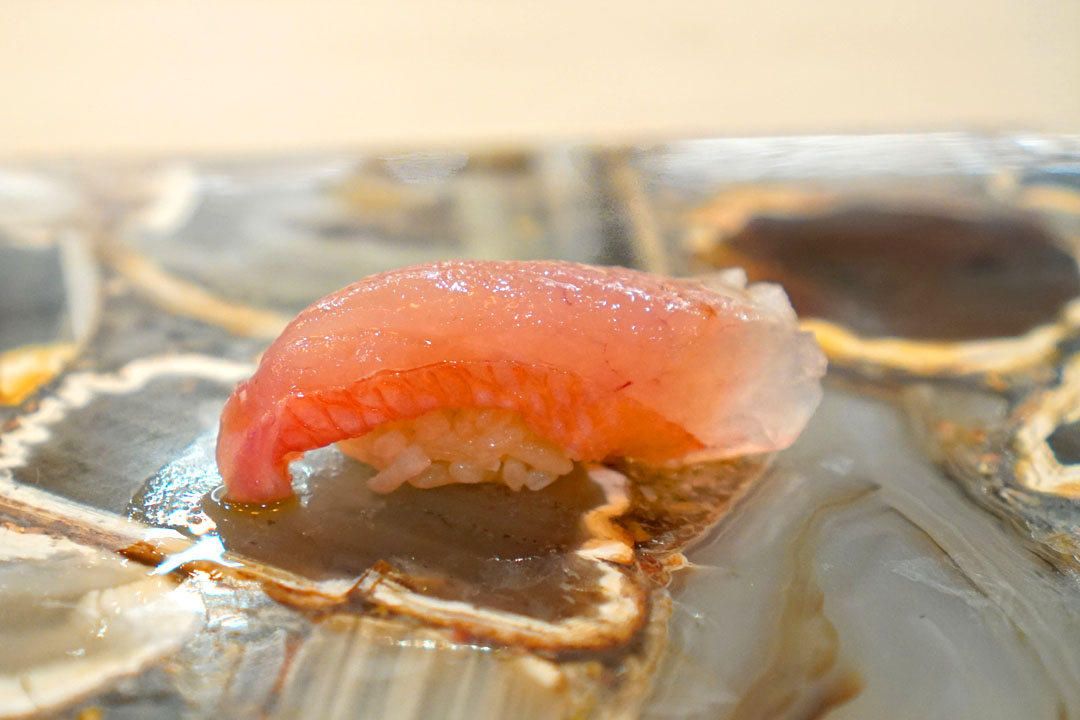 11: Kinmedai
Golden eye snapper had a bit of a chew, while its tender, subtly-flavored flesh was accented by notes of citrus and that warm, savory rice. Splendid alfonsino is often served lightly torched for sushi purposes, so it was nice to encounter an un-seared presentation.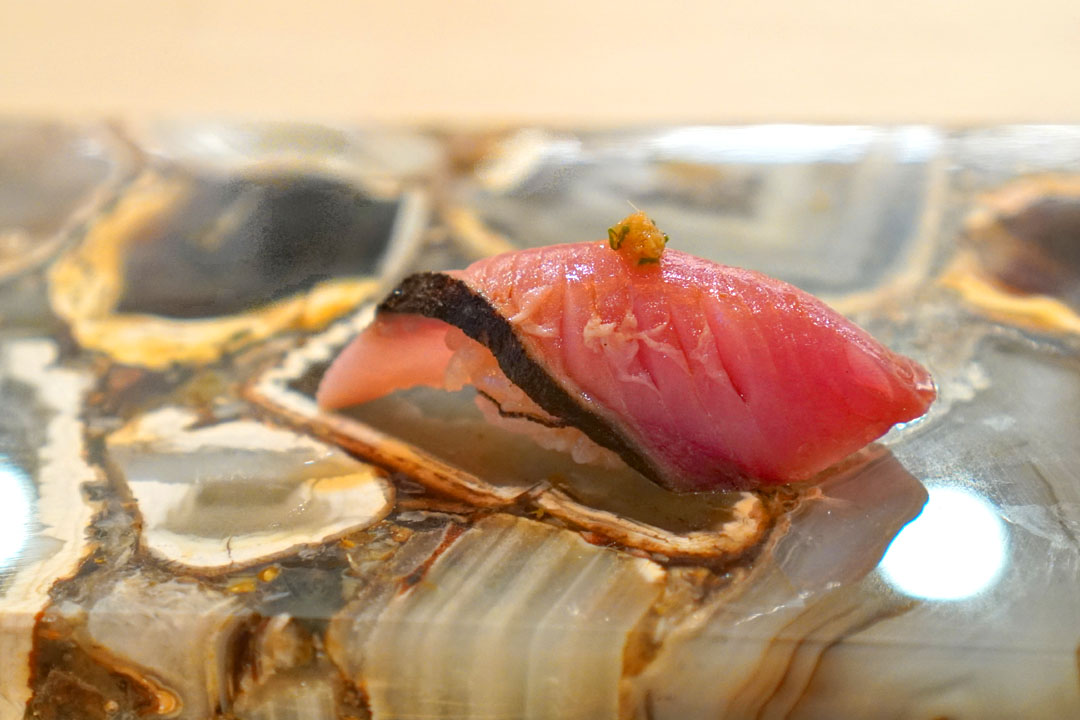 12: Hagatsuo
The bonito was another favorite of mine thanks to how its ginger-y heat married with countering elements of smoke and brine, while the rice served to moderate all those strong flavors.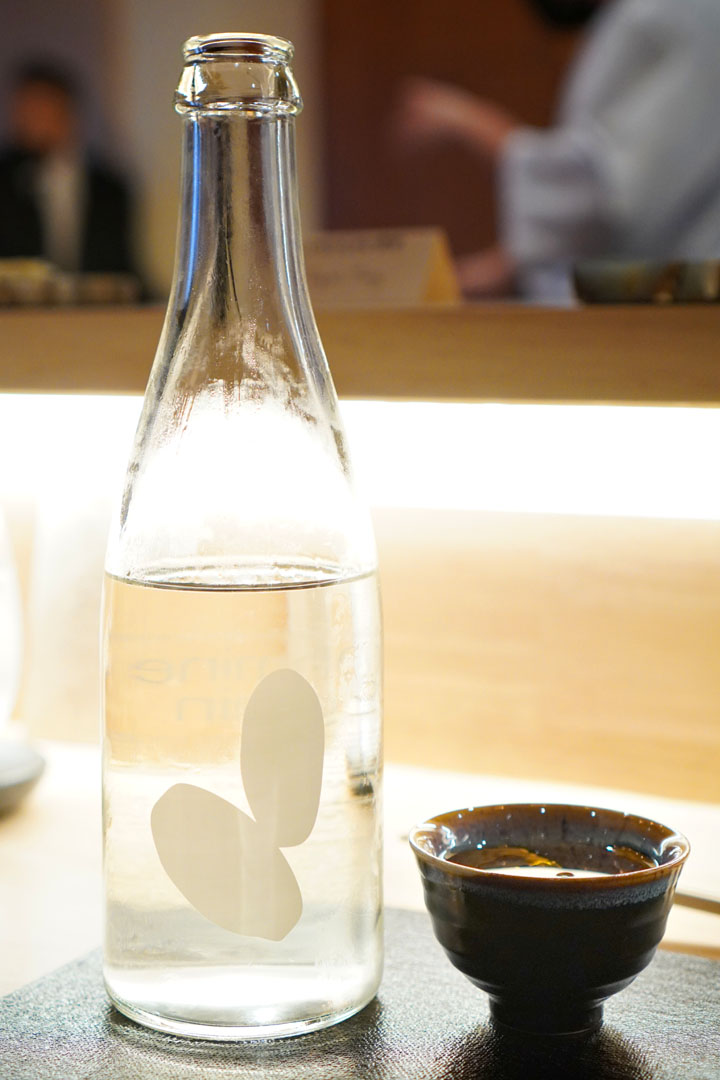 For our second beverage, we opted for a bottle of the
Ohmine 2 Grain [$235]
, which hails from Yamaguchi and features a 35% rice polishing ratio. The bouquet on this one was super lush and fruity, with a touch of floral. Taking a sip, I found the sake thick and round and luscious, its notes of tropical fruits juxtaposed against just enough minerality and astringency.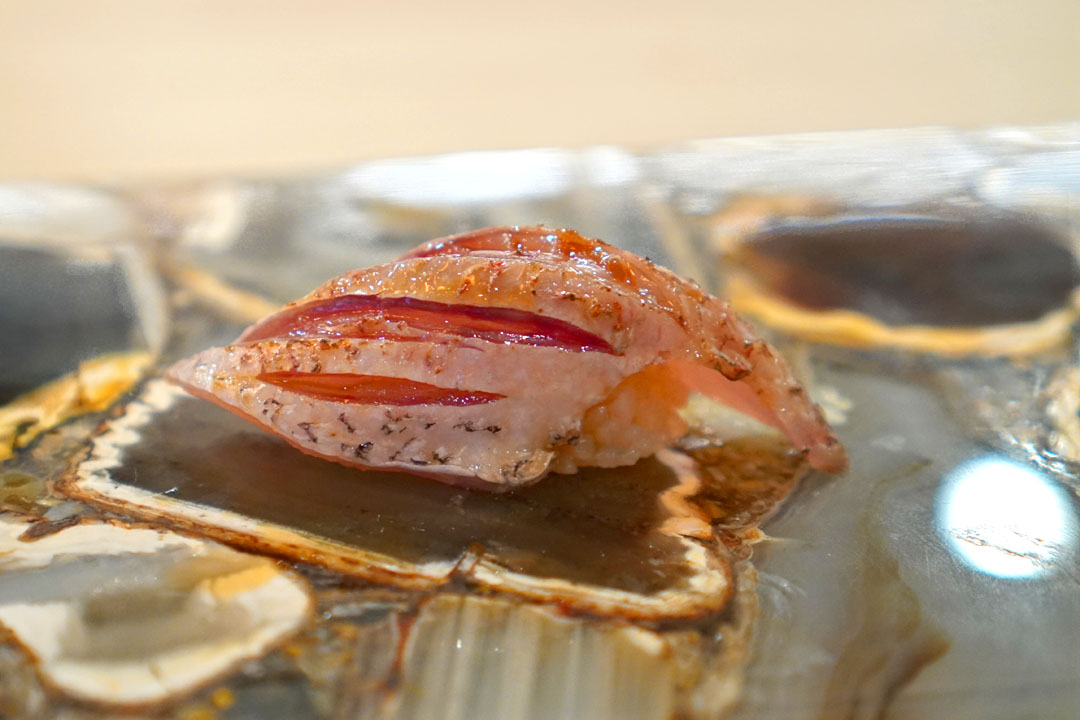 13: Akamutsu
Not surprisingly, the
nodoguro
(blackthroat seaperch) was another highlight. I loved the fish's aggressive sear and satisfying chew, while the rice worked to keep it all in check.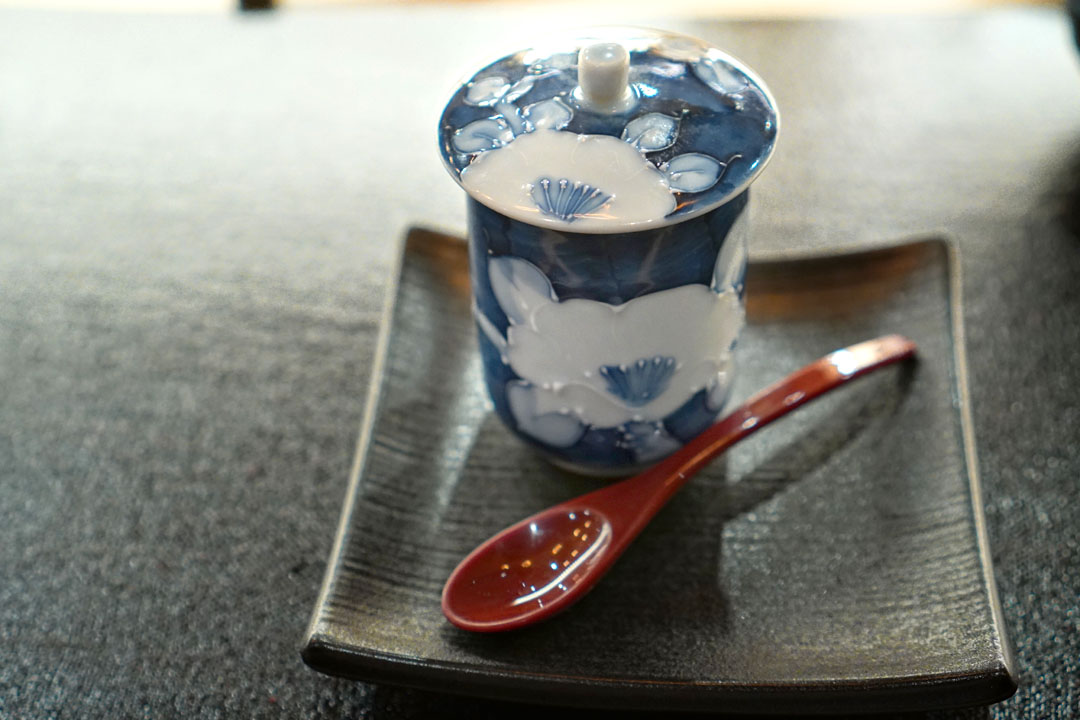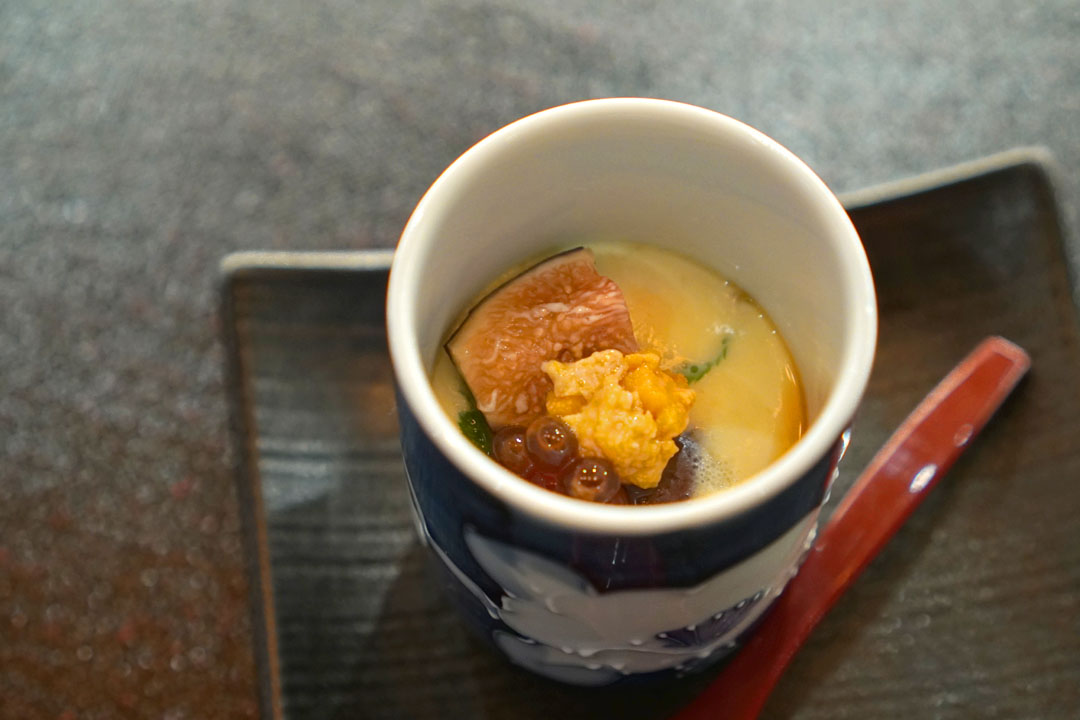 14: Chawanmushi
Tonight's egg custard made use of shiitake,
kobashira
(surf clam adductor muscle), Hokkaido sea urchin, ikura, and fresh fig. The crux of the course really was that fig, which imparted a fruitiness that worked surprisingly well with the dish's otherwise saline, savory components.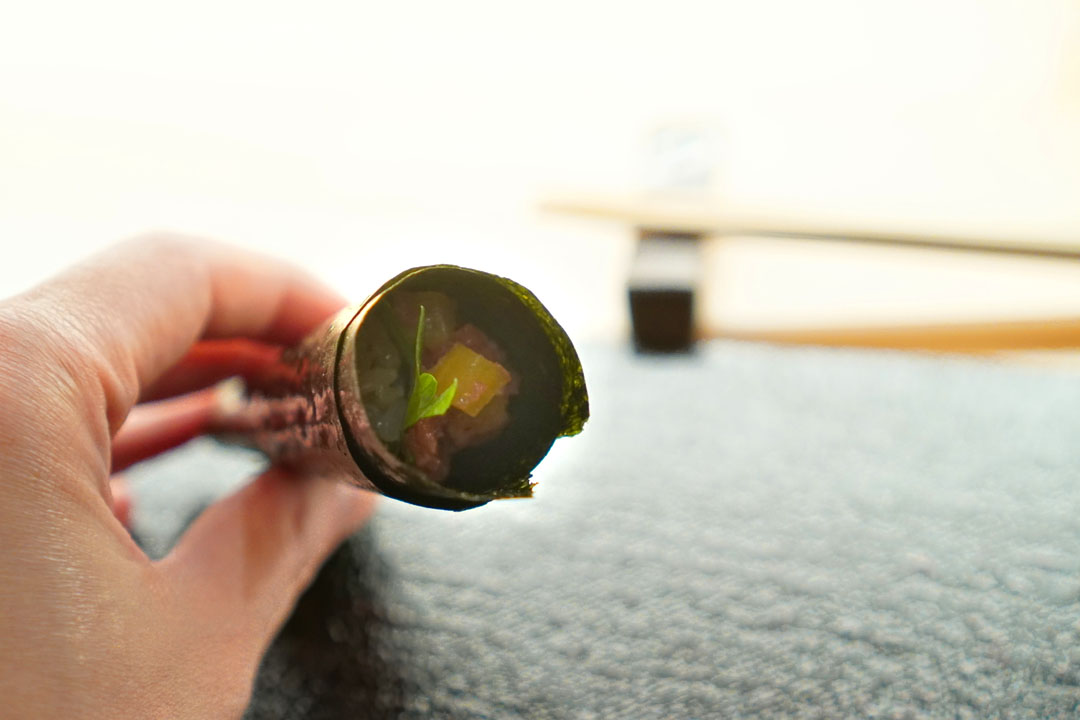 15: Hon Maguro Nagasaki - Temaki
Bluefin arrived in three forms, and up first was this hand roll. I loved the crisp, shattery texture on the nori here, as well its grassy, saline qualities. It made for a fitting foil to the fatty tuna and
takuan
, while the shiso imparted a measure of freshness.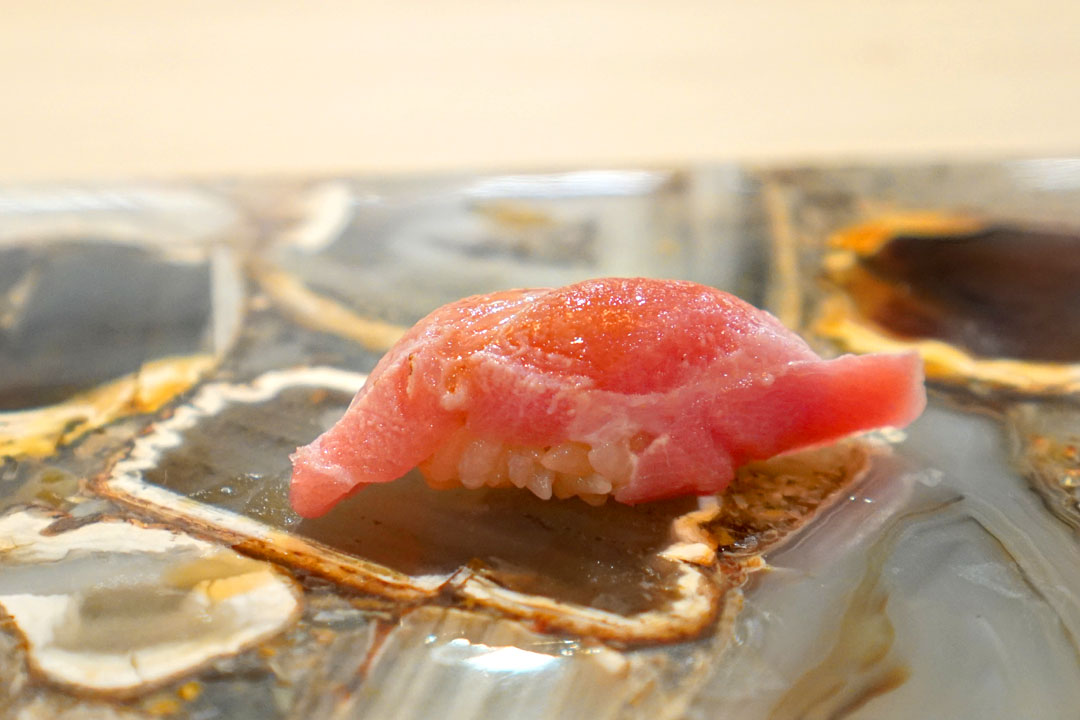 16: Hon Maguro Nagasaki - Chutoro
Medium fatty tuna possessed a palpable sweetness, as well as healthy amount of cool brine and just enough fat.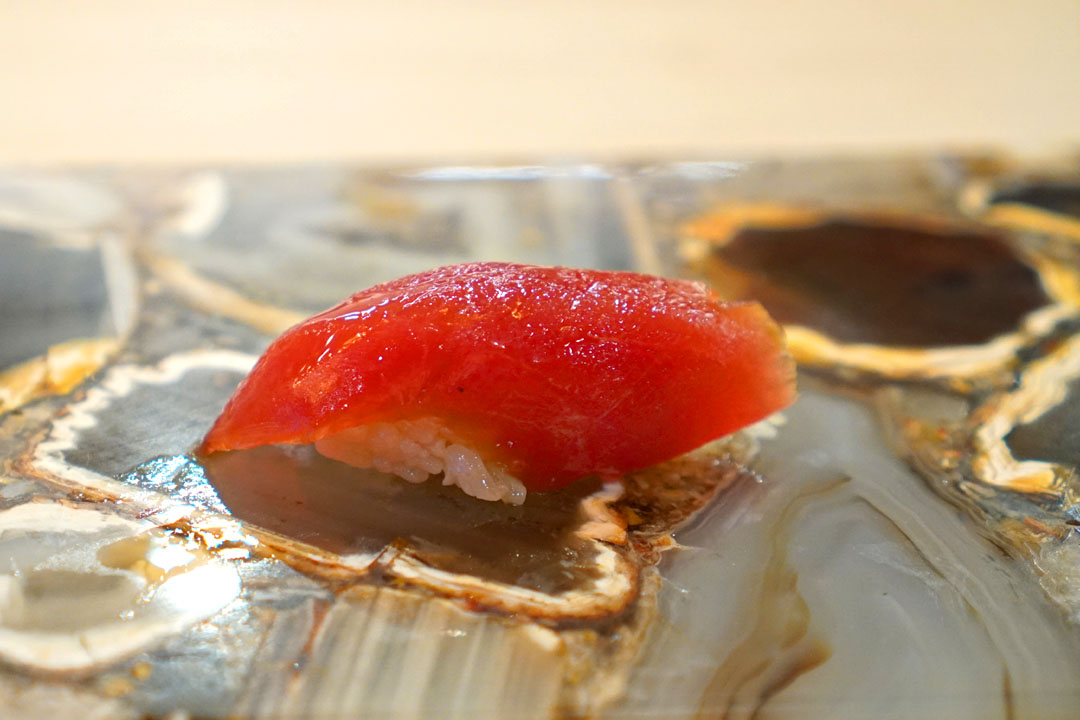 17: Hon Maguro Nagasaki - Akami
A ruby-hued cut of lean tuna paired gorgeously with a nuttiness that came from what I believe was sesame oil. However, the rice actually seemed a tad jarring for some reason.
18: Hokkaido Uni
Bafun
sea urchin showed off the cool, mineral-driven flavors I expected, set against soft, sticky rice. However, I would've liked some firmer grains to counteract the inherent softness of the roe.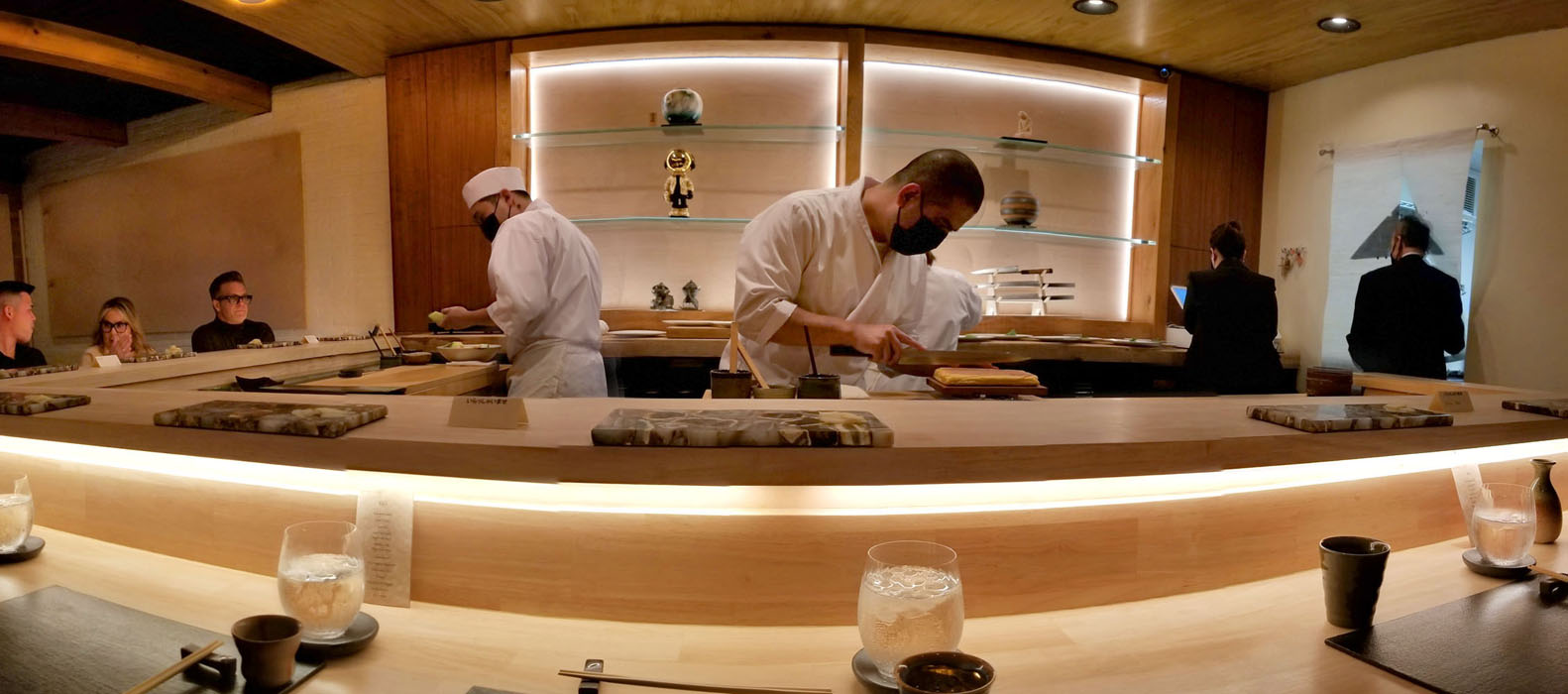 An aside on the dress code: We were informed by the restaurant that it's a "jacket required" establishment, which we thought was very unusual for a sushi spot. Nevertheless, we obliged and wore blazers accordingly. However, we soon discovered that some of the other diners did not heed the dress code at all. I don't have a problem with a restaurant implementing a dress code, but my view is that if you're going to have one, the policy should be enforced consistently.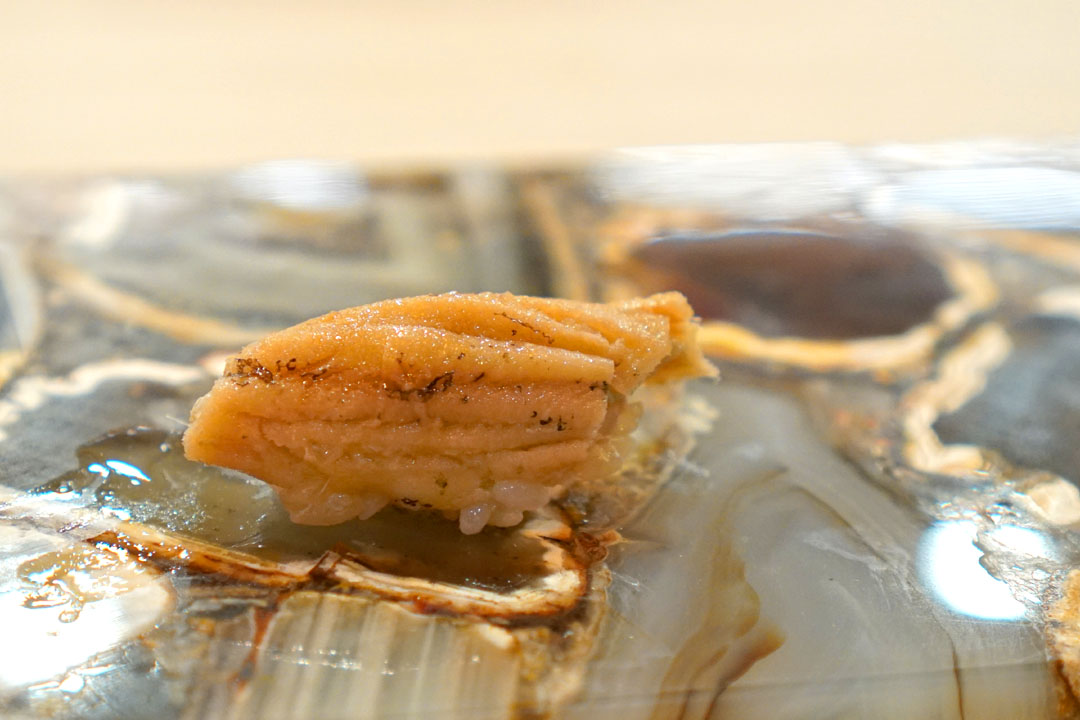 19: Anago
Sea eel had all the sweet and savory flavors I was looking for, though again, I would've preferred some firmer rice to better contrast the fish's consistency.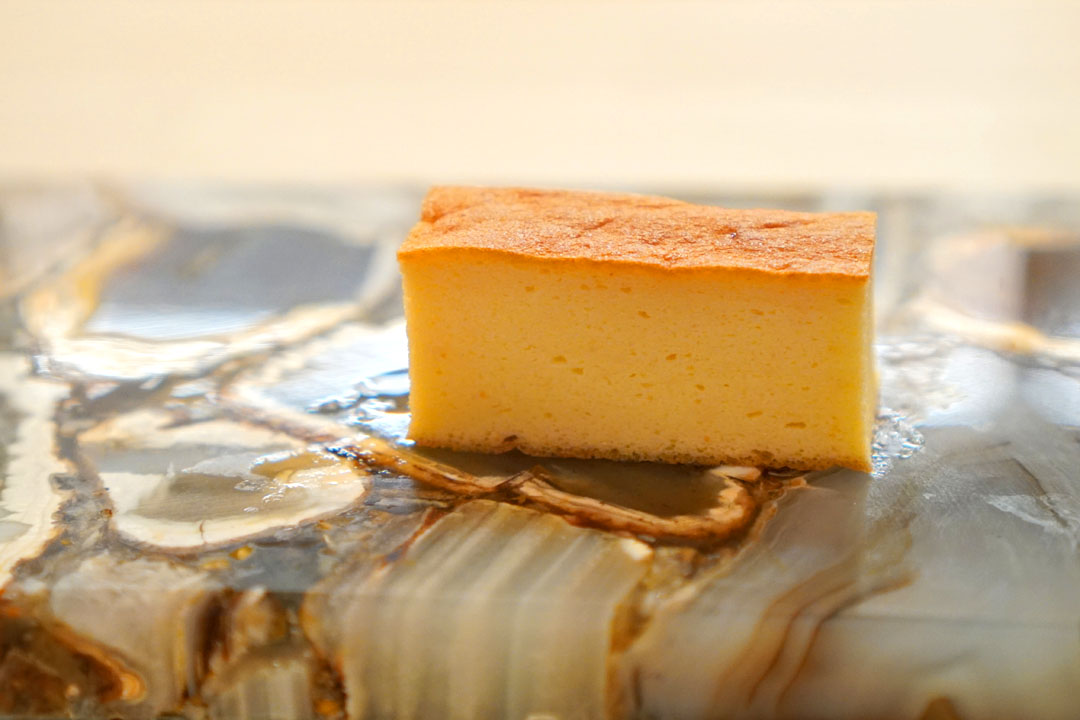 20: Gyoku
The arrival of the cake-like tamago signaled the end of the sushi portion of our meal. The egg omelette was restrained in its sweetness, fortunately, and conveyed a shrimp paste-fueled umami character that I certainly welcomed.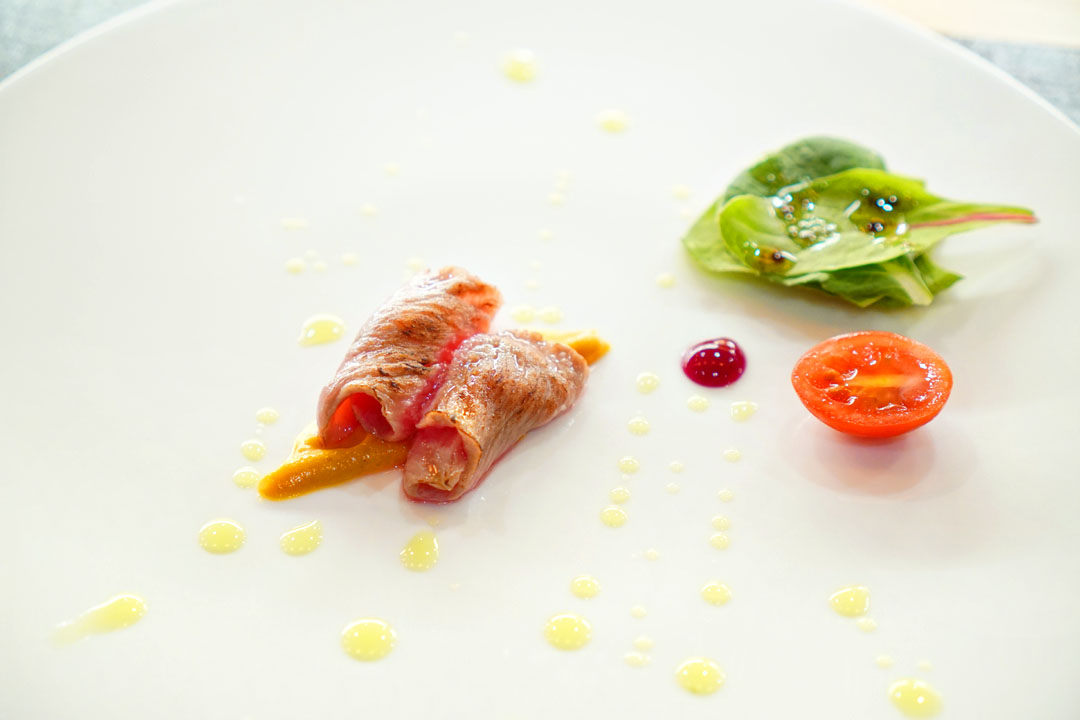 21: Miyazaki A5 Wagyu
In our final savory course, thin cuts of lightly seared rib eye were served over a kabocha cream that, much to my surprise, wasn't overly sugary and actually paired really well with the beef. Meanwhile, accompaniments of cherry tomato, beet gel, and herb oil served to lighten the mood.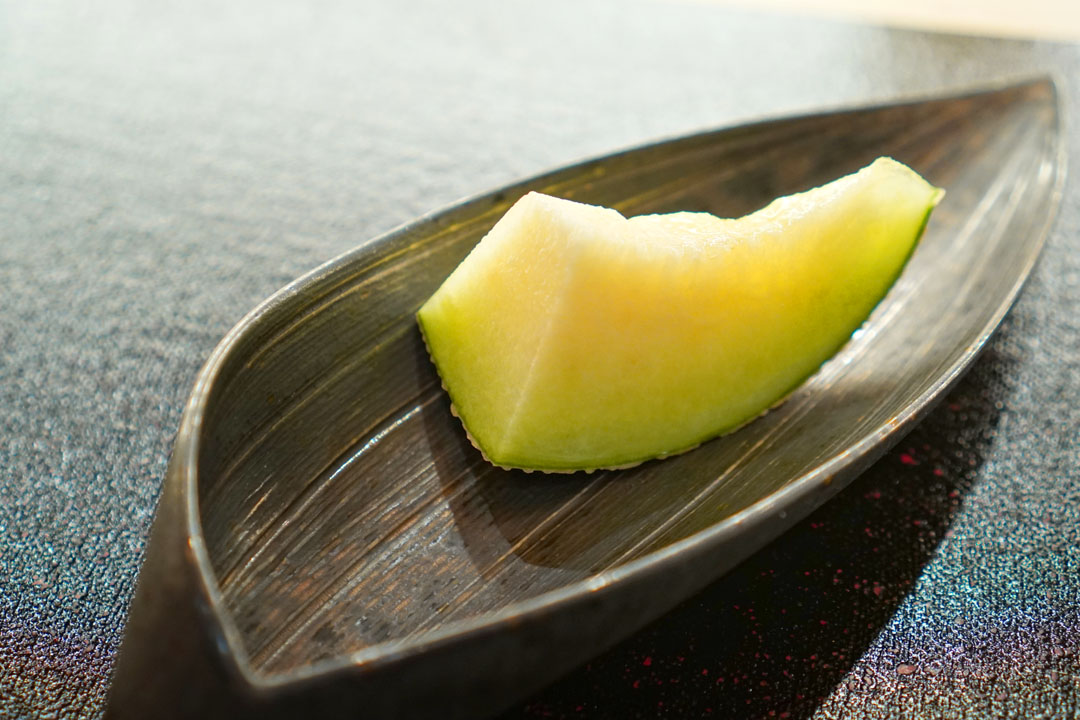 22: Musk Melon
We were then served a slice of Japanese muskmelon, which was indeed sweeter and juicier than most.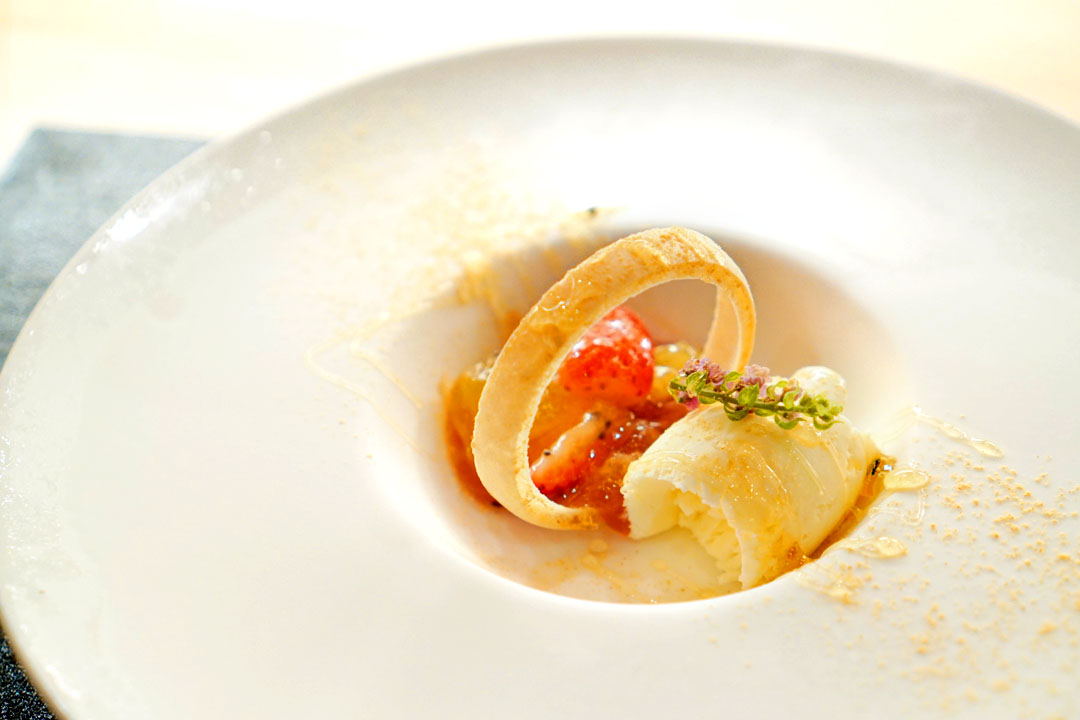 23: Ice Cream
Dessert proper was easily better than anticipated. The key here was that truffle-infused honey, which had this wonderfully woodsy funk that matched up perfectly with the sweetness of that vanilla ice cream. We also had strawberries dressed in a plum wine-Champagne reduction gel,
hanaho
(shiso blossoms), nutty
kinako
, and a monaka wafer for crunch.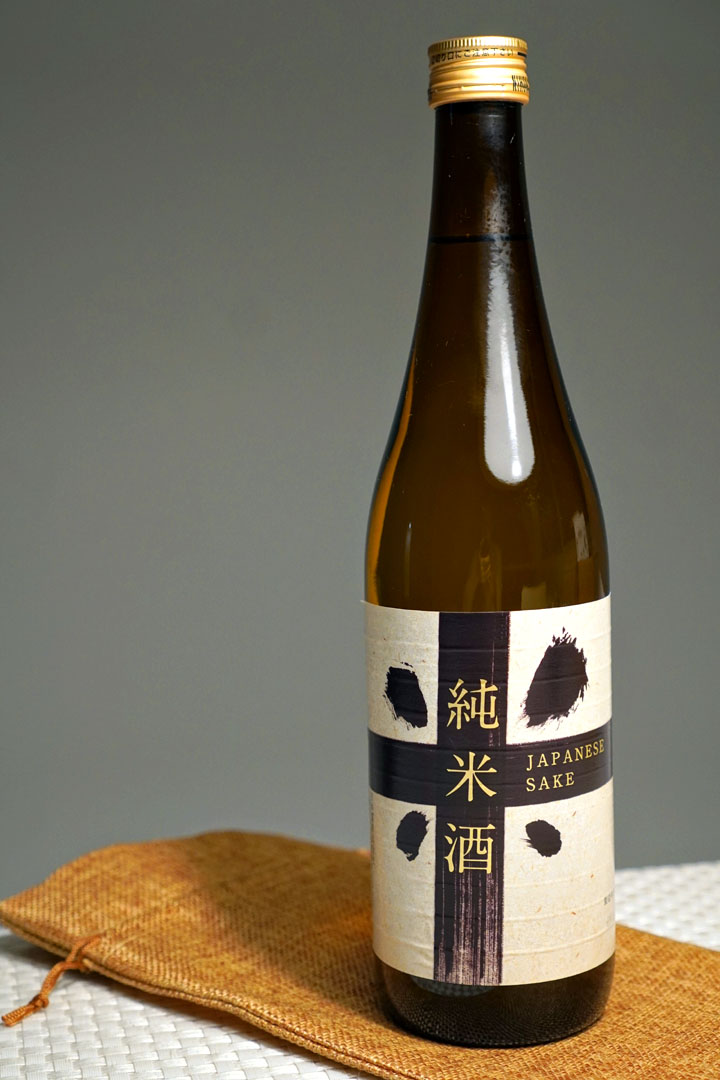 Our parting gift was a full-sized bottle of Nihon Sakari Junmai sake, which was unexpected.
Rebel Omakase looks to be a worthwhile entrant to OC's sushi landscape, one that's a tad different than most, as Nakasone and his team aren't afraid to deviate a bit from the norms of a typical sushi omakase experience. The only notable gripe I have is with the Chef's
shari
, which skews overly soft and sweet for me. I'd like to see some more assertive rice, as I feel that it'd provided some better contrast for the various toppings. Once that's dialed in, this place should be well on its way to becoming one of the top sushi spots in Orange County.
---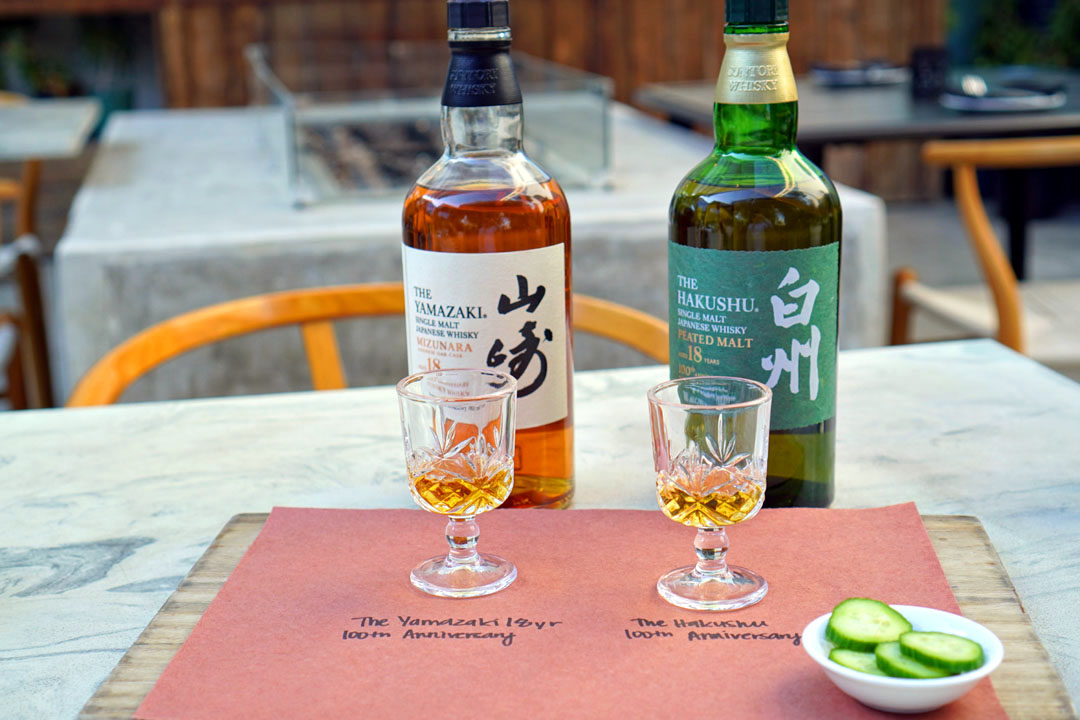 Prior to dinner, we stopped by
Twenty Eight
in Irvine to sample some Japanese whisky (the place has a surprisingly legit whiskey selection). Specifically, we were here to try the recently released limited editions of Yamazaki and Hakushu, created to celebrate the 100th anniversary of Yamazaki distillery. Pricing was $75 for 0.5oz or $250 for 2oz, which actually isn't too bad given the market price on the bottles.
The Yamazaki Mizunara Japanese Oak Cask 100th Anniversary 18 Year Old – The nose was all about brightly spiced apples, with a bit of a pastry edge that made me think of apple pie. On the palate, I found more richly spiced fruits, but set against a backdrop of multifaceted, fragrant Japanese oak. This was contemplative, yet easy to enjoy at the same time.
The Hakushu Peated Malt 100th Anniversary 18 Year Old – The Hakushu was an entirely different beast altogether. It featured a bouquet of subtle, refined peat, with distinct vanilla undertones and traces of orchard fruit. Tasting it, I got a round presentation of nearly candied fruits, making for a sweet, citrusy mid-palate before the whisky's sophisticated smoke came in and lingered long.
Once we were done with the whiskies, GM Kevin Ho (
San Laurel
, Fleming's) graciously provided us with complimentary pours of Twenty Eight's Buffalo Trace Single Barrel Select bourbon, which apparently was picked out by him and Leo, a bartender at the restaurant. The whiskey displayed soft, round aromas of sugary pome fruit, but with a strong underpinning of vanilla. Taste-wise, I got a good amount of candied apple up front, leading to medicinal notes on the mid-palate, while the finish was long and strong and loaded with cherries.