Camphor (Los Angeles, CA) [2]
Camphor Restaurant
923 E 3rd St, Los Angeles, CA 90013
213.626.8888
www.camphor.la
Thu 09/28/2023, 07:55p-10:30p

One of the top spots on my list to try in OC is Bello Chef's Table down in Newport Beach, and thus, some friends and I recently planned a visit. However, on the day of the dinner, I called the restaurant to inquire about the corkage policy, only to discover that it wasn't even open that night. Apparently, a Tock misconfiguration had allowed us to purchase tickets in error. After securing a refund, we were therefore looking for an alternate dining location, and ended up choosing
Camphor
in the Arts District. As you probably know, the place is a much-lauded modern French bistro of sorts, one helmed by Co-Executive Chefs Max Boonthanakit and Lijo George. I last reported on Camphor back in April last year, shortly after its opening, and since then, the restaurant has been awarded a Michelin star (December '22), which it also retained in the latest version of the guide (July '23).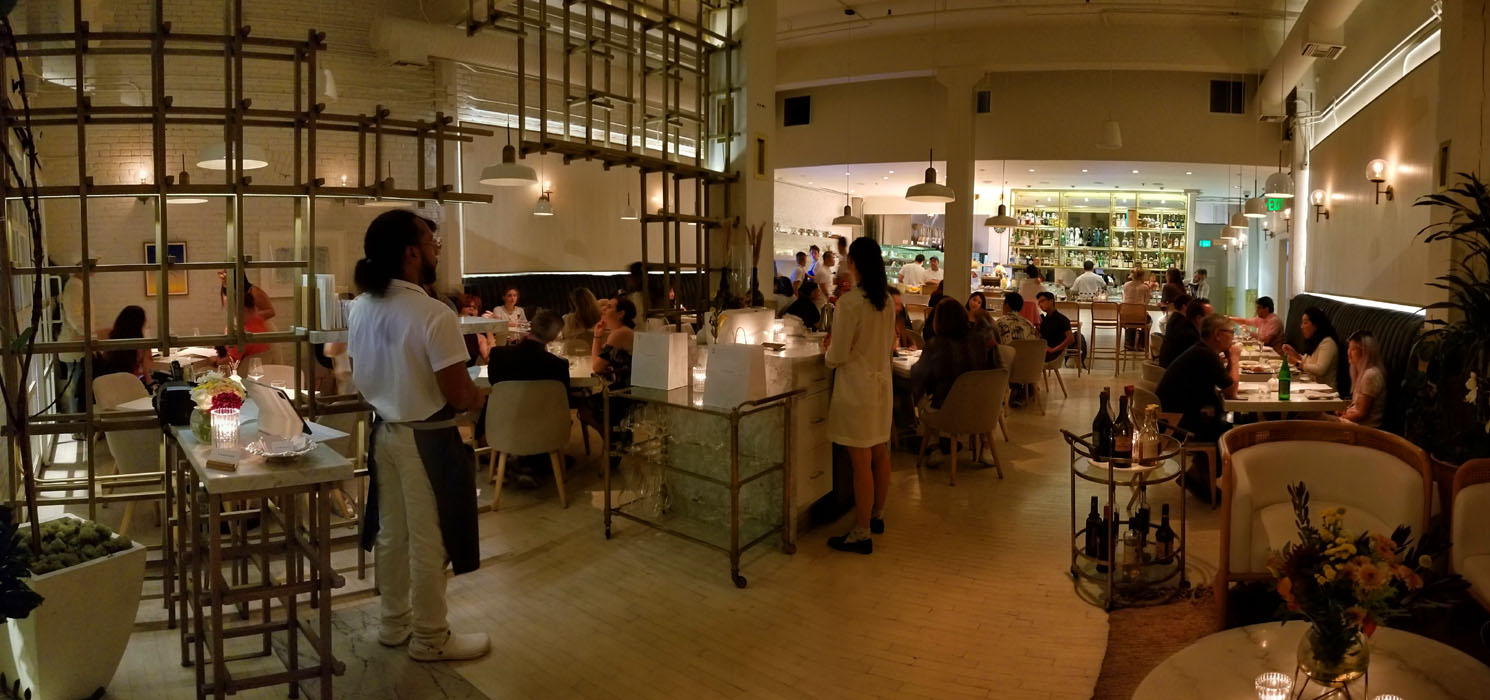 Inside, things really haven't changed much at all, nor do they need to.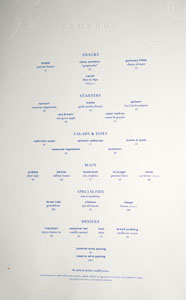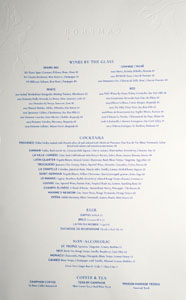 As far as Camphor's menu goes, the format is largely the same, with a mix of both new and returning dishes. The same could be said for the beverage list as well. Corkage was $50, limit two. Click for larger versions.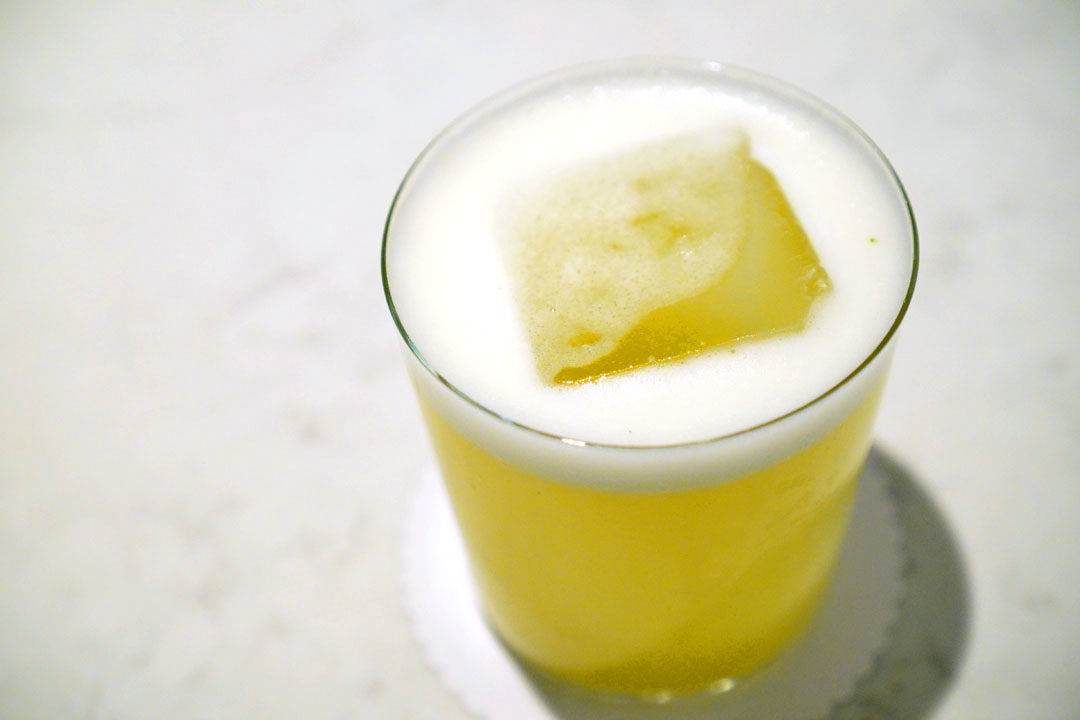 Latin Quarter [$20.00]
| Tequila Blanco, Mezcal, Green Chartreuse, Basil, Blanc Verjus, Tangerine, Egg white
We began with a round of cocktails, and this first one displayed a commingling of fruity, citrusy, and herbaceous elements, set over a boozy backbone of agave, with fluffy egg whites moderating everything.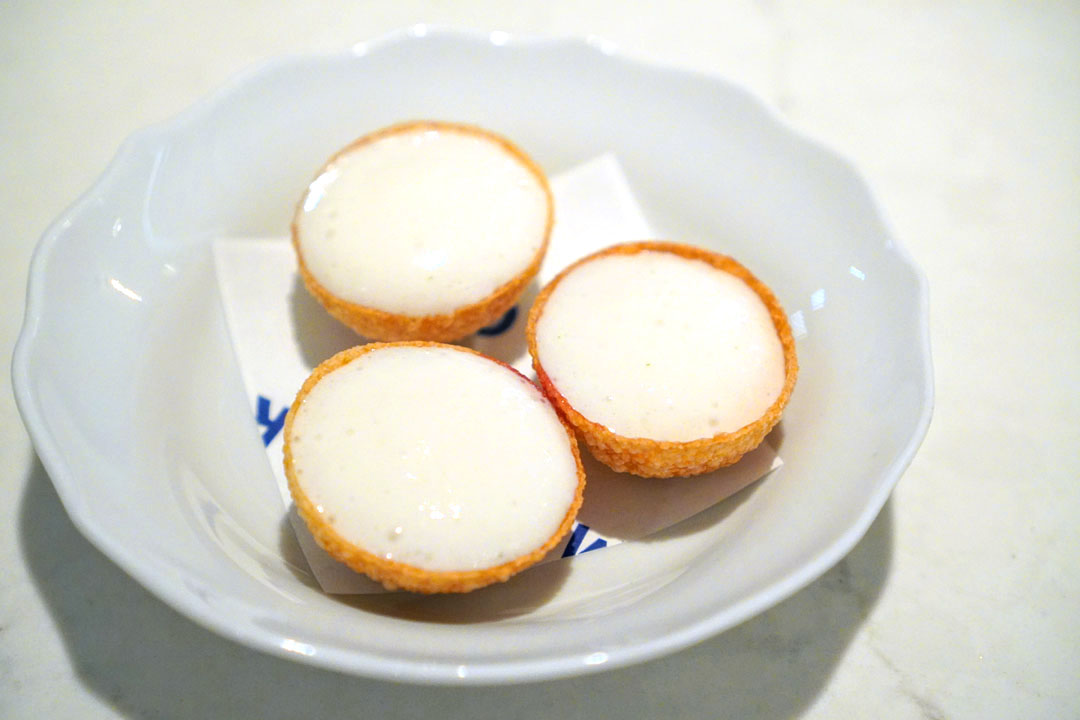 Amuse bouche duties were handled by these deceptively light chickpea shells (a play on
papadam
perhaps), which were filled with pickled beets, celeriac, basil, and tamarind, then topped with a foam of buttermilk and yogurt. Think decidedly lactic up front, with supporting vegetal notes and an Indian-style spice that lingered long and strong.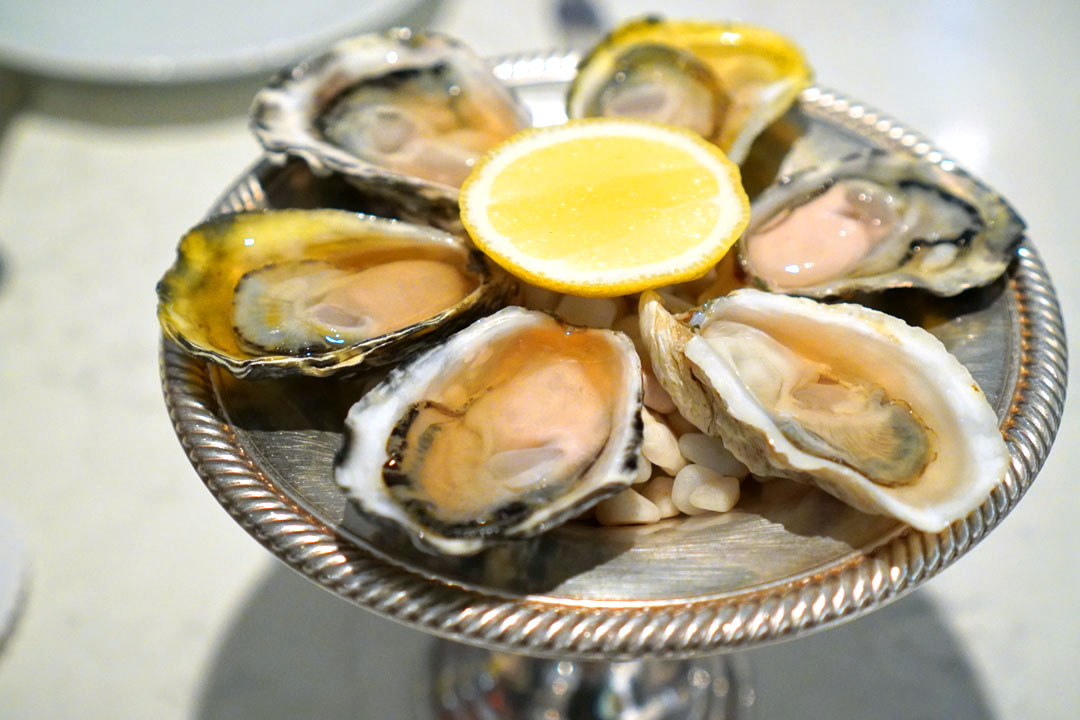 oysters [$39.00]
| amaretto mignonette
Oysters were of the Kusshi variety if I recall correctly, and I have to say that their clean, refined brine made a surprisingly amount of sense with the amaretto's unmistakable nutty sweetness.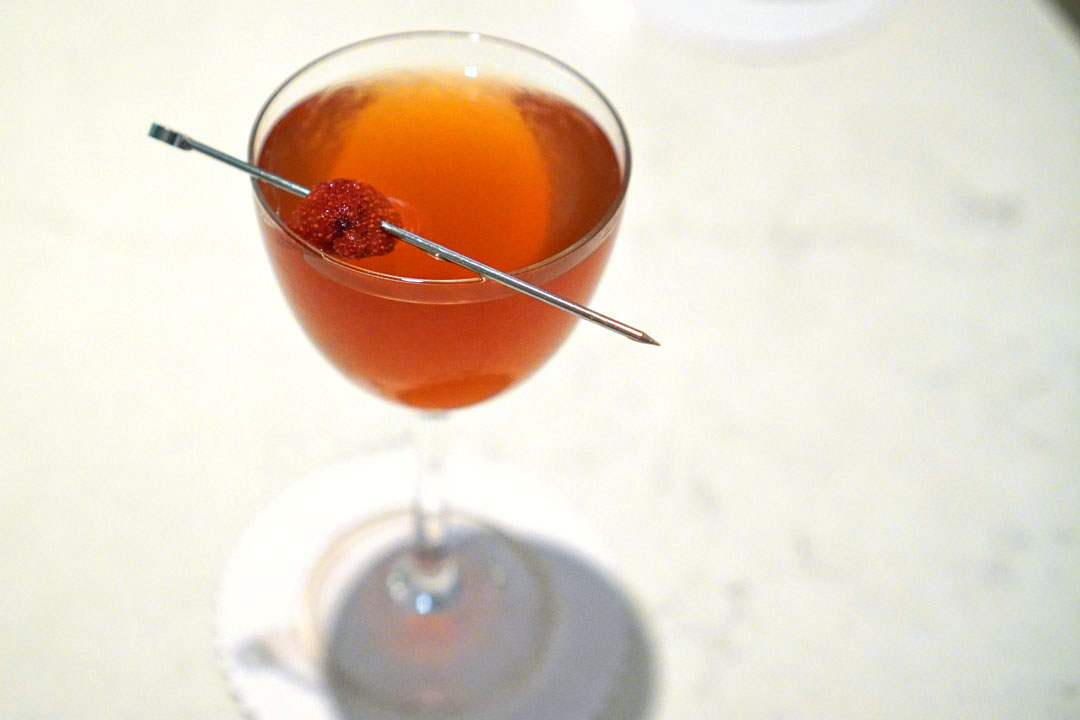 Le Marais [$21.00]
| Cognac, Bourbon, Byrhh, Strawberry infused Rouge Verjus, Banana, Gentian
This cocktail was my favorite of the first round thanks to its marriage of nutty, chocolate-y, and boozy nuances, set against a multifaceted, aromatic bittersweetness.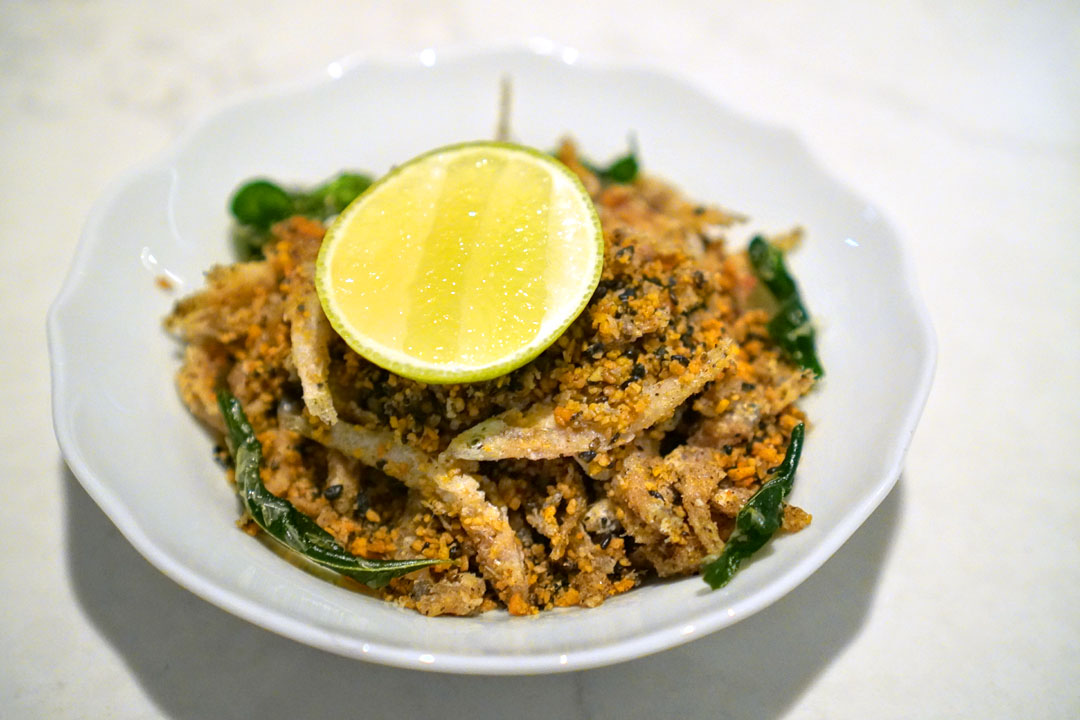 silver anchovy [$15.00]
| "gunpowder"
Fried anchovies were coated in a something resembling
milagai podi
, giving the fish a warm, sweet, spicy tinge to go along with their potent, dried shrimp-like umami notes, all while the fried curry leaves and lime imparted further interest.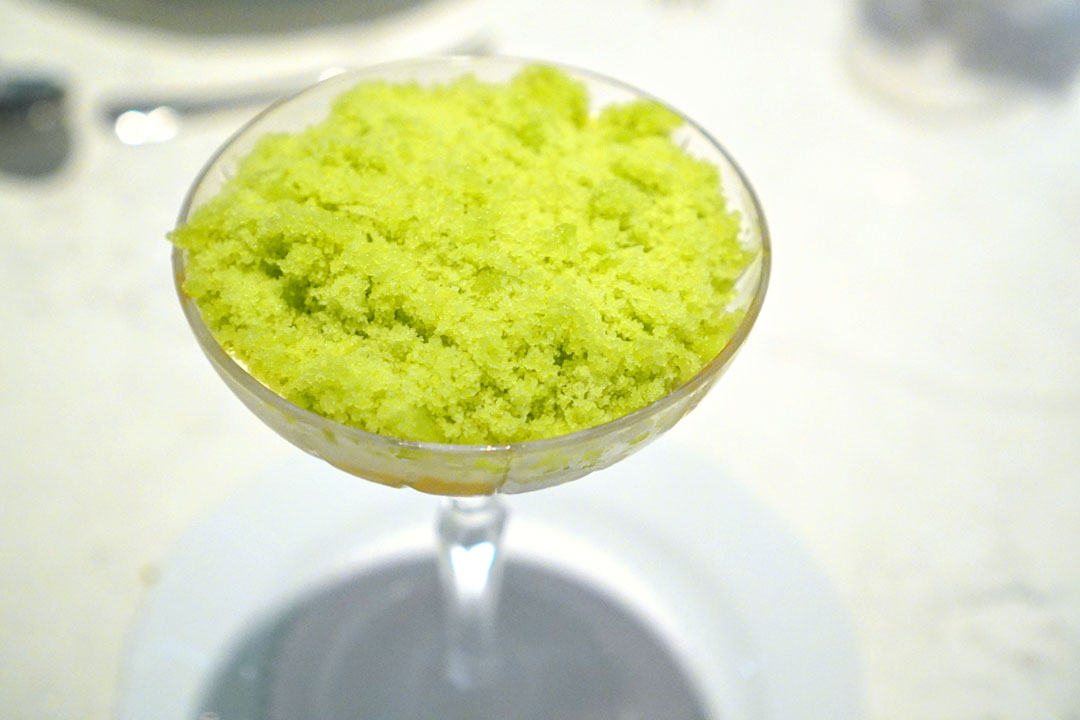 sea bream [$45.00]
| uni, green apple
A tartare of sea bream ate soft and clean, with a wonderfully sophisticated salinity. The fish paired in stellar fashion with the utterly bright, almost bracing green apple ice and drizzles of basil oil, making for a super clever dish that was definitely a highlight.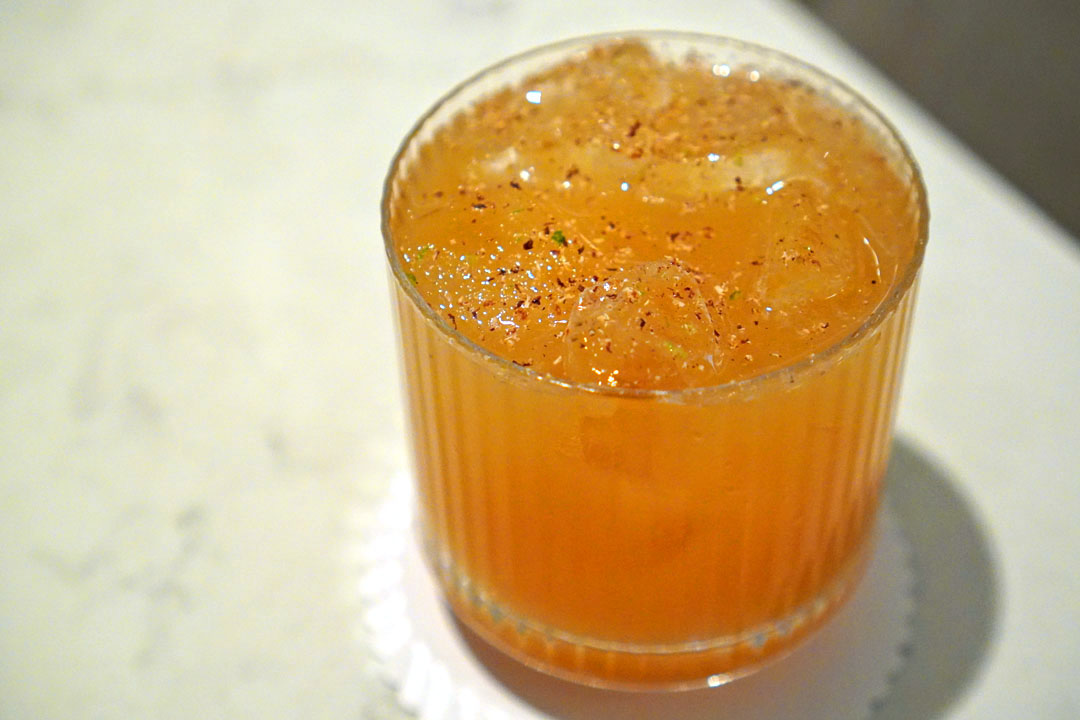 La Chapelle [$20.00]
| Calvados, Jamaican Rum, Masala cider, Vanilla, Lemon, Herbal honey liqueur
This next cocktail blended sweet fruits and fragrant spices in an intriguing, yet easy-going package that only hinted at the presence of apple brandy.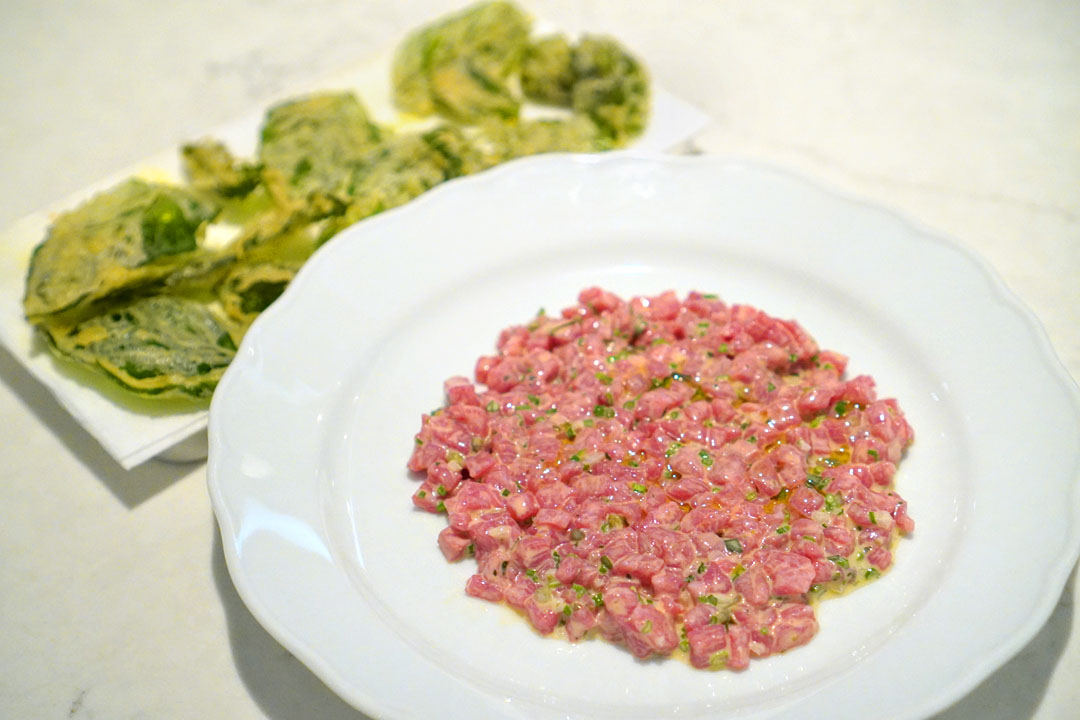 tartare [$30.00]
| beef, herb tempura
Camphor's tartar remains one of the most notable in the city. The actual beef showed off a hearty, elegant chew, while its classically creamy-yet-tangy flavors were accented by the slightest trace of heat. And of course, I can't forget about the fried basil and mint either, which offered up a gratifying crunch.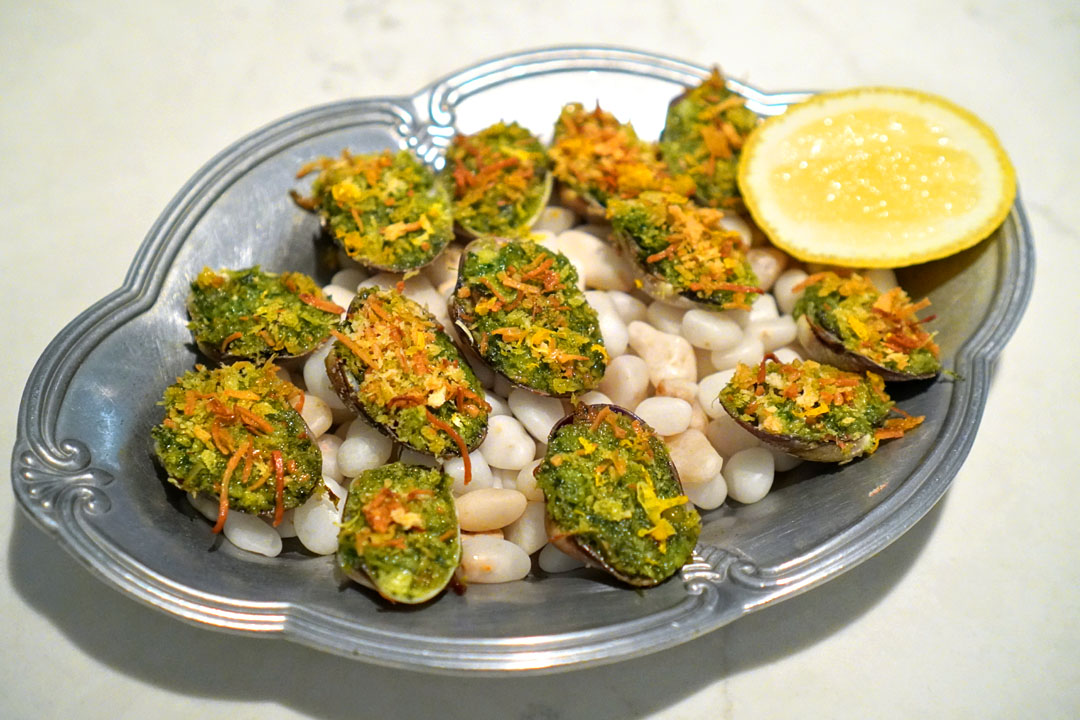 clams [$25.00]
| garlic parsley butter
Next came one of the more memorable clam dishes I've ever had. The flavors here were reminiscent of escargots à la bourguignonne, with a fantastic homey, herbal complexity. However, the crux was that coconut, a really smart addition with a toasty sweetness that somehow made a whole lotta sense. Another highlight.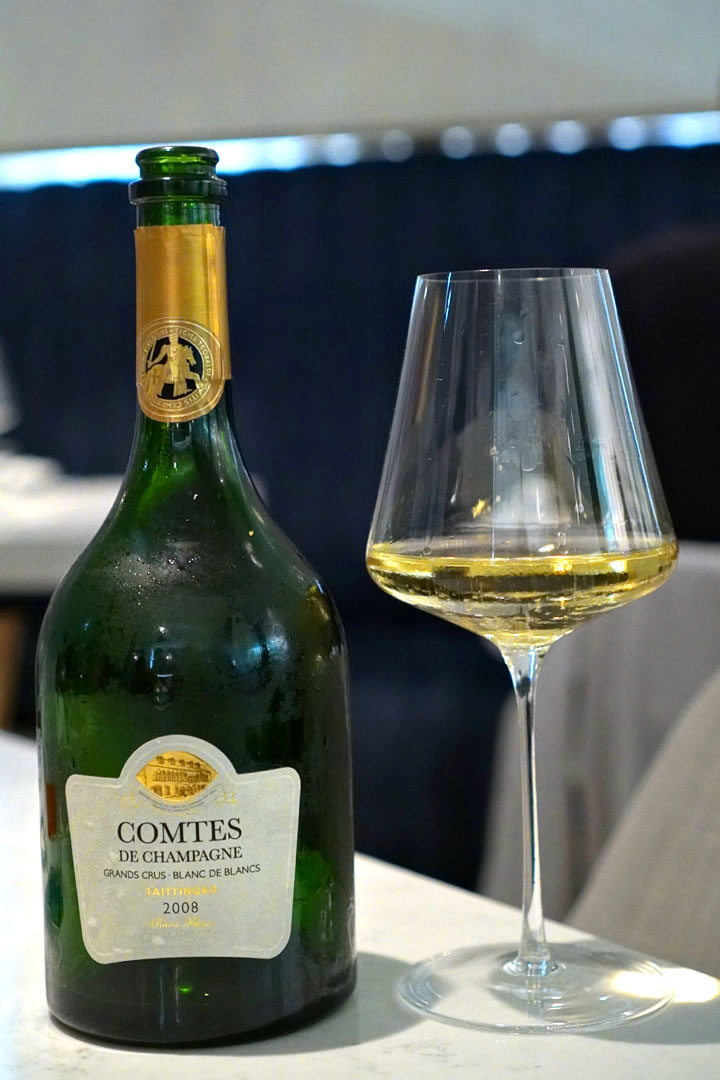 At this point, we moved into some wine that we'd brought, the
2008 Taittinger Comtes de Champagne Blanc de Blancs
. The nose here was super concentrated, demonstrating loads of juicy apples intertwined with brioche and a touch of floral. On the palate, I found a vibrant acidity, a smidge of mineral, and plenty more of those apple pie-like flavors, which made for a rather racy, robust, expressive drinking experience. As the night progressed, both the bouquet and body softened, while the sparkler's stone fruit notes became much more in-your-face. I'd say that this was showing quite well tonight, but would likely be even better in a few years.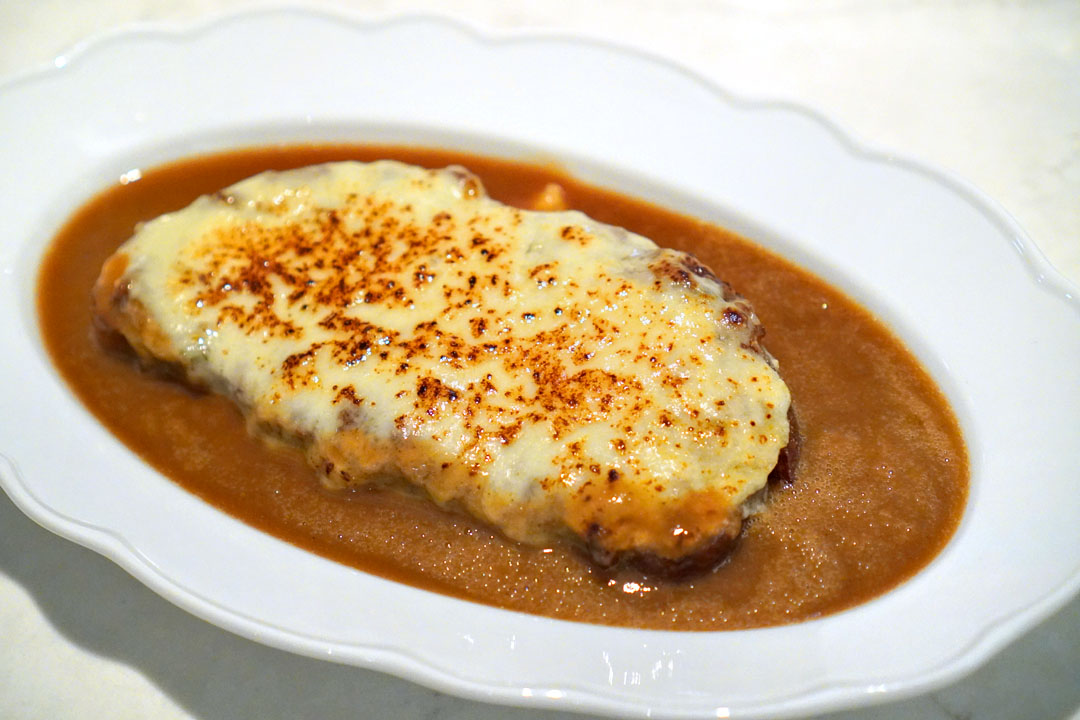 onion tartine [$27.00]
| comté & gruyère
This reimagined soupe à l'oignon was another winner. I was enamored with the incredible sweet savoriness conveyed by that stock and caramelized onion mousse, which melded perfectly with the duet of cheese. There was also a great contrast in both taste and texture provided by that toasty bread. You could almost think of this as the best French onion soup you've ever had.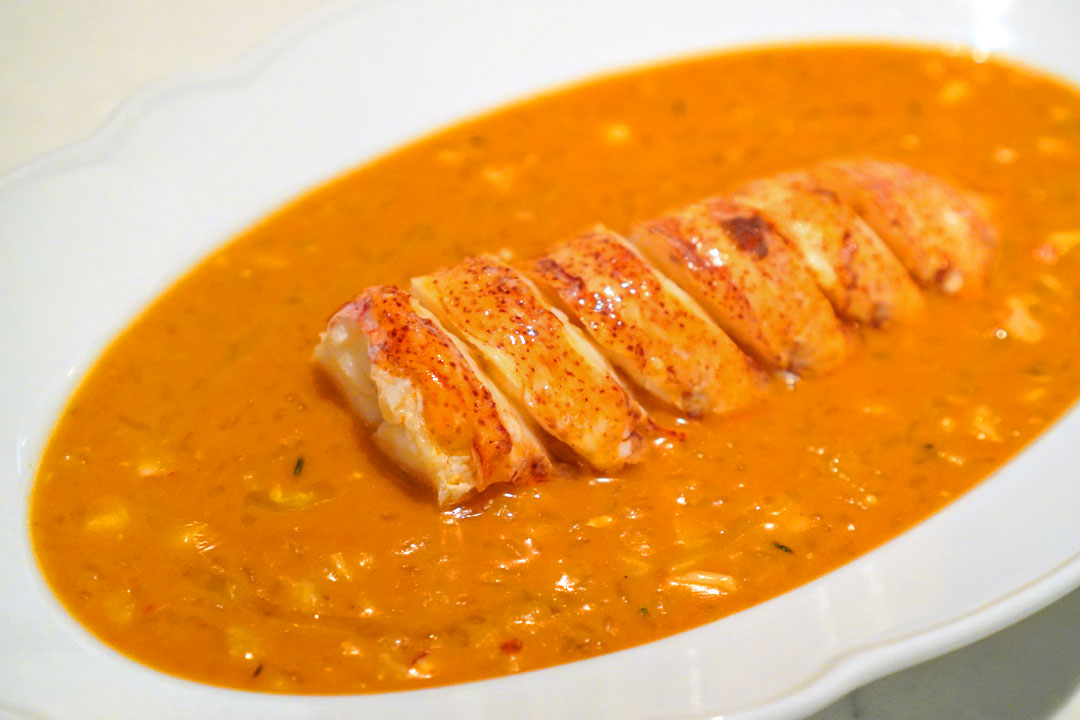 lobster [$140.00]
| saffron risotto
This was likely the priciest lobster tail I'd ever encountered, but also one of the best. Texturally, I found it satisfyingly springy and snappy, while its sophisticated blend of sweet and saline was on proud display. The risotto, meanwhile, might've been even better. I loved its sheer concentration and depth, and how it conveyed the pungency of saffron without letting it overwhelm the delicacy of the lobster.
scallop [$42.00]
| demi lune
These half-moons made for another table favorite. The key was how the exquisitely sweet brine of the bay scallops was so forcefully, yet elegantly conveyed, accented by just a bit of a peppery edge. I was also a fan of the texture on the pasta, which was oh-so slick, yet still substantial enough.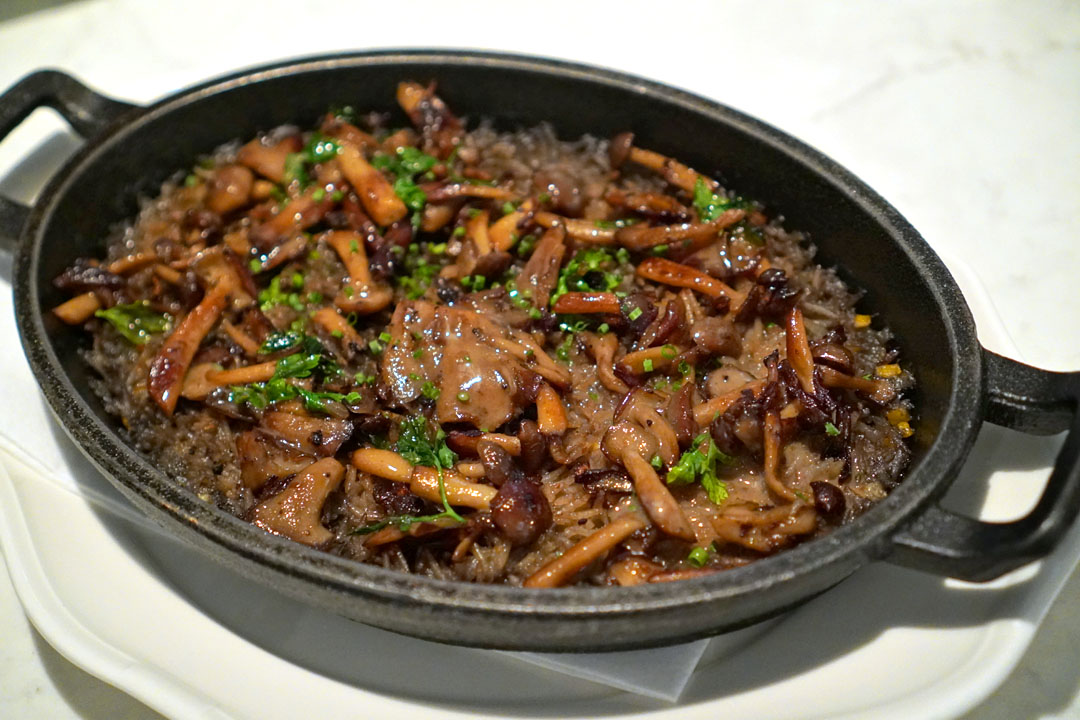 mushroom [$37.00]
| rice, madeira
Roasted maitakes and shimejis were wonderfully woodsy, meshing seamlessly with some perfectly-textured basmati rice, twice-baked in a cast iron skillet. I can't forget about the madeira sauce either, which really helped tie the dish together. Yum.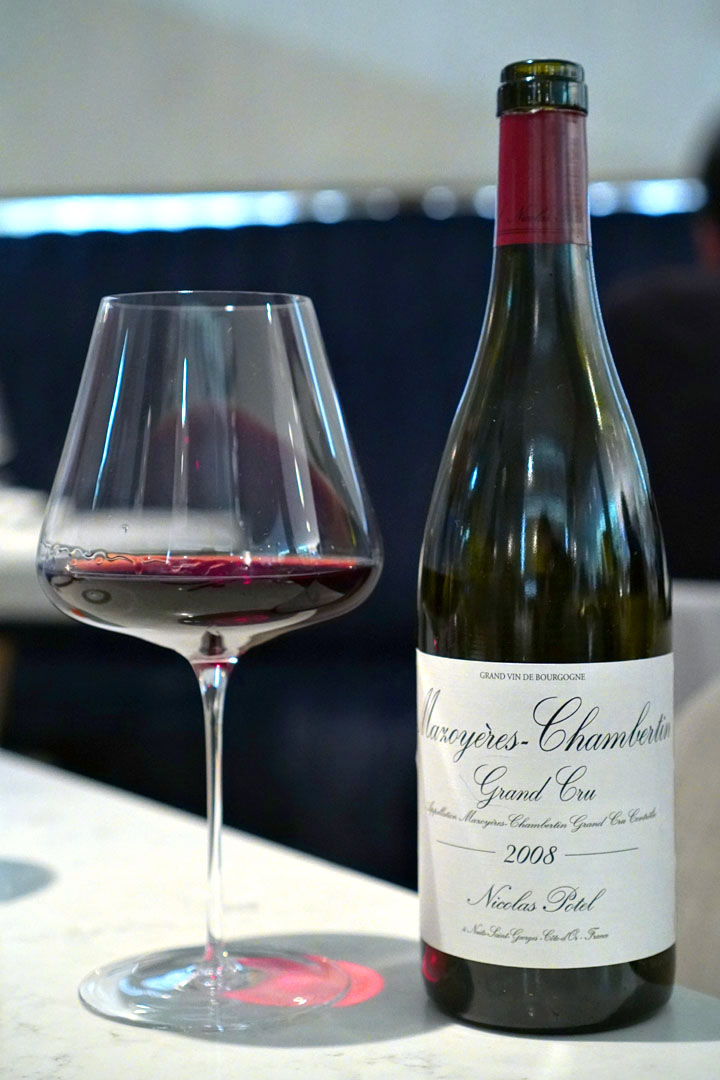 The second wine we BYOB'd was another 15-year-old, the
2008 Nicolas Potel Mazoyères-Chambertin Grand Cru
. The wine smelled of strawberry cola, which I found rather inviting. Taking a sip, the Burgundy leaned soft and silky, with more of those berries commingling with grassy, herby nuances, while the finish demonstrated lots more sweet, lingering fruit.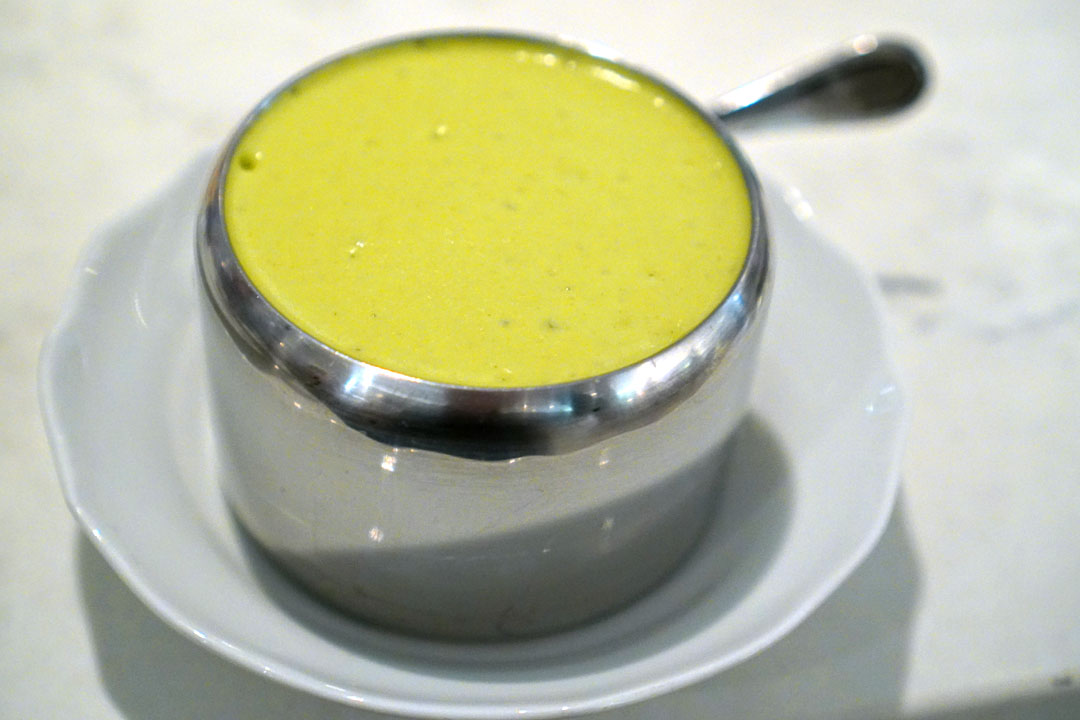 lentils & lamb [$20.00]
Despite this dish's rather stark appearance, it was all about comfort, effectively marrying nutty, well-textured lentils, lamb, and some delectably familiar-ish Indian flavors.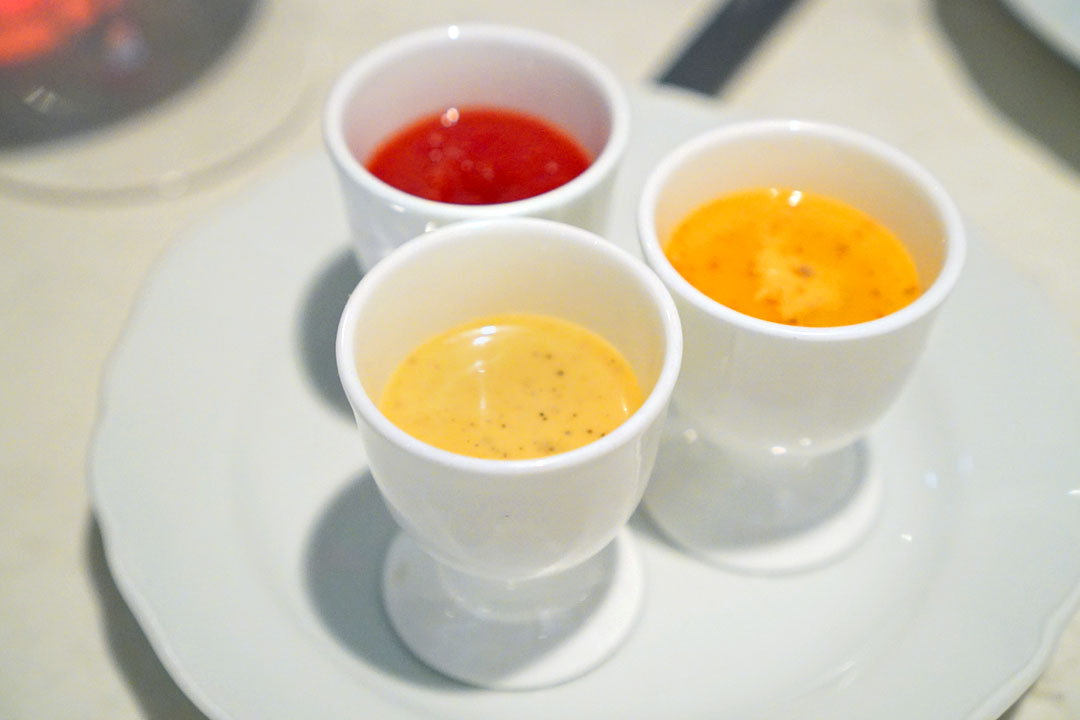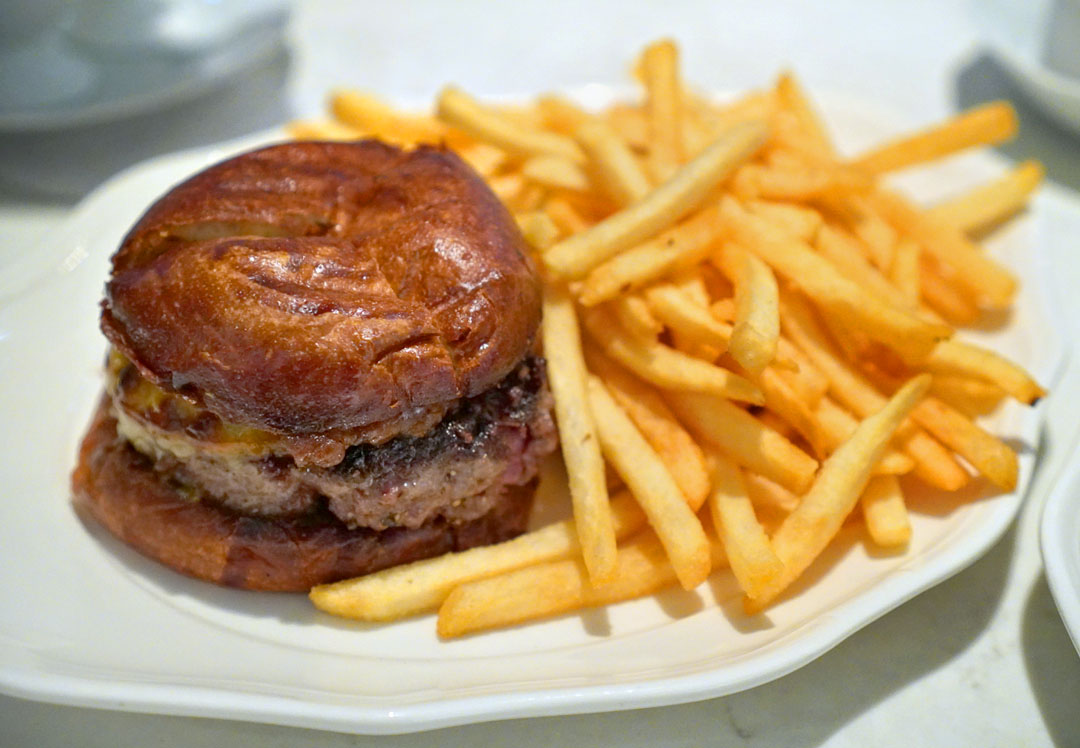 le burger [$38.00]
| pommes frites
We felt compelled to try the hamburger as well, which featured a juicy duck/beef patty, smoked gouda, caramelized onion, and remoulade, all stuffed between two duck fat brioche buns. It was an intense burger to be sure, arriving unabashedly savory, sweet, dark-toned, and delicious; I wonder, however, if it perhaps could've used something to lighten the mood. As for the French fries, they were as perfect as any I've had, great on their own, or with a dab of ketchup, spiced aioli, or honey mustard.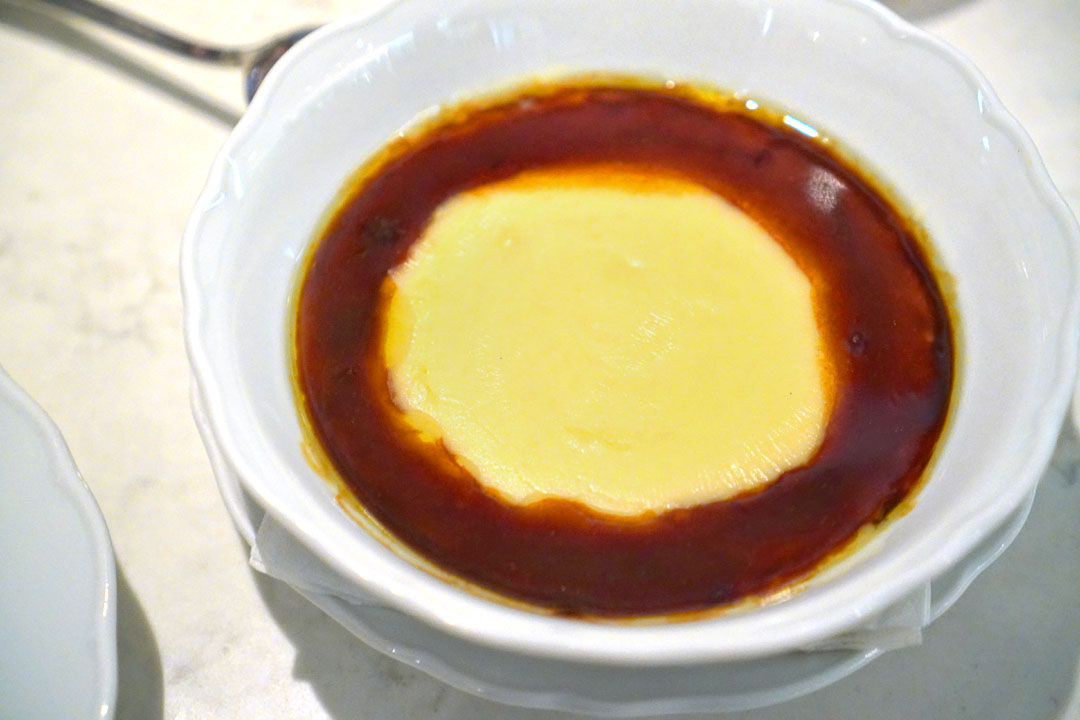 potatoes [$19.00]
Whipped potatoes were smooth yet sticky, amped up by the oomph of beef jus.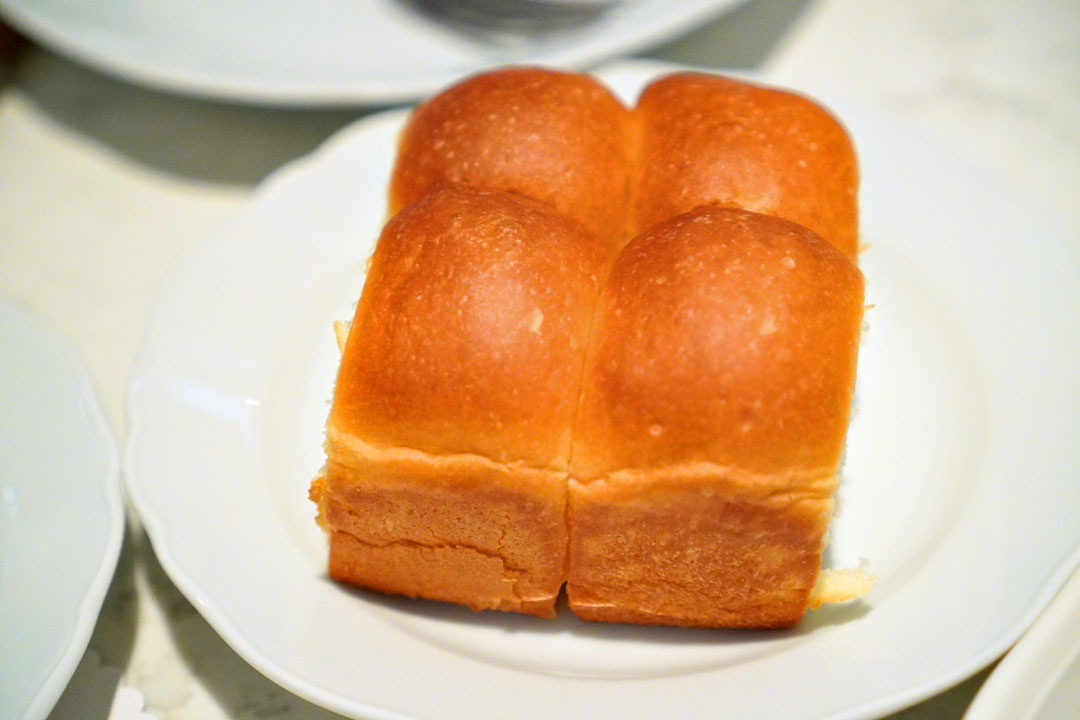 We were also provided with some extra bread, to be used to mop up any of our remaining sauces.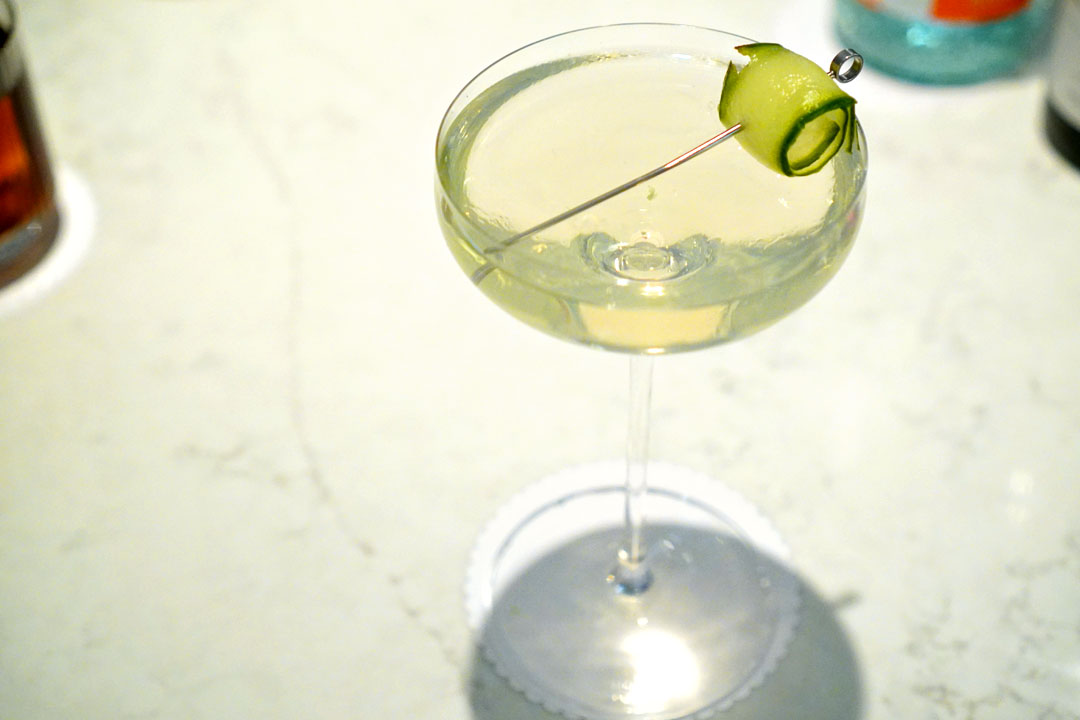 Trocadéro [$20.00]
| Japanese Gin, Genepy, Salers, Aperitif Wine, Absinthe, Cucumber, Celery bitters
With the wine dispensed with, we opted for another round of cocktails. This was the booziest of the bunch, going in a decidedly savory, vegetal, briny direction, with just a bit of minty, herby brightness for balance.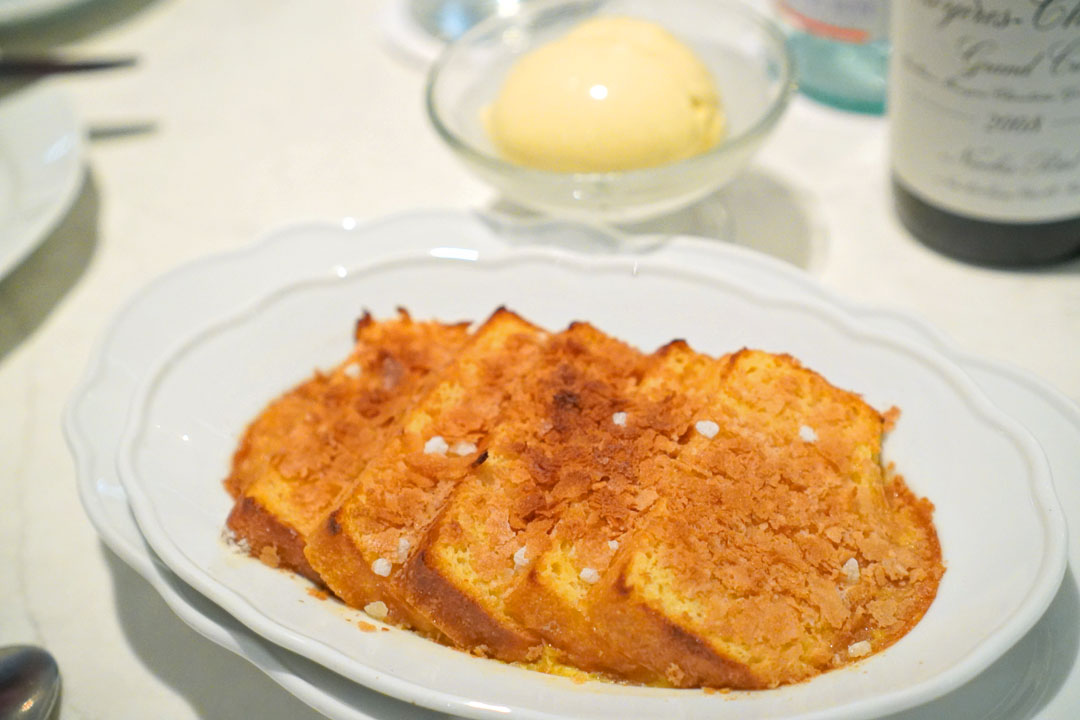 bread pudding [$28.00]
| vanilla ice cream
I'm generally not a huge bread pudding fan, often finding the dessert a bit on the heavy side, but this was anything but. It was so effortless, and did a great job juxtaposing dark chocolate and spices against that homemade ice cream.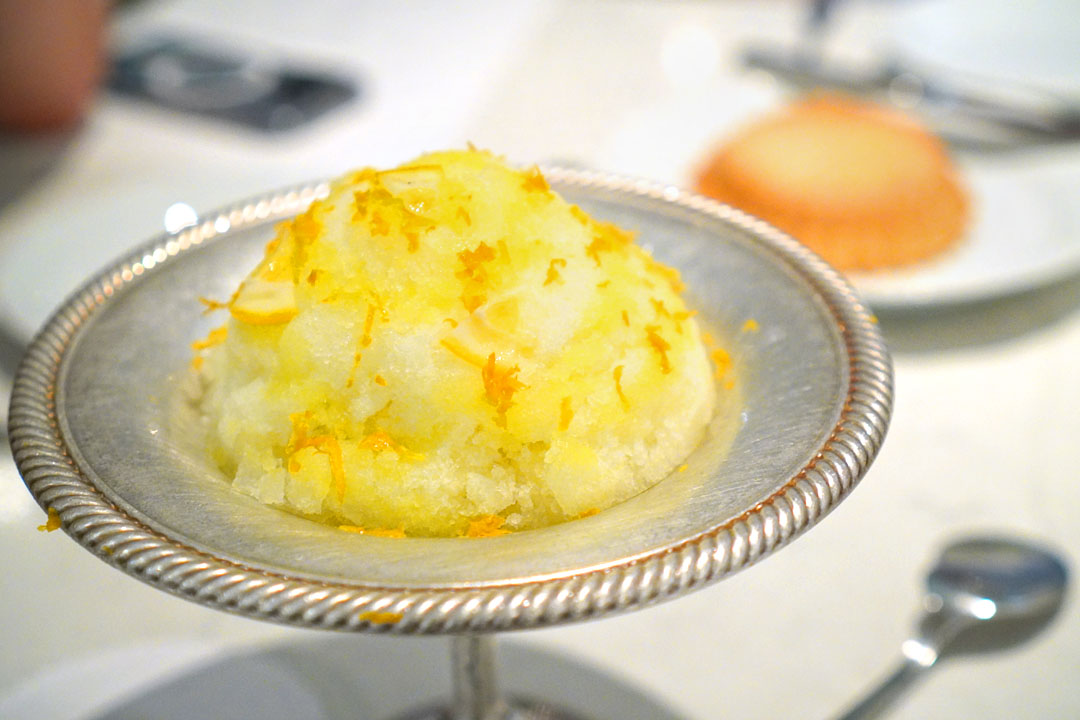 marzipan [$19.00]
| meyer lemon ice
The unmistakable nutty sweetness of marzipan was well-conveyed in this dessert, set against a bracing, citrusy shaved ice and the herbaceousness of Chartreuse.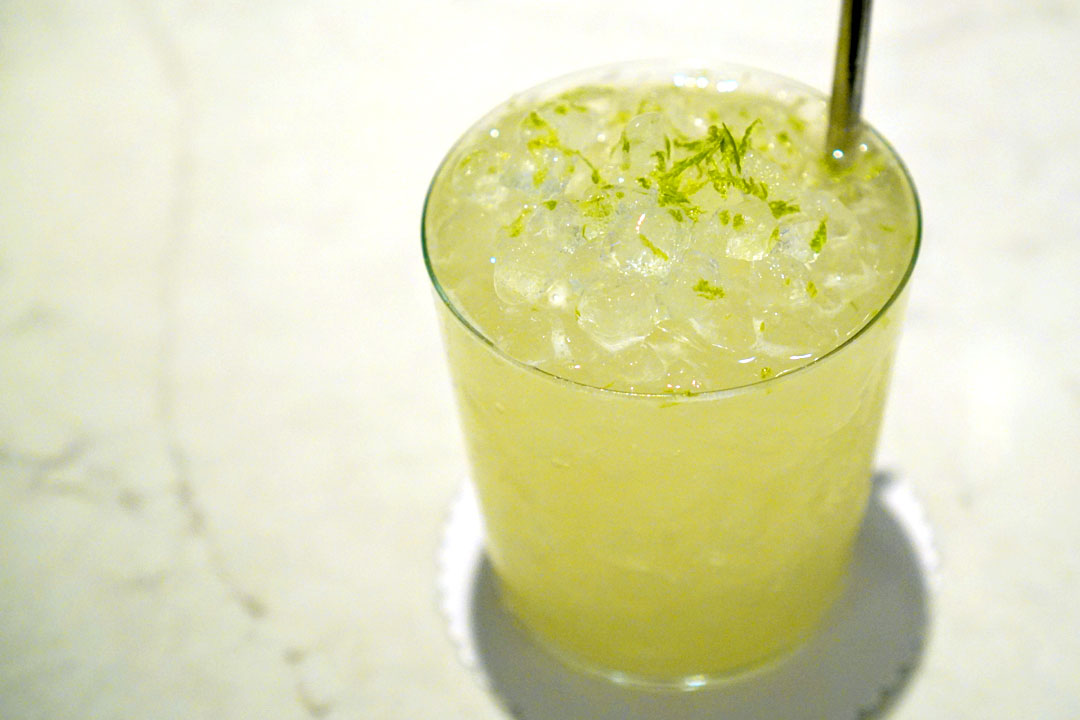 Saint-Germain [$20.00]
| Tequila Blanco, Yellow Chartreuse, Spiced pineapple gomme, Lime, Sage
Despite this cocktail's name, it didn't taste of elderflower as you might expect. Instead, I got rich tropical fruits intertwined with herbal elements, all undergirded by the potency of that tequila.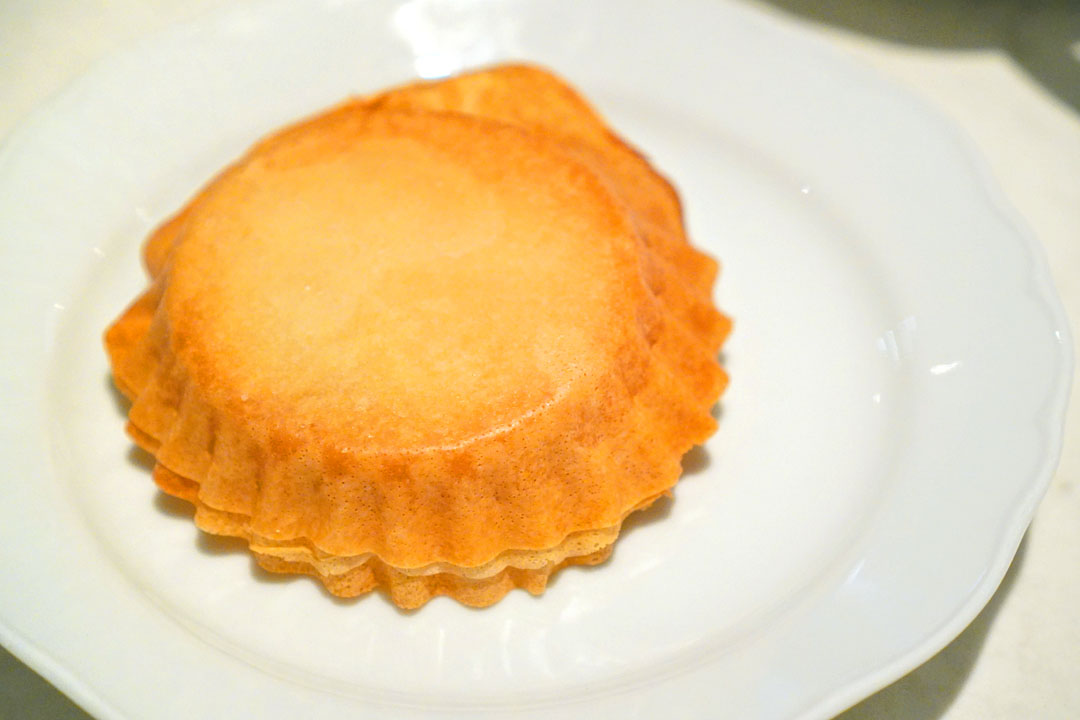 seasonal tart [$20.00]
| vanilla custard
This upside-down tart was lovely, pairing the tangy juiciness of wild raspberries and blueberries with vanilla and crème Chantilly. I quite enjoyed cracking this one open to boot.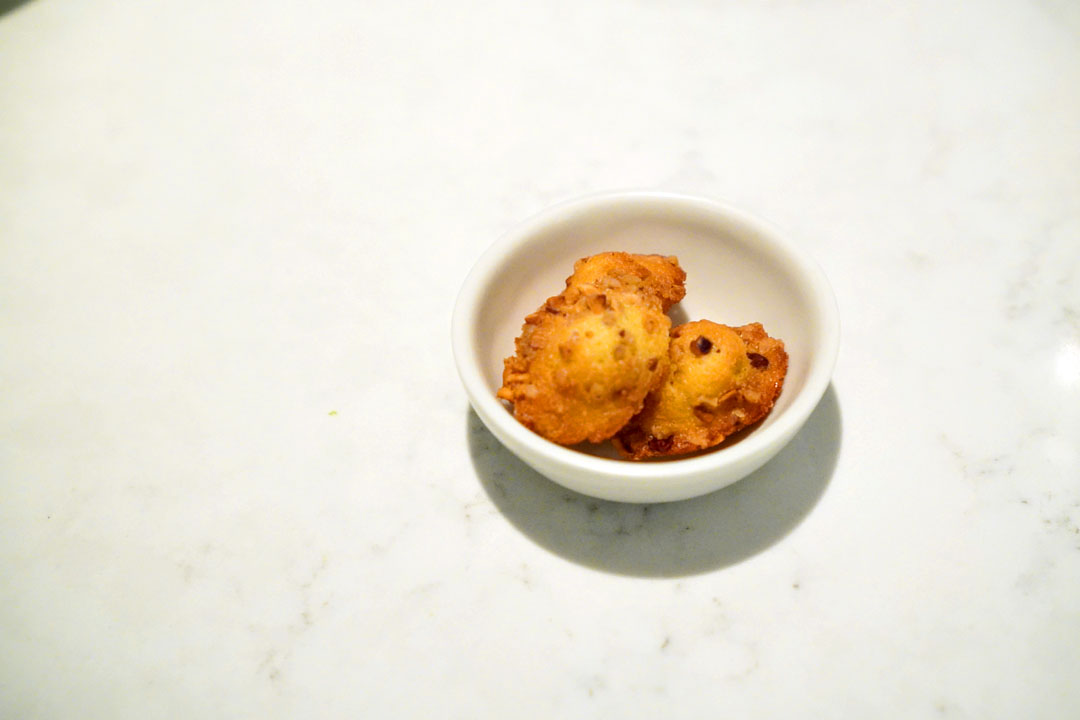 Mignardise duties were handled by the most miniature madeleines I'd ever seen.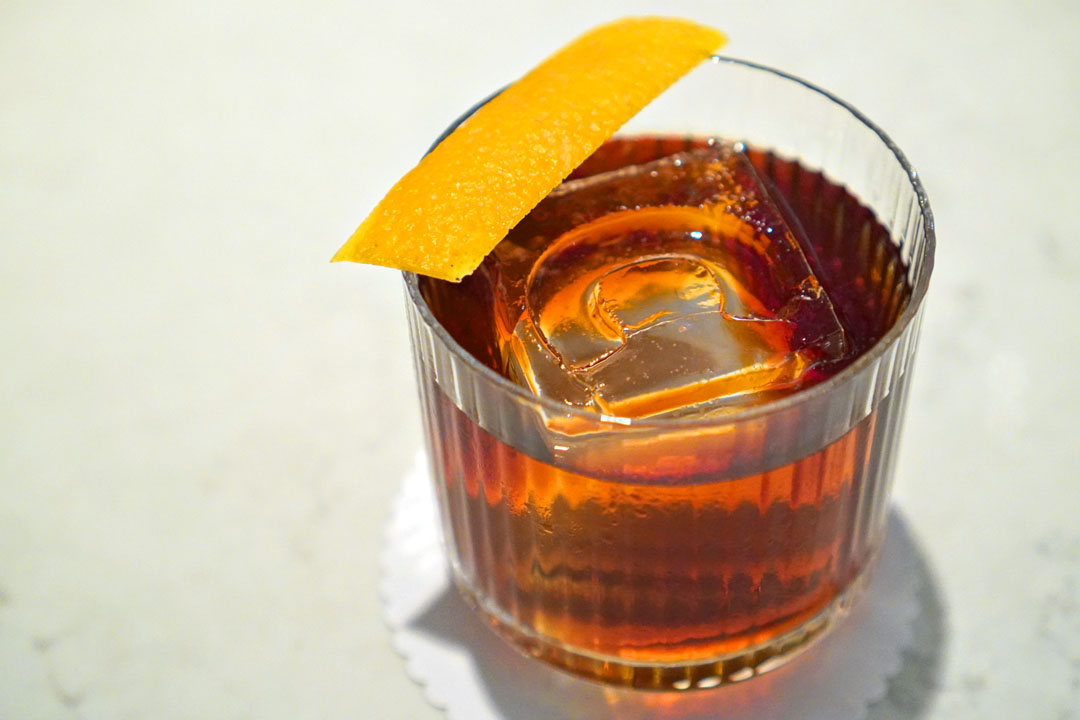 Maxime's Negroni [$22.00]
| Gin, Amer Picon, Rouge Vermouth, Orange bitters
This final cocktail made for a fitting end to the meal thanks to its hefty, almost cacao-like flavors, offset by a bevy of citrusy, bittersweet notes and a touch of botanical.
I've been quite the proponent of Camphor ever since my first meal here, and this latest dinner reminded me why. George and Boonthanakit are serving up pretty much the ideal combination of classicality, creativity, and technique, all imbued with touches of Asian flair that never get in the way. There's simply a certain
je ne sais quoi
to the cooking that makes it stand out from the pack, and I just don't think there's anyone else doing French quite like this in LA.