The Waterside Inn (Bray, United Kingdom)
The Waterside Inn
Ferry Rd, Bray, Maidenhead SL6 2AT, United Kingdom
+44 1628 620691
www.waterside-inn.co.uk
Wed 10/11/2023, 07:45p-11:55p

After dining at
The Fat Duck
the previous night, I now had to a pay a visit to Bray's
other
Michelin three-star establishment: The Waterside Inn. The creation of the Roux brothers--Albert Roux and Michel Roux--and now run by Michel's son Alain Roux, the restaurant was opened all the way back in 1972, and has long affirmed itself as one of the bastions of classic French fine dining in the UK. It's a place that helped revolutionize the British dining scene, a real grande dame of haute cuisine that influenced an entire generation of chefs, so I was undoutedly very curious to give it a try.
About the Chef and a bit of history
: Albert Henri Roux was born in October 1935 in Semur-en-Brionnais, France to Henri Roux (a charcutier) and Germaine Triger. He had an older sister Liliane, a younger sister Martine, and a younger brother Michel. When Henri joined the armed forces in 1939, the family went to live with Albert's grandfather Benoit (also a charcutier) in Charolles, and after the War, Henri moved the family to Saint-Mandé, east of Paris. He started his own charcuterie there, but it was shuttered after he gambled away much of the family's savings; he thus ran away in 1951. Meanwhile, Albert initially wanted to become a priest, but instead, decided to start a pâtisserie apprenticeship at the age of 14, during which time he briefly toiled at a biscuit factory. Through his godfather (who cooked for Wallis, Duchess of Windsor), he was able to secure a scullery position at Cliveden House, working for Nancy Astor, Viscountess Astor when he was 18.
He spent a year there, moved to the French Embassy in London, then worked for Irish industrialist Ambrose Congreve in Waterford before becoming a private chef for financier Charles Clore in London. Albert then had to serve in the French military, where he was stationed in Algeria from 1955 to 1957, during the country's war for independence. Following, he spent two years cooking at the British Embassy in Paris, then returned to England to serve as private chef to Peter Cazalet, horse trainer for Queen Elizabeth The Queen Mother. He stayed at Cazalet's Fairlawne estate for eight-and-a-half happy years, during which time his son Michel Albert Roux (a.k.a. Michel Roux Jr.) was born, but eventually left in order to finally open up his own restaurant with brother Michel.
Michel Andre Roux was born in April 1941 in Charolles, France at his grandfather's charcuterie shop. In 1946, the family moved to the Paris suburbs, where he started taking an interest in cooking. Thus, he also began a pâtissier apprenticeship at age 14, working for three years at Camille Loyal's Pâtisserie Loyal in Belleville, Paris. Following, Michel was able to secure a pastry cook position at the British Embassy in Paris through his brother (a sous chef there at the time), and stayed for two years. In 1959, he went to work for Cécile de Rothschild, and also cooked for another member of the family, Baron Philippe de Rothschild. He spent 1960 to 1962 in the French military, first at the Palace of Versailles, then in Algeria, and subsequently returned to Cécile de Rothschild's side to serve as her head chef. Michel was later convinced by Albert to join him in London, so off to the UK he went.
Financially backed by Edward Cazalet, Michael von Clemm, and Jacob Rothschild, among others, the Roux brothers thus opened Le Gavroche (a reference to the street child from
Les Misérables
) in April 1967 at 61-63 Lower Sloane St in Chelsea, and the place proved both hugely popular and influential. In 1969, they opened Le Poulbot at 45 Cheapside; it was a daytime-only spot that took over the home of an old pub, and was a hit with the business crowd. Circa 1970, a charcuterie called Le Cochon Rose was opened nearby Le Gavroche, and was actually run by sister Liliane and her charcutier husband Paul. In December 1971, Albert and Michel launched Brasserie Benoit at 32 Old Bailey. Named after their grandfather, the restaurant served Alsatian cuisine, but was later retooled and became Le Gamin (also a street urchin reference), another successful lunch-only eatery.
1972 was a pivotal year. That's when the brothers launched a catering service that started life by delivering lunches to banks near Brasserie Benoit. They then purchased an old pub on the banks of the River Thames in Bray, and transformed it into The Waterside Inn that we know today. The new restaurant also proved succesful, and, along with Le Gavroche, was awarded a Michelin star in the first ever Great Britain & Ireland Michelin guide, published in 1974. Both restaurants were subsequently upgraded to two stars in the 1977 guide. In 1981, Le Gavroche closed at its original location, but re-opened by the end of the year at a new address at 43 Upper Brook St in Mayfair. Just months later, it became the first restaurant in the UK to be awarded three Michelin stars, while The Waterside Inn followed with its own three-star rating in 1985. The old Le Gavroche, meanwhile, was turned into the more casual Gavvers (a nickname of the former restaurant).
1982 saw the debut of Boucherie Lamartine at 229 Ebury St in Belgravia, an upscale deli that was actually an extension of the import business that had started with Albert's wife Monique Merle driving produce back from France. The shop was also a success, and later spawned two other outposts, one in Covent Garden and the other in Mayfair, near The Connaught. The Roux Scholarship was established in 1983 as a cooking competition for young chefs in the UK, and awarded its first win in 1984 to Andrew Fairlie. 1984 also saw the launch of Michael's Waterside Inn in Santa Barbara, California. This was a joint venture with Chef Michael Hutchings, who'd worked at Le Gavroche from '78 to '81, reaching the rank of sous. The place was located at 50 Los Patos Way, and ended up shuttering in late 1993.
In 1986, the brothers split their business interests due to disagreements over the direction that those businesses should take. The flagships Le Gavroche and The Waterside Inn went to Albert and Michel, respectively, while everything else was put into a separate entity. 1986 also witnessed the founding of Rouxl Britannia (Michael von Clemm was also involved), an experimental and not-particularly-successful restaurant at Finsbury Square that served pre-cooked dishes that were prepared sous-vide at a central commissary. It was followed in 1987 by the farmhouse-themed Les Trois Plats in Chelsea, which was short-lived.
1993 ended up as a bit of an
annus horribilis
for the Rouxs, as the brothers were forced to sell much of their business empire due to financial difficulties. Their catering company was sold off to Compass Group and was renamed Roux Fine Dining, with Albert serving in a consulting role. Le Poulbot was able to be sold to the Woolwich Building Society, mostly because of its long lease, while Gavvers and Rouxl Britannia shuttered. And if that wasn't enough, Le Gavroche was demoted to two Michelin stars when Michel Jr. took over from his father Albert as Chef Patron.
Following those difficulties, Michel and a group of investors acquired White Hart Inn in Nayland, Suffolk in 1995. The property was well-received under his ownership, but he decided to leave the venture at the start of 2007. Boucherie Lamartine, meanwhile, was sold off in 1999. Michel remained Chef Patron at The Waterside Inn until 2002, when the position was officially taken over by his son, Alain.
Alain Roux was born in London in March 1968. However, in 1979, his father divorced his mother Françoise Becquet, and she ended up taking him and sisters Christine and Francine back to France. He would often visit his dad and work with him in the kitchen, and by the age of 14, he knew that he also wanted to become a chef. In 1984, when he was 16, he started a pastry apprenticeship under Denis Ruffel at Pâtisserie Millet, which lasted two years. Following, he cooked his way through various notable restaurants in France, starting with Maison Pic in 1987. He soon moved over to Le Domaine d'Orvault, but was then conscripted into the military, where he cooked for François Mitterrand at Élysée Palace. From there, Alain went to La Bonne Étape in Château-Arnoux-Saint-Auban in 1989, then to Château de Montreuil in Montreuil-sur-Mer in 1990. The final kitchen in France he cooked in was at La Côte Saint Jacques, in Joigny.
In 1992, Alain joined the team at The Waterside Inn as a demi chef de partie. He was eventually promoted to sous, and then joint Chef Patron with his father in 2000. Working with his dad was difficult at times, but the pair did eventually bond. In 2001, longtime Head Chef Mark Dodson decamped, and Michel decided to leave as well, leaving Alain as sole Chef Patron the following year. It was also in 2002 when he would receive his OBE, which was followed by a French Legion of Honour in 2004. The Chef opened La Maison 1888 at the InterContinental hotel in Da Nang, Vietnam in 2012 (though he was replaced by
Pierre Gagnaire
in 2015), and a brasserie called Roux at Skindles in Taplow (near Bray) in November 2018.
Sadly, Michel passed away from idiopathic pulmonary fibrosis in March 2020, and he was soon followed by brother Albert in January 2021. In happier news, Alain took over the kitchen at the longstanding Le Normandie at the Mandarin Oriental in Bangkok in December 2021, a place that Michel actually guest cheffed at a number of times over the course of two decades, starting in 1985. The restaurant was thus renamed Le Normandie by Alain Roux, and has retained its Michelin two-star rating since the changeover.
Getting back to The Waterside Inn, the man in charge of the day-to-day here is Head Chef Fabrice Uhryn, a native of Belgium. Born in 1971, he entered the École d'Hôtellerie in Spa at age 15, and during his six years there, mostly worked at A Potche è Foure, under Chef Philippe Servais. In 1994, he joined the kitchen at the Michelin two-star Hostellerie Lafarques in nearby Goffontaine, Pepinster, rising to the rank of sous. Uhryn transitioned to a sous position at The Waterside Inn in 2001, and was appointed Head Chef in 2007, a role he's held ever since.
However, he's recently been joined by Adam Wright, who's now Joint Head Chef, with the hiring apparently intended to free up some time for Uhryn to focus on the recently opened Alain Roux Culinary School. Wright hails from Norfolk, and started out as a commis at The Waterside Inn back in 2011, working his way up to chef de partie over the course of four years. He then spent six years in France at both
Guy Savoy
and La Maison Troisgros before returning in 2022.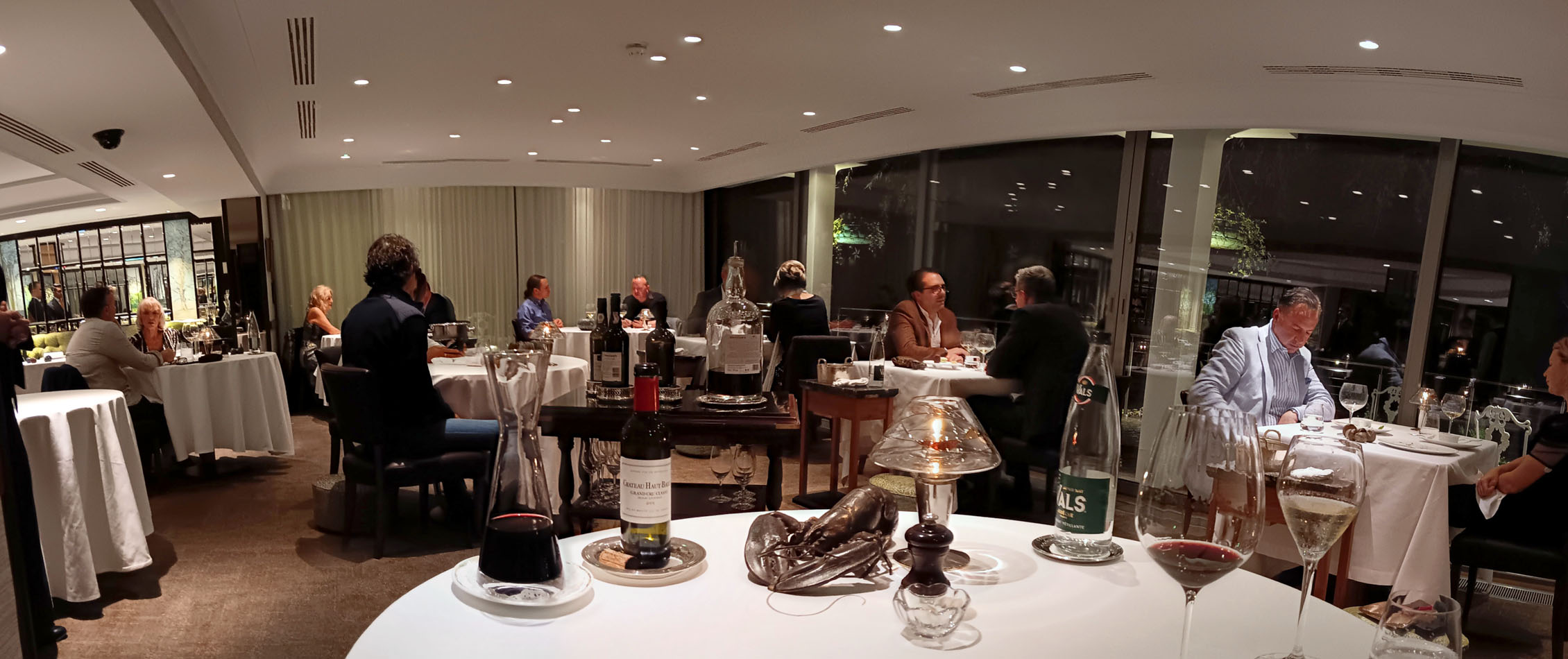 Pictured above is the dining room, as seen from my seat. If my meal were during the daytime, I would have been afforded a view of the River Thames.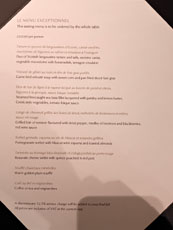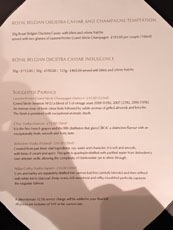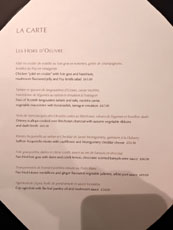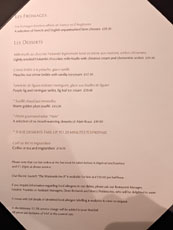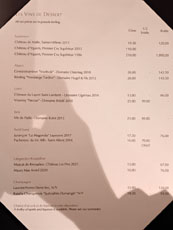 The Waterside Inn's menu options are the eight-course Le Menu Exceptionnel at £235 ($288.93) a head (plus 12.% service), or à la carte. You'll want to go with the tasting, and perhaps add on a couple supplemental dishes as I did. Click for larger versions.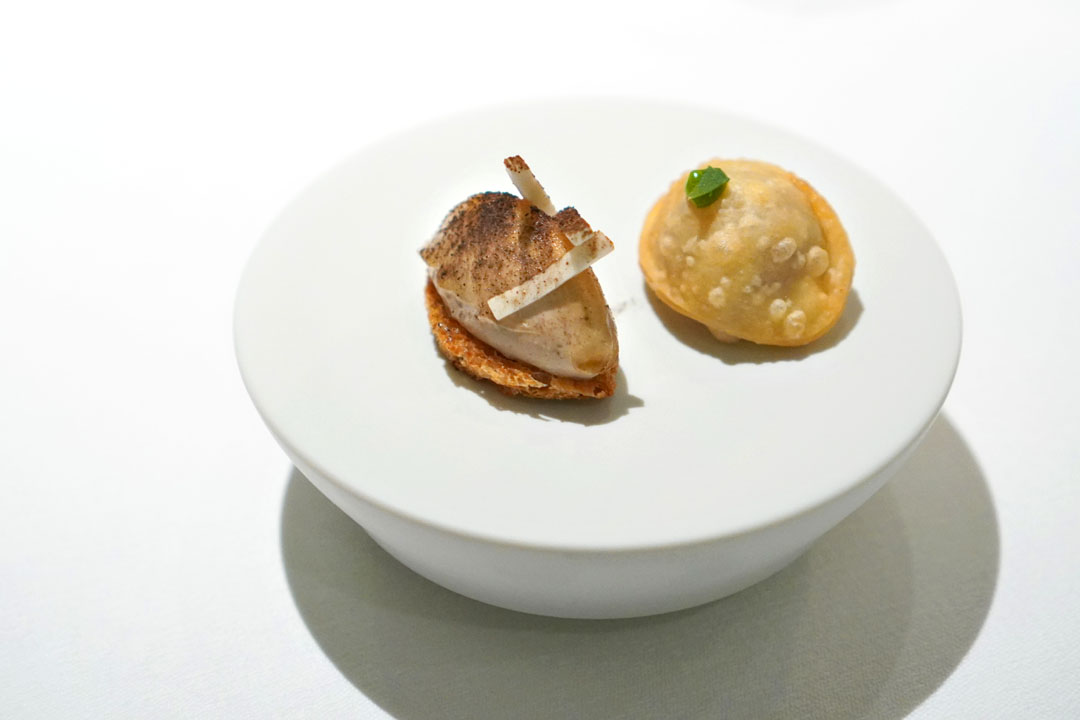 The evening's amuse-bouches included a winey, woodsy mushroom parfait atop pan brioche and a richly-flavored, sweet-n-smoky barbajuan with a dollop of lovage emulsion.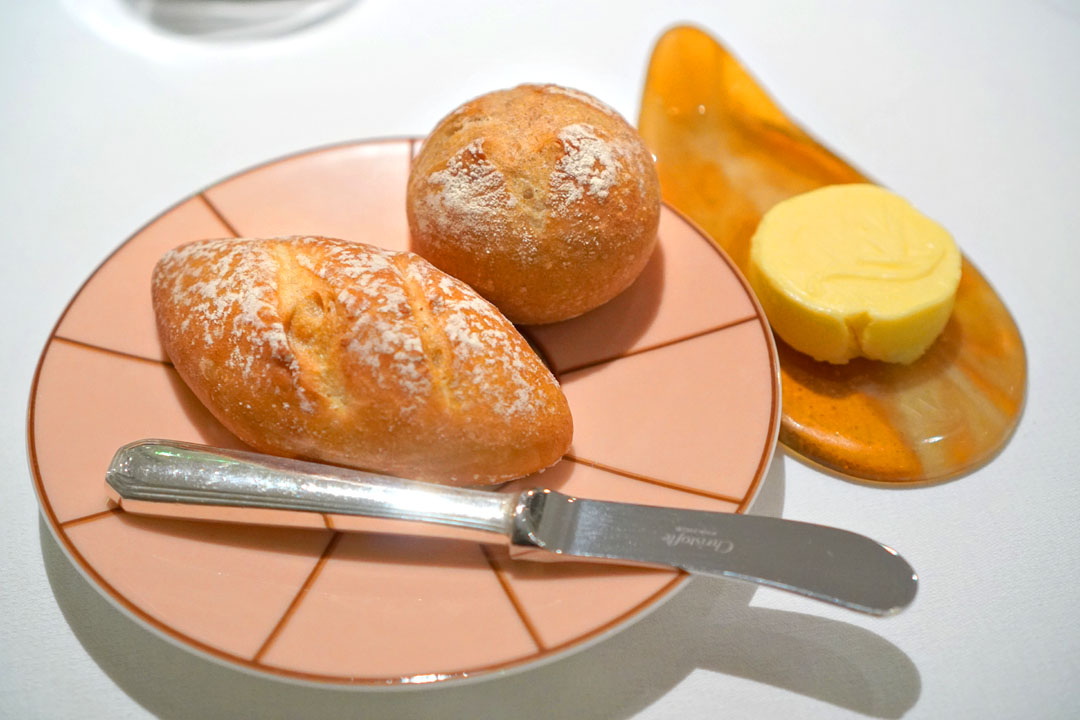 Two types of bread were offered, made using either plain flour or rye flour (the ball-shaped one). The former really could've been crustier and more assertive tasting, so I easily preferred the latter, with its spicier, warmer flavor profile. As for the butter, it was quite lovely, arriving at the table soft and subtly sweet.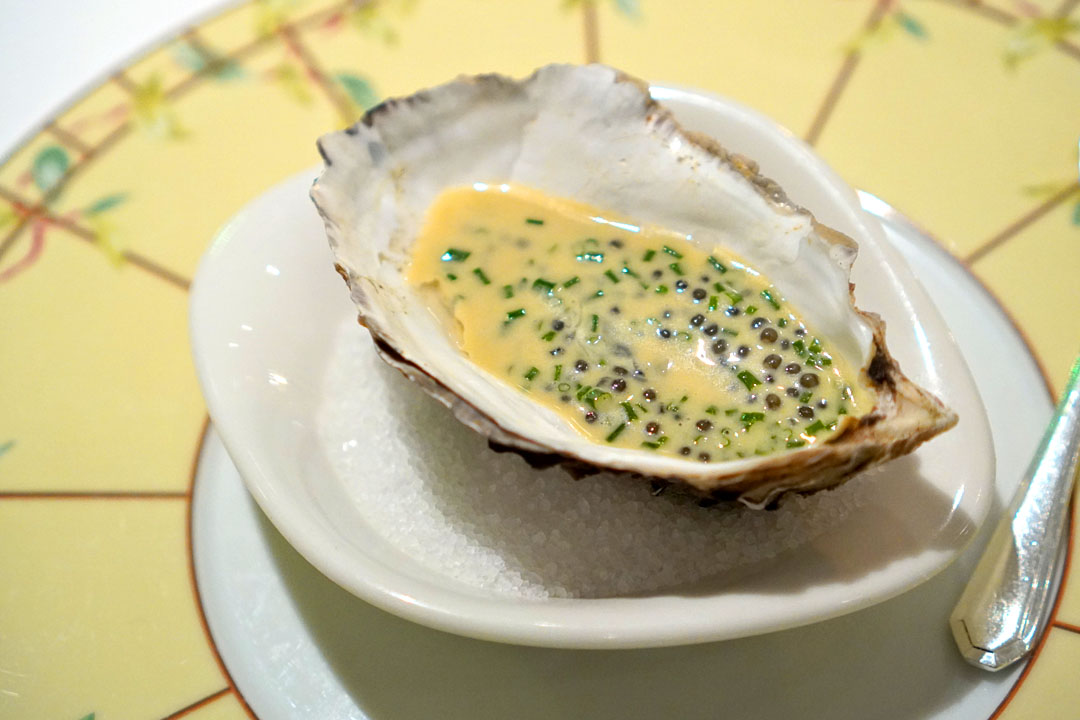 Next came a rather fetching oyster, one featuring a spot-on interplay between brine and the creamy, herby qualities of the Champagne sauce. This was pretty great, and really set a classic tone for the rest of the dinner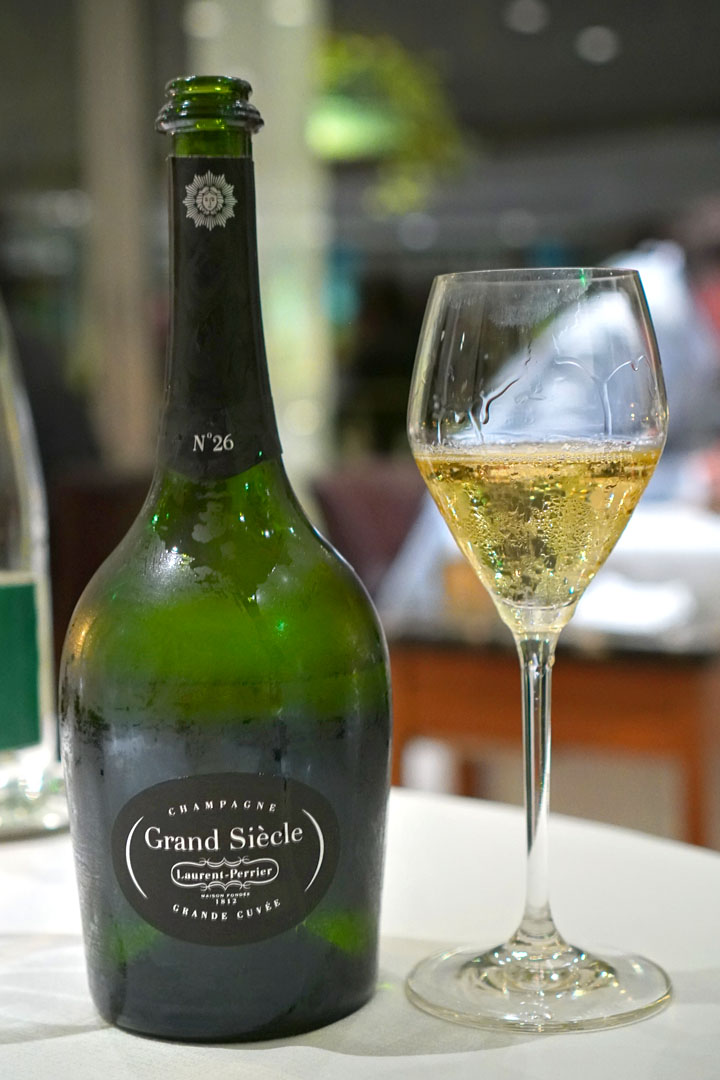 I opted for a bottle of the
Laurent-Perrier Grand Siècle No. 26 [£270 ($331.96)]
(comprised of the 2012, 2008, and 2007 vintages) to pair with most of my meal, which seemed fitting given Michel's penchant for Champagne. The nose here was all about ripe, concentrated apples and brioche, with a heady touch of earth and a dash of honey, while the palate was fresh, invigorating, yet matured, with an appealing acidity and a backbone of minerality to offset the wine's notes of orchard fruit and citrus. This was drinking deliciously tonight, but I'm guessing it'll get even better with a few more years under its belt.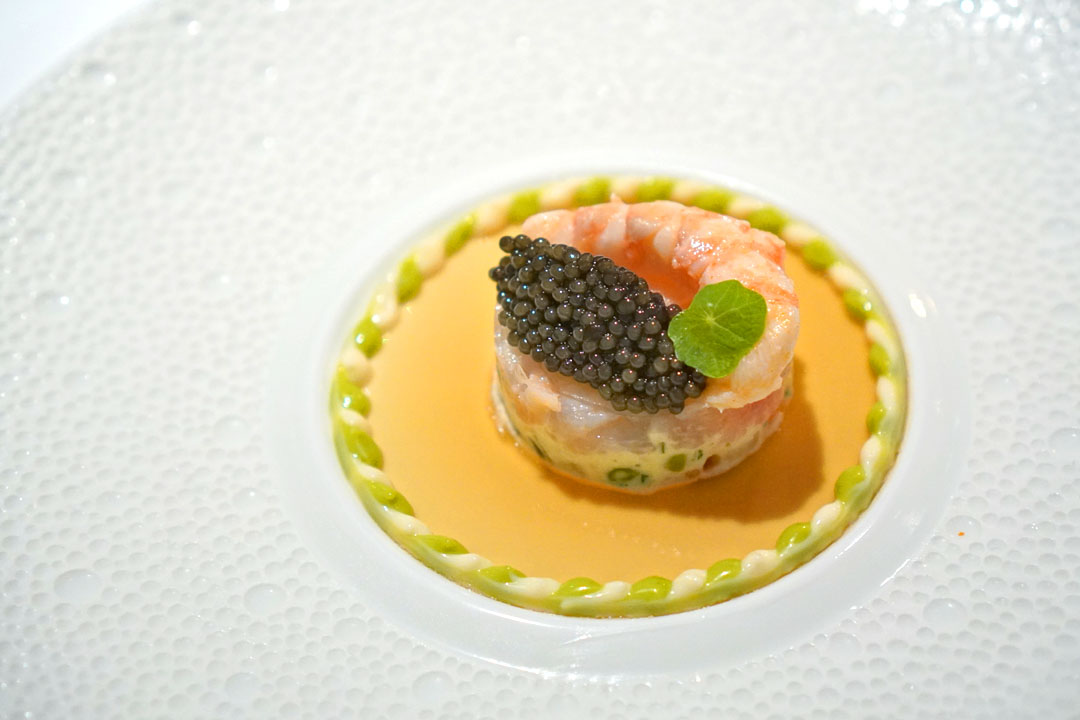 1: Tartare et queues de langoustines d'Ecosse, caviar osciètre, macédoine de légumes au raifort et émulsion à l'estragon
| Duo of Scottish langoustine tartare and tails, oscietra caviar, vegetable macedoine with horseradish, tarragon emulsion
My first proper course went in a light, fresh, yet still substantial direction. The langoustine itself showed off a sophisticated sweet-n-saline character, augmented by a quenelle of Royal Belgian caviar and a savory aspic-like jelly, while the horseradish contributed a subtle underlying heat that I appreciated. However, my favorite component here was actually the macédoine, with its crunchy veggies bound together by a duet of regular and tarragon mayonnaise--it actually reminded me of a potato salad that a childhood friend's mom used to make!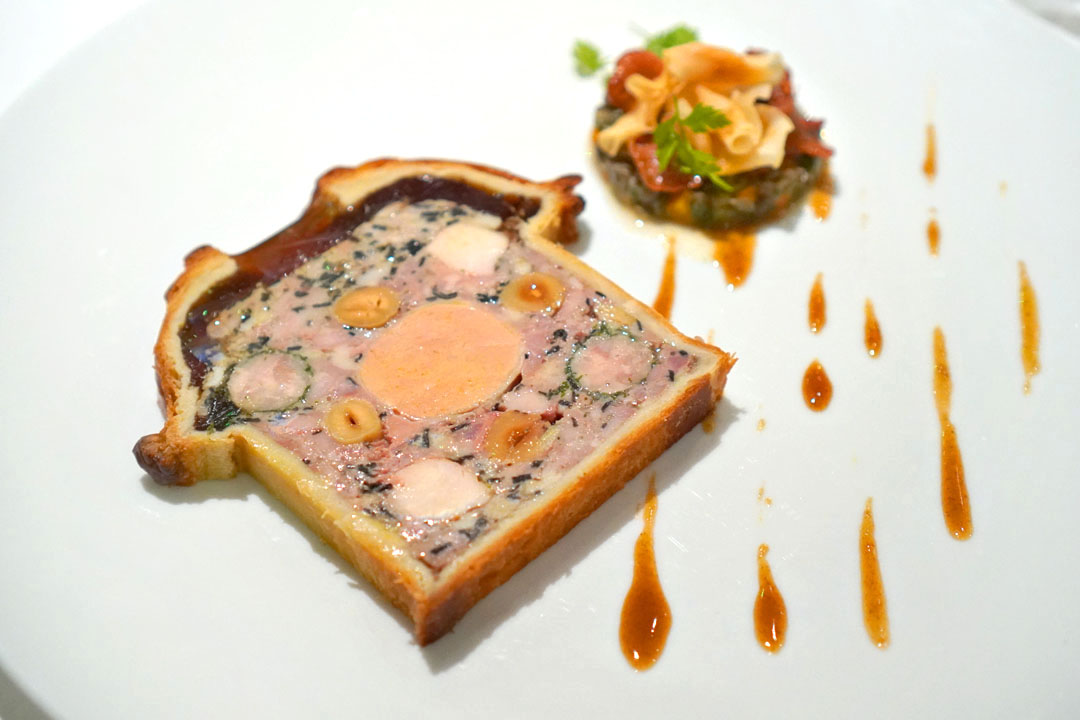 Pâté en croûte de volaille au foie gras et noisettes, gelée champignons, lentilles du Puy en vinaigrette [£65.00 ($79.92)]
| Chicken "pâté en croûte" with foie gras and hazelnuts, mushroom flavoured jelly and Puy lentils salad
I have a hard time resisting a good pâté, especially if it's of the en croûte variety, so this was a must-try for me, and thankfully, didn't disappoint. The marriage of creamy foie, savory shards of chicken, hazelnuts, mushroom aspic, and all the herbs was immensely gratifying, as was the array of textures present. Those piquant lentils on the side added further interest to the dish, and overall, this just tasted utterly classic, which was exactly what I was looking for.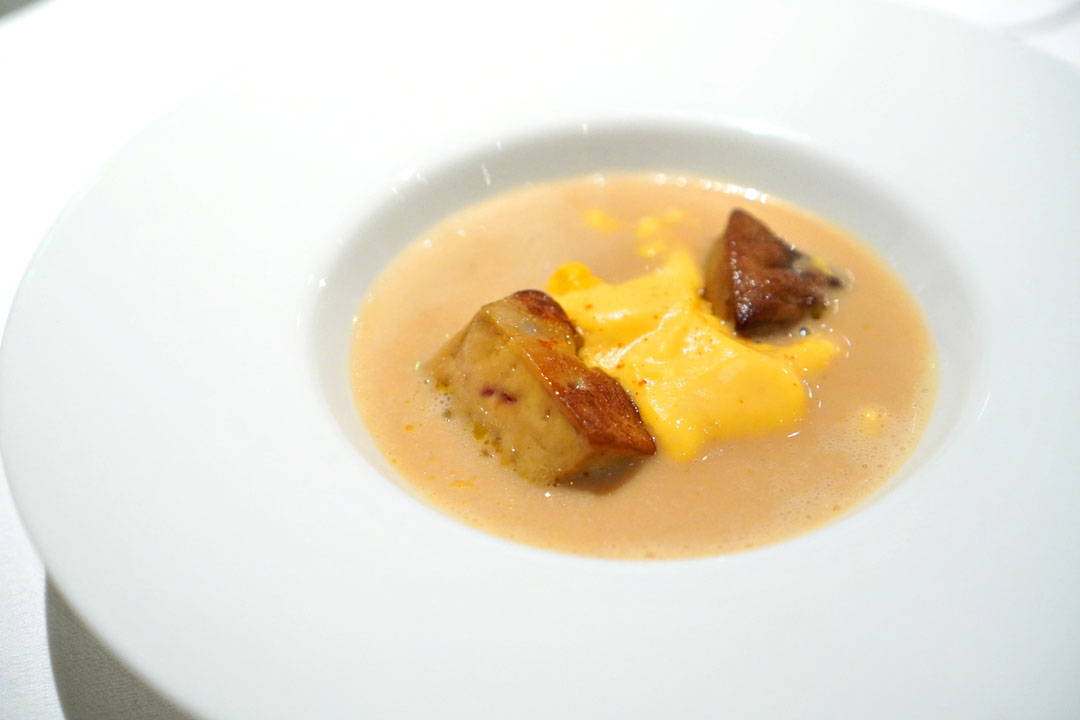 2: Velouté de gibier au maïs et dés de foie gras poêlés
| Game bird velouté soup with sweet corn and pan fried diced foie gras
This soup may not have looked all that enticing, but really delivered, tasting so evidently of the fall season. The star of the show was clearly that foie gras, the best I've had in a while. Silky and exquisite, the liver was a joy to eat, and was well-juxtaposed against the restrained sweetness of corn, and the salty, savory kick of the fowl.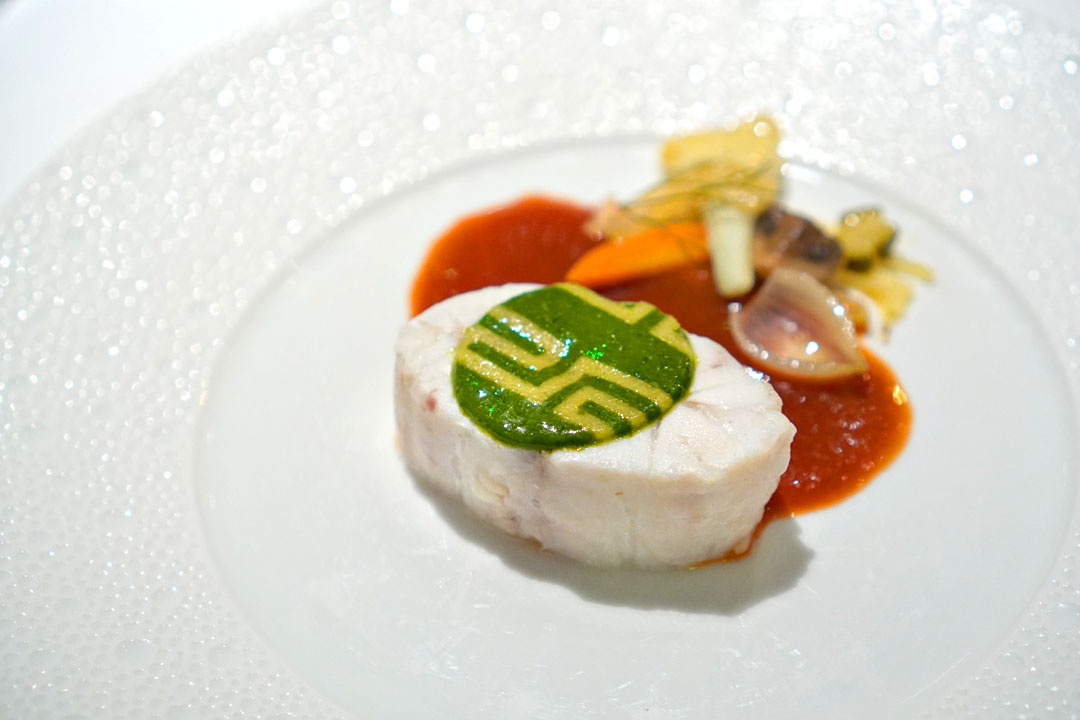 3: Dos de bar de ligne à la vapeur lacqué au beurre de persil et citron, légumes à la grecque, sauce bisque tomatée
| Steamed line-caught sea bass fillet lacqured with parsley and lemon butter, Greek style vegetables, tomato bisque sauce
Steamed wild sea bass displayed a fine-spun salinity and delicate texture, while parsley imparted a zesty accent. At the same time, the tomato bisque was much more robustly flavored, with almost a brininess to it, and made sense against the comparatively mild nature of the fish.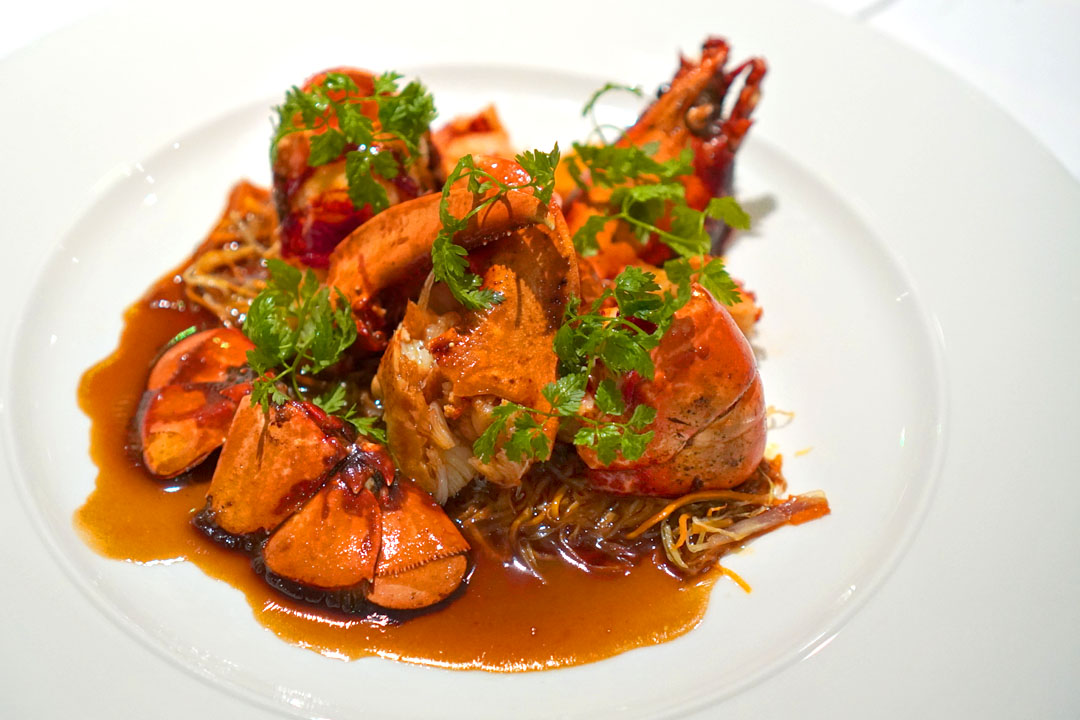 Tronçonnettes de homard poêlées minute au Porto blanc [£69.00 ($84.84)]
| Pan fried lobster medallions and ginger flavoured vegetable julienne, white port sauce
Naturally, I felt compelled to sample what most would consider as The Waterside Inn's most iconic dish, which was created by Michel around the late 1970s, after he'd returned from a visit to Asia. The sweetness of the lobster was expertly conveyed, set off against the tang of ginger, while the port sauce helped tie it all together. I really appreciated the textural variation between claw, knuckle, and tail as well. I've obviously never had this dish before, yet somehow, it felt very familiar, and I could certainly imagine how it could've been seen as downright novel back in the day.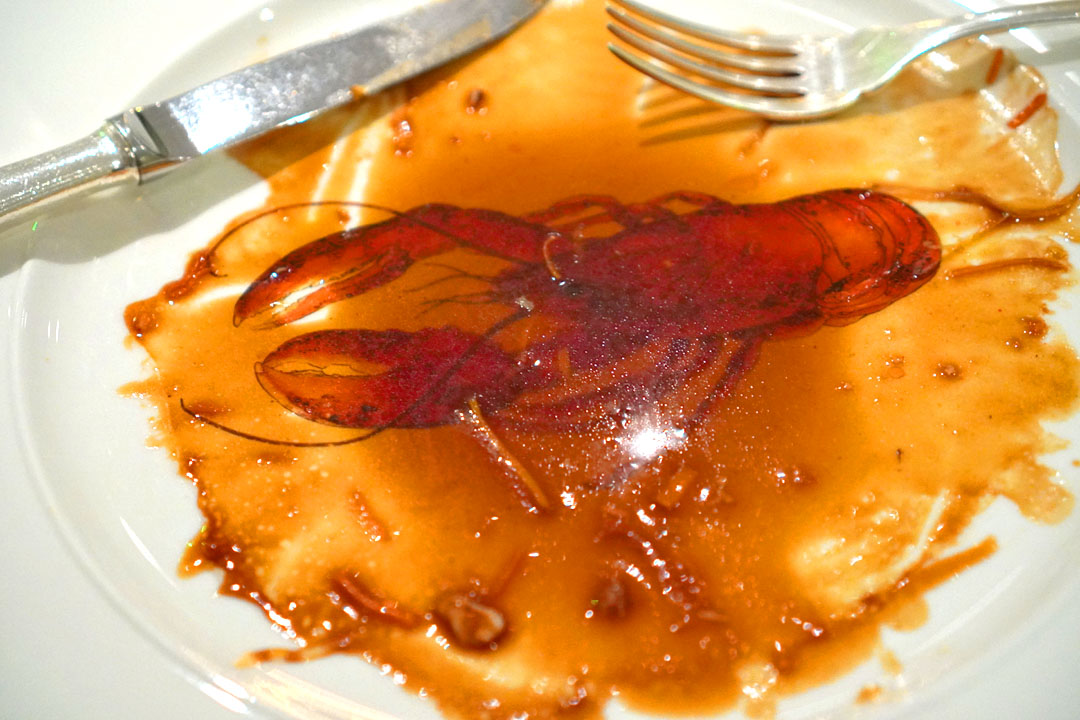 The lobster was served on some appropriate dishware.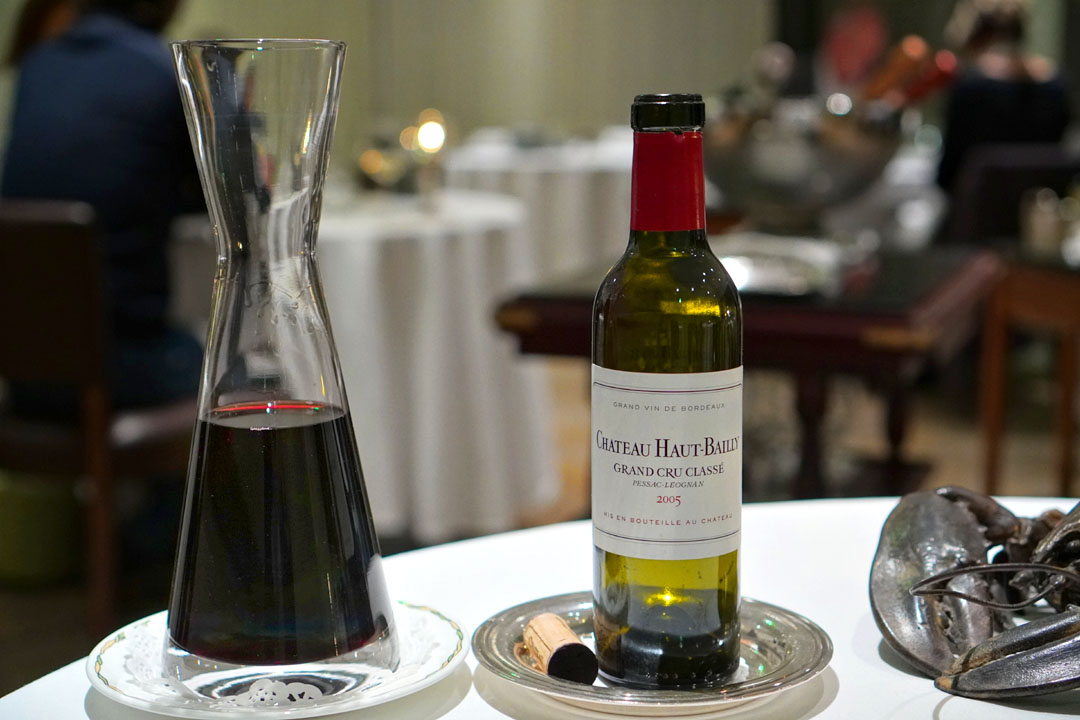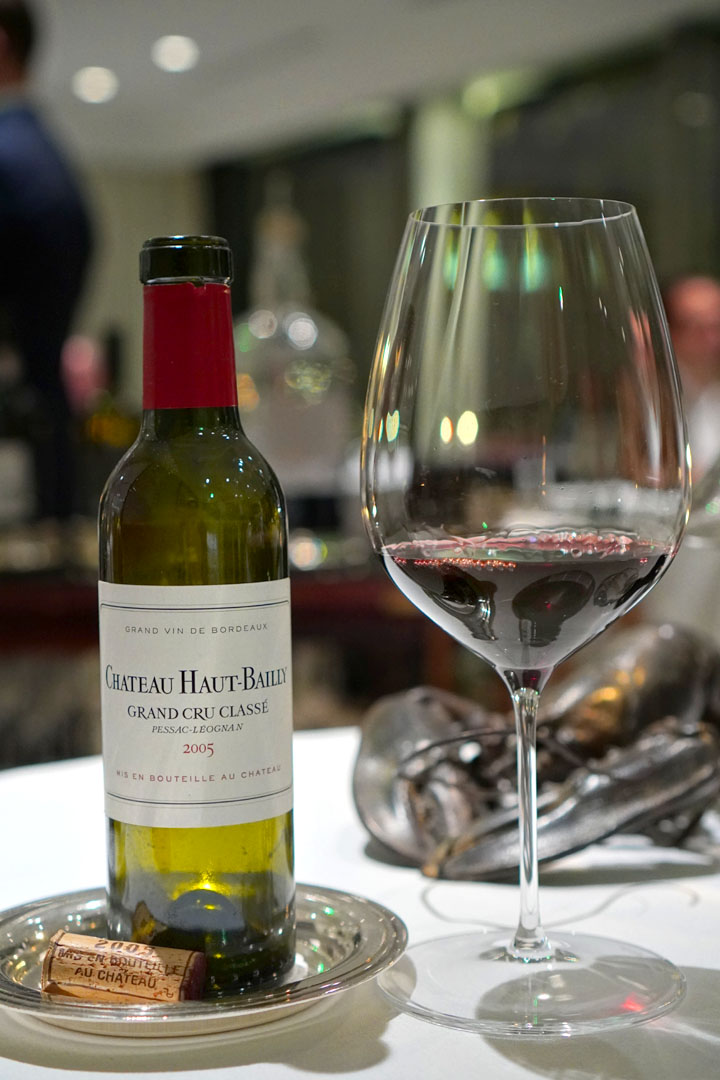 To pair with the rest of the meal, I had pre-ordered a demi-bouteille of the
2005 Château Haut-Bailly [£145 ($178.28)]
, which had been decanting pretty much ever since I arrived. Initial aromas were of grape preserves overlaid with herbs--quite appealing. On the palate, I found the Bordeaux supple and easy-drinking, its ripe berries flavors joined by more of those aforementioned herbs, along with notes of soil and tobacco. Later on, the wine became much more floral on the nose, with a bit of menthol appearing as well. Taste-wise, I began getting considerable amounts of leather, along with sweet and sour fruits, all in a very well-integrated package. This was certainly one of the better "young" clarets I've had in recent times.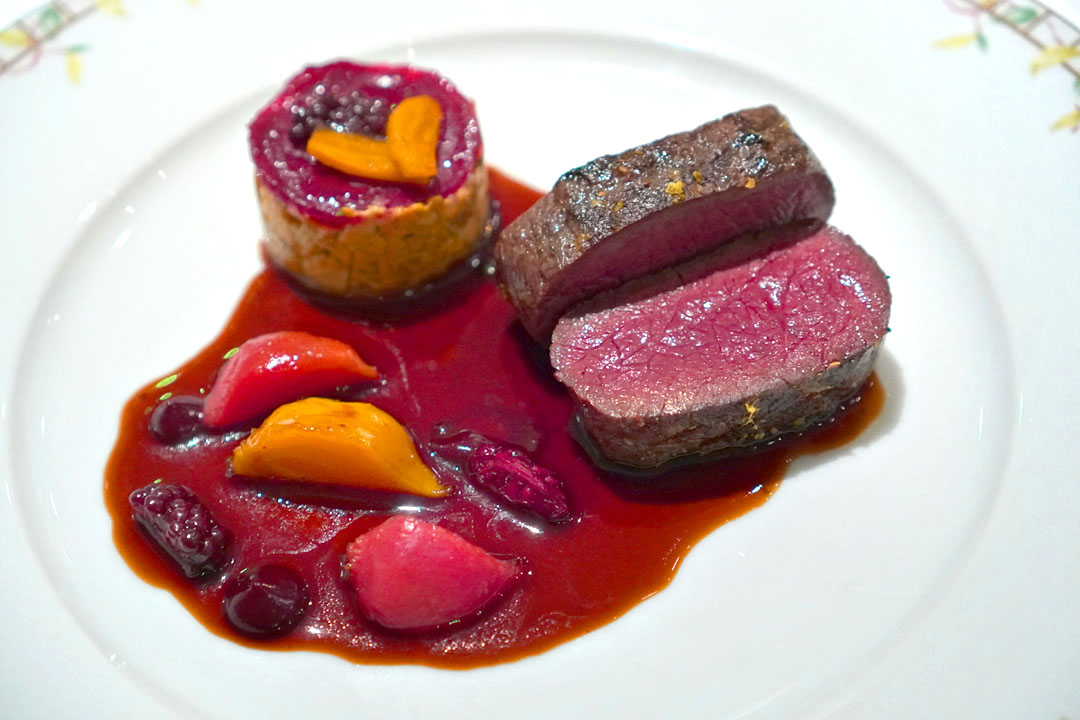 4: Longe de chevreuil grillée aux baies de timut, méli-mélo de betteraves et mûres, sauce vin rouge
| Grilled loin of venison flavoured with timut pepper, medley of beetroot and blackberries, red wine sauce
Beautifully ruby-hued cuts of deer ate unapologetically smoky, salty, and savory, with a touch of gaminess well-accented by the zip of timut peppercorn. The veggies provided further contrast to the meat, and I appreciated how the red wine sauce brought everything together.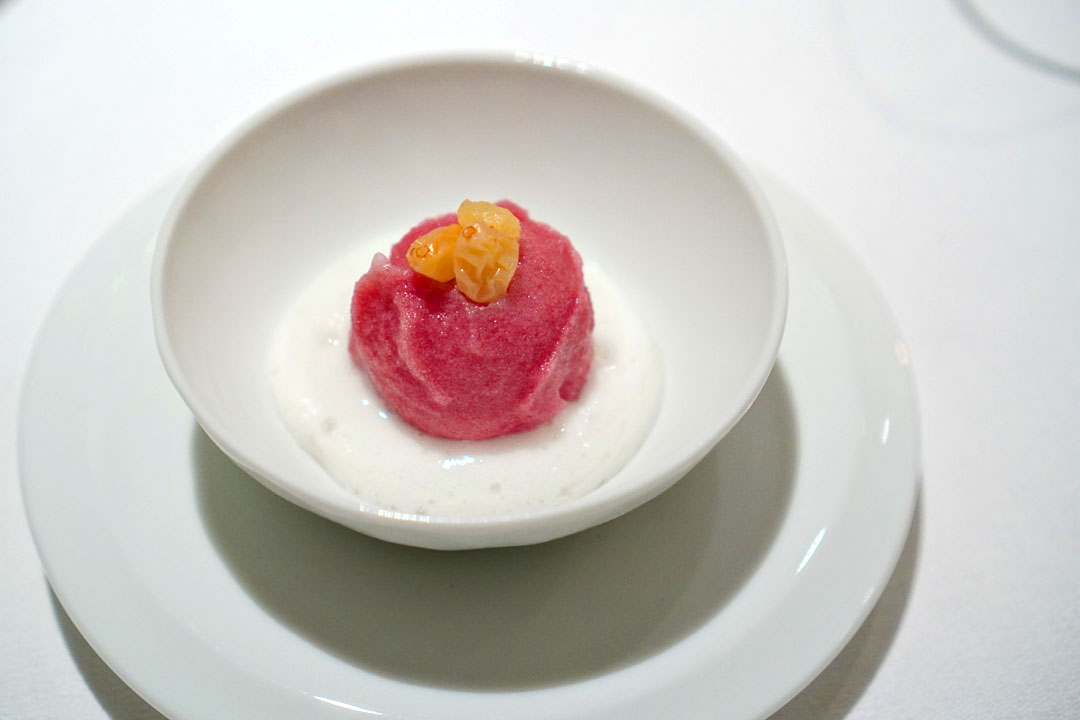 5: Sorbet grenade, espuma au vin de Muscat et amandes grillées
| Pomegranate sorbet with Muscat wine espuma and toasted almonds
This palate cleansing course combined a tangy, refreshing sorbet with a wonderful toasty nuttiness from the almonds.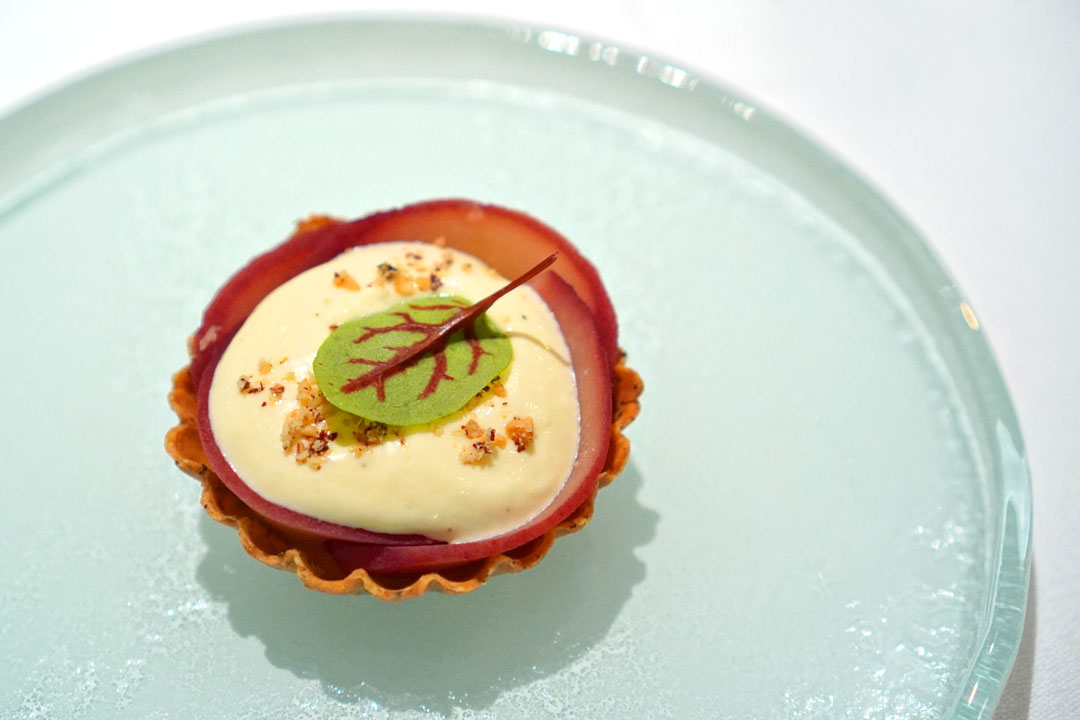 6: Tartelette au fromage bleu Beauvale et coings pochés au porto rouge
| Beauvale cheese tartlet with quince poached in red port
A superb one-bite cheese course, this tartlet married the lactic pungency of blue cheese with slices of quince and a wonderfully crumbly pastry base.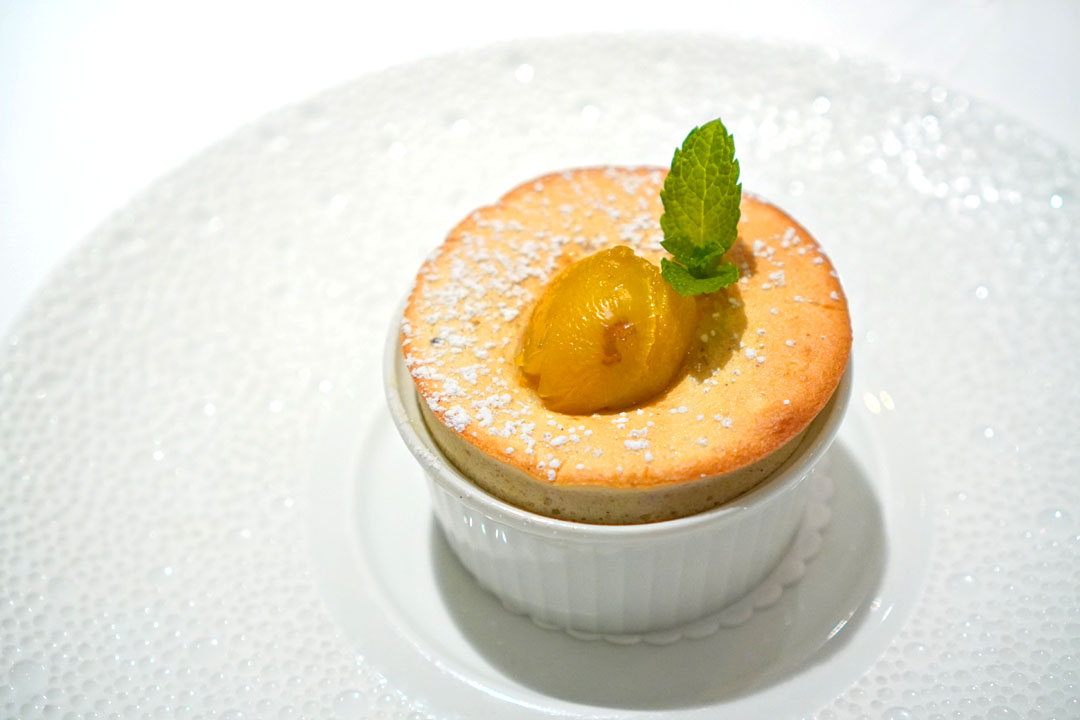 7: Soufflé chaud aux mirabelles
| Warm golden plum soufflé
A spot-on soufflé was just about perfect texturally, and its eggy, fluffy interior meshed seamlessly with the sweetness of mirabelle plum.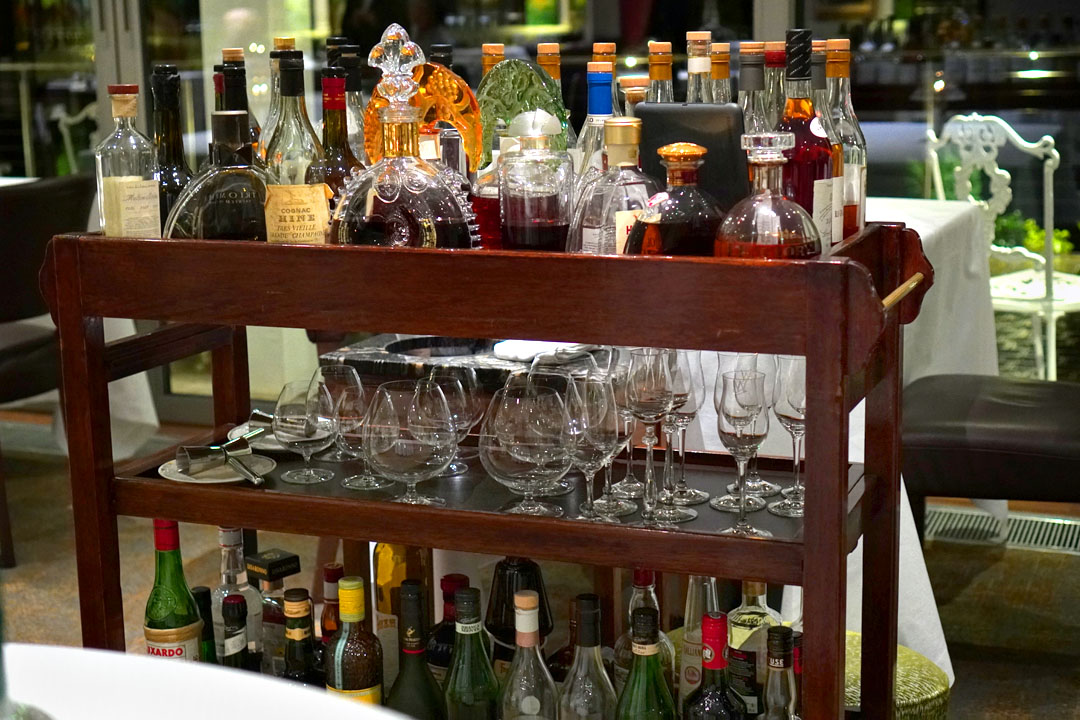 Shown above is the restaurant's trolley of spirits and liqueurs, if you're in the mood for a digestif.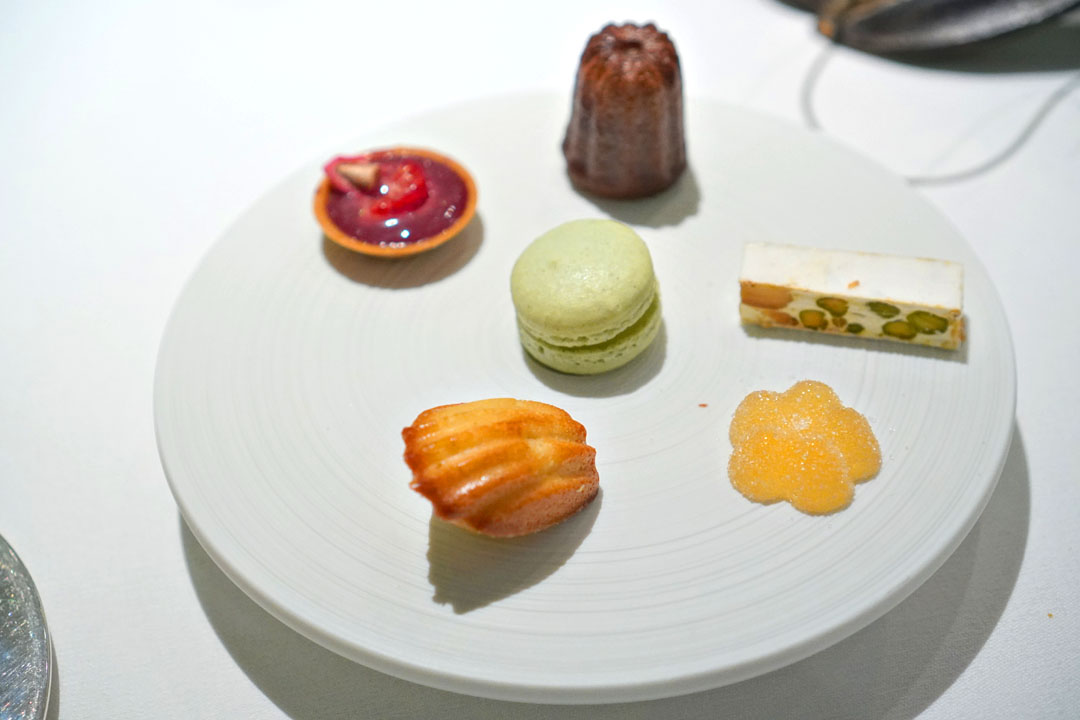 8: Café ou thé et mignardises
| Coffee or tea and mignardises
I enjoyed the following petits fours, paired with a delightfully floral Darjeeling tea:
I started in the middle with a surprisingly "juicy" green apple and lime macaron.
Next came a raspberry tartlet with a nutty almond cream praline.
The traditional canelé showcased a nice chew, along with proper smoke, caramelization, and sugariness.
The nougat had this popcorn-like nuttiness that I fancied.
My tropical-tasting pâte de fruit was flavored with pineapple and coconut.
Last up was a classic, lemon-y madeleine.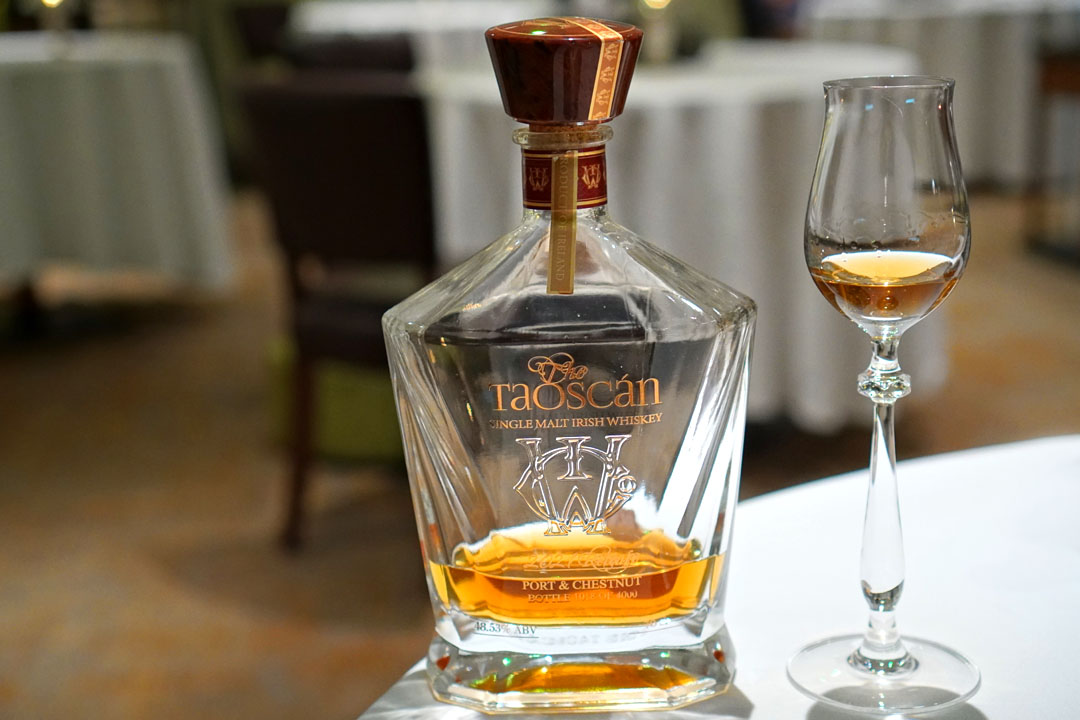 I wanted to end my evening with some whiskey, and got started with two examples from The Craft Irish Whiskey Co., the first of which was
The Taoscán [£55 ($67.62)]
. Released in 2021, this was a single malt Irish whiskey, distilled in 2006 by Bushmills, matured in American oak bourbon casks for 11-and-a-half years, in Oloroso sherry butts for one-and-a-half year, then finished for two years in virgin French chestnut and tawny port casks. The spirit smelled of luscious chocolates, tinged with smoke and dried fruits. The cacao-driven sensations continued on the palate, where they were joined by delectably fruity flavors and a bevy of herbaceous, sweet-n-spicy nuances that made for some balance.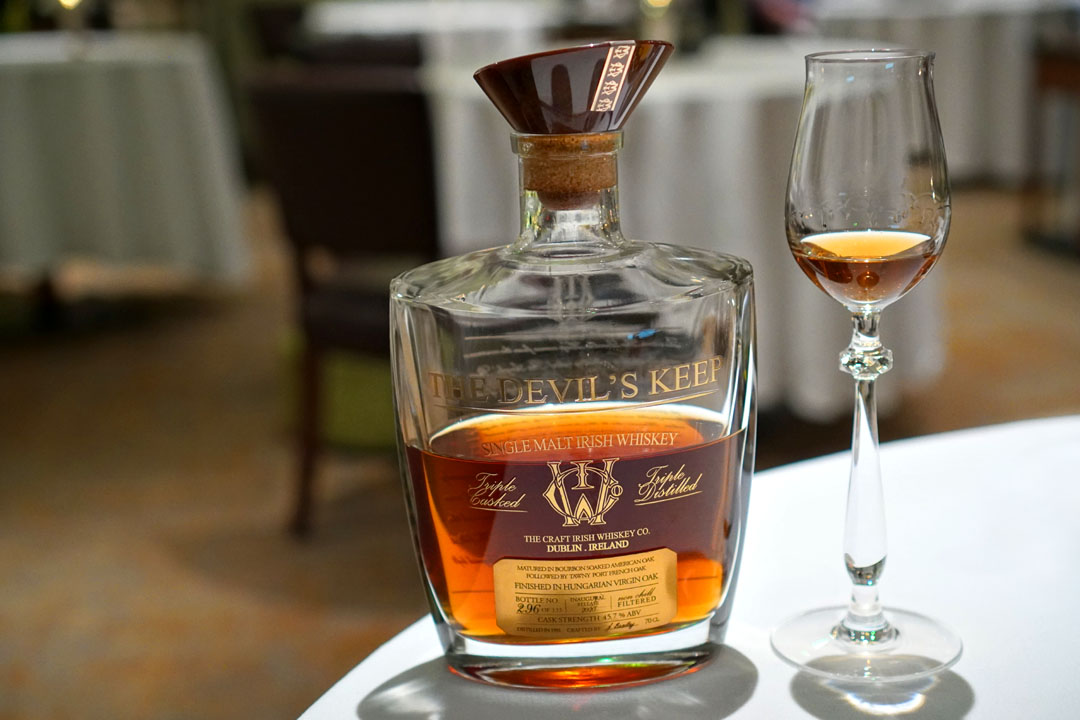 Next came
The Devil's Keep [£247.50 ($304.30)]
, a single malt Irish whiskey originally distilled by Bushmills in 1991, matured in American oak bourbon barrels and French oak tawny port casks, then finished in virgin Hungarian oak before being bottled and released in 2020, just two weeks shy of 30 years. The nose on this one featured refined dark fruits and brown sugar, layered with juicy apples. Taking a sip, I found more of those apples--warmly spiced this time--commingled with ripe, nearly raisined berries and cacao, with a bit of mint appearing in the background.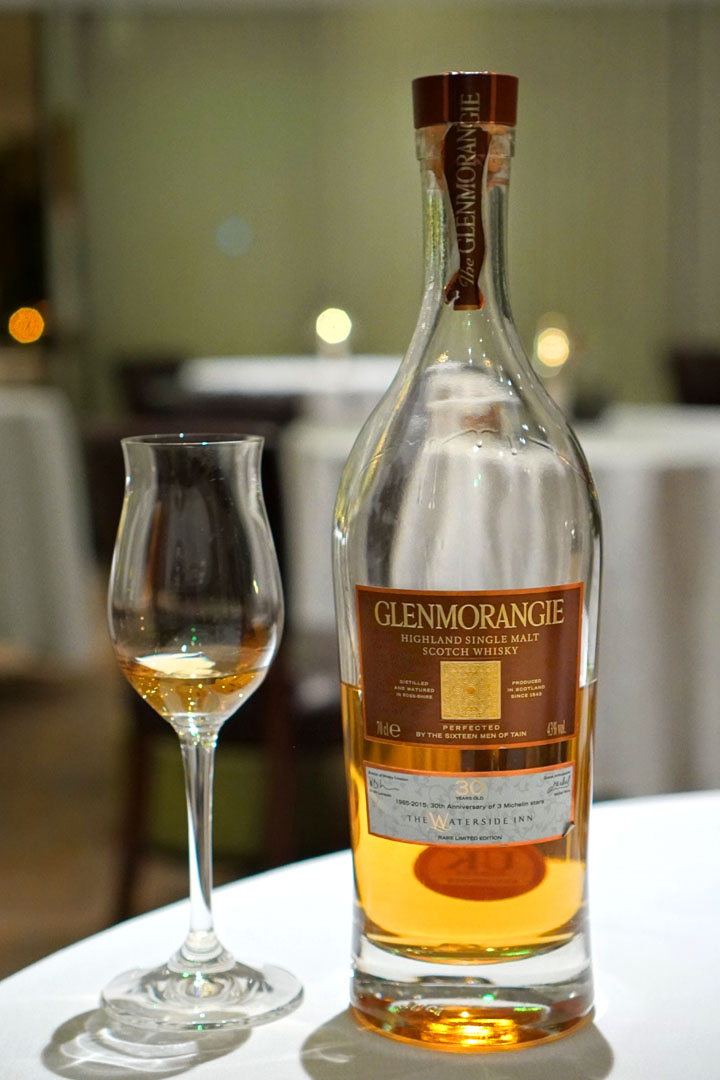 I then moved over to Scotland for the
Glenmorangie 30 years, Limited edition Michel Roux [£55 ($67.62)]
, a Highland single malt Scotch whisky bottled to celebrate the 30th anniversary of The Waterside Inn's three Michelin stars in 2015. The spirit had a surprisingly bright, tangy nose brimming with fruit character. Taste-wise though, it was an altogether different story, with a wooden, nutty, herbaceous flavor profile that finished long and dry.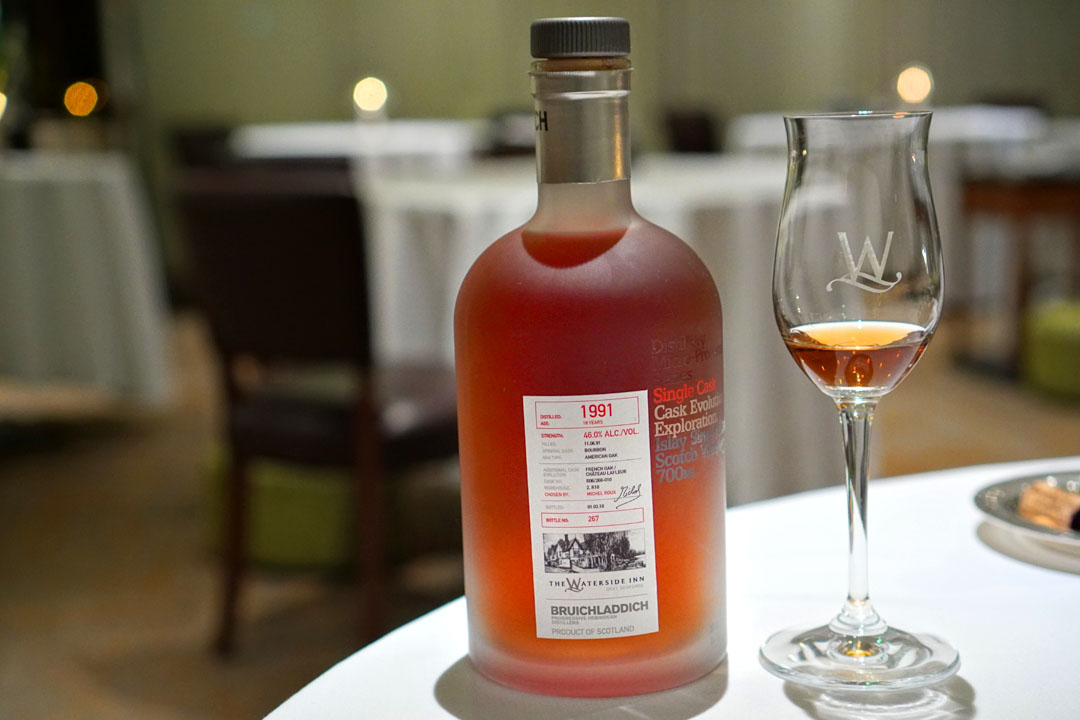 Next up from Islay was the 18-year-old
Bruichladdich 1991 selection of Michel Roux [£12 ($14.75)]
, a single-cask offering matured in American oak bourbon barrels and later French oak Sauternes barrels, then bottled in 2010. The whisky demonstrated an assertive bouquet filled with raisins and spice cake. In terms of taste, I got similar notes of sweet spices and dark-toned fruits, but combined with a distinct oakiness and a top layer of dried herbs.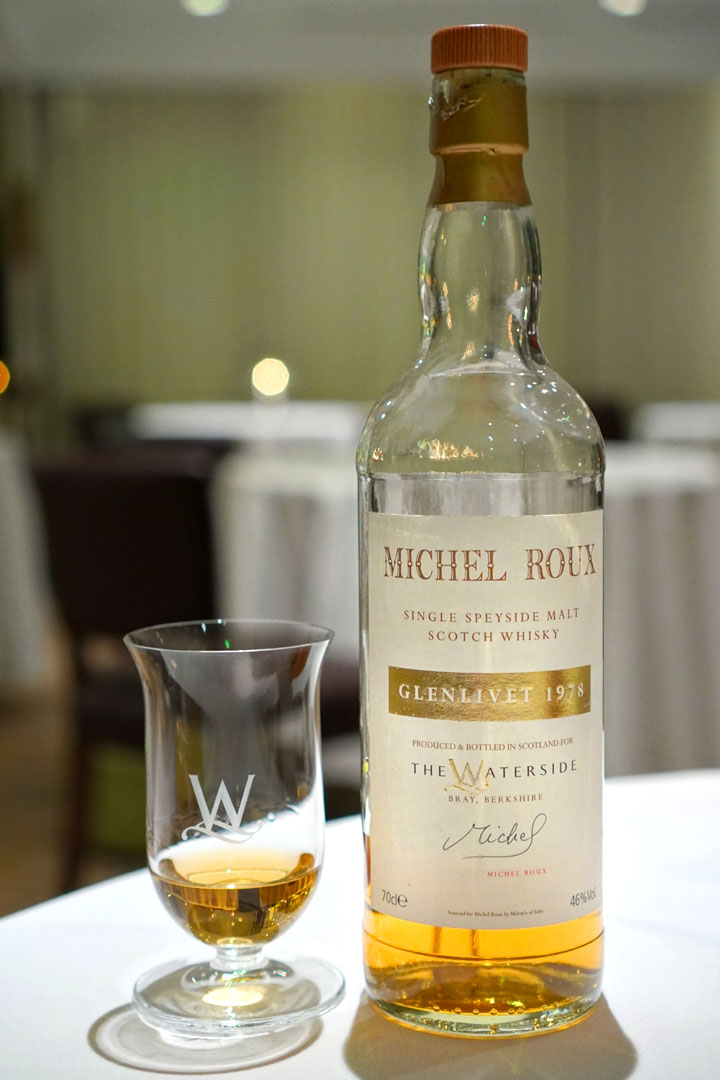 Closing things out was the
Glenlivet "Michel Roux" selection 1978 [£11.50 ($14.14)]
, a Speyside single malt whisky sourced for the restaurant by the London-based Milroy's of Soho. Aromas here were of brown sugar laced with ripe orchard fruits. The liquid was rich and palate-coating, with more sweet fruits all over the place, but countered by a decidedly herbaceous overtone.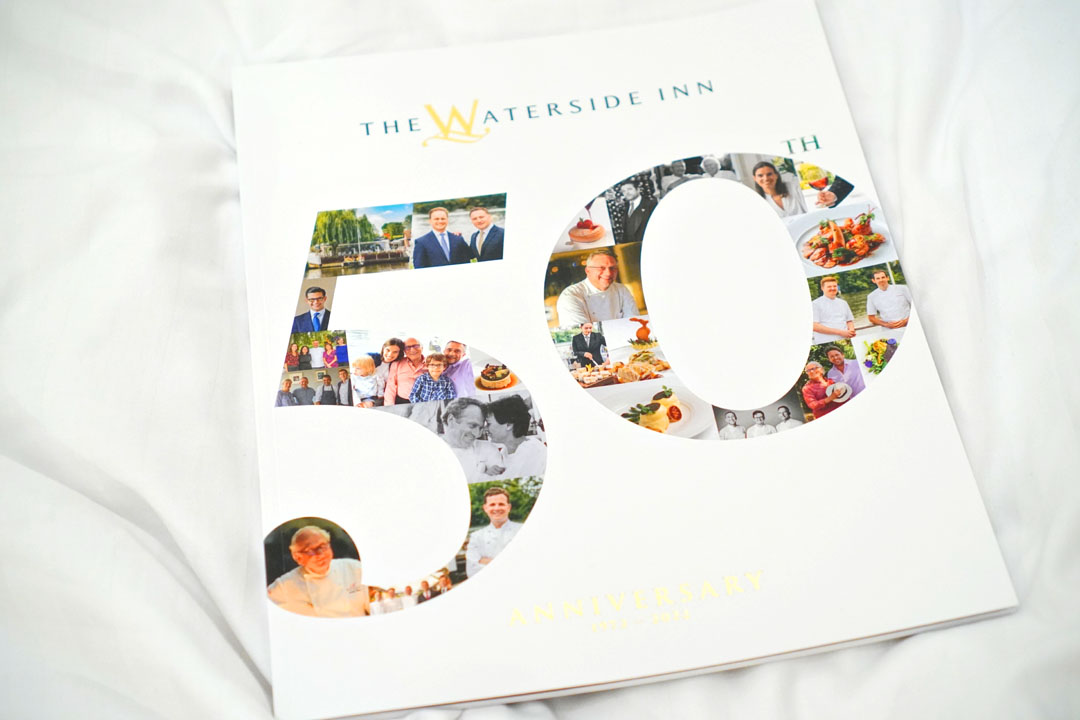 I was given a copy of The Waterside Inn's
magazine
, which was published in 2022 to celebrate the restaurant's 50th anniversary.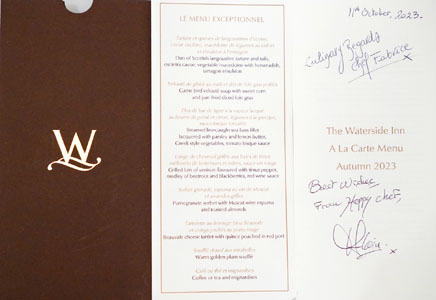 I was also provided takeaway copies of the tasting and à la carte menus, the latter of which was signed by both Alain Roux and Fabrice Uhryn. Click for a larger version.
The Roux brothers have probably had more impact on the British dining landscape than any other chef. They upped the level of what was possible culinarily in the UK, and inspired and trained innumerable chefs who have followed in their footsteps. Thus, given the Roux family's stature, it's not surprising that there was a real sense of occasion dining at The Waterside Inn. This was some proper, gentlemanly, yet pleasurable cooking that was unabashed in its reverence for tradition. Meanwhile, service, formal but never stuffy, and coordinated by GM Frederic Poulette and Assistant Manager Dean Bonwick, was outstanding, some of the very best I've ever encountered. This place is old school to be sure, but that's exactly its charm, and I hope that the restaurant can stick around in its current form for years to come.