Sushi Wasabi (Tustin, CA)
Sushi Wasabi
14460 Newport Ave #F, Tustin, CA 92780
714.505.3496
www.ocweekly.com/food/feature-review/snowflakes-from-the-sea/25777/ (review, restaurant has no website)
Sat 02/17/2007, 07:20p-09:00p
Sushi Wasabi is a place for purists only; neophytes need not apply. That means no California rolls, no Philly rolls, no rolls whatsoever actually (save for a couple hand rolls). And forget about getting teriyaki, tempura, or even miso soup. Nigiri is the name of the game here.
We arrived relatively early at 7:20 and were shocked to find a "Closed" sign hanging in the window (I later found out this was a relatively common occurrence). Undeterred, we ventured in and asked owner/chef Katsu Aoyagi if they were still open. After consulting with his wife (I believe her name is Tomomi, but don't quote me on that), he let us stay and we were led to a small table in the back corner. Tomomi warned us early on that Wasabi was a serious, "sushi only" place. We obviously knew that already, and quickly did away with the menu and ordered
omakase
. When we asked for sake, Tomomi first brought out a few low-end bottles. Much to her surprise, I dismissed those bottles and asked for Kubota Manjyu by name, which she quickly brought out. I think that was enough to convince her that we weren't sushi newbies.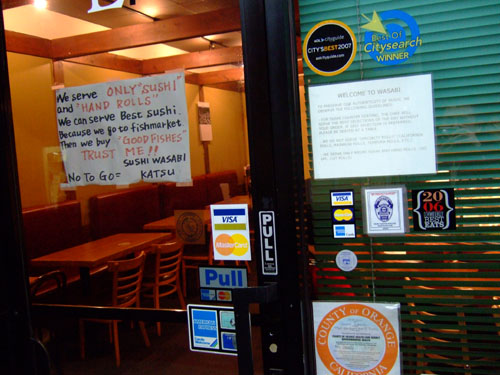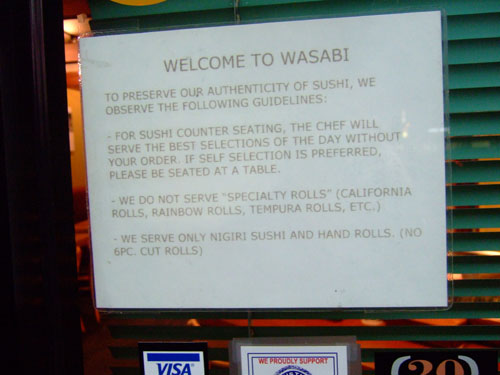 Signs warn of the impending danger within. Chef Katsu has been referred to as the "sushi nazi," though I usually reserve that particular title for Nozawa.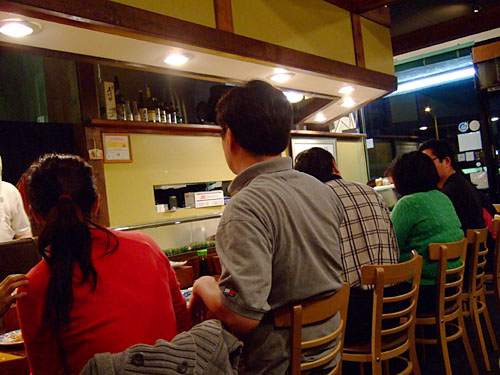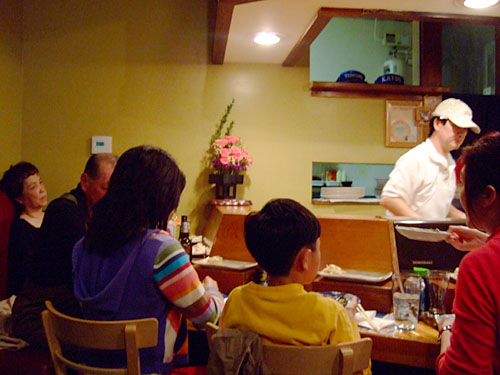 The bar seats about a dozen patrons while there are tables for about twenty. Overall, the decor is warm, cozy, and inviting. The group at the end of the bar was a Chinese family (I heard them speaking Mandarin); I applaud them for exposing their kids to sushi at such a young age. Certainly my palate was not nearly as advanced at their age.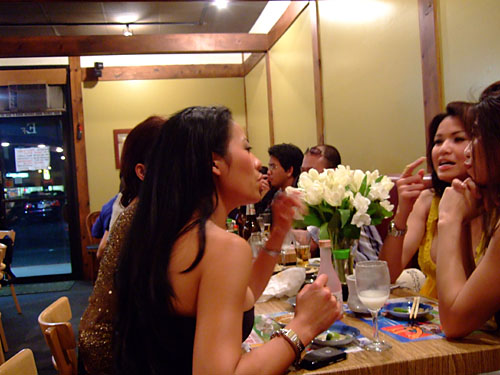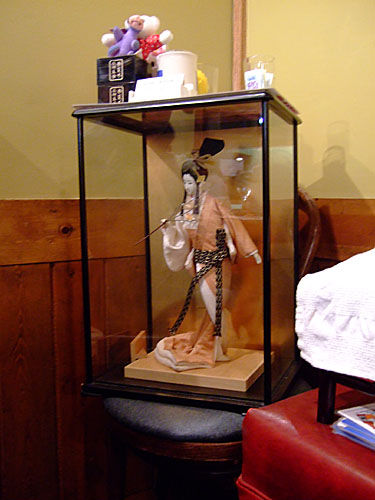 To my left, a group of loud-mouthed, Dior-wearing, high-maintenance-looking Vietnamese girls. To my right, the somewhat eclectically decorated corner.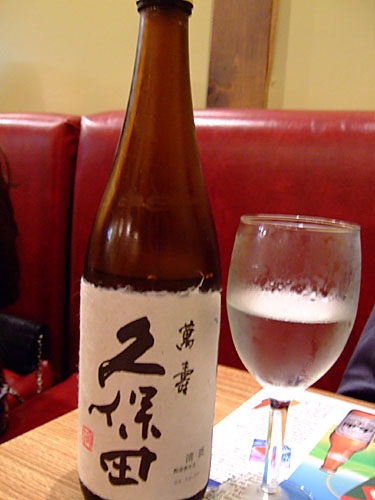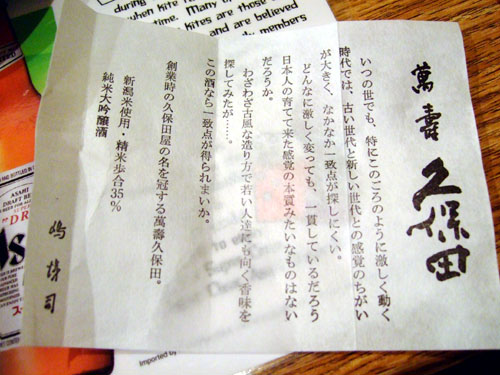 This was actually my second time having Kubota Manjyu, a
junmai-daiginjyo
from Niigata. They say it's the best sake in the world, and I would tend to agree. Smooth, clean, crisp, this is my epitome of sake. And at $75, it was a downright steal;
Urasawa
charged literally twice that.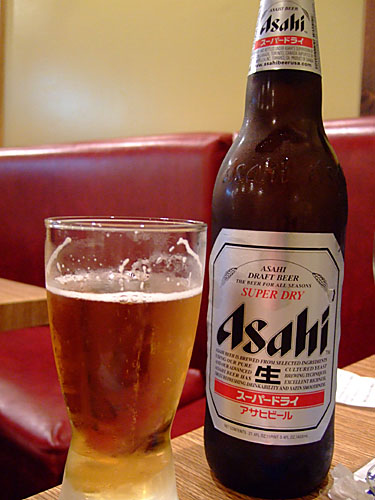 When the Kubota ran out, we had to quench our thirst with something else: Asahi, Japan's number two beer. Interestingly enough, I recently found out that the Asahi we get here is actually brewed in the US under license.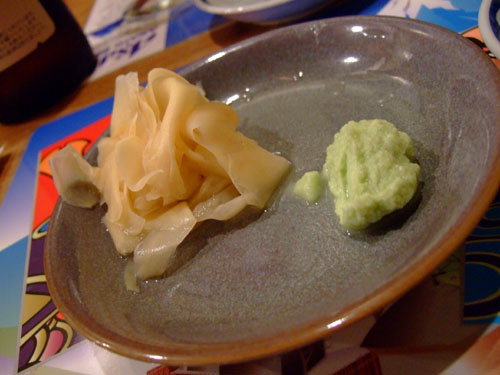 The wasabi was quite strong, and we thought it might have been real grated wasabi root. It was definitely a bit different from the paste you get at most sushi places. Good ginger as well.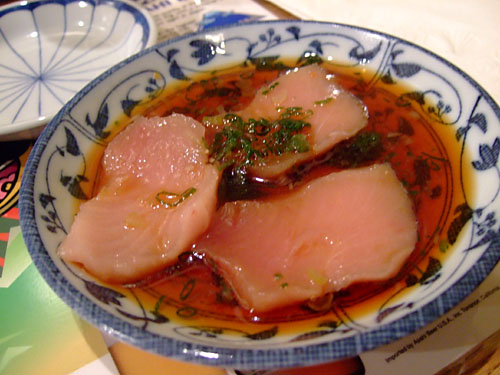 1: Albacore Sashimi
Canadian albacore with citrus ponzu and scallion. I think this might have been my first experience with non-seared albacore before, but hopefully not my last! Quite tasty.
2: Tai
Served with tobiko, scallion, and a dash of ponzu. Very nice.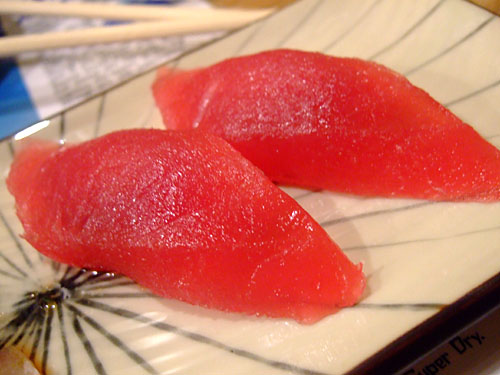 3: Mebachi
This was actually bigeye tuna. Absolutely beautiful ruby red color, classic tuna taste.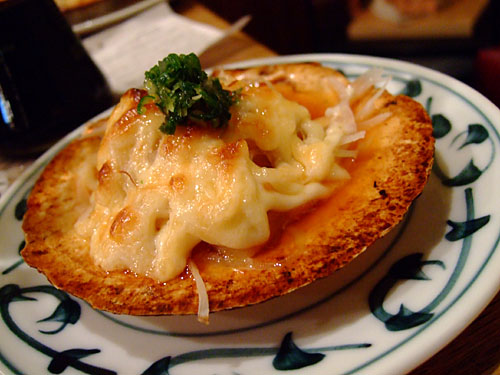 4: Baked Scallop
Baked with creamy mayo, similar to a "dynamite" I believe. The shell was held to the plate with a dollop of rice on the bottom. When we asked to keep it, Tomomi seemed rather surprised and we quickly withdrew our request.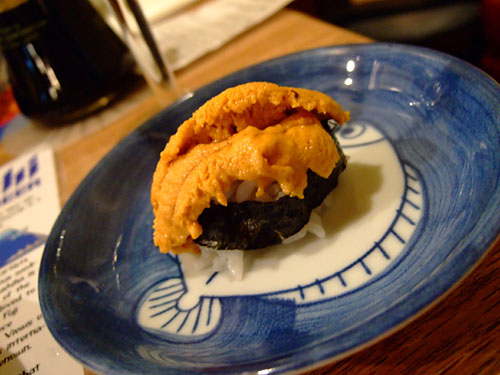 5: Uni
I'm not a big fan of uni and usually shy away from it, but I must say that this was my best uni experience ever. It was smooth, mild, very much like foie gras (which I'm also acclimating to incidentally).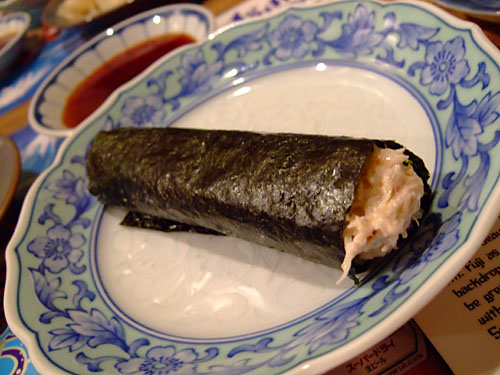 6: Blue Crab Hand Roll
This is Wasabi's signature dish, real crab meat and a touch of mayo, wrapped in toasted seaweed. This was the first time I've had hand rolls in this unique "cigar" shape.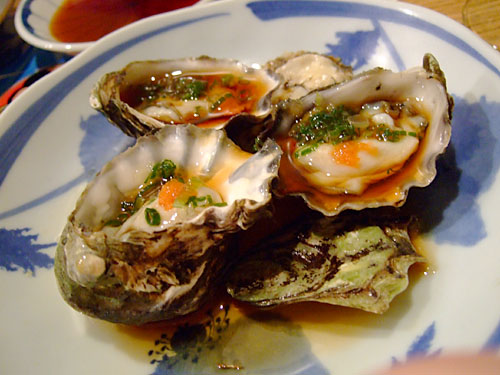 7: Kumamoto Oysters
Remembering our request on the scallop, Tomomi asked if we wanted to keep the shells (we did, but ended up forgetting to take them). In any case, the oysters, topped with ponzu, scallion, and tobiko, were very fresh, sweet, and subtle.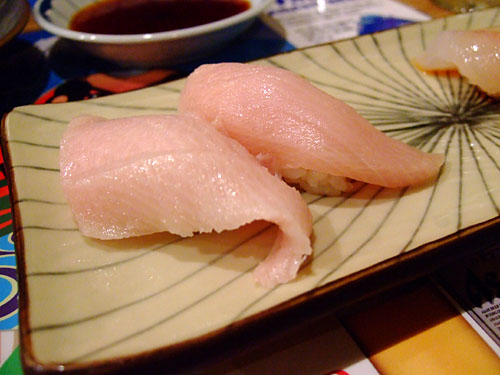 8: Hamachi
This is yellowtail from Japan. Tomomi was very diligent in telling us the origins of our fish.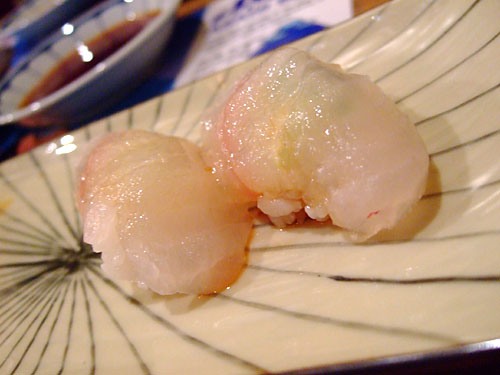 9: Hirame
The quintessential expression of halibut, from the East Coast.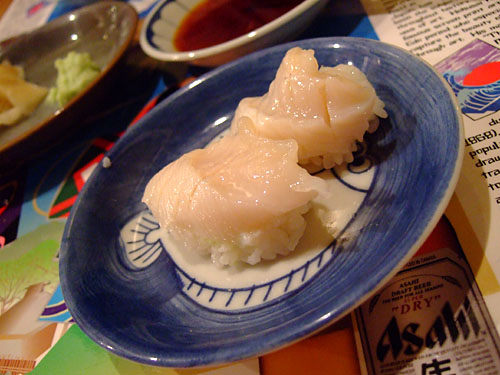 10: Mirugai
Jumbo clam from Seattle. These had a nice, fresh crunch and a mild, not too ocean-y taste. I think I'm starting to warm up to clam.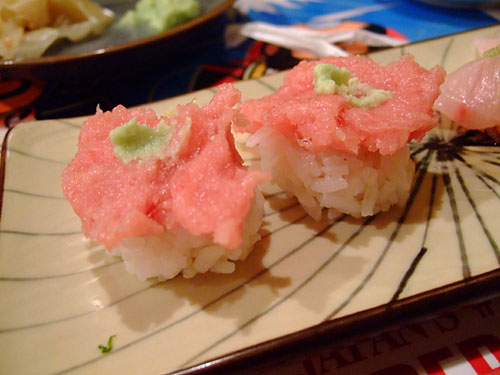 11: Toro
This was not true toro, but cheek of toro or toro tartare as they called it. It was very smooth and soft, but not as oily as regular toro. I'm not sure why we didn't get the normal toro; I'm guessing that Katsu ran out since we came relatively late.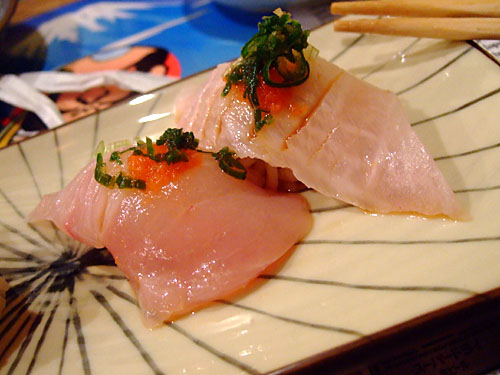 12: Aji
Spanish mackerel from Japan, topped with tobiko, scallion, and a touch of ponzu. This was definitely a unique expression of mackerel, it had a much milder taste and didn't have the typical mackerel fishiness.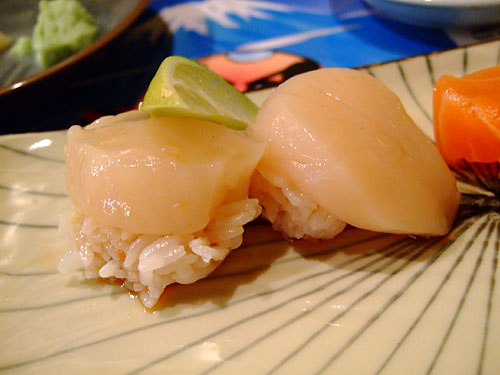 13: Hotategai
Firm, fresh scallop from northern Japan. Tasted even better with a sprinkle of the included lime.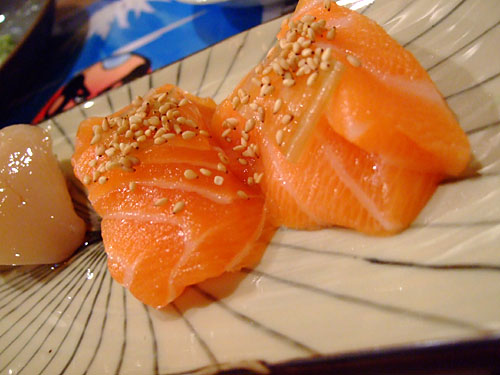 14: Sake
This was a great cut of salmon, which was made even better with the sesame. There was also something along with the sesame that I couldn't identify.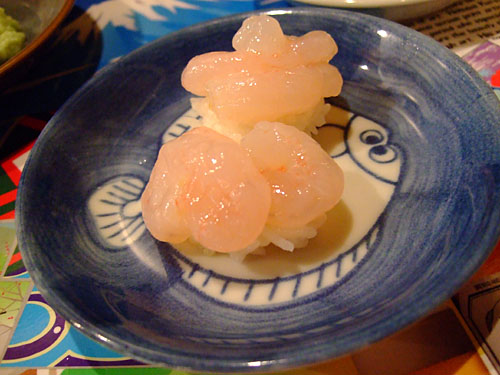 15: Amaebi
Sweet shrimp from Boston. This was not quite what I expected. This actually was very creamy and a lot like the shiro ebi from
Urasawa
, though I still prefer the traditional amaebi.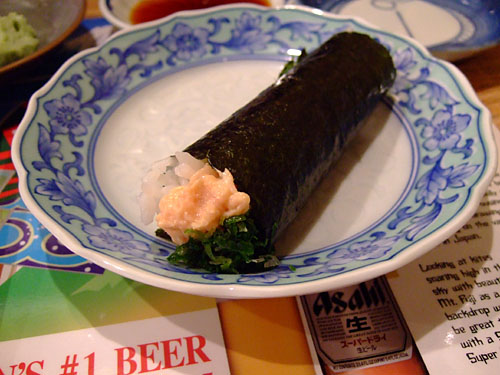 16: Spicy Tuna Hand Roll
A hand roll with tuna, scallion, and rice, again made in the oblong, cigar shape. This had a slight spiciness that I quite liked.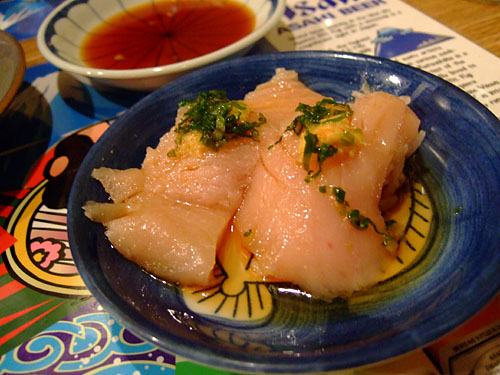 17: Shiro Maguro
They called this albacore belly, and I'm pretty sure this was my first time having it. It's not like normal albacore, but quite a bit richer. Picture a cross between albacore and toro.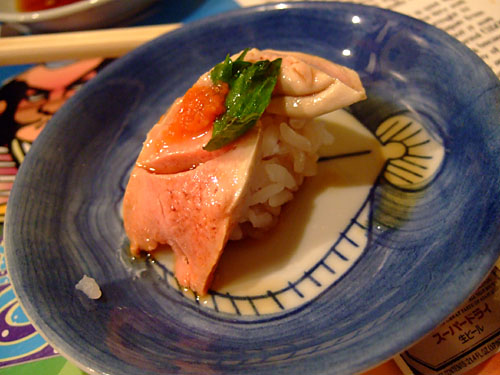 18: Ankimo
Monkfish liver with shiso and tobiko. Along with the uni, I was a bit wary of this dish, since my previous experiences with ankimo weren't great. But like the uni, this was also my best experience with the ingredient. Think of it as fishier foie gras.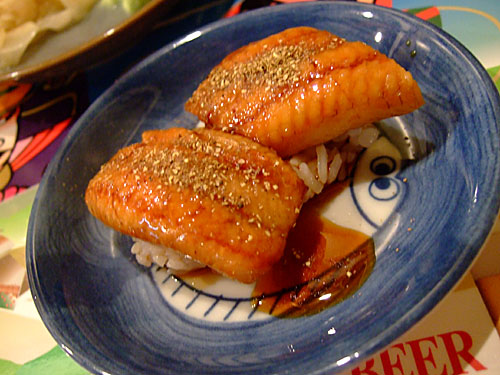 19: Unagi
Freshwater eel, our last course. Again, the was unlike the eel I typically have. The flavor was noticeably milder, and the fish not as strongly sauced. The spices sprinkled on the eel really added a nice contrast.
A lot of people say Wasabi has the best sushi in the OC, and I can believe it. The quality of the fish cannot be faulted, and I appreciate the flourishes that Aoyagi adds to many of his dishes. Though at the same time, his sushi is a bit different from the norm, being smaller, more
kawaii
if you will, and using wetter rice. I definitely recommend Sushi Wasabi, just make sure you know what to expect and go for the
omakase
.