Blue Star (Colorado Springs, CO) [2]
The Blue Star
1645 S Tejon St, Colorado Springs, CO 80906
719.632.1086
www.thebluestar.net
Wed 07/12/2007, 05:55p-06:45p
The Blue Star has been one of the Spring's most popular restaurants ever since its inception in 1995. It is also one of my favorites, so I often find the time to stop by on my trips.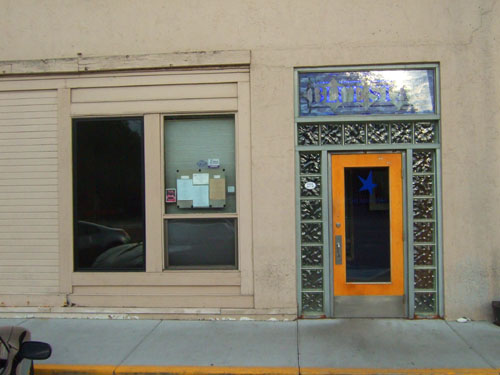 Located on a sleepy section of Tejon south of downtown, Blue Star's exterior is relatively modest. The restaurant also offers complementary valet parking on certain nights, which I did take advantage of.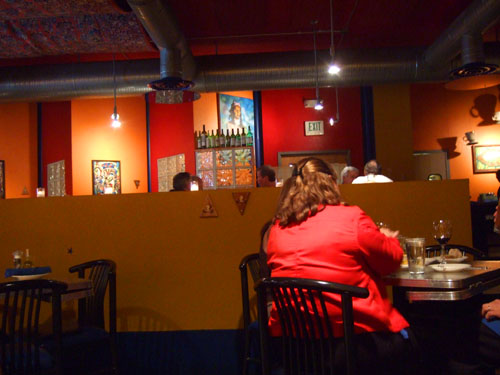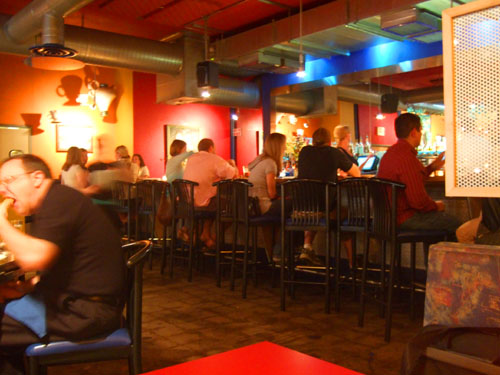 The Blue Star is split into two distinct main dining rooms: the more casual bar (pictured) and the white tablecloth dining room.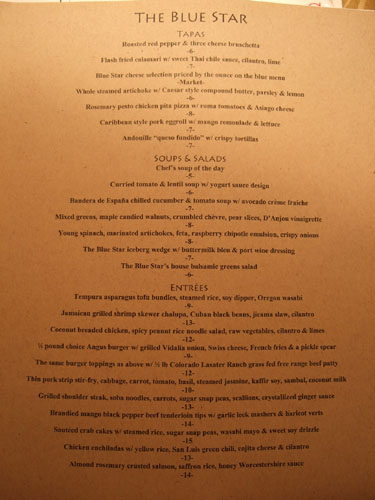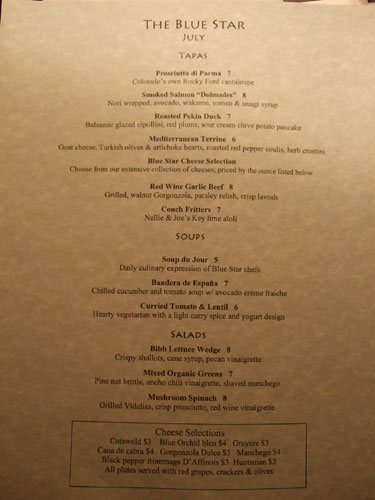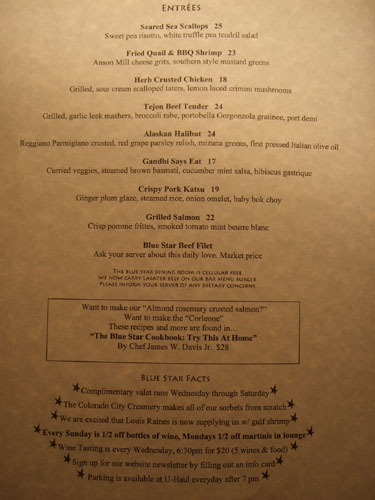 I was offered two menus: the bar menu (left) and the dining room menu, which has dishes that are a bit more substantial. One thing that I definitely appreciate is that the menu is innovative and changes extremely often, meaning that I rarely have the same thing twice. Click for larger versions.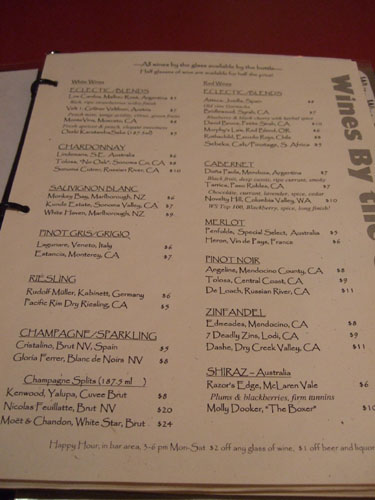 The by the glass wine list is provides a broad selection. More of course can be found in the regular wine list, but Blue Star also offers a reserve list with bottles in the four-figure range (including plenty of Domaine de la Romanée-Conti). Click for larger version.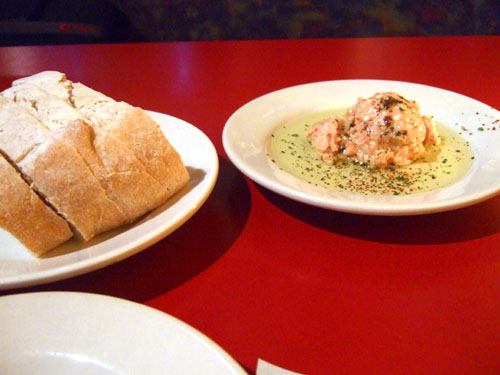 Bread and Hummus were excellent as usual. I'm not sure if I've had a better dip for bread anywhere.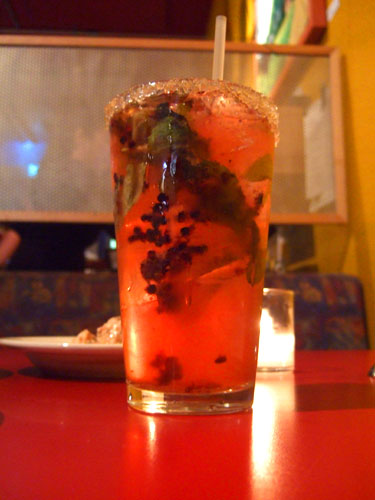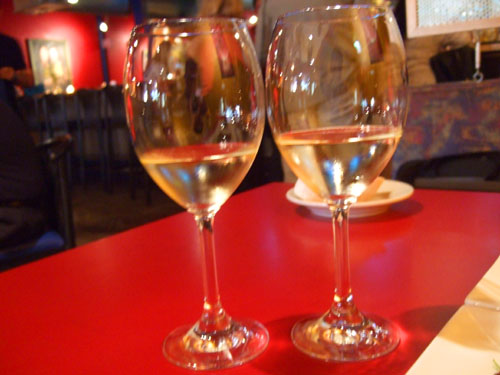 Continuing on with my recent mojito binge, this was an example made with blackberry-infused rum. It was an interesting twist but I think I still prefer the original. I also ordered a glass of Chardonnay, Tolosa "No Oak", Sonoma Co, CA and one of Sauvignon Blanc, Kunde Estate, Sonoma Valley, CA.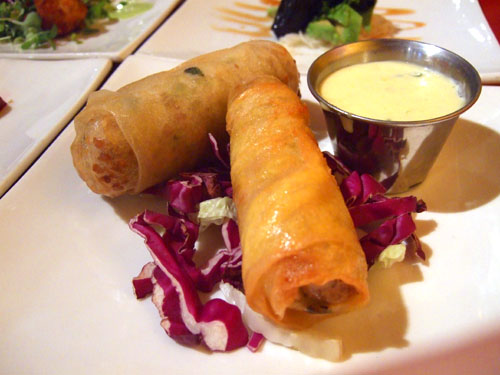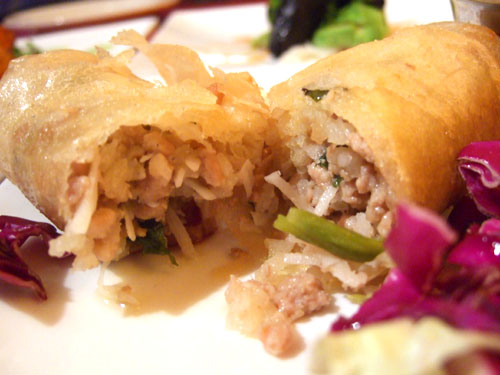 Caribbean style pork eggroll
With mango remoulade & lettuce. These were similar to the egg rolls I had
last time
, but better. I loved the remoulade.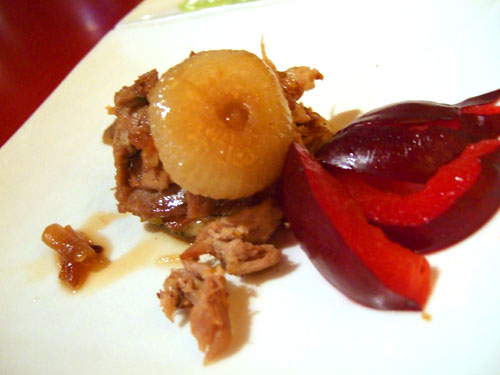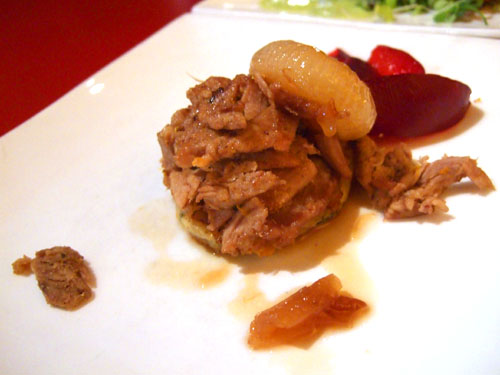 Roasted Pekin Duck
Balsamic glazed cipollini, red plums, sour cream chive potato pancake. I didn't particularly care for this dish, as I felt the duck was far too sweet. In fact, it didn't really resemble any Pekin duck I've had before. The plums were good, though I didn't get much of the pancake.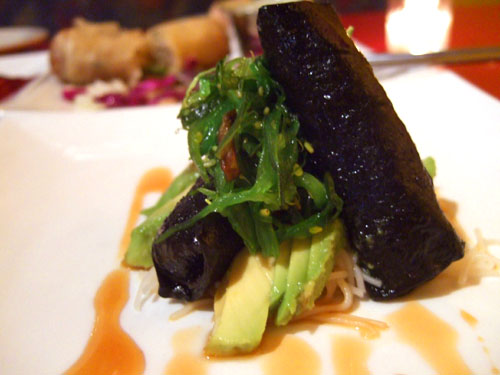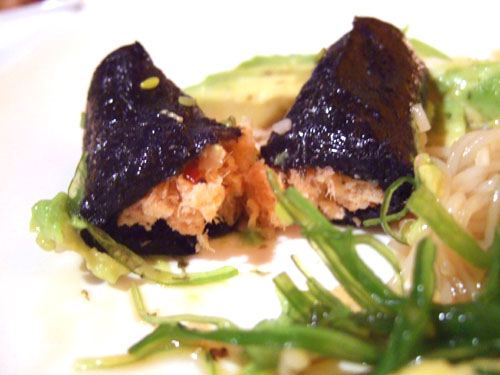 Smoked Salmon "Dolmades"
Nori wrapped, avocado, wakame, somen & unagi syrup. I've never had smoked salmon quite like this before. It actually reminded me a lot of a salmon sushi roll. It was tasty enough, though I would've liked a tad more salmon and fewer accoutrements.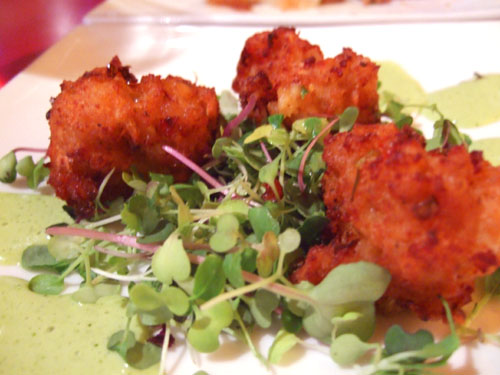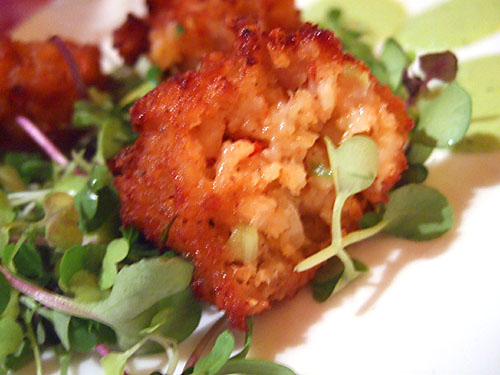 Conch Fritters
Nellie & Joe's Key lime aioli. I've never had conch before; in fact, I didn't even know it was edible. The conch had a very interesting texture, with a slight crunch, and a taste that was reminiscent of the beach.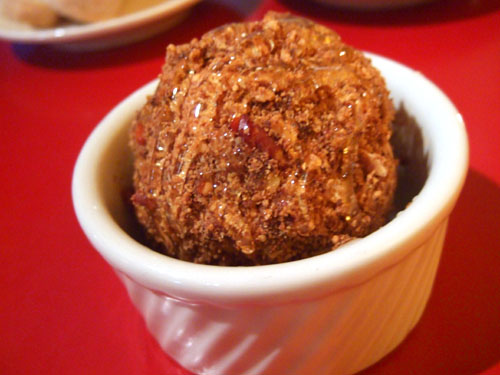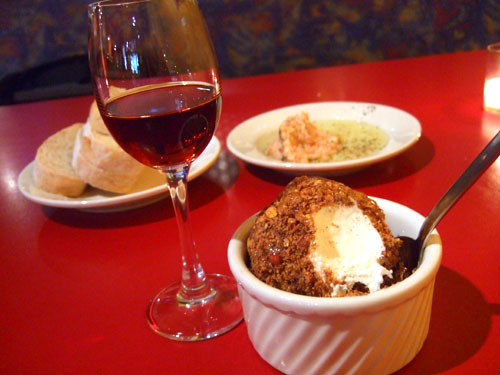 Corleone
Vanilla bean ice cream rolled in nutmeg, cinnamon, graham cracker, honey. This is Blue Star's signature dessert, one that "you can't refuse" apparently. Indeed, I would have a hard time refusing this, as the interplay between the ice cream and "crust" was simply heavenly. I was told that Thursday was free Port night, so I was given a complementary 1oz pour of Penfolds Tawny Port, which was surprisingly good.
Sure, there were a few misses this night, and this was thus one of the weaker meals I've had here. Nevertheless, my past experiences and the restaurant's constant innovation will keep me coming back.