Zengo (Denver, CO)
Zengo
1610 Little Raven St, Denver, CO 80202
720.904.0965
www.modernmexican.com/zengodenver/
Sun 07/08/2007, 06:30p-08:10p
Zengo ("give and take" in Japanese, apparently) is Chef Richard Sandoval's Asian-Latin entry in his expanding culinary empire (Sandoval owns a number of restaurants across the country, along with two others in Denver). In any case, the fusion sounded like an interesting one, and we were excited to give Zengo a go.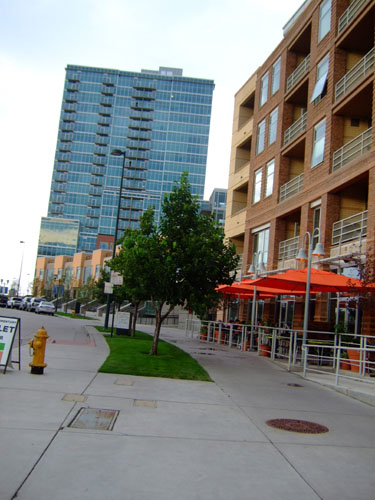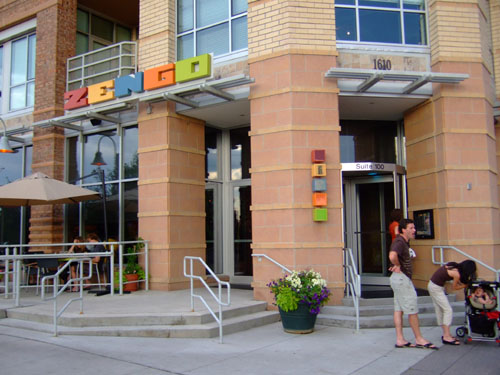 Located across from the Platte River and Commons Park, Zengo is situated in a tony section of Denver's Union Station neighborhood, near the trendy LoDo district.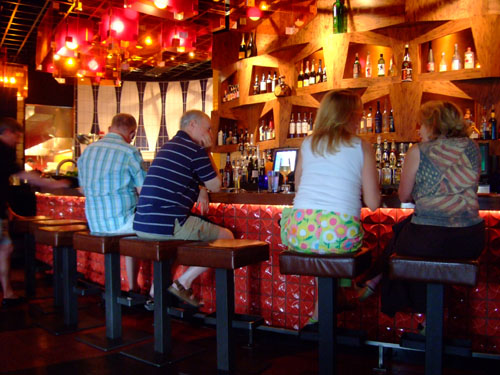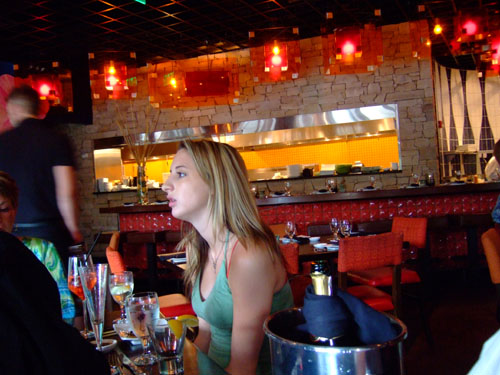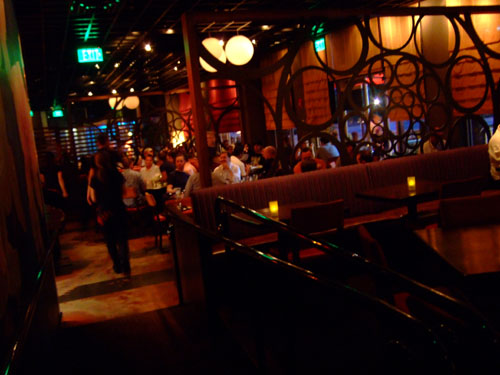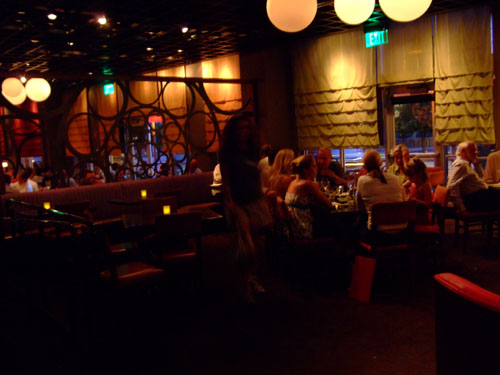 Zengo's interior provides a hip and fun air, with plenty of reddish tones. We arrived early and had a drink at the bar, only to be chatted up by an older man who seemed to take an unhealthy interest in us. I suspect he was drunk.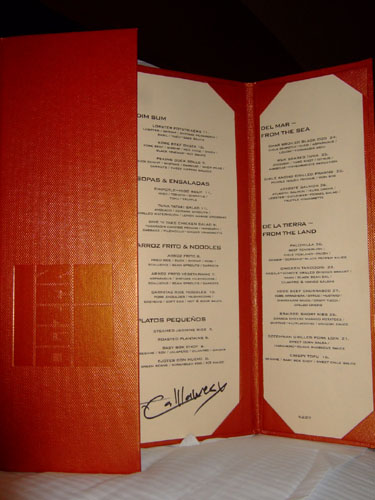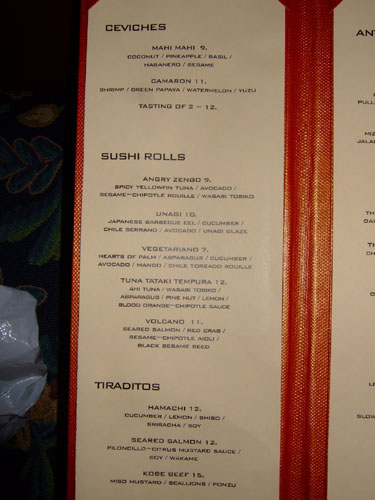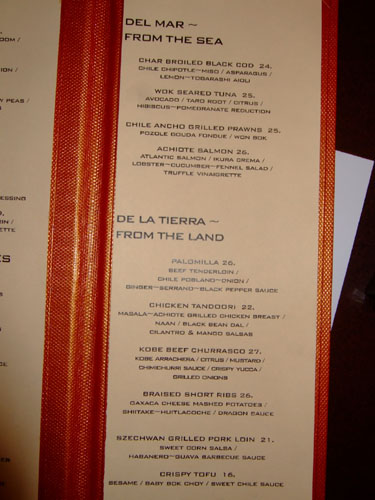 As always, we asked for signed copies of the menu at the end of meal. However, we experienced a first at Zengo: we were actually charged for them! $35 for two, specifically; at least we got to keep the covers, which were quite nice. In any case, the menu focuses on small plates, meant for sharing (which we definitely took to heart). The Chef de Cuisine is John Calloway. Click for larger versions.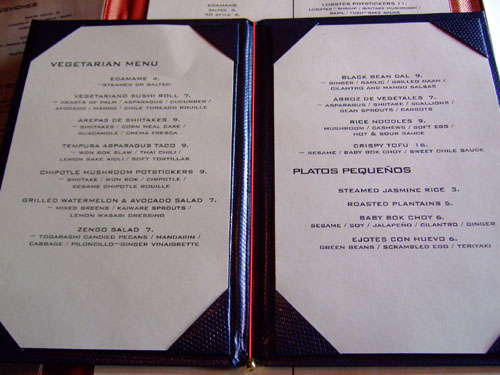 We also requested a vegetarian menu for a member of our party. Click for larger version.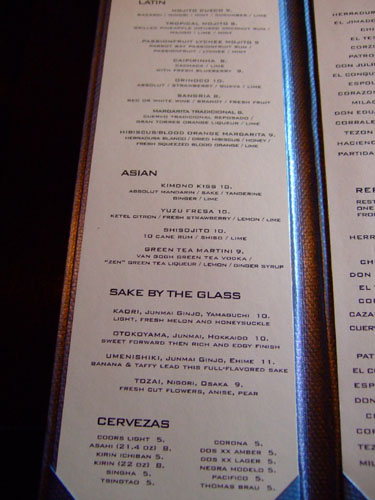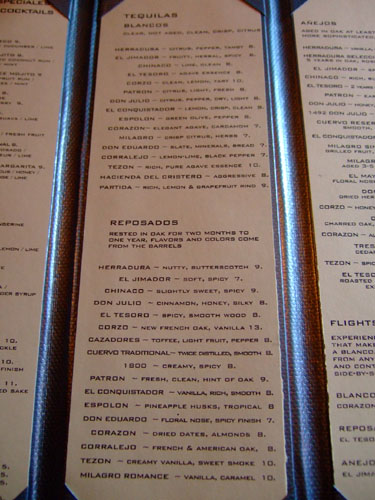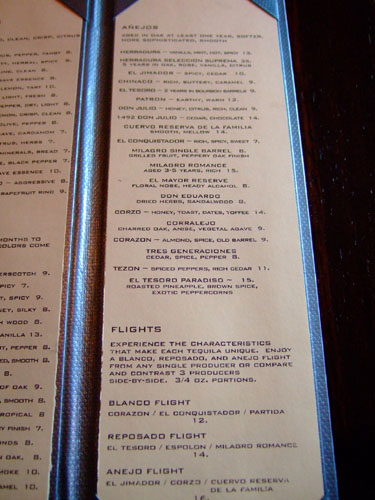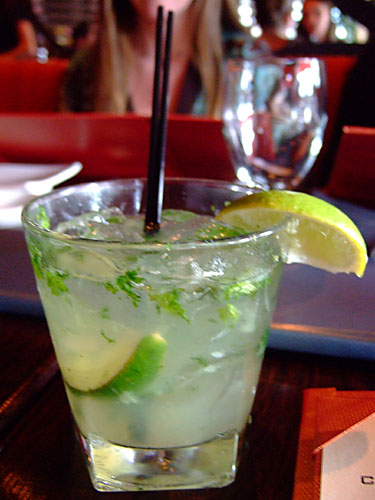 The drink menu is fairly extensive, with a large selection of premium tequilas. As usual, I had a mojito to start, which was tasty and deftly prepared. I also sampled their "shisojito," made with shiso instead of mint, which I found to be noticeably sweeter but still quite good. Click for larger versions.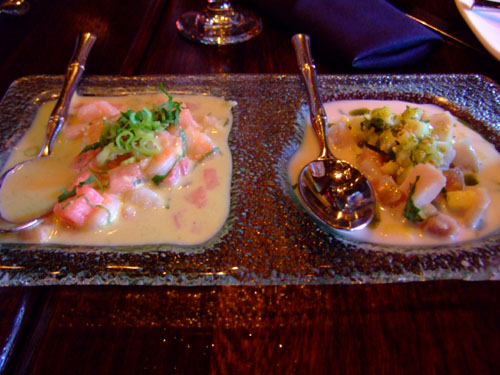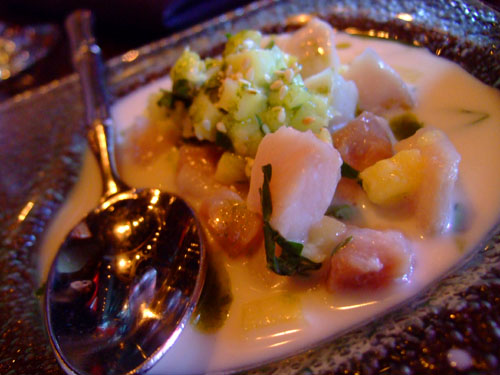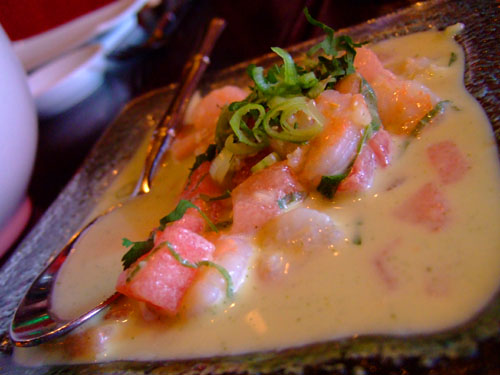 Tasting of 2 Ceviches
We decided to start with a sampling of two ceviches. The first was Mahi Mahi with Coconut, Pineapple, Basil, Habanero, and Sesame. It had a slight kick from the haberno but I thought it was a bit sweet from the coconut milk. The second was Camaron with Shrimp, Green Papaya, Watermelon, and Yuzu. I liked the zestiness of the yuzu and the watermelon was a nice touch. However, overall, I thought the flavors of the fish and shrimp didn't come to center stage as much as I would've liked.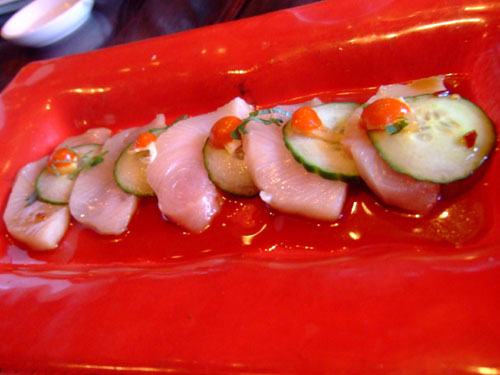 Hamachi Tiradito
Cucumber, Lemon, Shiso, Sriracha, Soy. Excellent, with great fish quality. I loved how the Sriracha provided fire and foil to the mildness of the yellowtail/cucumber combo.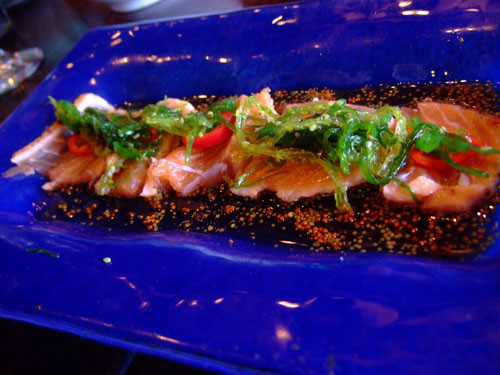 Seared Salmon Tiradito
Piloncillo-Citrus Mustard Sauce, Soy, Wakame. Again a very fresh tasting preparation of fish, in a very complementary sauce. I'm usually not a fan of wakame (kelp), but here it's taste and crunchy texture went well with the lightly seared salmon.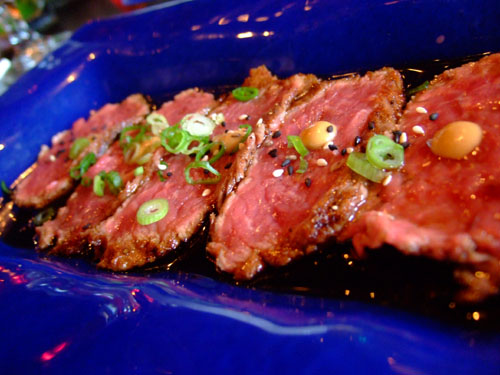 Kobe Beef Tiradito
Miso Mustard, Scallions, Ponzu. Not particularly tender or fatty for "Kobe" beef, this nevertheless proved to be quite delicious. The ponzu was an expected accompaniment, but the mustard gave the dish a nice punch.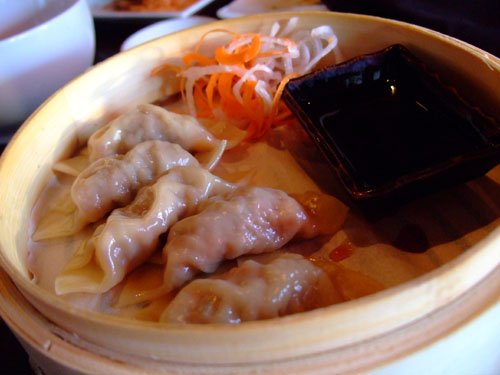 Kobe Beef Gyoza
Kobe Beef, Shrimp, Red Chile, Onion, Black Vinegar-Soy Sauce. The dumplings were very rich and had a slight bitterness that was tempered by a subtle sweetness. They went well with the soy sauce but easily stood on their own.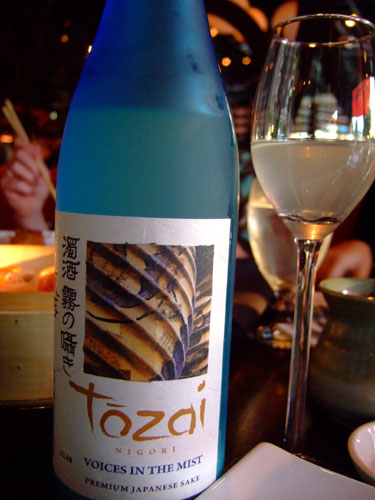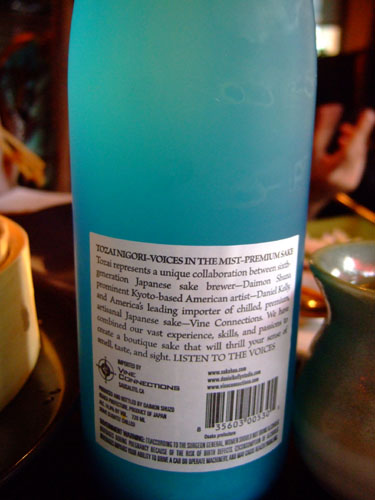 At this point, we ordered a bottle of Tozai, Nigori, Osaka "Voices in the Mist" sake, with hints of Fresh Cut Flowers, Anise, and Pear. We forgot to shake the bottle (a good idea with unfiltered sakes) so it became rather cloudy toward the end. A competent nigori, though not the best I've had.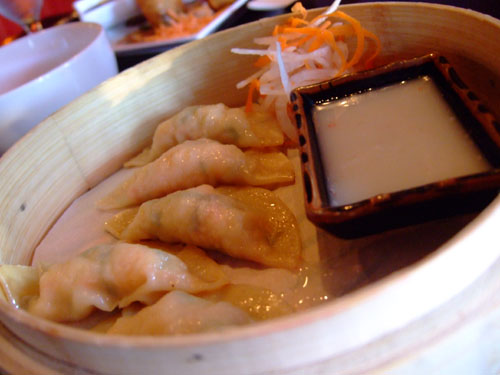 Lobster Potstickers
Lobster, Shrimp, Shitake Mushroom, Basil, Yuzu-Sake Sauce. The potstickers were citrus-y and a bit tart, which matched well with the sweetness of the dipping sauce. I'm not sure if I prefer this or the beef potstickers above.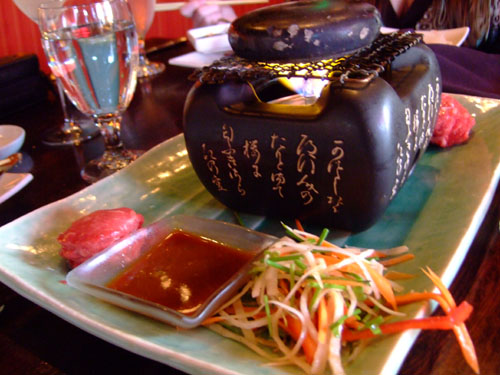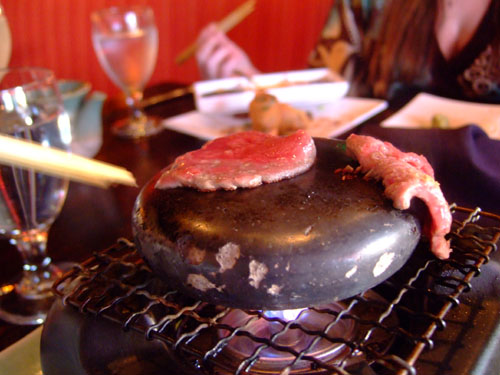 Kobe Beef
Cooked on a Hot Stone, Wasabi Dipping Sauce. Priced at $11 per ounce (a bargain compared to the $16/oz at Nobu Malibu!). Wagyu beef is best prepared rare, so I don't think we left a single piece on for more than 10 seconds. I even ate a piece raw, which actually was quite delish. Although not necessary, the dipping sauce went great with the beef (and added a nice sounding sizzle on the stone). Great presentation too!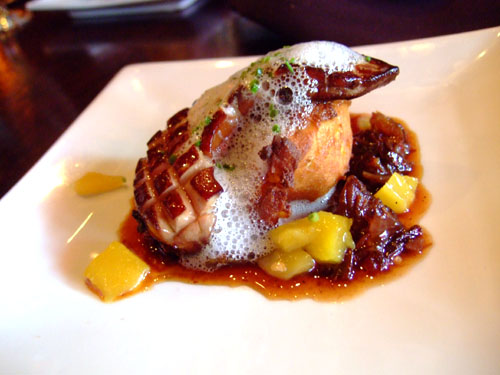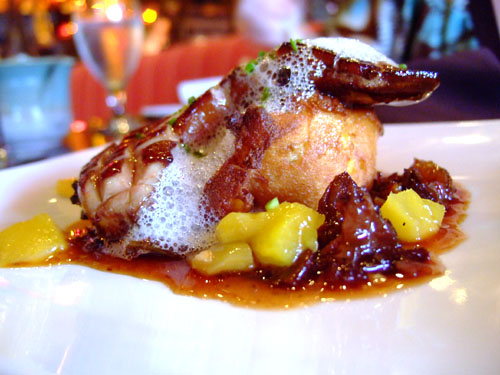 Seared Foie Gras
Oxtail Marmalade, Corn Fritter, Poached Mango, Citrus. This was a competent preparation of foie, but a touch sweet overall, possibly due to the mango. I didn't care for the corn fritter, which proved far too saccharine. Interestingly enough, this was the first taste of foie for a few members of our party. Overall, they didn't mind the taste so much but objected to the soft, creamy texture of the liver.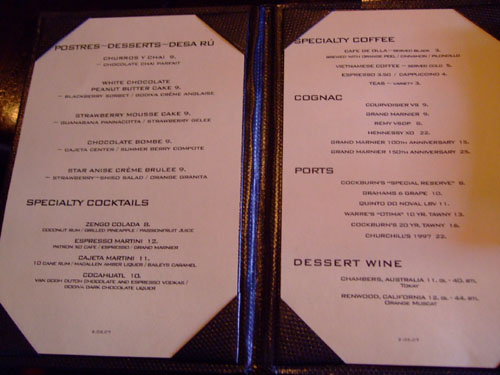 At this point, it was time to decide on dessert (I always save room for dessert). However, I declined an after-dinner drink, as I had a long drive down to Colorado Springs that night. Click for larger version.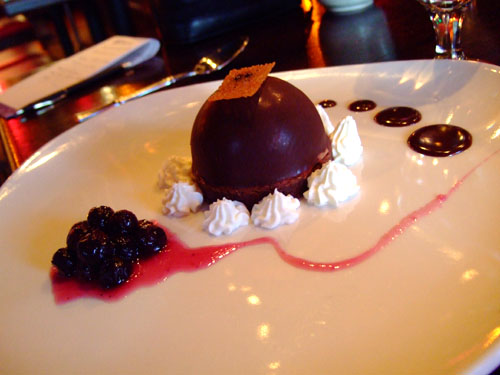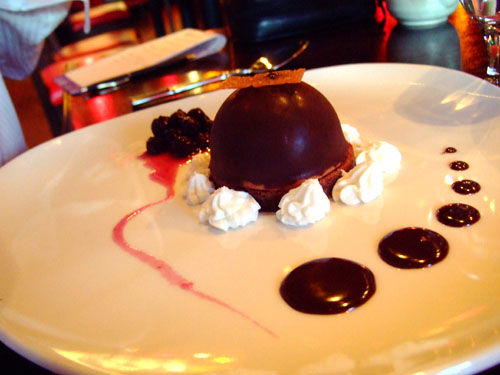 Chocolate Bombe
Cajeta Center, Summer Berry Compote. I loved the soft cajeta (paste made from caramelized sugar and milk) center and blueberries. Overall a great dessert.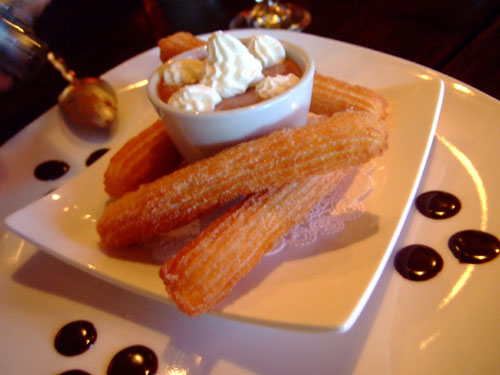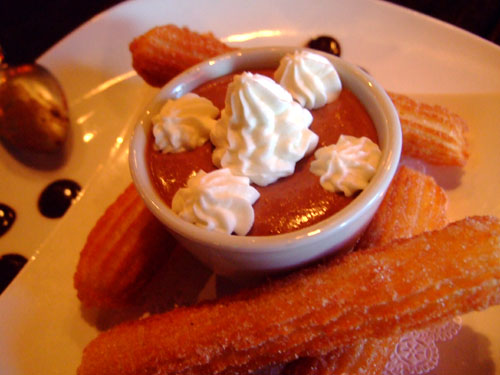 Churros y Chai
Chocolate Chai Parfait. I enjoyed the churros immensely, but some complained that the centers were too soft. Good enough on their own, they were brought to the next level when dipped in the parfait. Even better than a similar dish at
Catal
. Fantastic.