Nosh (Colorado Springs, CO)
Nosh
121 S Tejon St, Colorado Springs, CA 80903
719.635.6674
www.nosh121.com
Tue 07/10/2007, 06:30p-07:15p
Nosh is the new restaurant at the FAC (Fine Arts Center) Modern in Downtown. It focuses on "tapas"-style small plates, a concept I admittedly do find appealing and intriguing.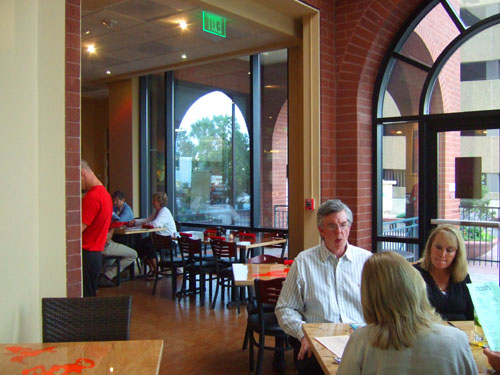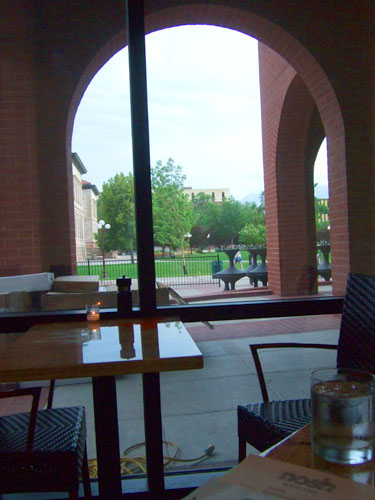 Nosh's interior is open and airy, with high ceilings and plenty of exposed brick. Diners enjoy a great view of Pioneer Square Park. There is a main dining room with bar, and a smaller room off to the side where I sat.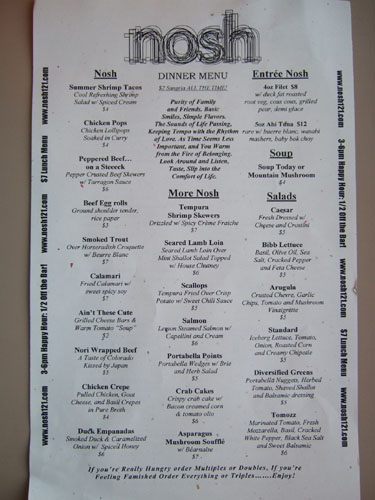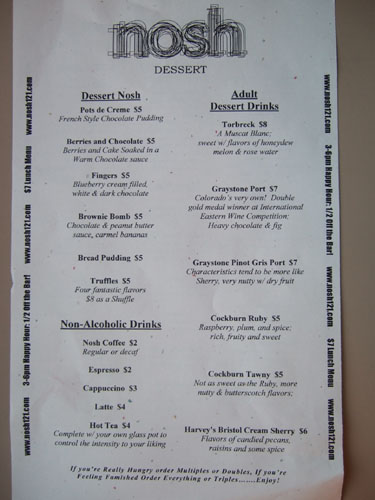 The menu consists of an array of interesting-sounding small plates meant for sharing. Prices are extremely reasonable, especially since I imagine most people will be quite satiated with four courses (it took six for me). Click for larger versions.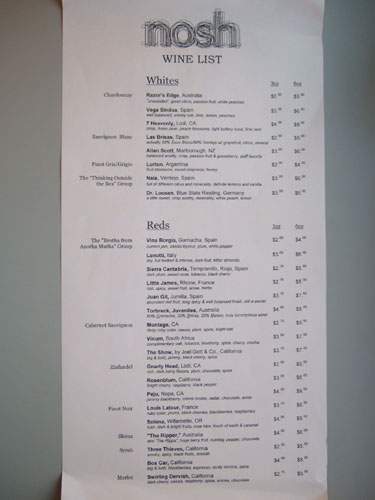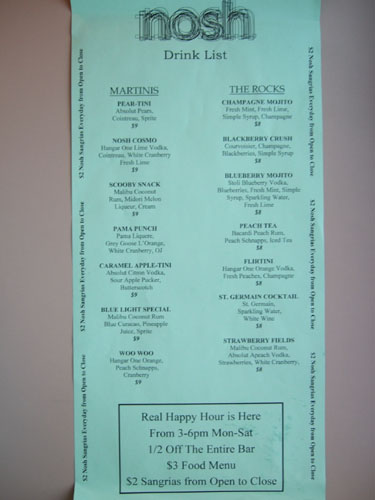 The wine list is short but sweet, with choice selections from around the globe. The offerings by half glass are a nice touch. The drinks list looks decent too, though I didn't order anything off it. Click for larger versions.
For the first three seafood courses, I enjoyed two half glasses of Dr. Loosen, Blue Slate Riesling, Germany (a little sweet, crisp acidity, minerality, white peach, lemon) and Allan Scott, Sauvignon Blanc, Marlborough, NZ (balanced acidity, crisp, passion fruit & gooseberry).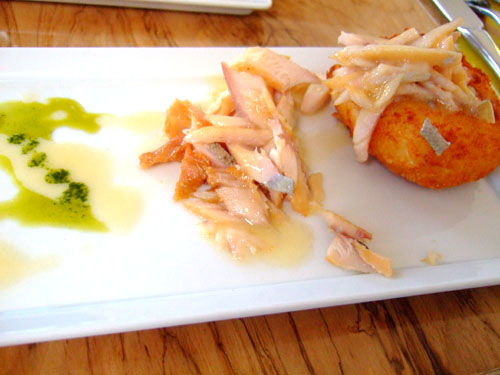 Smoked Trout
Over Horseradish Croquette w/ Beurre Blanc. The trout was decent enough, especially when eaten with the beurre blanc, though it was not quite what I expected from a smoked preparation. The round thing was a "corn fritter" and was quite tasty.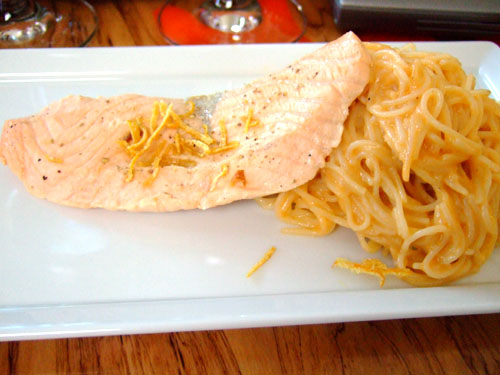 Salmon
Lemon Steamed Salmon w/ Capellini and Cream. The salmon was cooked well, moist and not too dry, but I didn't particularly care for the lemon flavor. But my main complaint with the dish was that there was far too much capellini ("thin hair"), or Angel Hair pasta, to handle.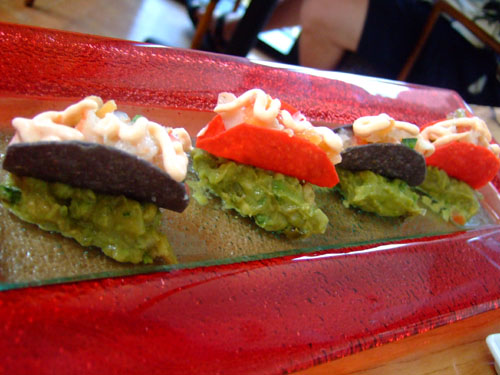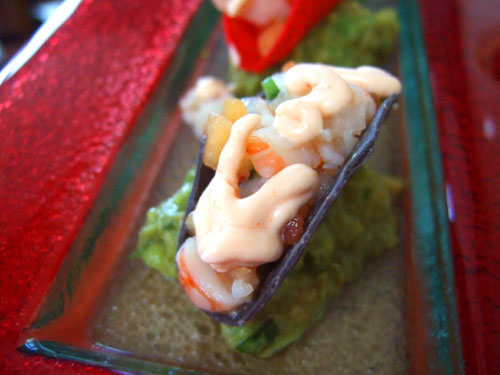 Summer Shrimp Tacos
Cool Refreshing Shrimp Salad w/ Spice Cream. I loved the shrimp/cream interplay and the guacamole as well. Each "taco" was a delicious self-contained bite; my favorite dish of the night!
For the meat dishes, I paired a half glass of Box Car Syrah, California (big & lush, blackberries, espresso, dusty tannins, spice). The wine was very bold and held its own against the stronger flavors of the beef and lamb.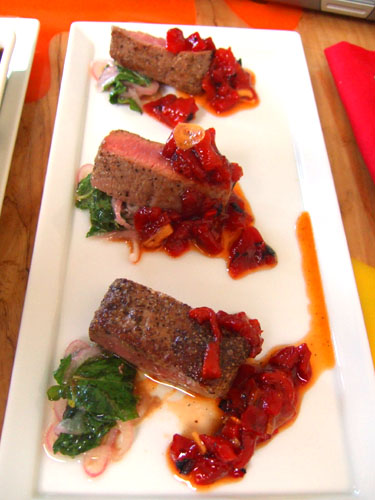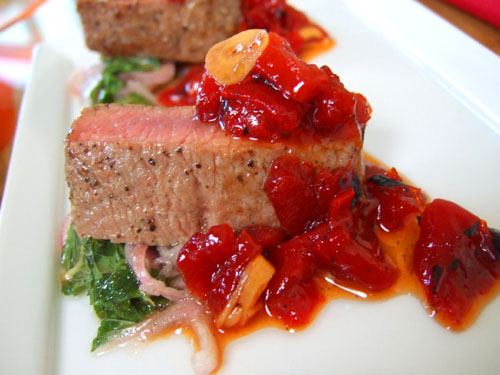 Seared Lamb Loin
Seared Lamb Loin Over Mint Shallot Salad Topped w/ House Chutney. The lamb was nice and peppery though cooked a bit too well done. I enjoyed the salad but thought the red pepper chutney was a bit sweet.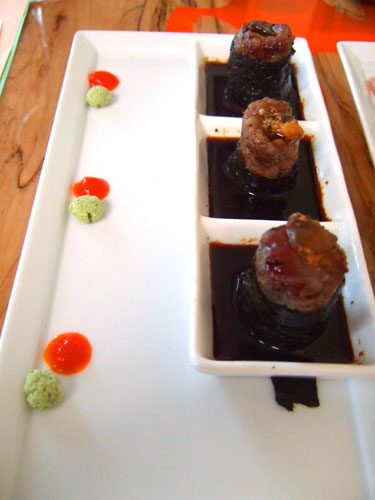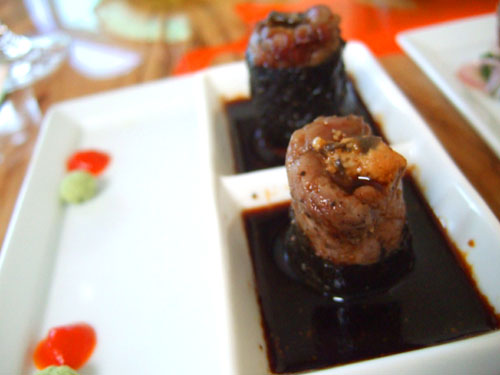 Nori Wrapped Beef
A Taste of Colorado Kissed by Japan. Basically pieces of beef wrapped in seaweed, bathed in soy sauce, served with Sriracha and wasabi. An interesting concept, though the beef was a bit chewy and tended to be dominated by the soy, though the sauce was tempered when the beef was taken with the garnishes.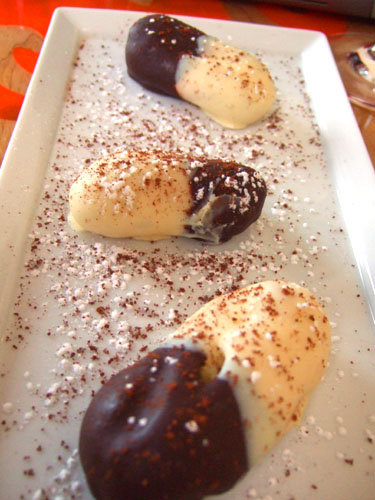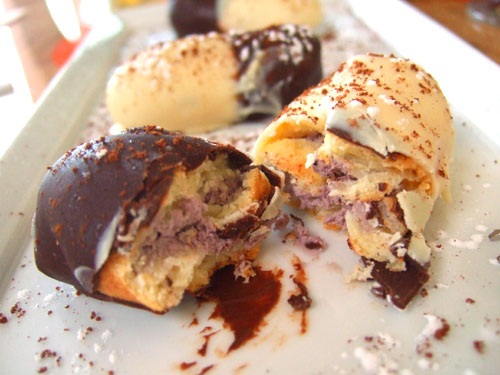 Fingers
Blueberry cream filled, white & dark chocolate. I had this with a glass of Torbeck Muscat Blanc (sweet w/ flavors of honeydew melon & rose water). Rich chocolate taste with subtle blueberry notes. Very nice, these were a great way to end the meal!
I really like Nosh's concept of small plates, as it allows me to create my own "tasting menu" of sorts. After all, I do enjoy trying as many dishes as possible over the course of a meal. Although there were a few misses, I see real potential here. I just hope Nosh lasts until my next visit to the Springs!