Napa Rose (Anaheim, CA)
Napa Rose
1600 S Disneyland Dr, Anaheim, CA 92802
714.300.7170
disneyland.disney.go.com/disneyland/en_US/hotels/dining/detail?name=NapaRoseDiningPage
Fri 07/27/2007, 08:40p-11:45p
My first experience at Napa Rose, three years ago, wasn't particularly positive. I wasn't impressed by the signature "Seven Sparkling Sins" nor the mediocre grilled shrimp entrée I had. However, that meal occurred during the formative stages of my foodie development, so recently I began to wonder if the food had simply gone over my head at the time. I was eager to give Napa Rose another shot, and my MBA study group's end of year dinner provided the perfect opportunity. We even enjoyed a 20% cast member discount, courtesy of one of my teammates!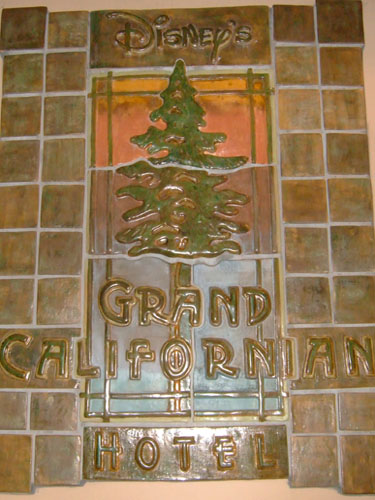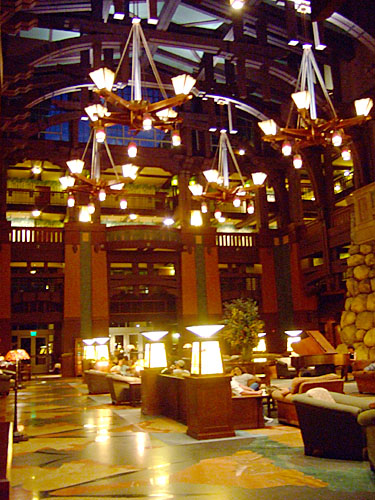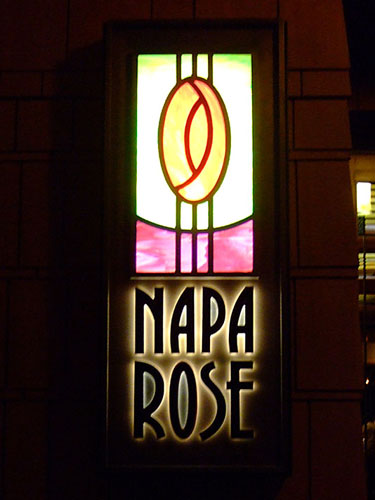 After dropping off your car at the complementary valet, you pass through the vast lobby of the Grand Californian before heading outside to the restaurant. I still find it a bit strange that a restaurant of this caliber is located inside Disneyland.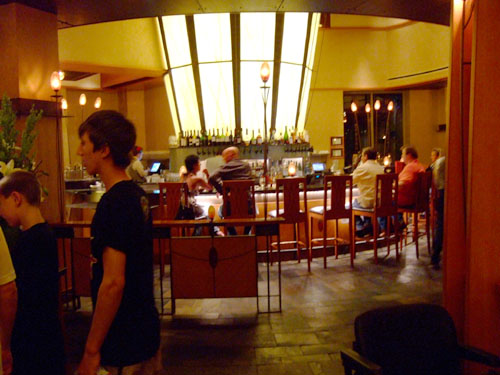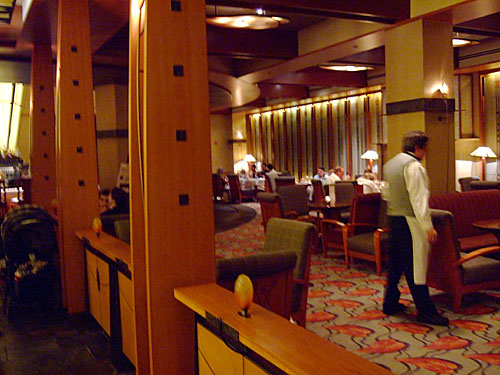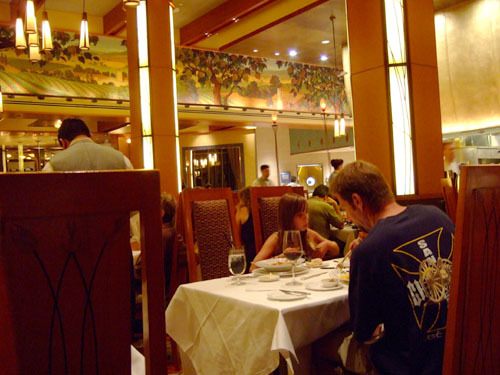 The interior is large and open, very "Californian" I suppose. As can be seen in the photos, Napa Rose has no formal dress code, which is a bit unfortunate in my opinion, as I find it detracts a bit from the fine dining experience.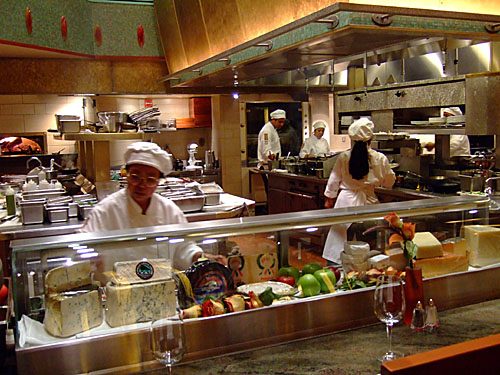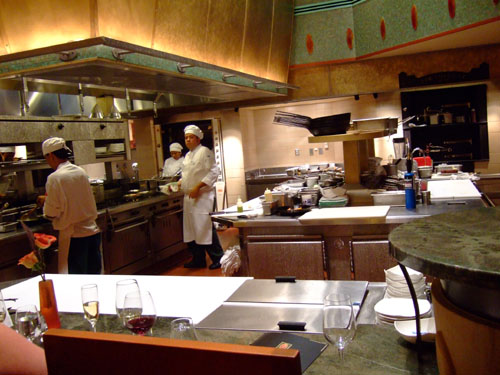 Walking to our table, we pass the huge open exhibition kitchen. Note the counter tables, where diners can watch their dishes being created.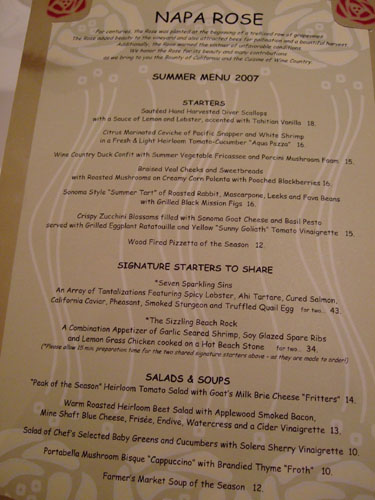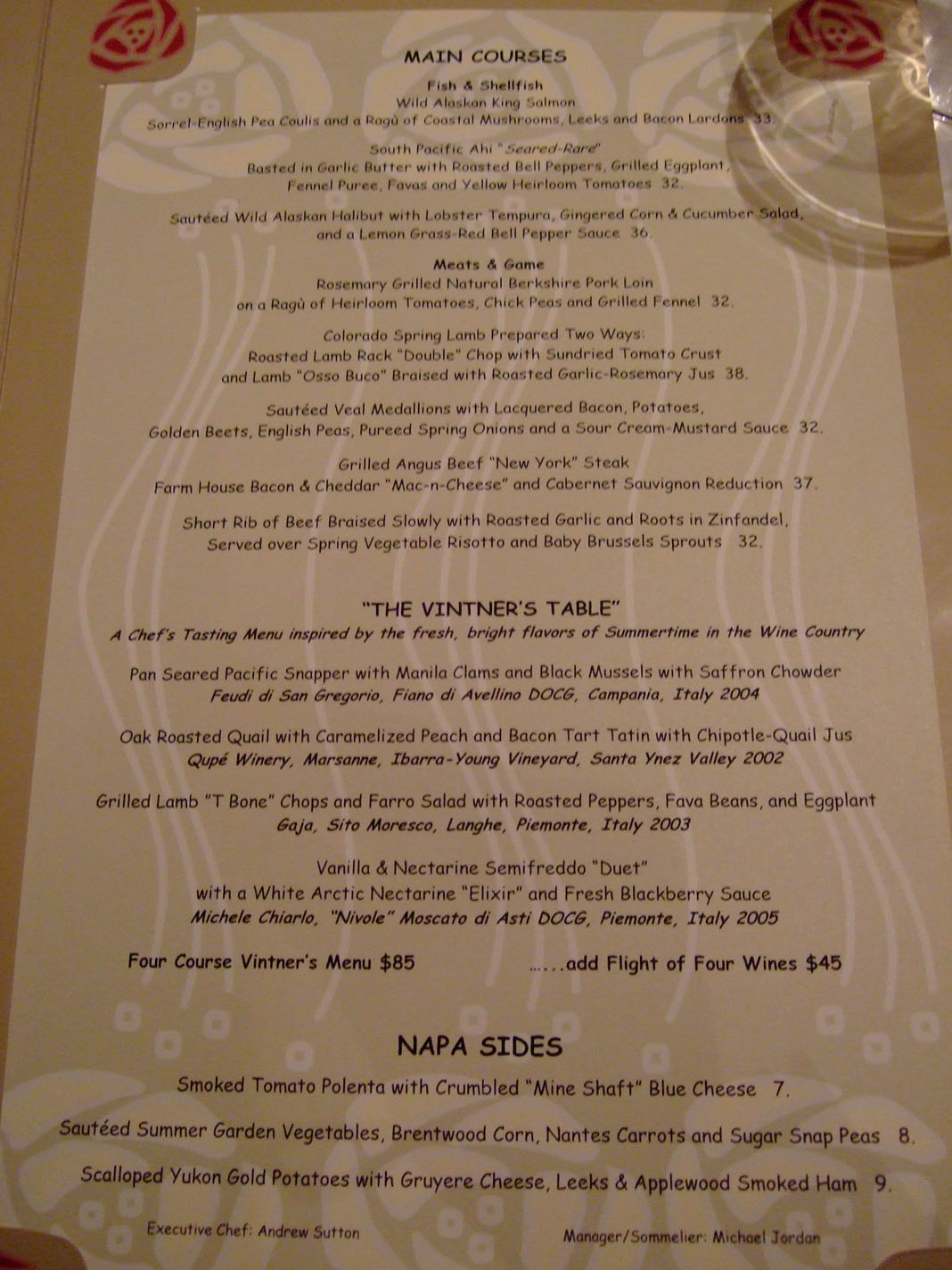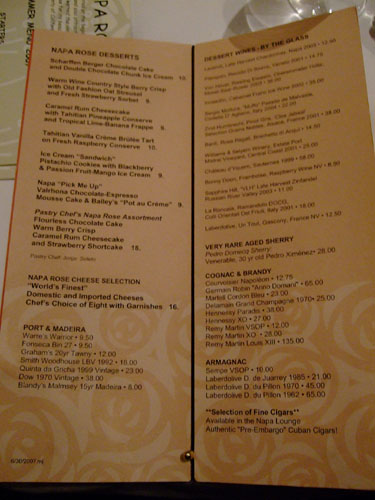 The dinner menu offers many interesting selections. A four-course "Vintner's Table" is offered nightly and changed each Friday. Yes, four courses is indeed a bit sparse by my standards (having gone as high as 31, and routinely going into the teens); but apparently, an eight-course tasting menu is available via special arrangement. That's something I definitely want to try on my next visit. The Executive Chef is Andrew Sutton and the Pastry Chef is Jorge Sotelo. Click for larger versions.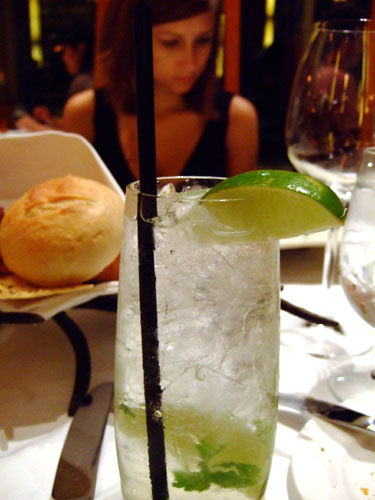 I started with a mojito, as is customary for me these days. This was a solid example, though just a touch too sweet. Interestingly enough, when others at my table ordered the drink, they came out significantly stronger. When we inquired about the discrepancy, it turns out that there was a change of bartenders!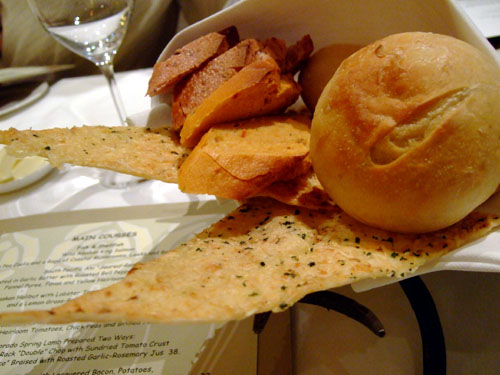 Four types of bread were offered: olive, tomato, a crispy flatbread, and a regular roll. I liked all of them, though I noted that our bread baskets were not refilled promptly.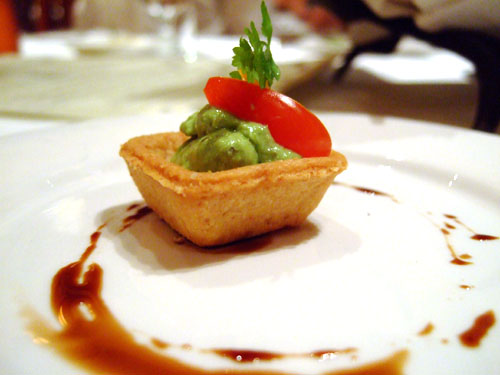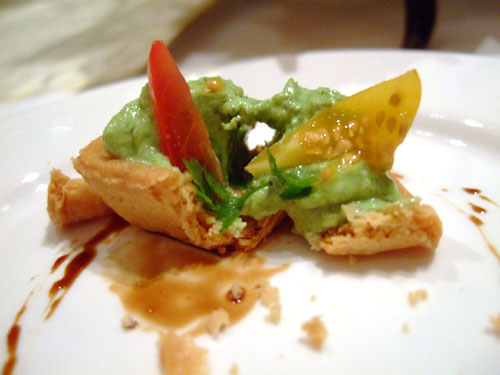 Amuse Bouche: Goat Cheese Basil Pesto Tart
Very pretty, but I found this a bit lacking in flavor, as I could barely tell this was goat cheese; I did enjoy the application of basil and pesto though. One of my dining companions had sort of an opposite reaction, finding the cheese "pretty strong."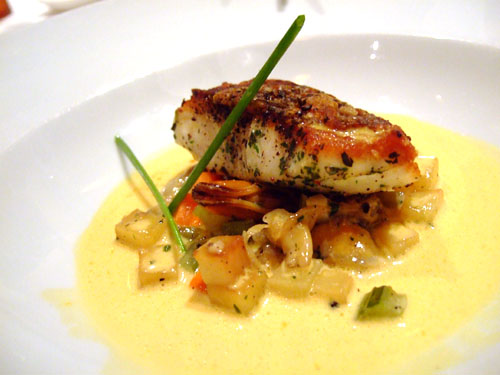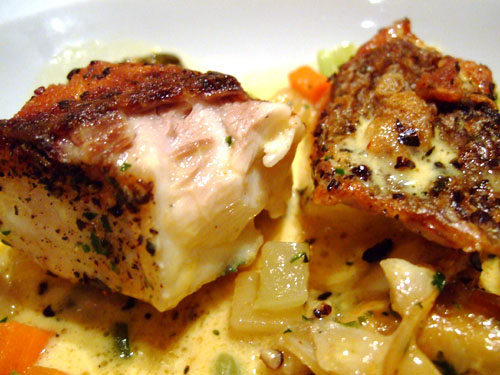 1: Pan Seared Pacific Snapper
Feudi de San Gregorio, Fiano de Avellino DOCG, Campania, Italy 2004
With Manila Clams and Black Mussels with Saffron Chowder. An excellent preparation of snapper, resoundingly fresh, with a firm, yet pliant flesh accented by a delectable crispy skin. This was the favorite dish of the night for one member of my party, who noted the harmonious interplay of flavors and the "perfect" selection of snapper for this dish. He even sopped up the chowder with bread afterwards! As for the wine, I don't believe any of us at the table were huge fans. It was the weakest pairing of the night for me, as I found it a bit too dry and herbaceous.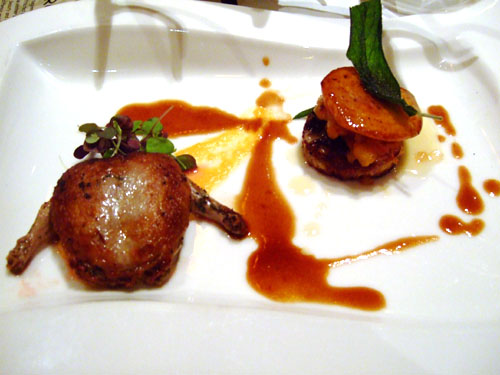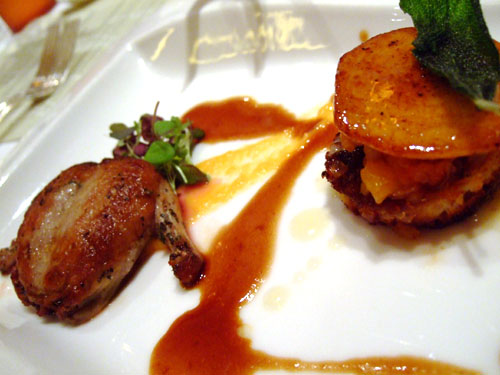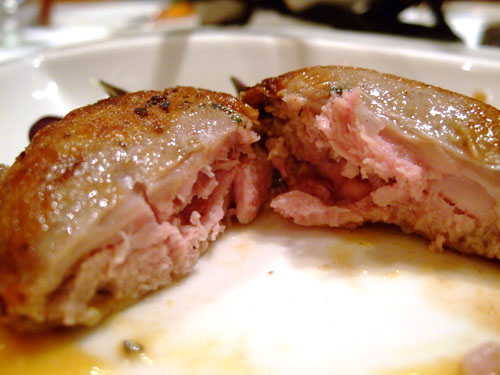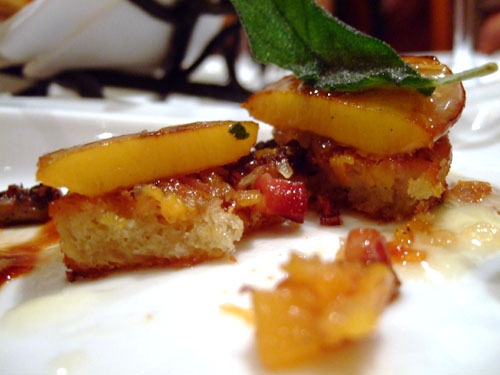 2: Oak Roasted Quail
Qupé Winery, Marsanne, Ibarra-Young Vineyard, Santa Ynez Valley 2002
With Caramelized Peach and Bacon Tart Tatin with Chipotle-Quail Jus. A superb preparation of quail, this dish provided perhaps my most flavorful bites of the night. The wine pairing was also a marked improvement from the previous course. Marsanne (usually blended with Roussanne, as was the case here) is a Rhône varietal that I'd like to see more often; in this lighter style from Qupé, it pairs quite well with food. One of my dining companions loved the tart tatin and how the bacon added a very "unique twist" to a peach cobbler. Another thought this dish was "much, much better" than anticipated. He was a bit wary going in, not usually eating quail, but found that the bird was akin to a "tender chicken wing". He was also unsure about the tart initially (as was I), but discovered that it worked "surprisingly well." Overall, he and I enjoyed both parts of this dish, but also felt that perhaps the flavors didn't link up as well as they could have.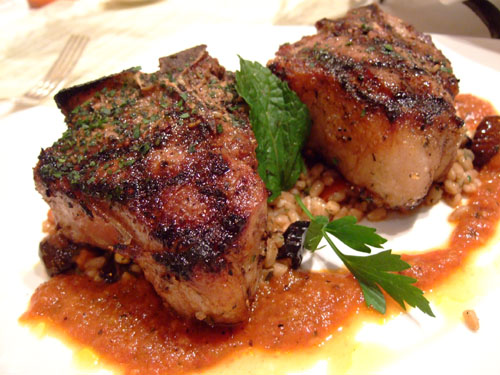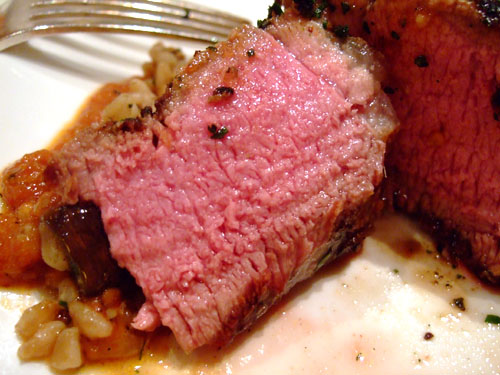 3: Grilled Lamb "T Bone" Chops
Gaja, Sito Moresco, Langhe, Piemonte, Italy 2003
Farro Salad with Roasted Peppers, Fava Beans, and Eggplant. This may have been my first time with a lamb "T-bone." I don't think this cut was as tender or flavorful as the "lollipop" chops I usually get, but I did enjoy it. My main complaint was that it was simply too much; I think this was the most lamb I've ever had at one sitting! One of my dining companions was not a lamb-eater and thus was not a huge fan of this course, but really enjoyed the accompanying flavors and spices of the dish (as did I). In fact, he even noted Indian or Persian flavors. The wine pairing, from legendary Barbaresco producer Gaja, was my favorite of the night. Sito Moresco combines the best of Nebbiolo, Merlot, and Cabernet Sauvignon in a delectable threesome. Easy-drinking, yet elegant and complex, with smooth tannins and a medium finish.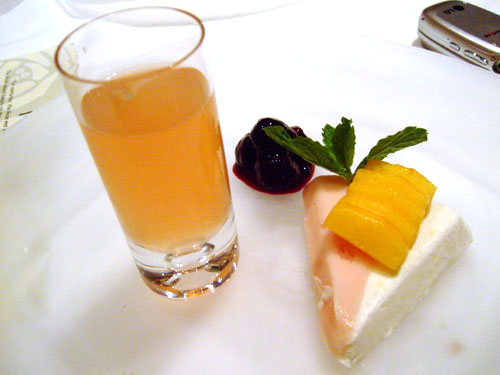 4: Vanilla & Nectarine Semifreddo "Duet"
Michele Chiarlo, "Nivole" Moscato di Asti DOCG, Piedmonte, Italy 2005
With a White Arctic Nectarine "Elixir" and Fresh Blackberry Sauce. Unfortunately, dessert was the weakest course for me and others as well. One of my dining companions really enjoyed the caramelized sugar crust of the "Creamsicle-like" semi-freddo and felt the course was light and refreshing, but thought that the mildly disparate flavors of the semi-freddo, elixir, and berries didn't meld as much as she would've liked. Another thought that the nectarine overshadowed the vanilla portion of the semi-freddo and was a bit "strange" when eaten with the blackberry. The elixir was a bit of a "novelty" and rather cloyingly sweet. I did thoroughly enjoy the paired Moscato di Asti however; it had a subtle sweetness that paired well with the wine's light carbonation.
The following dishes were not part of the Vintner's Table and were ordered by other members of my party. Unfortunately, I didn't have the opportunity to try most of them, so comments will be expectedly sparse.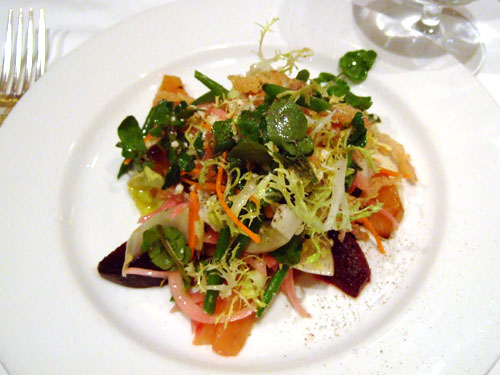 Warm Roasted Heirloom Beet Salad
With Applewood Smoked Bacon, Mine Shaft Blue Cheese, Frisée, Endive, Watercress and a Cider Vinaigrette.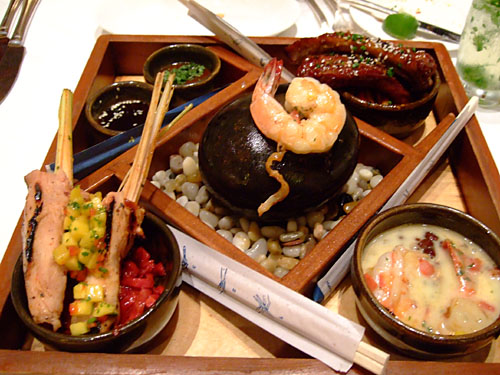 The Sizzling Beach Rock
A Combination Appetizer of Garlic Seared Shrimp, Soy Glazed Spare Ribs and Lemon Grass Chicken cooked on a Hot Beach Stone. Like the "Seven Sparkling Sins," this appetizer was also meant for two.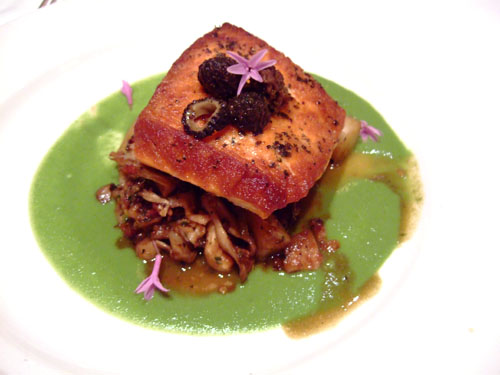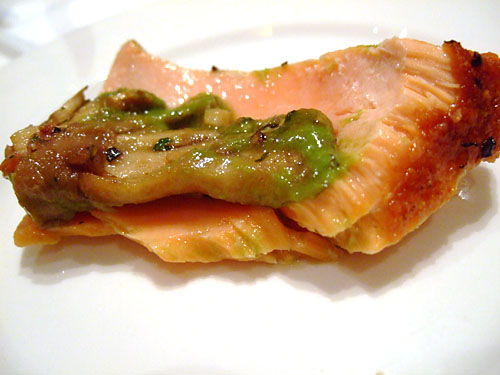 Wild Alaskan King Salmon
Sorrel-English Pea Coulis and a Ragù of Coastal Mushrooms, Leeks and Bacon Lardons. I got to try a piece of this (right photo) and thought that the salmon was expertly cooked, garnished well, and quite good.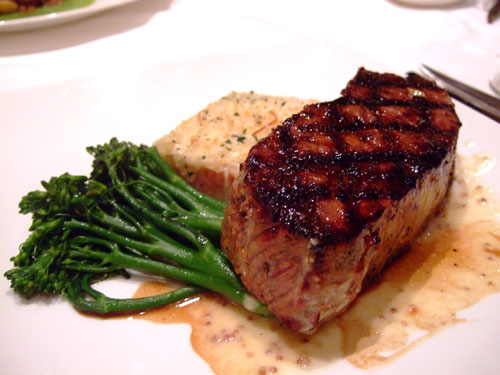 Grilled Angus Beef "New York" Steak
Farm House Bacon & Cheddar "Mac-n-Cheese" and Cabernet Sauvignon Reduction.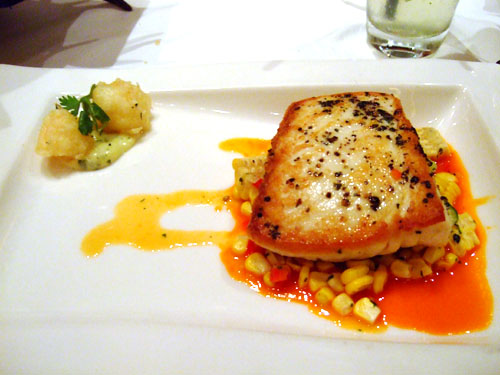 Sautéed Wild Alaskan Halibut
With Loster Tempura, Gingered Corn & Cucumber Salad, and a Lemon Grass-Red Bell Pepper Sauce.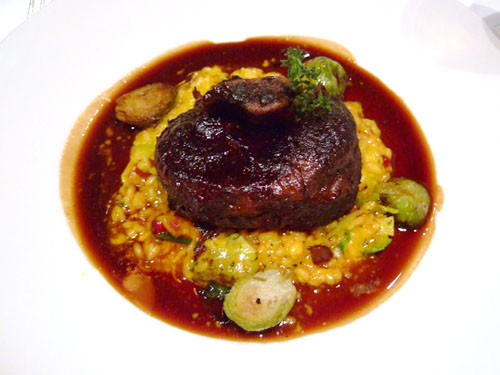 Short Rib of Beef Braised Slowly
With Roasted Garlic and Roots in Zinfandel, served over Spring Vegetables Risotto and Baby Brussels Sprouts.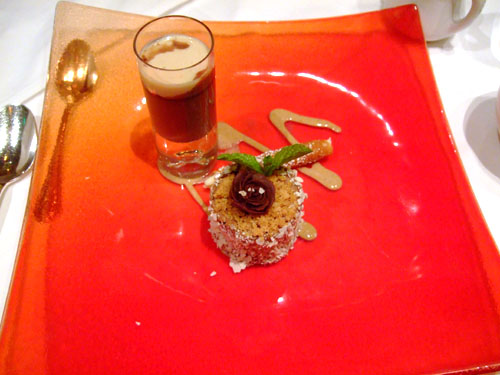 Napa "Pick Me Up"
Valrhona Chocolate-Espresso, Mousse Cake & Bailey's "Pot au Créme". Compared to our semi-freddo, this was "strikingly different," with "lush" flavors of Bailey's and chocolate.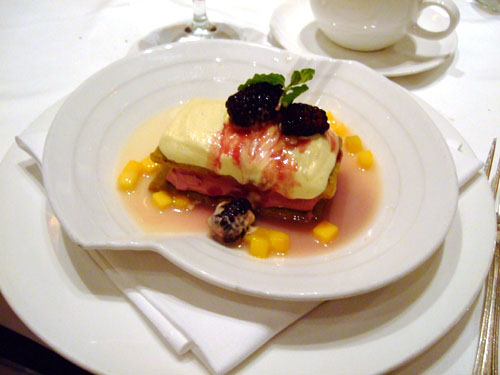 Ice Cream "Sandwich"
Pistachio Cookies with Blackberry & Passion Fruit-Mango Ice Cream.
To be honest, I was pleasantly surprised by the meal. Sure, there were a few minor misses, and the service could surely use some tweaking, but overall I definitely enjoyed my time at Napa Rose. I'm not sure if it's the restaurant that's improved, my palate, or both, but I'm looking forward to coming back for the extended tasting!