Houston's (Irvine, CA)
Houston's
2991 Michelson Dr, Irvine CA 92612
949.833.0977
www.hillstone.com
Thu 12/13/2007, 08:10p-10:10p
I like crab cakes, and the best I've had come from Gulfstream, a restaurant located in a corner of Fashion Island in Newport Beach (and I've had them in Maryland!). Only available on Saturdays, the cakes are so scrumptious that they're pretty much the only main course I ever get. Now Houston's is Gulstream's sibling restaurant, one that I had shunned for really no good reason. I actually ended up at Houston's on a bit of a whim. It was final exams week at school, and a few of my classmates wanted to have a nice dinner to celebrate the end of finals. Now, I still had an exam the following Tuesday so I couldn't really celebrate yet, but then again, I am generally loath to turn down an opportunity to try out a new eatery.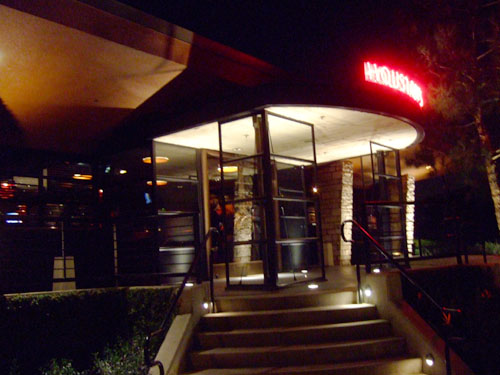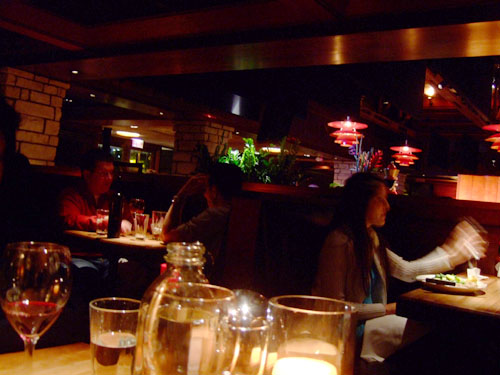 The layout of the restaurant is actually very similar to that of Gulfstream, with a large dining room separated into four sections, anchored on one side by the kitchen. The patrons, on the other hand, seemed a bit more diverse (not the typical Newport crowd, a good thing in my book).
While we waited for a table to open up, we popped a bottle of 2004 Schramsberg Brut Blanc de Blancs North Coast. Everyone seemed to enjoy this sparkler, which demonstrated a heady nose of citrus, followed by more citrus as well as toasted bread on the palate, leading the way to a rich, satisfying finish.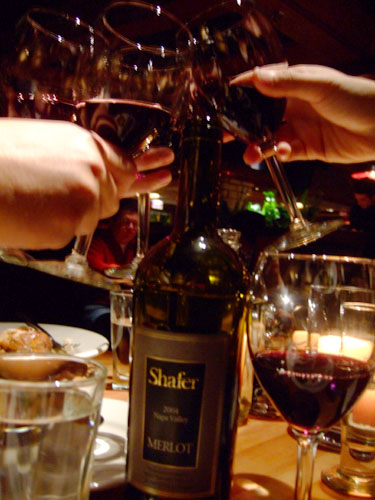 To stand up to the heavy meat dishes we were having, we went with a 2004 Shafer Merlot Napa Valley. The wine exhibited typical Merlot traits of lush dark fruit, with a medium weight and excellent balance; the finish was more of the same, along with a hint of smokiness at the end. We all enjoyed the wine, even one of my dining companions who doesn't normally enjoy red wine.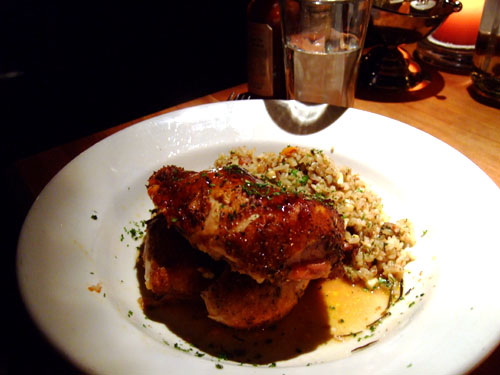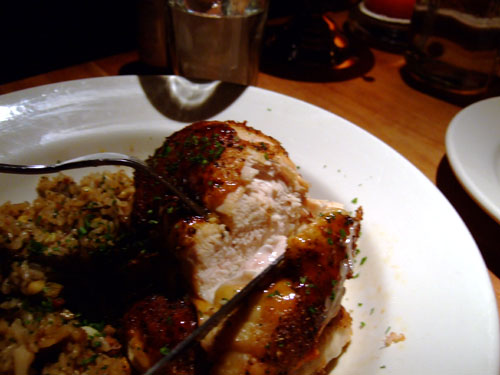 Rotisserie Chicken
Half a roasted chicken with crushed herbs, served with Louisiana-style dirty rice. For some reason, I'm very wary of ordering chicken at a restaurant, even though I'll often get other fowl such as duck, squab, and quail. Preparations such as this, however, surely go a long way in assuaging my fears. The bird was nicely spiced, cooked to a nice firmness, adequately juicy, and encased in a very flavorful skin (at least the small piece I had was).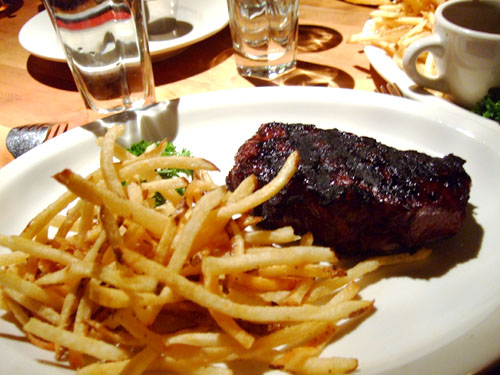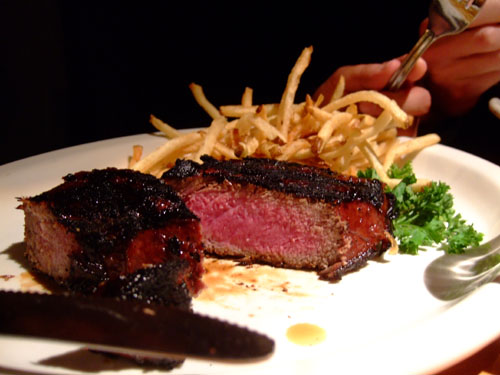 Hawaiian Rib Eye
Marinated then grilled over hardwood, served with French fries. I'm not sure what exactly was "Hawaiian" about this steak, but whatever it was, it worked pretty well. The rib eye seemed to have a crust of flavor baked on, which penetrated to some extent the bulk of the meat. This was probably my favorite entrée of the night, though I did enjoy all four main courses. Also, I must note that this was not as fatty as I expected from a rib eye, which isn't necessarily a bad thing. The requested temperature was medium-rare; however it looked more like medium to me. The French fries were a nice and fitting accoutrement.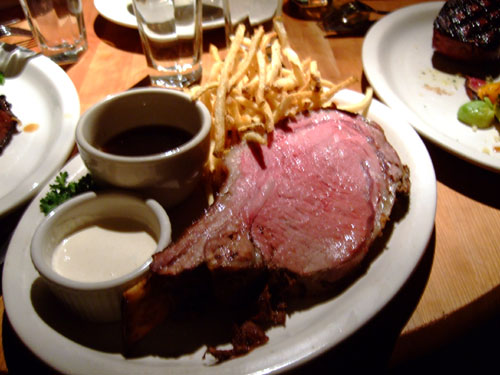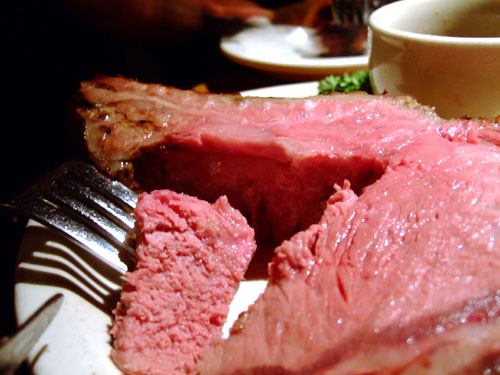 Roasted Prime Rib
Aged prime rib roasted on the bone, served with French fries. I've always shied away from ordering prime rib, being more of a "steak" guy. However, one of my dining companions was determined on showing me the error of my ways. I did have a few bites, and I'll admit, I was pleasantly surprised. It was a totally different, but as enjoyable, experience from steak, both in terms of flavor and texture. With that in mind, it is amazing that this prime rib and the rib eye above are actually the same cut of beef (a prime rib, if sliced when uncooked, yields the rib eye steak). One of these days I need to revisit
Lawry's
in Beverly Hills and try their famed interpretation of the roast.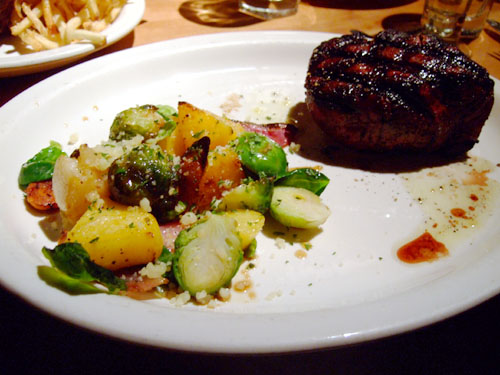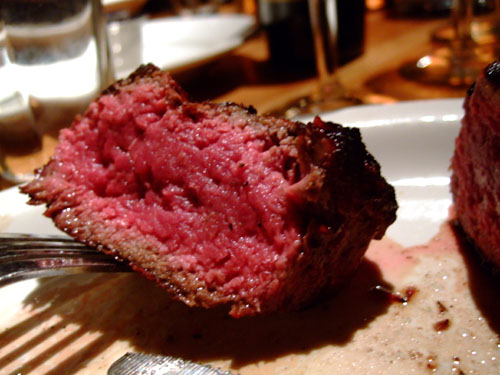 Center-Cut Filet
Center cut beef tenderloin grilled over hardwood, served with seasonal vegetable. This was actually the main course I ordered, medium-rare of course. This was a solid filet, both in terms of flavor and body, but not as good as what one could order at Ruth's Chris or Morton's, let alone
CUT
(to be fair, the price is correspondingly lower). Texture-wise, the steak was tender, though it didn't possess the grain that the best filets have; similarly, the flavor was also not as intense or "beefy" as it could've been.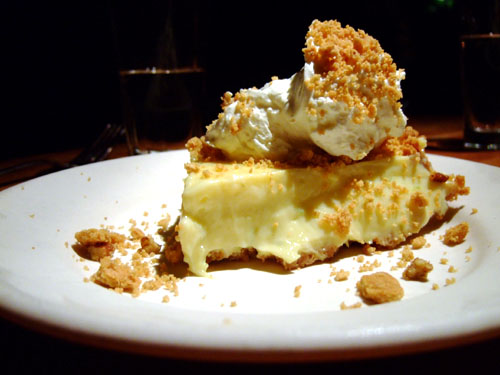 Key Lime Pie
At the end of the meal, we ordered two desserts for the table to share. I first asked if they had the fantastic tres leches cake from Gulfstream, but alas, they did not. I'm not a huge fan of key lime pie, as I find it a bit too tart generally, which was the case here. I also would've liked the filling to a bit firmer and more structured. The crumbs were a very nice addition however.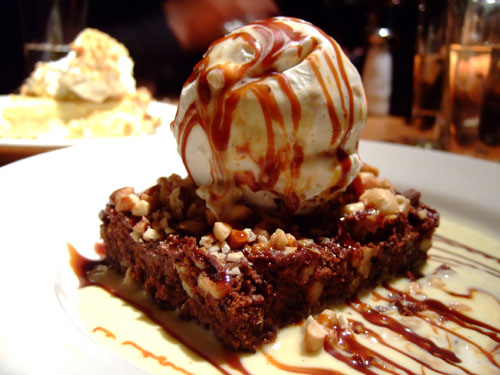 Warm Five Nut Brownie
We did like this dessert better, though it is pretty difficult to mess up a brownie. I especially enjoyed the interplay between the warm cake and the cool vanilla ice cream. Not exactly a creative preparation, but it works.
I didn't have high hopes for Houston's coming in, so I suppose it doesn't mean much that the place exceeded my expectations. Sure, it's not really fine dining, and the preparations aren't exactly cutting edge, but Houston's is a place where one can enjoy a good, hearty meal in a comfortable setting. Service is friendly, and prices are pretty reasonable to boot (especially the wine list, the Shafer was only $10 over release price, no corkage either!). So for what it aims to achieve, Houston's does indeed succeed.