Joël Robuchon (Las Vegas, NV)
Joël Robuchon
3799 Las Vegas Blvd S, Las Vegas, NV 89109
702.891.7925
www.mgmgrand.com/dining/joel-robuchon-at-the-mansion-french-restaurant.aspx
Thu 01/24/2008, 08:50p-12:10a
The advent of Joël Robuchon in Las Vegas ushered in the beginning of a new era: it firmly established the city as a culinary destination to be reckoned with. Once known for its all-you-can-eat buffets and $1.99 steaks, Sin City is now a showcase of the gastronomic world, with top chefs from around the globe establishing beacons in this desert oasis. In addition to Joël Robuchon, we have Alain Ducasse, Bobby Flay, Bradley Ogden, Charlie Palmer, Charlie Trotter, Daniel Boulud, David Burke, Emeril Lagasse, Guy Savoy, Jean-Georges Vongerichten, Mario Batali, Michael Mina, Nobuyuki Matsuhisa, Thomas Keller, Tom Colicchio, and Wolfgang Puck (whew!). But despite this formidable competition, Robuchon is the one and only to have garnered three Michelin stars; and it also the sole restaurant to have received a four-star review from LA Times' notorious food critic S. Irene Virbila. If you can only have one meal in Las Vegas, I firmly believe that this is the place to do it, assuming, of course, your wallet can stomach the damage.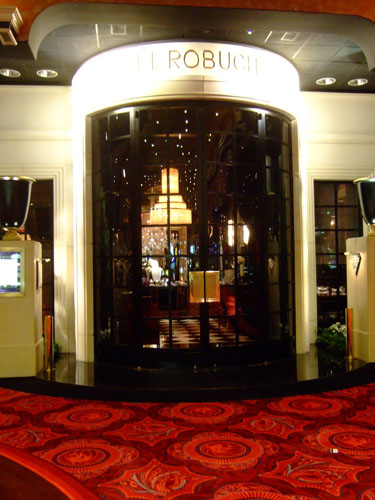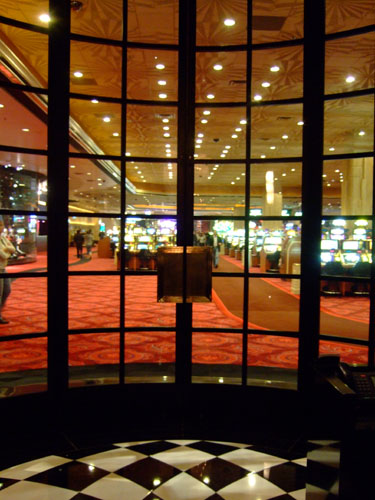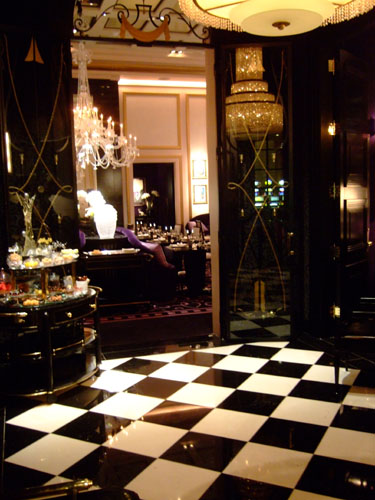 Although Robuchon is located just a few precious feet from the clamor of the casino floor, the restaurant provides a haven of tranquility once you step inside. The checkerboard tile of the lobby greets you before you enter the main dining room. To your left is the bar.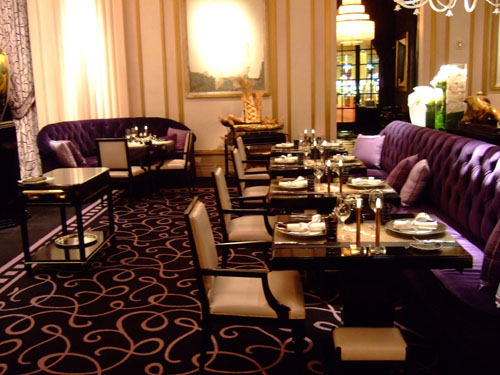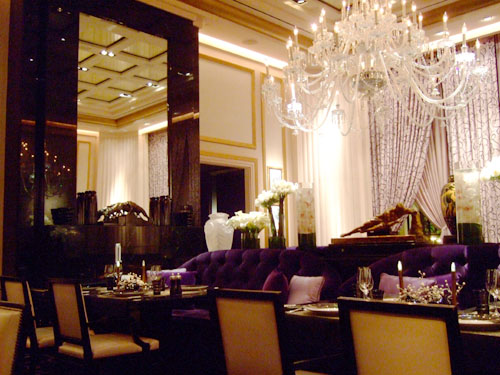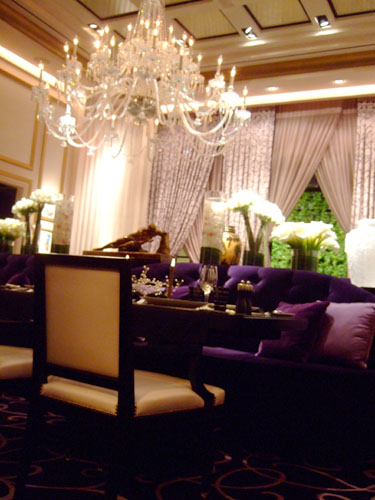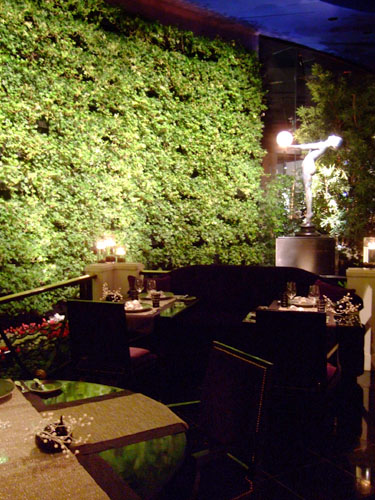 Robuchon's dining room is a relatively intimate affair; for me, it recalls a salon of a posh upper-class apartment in mid-century Paris, replete with a massive Swarovski chandelier, coffered ceilings, and posh aubergine sofas. It is quite simply one of the most luxurious dining rooms I've ever experienced. This salon opens up to an "outside" seating area complete with ivy hedges and stone statues (next time I'll try to sit here). According to our server, the dining room seats sixty, though they prefer to keep the restaurant well below capacity. And indeed, the place was about half full when we arrived.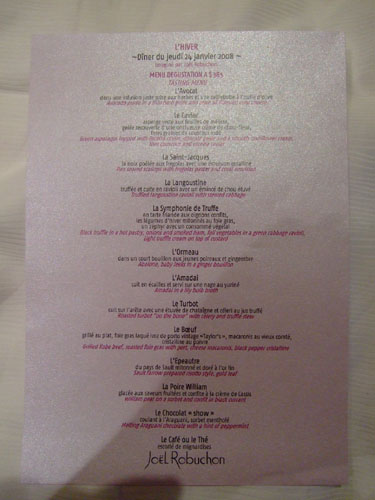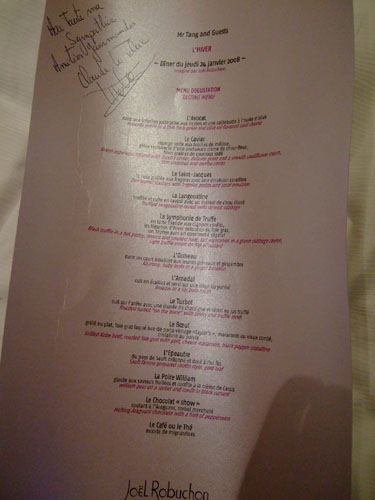 Two set menus are offered: a six-course and a thirteen-course (formerly sixteen). The six-course was considered for about a nanosecond: if we've come this far, we'd want the
full
Robuchon experience. The menu on the left is what we received at the beginning of the meal, while the other is customized with our party's name and the signature of Executive Chef Claude Le Tohic (I have no idea what he wrote). Le Tohic worked with Robuchon at Jamin in Paris, while the Chef de Cuisine Tomonori Danzaki hails from Tokyo. Click for larger versions.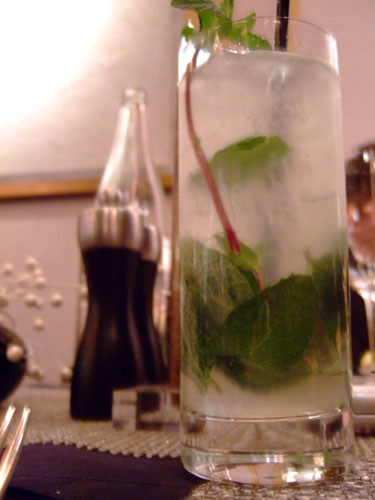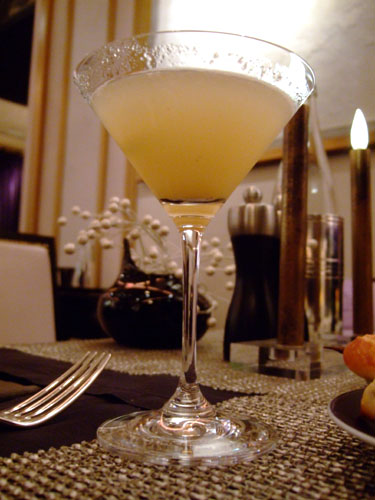 Naturally, I had to start with a mojito. Good thing I did, as it was truly one of the best I've ever had. One of my dining companions wanted a cucumber martini. They didn't have the requisite ingredients, so a pear martini was offered instead. I had a sip, and it was delicious.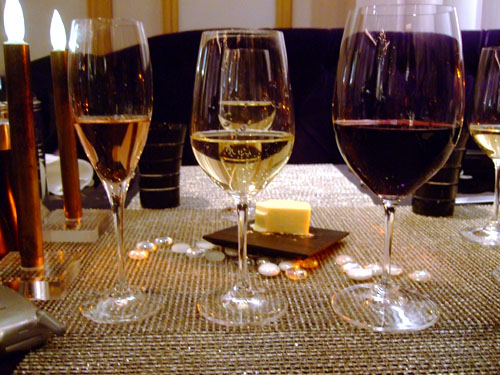 Unfortunately, Robuchon doesn't offer set wine pairings, so we decided to go it by the bottle (left to right):
Bruno Paillard, 'Brut Rosé Première Cuvée', Reims, NV: Crisp and light, the Paillard exhibited typical Champagne notes of toast, along with tinges of vanilla and spice; this wasn't too different than a non-rosé cuvée actually.
Mosel-Saar-Ruwer, Riesling Spätlese, Dr. Bernkasteler Badstube, Wegeler, 2004: A bit less sweet than I expected from a spätlese, which probably worked out for the best given the food; clean citrus and mineral flavors are this wine's signatures.
Merlot, Shafer, Napa Valley, 2004: Quite tasty and easy drinking, a lush presentation of dark fruit and earth leads to a moderately chewy texture and a slightly tart ending.
Pacherenc du Vic Bihl 'Brumaire', Domaine Alain Brumont, 2004 (dessert, not pictured): My first experience with this type of dessert wine; I found it more straightforward than a Sauternes, with jammy hints of stone fruit and vanilla leading to a long, lingering finish.
These were actually some of the most affordable bottles on the list. Beware of the markup; it's routinely around four times retail! Consider that a 1995 DRC Romanée-Conti was on the wine list for $16,000; I've paid less than a quarter of that for a bottle. We considered bringing our own wines, at least before we found out that corkage is a whopping $100. And I thought the $50 at
French Laundry
was steep...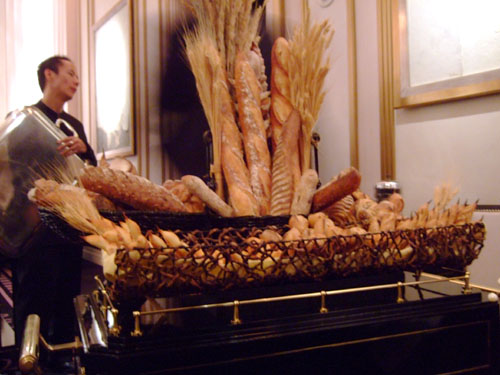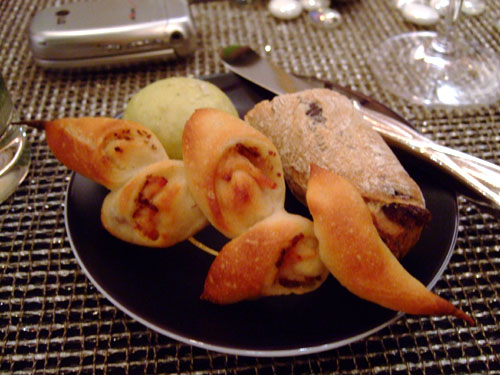 Quite simply the most impressive bread cart I've ever encountered! Two dozen varieties must have been presented. It took our server a few minutes to run through the entire list, and I had a hard time remembering all of them. I personally sampled bacon, basil focaccia, and olive; those were about all I could recall! Other varieties included Gruyère, saffron focaccia, and milk bread.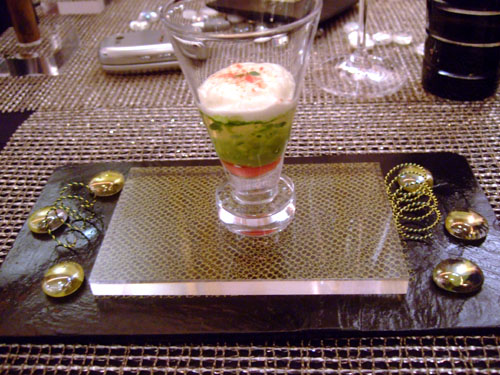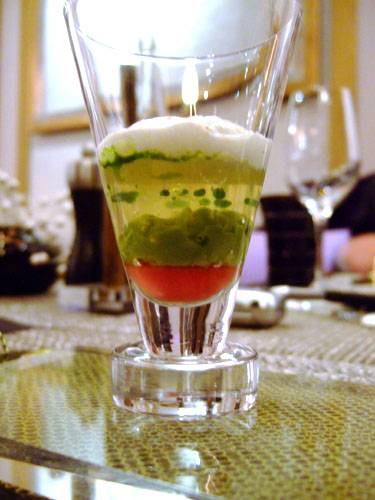 1: L'Avocat - Dans une infusion juste prise aux herbes et une caillebotte à l'huile d'olive
Avocado purée in a thin herb gelée and olive oil flavored curd cheese. A slightly tart tomato base contrasts and complements a rich, creamy topping, so it's best to get all the layers in one bite. This actually reminded me of a a seven-layer dip (think salsa, guacamole, and cheese), not necessarily a bad thing mind you! A great way to start the meal.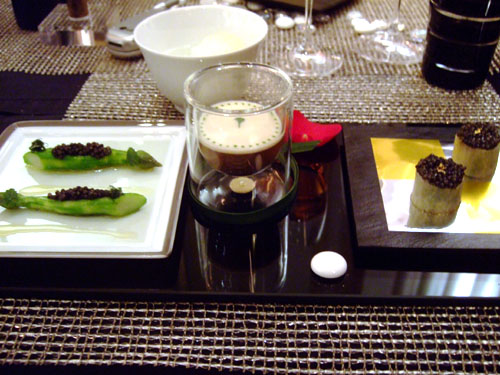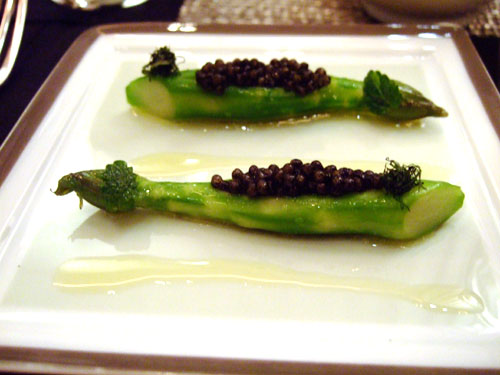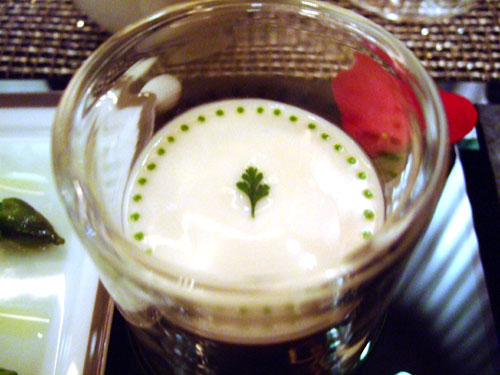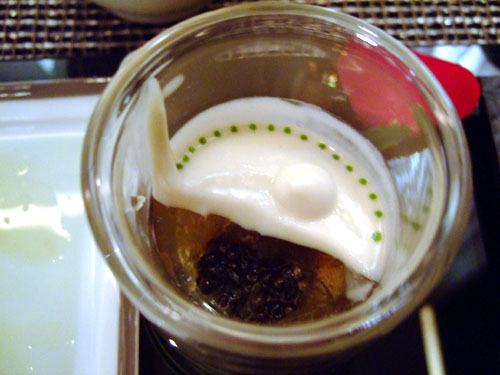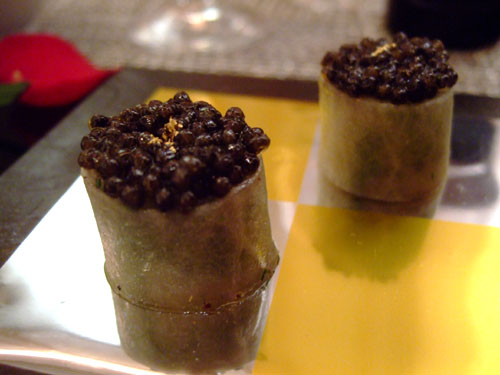 2: Le Caviar - Asperge verte aux feuilles de mélisse, gelée recouverte d'une onctueuse crème de chou-fleur, fines graines de couscous iodé
Green asparagus topped with Oscetra caviar (with lemon balm; an interesting combination; great texture and snap on the asparagus, though caviar was less apparent), delicate gelée and a smooth cauliflower cream (good interplay between a mild creaminess and briny tang; I would've liked to try it without the gelée mediating the caviar and cream), thin couscous and Oscetra caviar (my favorite of the trio; loved the gritty complexion of the tiny beads of couscous, and how that contrasted with the pearls of caviar, as well as the crisp crunch of the vegetable wrapper).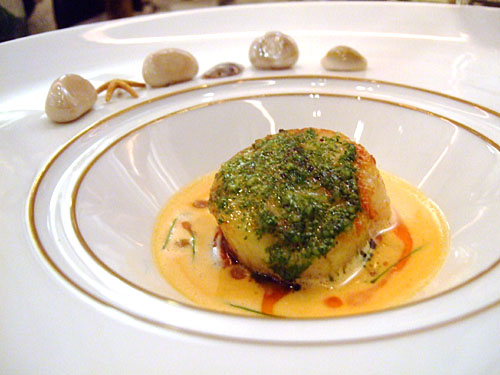 3: La Saint-Jacques - La noix poêlée aux fregolas avec une émulsion coralline
Pan seared scallops with fregolas pastas and coral emulsion. Perfectly cooked with a fantastic texture, the scallop actually had some Asian notes to the flavor, as we seemed to detect hints of ginger and coconut milk. I wasn't sure I could grasp the coral though. In any case, it ranked right up there with the best preparations of scallop I've ever had.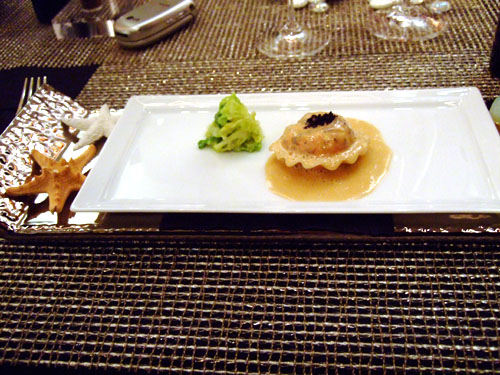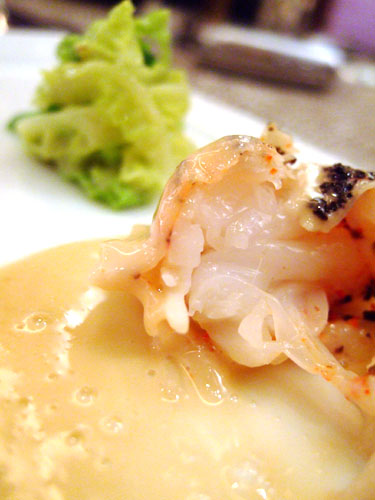 4: La Langoustine - Truffée et cuite en ravioli avec un émincé de chou étuvé
Truffled langoustine ravioli with stewed cabbage. One of Robuchon's signature dishes, this did not disappoint. A meaty portion of langoustine provides a satisfying snap, a creamy, perfect balance between cooked and raw, while just the right amount of truffle adds a pungent bite. Loved the cabbage too, with had a crisp yet tender texture, with strong notes of butter.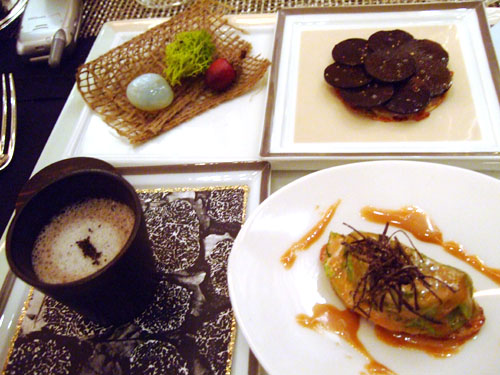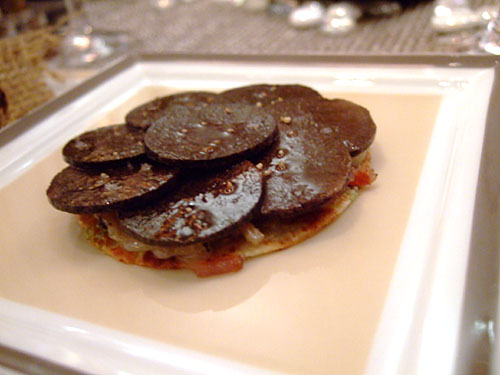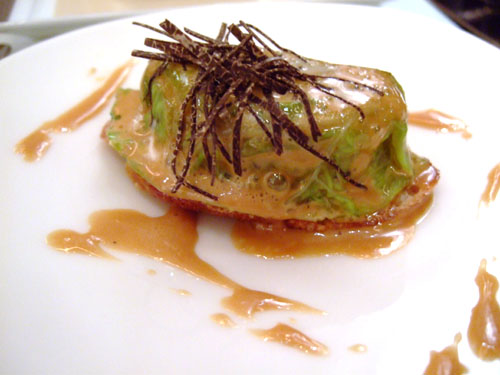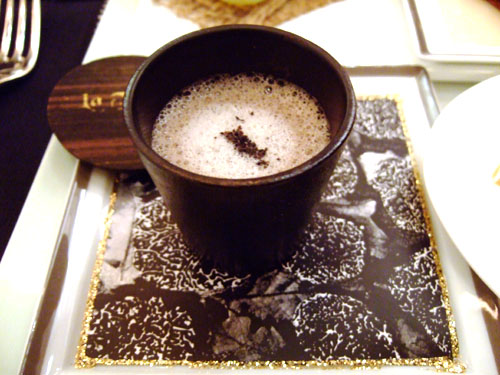 5: La Symphonie de Truffe - En tarte friande aux oignons confits, les légumes d'hiver mitonnés au foie gras, un zéphyr avec un consommé végétal
Black truffle in a hot pastry, onions and smoked ham (I didn't particularly enjoy the truffle pieces on their own, but when paired with the tart, wow! it was like a pizzeta actually, with all the various components of ham, onion, pastry, and truffle all coming together in perfect harmony), fall vegetables in a green cabbage ravioli (a very interesting "ravioli," the truffle actually stepped aside on the palate in order to showcase the vegetables; I have a hard time describing the taste, but I liked it), light truffle cream on top of custard (surprisingly mild, this was an experiment between an ethereal preparation of truffle and a slightly bitter vegetable base; note the truffle design of the saucer). On a humorous note, when we were first served the course, I was about ready to eat the decorations on the top-left of the plate; they looked tasty!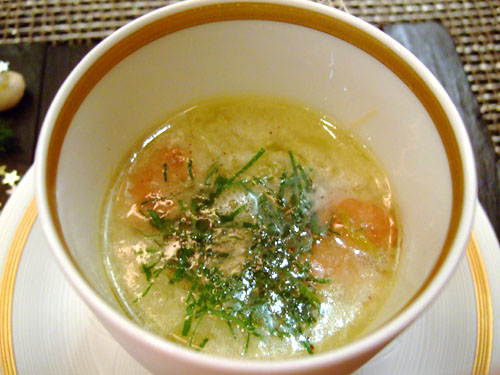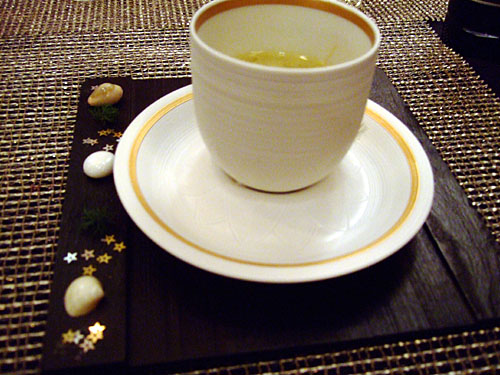 6: L'Ormeau - Dans un court bouillon aux jeunes poireaux et gingembre
Abalone, baby leeks in a ginger bouillon. Sliced paper-thin, the abalone was soft and sikly on the palate, while conveying only a whisper of abalone flavor. Most of the taste and aroma actually came from the bouillon, which gave the dish a distinctly Asian quality. Quite satisfying, and much better than I thought it'd be.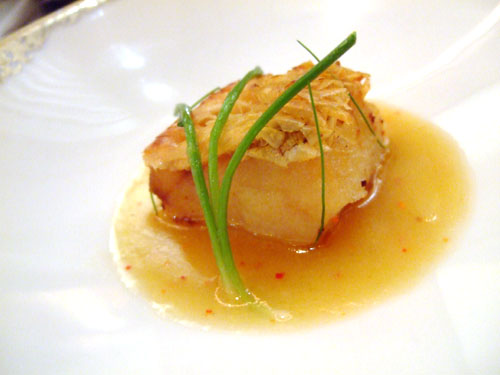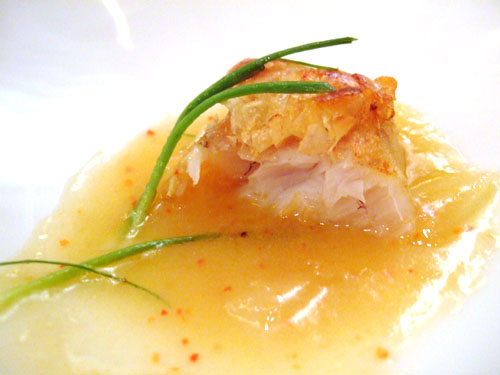 7: L'Amadai - Cuit en écailles et servi sur une nage au yuriné
Amadai in a lily bulb broth. Another one of Robuchon's signature dishes, the sea bream was delicate in flavor and texture, but managed to transmit power and complexity at the same time. But what really set the dish apart for me was the application of the fish's firm, crispy skin, which provided an excellent foil to the amadai's fine flesh.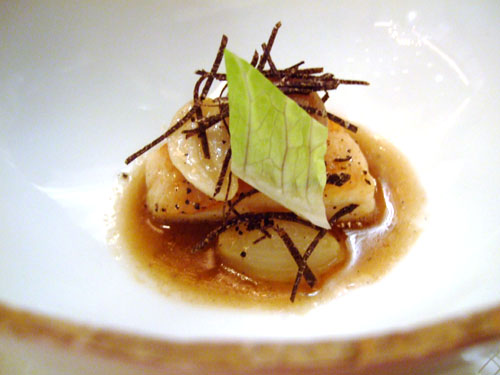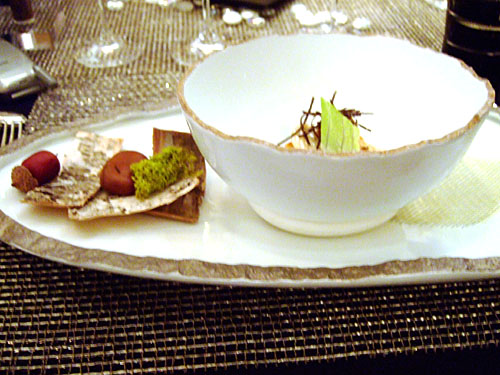 8: Le Turbot - Cuit sur l'arête avec étuvée de chataîgne et céleri au jus truffé
Roasted turbot "on the bone" with celery and truffle stew. I greatly enjoy the firm yet pliant texture and delicate flavor of turbot, and this was no exception. Since the fish is generally mild in taste, the application of celery, truffle, and onion added layers of complexity to the dish, which dazzled the nose as well as the tongue.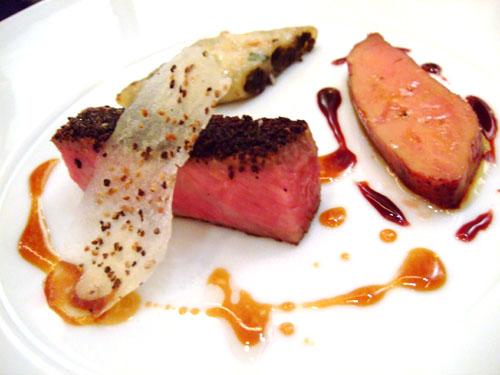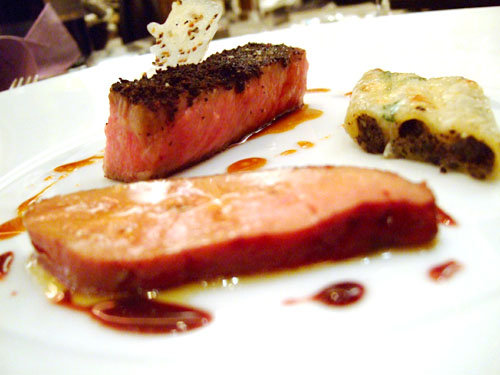 9: Le B--uf - Grillé au plat, foie gras laqué ivre de port vintage »Taylor's», macaronis au vieux comté, cristalline au poivre
Grilled Kobe beef, roasted foie gras with port, cheese macaronis, black pepper cristalline. Great piece of beef, I loved the crust, and found the meat very tender and fatty, I mean you can see the marbling in the photo! I also appreciated how the meat was allowed to stand alone for the most part, without being adulterated or oversauced. However, it didn't quite reach the level of goodness I had at
CUT
(to be fair, nothing has yet so far). The macaroni was delicious as well, so the weakest component of the dish was actually the foie gras, which I found merely ordinary (when pretty much everything else had been
extra
ordinary).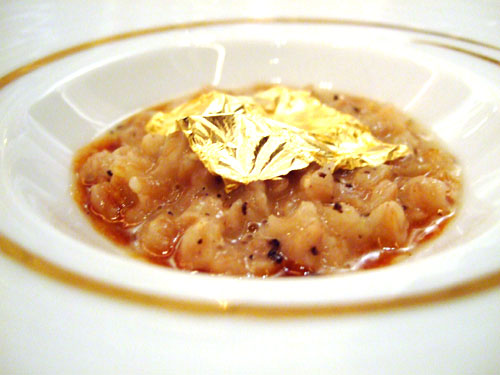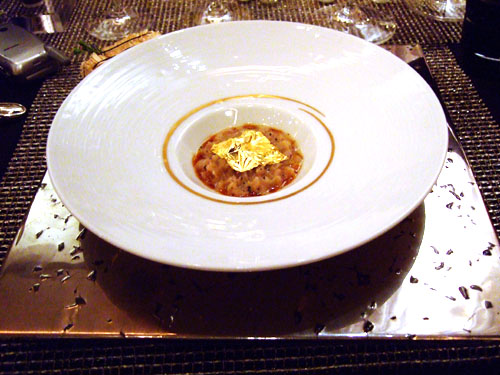 10: L'Epeautre - Du pays de Sault mitonné et doré à l'or fin
Sault farrow prepared risotto style, gold leaf. This was like risotto, but "rougher." I will admit that I don't know quite what "sault farrow" is; a search on Google seems only to bring up references to this very dish. An interesting bridge to the sweet courses, but I rather liked it. If you're wondering about the gold foil, it didn't really have a taste (but it sure looked good!).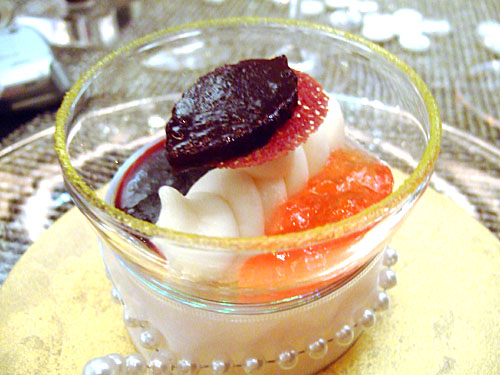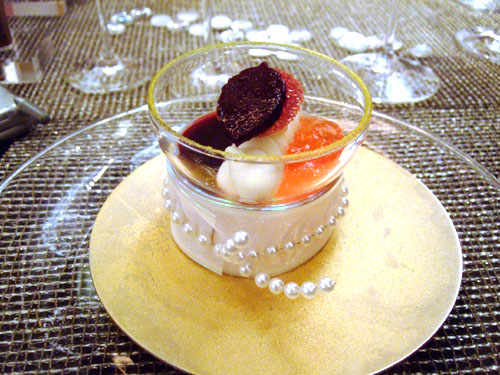 11: La Pore William - Glacée aux saveurs fruitées et confite à la crème de Cassis
William pear on a sorbet and confit in black currant. Quite a unique dessert. We have two flavors on each side, both sweet, but with the darker side much more intensely so. Meanwhile, the black currant confit provides a firm, sticky, almost jelly-like counterbalance. I found that I enjoyed the course better with everything mixed together though. Very nice.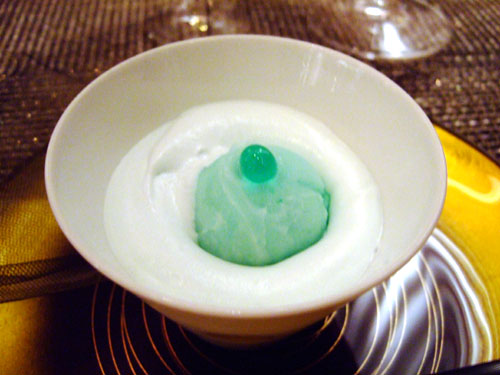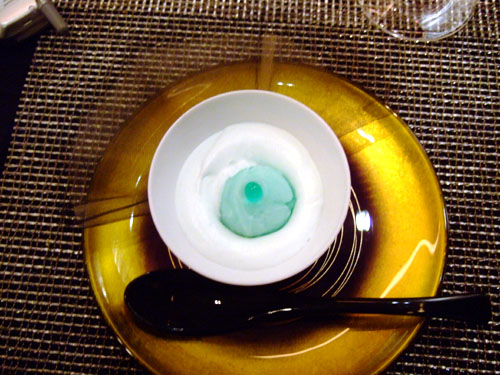 12: Le Chocolat « show » - Coulant à l'Araguani, sorbet mentholé
Melting Araguani chocolate with a hint of peppermint. When I showed a picture of this dessert to a friend of mine, he exclaimed that it looked like something out of a video game! I personally think it looks more like an eyeball, but in any case, you have a dollop of cool sorbet sitting on top of a warm layer of decadent chocolate. And once you mix the ingredients together, the dessert tastes remarkably like mint chocolate chip ice cream!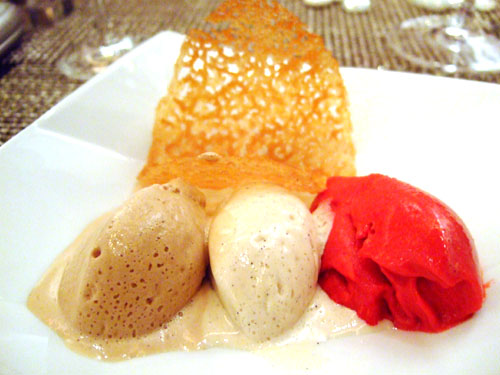 La Crème Glacée - café, vanille, framboise
Coffee, vanilla bean, raspberry, orange tuile. Not much to say about these; they were about what you'd expect from ice cream. My favorite was the vanilla.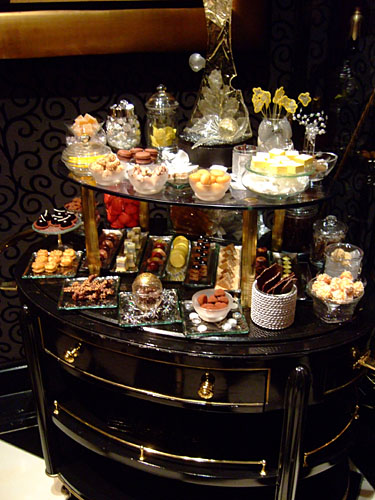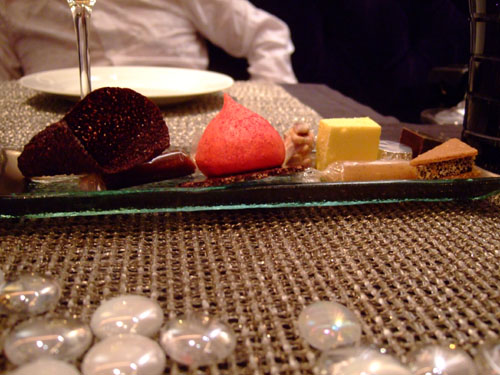 13: Mignardises
We started the meal with the most extravagant bread cart I'd ever seen, and we ended with the most striking candy cart I'd ever experienced. Again, it took our server a few minutes to go through it all, and again, I was trying to remember everything. I don't even recall everything we tried. I should've asked for some to go!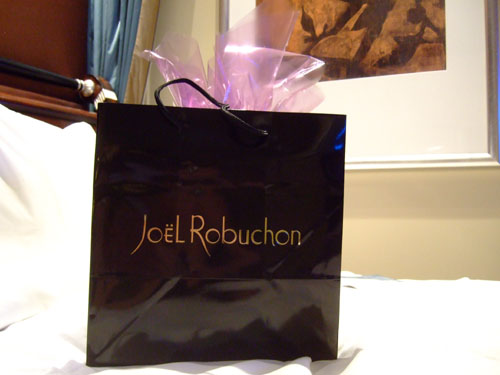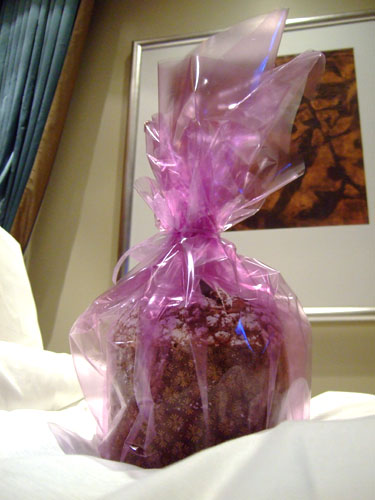 Take Away
Many higher caliber restaurants give you a gift to go, usually a muffin or a few cookies. But here, we each received an entire full-size fruit and nut cake! I still haven't finished eating it.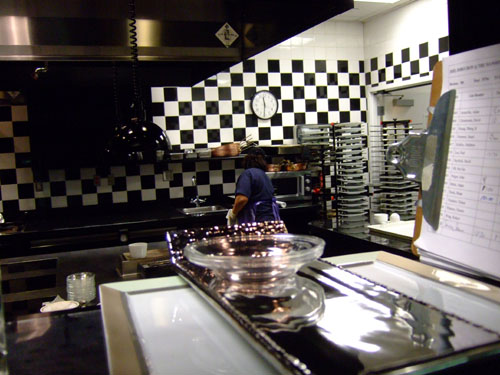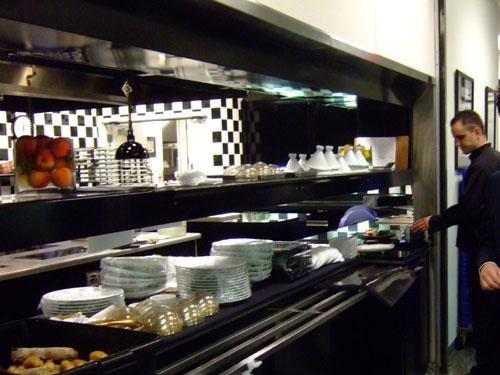 As we were the last ones in the restaurant, we got a brief glimpse into the kitchen. I like how the checkerboard motif continues from the lobby.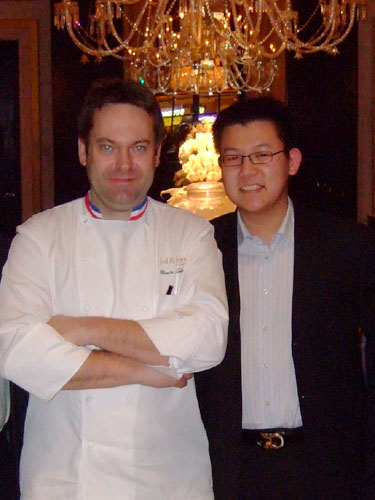 Chef Le Tohic was able to come out and greet us about midway through the meal.
A new per person price record is set! (French Laundry was the previous record holder)
People say that Robuchon is the best restaurant in Las Vegas. I'd say that Robuchon has a good shot of being the best restaurant in the
country
. Perhaps that's a bit of hyperbole, but this is certainly the best French meal I've ever had (yes, even over the Laundry). Now I'm not sure if it's the best
meal
I've ever had, since
Urasawa
is a force to be reckoned with. My number one French and my number one Japanese: now that's a tough choice, as those two happen to be my two favorite cuisines. But nevertheless, Robuchon managed to exceed my expectations, a truly rare and unexpected feat, as they were indeed lofty standards to begin with. How am I not surprised that in a city where money is apparently no object, we find this culinary
tour de force
of almost incomparable magnitude? If Las Vegas is a treasure trove of gastronomic delights, surely then Joël Robuchon must be the crown jewel.