Newport Seafood (San Gabriel, CA)
Newport Seafood
518 W Las Tunas Dr, San Gabriel, CA 91776
626.289.5998
www.newportseafood.com
Mon 12/07/2009, 08:00p-10:00p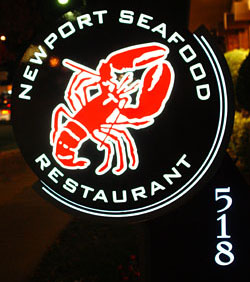 Newport Seafood, or Newport Tan Cang, was started in 1989 down in Orange County. The restaurant is Chinese at its core, specializing in seafood, but gladly incorporates influences from Thailand, Cambodia, and most importantly, Vietnam. This point of distinction proved to be wildly successful, and Newport eventually opened up another outpost in San Gabriel in 1996, at the intersection of Las Tunas and Mission, near Golden Deli and a stone's throw from Luscious Dumplings. A third restaurant followed in Rowland Heights. The original Santa Ana location was subsequently sold, though it still exists under different ownership (apparently, there's also Newport Seafood To Go in Garden Grove). Most recently, the first San Gabriel location was shuttered and replaced by a larger space down the road, the site of a former Marie Callender's. The old spot at 835 West Las Tunas was then replaced with Lu Din Gee (a.k.a. Duck House).
Given Newport's rave reviews, I'd been curious about trying it out for some time. Danny of
Kung Food Panda
was supposed to organize a blogger dinner here, but kept dropping the ball apparently. Christine of the now-dormant
Folie à Choisauce
was subsequently forced to step in and regulate. Joining the three of us were: Cathy of
Gastronomy
, Connie of
Hey Hey Scenesters
, Evelina+Wesley of
Two Hungry Pandas
, Jenni of
The Next Big Ng
, Kate of
Princess Kitty's
, Mike of
Right Way to Eat
,
Remil
(who, supposedly, is starting a blog soon), and Ryan of
Only Eat What Feeds Your Soul
.


Inside, the owners have done a fairly good job at getting rid of any semblances of the restaurant's former occupant. The top photo shows the main dining space and live seafood tanks, while the semi-private rooms (where we were seated) are shown below.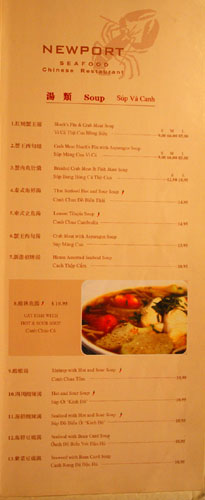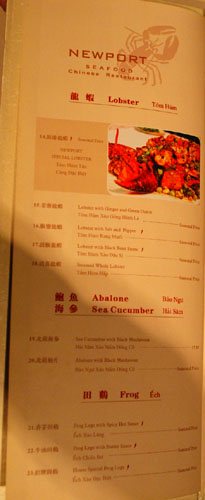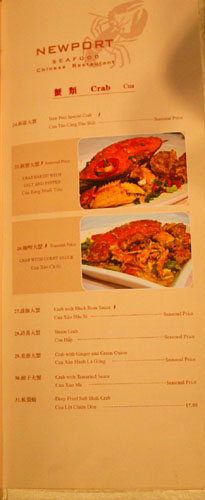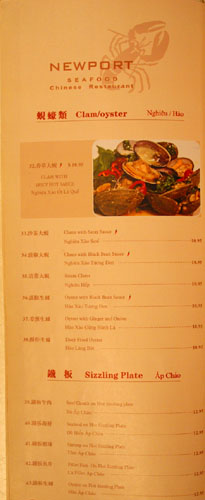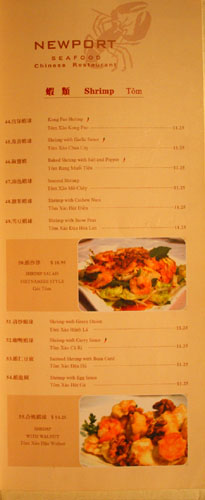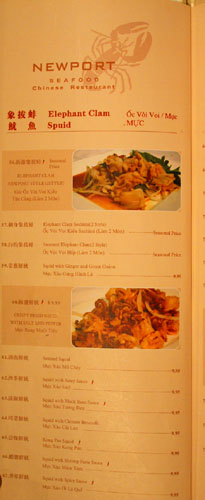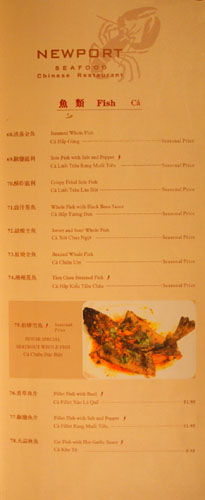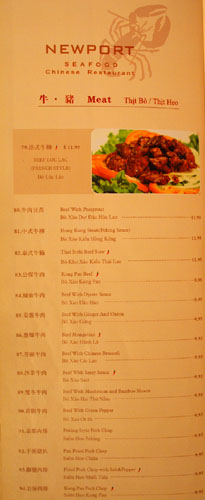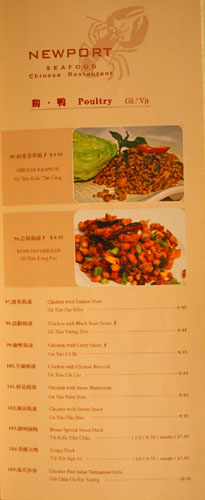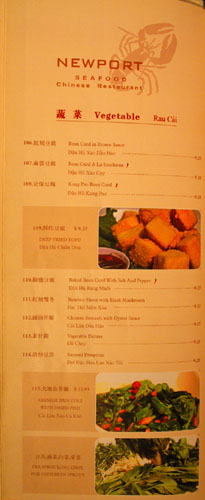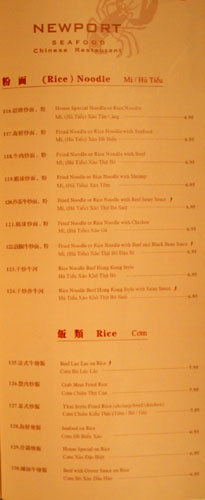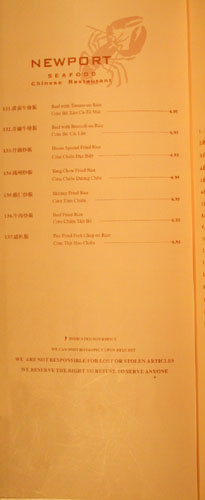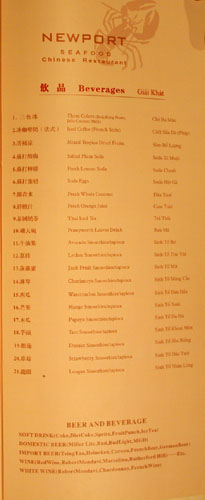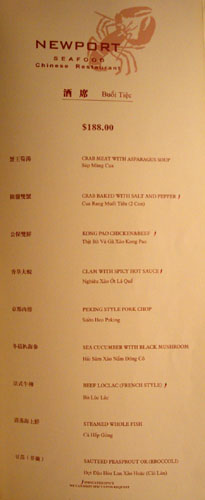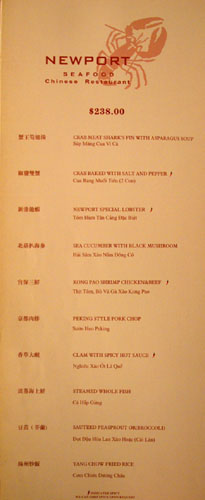 As is par for the course for most Chinese eateries, Newport's menu is vast. Since the
carte
cannot be found on the restaurant's web site (or anywhere else, for that matter), I've chosen to include it here for future reference despite its unwieldiness; click for larger versions. We went for the $238 fixed menu (enough to feed 10 to 12 people), and tacked on a couple of supplements: the Beef Loc Lac and the Deep Fried Tofu.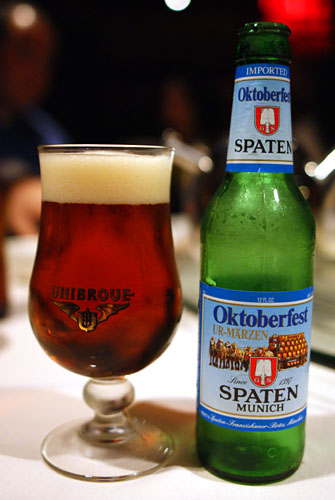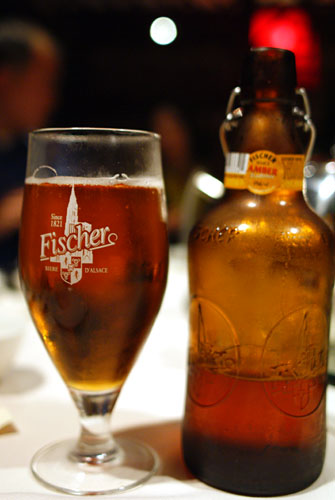 In addition to the usual selection of American macrobrew lagers, Newport also carries a smattering of imported brews, the most interesting of which were my Spaten Oktoberfestbier Ur-Märzen [$3.25] and Ryan's Fischer Tradition Amber [$5.25]. Also, Remil was gracious enough to bring a bottle of Riesling for us to share; corkage is $15 per bottle.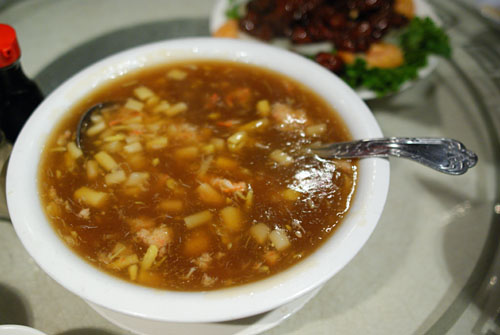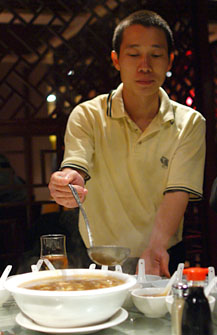 1: Crab Meat Shark's Fin with Asparagus Soup
Ahh, the infamous shark's fin soup, a mainstay of Chinese banquet meals and one of the three "jewels" of Chinese cookery (the other two being abalone and bird's nest). Really though, shark's fin doesn't have much flavor on its own, so here it was more of a textural element, and a minor one at that. The crab was much more integral to the soup, which I found nicely savory, with a hint of piquancy.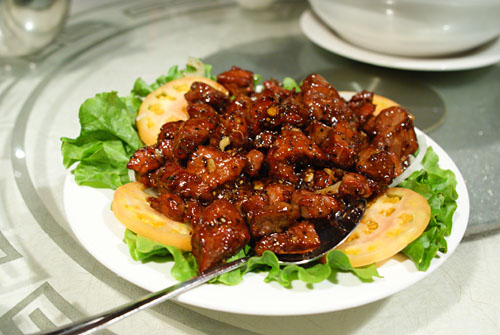 Supplement: Beef Loc Lac (French Style) [$11.95]
Next, we have Newport's version of
bo luc lac
, one of the restaurant's most popular dishes and an obvious nod to its Vietnamese influences. The dish comprises cubed beef tenderloin, dressed with a tangy black pepper sauce and served over onions and tomatoes. It is, according to
Jonathan Gold
, "probably the best version of this dish in San Gabriel." I'm not sure if I share Mr. Gold's enthusiasm, but it was still quite good, with the beef suitably tender, buttery even, nicely accented by its peppery accoutrement and balanced by the levity of the veggies.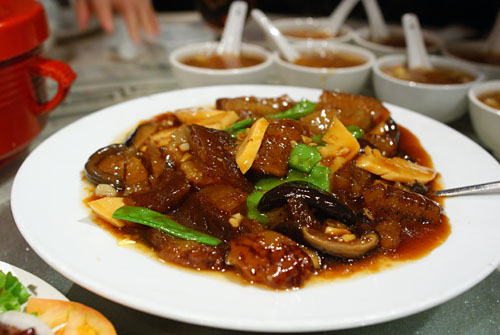 2: Sea Cucumber with Black Mushroom
A type of slug-like marine animal, sea cucumbers are widely regarded as a delicacy in Chinese cuisine, ranking just below the three "treasures" mentioned above. As with those three ingredients, the sea cucumber itself doesn't have much flavor, but is instead usually prized for its gelatinous, slippery consistency. That was certainly the case here, as it was the black mushrooms that stole the show. The shiitakes added a weighty, earthy, umami-tinged note to the dish, which was nicely countered by the snow peas.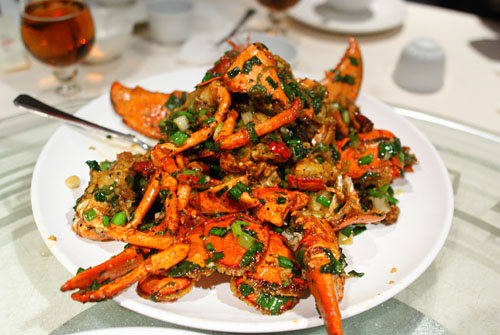 3: Newport Special Lobster
And now, what we were all waiting for: Newport's oft-lauded lobster, normally $15.95 a pound. This is one dish that you'll find at nearly every table in the house, and is clearly the restaurant's masterpiece, its magnum opus, its
pièce de résistance
--it's to Newport what the Pastrami Dip is to The Hat. The crustacean is fried in a garlic sauce, broken up and plated in a rather impressive looking mess, then covered in a pepper- and green onion-based sauce replete with the lobster's innards. Eating it was a tasty, though not mind-blowing, experience. I appreciated the lobster's snappy yet supple flesh and how its accompaniments complemented, but did not overwhelm the crustacean's natural sapor. The problem with the dish, though, is that it is rather difficult, and messy, to eat--I think I went through three napkins on this course alone!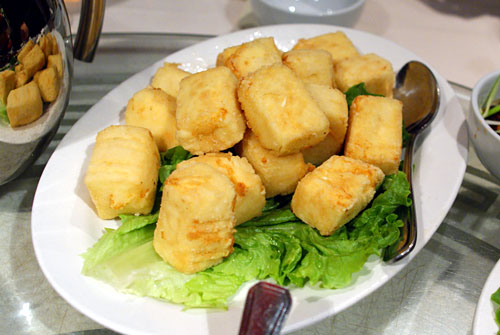 Supplement: Deep Fried Tofu [$9.25]
Another popular dish is the deep-fried tofu--golden bricks of goodness, crisp on the outside, yet soft, fluffy even, inside. Superbly textured, but mild in flavor, they must be eaten with the included chili-soy dip for maximum pleasure.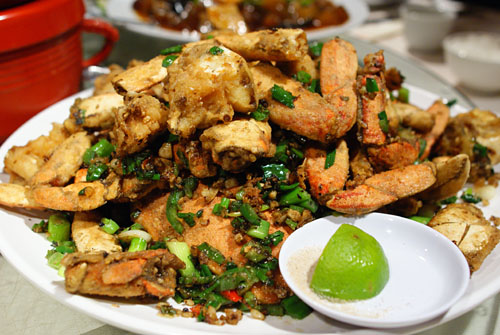 4: Crab Baked with Salt and Pepper
It was interesting to compare the crab with the preceding lobster. I'll describe it as less sweet, less spicy, but brinier in flavor, with a similar onion-based topping. I also found it easier to eat, though the crab's texture wasn't as enjoyable as the lobster's.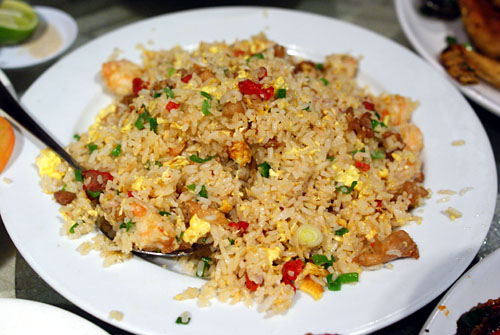 5: Yang Chow Fried Rice
A Chinese meal just wouldn't seem complete without some sort of rice, so here we have the popular
yeung chow
variation of fried rice, a Cantonese preparation recognizable for its use of
cha siu
pork and shrimp. I didn't expect much, but the dish actually turned out to be one of the better fried rices I've had, with an abundance of varying flavors at play.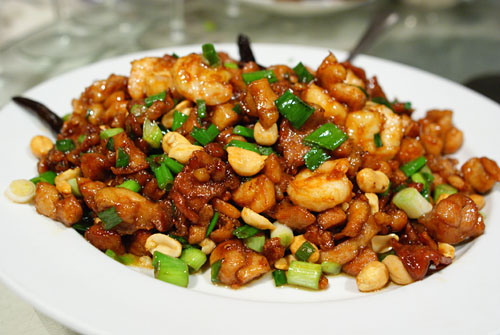 6: Kong Pao Shrimp Chicken & Beef
Newport's
kung pao
(not sure why they spell it "kong") mixes things up by including shrimp and beef in along with the usual chicken. It's hard for me to get too excited about the ubiquitous dish, but this was certainly one of the stronger versions I've had.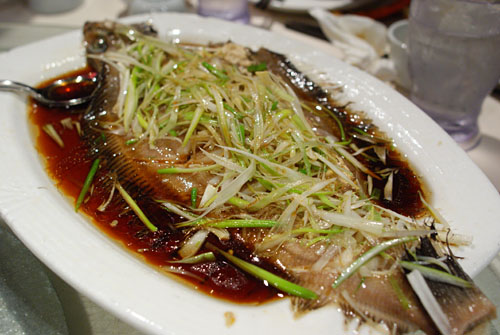 7: Steamed Whole Fish
When the menu states "steamed whole fish" yet doesn't mention exactly what type of fish is used, that is a cause for concern for me. Nevertheless, the dish turned out quite alright, exactly what I'd expect for steamed fish, in fact. The fish itself was appropriately mild in flavor, so the onion topping and soy-based sauce were absolutely crucial.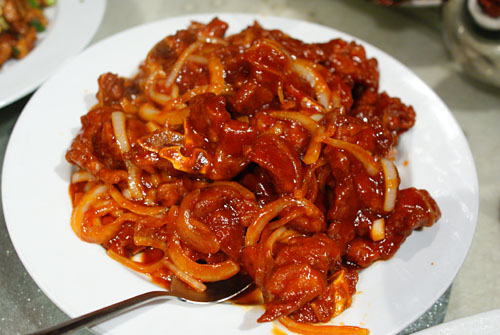 8: Peking Style Pork Chop
Think of this as your standard sweet & sour pork. It was a bit sugary for me, and I found that the sauce overwhelmed the natural sapor of the meat.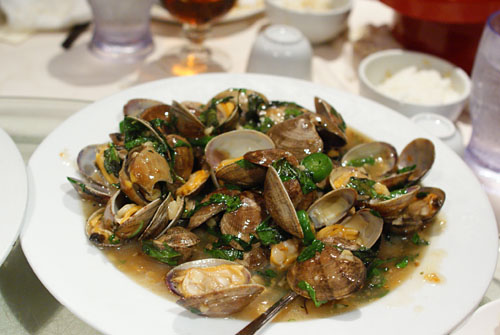 9: Clam with Spicy Hot Sauce
This was another one of Newport's best-known dishes, and one of my favorites or the night as well--think clams sautéed in a basil, ginger, and garlic sauce. The tanginess of the sauce was a great complement to the brininess of the bivalves, and I rather liked the slightly chewy texture of the mollussks.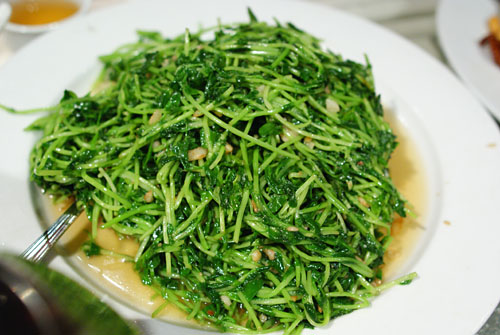 10: Sauteed Peasprout
We closed strong with this seemingly simple dish, a tangle of young pea sprouts cooked with a ginger- and garlic-based sesame oil sauce. I loved the sprouts' crisp snappiness, and their flavor was a breath of fresh air, bracingly vegetal with a bit of pungency.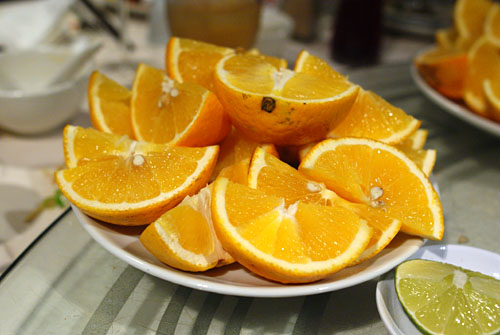 Oranges comprised the sole sweet course--the Chinese aren't known for their desserts.
Going in, my expectations for Newport were impossibly high given all the praise surrounding the place. Thus, it wasn't surprising that the meal wasn't quite as life-changing as expected. That being said, it was still a good meal, especially considering that the $238 prix fix works out to about $20 per person. I'd go back.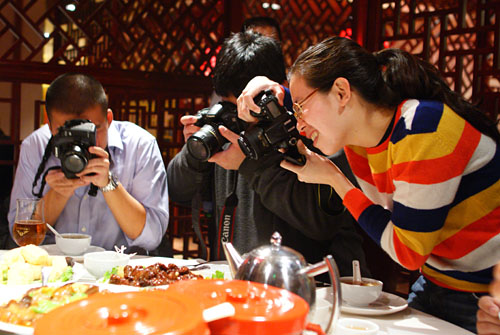 Have most "serious" food bloggers moved to DSLRs?