Club 33, Disneyland (Anaheim, CA) [3]
Disneyland
Attn: Club 33
1313 S Harbor Blvd, Anaheim, CA 90803
www.disneylandclub33.com (unofficial)
Sun 10/19/2008, 11:15a-01:15p
Since this was my third visit to Club 33, I'll skip the typical introductory material and focus on the eats. For some background on the place, please see my previous posts
here
and
here
.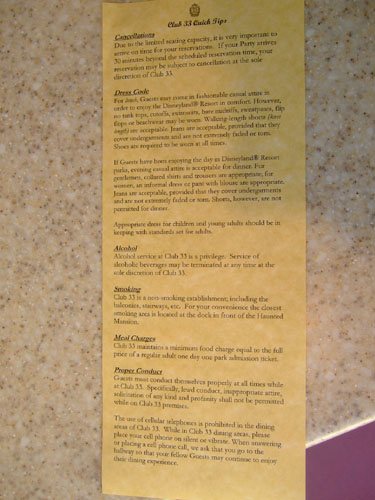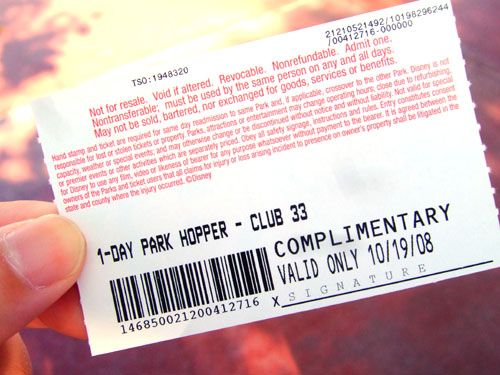 To dine at Club 33, you'll need to visit Guest Relations and pick up your Park Hopper pass and tip sheet (left). Despite having a Park Hopper pass, I ended up not going on
any
rides or attractions that day, a waste I know! Click for a larger version.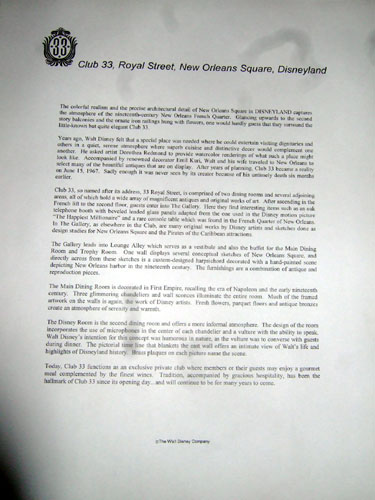 The sheet above, placed at our table, provided the uninitiated with a quick background on the Club. Click for a larger version.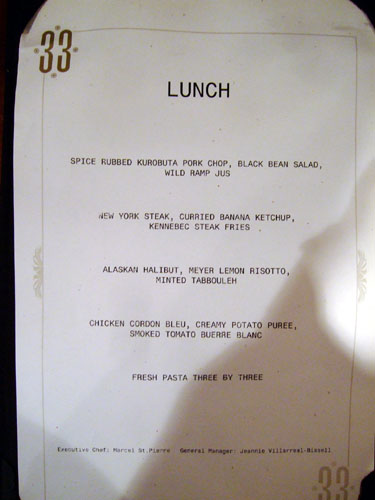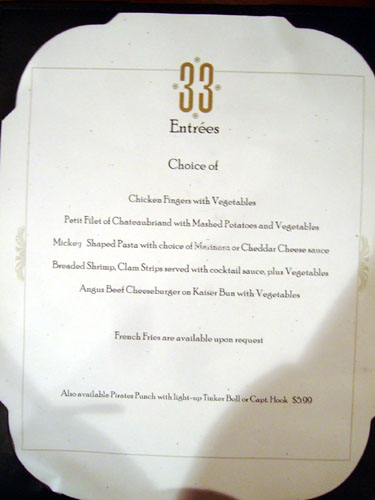 Sample lunch and children's menus are shown above. I had to pre-order my lunch, so the menu I used was slightly different than above. The price was $105, inclusive of choice of entrée, buffet, drink (sparkling wine, cider, juice, water), tax, and gratuity. Click for larger versions.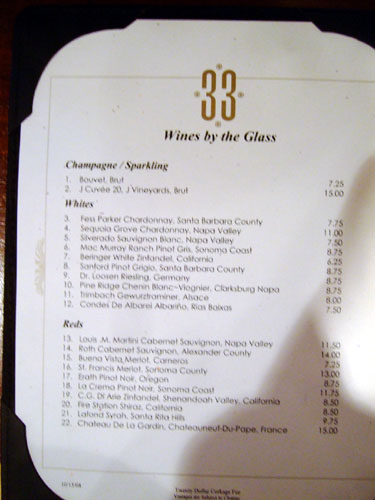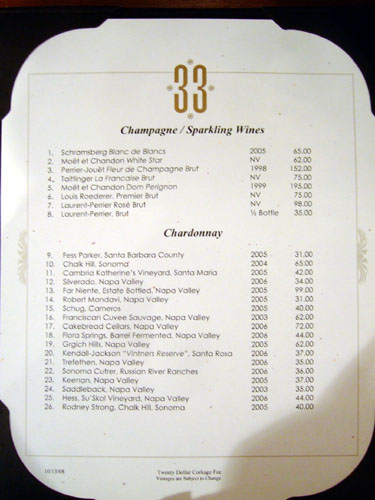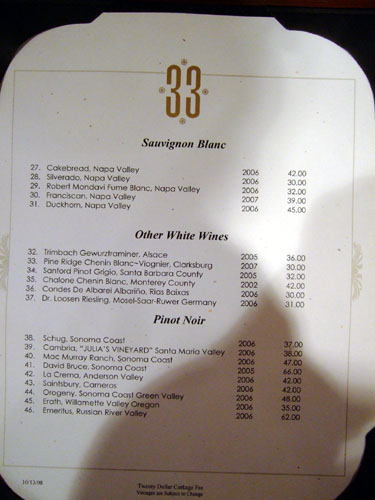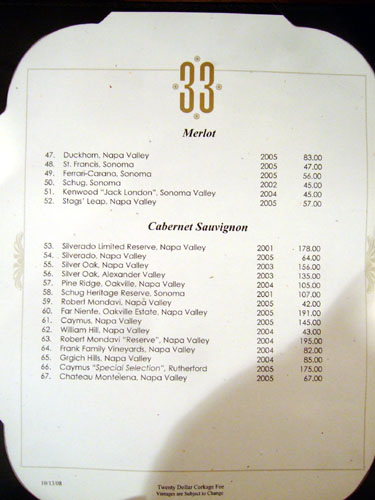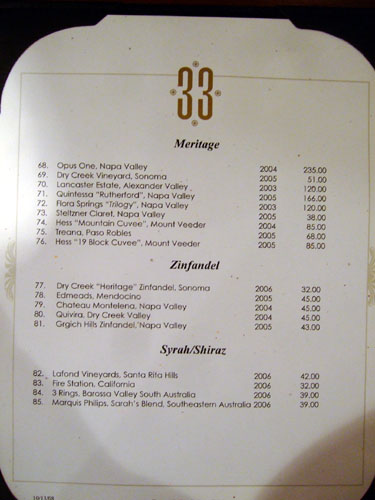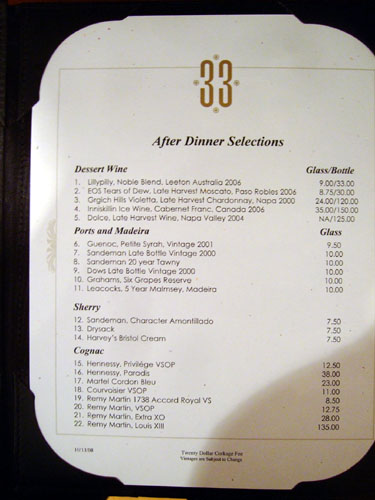 The wine list is heavily focused on California wines. Prices are quite reasonable, hovering around two times retail. Click for larger versions.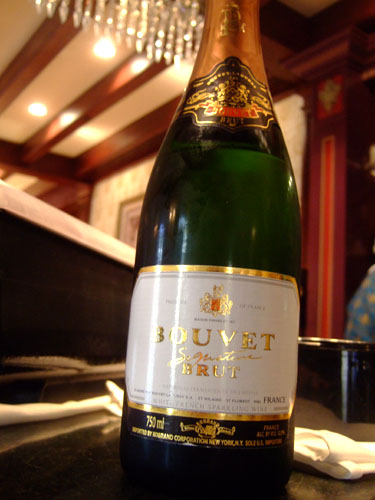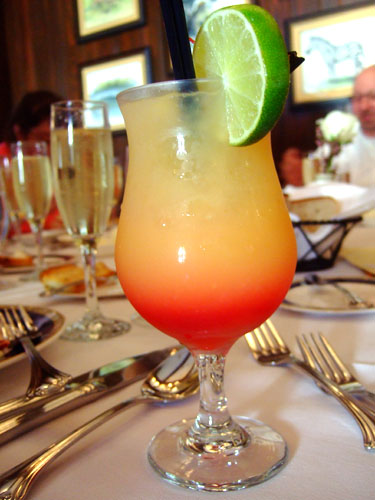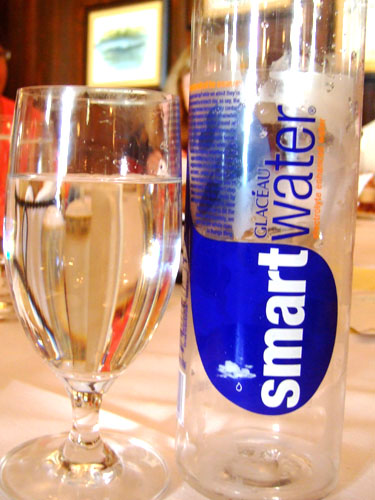 Though advertised as "Champagne," the complementary wine was actually the Bouvet-Ladubay Signature Brut, Loire Valley, France NV. It's made from Chenin Blanc, and goes for around $12 a bottle retail; it's interesting to note that the Bouvet is not listed on the wine list above. In any case, the sparkler was pretty palatable, with a bit of sweetness, nice bubbles, and soft notes of flowers and honey. In addition to the Bouvet, we could also have sparkling cider, juices, mixed juice slushes (second photo), and water. As for the water, the use of Glaceau Smartwater was a nice touch, definitely better than the tap typically served.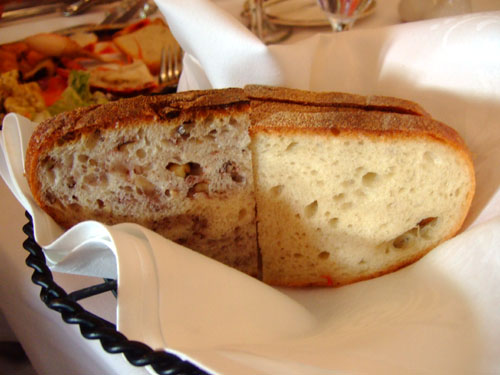 Unlike at previous visits, bread was actually provided at the table. The one on the left was a walnut bread, while the other was a fairly standard loaf.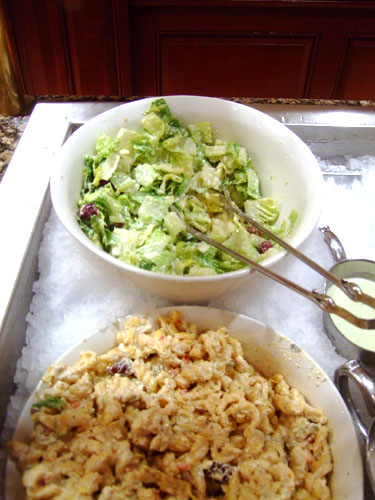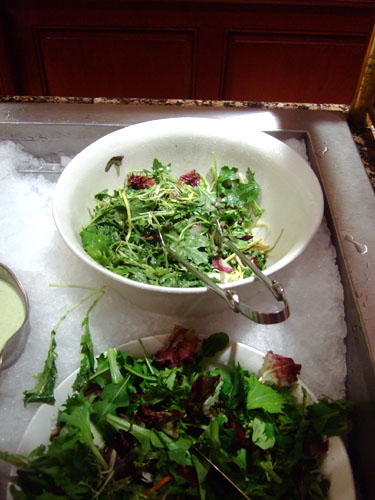 The first buffet section contained four types of salad, as well as dressing.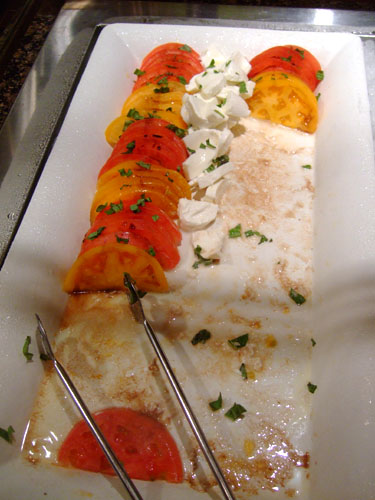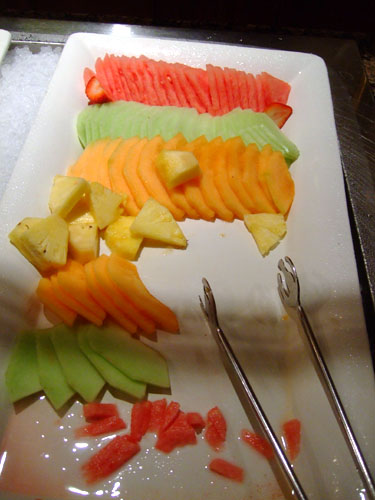 Next, we have the makings of an insalata caprese (tomatoes, fresh mozzarella, basil), various cheeses, and fruit (watermelon, honeydew, cantaloupe, pineapple).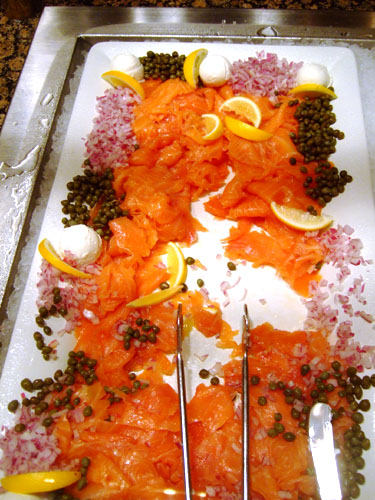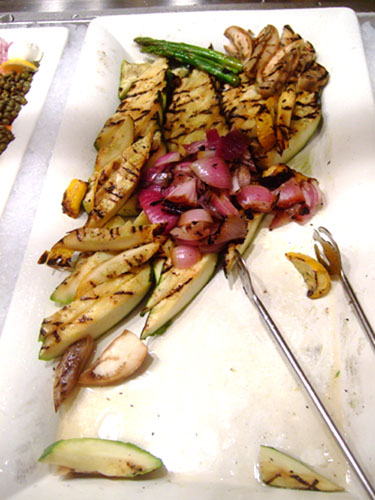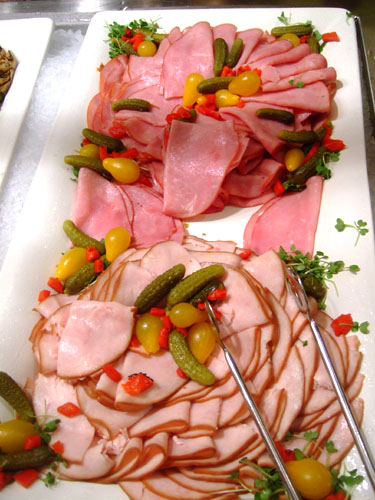 Now come smoked salmon (with crème fraîche, red onions, and capers), grilled vegetables, and cold cuts.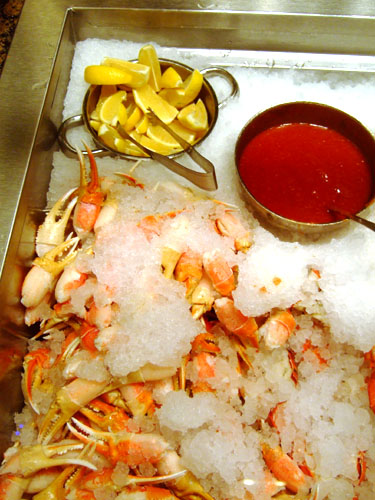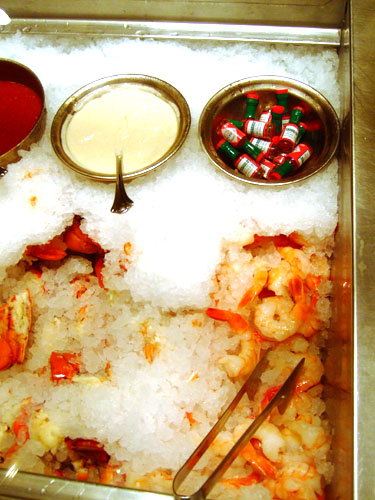 The final section contains cocktail shrimp, lobster tails, and crab claws. As you might imagine, this one was my favorite!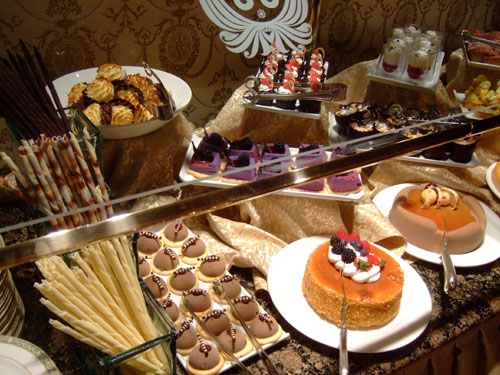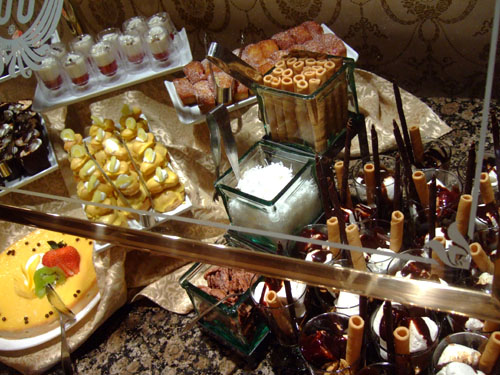 The dessert station tempts, but you must wait until you're done with the savories!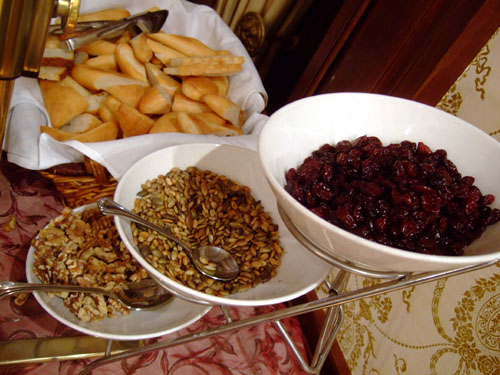 Finally, we see the bread station with its various accoutrements.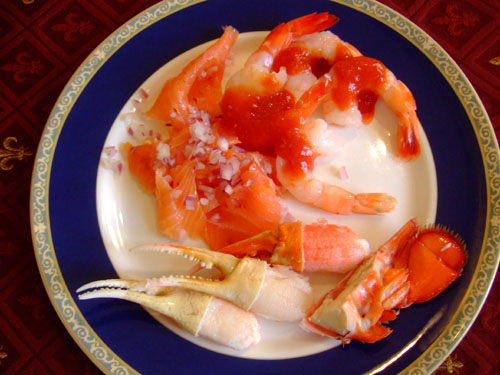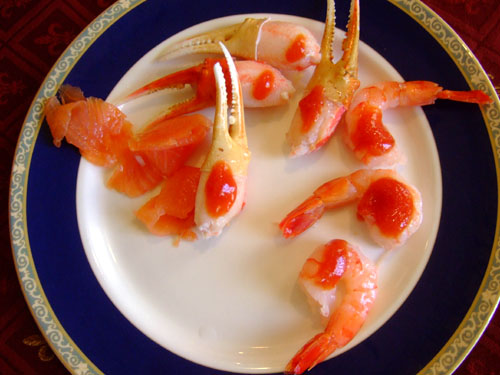 My first and second plates from the buffet. As you can see, I've learned from my previous trips to not fill up on veggies, but instead to head straight for the good stuff!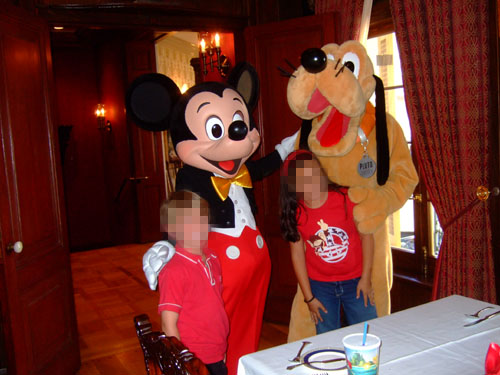 Mickey and Pluto paid us two visits during the course of our meal. They were a big hit with the youngsters (and those young at heart!).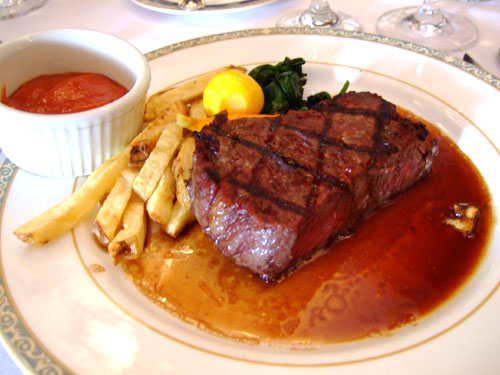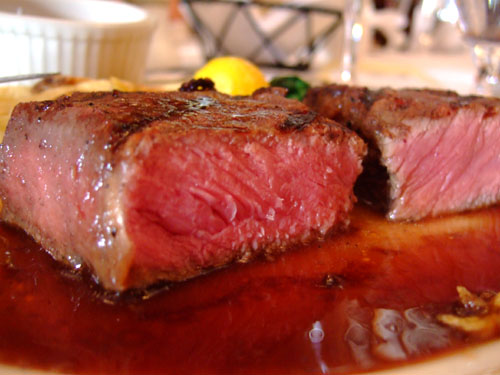 New York Steak, Curried Banana Ketchup, Kennebec Steak Fries
What surprised me with the steak is that they didn't ask us what temperature we wanted! Although some of my dining companions would've preferred it rarer, it turned out alright, around medium I'd say. After having my share of
Wagyu beef
as of late, the meat here did seem a bit tough, but it was certainly workable (I was able to cut it with my bread knife). It lacked the nice marbling I like, but the flavor was there, though not as beefy or as rich as it could've been. As for the rest of the plate, the fries were a bit soggy, and I found the ketchup far too sweet (all I could taste was banana!).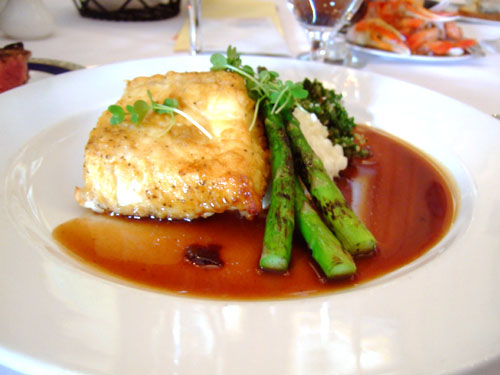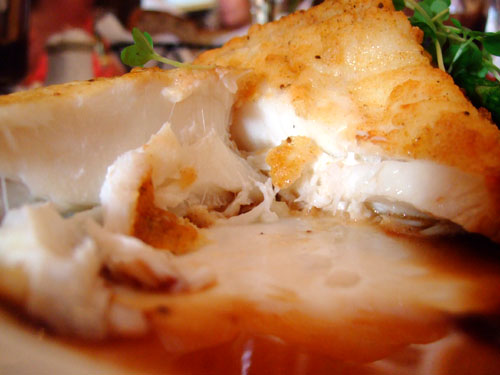 Alaskan Halibut, Meyer Lemon Risotto, Minted Tabbouleh
This was disappointing. A good halibut (see
Marche Moderné
) has a firm, flaky texture that I find immensely enjoyable, but this was just soft and mushy. Furthermore, the fish's taste was weak, nondescript, and got lost in all the other flavors on the plate. Fortunately, the included risotto was nice enough, and the asparagus quite crisp and tasty.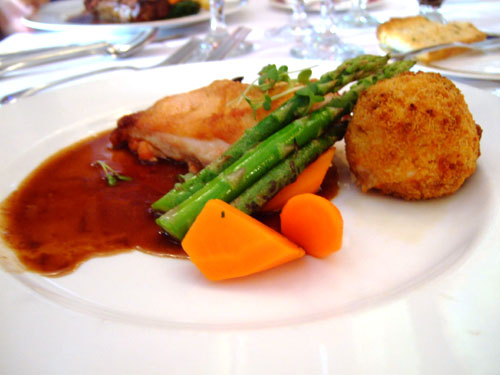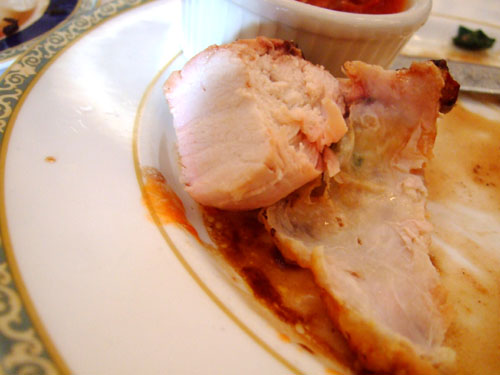 Pan Roasted Chicken, Mac & Cheese Croquette, Pickled Sweet Carrot
I only got a small bite of the meat here, but thought it was the strongest dish of the trio. The chicken was tender, juicy, and flavorful, with a delectably crisp skin.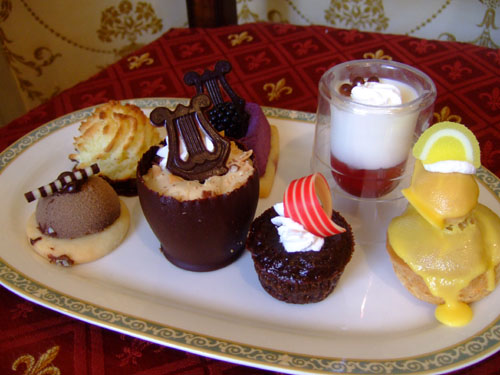 With the savory courses dispensed with, it was now time for dessert!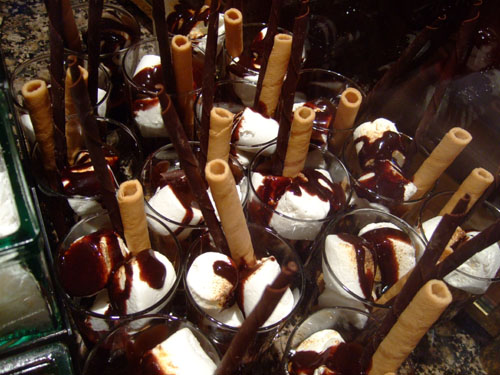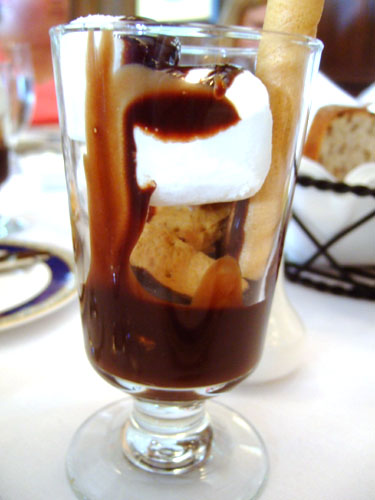 This was basically marshmallows in chocolate, sort of like a s'more. Everybody grabbed this dessert first for some reason. I don't know why, as it was a bit of a letdown to be honest; I expected more.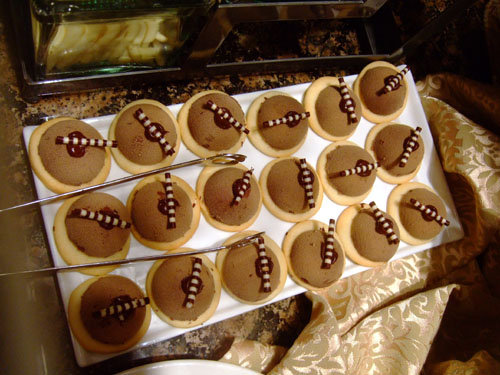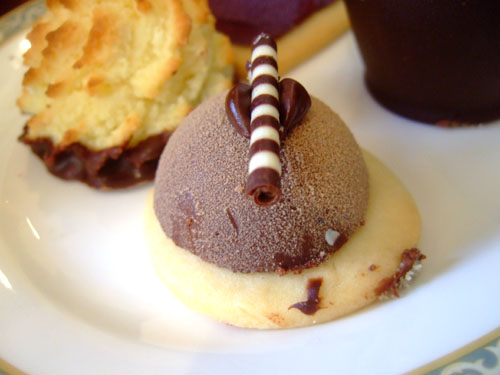 I'm not even sure what to call this. It was a cookie topped with a chocolate dome of some sort. The chocolate portion was fairly light, not too sweet, and thus didn't overpower the cookie. Quite nice.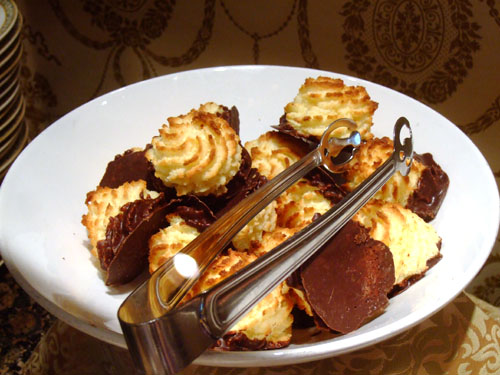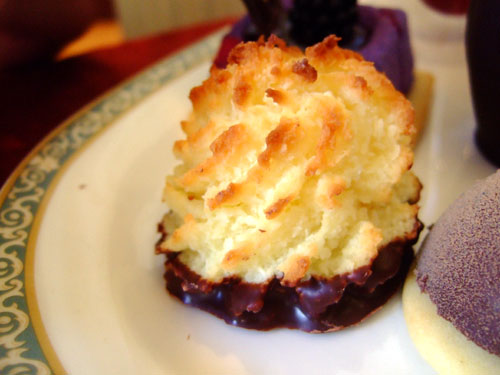 This was a coconut macaroon, dipped in chocolate. It had a fantastic, delicate coconut flavor, which was then bolstered by the addition of chocolate. Very nice bite and mouthfeel as well. One of my favorites.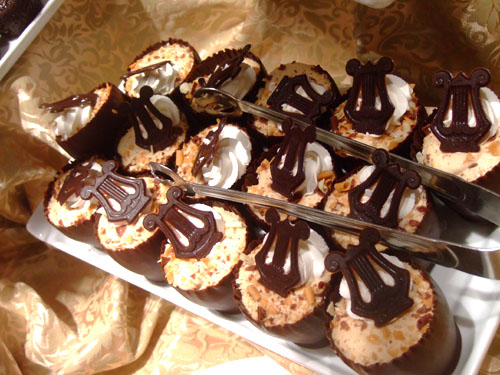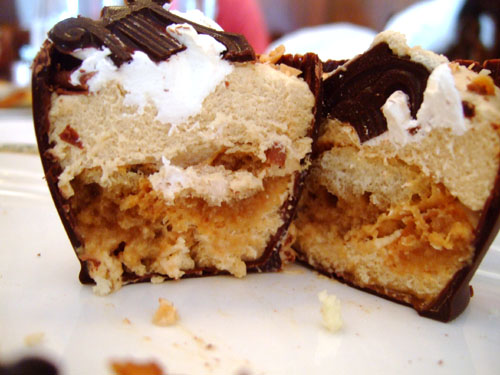 Again, I'm flummoxed as to what this was. I appeared to be some sort of chocolate cup, with a cream and cake filling. Decent, but nothing special.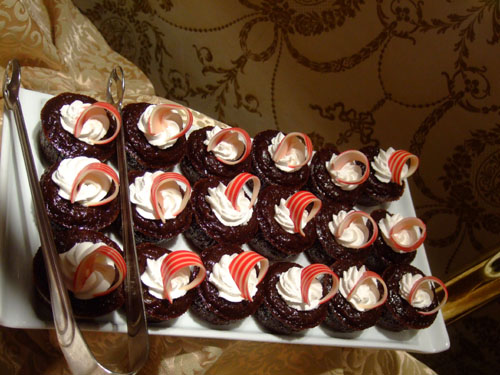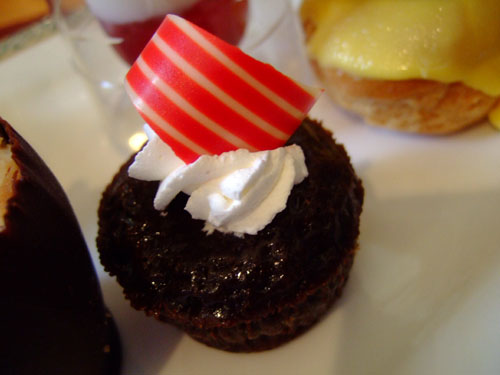 A dark brownie-esque chocolate cake, topped with whipped cream and peppermint. We were told by the chef that this was the most chocolatey dessert, and he was right. It was also one of the best.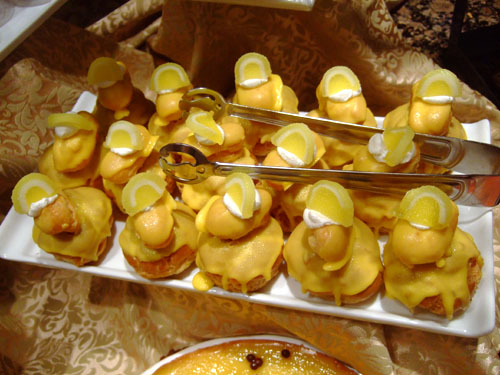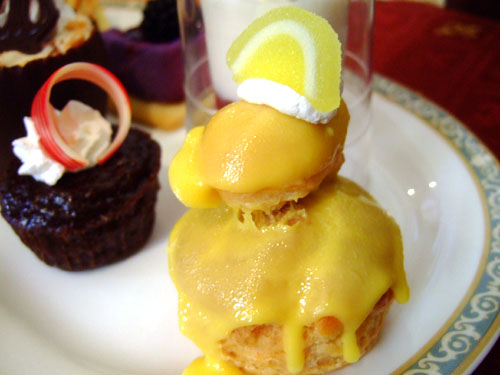 This was some sort of lemon pastry, with a tart lemon filling. I liked the texture and consistency of the dessert and its creamy interior, but the taste was far too sour for me.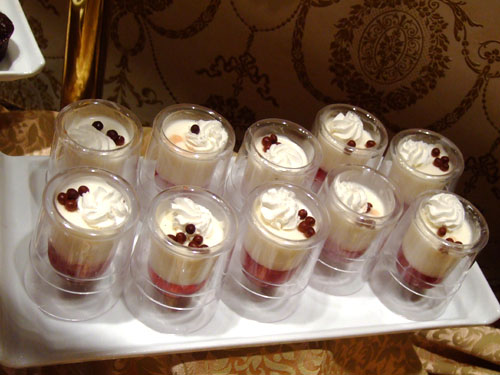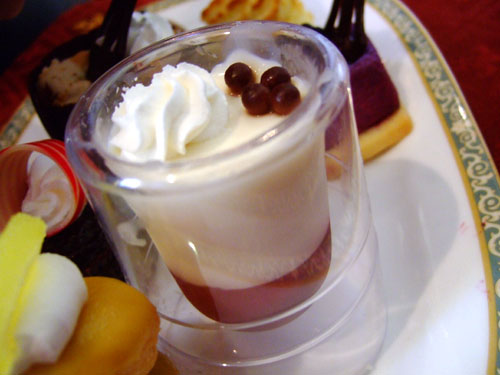 Panna cotta above a fruit gelatin. The panna cotta itself was fairly mild, so it worked well with the sweeter gelée layer. Not bad.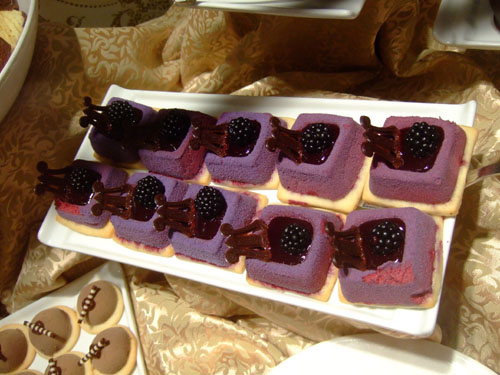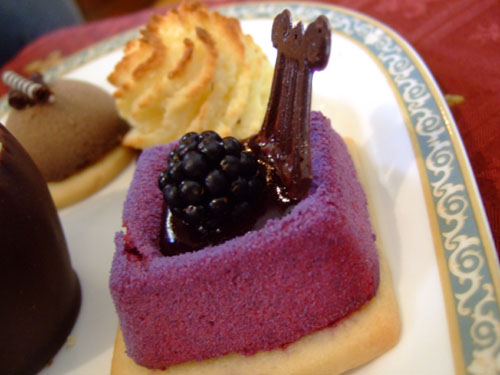 The blackberry tart was, as expected, quite tart, though balanced somewhat by the use of chocolate.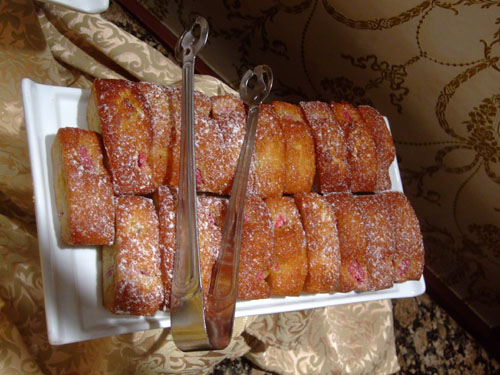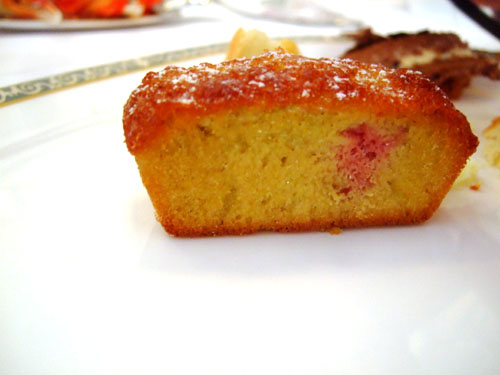 This was a financier, a semi-spongy tea cake similar to a madeleine. Apparently, the name "financier" is said to come from the pastry's traditional rectangular mold, which resembles a bar of gold. It was fairly dense, with a mild sweetness to it, backed by a rich buttery flavor.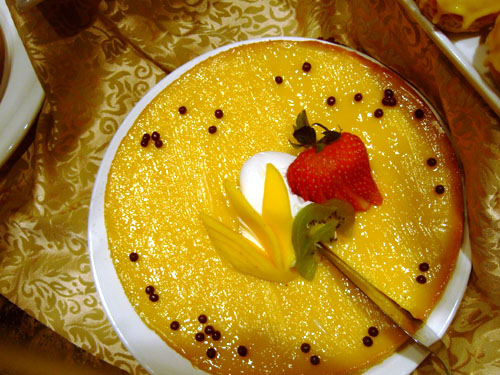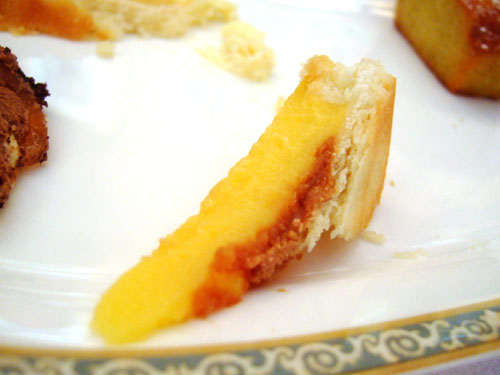 The mango pie had a rather bracing, delicious mango flavor that made it one of the strongest desserts.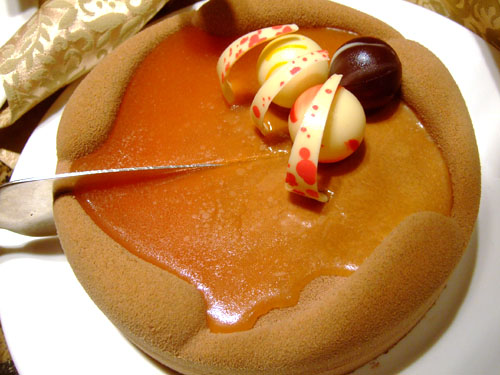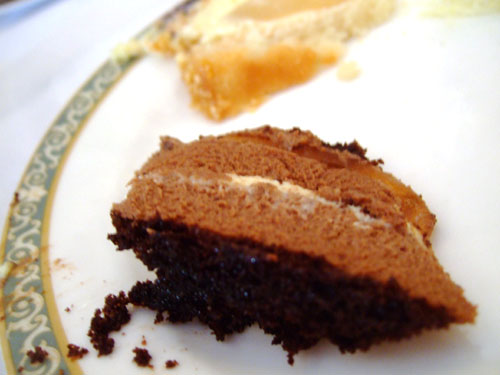 The chocolate mousse cake was light and subtle in flavor, though sadly a bit nondescript.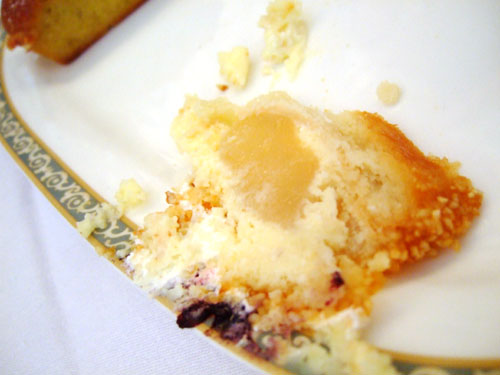 Finally, the fruit-based cake was palatable but forgettable. At this point, we were getting so full that all we could handle were "slivers" of cake!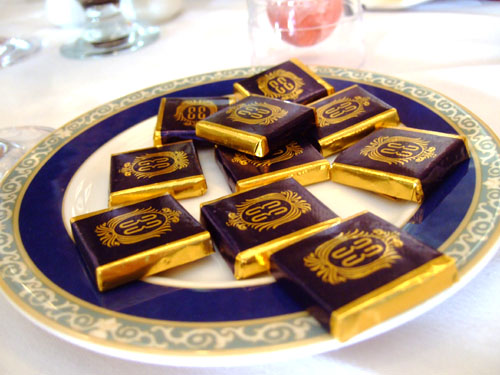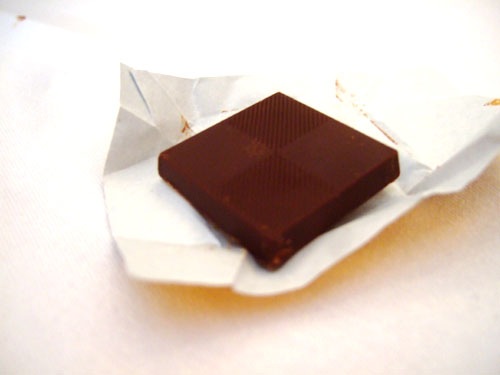 The Club 33 mints to close out the meal were a new addition on this visit. Taste-wise, they reminded me of
Andes chocolate mints
.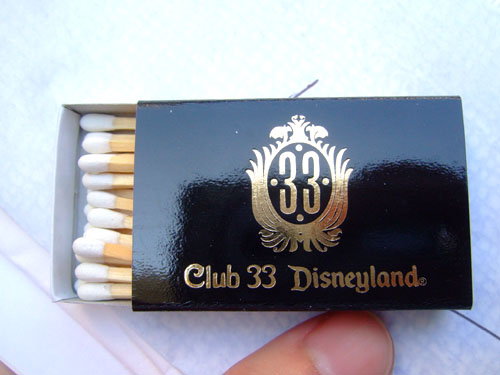 The Club 33 matchbook. We asked the hostess on the first floor for them as we were leaving. She seemed a bit hesitant in giving them to us, and asked who our server was (hopefully he didn't get in trouble!). She then went on to explain that the supply of the matches is quite limited.
As you can see, food-wise, Club 33 certainly isn't going to be winning any awards. Though certainly not atrocious by any means, the cuisine is rather tired and really only a notch above typical "hotel fare." But if you're focusing on the food, you're missing the point. The point of the Club is the exclusivity, the
experience
, and by that criterion, Club 33 certainly measures up. I'll definitely be back if I have the chance.