Bar Charlie (Las Vegas, NV)
Bar Charlie
3325 Las Vegas Blvd, Las Vegas, NV 89109
702.607.6336
www.charlietrotters.com/barcharlie/
Mon 06/15/2009, 09:00p-01:40a
Ah Charlie Trotter, unquestionably one of the country's leading chefs, one who has undoubtedly helped shape the landscape that is modern American cuisine--all this he has accomplished within the walls of his
eponymous Chicago eatery
, which I'd visited less than a month prior to this meal. Unlike many other star chefs, Trotter, for the most part, hasn't succumbed to the ills of empire building, with this Las Vegas outpost being his first venture outside of the Windy City...or is it?
That's what I thought, until I did a bit more research: it turns out that Trotter had been to the desert already. Way back in 1994, before the era of food bloggers, before the Internet even, before my time, clearly, Trotter opened a clone of the original Chicago restaurant at the MGM Grand (which itself opened in late 1993). The 68-seat Charlie Trotter's, Las Vegas was constructed at a cost estimated at $2-3 million, and was designed specifically to cater to MGM's high roller crowd; it eventually opened up to the public as well. Helming the kitchen was Guillermo Tellez, sous chef at the Chicago restaurant.
The problem was that Charlie Trotter's was ahead of its time. It was 1994; Clinton had just taken office; there were no celebrity chefs in Vegas, but 99-cent shrimp cocktails. From Chicago, Trotter brought along his food, but also its associated prix fix format (a degustation for $85 and a vegetable alternative for $65), with only one seating per night. Sin City tourists, the whales specifically, weren't ready for that. As a result, the restaurant suffered financially, and hotel management pushed Trotter and company to compromise their vision, reportedly calling for the addition of "spaghetti and meatballs" to the menu. This clash eventually led to the hotel buying out the remaining 8.5 years of Trotter's contract; Trotter himself, I've read, made out quite well in the deal.
Now here were are, 15 years later. The City has come of age, gastronomically speaking at least. As for Trotter, his approach this time around is more yielding, more in line to the Vegas M.O.: diners are no longer bound by the vagaries of a tasting menu; à la carte is an appealing option, and you can be in and out in 30 minutes. Restaurant Charlie is not a mere carbon copy of the original; rather, it's a more casual, more seafood-focused affair. Bar Charlie, Trotter's restaurant-within-a-restaurant, goes further down that road, and even looks the part of a sushi bar. The cuisine here is unabashedly Japanese-inspired, and is advertised as a kaiseki-style experience, a fusing of Trotter's modern American approach with a Japanese aesthetic. The chef de cuisine is Hiroo Nagahara (I've also seen it as Hiroo Nagana), a college physics major who was handpicked by Trotter for his vision, his artistry. And just like the kitchen back home, Nagahara and his team pride themselves on never serving the same dish twice to a guest--the question is: after this meal, would I ever want to go back?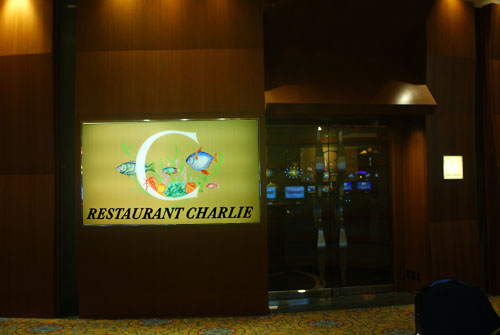 As with
L'Atelier de Joel Robuchon
, which I sampled the night before, the restaurant is located just steps from the clamor of the casino. Unlike Robuchon, the restaurant's entrance is far more subdued and subtle; we almost walked right past it. From Palazzo's lobby, it'll be on your left, along the wall, past Mario Batali's Italian steakhouse Carnevino.

Once inside, the environment is far more serene, calm, and comfortable. The room is dominated by the bar, which seats 18, and the encircled exhibition kitchen. All items, save for the desserts, are prepared in this small space.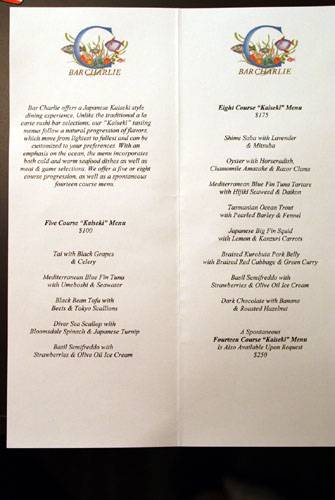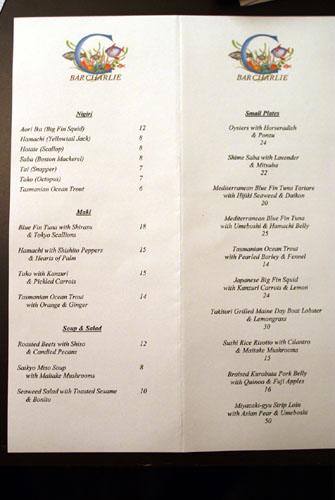 Bar Charlie's menu is shown above; click for larger versions. The preferred method of dining is to choose a 5-, 8-, or 14-course "kaiseki" menu. However, many of the degustation items are also available individually, as are various sushi items (these would've been interesting to try).
My only issue with Bar Charlie once again had to do with the menu. We split a 14-course menu [$250] and supplemented with a couple of additional dishes. Since some of the items we had were created spontaneously, we wanted to have a copy of the entire menu to take home. This request could not be accommodated at the time, so we were told to provide our email addresses; the full menus with everything we ate would subsequently be emailed to us. Well, it's been over two weeks as of this writing (July 2), and such a thing has not occurred. Very annoyingly, this is the
exact
same difficulty I had with
Charlie Trotter's
. Really? This seems to be a problem endemic to the Trotter family of restaurants...
As for wine, I wanted to take it easy on alcohol, so I decided to do it by the glass. Bubbly is always a great way to kick things off, so I ordered up a glass of the G.Gruet & Fils "Blanc de Blancs" Brut, Champagne, NV [$17]. It showed a classic Champagne profile, with citrus and stone fruit flavors on a slightly yeasty backbone, and paired nicely with the light, fruity seafood dishes that followed.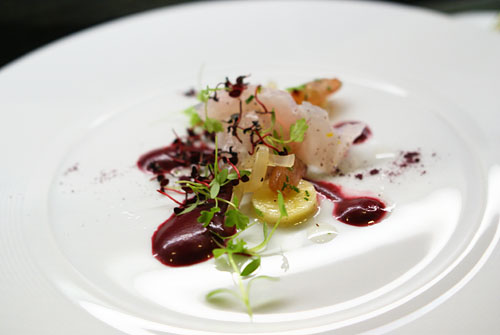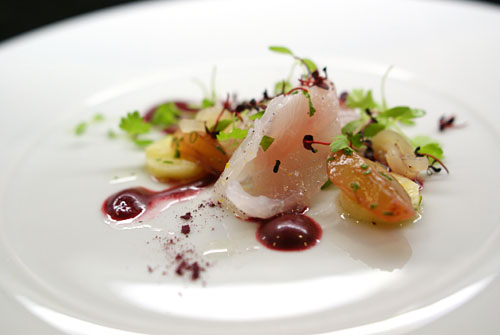 1: Tai with Black Grapes & Celery
Kicking things off was a tai snapper with black grapes, celery, grape must, and pickled grapes. The tai was a mild fish with a great firm, crisp texture. The sweet-sour sapor of the various forms of grape was superb in drawing out the character of the tai, deftly balancing the elements of saccharine, tart, and bitter. Meanwhile, the celery root provided a lovely crunchy texture contrast. This was a strong start and an auspicious foreshadowing of things to come.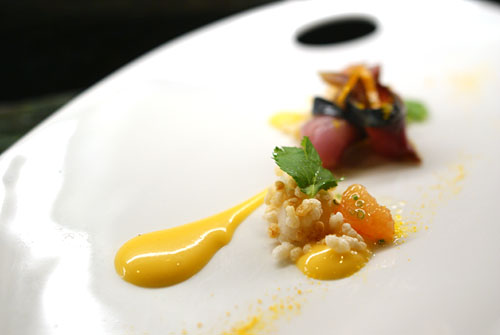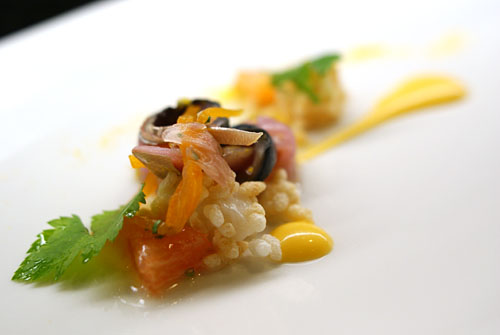 2: Shime Saba with Lavender & Mitsuba
Shime saba is a variety of marinated mackerel, and here it was presented with yuzu, grapefruit zest,
amazake
flan,
mitsuba
, lavender, ginger, and puffed rice. Mackerel is typically a very "fishy" fish, and thus the tanginess of its various accoutrements was instrumental in balancing it out, leaving a lingering citrus finish on my palate. This sour was balanced by sweet as well (thanks in part to the
amazake
, a sweet drink made from fermented rice), taking the mackerel to another level. At the same time, the puffed rice was an absolutely fantastic textural element, adding a light crispness to the entire dish.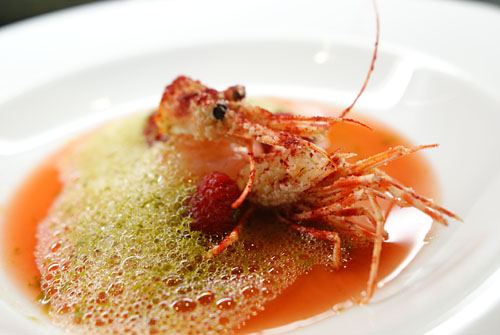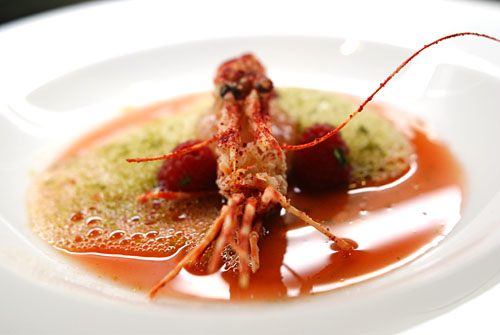 3: Santa Barbara Sweet Shrimp
Next was Santa Barbara amaebi, or sweet shrimp, with tarragon foam, raspberry, and crème fraîche, all in a raspberry-lobster consommé. The pairing of shrimp with the tartness of the berry was a bit jarring at first, but this initial disconcerting feeling eventually settled into place. The amaebi's natural brininess was there, but subtle, while the berry linked up with the shrimp's inherent sweetness. And the crispy heads? Sublime--as good and flavorful as those from just about any dedicated sushi joint.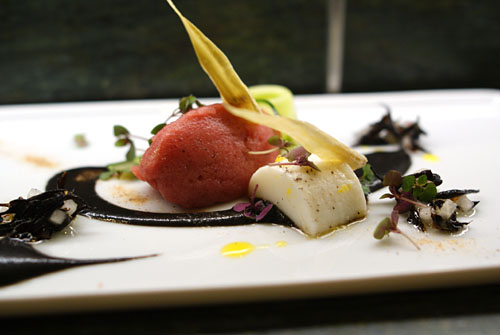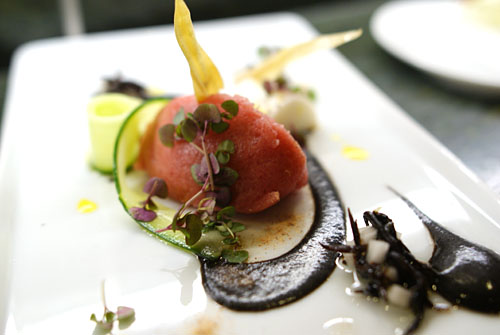 4: Mediterranean Blue Fin Tuna Tartare with Hijiki Seaweed & Daikon
When I took a look at this dish, I thought we were getting some sort of tuna sorbet! The quenelle of bluefin really was just about the finest, softest tartare I'd ever eaten; it was paired with daikon, fermented daikon, daikon Greek yogurt,
battera kombu
(kelp), and
hijiki
(a type of seaweed). The tuna itself tasted of cucumber and soy, a very mild amalgam that went beautifully with the briny seaweed, as well as the slightly sweet-nutty black sesame sauce. Very nice.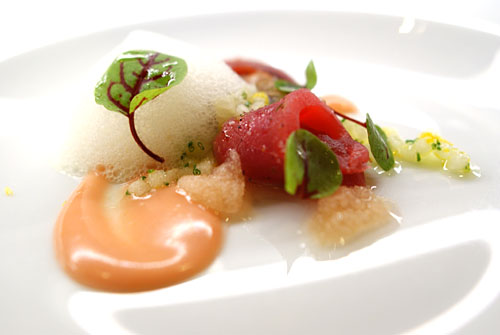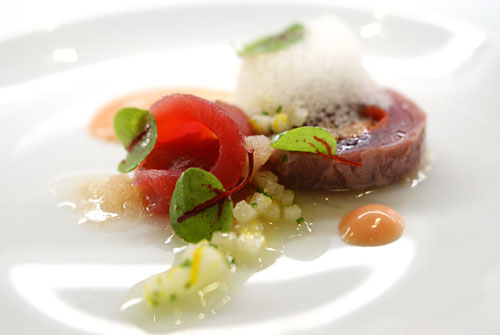 5: Mediterranean Blue Fin Tuna with Umeboshi & Hamachi Belly
The tartare was followed up with another tuna dish, this time a roulade of tuna slow-poached at 43°F, with
umeboshi
(a pickled fruit) cake, hamachi sashimi, in a
nashi-umeboshi
sauce, finished with cherry blossom ice. The akami was tasty enough, but the star of the show was the hamachi, which was just about the densest, richest version I've had, with a delectably salty finish that played nicely with the dish's tangy, grassy accompaniments.
At this point, my sparkler had been dispensed with, so it was time for another wine, this time the Riesling Kabinett "Maximin Grünhäuser Herrenberg" von Schubert, Mosel, 2007 [$19]. I was first introduced to producer Maximin Grünhäuser on my first visit to
Providence
, and it has never let me down. The Riesling's record continued here; it wasn't overly sweet, fortunately, but did show expected citrus notes, over a backdrop of crisp acidity, pleasing minerality, and even a bit of spice. A joy to drink with the meal.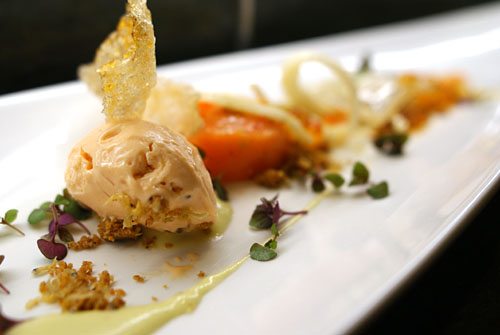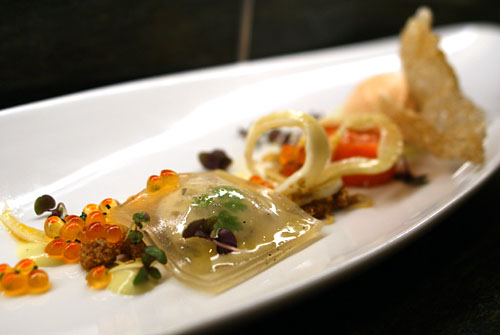 6: Tasmanian Ocean Trout with Pearled Barley & Fennel
There was a lot happening on the plate here, a seemingly disparate mélange of ingredients: trout belly, ikura, fish stock and barley miso raviolo, fish scrap-
saikyo miso
sorbet, fennel purée, and crispy fried trout skin. By far the most intriguing item was the sorbet, which was about as close as I've gotten to fish ice cream! Trust me, it tasted better than it sounds. It was sweet, thanks to the
saikyo miso
, but with a distinctly fishy tinge to it; it went wonderfully with the salty, crunchy trout skin. The trout was also quite tasty, with an intrinsic subtle sugariness and a salty finish; it was nicely balanced by the briny ikura (salmon roe) and surprisingly, by the nuttiness of the barley.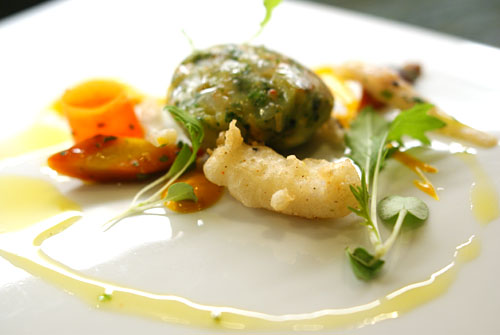 7: Japanese Big Fin Squid with Lemon & Kanzuri Carrots
The centerpiece of this dish was a squid "egg" made with squid, shrimp, and lemon curd. Also present were sous vide squid wings, tempura squid body, carrot sauce, and pickled
kanzuri
carrot. I started with the "egg," which had an absolutely multifaceted texture, with a flavor dominated by squid on the attack, but finishing with the tanginess of lemon. I next had the wings, which were just about the most tender cuts of squid I've ever eaten--I wanted bigger pieces! My favorite, though, was the tempura, which was simultaneously crunchy on the outside and soft on the inside, with delightfully salty flavor that went superbly with the
kanzuri
(a type of spice made from chili pepper).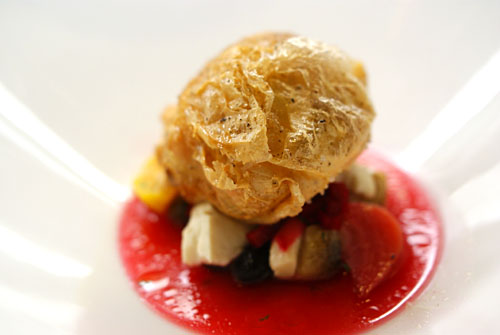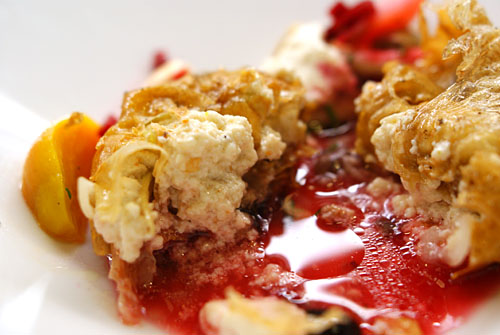 8: Black Bean Tofu with Beets & Tokyo Scallions
The lone vegetarian course of the night, we have here housemade black bean tofu, in a fermented beet consommé, with honshimeji mushroom. The tofu was mild at first, but gradually displayed a fantastic richness and depth of flavor, much more than typical tofu, and possessed a spicy finish to boot. The crisp, flavorful skin was particularly appealing. The addition of whole black beans provided a great textural complexity, as did the crunchy homshimejis, which also gave the dish a sweet nuttiness. I was skeptical at first, but this may very well have been the best tofu I've ever had.
By now, my Riesling glass was almost empty, so I requested a beer from Bar Charlie's surprisingly comprehensive list. I left it up to the sommelier to choose, and he ended up with an Asahi "Select" Ale [$7], which I'd had last at
R23
. Much better than your standard Asahi, it was a more complex brew, a lively amalgamation of sweet, bitter, and spicy that seemed appropriate given the Japanese-inspired cuisine.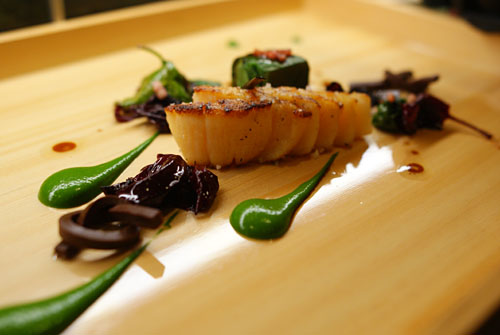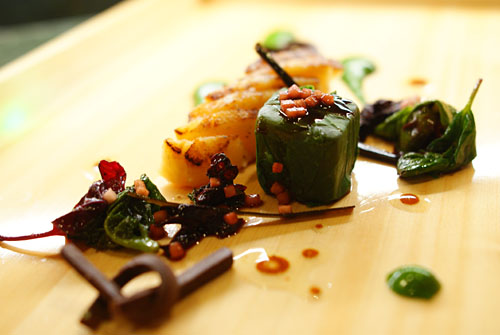 9: Diver Sea Scallop with Bloomsdale Spinach & Japanese Turnip
I was looking forward to this one: scallop, spinach, braised daikon, kombu, coffee-cherry sauce, and yes, pliable chocolate. The first test was to eat the scallop alone; it actually was extraordinary flavorful, with a superb sweetness accented by its perfectly caramelized surface--it easily stood on its own. I then made my way through the various accoutrements, and they all went very well (including that cube, which was daikon wrapped in spinach), before ending with chocolate. Now I don't think I've ever paired scallop with chocolate, so I was a bit wary here. I'm happy to report that the pairing went surprisingly well. The sugariness of the chocolate paired up deftly with the mollusk's natural sweetness, and the admixture almost had a spicy flavor to it.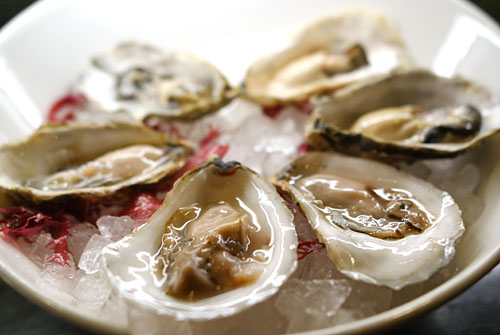 Supplement: Oysters with Horseradish & Ponzu [$24]
At this point in the meal, my dining companion was so ecstatic about how good all the dishes were turning out that she decided that we had to try to get everything on the menu (something that was completely unexpected by me!), hence these oysters. They were simply prepared, and possessed a distinct sweet brininess by themselves, with a long, lingering finish. They came served with a trio of accompaniments: diced cucumber, sherry vinaigrette ponzu, and horseradish. The ponzu and horseradish were tangy and spicy respectively, and thus effectively cut the strength of the mollusks. The cucumber, on the other hand, was milder, but provided a fantastic crunchy consistency to balance the soft, slimy oysters. Overall, a very strong presentation.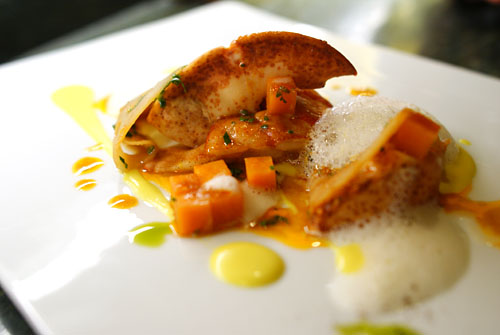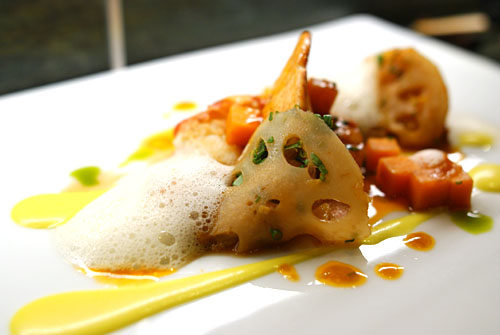 Supplement: Yakitori Grilled Maine Day Boat Lobster & Lemongrass [$30]
Our next supplement was a preparation of lobster, with lemongrass-yellow curry dressing, basil oil, lotus root, and coconut foam. Though the claw was a bit overdone, the tail had a just about perfect, crisp consistency. The natural sweetness of lobster was a great foil to the lemon grass, curry, and coconut elements in this dish, which gave the food a decidedly Thai bent. The lotus root--crisp, savory, fantastic.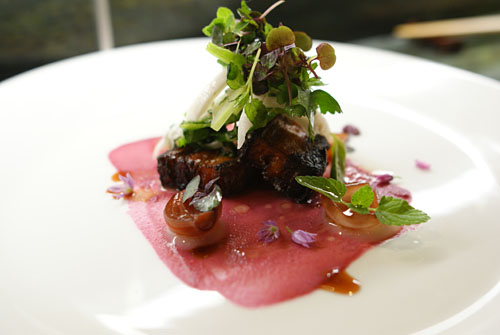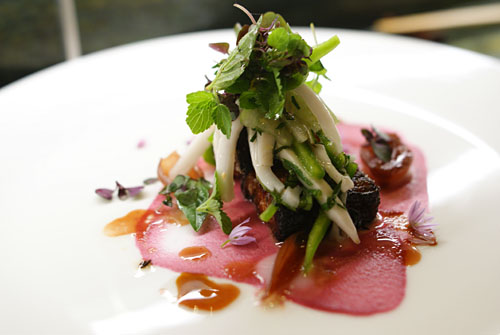 10: Braised Kurobuta Pork Belly with Braised Red Cabbage & Green Curry
With the string of seafood-based successes, both my dining companion and I were predicting that the kitchen would falter when it came to proper meat, especially something as heavy as pork belly. Here, it was braised with hibiscus, and served with green curry, coconut, tomatillo, kaffir lime oil, Thai basil, cilantro, shiso, onion, and jalapeño (whew!). I first cut a piece of the belly by itself, and noted that it oozed oil upon being pierced by my knife. Upon tasting, I noted a delicious bacon-like flavor intermixed with a delightful smoky char--this was the real deal. I then "dragged it through the garden," trying the pork with its various veggie concomitants. The result: fantastic; the weight of the pork was countered so masterfully, so adeptly; pork belly was transformed into a light, blithe dish. Probably the best pork belly I've experienced yet.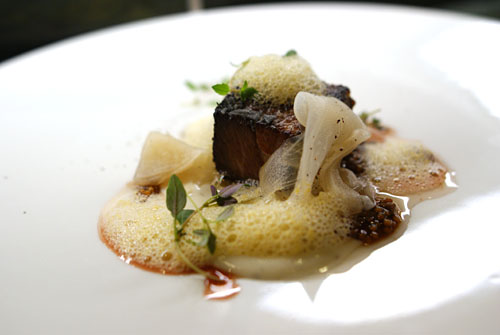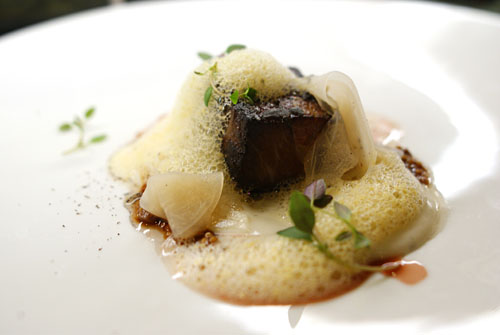 11: Braised Miyazaki Wagyu Short Rib
Could lightning strike twice? Indeed it did. Braised beef short rib certainly competes with pork belly in terms of gravitas, but once again, the kitchen managed to temper the meat's heaviness to great effect. The beef itself had an inherent delicate sweetness to it, with a lovely herbal tang as well. Texturally, it was tender, but not too tender; it still had a nice chew to it, and the tough, charred bits mixed things up as well. The char also provided a lovely smokiness to the dish, but the key was the mustard foam. Its peppery tang was instrumental in offsetting the richness of the beef. Again, very, very good.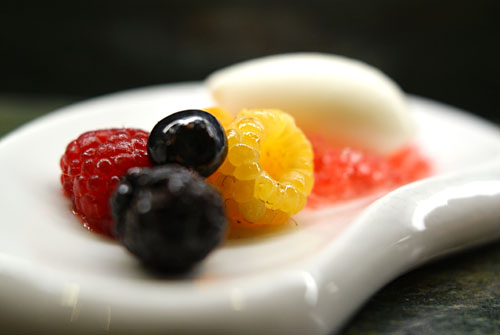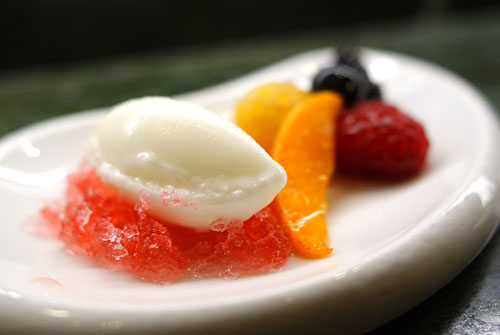 Intermezzo: Hibiscus Granita, Sour Yogurt Sorbet
With dessert upon us, we were given this small palate cleanser, consisting of a hibiscus granité, topped with a sour yogurt sorbet, served with peach, golden raspberry (which my dining companion was particularly fond of), blackberry, blueberry, and raspberry. The berries were scrumptious, and were tempered somewhat by the tart yogurt.
I wanted a sweet wine to go with dessert, and thus requested a glass of Pedro Ximénez. There was some miscommunication, and I was brought the Tokaji-Aszú "5 Puttonyos" Royal Tokaji Wine Company, Hungary, 2003 [$16] instead. It actually worked out for the better though, as the Tokaji paired beautifully with the two fruit-based desserts to follow.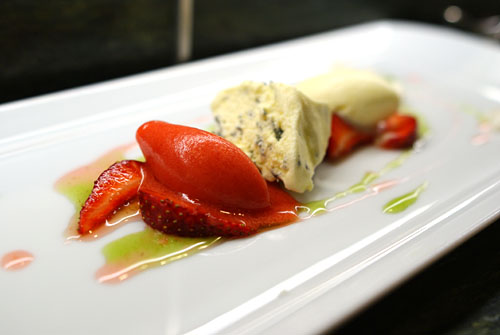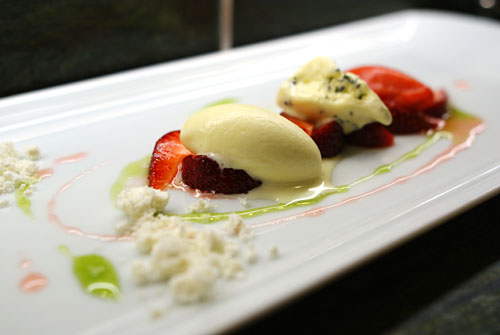 12: Basil Semifreddo with Strawberries & Olive Oil Ice Cream
Scott from the pastry team explained to us that the strawberries used here were from Harry's Berries, a purveyor from Southern California; I'd encountered their strawberries before at
Providence
. In any case, here they were paired, in sliced and sorbet forms, with basil and olive oil. The olive oil ice cream was especially interesting, with a rather heavy palate, followed by a lingering savory finish. The basil semifreddo and basil oil, meanwhile, provided a fresh tanginess that offset the juicy sweetness of the berries. Like many of the things we tried tonight, the various items didn't seem like they'd work together, but amazingly, they did.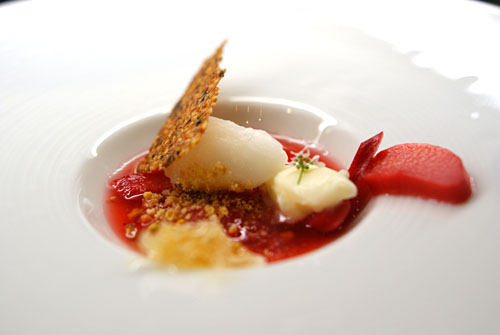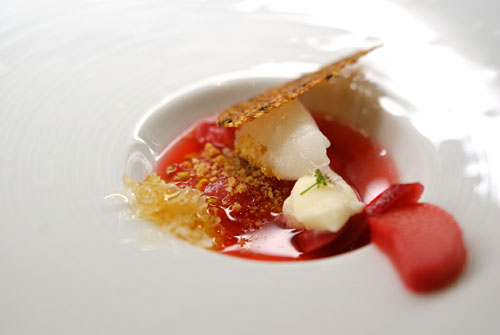 13: Chamomile-Stewed Rhubarb
Sort of a mini-dessert, this was rhubarb stewed in chamomile, with hemp, honey, and coriander--sweet at first, but with a tangy finish and a bit of savoriness from the tuile as well.
It was finally time for the Montilla-Moriles "PX Gran Reserva" Bodegas Toro Albalá, Spain, 1979 [$17] I ordered earlier. It was about what I expected, with plenty of raisin, plenty of smoke, plenty of sugar sweetness--it'd be great with the chocolate...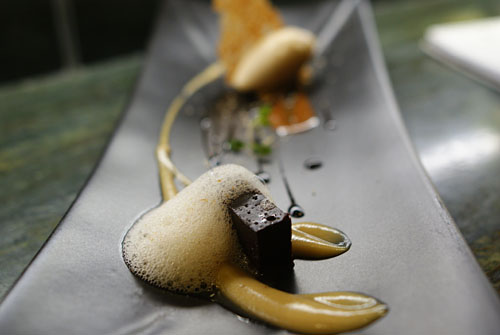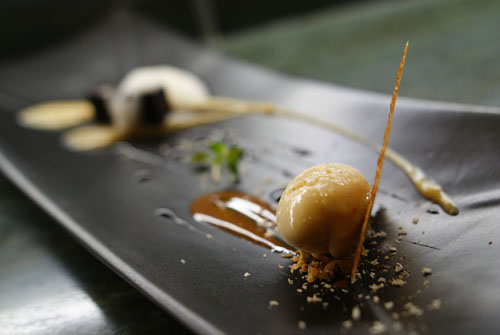 14: Dark Chocolate with Banana & Roasted Hazelnut
Flourless dark chocolate cake, banana sorbet, sherry vinegar gastrique, chai foam, banana chip. As a testament to the dessert's prowess, my dining companion, who doesn't like bananas, adored this. The chocolate was lovely, as expected, but the banana stole the show. It really tempered the richness of the cake, while imbuing the senses with the very essence of banana, creating a dessert that was all at once rich, decadent, fruity, yet light.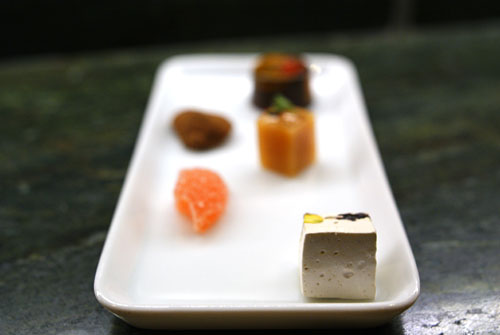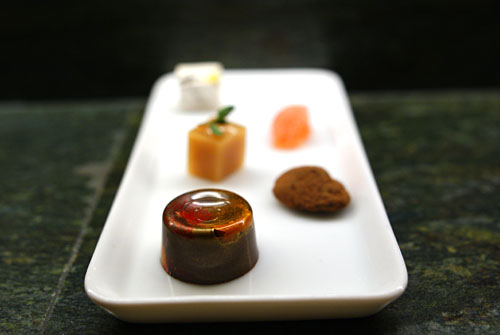 Mignardises
A quintet of mignardises to close out: (1) a honey-pistachio nougat that wasn't bad; (2) guava
pâte de fruit
--the very heart of guava encased in jelly; (3) cherry caramel with honey and thyme (what Scott likes to call "honey crunchies"), which reminded me of the herbal-sweet interplay of the butterscotch
budino
at
Pizzeria Mozza
; (4) a crunchy, nutty, sweet almond dragée like I had at
Charlie Trotter's
in Chicago; and (6) a cherry-almond truffle.
No question: Bar Charlie exceeded my expectations,
by a lot
. The fusing of American and Japanese approaches really worked near flawlessly I thought, with bold, light but forceful, focused flavors that exploded on to my palate. My dining companion even went as far as to say that there were no misses whatsoever--quite a lofty accomplishment indeed, and I may even agree with her (all dishes were tasty, but some dishes were more tasty than others). In fact, I liked this better than
the original
, but don't tell Charlie that! It really is one of the best restaurants in Las Vegas, which nobody knows about. Let's just hope that Restaurant and Bar Charlie last longer than Trotter's previous Vegas venture.