Restaurant Guy Savoy (Las Vegas, NV) [2]
Restaurant Guy Savoy
3570 Las Vegas Blvd, Las Vegas, NV 89109
702.731.7110
www.caesarspalace.com/casinos/caesars-palace/restaurants-dining/restaurant-guy-savoy-detail.html
Sun 12/06/2009, 06:30p-11:00p
After an epic, opening night meal at
Twist by Pierre Gagnaire
, we still had time for one more dinner before leaving Las Vegas. Given the over-the-top nature of Gagnaire, I was thinking something lower-end: Raku, Rosemary's, Lotus of Siam, even Hash House a Go Go. My dining companion, however, had had Guy Savoy on the mind ever since reading
my first post
on the place. I wasn't eager to return though, as much of the menu hadn't changed since June. Obviously, since I'm writing this post, I was eventually convinced--what did it was that the kitchen agreed to customize the tasting menu so that there would be no repeat courses.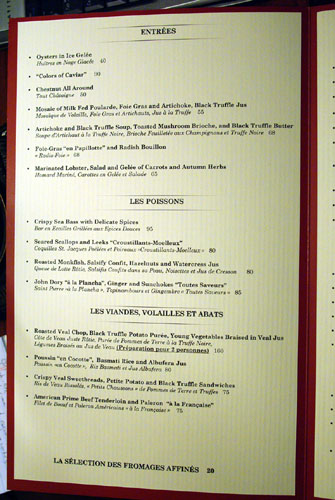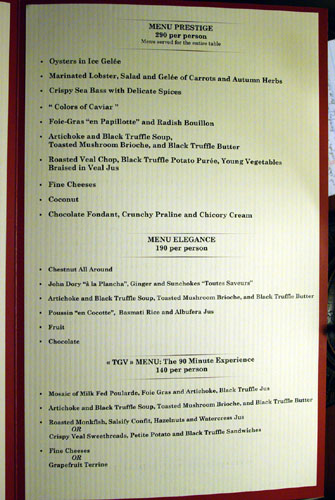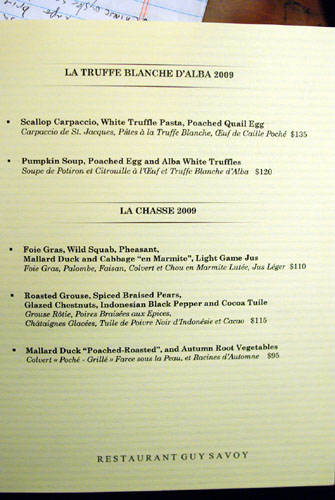 The first two photos above show the standard menu, while the third lists some seasonal specials; click for larger versions. À la carte selections are ridiculously priced, so it's a good idea to choose one of the prix fix options here. Naturally, we had to go with the 10-course Menu Prestige, which, apparently, is ordered by roughly 40% of diners (as reported in
Nation's Restaurant News
). Had we had more stomach capacity, it might've been interesting to try something from the "La Chasse" ("the hunt") menu, which features game dishes.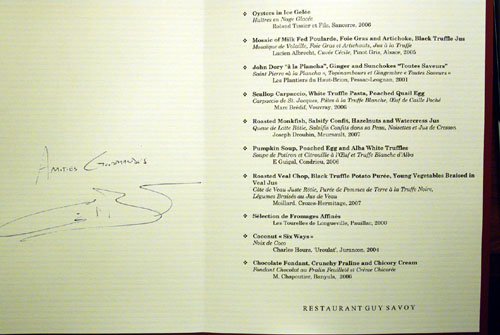 Above, we see the customized degustation that I enjoyed, signed ("Amitiés Gourmandes," or "Gourmet Greetings") by Executive Chef Eric Bost; click for a larger version. Half of the Menu Prestige was replaced by courses from the à la carte selection; these are denoted "a" below, with the standard items marked "b." The cost of the menu remained the same, at $290, while wine pairings for the decet of dishes added an additional $150 per person.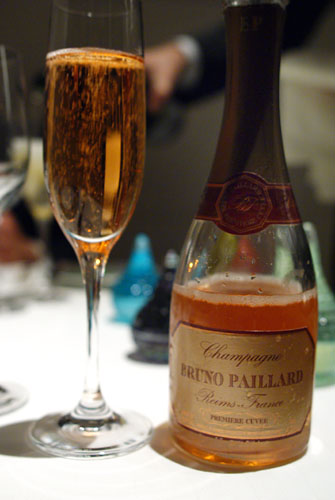 Upon being seated, we were presented with a selection of Champagnes from a rolling cart. My dining companion had the R&L Legras, Guy Savoy Blanc de Blancs, Chouilly, Brut, MV [$29]; don't let the "house" moniker fool you, this was some good, powerful tipple. I was in the mood for something sweeter, and thus went with the Bruno Paillard, Rosé, Reims, Brut MV [$22]. It's a wine that I'd quaffed before, notably at
Joël Robuchon
and
Alinea
, but it seemed fruitier this time around, showing pronounced citrus notes.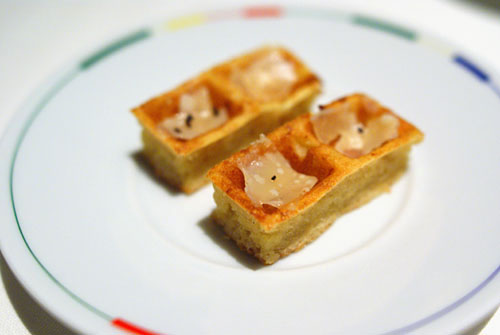 Canapé 1: Parmesan Waffle
The food then began to arrive. First, we were brought the smallest waffles we'd ever seen. The bits of Parmesan added a slight cheesiness and depth to the otherwise straightforward, nicely textured waffles.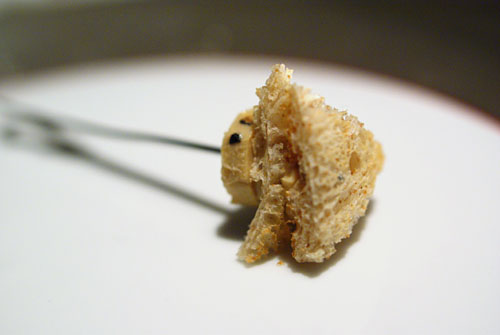 Canapé 2: "French Sandwich"
Next was the so-called "French Sandwich" (which I'd also had on my previous visit), consisting of toast, foie gras, and black truffle. Initially, its flavor was quite mild, dominated by the brioche. However, upon mastication, the foie began to become more and more apparent, leaving a long, lingering finish imbued with the essence of liver.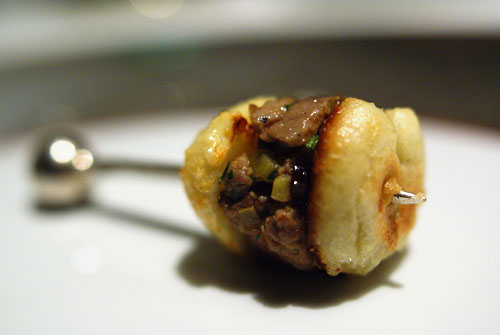 Canapé 3: "French Burger"
Our final snack was the "French Burger," which was also present last time. It's a micro-burger basically, made from beef seasoned with black pepper, salt, parsley, chervil, onion, and finished with Dijon mustard. Its savor was simply stupendous: superbly beefy with a striking herbal smack and peppery conclusion, with the Dijon providing a fantastic piquant tang. It made me want to try the full-sized burger on the bar menu!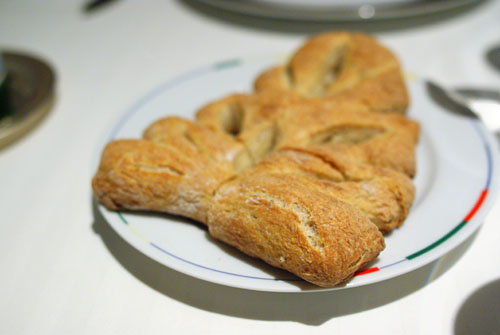 At this point, a large loaf of black pepper-rosemary country bread was presented before us; it was delightful, with a pleasant, perky, peppery close. Bread was served with salt, pepper, and unsalted and salted Échiré butters.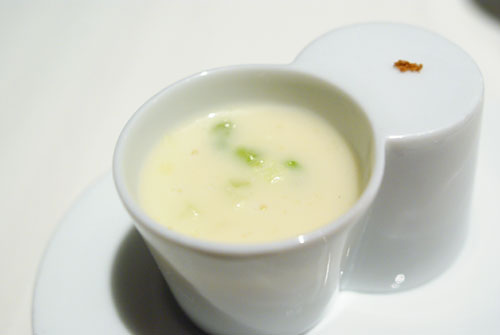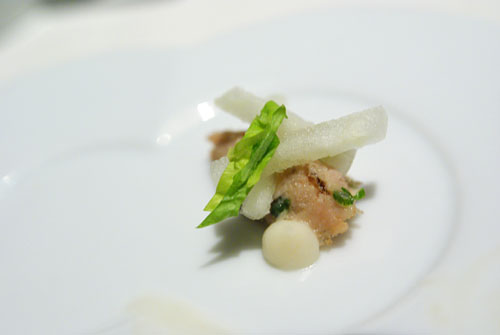 Amuse Bouche: Root Vegetable Cream Soup
An amuse in two parts: the first comprised small cubes of green apple and celery, covered in a root vegetable cream soup, with a bit of mushroom powder on the side. The hearty, rich attack of the soup belied its delightfully tangy, crispy finish--quite nice, though the mushroom was nearly invisible. The second part of the amuse came when I lifted the cup. What I found was a sort of "chicken salad," but one made with capon (a young, castrated cockerel--male chicken) meat. A capon's flesh is known for its tenderness, and the result here was just about the most refined chicken salad you could imagine.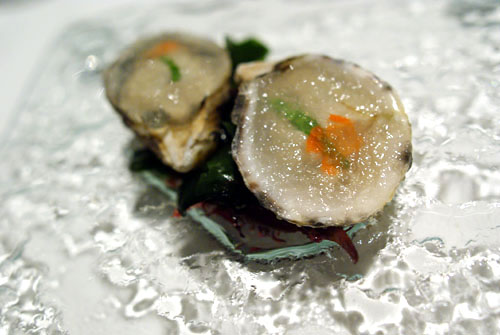 1: Oysters in Ice Gelée
| Huîtres en Nage Glacée
Roland Tissier et Fils, Sancerre, 2006
Seaweed Ciabatta
Our meal proper began with oysters--always a good decision. What we had here were Kushi oysters from British Columbia, sandwiched between an oyster crème fraîche and an oyster gelée, garnished with spinach and carrot. The natural flavor of the mollusks was heightened by the jelly, which seemed to be composed from the liqueur of the bivalve itself, while the crème fraîche added palpable weight on the palate. Very nice with the bread, which had a lingering
nori
-esque finish.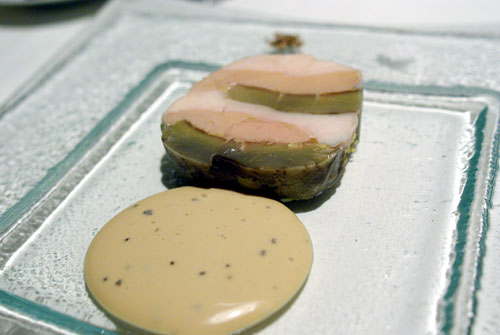 2a: Mosaic of Milk Fed Poularde, Foie Gras and Artichoke, Black Truffle Jus
| Mosaïque de Volaille, Foie Gras et Artichauts, Jus à la Truffe
Lucian Albrecht, Cuvée Cécile, Pinot Gris, Alsace, 2005
Miche Bread
This next item was one of the highlights of the meal for me. What we have is an amalgamation of poularde, foie gras, and artichoke, accompanied by truffle sauce, salt, and pepper. The key here was the poularde (basically a young hen spayed for fattening, sort of the female version of the capon above), which perfectly captured the pure quintessence of what chicken is all about. The foie, meanwhile, added a marked gravity to the dish, perfectly accentuating the relatively leanness of the chicken. The artichoke, on the other hand, provided a lightening contrast. The end result was a fantastic interplay of the three elements, with the smack of the poularde alternating with the foie and artichoke. I liked it well enough by itself, but the truffle jus added an extra dose of luxuriousness that made it even better. Easily one of the best chicken dishes I've ever tasted.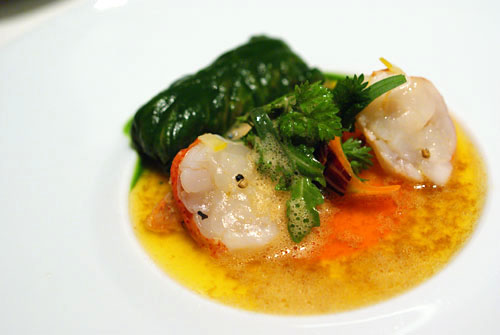 2b: Marinated Lobster, Salad and Gelée of Carrots and Autumn Herbs
| Homard Mariné, Carottes en Gelée et Salade
Marc Brédif, Vouvray, 2006
Seaweed Ciabatta
Here were two pieces of expertly cooked lobster tail, nicely snappy and crunchy, and quite delicious on their own. The crustacean was paired with carrots and various herbs, which provided a vegetal depth to the dish that nicely balanced the sweetness of the lobster. The most interesting facet here, however, was the use of tiny tapioca balls, which added a superb chewiness to the dish that really complemented the lobster's supple flesh. The bread pairing, a seaweed ciabatta, was a superb complement, with its briny flavor underscoring the lobster's natural savor.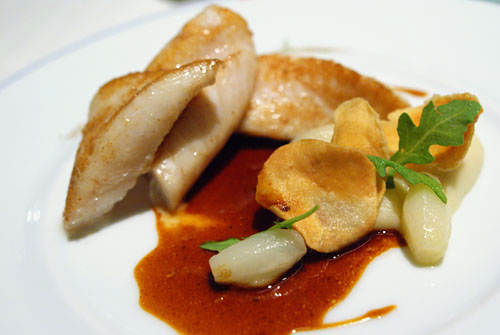 3a: John Dory "à la Plancha", Ginger and Sunchokes "Toutes Saveurs"
| Saint Pierre « à la Plancha », Topinambours et Gingembre « Toutes Saveurs »
Les Plantiers du Haut-Brion, Pessac-Leognan, 2001
Lemon Bread
Cooked, apparently, à la plancha (meaning on a flattop grill), the Dory was definitely one of the better variations I've had. I enjoyed its firm, flaky consistency, as well as its unabashedly savory smack. The fish's flavor was augmented by the aggressive balsamic and olive oil sauce, while the sunchokes and ginger especially gave the dish a key mitigating contrast. The lemon bread paired with the fish was interesting, as it added a distinct sourness that countered the savoriness of the Dory.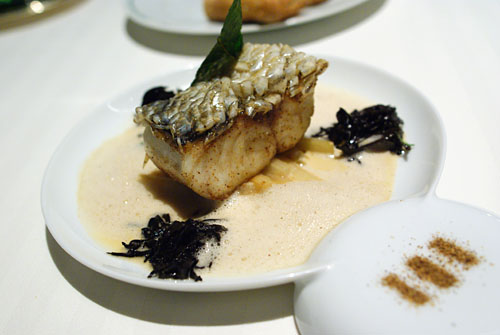 3b: Crispy Sea Bass with Delicate Spices
| Bar en Ecailles Grilées aux Epices Douces
Joseph Drouhin, Meursault, 2007
Lemon Bread
One of Chef Savoy's signature dishes, we have here sea bass, cooked skin side down for crispness, with a ginger-vanilla fish stock foam, served with seaweed and Swiss chard, and garnished with an admixture of spices including black pepper, fennel, and Sichuan pepper. Texture-wise, I had no complaints about the sea bass, as the flesh was rare and tender, replete with a wonderfully crisp, savory skin. In terms of flavor, last time, I felt that the vanilla was a bit overpowering, but I'm glad to report that the dish was better this time around. Overall, it was a more savory, more natural presentation of sea bass I felt, and I loved the contrast between the fish and the brininess of the seaweed.
4a: Scallop Carpaccio, White Truffle Pasta, Poached Quail Egg
| Carpaccio de St. Jacques, Pâtes à la Truffe Blanche, Œuf de Caille Poché
Marc Brédif, Vouvray, 2006
Plain Ciabatta
Given the ingredients at play here, there was almost no way that this dish could've turned out poorly. And indeed, it did not disappoint. I first noted the lovely al dente texture of the pasta (
orecchiette
perhaps?), which nicely countered the consistency of the scallops. The bivalves themselves were delicate in flavor, yet weighty. Their mildness eventually led to a distinctly truffle-tinged finish, while the midpalate was dominated by the overarching creaminess of the egg. In order to not overwhelm the flavors of the dish, the bread server paired a simple, plain ciabatta with the course.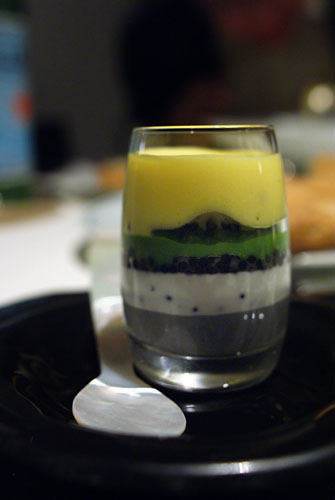 4b: « Colors of Caviar »
Domaines Schlumberger, Grand Cru Saering, Riesling, Alsace, 2006
Plain Ciabatta
Next was one of M. Savoy's most decadent creations, a multilayered, multitextured amalgam of caviar vinaigrette, caviar crème fraîche, golden Ossetra caviar, haricot vert purée, and hot egg sabayon. This was a fascinating study in the interaction of textures, tastes, and temperatures, with each bite yielding a different flavor progression than the one before it. I especially appreciated the relationship between the salty roe and the creamy, eggy sabayon.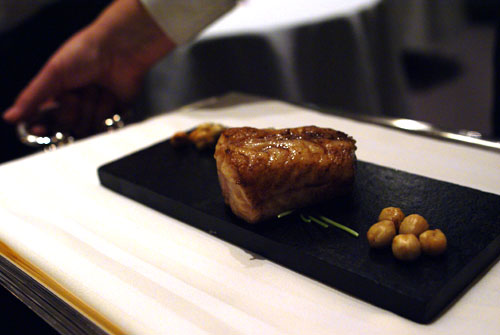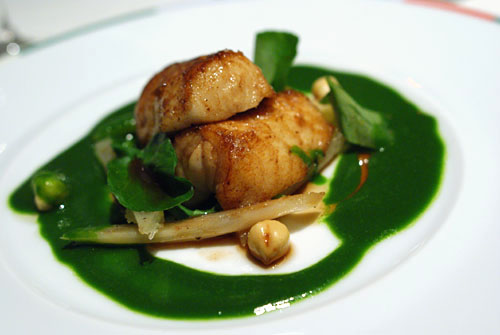 5a: Roasted Monkfish, Salsify Confit, Hazelnuts and Watercress Jus
| Queue de Lotte Rôtie, Salsifis Confits dans sa Peau, Noisettes et Jus de Cresson
Joseph Drouhin, Meursault, 2007
Chestnut Bread
For this next course, our server brought to the table a tray holding a large chunk of monkfish tail, which had been roasted on the bone for maximum flavor. Afterwards, it was brought back into the kitchen, where it was subsequently filleted and plated. This was definitely a very strong preparation of monkfish, and I quite liked the fish's supple yet spongy consistency, as well as its markedly savory flavor, nicely accented by the brown butter and salsify. The watercress, meanwhile, contributed a slight bitterness to the dish, while the hazelnuts added a sweet nuttiness as well as a crunchy textural element.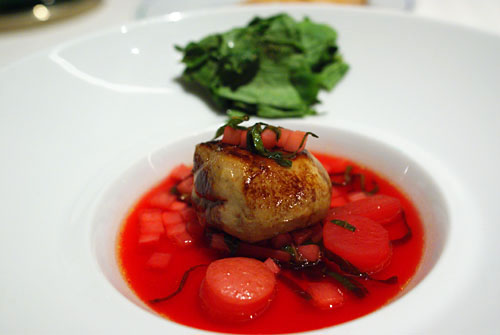 5b: Foie-Gras "en Papillotte" and Radish Bouillon
| « Radis-Foie »
Lucian Albrecht, Cuvée Cécile, Pinot Gris, Alsace, 2005
Caramelized Onion Bread
When I had this last time, I declared it the best hot preparation of foie I'd ever had thanks to the bitterness at play--I still stand by that claim. We have Hudson Valley Moulard duck foie gras, which is pan-seared, then cooked
en papillote
("in parchment"). This means that the foie is sealed in a plastic pouch and cooked, steaming in its own juices, with cherry vinegar and pink radishes. The radish did a great job at tempering the gravity of the foie gras, which I believe would've been too overwhelming on its own. In addition, the radish leaves added a bitter, vegetal, piquant smack that further countered the liver.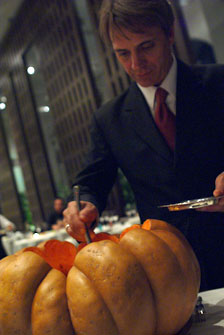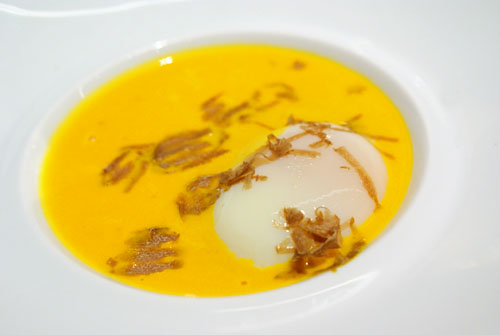 6a: Pumpkin Soup, Poached Egg and Alba White Truffles
| Soupe de Potiron et Citrouille à l'Œuf et Truffe Blanche d'Alba
E Guigal, Condrieu, 2006
I loved the presentation of the soup here: ladled from a bowl inside of a rather large pumpkin. I was a bit concerned, however, that the concoction would be overwhelmingly sweet. Fortunately, it wasn't. The essence of pumpkin was preserved, but the egg really provided a depth and creaminess that prevented the soup from being overly sugary. The tinge of white truffle certainly helped as well, giving the potage an earthy bouquet. Very nice with the lush, florid, floral Condrieu.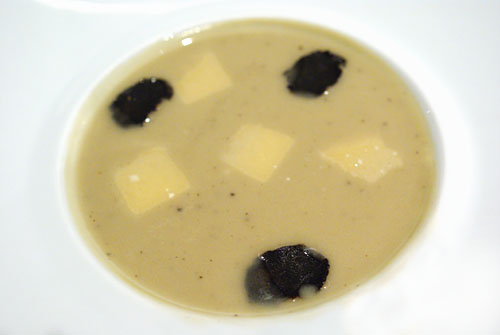 6b: Artichoke and Black Truffle Soup, Toasted Mushroom Brioche, and Black Truffle Butter
| Soupe d'Artichaut à la Truffe Noir, Brioche Feuilletée aux Champignons et Truffe Noire
Domaine Marchand Fréres, Vielles Vignes, Chambolle-Musigny, 2004
Next up was Guy Savoy's best-selling appetizer, which, according to the same
NRN report
mentioned above, 70% of diners order. It's, in essence, an artichoke soup, topped with shaved Parmesan and sliced black truffle. The bouquet of the soup was as heady as you'd imagine, imbued with the aroma of truffle and cheese. This continued on to the palate, which was absolutely saturated with flavor, held back tenuously by the relative levity of artichoke. I can see why this is the restaurant's most popular dish.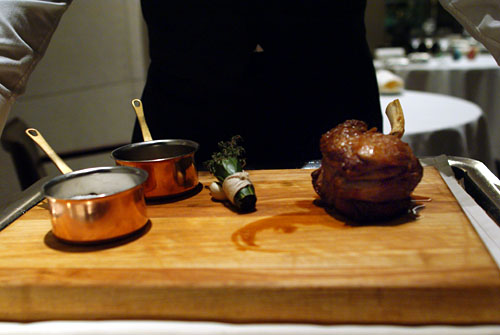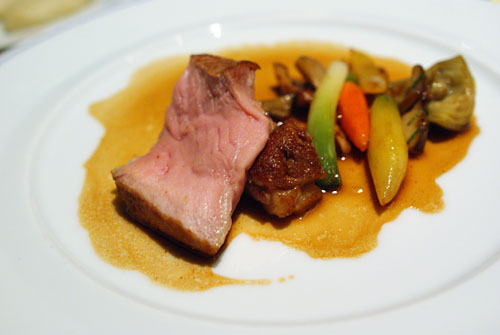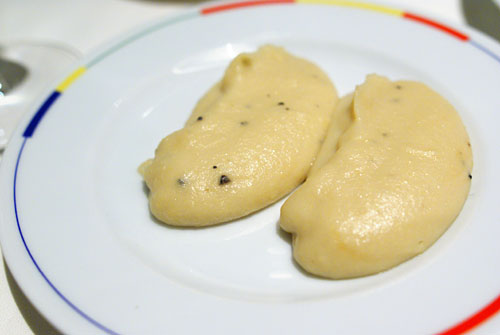 7: Roasted Veal Chop, Black Truffle Potato Purée, Young Vegetables Braised in Veal Jus
| Côte de Veau Juste Rôtie, Purée de Pommes de Terre à la Truffe Noire, Légumes Braisés au Jus de Veau
Moillard, Crozes-Hermitage, 2007
Whole Wheat Bread
And now, for our "main" course, our server brought out a tray containing a rather intimidating-looking veal chop, replete with bone. After proudly displaying it, he subsequently brought it back for slicing and plating. Regular readers will know that I'm not a fan of veal (finding it rather boring), so this was a pleasant surprise. The meat was expectedly tender, but its flavor was quite astounding for veal--an accomplishment indeed--while the vegetables provided a nice counterbalance to the meat. As good as the veal was, it was perhaps outshone by its accoutrement: the black truffle
pommes purée
. Smooth, creamy, brazenly decadent, these were the same potatoes that warranted a
fist pound from Christine
(she dined here a week earlier).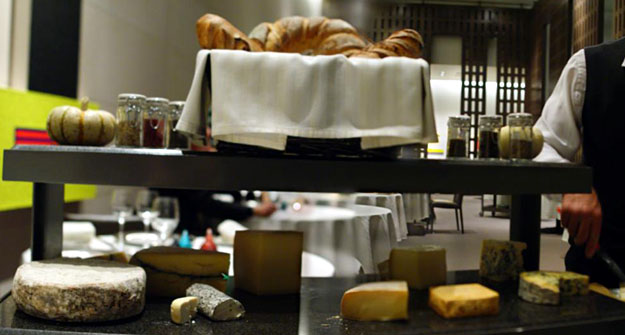 8: Sélection de Fromages Affinés
Sandeman 20 Year Old Tawny, Porto, NV
Raisin and Fig/Pine Nut Bread
For cheese, we left it up to our server to pick out a septet of fromage for us to share, paired with raisin and fig-pine nut breads. Clockwise from lower-left:
Crottin de Chavignol - A goat's milk cheese from the Loire Valley, the Crottin was slightly tangy and a bit nutty, with a lovely, somewhat soft body.
Sainte-Maure - Sainte-Maure is an unpasteurized cheese made from whole goat's milk, known for its log-like shape, ashy rind, and straw through its center (to help keep its shape). It had a fine, nutty, tangy flavor that I quite enjoyed.
Morbier - This was a semi-soft cow's milk cheese named after the village of Morbier, best known for its layer of black ash separating the morning milk from the evening milk. Nice, with a good weight, balanced by a bit of astringency.
Comté - One of the most popular French cheeses, Comté is made from unpasteurized cow's milk in the Franche-Comté region of eastern France. Sort of an archetypal semi-hard cheese, it demonstrated mild, ever so slightly sweet flavors.
Saint-Nectaire - From Auvergne comes this semi-soft, washed rind cow's milk cheese. Nice and weighty, with some grassy notes to boot.
Ossau-Iraty - A French cheese made from sheep's milk, Ossau-Iraty is produced in the Pyrénées. It's a medium-firm cheese with a nicely smooth texture and delicate flavor, with a tinge of sweet nuttiness.
Fourme d'Ambert - This was a semi-hard French cow's milk blue from Auvergne, a prototypical blue really, with salty, pungent notes and a bit of nuttiness.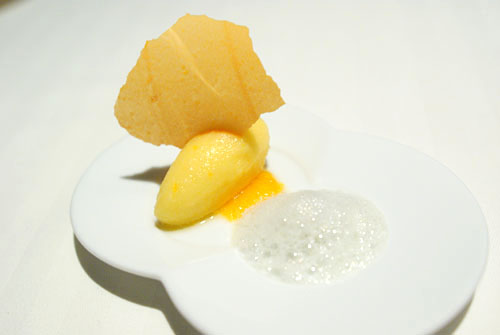 Intermezzo: Tangerine "Ménage à Trois"
To transition to the sweets, we were given tangerine in three forms, fruit, sorbet, and chip, all accompanied by a mint foam. The tangerine, expectedly, was refreshingly tart, while the mint gave the pre-dessert a lovely minty finish.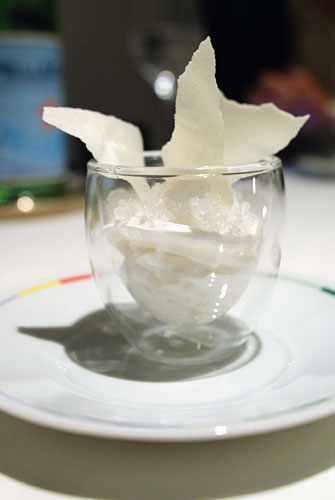 9: Coconut « Six Ways »
| Noix de Coco
Château de Fargues, Sauternes, 1998
I loved the starkly white presentation of the dessert here. What we have is coconut done six ways: straight, tapioca, cake, emulsion, granité, and chip. The end result was a great interplay of various textures and intensities, all leading to an overarching coconut flavor.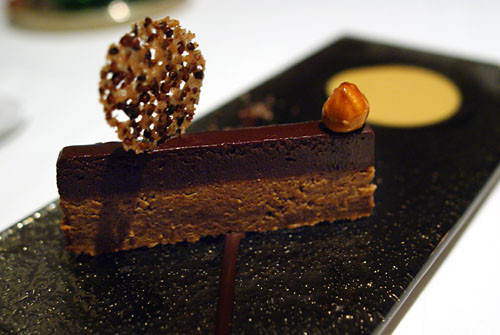 10: Chocolate Fondant, Crunchy Praline and Chicory Cream
| Fondant Chocolat au Pralin Feuilleté et Crème Chicorée
M. Chapoutier, Banyuls, 2006
In contrast to the ethereal nature of the coconut six-way, the chocolate dessert was darker, richer, more powerful. The fondant provided most of the chocolate-y goodness, while the praline gave the dessert a fantastic crunch and nutty close. The chicory cream, meanwhile, countered the chocolate with a slight bitterness. Very nice with the paired wine, which we facetiously likened to "adult grape juice."
Mignardises
Despite being quite satiated at this point, we decided to do the unthinkable: request one of everything from the dessert trolley! I won't try to describe each item, but I will list all that we ate. On the topmost plate, we had Lime-Coconut Sherbet, Pear Sorbet, and Apple Compote with Crumble. The first compartment of the second plate held Candied Macadamia Nuts, a Passion Fruit Marshmallow, a Dark Chocolate with Ginger, a Milk Chocolate with Pumpkin, a White Chocolate with Egg Nog, and finally, a Green Apple Paté De Fruit. Filling out the second plate were a Lemon Tartlet with Italian Meringue, a Chocolate Tartlet, a Chocolate Macaron, and a Pecan Macaron. The final plate held Brown Butter Ice Cream. The four little pots on the right, top to bottom, were Chocolate Mousse, Vanilla Rice Pudding, Pink Praline Rice Pudding, and Caramel Flan. Yes, we finished everything.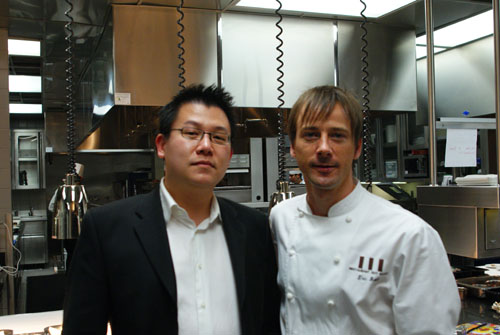 Don't I look content? (Stuffed, really)

After dinner, we were invited back to the kitchen to speak with Executive Chef Eric Bost. Bost has been with Guy Savoy ever since the restaurant opened in May 2006, working his way up from a Sous Chef position. However, Bost won't be in the house much longer, as he'll be moving to Singapore early next year, to head the kitchens at M. Savoy's latest venture at the Marina Bay Sands (Mario Batali, Daniel Boulud, Wolfgang Puck, Santi Santamaria, and Tetsuya Wakuda will also be
opening there
--an incredible slate for a single hotel). Bost will be handing over the reins to his Sous, Hugo Coudurier, who we also met briefly.
Going into this dinner, I kept telling my dining companion that it probably wouldn't live up to the expectations from
my first visit
. Well, guess what, it did. Previously, I'd deemed Savoy worthy of consideration for an upgrade to three Michelin stars. Sadly, the Guide has decided to leave Sin City, but I still stand by my prognostication. It'll be interesting to see how the restaurant changes once Coudurier formally takes over next year.