Bastide (West Hollywood, CA) [2]
Bastide
8475 Melrose Pl, West Hollywood, CA 90069
323.651.5950
www.fooddigger.com/13369/restaurant/ca/los-angeles/west-hollywood/bastide (FoodDigger, restaurant has no web site)
Tue 02/09/2010, 10:15p-12:45a


The moniker
Bastide
, referring to a Provençal country manor, may recall images of bucolic tranquility, but Joe Pytka's seminal Los Angeles eatery of the same name has been anything but. After opening in 2002 (in the spot of the old Manhattan Wonton Company and the French bastion Le Restaurant), the restaurant has seen numerous incarnations of itself, seemingly at the whim of its notoriously mercurial benefactor. Most recently, Pytka closed shop in late 2008, only to reopen (lunch only, tonight was the first dinner service) a year later on December 15, 2009, tacking on a
bookstore
(Assouline, asinine?) in the process. Oh Bastide, how do we love thee? Let us count the chefs: Alain Giraud (2000-2004),
Ludovic Lefebvre
(2004-2006),
Walter Manzke
(2007-2008), Paul Shoemaker (2008),
Joseph Mahon
(2009-"Pytka's next whim").
And speaking of Mr. Mahon, a proper biography: The Chef grew up in Orange County, and started cooking at local restaurants at the tender age of 16. After saving enough money, Mahon enrolled at the prestigious Culinary Institute of America. During his tenure at the CIA, he
staged
at numerous New York restaurants, including Daniel Boulud's famed Café Boulud, under Locanda Verde's Andrew Carmellini. Upon graduating in 2001, Mahon moved to Chambéry in southeast France to work at the Michelin-starred L'Essentiel. When he returned to the US, he was lured back to his former employer at Café Boulud, but then switched to David Bouley's now-defunct
Danube
in 2002. 2003 saw Mahon work a stint at the Mandarin Oriental's Asiate (under Chef de Cuisine
Noriyuki Sugie
) before returning to Bouley proper the following year.
California beckoned however, and Sugie eventually referred Mahon to David Myers, who hired him as a Sous Chef at
Sona
in 2005. After cooking with Myers for less than a year, the Chef quit to work as a sales rep for gourmet food supplier Village Imports/Epicure Imports/Made in France. It was a comfortable life for Mahon, but the cooking bug kept biting, and he eventually landed a Chef de Cuisine gig at the Fairmont Hotel in Newport Beach in 2006. Two years later, the Chef moved to Beverly Hills, to helm the kitchens at 208 Rodeo (whose web site, embarrassingly, still shows a
photo of Mahon
). After nearly two years there, he received an invitation to audition for Pytka. Mahon cooked up a 16-course feast for good ol' Joe, and the rest, I'll say, is history.


Bastide's decor has always been somewhat eclectic, capricious even, reflective of its owner, I'm sure. That much has not changed. The interior, however, has been spruced up somewhat--note the jungle-themed wallpaper (as seen at
9021Pho
) and the shelves of books, glorious books!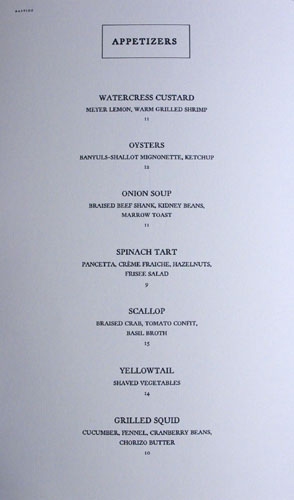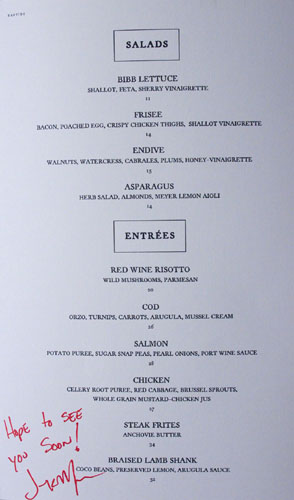 The new menu's short, focused, sensibly-priced. We were told that tasting menus are available with advance notice, but we decided to make our own, ordering one of everything on the
carte
, in true kevinEats fashion (well, minus the items that the kitchen ran out of). Click for larger versions.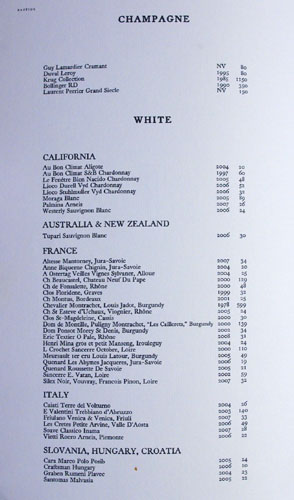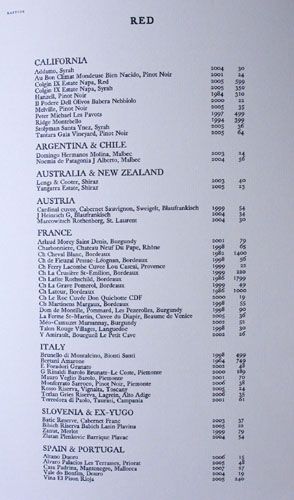 Bastide's new Sommelier Dario Dell'Anno has put together a compact, remarkably value-centric (there's a bottle for
ten dollars
for crying out loud) wine list. Of course, Pytka's legendary cellar is still intact and available for purchase if you prefer--try an 1816 Château d'Yquem Sauternes for $72,000! Click for larger versions.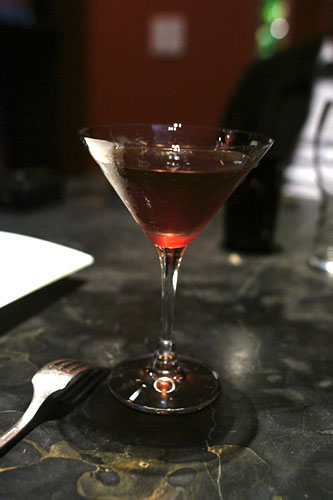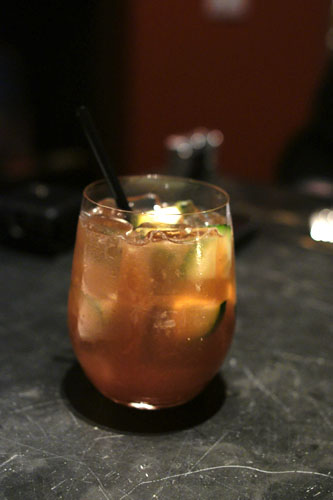 The cocktail program at Bastide hasn't been established yet, so when we asked for some drinks to begin, Dell'Anno showed us his prowess in the spirits realm and whipped up two libations (both complementary). On the left, we see a concoction of Amaro Averna, Vermouth, Lemon Juice, and Gin. It was my first time with Amaro, a type of Italian liqueur. Its subtly sweet, herbaceous flavor made for a great base for the cocktail, which had an almost Port-like character along with a delightful gin-tinged finish. Next up was a commixture of Hennessey, Crème De Cassis, Gin, and Cucumber. This was a refreshing drink, with a lovely sugariness from the cassis, and a hint of cucumber that just creeps up on you!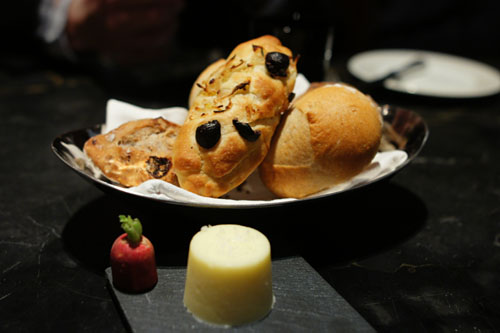 Bread service consisted of a sweetish berry-nut bread, a quintessential dinner roll, and my favorite, a crusty, savory, superb olive bread. Butter, meanwhile, was served with radish.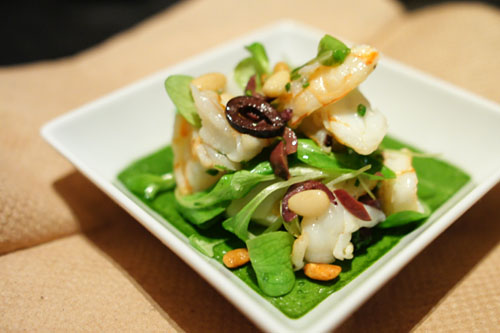 WATERCRESS CUSTARD [$11.00]
| MEYER LEMON, WARM GRILLED SHRIMP
The meal got off to a strong start. I loved the interaction here between the simultaneously sweet, briny shrimp and the vegetal tang of the watercress, present here in an almost paste-like form. At the same time, I really appreciated how the olive added a palpable weight on the finish, while the lemon gave things a bright acidity.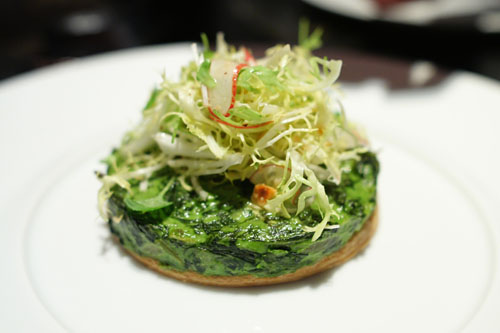 SPINACH TART [$9.00]
| PANCETTA, CRÈME FRAICHE, HAZELNUTS, FRISEE SALAD
Eating this, I couldn't help but compare the tart to a quiche Florentine! The combination of spinach, cream, and buttery crust was classic, but also immensely effective. Taking things further, the pancetta (cured pork belly) added a fantastic, salty gravity to the dish, countered by the frisée.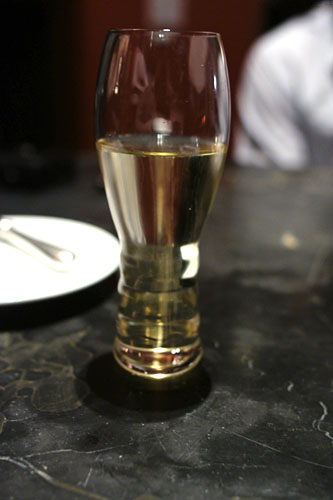 At this time, we enjoyed a complementary glass of Guy Larmandier Champagne Cramant, a dry, crisp bubbly, prototypical of the style.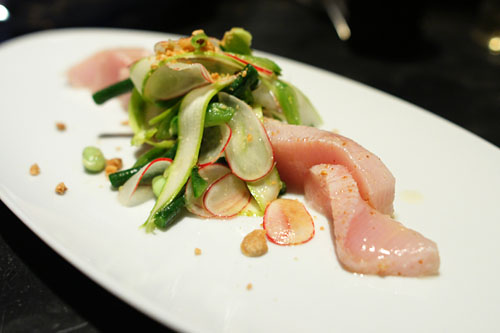 YELLOWTAIL [$14.00]
| SHAVED VEGETABLES
The fish itself was delightfully savory, even smoky, with a perfect texture. As good as the yellowtail was on its own, having it with the various vegetables was phenomenal, with the greens providing a fitting foil to the weightiness of the hamachi. I don't hesitate in calling this one of the best preparations of yellowtail sashimi I've ever had.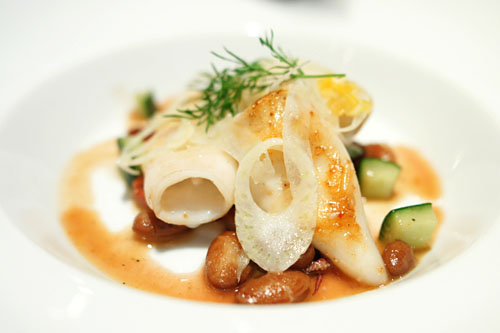 GRILLED SQUID [$10.00]
| CUCUMBER, FENNEL, CRANBERRY BEANS, CHORIZO BUTTER
Fantastic texture on the squid here--I was instantly reminded of the wonderful calamari that I'd had recently over at
Julian Serrano
. I really enjoyed the squid's faultless combination of sweet and briny flavors, and how the contrasting essences of the beans and cucumber superbly complemented the cephalopod.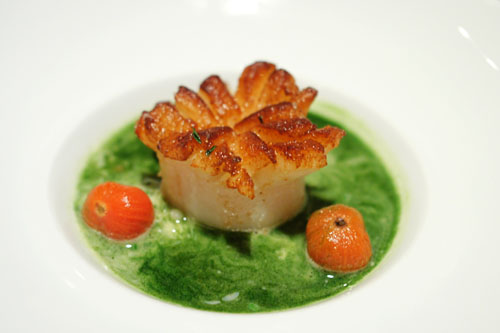 SCALLOP [$15.00]
| BRAISED CRAB, TOMATO CONFIT, BASIL BROTH
The top of this scallop, in all its Bloomin' Onion-esque glory, was for more than just show. Rather, it resulted in a wondrous textural progression: soft and tender on the bottom, crisp and firm up top. Taste-wise, the use of crab augmented and emboldened the bivalve's natural brininess, while the pungency of the basil formed an effective temper to the sweetness imparted by the tomato.
ONION SOUP [$11.00]
| BRAISED BEEF SHANK, KIDNEY BEANS, MARROW TOAST
Think of this as your traditional French onion soup, but better. We're talking about hearty, earthy, rustic, dark, incredibly savory flavors, intermixed with the marked sweetness of caramelized onion. Delicious.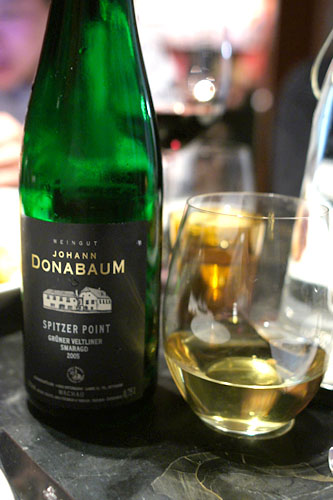 For our first bottle of wine, we asked Dell'Anno to "surprise us." He came back with a 2005 Johann Donabaum Grüner Veltliner Smaragd Spitzer Point [$75], which was an off-wine list selection. This was your classic food-friendly Wachau Grüner, bracingly minerally, unabashedly crisp, with subtle floral notes.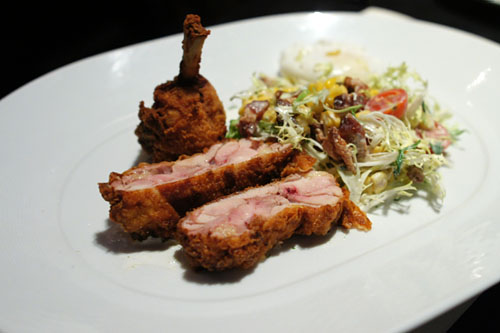 FRISEE [$14.00]
| BACON, POACHED EGG, CRISPY CHICKEN THIGHS, SHALLOT VINAIGRETTE
Our first of four salads was your prototypical frisée (which we've been seeing on menus more and more often as of late),
done up with fried chicken
. The chicken itself was suitably tender and succulent, imbued with a subtly sweet-spicy character to boot. The salad, a great interplay of creamy egg, salty bacon, and light frisée, was similarly delectable on its own. However, I'm not sure if I was quite sold on the pairing of the two elements (but the dish was pretty damn good in any case).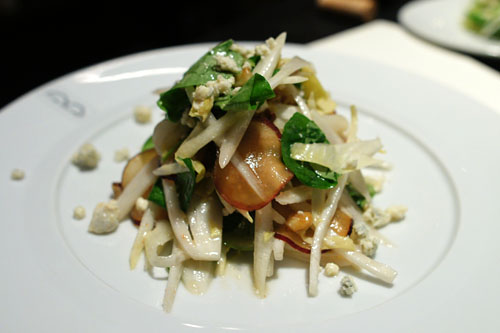 ENDIVE [$15.00]
| WALNUTS, WATERCRESS, CABRALES, PLUMS, HONEY-VINAIGRETTE
Here, I loved the juicy, refreshing crispness and brightness of the salad. The relationship of the bitter endive with the sweet fruit was key, while the Cabrales added a pleasantly pungent gravity to things.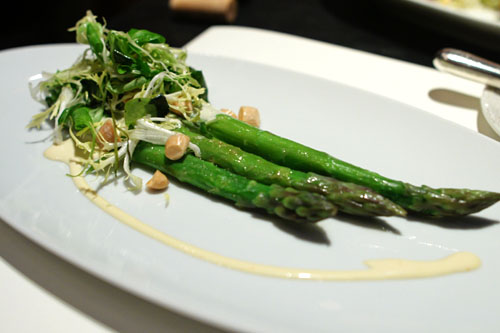 ASPARAGUS [$14.00]
| HERB SALAD, ALMONDS, MEYER LEMON AIOLI
I'm somewhat of an asparagus slut, so I was looking forward to this one. The asparagus alone was deftly done, and the interaction between the astringent vegetable and the sweet nuttiness of the almonds really worked for me. I certainly didn't mind the tartness of the aioli, either.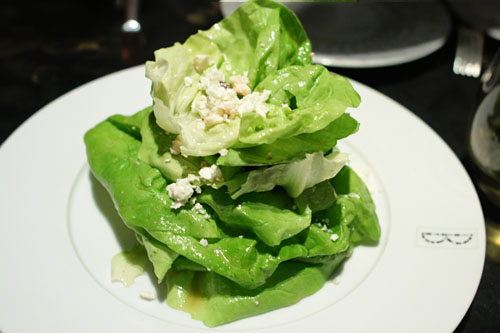 BIBB LETTUCE [$11.00]
| SHALLOT, FETA, SHERRY VINAIGRETTE
Some very classic flavor profiles at play here. I quite liked the soft, buttery complexion of the lettuce leaves, and how the Bibb formed a base on which the salty feta and wonderfully tangy vinaigrette could shine.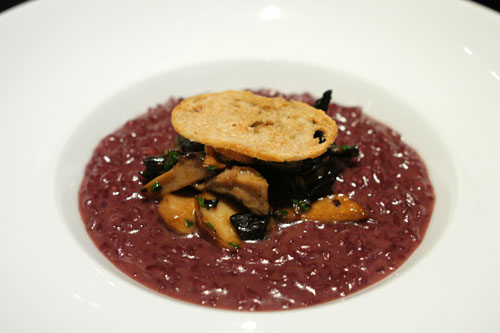 RED WINE RISOTTO [$20.00]
| WILD MUSHROOMS, PARMESAN
This really reminded me of a similar "Riso di Valpolicella" I'd had recently at Frasca Food and Wine in Boulder. Imagine cheesy, savory rice, imbued with just a hint of red wine flair, all augmented by the earthy weight of mushrooms. Tasty, but a bit too forward for me.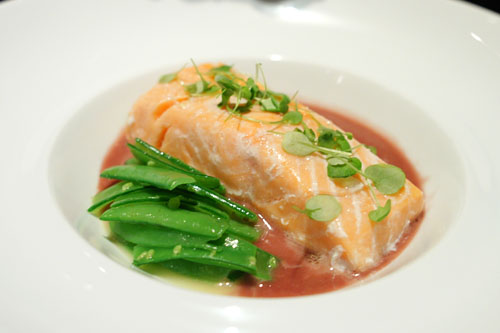 SALMON [$28.00]
| POTATO PUREE, SUGAR SNAP PEAS, PEARL ONIONS, PORT WINE SAUCE
The salmon turned out to be out of my favorites of the meal. I positively adored its fantastically rare, tender consistency (reminding me of a salmon that I'd had at
Le Bernardin
) and brazenly briny flavor. And the peas? A perfect accoutrement.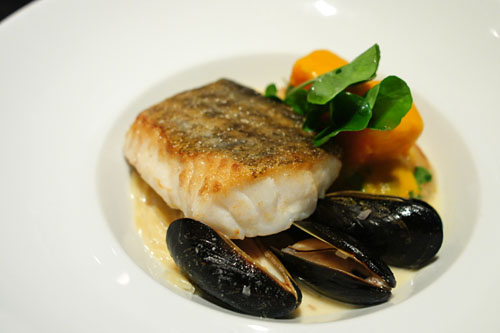 COD [$26.00]
| ORZO, TURNIPS, CARROTS, ARUGULA, MUSSEL CREAM
Much to my surprise, the cod was actually very light, delicate even, in flavor. Thus, the mussels, with their marked brininess, were instrumental in adding depth and power to the dish. I also appreciated the orzo pasta here, but wasn't so much of a fan of the carrots, which I found overly sweet.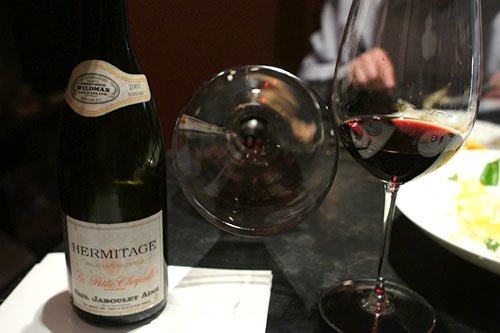 For our next bottle, we also asked the Sommelier to choose for us, and Dell'Anno came up with the 2001 Paul Jaboulet Aîné Hermitage La Petite Chapelle [$104], an off-the-list pick, too. Think peppery, slightly hot, earthy, tannic, with lean dark fruit flavors.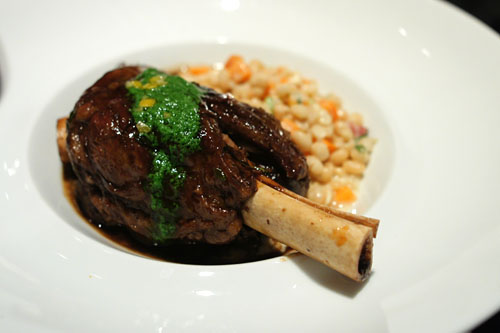 BRAISED LAMB SHANK [$32.00]
| COCO BEANS, PRESERVED LEMON, ARUGULA SAUCE
Our first meat course was this imposing-looking lamb leg. As expected for a braised preparation, the meat was falling-off-the-bone tender (I'm not sure if I needed to chew), bursting with rich, dark, fatty, flavors. The beans and arugula, meanwhile, did an admirable job in trying to temper the power of the lamb.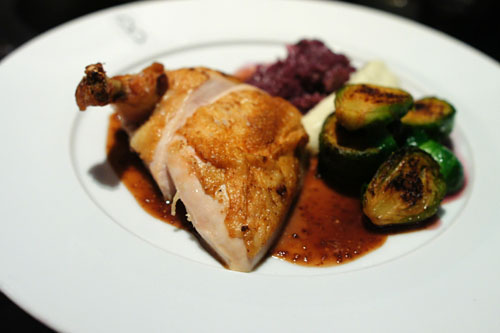 CHICKEN [$27.00]
| CELERY ROOT PUREE, RED CABBAGE, BRUSSEL SPROUTS, WHOLE GRAIN MUSTARD-CHICKEN JUS
Next was a tender, silky, straightforward portion of chicken, with an enchantingly savory skin. What did it for me with this dish was the interplay between the bird and the astringent, bitter Brussels sprouts. However, I wasn't a huge fan of the celeriac purée, which I found distracting.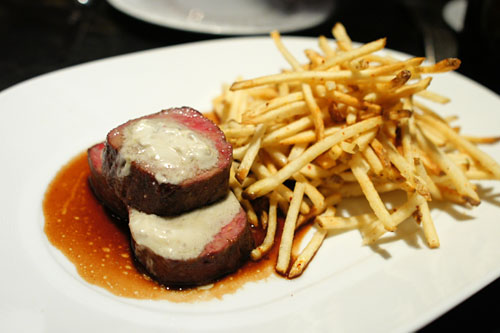 STEAK FRITES [$34.00]
| ANCHOVIE BUTTER
We closed with perhaps
the
quintessential bistro dish. Taken alone, the steak reminded me of a more tender version of the meat that I'd had at
Church & State
. What set this dish apart, though, was the anchovy butter, which added an intense,
fishy
saltiness to the beef that I rather enjoyed (not everyone at the table did, however).
Frites
, meanwhile, were first-rate.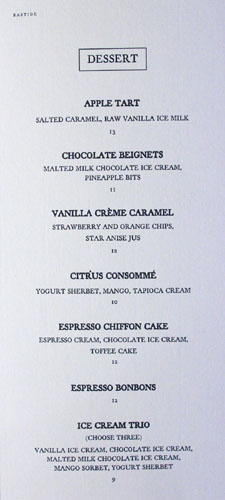 Desserts come courtesy of Pastry Chef Rommel De Leon, most recently the Pastry Sous Chef at
Rivera
(
BondSt
, too). Click for a larger version.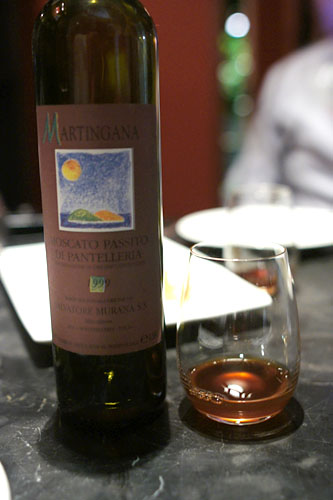 We were given complementary pours of the 1999 Murana Martingana Moscato di Pantelleria Passito, a rich, viscous, almost Port-like wine that stood its own against De Leon's desserts.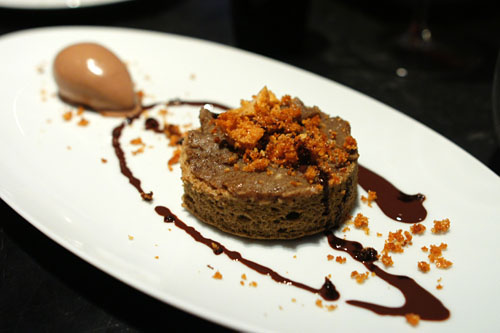 ESPRESSO CHIFFON CAKE [$12.00]
| ESPRESSO CREAM, CHOCOLATE ICE CREAM, TOFFEE CAKE
I'm not a huge fan of coffee in general, so I wasn't expecting much here. Fortunately, the notes of espresso in this dish weren't overwhelming at all. The chocolate ice cream wasn't particularly original, but was effectual nevertheless.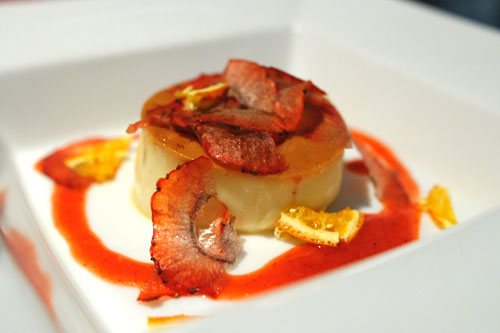 VANILLA CRÈME CARAMEL [$12.00]
| STRAWBERRY AND ORANGE CHIPS, STAR ANISE JUS
In terms of taste, the flan was fairly tame, subtle. The crux, thus, was the tartness imparted by the dehydrated fruit (which also added a nice crunchiness), and the wonderful spice provided by the anise.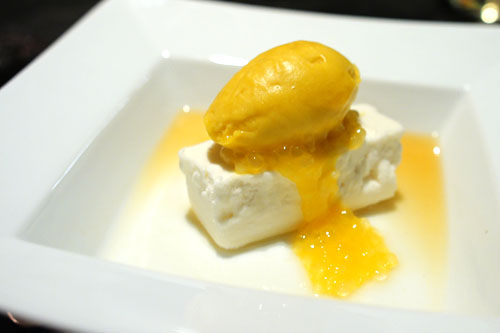 CITRUS CONSOMMÉ [$13.00]
| YOGURT SHERBET, MANGO, TAPIOCA CREAM
Here, it was all about the mild, soft, subtly sour sorbet, and its relation with the sweet, juicy, tantalizingly tart mango. The bits of fruit "caviar," meanwhile, mixed things up texturally.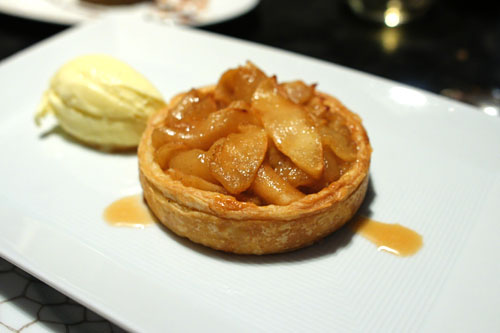 APPLE TART [$13.00]
| SALTED CARAMEL, RAW VANILLA ICE MILK
Our final dish of the night was a classic apple tart. It was a simple, but worthwhile dessert, with the slight spice of the apples playing beautifully with the moderating ice milk. One of my dining companions, a self-professed apple tart fiend, even gave his eager nod of approval.
And there we have it. The new Bastide. Gone are the esoteric eccentricities of meals past, replaced with "accessible," top-notch brasserie-inspired food. On one hand, I miss the vagary, the conceit, the no-holds-barred approach of yesteryear, but at the same time, I appreciate, and understand, what Mahon's doing--this is much more than mere "bistro" fare. Bastide is off to an amazingly strong start:
every dish was good, many were great
. Right here, right now,
this just feels right
. Welcome back Bastide--don't leave us again.