Cheese Board Pizza Collective (Berkeley, CA)
Cheese Board Pizza Collective
1512 Shattuck Ave, Berkeley, CA 94709
510.549.3055
www.cheeseboardcollective.coop
Fri 04/09/2010, 02:00p-02:10p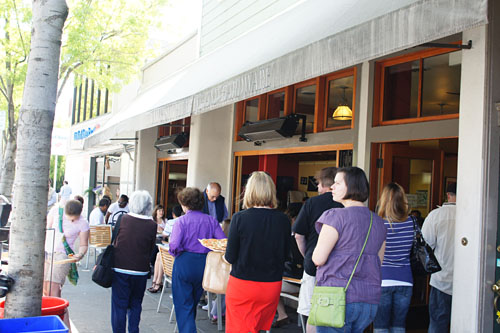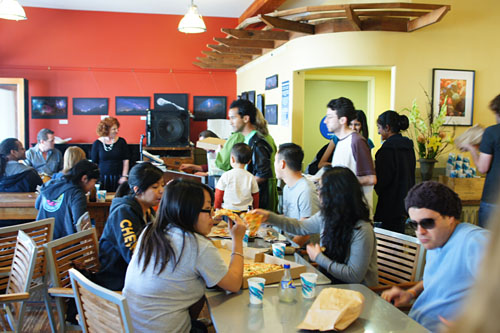 As an appetizer to the night's meal at Chez Panisse, we headed over to another Berkeley institution: Cheese Board Pizza, home to what I believe is the best pizza in the City.
Founded in 1967 by Elizabeth and Sahag Avedesian as a cheese retailer, the Cheese Board was, from the outset, a unique type of business, one focused on workers having equal power, equal say, equal pay. The shop eventually expanded outside of cheese to bread baking, which sowed the seed for the pizza that would come later on. In 1975, the Cheese Board moved from its original location on Vine (the site of the current Juice Bar Collective) to its current spot on Shattuck, and in 1990, it took over the space of the fish market next door.
Pizza-making began formally in 1985, but just on Tuesdays. Its popularity quickly grew, however, and pizza gradually expanded to Wednesdays and Fridays. In 1986, a neighboring business, the Pig by the Tail Charcuterie, went out of business and the Cheese Board quickly acquired the storefront to use as a dedicated space to sell pizza. In 1990, a separate Cheese Board Pizza Collective was formed, which allowed the growing pizzeria to operate full time. The entity is run as a standalone business, but still remains under the umbrella of the original Collective, which is now a corporation wholly owned by its members.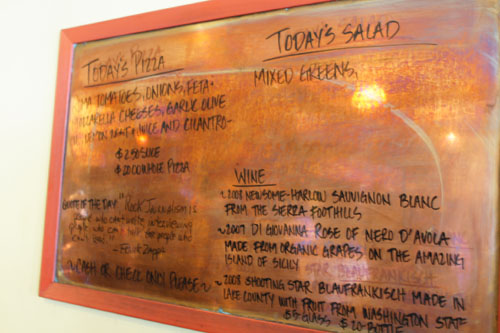 The menu is written daily, with generally only one (vegetarian) pizza available at a given time. It's $2.50 per slice or $20 per pie, so there's no discount for buying a pizza whole (how egalitarian?). Click for a larger version.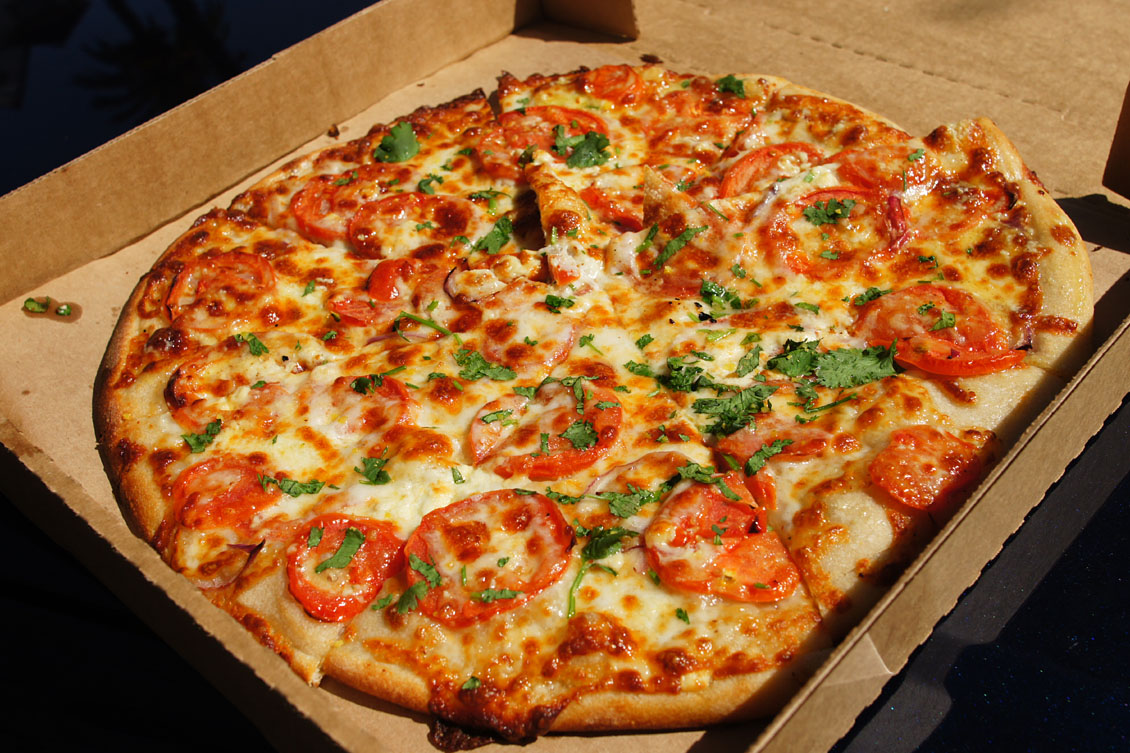 And there she is, in extra-large glory, on the hood of our rental car in the nearby Andronico's parking lot: a picture perfect pie of roma tomatoes, onions, mozzarella and feta cheese, garlic, olive oil, lemon juice, lemon zest, and cilantro. Biting in, the first thing that I noticed was the sweet succulence of the tomatoes, accented by the lingering tartness of lemon, which provided a piquant undercurrent to the whole pizza. The olive oil, meanwhile, contributed a palpable gravity, a certain weightiness that added a modicum of seriousness, of contemplation, to things.
I also appreciated the feta, and how well-integrated it was with the base of beautifully burnt mozzarella. I was afraid that the cheese was going to overwhelm, but rather, it contributed just the right amount of sharp saltiness into the fray. And let's not forget about the crust--thin, crisp, with a certain firmness and just the right amount of chew, it was the consummate stage to let the toppings shine. We devoured our pie with reckless abandon, savoring every morsel, and were still left wanting more. Yes, the Cheese Board's worth the wait, deserving of the fanfare, a legend in its own right--just
go
.