Commis (Oakland, CA)
Commis
3859 Piedmont Ave, Oakland, CA 94611
510.653.3902
www.commisrestaurant.com
Sun 04/11/2010, 05:30p-07:25p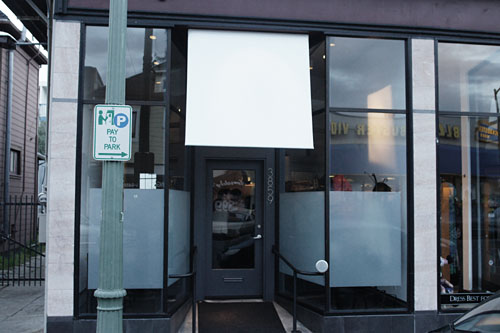 We had booked a late flight out of Oakland on the last day of our Bay Area trip, and thus Commis was a natural choice for a final dinner up North.
Commis is the first restaurant from James Syhabout (say see-
hah
-boot), who, at the age of two, emmigrated to the US from Thailand as a refugee. From the start, the Chef was surrounded by the joys of Thai and Chinese cookery, and his mother even cooked professionally at a number of Thai eateries. This environment eventually led to Syhabout's enrollment and graduation from San Francisco's California Culinary Academy. From here, he worked Stateside before moving to Europe in 2005 to toque at some of the world's best kitchens: Fat Duck in Bray, England; Mugaritz in Errenteria, Spain; ElBulli in Roses, Spain; and Alkimia in Barcelona, Spain--an impressive culinary résumé, to be sure.
Upon returning to the US, Syhabout helped open
Coi
with Daniel Patterson before cooking briefly at San Francisco's PlumpJack Café. Then, in 2007, he transitioned to
Manresa
as Chef de Cuisine, where he worked with David Kinch and recently departed
Ubuntu
head chef Jeremy Fox (Fox, interestingly, will be doing a guest stint at
Animal
in May). A chef of Syhabout's pedigree, however, just wouldn't be happy without his own place, so it came as no surprise when he left Manresa to work on his own project. The result of that endeavor, Commis, opened in June 2009.
The name is French in origin, meaning "apprentice." Syhabout takes this
nom
to heart, and in deference to Marco Pierre White and the continual learning process of a chef, wears a blue apron in the kitchen, attire typically worn by a
commis
. Here, Syhabout aims to embrace the current Bay Area culinary zeitgeist of locally-sourced produce, but in contrast to the prevailing "figs on a plate" approach oft seen in these parts, he also strives to present to diners a more cerebral, conceptual approach to cooking--a nod to his training at some of the more avant garde places around the globe. Backing up Syhabout at Commis is his Chef de Cuisine Zack Freitas (
Manresa
, 231 Ellsworth, WD-50) and Pastry Chef Carlos Salgado (
Coi
, and a former Web developer!).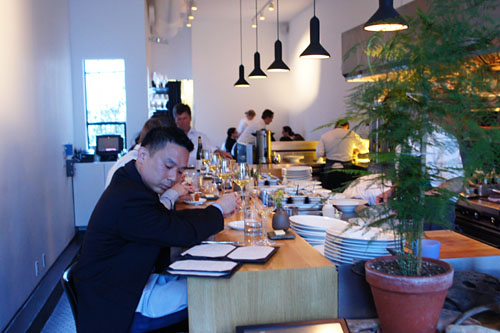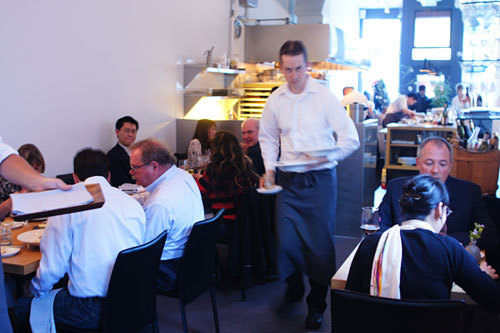 Inside the small, 31-seater restaurant (the former site of Jojo's), things are clean, stark, and minimalist, thus focusing diners' attention squarely on their plates. The front of the Douglas Burnham-designed space is dominated by a six seat counter that offers a commanding view of the open kitchen and the quiet, painstaking work performed by Syhabout and his tiny team of cooks. A larger dining space fills the back area.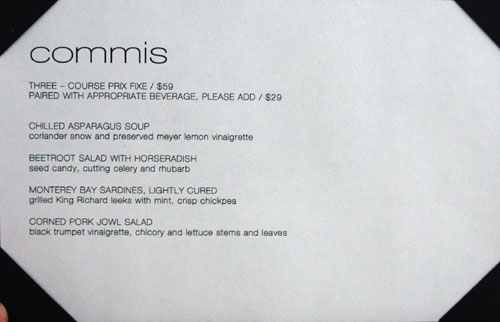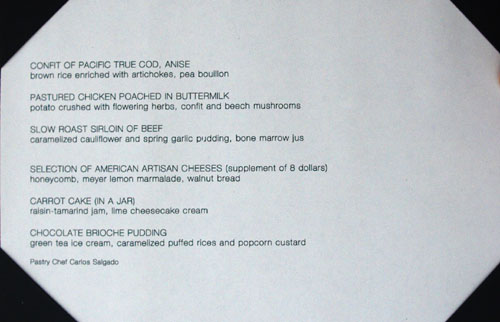 The small,
micro
seasonal menu is in near-constant flux, and offers diners a choice of three courses for $59, plus $29 for wine. A larger, roughly nine-course tasting is available at the counter only (sadly, we didn't have time for this, as we had a flight to catch). Click for larger versions.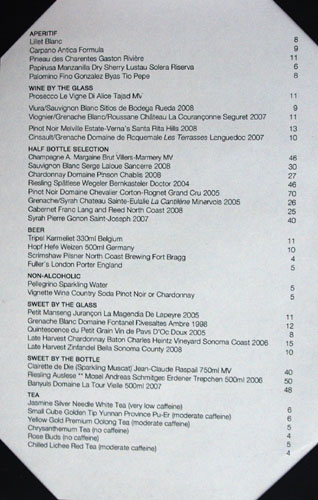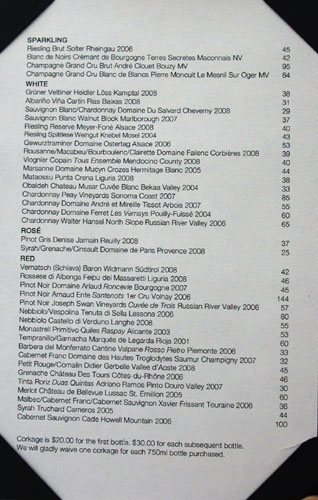 Wine and other potent potables. Click for larger versions.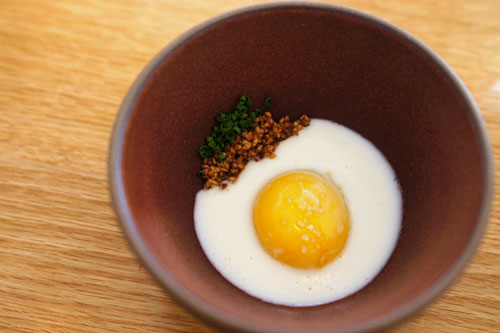 Amuse Bouche: HARD POACHED EGG
| smoked dates, chive, malt, granola
Prosecco Le Vigne Di Alice Tajad MV
To begin, we were presented with a deep terracotta bowl, the bottom of which was filled with a sort of onion potage and a slow-poached egg, which covered a hidden base of smoked date purée. On top was a small mound of granola and chopped chives. Eating the various elements alone was a bit disconcerting, discomforting, even. However, once I got everything together in one bite, the dish made sense. All the pieces fit together, working in unison to form one sweet-savory complex--mild and smooth at first, then punctuated by the crunch of granola, and finally finishing with the lingering sugariness of date.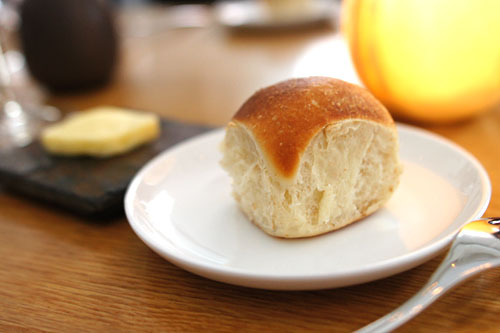 The kitchen bakes its own bread and churns its own butter, and the selection tonight was a wheat bran-black pepper bread, served with a delightfully sweet, lemon-tinged butter.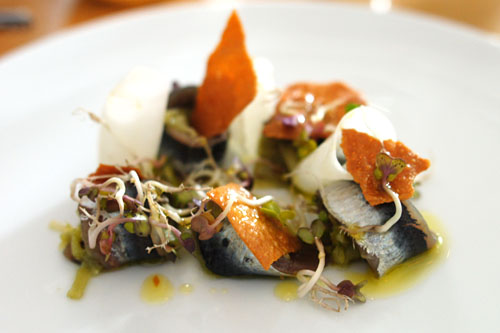 1a: MONTEREY BAY SARDINES, LIGHTLY CURED
| grilled King Richard leeks with mint, crisp chickpea
Mataossu Punta Crena Liguria 2008
The sardines, expectedly, were wonderfully briny in savor, completely domineering alone but beautifully tempered by the zesty application of citrus and the vegetal tang of the leeks. The chickpeas, meanwhile, provided a keen textural counterpoint.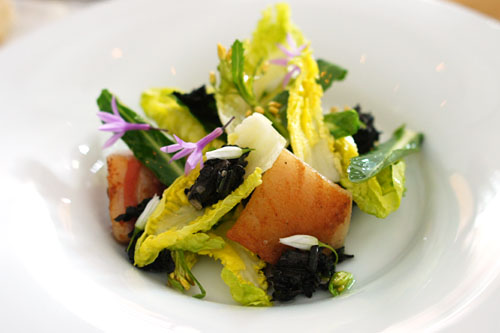 1b: CORNED PORK JOWL SALAD
| black trumpet vinaigrette, chicory and lettuce stems and leaves
Chenin Blanc Leo Steen Saini Farms Sonoma Coast 2008
Is pork jowl the new pork belly? If not, then perhaps it should be. The meat was tremendously flavorful, yet delicate; it had a pleasing amount of fat, yet wasn't overbearing; it had all the decadence of pork belly, but in a seemingly more refined package. The key here, though, was to consume the jowl in concert with the veggies. Together, they formed a perfect harmony--the crisp, bright, green juiciness of the lettuce and chicory acting as a perfect balance to the gravity of the pork. The trumpet vinaigrette, meanwhile, contributed a somewhat tangy, earthy tone to the dish. Excellent.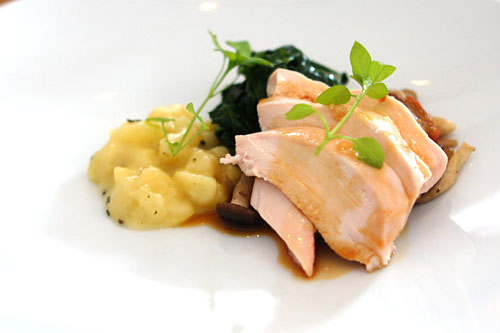 2a: PASTURED CHICKEN POACHED IN BUTTERMILK
| potato crushed with flowering herbs, confit and beech mushrooms
Cinsault/Grenache Domaine de Roquemale Les Terrasses Languedoc 2007
The buttermilk poaching gave the chicken an incredibly tender, unbelievably delicate consistency that I absolutely adored. The bird's flavor, however, was quite mild, so the paired chicken confit was instrumental in conveying a certain saltiness to the dish. The two preparations of chicken were magical together, and though one of my dining companion's felt that the confit was overly tough, I appreciated the bit of chew it had, especially when contrasted to the softness of the poached preparation. One of the best chicken dishes I've had,
ever
.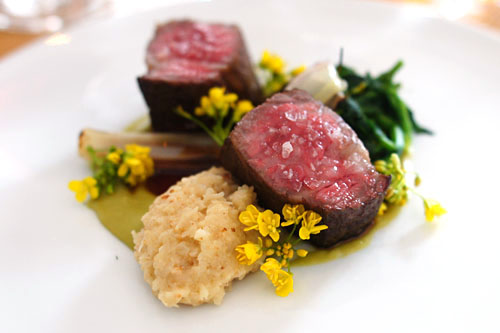 2b: SLOW ROAST SIRLOIN OF BEEF
| caramelized cauliflower and spring garlic pudding, bone marrow jus
Tinta Roriz Duas Quintas Adriano Ramos Pinto Douro Valley 2007
My final savory was this quite remarkable cut of beef--dense, luxurious, succulent, and positively oleaginous in nature, you could still see the marbling in the meat! This wagyu-like steak easily stood on its own. Accompanied by merely a sprinkle of salt, it was one of the most shockingly flavorful pieces of beef I've ever consumed. The marrow jus, however, augmented the beef's potency even more, while the cauliflower calmed things down with its vegetal complexion. My only quibble was that the steak was a bit tougher than expected.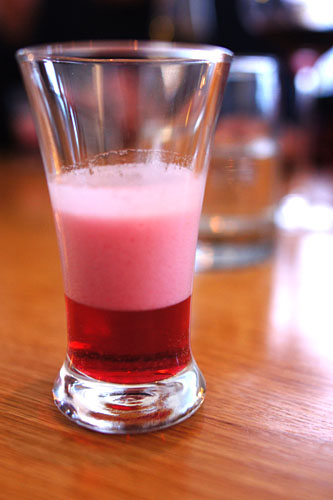 Pre Dessert: SODA
| hibiscus, jasmine
An intermezzo to prick our palates prior to dessert: one of my dining companions compared this medicinal tonic to the sensation of "drinking a flower!"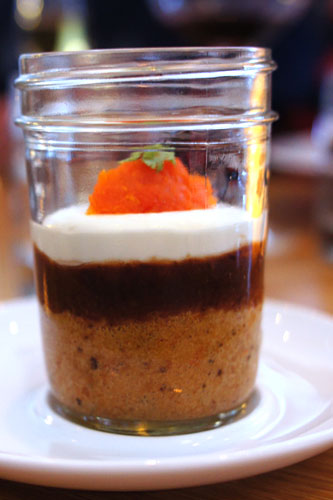 3a: CARROT CAKE (IN A JAR)
| raisin-tamarind jam, lime cheesecake cream
Late Harvest Zinfandel Bella Sonoma County 2008
Given the modernity of the preceding cuisine, I was surprised at how classic the flavors of this cheesecake were--think very saccharine, with an overarching hint of carrot. The crux of this, thus, was the strata of raisin and tamarind, which contributed a jammy weightiness to the overall dish. Good, but not nearly as successful as
Ubuntu's "Cheesecake in a Jar"
dessert.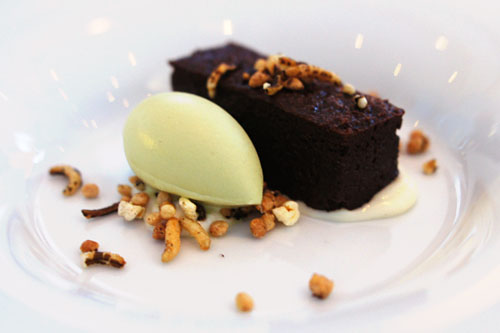 3b: CHOCOLATE BRIOCHE PUDDING
| green tea ice cream, caramelized puffed rices and popcorn custard
Late Harvest Chardonnay Baton Charles Heintz Vineyard Sonoma Coast 2006
Isn't that just about the most perfect quenelle you've ever seen? Composed of green tea ice cream, it served as a light, slightly astringent temper to the chocolate, which I found delectably moist as well as sweet, but not too sweet. The best part of this dessert, however, was the use of puffed rice, which contributed a wonderful textural point of interest to the dish.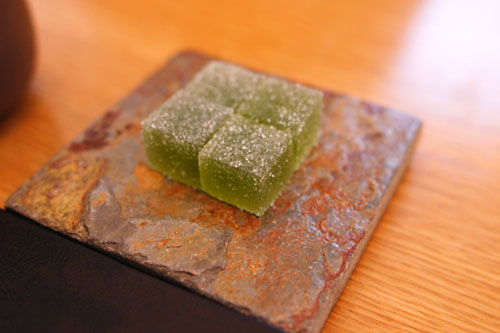 To close, we were provided cuboids of absinthe jelly, heavy on the sugar but light on the liquor.
Despite feeling somewhat rushed (due to our impending flight home), I rather enjoyed myself here at Commis; my only true complaints had to do with service. First, we were restricted from adding on extra items to our three-course prix fixe (it's not enough food--we were left craving BK at the airport!); second, the staff failed to provide us with a list of wine pairings despite our requests (sounds like my first trip to
Meadowood
)--I had to figure the wines out myself using my notes and the restaurant's wine list.
That being said, I am willing to overlook these peccadilloes based on the quality of the food. Syhabout has truly created something special here, something the likes which Oakland has never seen before. Though some have derided the cuisine as "precious" and even "pretentious," I applaud the Chef for bringing something new to the table. Syhabout's unlikely juxtapositions, disparate textures, and complementary flavors, bounded solely by his considerable imagination, are a breath of fresh air to a dining scene that has historically subscribed to the mantra of
Alice Waters
. I look forward to returning to give the menu a more thorough workout, at the counter of course.