Vik's Chaat Corner (Berkeley, CA) [2]
Vik's Chaat Corner
2390 4th St, Berkeley, CA 94710
510.644.4432
www.vikschaatcorner.com
Sat 04/10/2010, 01:55p-02:20p

Berkeley is where I learned to love Indian food, no doubt thanks in part to my Andhra Pradeshi roommate. In fact, I still remember my first taste of tandoori and tikka--it was with the roomie's family at a place called Raja on University Ave (now shuttered, replaced by India Palace). One bite, and I was hooked. Of the myriad of Indian eateries dotting the City though, Vik's clearly stood out above the rest.
Why? Unlike most Indian restaurants here in the US, which specialize in the typical array of Northern/Mughlai/Punjabi dishes, Vik's focuses, as its name implies, on
chaat
. The term
chaat
refers to a variety of small savory snack items, typically sold from carts or stalls--"street food," if you will. Vik's is the brainchild of one Vinod Chopra, who, in 1989, decided to devote a small "corner" of his Indian grocery to serving the wonderful
chaat
of his childhood, a cuisine concept nearly unheard of at the time. Chopra's wife, Indira, was initially opposed to the idea, but as the popularity of Vik's grew tremendously over the following years, establishing an almost cult-like following in the process, she gradually warmed up to the idea, and even began contributing her own recipes to the burgeoning restaurant. And thus, like this, Vik's has persisted for over 20 years under the leadership of the Chopra family. Today's, it's Vinod and Indira's son Amod who handles most of the day-to-day operations.
It turns out that my visit to Vik's was well-timed. Over the years, Vik's has expanded its physical space to accommodate an ever expanding customer base. However, in February of this year, the restaurant underwent its largest transformation yet, moving to a much larger location about two blocks south of the former spot on Allston. To be sure, the vibrant, vermilion-tinted building, enshrouded in the heady aromas of chutney and
chole
, is a far cry from the depressing digs of the old storefront.

Inside, things are even more divergent. Gone are the dreary green-on-white walls and dilapidated fixtures of the
old Vik's Chaat
, replaced by bright, cheery shades of marigold, punctuated by gleaming swaths of stainless steel. You still queue up to order, but the line can snake around the room now. Fortunately though, it moves briskly, and you'll find yourself at the ordering counter in no time.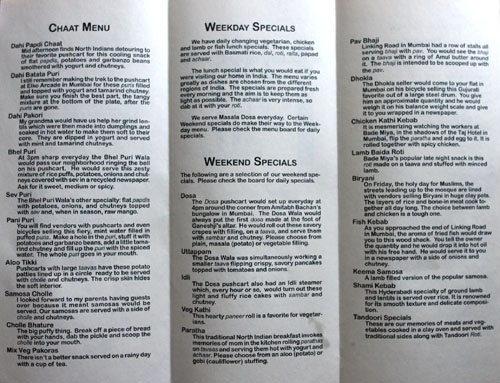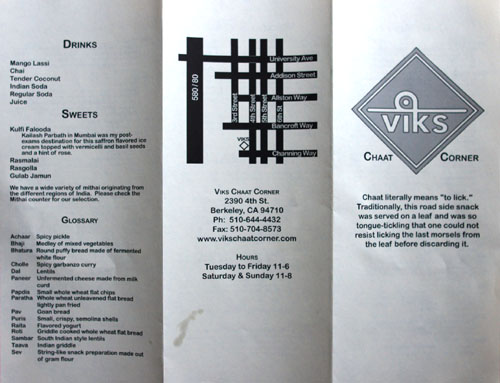 And here we are. The menu, fortunately, is pretty much the same as before, with a bit over a dozen dishes during the week, and around two dozen on weekends (as was the case on this visit). However, if the board seems inscrutable, you can always pick up some printed menus (replete with florid, J. Peterman-esque prose) for guidance. Click for larger versions.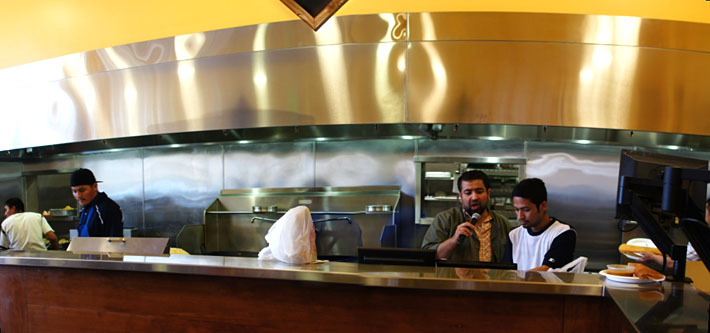 Once your order is taken, it's zapped to screens in the now massive kitchen area, replete with special stations for
chaat
,
tava
,
bhatoora
, and the like. A man calls your name, and you quickly head over to pick up your booty. Your next task: finding a seat!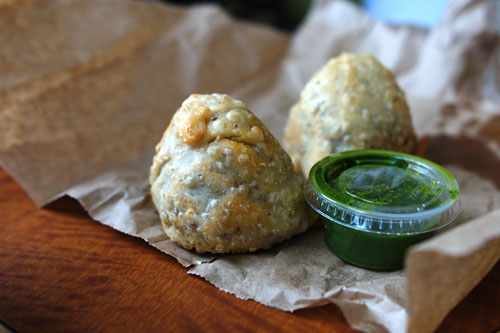 Keema Samosa [$4.75]
We began with a lamb-filled variant of the most popular
chaat
out there: a samosa. The spicy, succulent ground lamb was a welcomed change to the typical filling of mashed potato, and I really appreciated how the use of peas helped to balance the inherent heaviness of the dish. Delicious on its own, but even better when dipped in the paired mint chutney.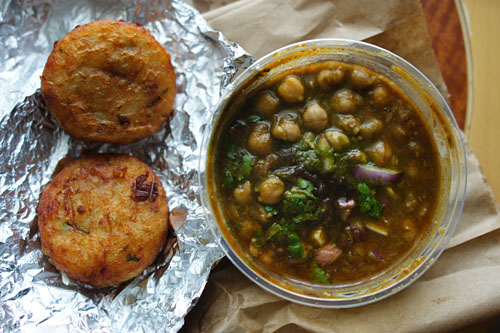 Aloo Tikki Cholle [$4.75]
Aloo tikki
are small spiced potato patties made on the
tava
, a type of griddle. These come from Indira Chopra's recipes, and eaten by themselves, they were almost hash brown-like in essence (and I love hash browns!). The best part of the dish, though, was the
chole masala
, a fantastic spicy-savory-sour preparation of chickpeas that I absolutely adored. Consuming the pleasantly pungent stew with the relatively mild potato was a sublime eating experience indeed.
Dahi Papdi Chaat [$4.25]
Papdis
, or
papris
, are small disks of fried dough. Here, they're served with an amalgam of potato, garbanzos, yogurt, and chutney. This was a light, refreshing dish, with a great textural interplay between the crisp
papdis
and soft, subtle potato, while the garbanzos added an appreciable gravity to things.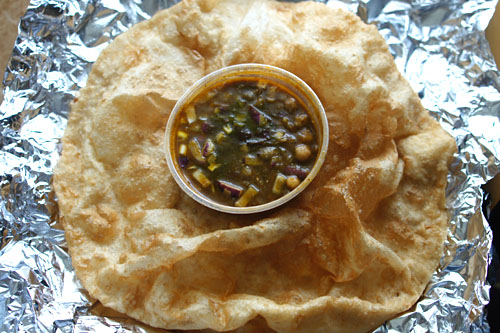 Cholle Bhature [$5.75]
First timers at Vik's are often left in awe by the
bhatooras
, the big puffy masses of fried bread as big as your head (unfortunately, ours had "deflated" already). Made from a base of
maida
, or white flour, the bread is a soft, elastic, chewy treat with a subtle sweetness--in fact, its sapor reminded me of Chinese style
you tiao
! The
bhature
was accompanied by more of that tremendous
chole
.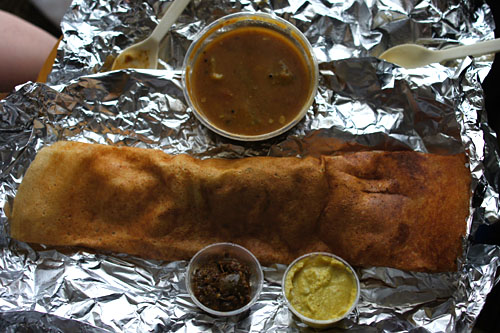 Masala Dosa [$6.50]
And now for that staple of South Indian cuisine: the ubiquitous
masala dosa
, a rolled crepe, made on the
tava
, and filled with a delightful spiced potato mixture (note: see
Annapurna
for many more types of
dosas
). The pancake itself was a bit sweeter than I was accustomed to, so the lightly piquant potato stuffing and
sambar
, a lentil soup, were absolutely key.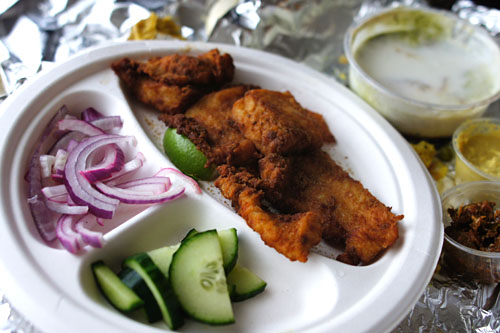 Koliwada Fish [$5.75]
Koliwada
refers to a community inhabited by fishermen (
kolis
), and thus we have here a quartet of sea bass fillets, spiced, coated with gram flour, and fried. The result was a fine, tender, savory preparation of fish, brightened up by the accompanying veggies and chutneys. Nice.
What can I say? Vik's continues to deliver. There's a reason why the place is beloved by, and jam-packed with, people from all walks of life--students, hippies, yuppies, Indian families, professors, white collar, blue collar,
foodies making the pilgrimage
--there's seemingly something for everybody. The food is at least as good as that from fancier and costlier places. It's simultaneously spicy, savory, sweet, sour, messy, chaotic,
jarring
, out-of-the-norm, beloved, in short:
it's Vik's
.