Scarpetta (Beverly Hills, CA)
Scarpetta
225 N Canon Dr, Beverly Hills, CA 90210
310.860.7970
www.scottconant.com/restaurants/scarpetta/beverly-hills
Mon 10/25/2010, 06:30p-11:20p

It's about time that the dining options at Montage Beverly Hills got some respect. The hotel opened with the modern American eatery Parq, as well as its bigger brother
Muse
, a "premium" dining room of sorts. Both spaces were helmed by Executive Chef John Cuevas. Unfortunately, Parq was a forgettable restaurant that never really established itself in the community, while Muse managed to be even more obscure, lacking its own Yelp entry, even. Montage management have learned a lesson from their past peccadilloes though, as evinced in the recruiting of Scott Conant to aid in the replacement of the ill-fated Parq. Conant is perhaps best known for his work at Manhattan mainstay Alto, but now spends his time tending to his mini-constellation of Scarpetta ("little shoe") restaurants scattered across the country. This latest iteration in Beverly Hills aims to bring Conant's signature style of seasonal, Southern-shaped Italian to the denizens of the LA basin.
A brief biography
: Conant was born in Waterbury, Connecticut to an Italian-American family (from his mother's side) and showed an early aptitude in the kitchen. At the tender age of 11, he took cooking classes at a local community college, and four years later, enrolled in a trade school for the culinary arts. Conant eventually made his way to the Culinary Institute of America in Hyde Park, and during his tenure here,
staged
at the famed Italian eatery San Domenico in New York. After graduation, he traveled to Munich, honing his pastry skills at Hotel Bayerischer Hof. The Chef then returned home to the Big Apple to take up a Sous Chef post at San Domenico. Then, in 1995, Cesare Casella chose Conant to head up his Tuscan restaurant Il Toscanaccio in NYC's Upper East Side. 1996 saw Conant move to an Executive Chef role at Barolo, and two years later, he transitioned to Chianti, also as an Exec Chef. From here, the Chef moved to City Eatery in 2000, where he achieved a two-star review from the
Times
.

The gig lasted until 2001, when Conant was tapped by restaurateur Chris Cannon to open up L'Impero in Tudor City. The Chef traveled extensively to Italy in preparation for the restaurant's grand opening in September 2002. L'Impero was a smashing success, garnering a glowing three-star review from the
NYT
and winning Best New Restaurant from James Beard in 2003. The following year, Conant was named one of
Food & Wine
's Best New Chefs, and also launched Bar Tonno, a 24-seat temple of crudo that quickly (2 months) failed and folded. Building upon the success enjoyed by L'Impero, Conant then debuted the Northern Italian eatery Alto in 2005, also in conjunction with Cannon. Everything was moving along swimmingly until 2007, when Conant underwent a bitter breakup with his partner, resulting in the Chef dissolving his interests in both Alto (now helmed by Marea chef Michael White) and L'Impero (shuttered, but reincarnated as Convivio, also under White).
After the split, he consulted at Tutto Il Giorno in Sag Harbor, and also got married to
New York Dog
co-owner Meltem Bozkurt in Turkey. Conant returned with a vengeance in 2008, launching his new concept Scarpetta in May that year to considerable praise, including three-star reviews from both the
New York Times
and
New York Magazine
and a nomination from James Beard for Best New Restaurant. In November 2008, he opened his second Scarpetta outpost in Miami at the Fontainebleau resort, and in June 2010, launched Scarpetta at the Thompson Toronto. Conant also introduced Faustina, a more casual Italian eatery, at NYC's Cooper Square Hotel the same year. Following his work here in Beverly Hills, the Chef will be opening Scarpetta at the new Cosmopolitan hotel in Las Vegas in December, along with an accompanying wine bar called D.O.C.G. Enoteca.

Penned by Studio Gaia, the space seems like a tastefully reimagined version of Parq's. Inspired by "Old Hollywood," Scarpetta is comprised of three distinct areas--main dining room, bar, and courtyard--as well as a 12-seater Chef's Table, replete with views of the kitchen and the adjacent Beverly Canon Gardens. As we can see above, though, the best seats in the house are the five situated in the back of the kitchen. We're talking dinner
and
a show, and who knows, you might even spy Chef Conant
personally
preparing your spaghetti...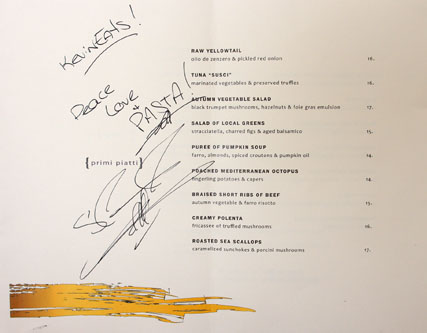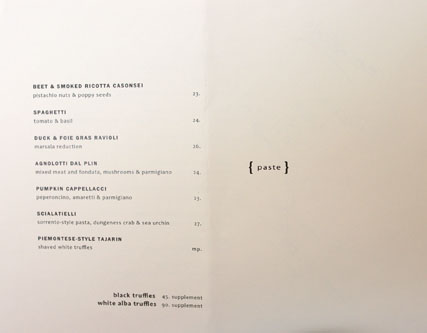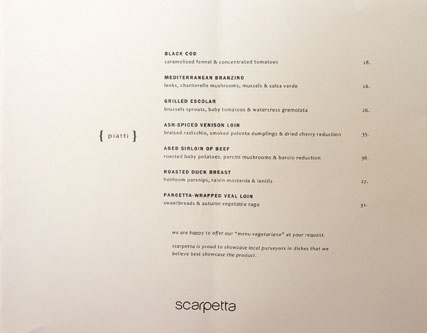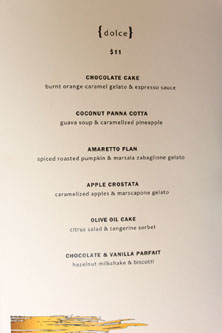 Above, we see the opening night menu, replete with plenty of seasonal flourishes. Though certainly influenced by the
carte
at Scarpetta NY, the selection of dishes here has been tweaked to better suit the restaurant's new environs. Of course, you'll find Conant's signature spaghetti and his creamy polenta, but no sign of the
capretto
(goat) though. We, however, opted to let the Chef do as he wished, the result of which was a 12-course, truffle-filled menu priced at $250, plus $110 for wine (so nearly $500pp all-in). Click for larger versions.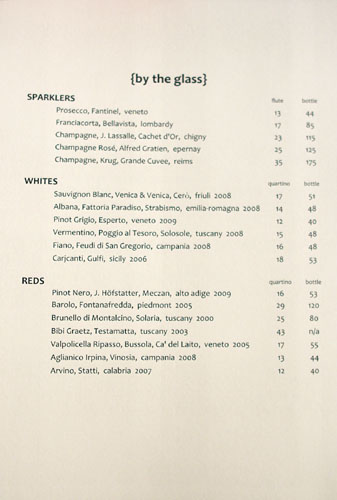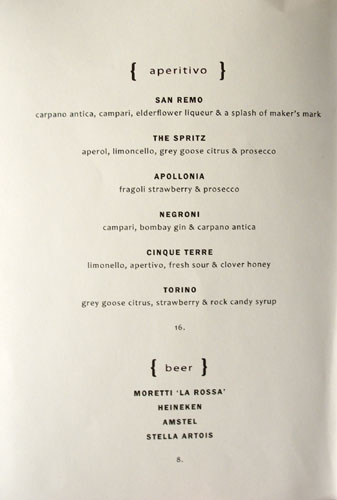 The wines by the glass and cocktail lists. If you're feeling more adventurous with your
vino
, Sommelier Mark Hefter also has an international list of 700 or so bottles to peruse. Click for larger versions.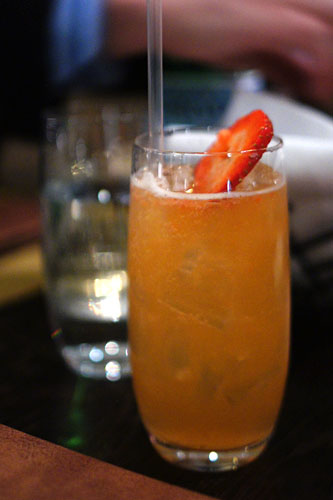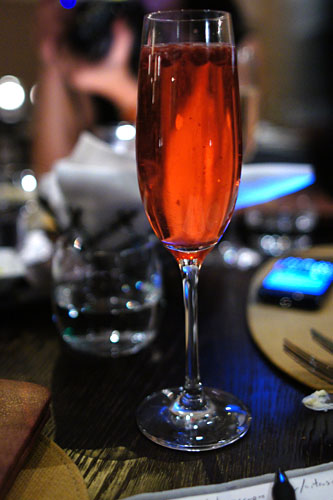 Starting the evening with a cocktail just seems so
de rigeur
for me these days, so I quickly requested Scarpetta's cocktail list and ordered up a Torino [$16], made with Grey Goose citrus, strawberry, and rock candy syrup. It was a immensely quaffable, citrusy, sweet summery drink, reminiscent of orange soda! The Apollonia [$16], meanwhile, was a delicious mix of Fragoli strawberry liqueur and prosecco, a crisp, refreshing concoction with a great interplay of sweet and bitter flavors.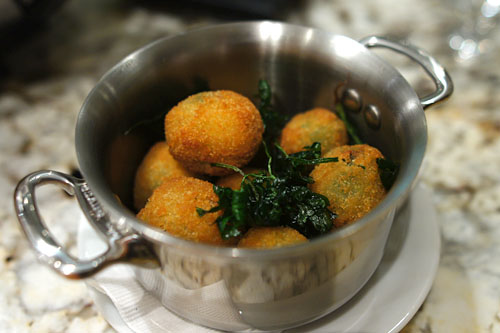 Serving as sort of an amuse bouche was a bowl of olives
all'Ascolana
, which are basically fried olives stuffed with beef, pork, and veal. They were fantastic--showing off an almost Indian
samosa
-like taste initially--with a great interplay of savory and herbaceous flavors.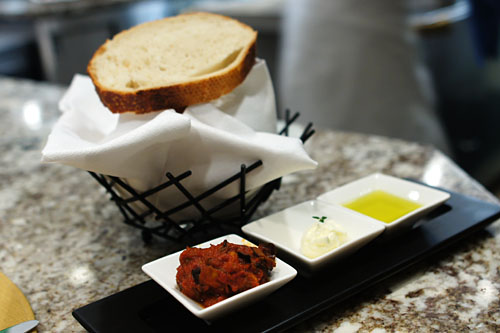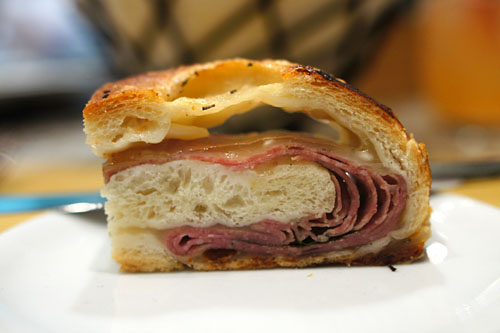 Scarpetta is known for its bread basket, and it was no disappointment tonight. An array of breads were provided, but the table favorite was clearly the amazing meat- and cheese-filled
stromboli
. Accompaniments included eggplant
caponata
, mascarpone butter, and citrus-infused olive oil.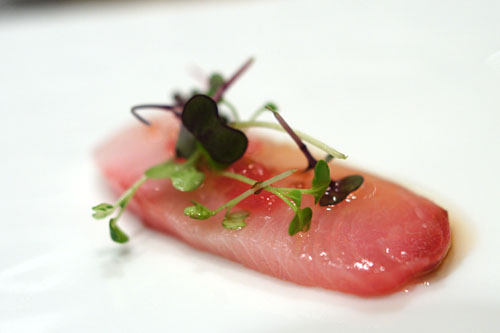 1a: RAW YELLOWTAIL
| olio de zenzero & pickled red onion
A bit of
crudo
to start. The hamachi's soft, clean flavors went beautifully with the tang of the
olio de zenzero
(ginger oil) and red onion, while a pinch of Hawaiian sea salt gave the bite a salty, lingering finish.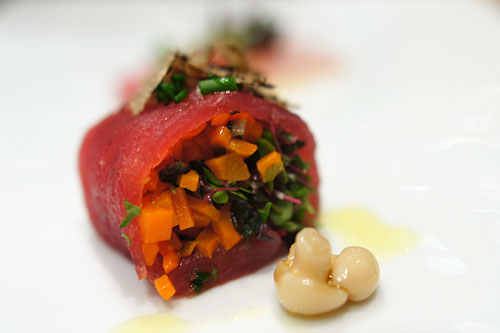 1b: TUNA "SUSCI"
| marinated vegetables & black truffles
Tuna was even better. I loved the interplay between the delicate fish and the intense earthiness of the truffles, all over a base of light, bright veggies. Quite nice.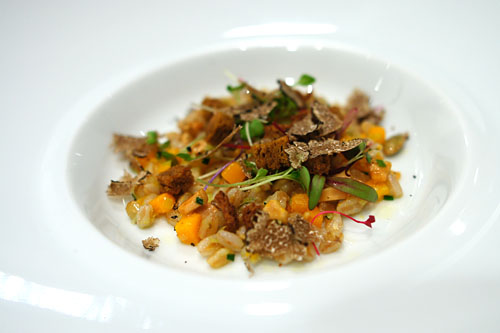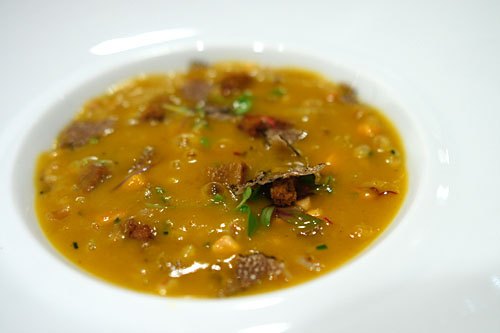 2: PUREE OF PUMPKIN SOUP
| black truffles, farro, almonds, spiced croutons & pumpkin oil
I'm no fan of pumpkin, so I was pleasantly surprised when I found that I enjoyed this soup. The pumpkin wasn't overly saccharine, which was what I was afraid of. Instead, it lent a subtle, but present undertone to the dish, which was deftly countered by the strong flavors of the black truffle. A dish very apropos for fall, with great textures, too.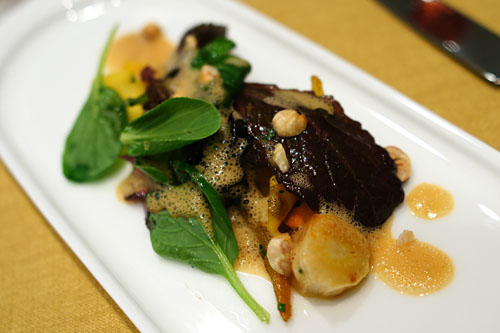 3: AUTUMN VEGETABLE SALAD
| black trumpet mushrooms, hazelnuts & foie gras emulsion
Composed of parsnip, acorn squash, butternut squash, pumpkin, carrot, and black trumpet mushroom, this was perhaps Conant's interpretation of the famed
gargouillou
dish. I appreciated how each element was apparent, different, yet all tied together so perfectly by the weight of the foie gras emulsion. The liver just lent a great depth of flavor to the course that elevated the impact of each and every vegetable.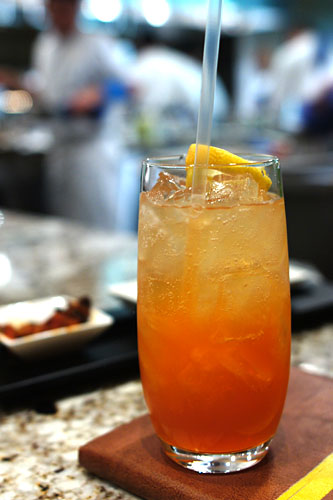 Our next cocktail was the Cinque Terre [$16], comprised of limoncello, apertivo, fresh sour, and clover honey. This one was keenly sour at first, but with a saccharine, viscous, honeyed body tinged by just a hint of astringency.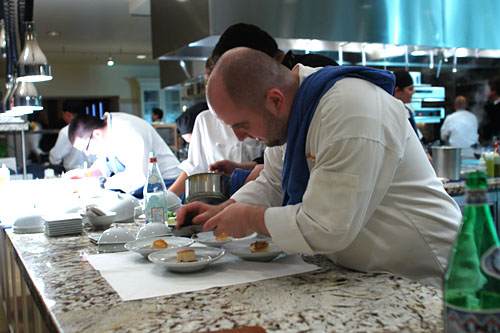 Keep on shaving.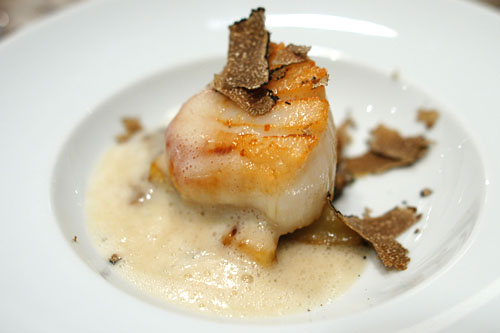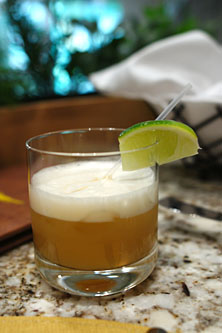 4: ROASTED SEA SCALLOP
| black truffles, caramelized sunchokes & porcini mushrooms
Margarita (tequila, agave nectar, Pimm's No. 1 Cup, lime, egg white)
Scallop came expertly cooked, gently charred, but still somewhat creamy on the inside. The intense aroma of the truffle was a classic, but thoroughly effective pair with bivalve, but the added textural component of the porcinis and subtly sweet sunchokes took the dish to an even higher level.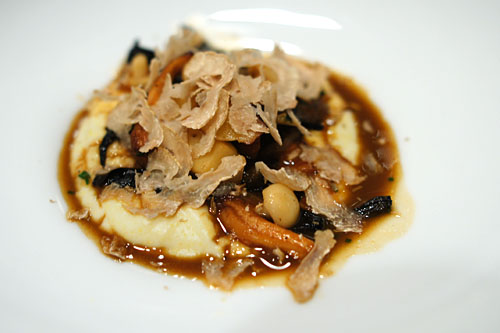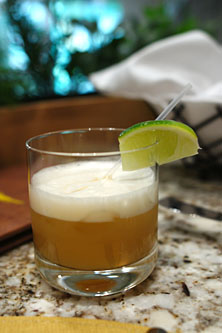 5: CREAMY POLENTA
| white truffles, fricassee of truffled mushrooms
Margarita (tequila, agave nectar, Pimm's No. 1 Cup, lime, egg white)
The polenta was clearly among the best that I've ever had; certainly, it was the most luxurious. Lusciously smooth, creamy, and almost decadent, the polenta was perfectly matched by the earthiness of the mushrooms, while the white truffle lent an overarching pungency to the entire dish. Heavy, hearty, and delectable. The margarita did a nice job in cutting some of the dish's weight with its tangy, spicy, acerbic flavors.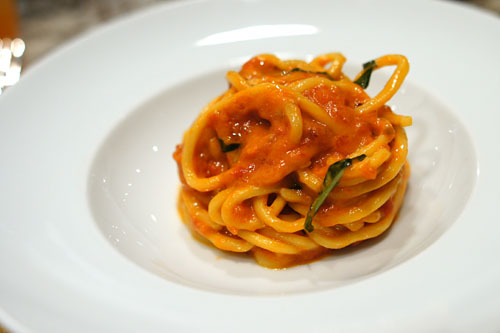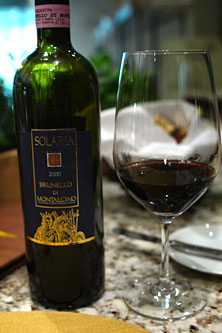 6: SPAGHETTI
| tomato & basil
Brunello di Montalcino, Solaria, tuscany 2000
The moment that we've all been waiting for--Conant's famed signature spaghetti, prepared right before our eyes by the Chef himself. I fully expected the pasta to the perfect, and it was. The interaction between the tomato and basil is reminiscent of
pizza margherita
, a simple, yet undeniably satisfying combination. Faultless texture on the noodles as well, and easily the best spaghetti that I've ever tasted. The wine was also quite enjoyable, with the slight tomato leaf character on the Brunello's finish linking up nicely with the pasta.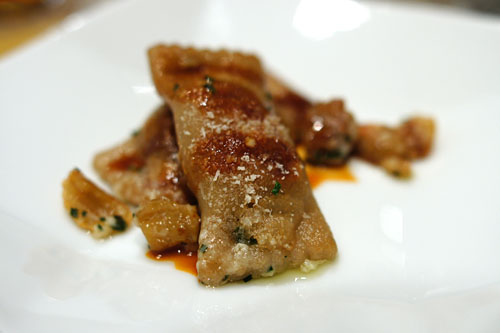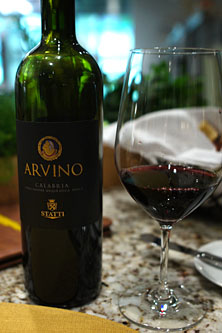 7: BRAISED SHORT RIB GNOCCHI
| chestnuts
Arvino, Statti, calabria 2007
An off-menu item, here we had short rib- and chestnut-stuffed gnocchi made with a chestnut-potato dough, topped with a beef glaze. The nuttiness really tempered the potency of the beef, giving the pasta a slight sweetness. I'm not particularly fond of chestnuts, but certainly didn't mind this dish.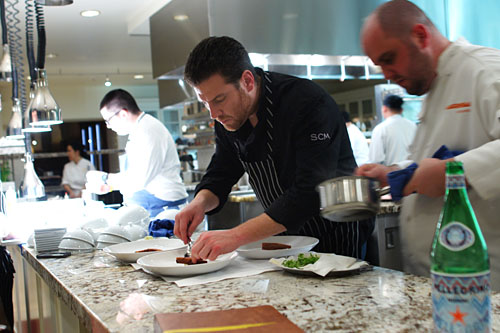 Conant plating the duck.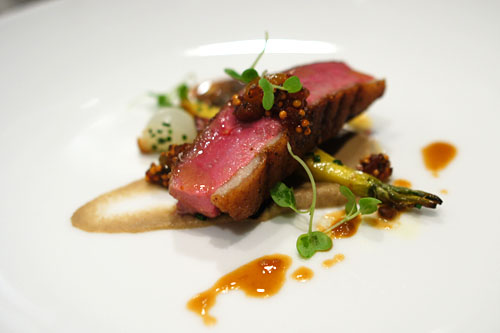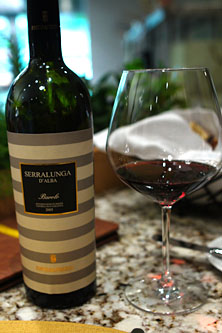 8: ROASTED DUCK BREAST
| heirloom parsnips, raisin mostarda & lentils
Barolo, Fontanafredda, piedmont 2005
I loved the taste of the duck here--smoky, savory, and just full of succulent sapor. The interaction with the earthy, tempering lentils was absolutely key, and I also appreciated the inclusion of carrot, in both pickled and roasted form. My only quibble was that the duck could've been a touch more tender.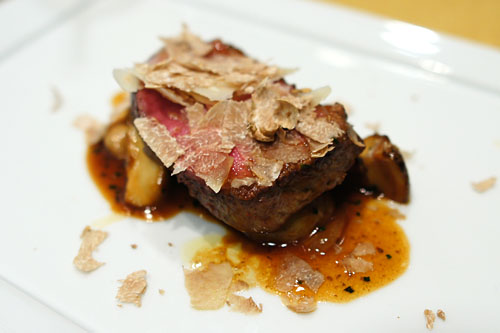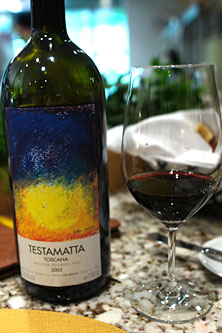 9: AGED SIRLOIN OF BEEF
| white truffles, roasted baby potatoes, porcini mushrooms & barolo reduction
Bibi Graetz, Testamatta, tuscany 2003
Our final savory was a lovely 21-day dry aged sirloin, served here with porcinis, fingerlings, chanterelles, Parmesan, and of course, loads of white truffle. Suitably tender and nicely moist, the meat showed off a great beefiness, which naturally played superbly with mushrooms and potato, not to mention the
tartufo
. The wine, meanwhile, was arguably my favorite of the night, with a hefty, heavy body and marked dark berry flavors.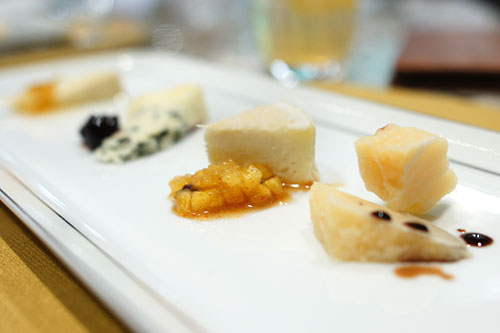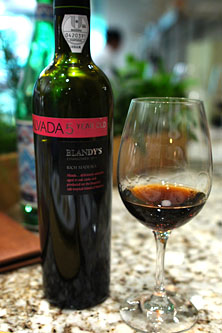 10: FORMAGGI
Madeira, Blandy Alvada 5 Years Old
Our quartet of cheese included a 2-year Parmigiano-Reggiano with aged balsamic (showing off a funky essence of Parm that played beautifully with the balsamic), La Tur with pineapple chutney (from Piedmont, light/tangy and made with all three types of milk), Caveman Blue with stewed cherries (a prototypical bleu from Rogue Creamery in Oregon), and Pecorino Fresco with apple
mostarda
(a Tuscan cheese with a fantastic mouthfeel). In addition, the cheeses were served with savory, fennel and rosemary biscotti that really helped cut their weight. A very nice presentation of
formaggi
, especially when taken in concert with the Boal-Malmsey Madeira.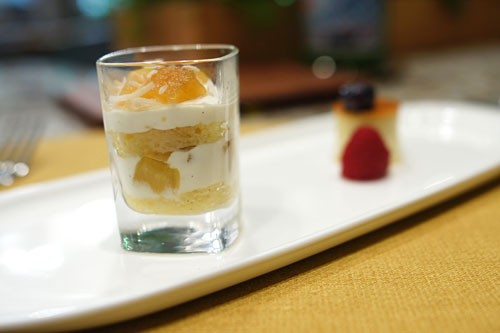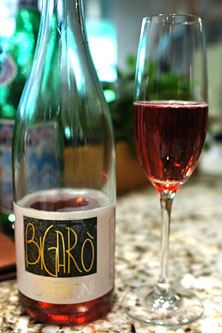 11a: RUM SOAKED CAKE
| rum roasted pineapple
Elio Perrone Bigaro
In our first dessert, I adored the interaction between the sweet, charred bits of fruit and the sheer booziness of the rum, all moderated by the layers of cake--nice. The wine, meanwhile, was an effervescent rosé, an unabashedly sweet, summertime wine that one of my dining companions described as an "adult Shirley Temple!"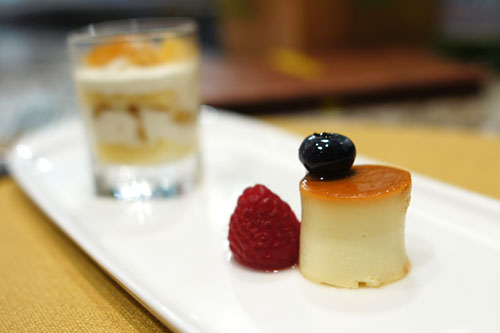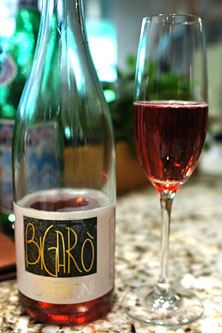 11b: VANILLA FLAN
| marsala soaked berries
Elio Perrone Bigaro
Here, the light flavors of vanilla were gorgeously complemented by the weight of the caramel, while the fruit provided some offsetting tartness.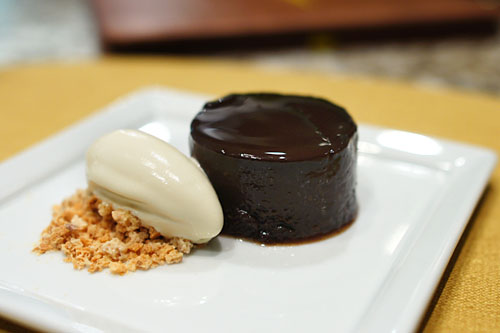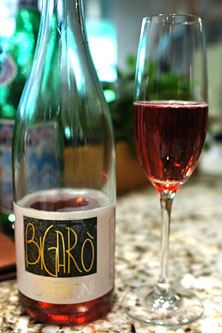 12: AMARETTO FLAN
| spiced roasted pumpkin & marsala zabaglione gelato
Elio Perrone Bigaro
I loved how the initial sweetness of the flan gave way to the slight boozy, almond tinged flavor of the amaretto, while the marsala-imbued sabayon served as a stellar counterpoint. Just a great interplay of flavors.
To be sure, this was an expensive dinner, but I don't hesitate in deeming this my top Italian meal to date. The food was lusty yet refined, articulate yet earthy, a robust interpretation of modern Italian cuisine that I could find little fault with. Based off the strength of this opening night dinner, it's obvious that Scarpetta is a welcomed entrant to the City's burgeoning cuisine scene, and undeniably raises the bar for Italian dining here in the Southland.