Test Kitchen (Los Angeles, CA) [17]
Test Kitchen
9575 W Pico Blvd, Los Angeles, CA 90035
310.277.0133
www.testkitchenla.com
Wed 10/13/2010, 07:30p-12:10a
After a nearly two week hiatus from Test Kitchen (the bulk of which saw me out of town on business), I returned with a vengeance to sample the "Baja Mediterranean" stylings of Tijuana's chef/restaurateur/superstar Javier Plascencia. As I understand it, Baja Med emphasizes the use of seasonal, locally-sourced ingredients from the Baja region, but is largely shaped by the culinary traditions of the Mediterranean--Italy and Spain in particular--intertwined with the rich history of regional
cocina Mexicana
, of course.
About the Chef
: Born and raised in Tijuana, Plascencia first fell in love with cooking in his family's kitchens (his father Juan owned Giuseppis, one of the region's first pizzerias). After graduating high school, he attended San Diego Mesa College, where he attained a degree in Culinary Arts in 1991, and also took courses at the Culinary Institute of America's Gresytone campus in Napa. Following, the Chef cooked at a number of establishments in the US before undergoing a series of culinary expeditions that took him around the globe. Plascencia then returned to his old stomping grounds in Tijuana to open his first restaurant.
Success soon followed, and Plascencia went on to open several more restaurants. Now, the Chef oversees a veritable restaurant empire in the City: Caesar's Restaurante (birthplace of the eponymous salad), Cafe Saverios,
Casa Plasencia
, Cenaduria La Tia, seafooder Erizo Cevicheria, Giuseppis (his dad's old Italian place, started in 1967), Taninos wine bar, and the flagship
Villa Saveios
. He also ventured across the border with his
Romesco Baja Med Bistro
concept in San Diego. Plascencia's next, most ambitious project yet involves a hotel-restaurant set amidst acres of vineyard, and he's also working on Mision 19, an eatery set in one of the region's first "green" buildings.
Food luminaries present tonight, among others that I can't recall, included:
Umami
mogul Adam Fleischman, Barbara Hansen of
Table Conversation
and the LA Times, Bill of
Street Gourmet LA
,
FoodDigger
co-founder
Brian Liu
, vivacious
Guelaguetza
restaurateur
Bricia Lopez
(with mother Maria), Chef
Dan Moody
from
LudoBites
, future Farm Shop chef
Dylan Hallas
,
La Casita Mexicana
duo Jaime Martin del Campo and Ramiro Arvizu, Javier of
Teenage Glutster
, restaurant consultant
Jerry Prendergast
,
Yxta
owner Jesse Gomez, Josh of
Food GPS
,
LAist
's
Julie Wolfson
,
Kate Green
from
Mozza
, in-house photographer
Ryan Tanaka
, Sam of
Bites for Me
, Tomoko of
Tomostyle
, and yes, even everyone's favorite critic,
Ms. Sherry Virbila
.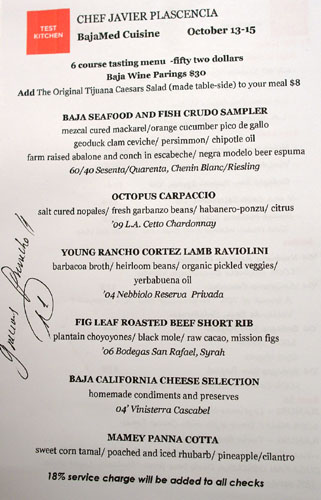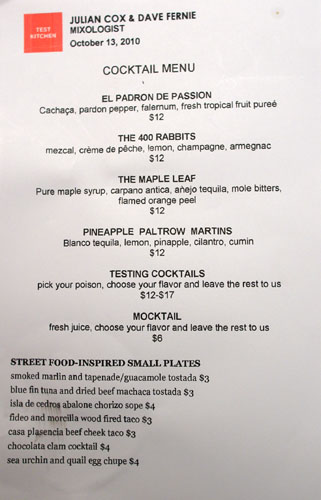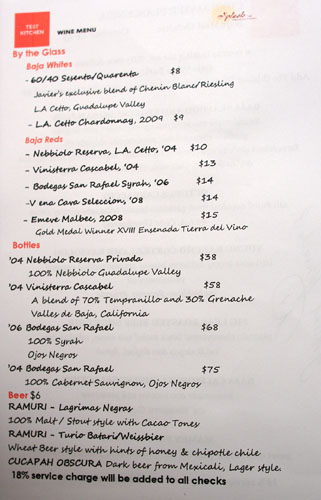 Plascencia's $52, six-course tasting menu was paired with a dizzying array of smartly-priced, street food-inspired
antojitos
. A Baja wine pairing was also available for $30, and of course, cocktails, mixed by Julian Cox and Dave Fernie, were on offer as well. Click for larger versions.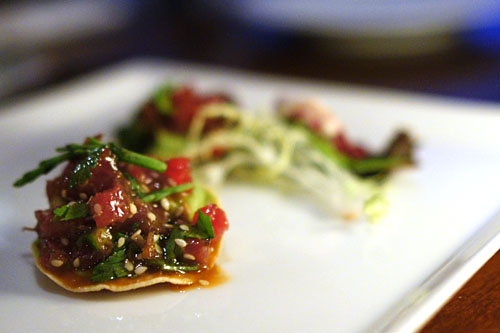 blue fin tuna and dried beef machaca tostada [$3.00]
We commenced with a beautiful bite of bluefin, mild at first, but immensely savory on the midpalate thanks to the incorporation of
machaca
(spiced, shredded meat). The ending, meanwhile, was refreshingly tart, thanks to the liberal use of cilantro and tomato. Quite enjoyable.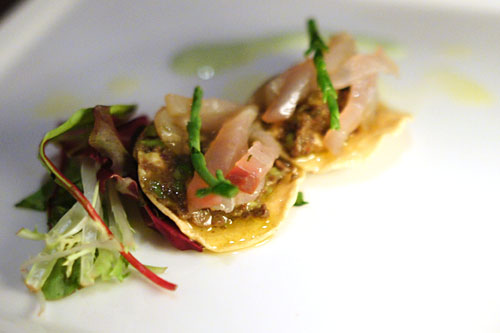 smoked marlin and tapenade/guacamole tostada [$3.00]
The marlin was similar in style to the tuna, but different in approach. Though smoked marlin is a mainstay in Baja, it's rather uncommon to find on menus here in the States. My
first experience
with the fish wasn't great, but I rather liked it this time around. The smokiness of the marlin was so expertly augmented by the tangy tapenade, and the guac served as a point of levity. Nicely integrated.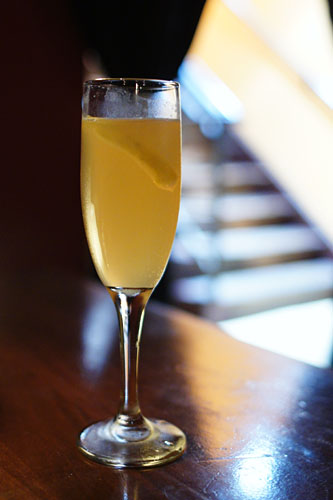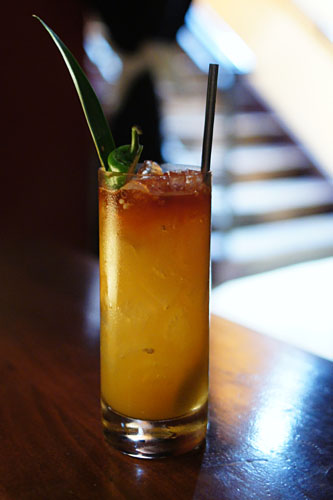 THE 400 RABBITS [$12.00]
| mezcal, crème de pêche, lemon, champagne, armagnac
EL PADRON DE PASSION [$12.00]
| cachaça, padron pepper, falernum, fresh tropical fruit pureé
Of the four specialty cocktails on offer, the first we tried was The 400 Rabbits. Named after the
Aztec gods of drunkenness
, the drink showed off a bracing, tart, unabashedly citric character bounded by the smoky weight of the mezcal, all tinged with a touch of bright astringency--quite nice. I also enjoyed El Padron de Passion, with its sweet-spicy attack and luscious, viscous, tropical fruit finish. Infinitely quaffable, but I would've liked more from the pepper.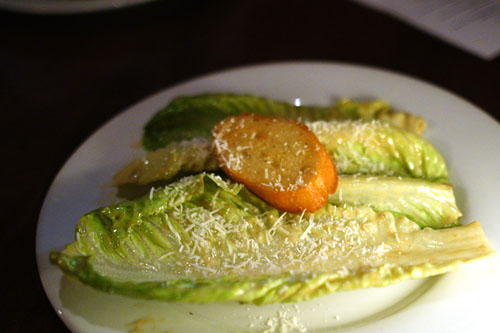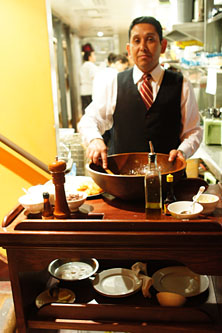 Original Tijuana Caesars Salad [$8.00]
When presented with the option of adding the
original
Caesar salad to your meal for $8, the correct answer is, of course, "yes." The salad was invented, by most accounts, by a certain Caesar Cardini at his eponymous restaurant in TJ, a restaurant that Plascencia eventually purchased and renovated. Composed here of lettuce, Parmesan, crouton, lemon juice, olive oil, and Worcestershire, the salad was classic Caesar, an undeniably enjoyable mix of familiar flavors and textures. I appreciated how the crisp character of the lettuce was so forcefully presented, yet so deftly accented by the weight of the cheese and slight fishy complexity of the Worcestershire.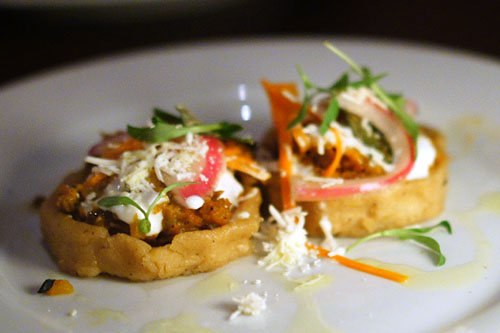 isla de cedros abalone chorizo sope [$4.00]
Isla de Cedros, an island off the coast of Baja, is well known for its abalone fishery. Here, I rather enjoyed how the inherent, yet delicate brine of the mollusk was so adeptly augmented by the spicy savor of chorizo, while red onions provided a biting, acerbic tang to balance the dish. I also found the fried
masa
to be a superb moderating base, supplying a great corn undertone to things. Arguably my favorite of the bar bites.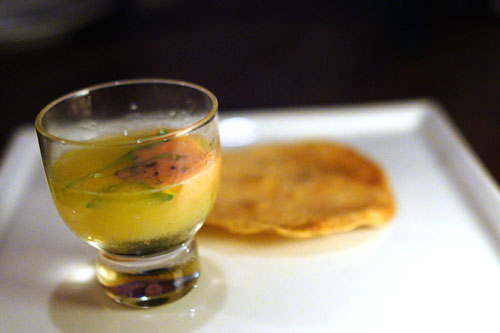 sea urchin and quail egg chupe [$4.00]
A
chupe
can be thought of as a sort of soup or stew, popular in Latin America. Plascencia's version was much lighter than most though, becoming more of a shooter in nature. I liked its green, herbaceous nose, as well as the creamy, mild brine of the urchin, while the finish was unabashedly salty, heavy, and savory. I could've used a bit more textural play, though the included
tostada
did help in that regard.
casa plasencia beef cheek taco [$3.00]
This was probably the most familiar of the seven snacks, with the suitably tender cheeks demonstrating a delectably dark, savory relish that was lightened up by the application of onion and cilantro. Classic taco flavors--straightforward, but nevertheless effective.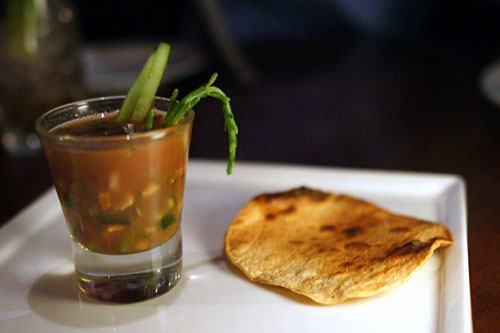 chocolata clam cocktail [$4.00]
No, this didn't have chocolate in it. Rather, the
chocolata
refers to the brown color of the large
Megapitaria squalida
clam, which is heavily harvested in the Baja California region. Fresh, almost fruity flavors led to a great base of briny clam character, while the fried crisp served as a fitting "chaser."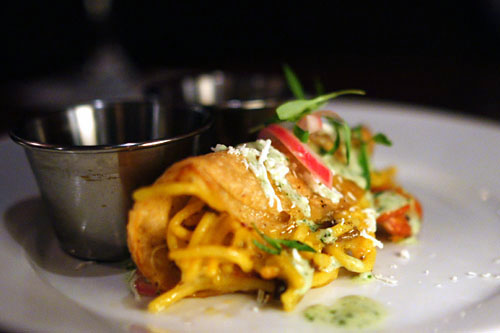 fideo and morcilla wood fired taco [$3.00]
Spanish influences abounded in this taco, with its use of short strands of
fideo
pasta and
morcilla
blood sausage. The pasta was mild in flavor, and thus the substantial sapor of
morcilla
was key in the dish, adding a much needed bit of potency and verve. Texturally, the
fideo
went beautifully with the hard shell of the taco.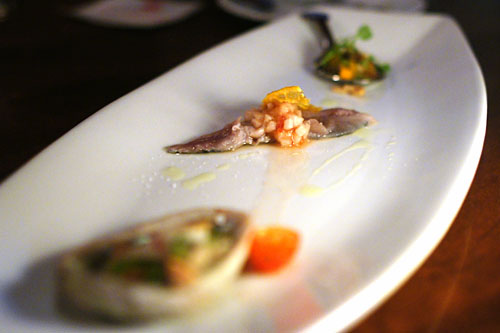 1: BAJA SEAFOOD AND FISH CRUDO SAMPLER
| mezcal cured mackerel/ orange cucumber pico de gallo + geoduck clam ceviche/ persimmon/ chipotle oil + farm raised abalone and conch in escabeche/ negra modelo beer espuma
60/40 Sesenta/Quarenta, Chenin Blanc/Riesling
Our meal proper thus began with a troika of raw seafood. My favorite of the trio was the abalone-conch combo. I loved how the gastropods' sweet brine was so expertly complemented by their tangy accoutrements, though I could've used more from the espuma. I also quite enjoyed the geoduck clam, which showed off a fantastic tangy sweetness and ocean-y essence, leading right to a bright, herbaceous finish. The least successful of the threesome was the mackerel. Its fishiness was nicely tempered by the mezcal treatment, but the orange was a bit overwhelming for me, taking too much attention off of the fish.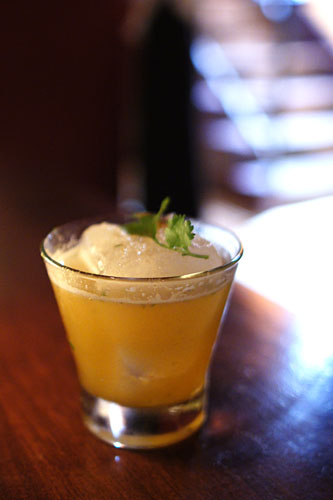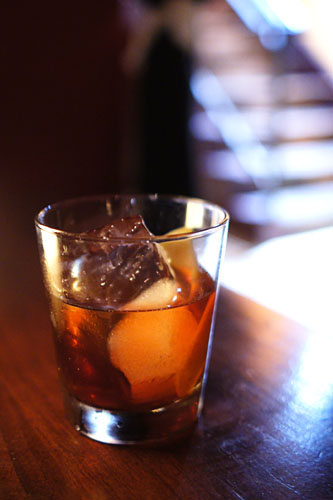 PINEAPPLE PALTROW MARTINS [$12.00]
| blanco tequila, lemon, pineapple, cilantro, cumin
THE MAPLE LEAF [$12.00]
| pure maple syrup, carpano antica, añejo tequila, mole bitters, flamed orange peel
Round number two for cocktails began with the Pineapple Paltrow Martins. Here, I loved the libation's sweet, herbaceous pineapple flavor, and how it was so deftly complemented by the drink's spicy, vegetal bouquet--very good. The Maple Leaf, on the other hand, was much more classic in demeanor, with loads of bittersweet citrus up front to balance the power of the tequila, while finishing nicely with the saccharine essence of maple syrup.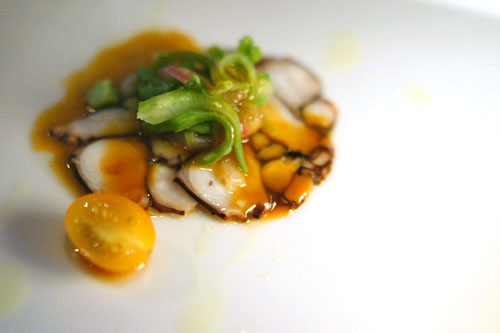 2: OCTOPUS CARPACCIO
| salt cured nopales/ fresh garbanzo beans/ habanero-ponzu/ citrus
'09 L.A. Cetto Chardonnay
Octopus was wonderfully tender, yet still with a bit of bite. It almost had a Japanese-y tinge initially, thanks to the ponzu, but the crux of the dish was the use of
nopales
(prickly pear cactus), which was a perfect complement, both in terms of taste and texture. I wish that the octopus were cut a bit thicker though, so that I could better appreciate its fabulous consistency, and I would've liked to have tasted more from the garbanzos.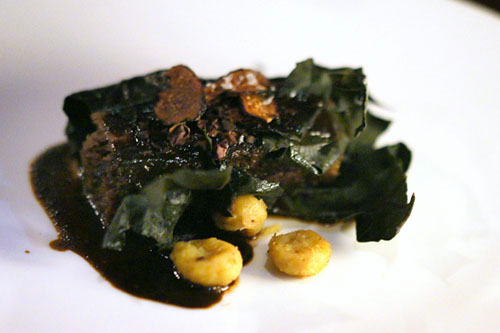 4: FIG LEAF ROASTED BEEF SHORT RIB
| plantain choyoyones/ black mole/ raw cacao/ mission figs
'06 Bodegas San Rafael, Syrah
Easily the most substantial course of the evening, short ribs came wrapped in inedible fig leaf. Removing the wrapper revealed an impressive brick of beef, expectedly tender, supremely savory, with a subtle hint of smoke. The mole contributed a complex sweetness to the dish that was apparent, yet not overpowering. The best part, though, were the buttons of fried plantain, which adroitly moderated the heft of the beef, while also adding a wondrous bit of textural variation.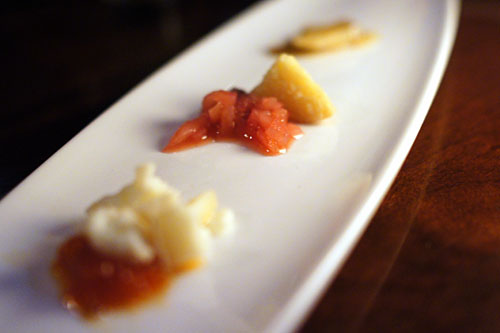 5: BAJA CALIFORNIA CHEESE SELECTION
| homemade condiments and preserves
'04 Vinisterra Cascabel
Plascencia's presentation of cheese was one of the most unique that I'd ever encountered. Instead of serving three different cheeses, he served the same cow's milk cheese, but at different maturities: two-, four-, and six-months. Condiments, meanwhile, were based on nut, fruit, and agave bases. I began with the two-monther, and found its flavor light and slightly sweet. The middle cheese was much harder and crumblier in consistency, with a markedly stronger, nuttier relish. The final fromage was actually softer, but possessed the most intense, funkiest flavor out of the three. A nice progression!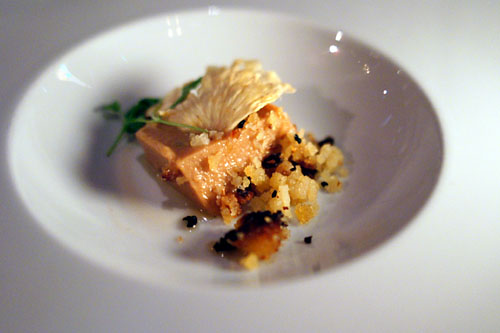 6: MAMEY PANNA COTTA
| sweet corn tamal/ poached and iced rhubarb/ pineapple/ cilantro
Mamey (the fruit of Mexico's mamey sapote tree) showed up in panna cotta form. The refined, fruity sweetness of the gelatin was gorgeously accented by a hint of corn relish, while the cilantro gave the dish a great trace of savoriness on the finish. The bits of candied fruit, meanwhile, kicked up the sugar content, while also serving to provide the dessert with a wonderful mélange of textures. Very nice.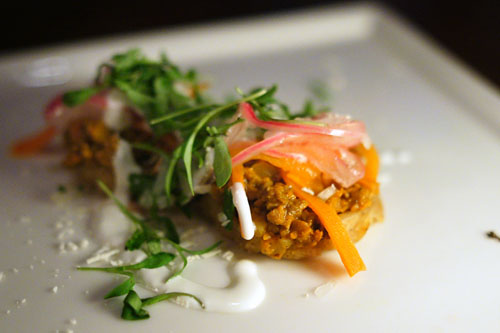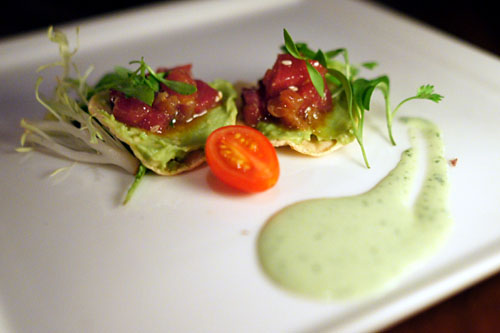 For the first time ever (I believe), we ended up ordering some extra portions at the end of the meal! These were the abalone-chorizo sope and the tuna-
machaca
tostada.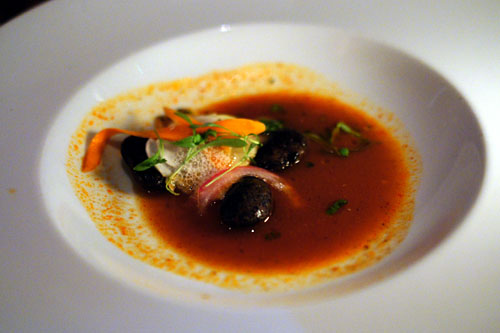 3: YOUNG RANCHO CORTEZ LAMB RAVIOLINI
| barbacoa broth/ heirloom beans/ organic pickled veggies/ yerbabuena oil
'04 Nebbiolo Reserva Privada
This dish seem out of order? Well it was, coming, rather oddly, at the very conclusion of the meal. We didn't mind
too
much though, as this time, it was clearly a case of
saving the best for last
. The rich, incredibly savory flavor of the mini lamb ravioli was satisfying enough on its own. However, the fantastic tang of the pickled veggies kicked things up another notch, serving as a perfect counterpoint to the gravity of the meat. Making things even more delectable was the earthy undertone of the beans, as well as the slight sour-sweetness from the BBQ-esque barbacoa broth. Easily the best dish of the night--I wanted a bigger bowl, and some bread to sop up the remaining liquid!
Plascencia's stint here at Test Kitchen was one of the stronger ones, with loads of bold flavors in a refreshing amalgam of Mexican and Mediterranean--
Mexiterranean
--flourishes that were irrefutably palate pleasing. The Chef already has a place in San Diego, so I suggested to him that he should consider opening a restaurant up here in the more culinarily adventurous city of LA. He seemed genuinely amenable to the idea, and even mentioned that if he were to do it, he'd want to feature a sushi bar-inspired
antojito
counter of sorts, in which sopes, tacos, tostadas and the like are made fresh right before customers' eyes. Sounds like a great idea to me, and a welcomed addition to the burgeoning LA cuisine scene.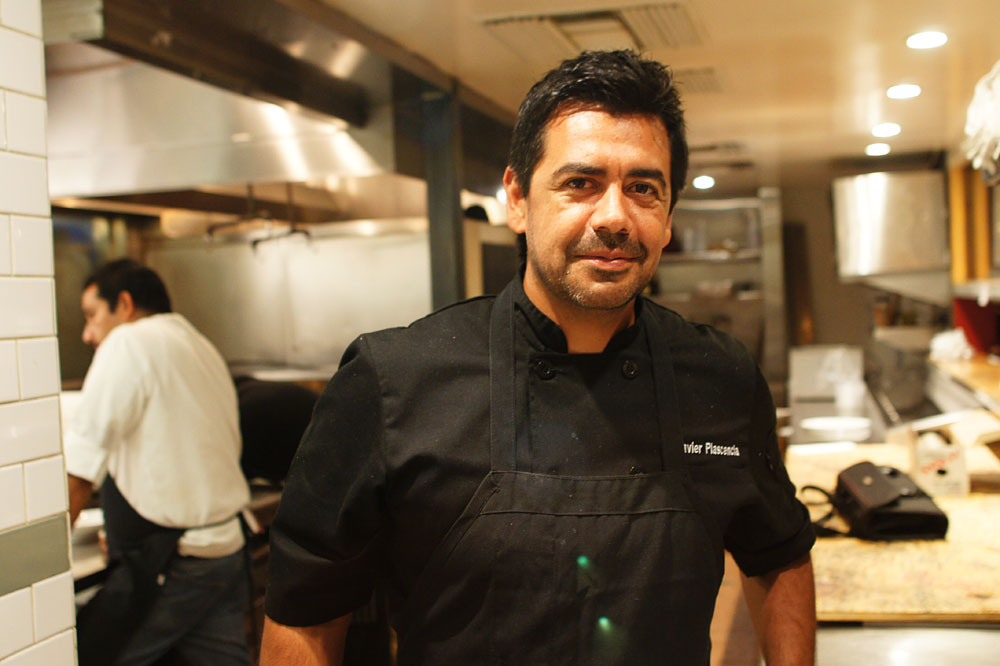 Previous Test Kitchen posts: Marcel Vigneron (10/1), Suzanne Griswold - Rachael Narins (9/30), Adam Horton (9/27), Steve Samson - Zach Pollack (9/23), Joshua Smith (9/21), Amy Pressman (9/20), Shelley Cooper (9/17), John Sedlar (9/15), Amanda Baumgarten - Dylan Hallas - Dan Moody (9/14), TiGeorges Laguerre (9/6), Vartan Abgaryan (9/4), Neal Fraser (8/31), Michael Voltaggio (8/29), Walter Manzke (8/25), Ricardo Zarate (8/24), Jordan Kahn (8/18).