Test Kitchen (Los Angeles, CA) [15]
Test Kitchen
9575 W Pico Blvd, Los Angeles, CA 90035
310.277.0133
www.testkitchenla.com
Thu 09/30/2010, 06:45p-09:25p
The first time that I'd met Rachael Narins was during
Walter Manzke's
night at
Hatchi
. Rachael and her partner Suzanne Griswold--collectively known as the supper club
Chicks with Knives
--were slated to cook at Hatchi in August, and during the Manzke meal, I'd promised her that I'd make it out. Unfortunately, work got in the way (as it tends to do), and I was called away on a business trip during that time period. Thus, not having ever tasted CWK's food, I made it a point to attend their guest stint here at Test Kitchen.
Their menu tonight was whimsically titled
Root Down – So How You Gonna Kick It, Gonna Kick It Root Down
. No, this had nothing to do with the
Beastie Boys
, but everything to do with
rootdownLA
. A portion of the proceeds from this dinner went to the organization, which promotes nutritional education among youth in South LA.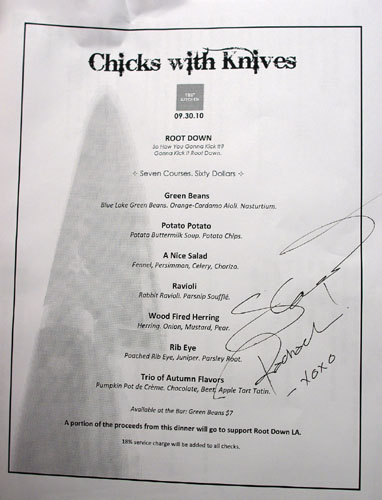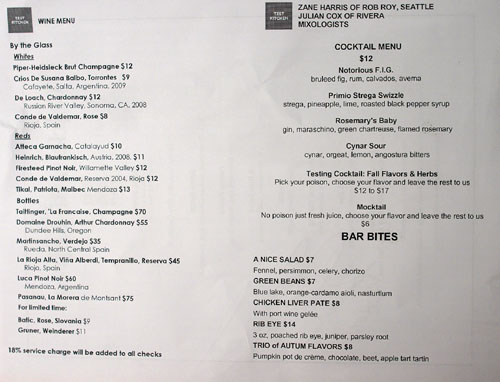 Though the Chicks usually make do with four courses, their menu tonight featured seven, priced at $60. The cocktails, meanwhile, were the charge of Zane Harris (co-owner of Seattle's
Rob Roy
), aided by Julian Cox. Click for larger versions.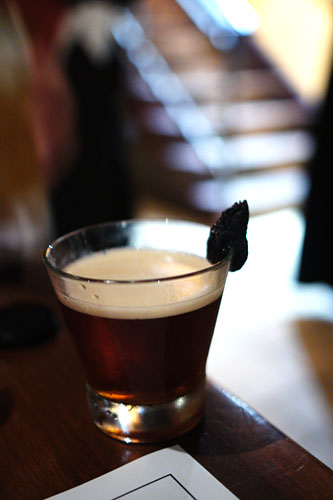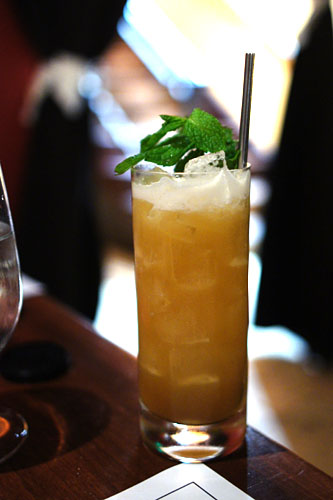 Notorious F.I.G. [$12.00]
| bruleed fig, rum, calvados, averna
Primio Strega Swizzle [$12.00]
| strega, pineapple, lime, roasted black pepper syrup
We began with the Notorious F.I.G., which, interestingly, was the second cocktail that I've had at TK to feature
that name
. In any case, the drink showed off plenty of dark, thick, saccharine flavors initially, laced with traces of apple from the calvados. This then transitioned to the hot, heavy notes of rum. I preferred the Primio Strega Swizzle, with its marked mintiness and fruity notes of pineapple, all balanced by a touch of pepperiness--very nice.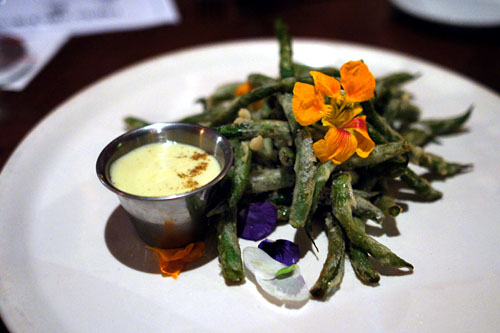 1: Green Beans
| Blue Lake Green Beans. Orange-Cardamom Aioli. Nasturtium.
Green beans were lovely, with a crisp, almost ethereal tempura layer that conveyed just the right amount of crunchiness. I also appreciated how well the vivid, green essence of the beans was so deftly preserved and highlighted.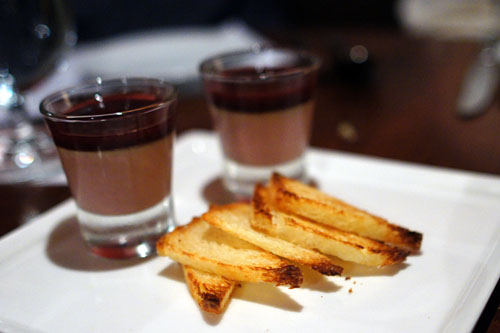 Chicken Liver Pate [$8.00]
| With port wine gelée
From the bar menu came these shot glasses of chicken liver. The liver was a bit dense in consistency, with an almost cookie dough-esque texture, while its flavor was first sweet, then bitter, all over the heady, underlying relish of liver.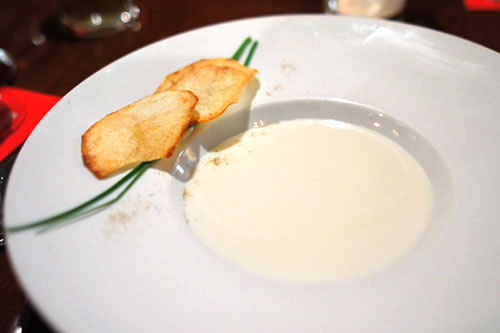 2: Potato Potato
| Potato Buttermilk Soup. Potato Chips.
We can almost think of this dish as a reimagined baked potato, replete with chives, white pepper, and buttermilk taking the place of sour cream. Unfortunately, I found the soup overly sour, and wanted to taste more of the potato itself. The potato chips, though, did do a great job in supplying a balancing bit of saltiness to the course, and I also enjoyed the tanginess imparted by the chives.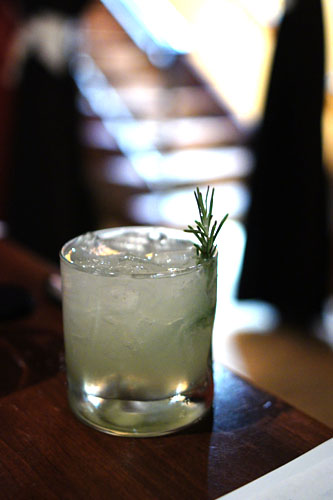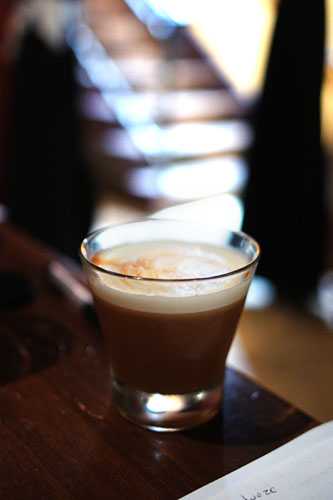 Rosemary's Baby [$12.00]
| gin, maraschino, green chartreuse, flamed rosemary
Cynar Sour [$12.00]
| cynar, orgeat, lemon, angostura bitters
Rosemary's Baby was quite
devilish
indeed, demonstrating a brazenly herbaceous character tinged with a marked savoriness. We also had the Cynar Sour, my favorite cocktail of the night. It had a fantastic amalgam of sweet, sour, and bitter flavors, all under overarching, almost medicinal hints of artichoke from the Cynar--superb.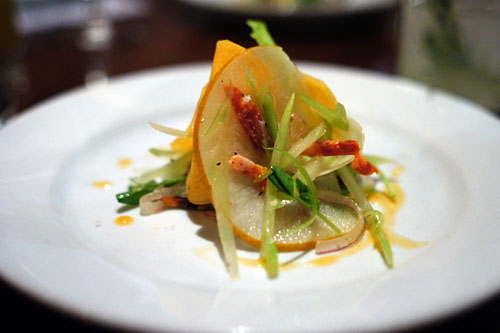 3: A Nice Salad
| Fennel, Persimmon, Celery, Chorizo.
Hands down, this was the standout course of the evening, and interestingly enough, it was plated by none other than
LAist's
Lindsay William-Ross
. I loved its light, bright flavors, subtly sweet with a great celery tang, all under the encompassing potency of chorizo. Everything then was tied together beautifully by the application of a smoked paprika-cherry vinaigrette. A nice salad indeed,
very, very nice
!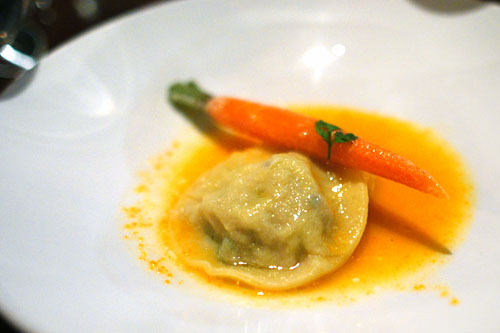 4: Ravioli
| Rabbit Ravioli. Parsnip Soufflé.
Rabbit was nicely flavored with an almost herbaceous bit of zestiness to it. Combined with the pasta, it went very well with the paired parsnip soufflé, which lent a certain gravity to the amalgam. I did, however, find the carrot-orange broth a touch sweet. Perhaps a spicy element would help balance things out a bit?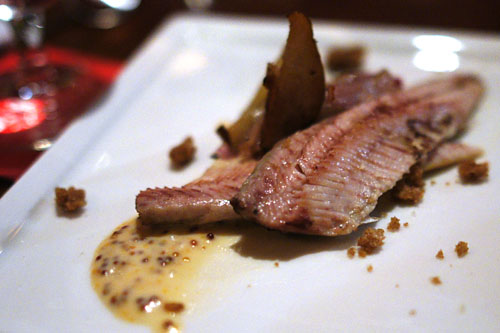 5: Wood Fired Herring
| Herring. Onion, Mustard, Pear.
One of my dining companion complained vehemently about the overt fishiness of the herring. I don't normally mind fishy fish, but I could definitely see where he was coming from. I think that serving the herring at a higher temperature would've been better here, to mellow out some of the flavors. What I found more disruptive was that one of my filets contained an inordinate amount of bones, which made eating rather difficult. The saving grace here was the mustard, which had a fantastic bit of piquancy that really lifted the dish up.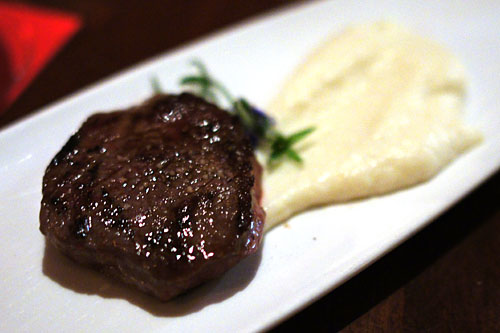 6: Rib Eye
| Poached Rib Eye, Juniper. Parsley Root.
Rib eye of steak was surprisingly tough, given that the meat was cooked
sous vide
. The juniper was a nice accent here, but the flavors in general seemed a bit discordant, with the parsley root especially being overly saccharine, domineering even.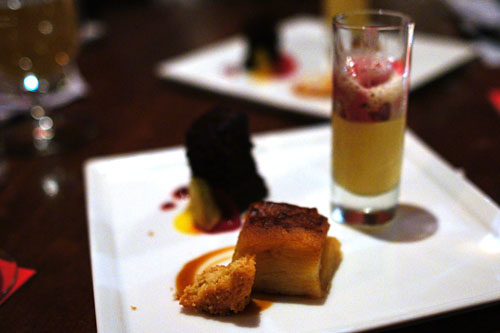 7: Trio of Autumn Flavors
| Pumpkin Pot de Crème. Chocolate, Beet. Apple Tart Tatin.
Dessert rebounded. We all adored the pumpkin pot de crème for its satisfying sweetness paired with that punchy bit of cranberry gelato. I also enjoyed the heavy, unabashedly sugary flavors of the tart tatin, as well as the tinge of beet imparted on the chocolate cake.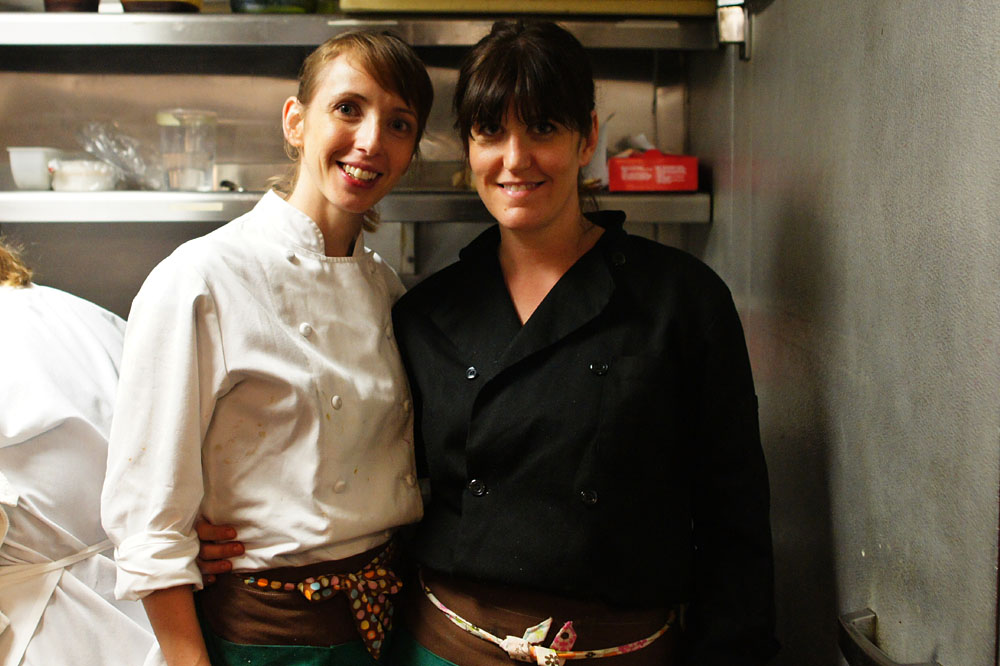 Chefs Suzanne Griswold and Rachael Narins--the
Chicks with Knives
.
Nearly every meal at Test Kitchen has had its share of hits and misses. Unfortunately, the number of misses tonight was higher than I'd hoped for. CWK had a successful stint at
Hatchi
, so hopefully, we can just chalk these missteps up to an off night.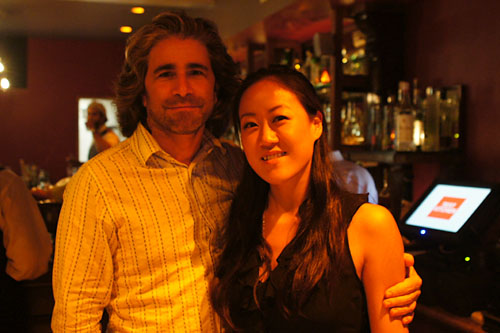 Test Kitchen co-founder
Brian Saltsburg
with new hostess Rebecca (who happens to be a fried of Helen from the blog
I'm Hungry and Proud of It
).
Previous Test Kitchen posts: Adam Horton (9/27), Steve Samson - Zach Pollack (9/23), Joshua Smith (9/21), Amy Pressman (9/20), Shelley Cooper (9/17), John Sedlar (9/15), Amanda Baumgarten - Dylan Hallas - Dan Moody (9/14), TiGeorges Laguerre (9/6), Vartan Abgaryan (9/4), Neal Fraser (8/31), Michael Voltaggio (8/29), Walter Manzke (8/25), Ricardo Zarate (8/24), Jordan Kahn (8/18).