Test Kitchen (Los Angeles, CA) [18]
Test Kitchen
9575 W Pico Blvd, Los Angeles, CA 90035
310.277.0133
www.testkitchenla.com
Sat 10/16/2010, 07:00p-09:50p
Ricardo Zarate serves as a sort of Chef-at-Large here at Test Kitchen--working alongside the various guests chefs that come in and out of the place--and his
first night helming the kitchen
was one of the strongest meals of the entire series. Ever since that first dinner, he's done three more (cebiche night, anticucho night, Inca night), all of which I'd had to miss unfortunately. Thus, I was determined to make it out this time for a suite of dishes partly inspired by Zarate's time working at non-Peruvian restaurants.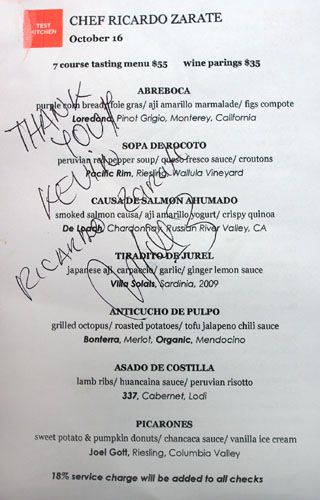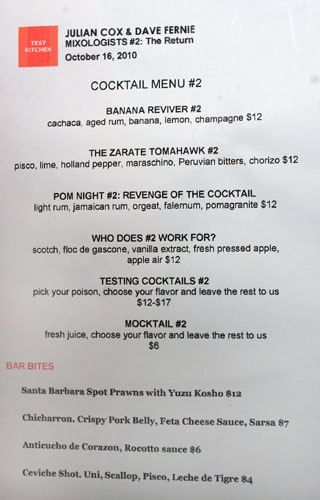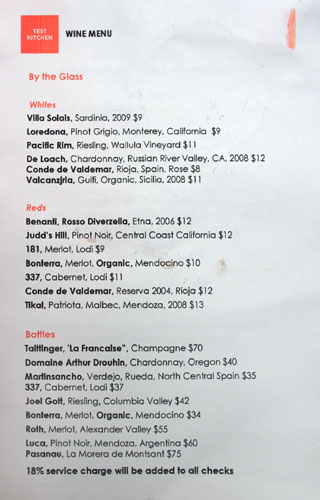 Zarate's seven-courser was priced at $55, plus $35 for wine pairings, while cocktails by Julian Cox and Dave Fernie were set at $12 each. Click for larger versions.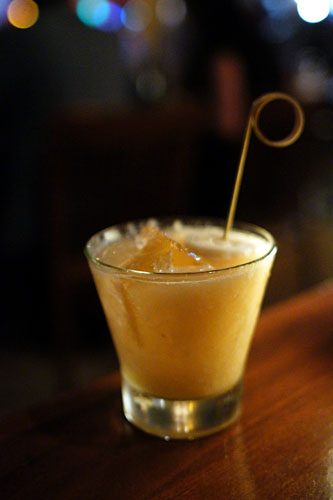 Banana Reviver #2 [$12.00]
| cachaça, aged rum, banana, lemon, champagne
The Zarate Tomahawk #2 [$12.00]
| pisco, lime, holland pepper, maraschino, Peruvian bitters, chorizo
For our cocktails, we began with the Banana Reviver #2, a lovely libation with a strong, viscous body of banana purée lightened by a hint of lemon, all over subtle undertones of rum and cachaça--quite good. I also enjoyed The Zarate Tomahawk #2, a frothy drink with a crisp, lively essence of bell pepper intermixed with the sweetness of maraschino. The finish, meanwhile, was awash in slight pricks of piquancy from the chorizo. And yes, when I was done with the cocktail, I even took a big bite out of the pepper à la
Iron Chef
's Chairman Kaga!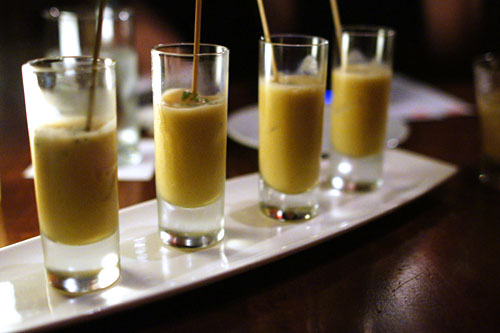 Ceviche Shot. Uni, Scallop, Pisco. Leche de Tigre [$4.00]
Our meal started with a bang, with the light brine of the seafood here deftly enveloped in the bracing acidity of
leche de tigre
(the leftover liquid produced from the ceviche marinade), while the
aji amarillo
added a light bit of piquancy.
Santa Barbara Spot Prawns with Yuzu Kosho [$12.00]
Spot prawns were delectable, with the salty spice of the
yuzukosho
(a Japanese condiment of chili, yuzu zest, and salt) beautifully countering the sweet brine of the crustacean. Nice roe, too. I just wish that their consistency was a bit snappier.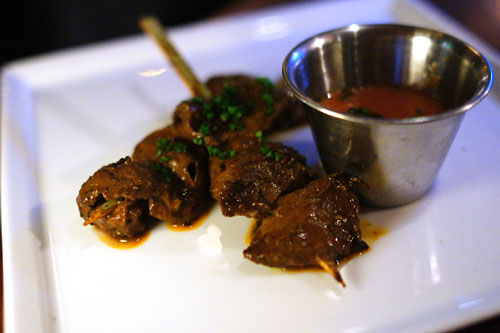 Anticucho de Corazon, Rocoto Sauce [$6.00]
Anticucho
refers to Peruvian style grilled skewered meat, and Zarate's beef heart version was phenomenal, easily my favorite of the bar bites. The
corazon
had a fantastic, chewy yet tender consistency that was a joy to eat, and possessed a profound depth of flavor that was superbly complemented by a touch of bitter char. The paired
rocoto
(a type of chili pepper) sauce intensified the heat of the dish even more, but wasn't strictly necessary--the beef easily stood on its own.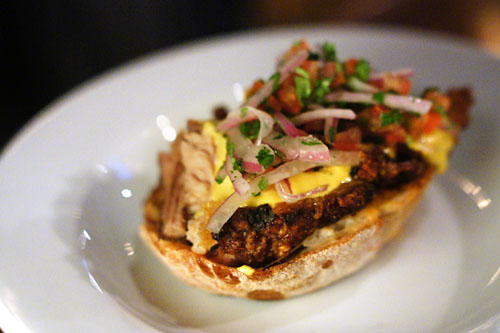 Chicharron. Crispy Pork Belly, Feta Cheese Sauce, Sarsa [$7.00]
Another very strong dish, here I loved the interplay between the crisp, crunchy
chicharron
(fried pork rinds) and the fatty, luscious texture of the pork belly. At the same time, the unabashedly porcine savor of the dish was perfectly moderated by the tangy
sarsa
(a red onion salad of sorts), while the bread served as a moderating base.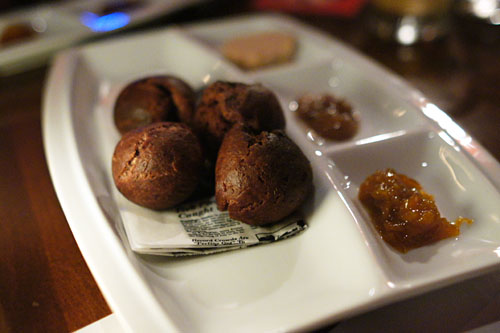 1: ABREBOCA
| purple corn bread/ foie gras/ aji amarillo marmalade/ figs compote
Loredona, Pinot Grigio, Monterey, California
Serving as an amuse bouche of sorts, spheres of purple cornbread (dyed with
chicha morada
, or purple maize) were subtly sweet, albeit a bit dry, and were accompanied by foie gras butter,
aji amarillo
marmalade, and fig compote. The bread was clearly heightened by the application of the foie gras, which was particularly savory thanks to the inclusion of
mentaiko
(Japanese marinated pollock roe). The other two accoutrements, meanwhile, were both quite sugary, with the marmalade being noticeably more complex in its sweetness.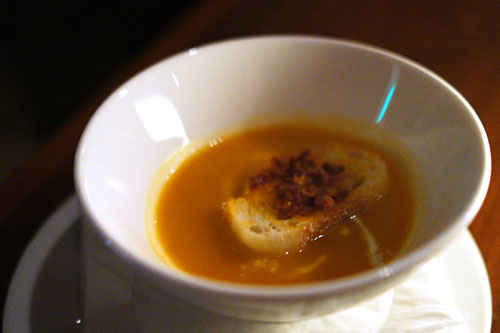 2: SOPA DE ROCOTO
| peruvian red pepper soup/ queso fresco sauce/ croutons
Pacific Rim, Riesling, Wallula Vineyard
Along with the
abreboca
course above came a bowl of red pepper soup that was meant to go along with the corn bread. It demonstrated a marked bit of sweet heat, which was subsequently tempered by the application of queso fresco, while the finish was all about the lovely bits of salty chorizo sprinkled on top.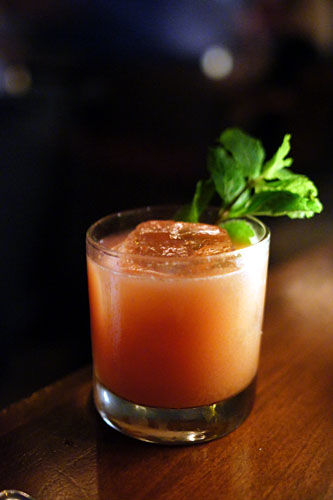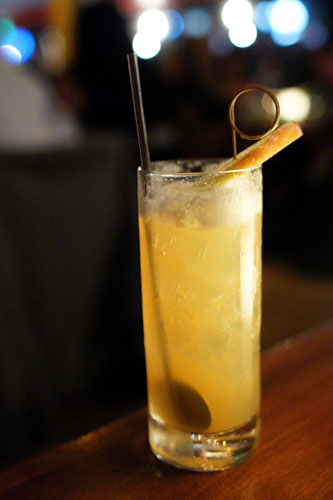 Pom Night #2: Revenge of the Cocktail [$12.00]
| light rum, jamaican rum, orgeat, falernum, pomegranate
Who Does #2 Work For? [$12.00]
| scotch, floc de gascogne, vanilla extract, fresh pressed apple, apple air
The Pom Night #2 showed off an obvious base of rum, deftly balanced by the one-two punch of the falernum-orgeat combo. The Who Does #2 Work For? was even better, with the Scotch rearing its head incredibly subtly, but with a force that easily pervaded the drink. I loved how the Floc de Gascogne and apple were so gorgeously layered on the drink--very well balanced, and probably one of the bests cocktails that I'd ever had at Test Kitchen.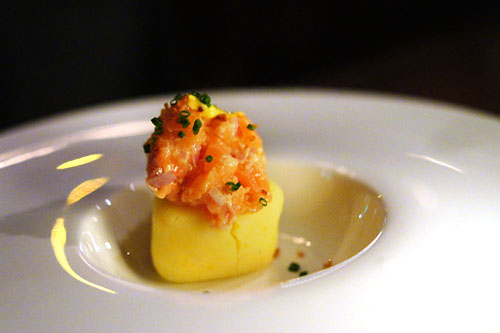 3: CAUSA DE SALMON AHUMADO
| smoked salmon causa/ aji amarillo yogurt/ crispy quinoa
De Loach, Chardonnay, Russian River Valley, California, 2008
A
causa
is a dish of mashed potatoes (Yukon Gold in this case) seasoned with lime and
aji
, then topped with various ingredients. Zarate's smoked salmon version tonight was one of the strongest that I'd ever had, with the clean, sweet-spicy flavors of the salmon playing gorgeously with the relatively subtle savors of the tuber. I just wanted more texture from the crispy quinoa.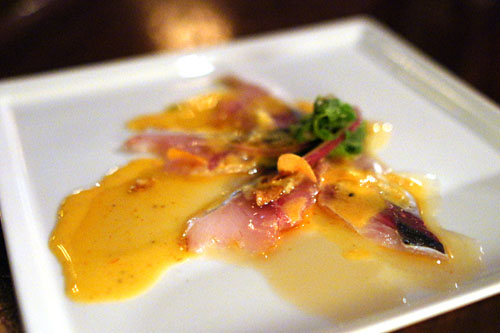 4: TIRADITO DE JUREL
| japanese aji carpaccio/ garlic/ ginger lemon sauce
Villa Solais, Sardinia, 2009
A
tiradito
is a Peruvian-style dish of raw sliced fish, inspired by Japanese preparations of sashimi, and indeed, here Zarate used Spanish mackerel, a prototypical sushi fish. He paired it with
aji amarillo
, sesame oil, red onion, cilantro, ginger, lemon, and crispy garlic. The result was tremendous, with the ginger and sesame flavors in particular interacting faultlessly with the mackerel. The fish's ocean-y brine, meanwhile, was preserved and highlighted on the finish. Lovely texture from the garlic, too.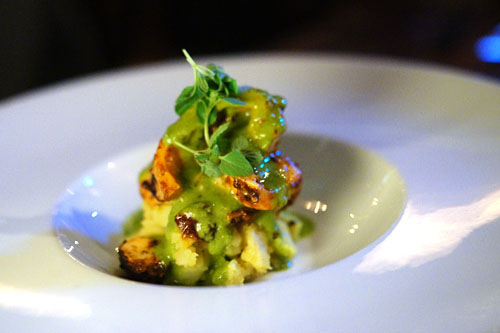 5: ANTICUCHO DE PULPO
| grilled octopus/ roasted potatoes/ tofu jalapeno chili sauce
Bonterra, Merlot, Organic, Medocino
With grilled octopus on the menu, I knew that I was in for a treat. The
pulpo
had a satisfyingly meaty, yet soft consistency paired with a subtle sweetness and nice char. As such, it was adroitly balanced by the green, acidic flavors of the jalapeno, while the Yukon Gold potato served to ground the dish.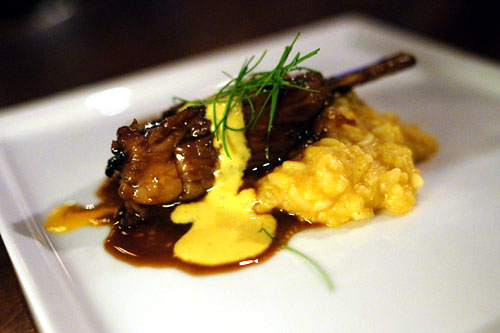 6: ASADO DE COSTILLA
| lamb ribs/ huancaina sauce/ peruvian risotto
337, Cabernet, Lodi
When I went to grab the bone, it instantly tore away from the meat--talk about
falling off the bone
! Aside from its ridiculous consistency, I found the lamb a touch sweet by itself. However, this was easily remedied by the risotto, which, in concert with the creamy
huancaina
(a sauce of cheese, onions, garlic, vegetable oil,
aji amarillo
, evaporated milk, pepper, and salt), deftly moderated the potency of the meat, making for a rather enjoyable eating experience.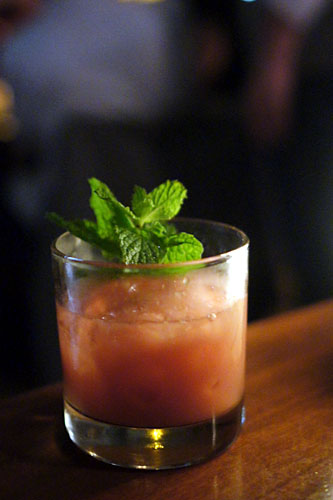 For our final cocktail of the night, we requested something that'd go well with dessert. Given how this was Peruvian night, pisco was the base liquor of choice, and came mixed with fruit, turbinado sugar, turbinado syrup, and garnished with mint. There was plenty of mint on the nose, which transitioned nicely to the sweet-boozy body of the drink, with the blended fruit linking up with the dessert's sugary
chancaca
beautifully.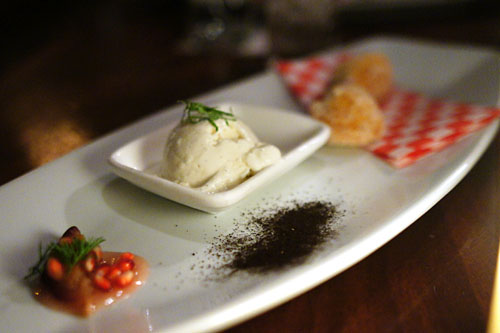 7: PICARONES
| sweet potato & pumpkin donuts/ chancaca sauce/ vanilla ice cream
Joel Gott, Riesling, Columbia Valley
Picarones
is a staple dessert in Peru, a sort of fried fritter typically made from sweet potato and squash. Perfect in texture, they were sweet but not overly so, and thus went nicely with the included
chancaca
, a traditional, saccharine condiment of sugar cane, fig, and pomegranate. However, I liked the housemade vanilla ice cream even better as a pair; in fact, it was some of the best that I'd had in a long while. The black powder, meanwhile, was an admixture of ground vanilla bean and coffee.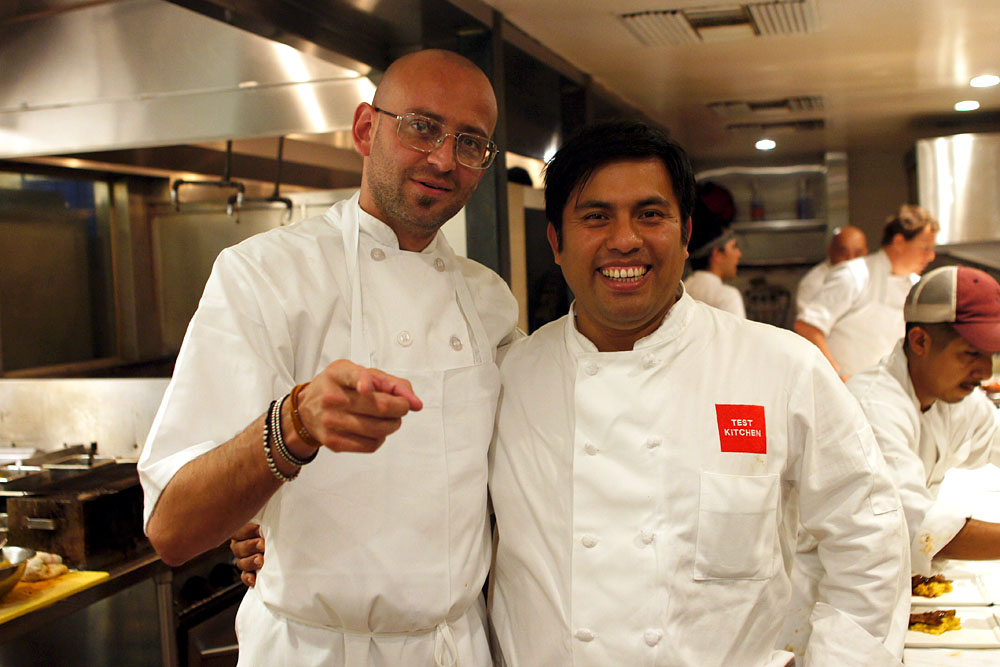 Former
Top Chef
contestant Alex Reznik has become a fixture of sorts at Test Kitchen, and tonight he was at it again, assisting Chef Zarate on the line. I also spied
La Casita Mexicana
's Jaime Martin del Campo helping out. He and his partner Ramiro Arvizu will actually be cooking here on the 27th.
Another strong meal from Chef Zarate. Lots of bold, bright flavors at play here, firmly grounded in the tradition of Peruvian cuisine, but with a few unexpected, but effective twists thrown in for good measure. I'm definitely looking forward to the opening of his next restaurant in the coming months!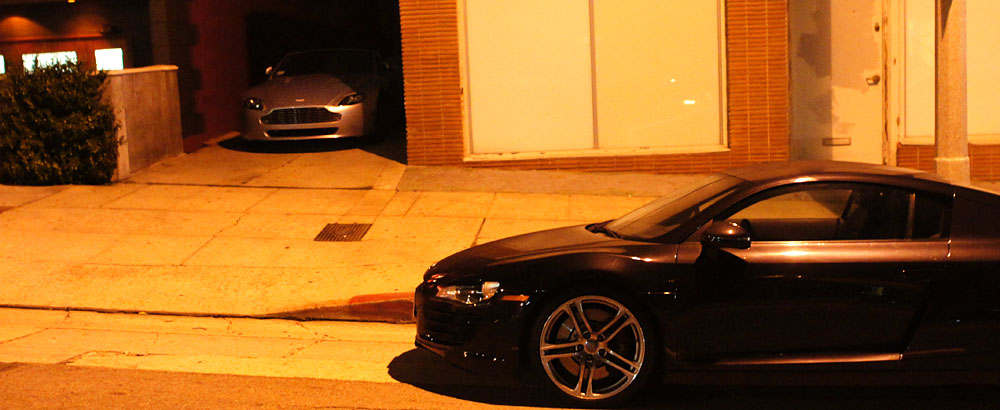 Some nice cars out tonight.
Previous Test Kitchen posts: Javier Plascensia (10/13), Marcel Vigneron (10/1), Suzanne Griswold - Rachael Narins (9/30), Adam Horton (9/27), Steve Samson - Zach Pollack (9/23), Joshua Smith (9/21), Amy Pressman (9/20), Shelley Cooper (9/17), John Sedlar (9/15), Amanda Baumgarten - Dylan Hallas - Dan Moody (9/14), TiGeorges Laguerre (9/6), Vartan Abgaryan (9/4), Neal Fraser (8/31), Michael Voltaggio (8/29), Walter Manzke (8/25), Ricardo Zarate (8/24), Jordan Kahn (8/18).