Blogger Prom 2010 (Los Angeles, CA)
Blogger Prom 2010
1999 Sycamore Ave, Los Angeles, CA 90068
blogger-prom.blogspot.com
Wed 09/22/2010, 07:00p-10:00p

Given the smashing success of last year's inaugural
Blogger Prom
, the idea for a follow-up was a no-brainer for the Prom Committee: Caroline of
Caroline on Crack
, Esther of
e*star LA
, H.C. of
LA and OC Foodventures
, Lindsay of
LAist
, Marni of
Happy Go Marni
, Maya of
Shop Eat Sleep
, Natalie of
The Liquid Muse
, and Tara of
When Tara Met Blog
.
2009 featured the outrageous sartorial stylings of the 1980s, but this year's theme was
Hollywood Confidential
, calling for the mid-century glitz and glamour of classic Tinseltown. Set high in the Hollywood Hills,
Yamashiro
restaurant, thus, was the perfect setting for the gala.
Proceeds from the event benefitted
Share Our Strength's
Operation Frontline
, a nutrition education program that instructs low-income families how to prepare healthy, delicious meals on a budget.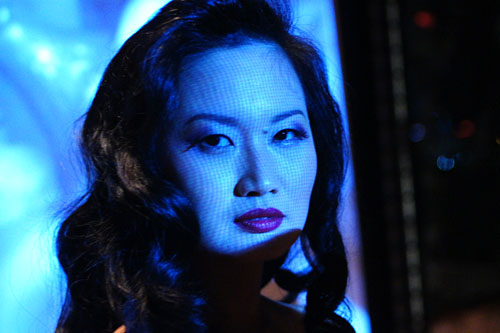 Accompanying me was none other than the inimitable
Famished Foodie
, looking lovely as ever in her Rita Hayworth-inspired, strapless sweetheart gown.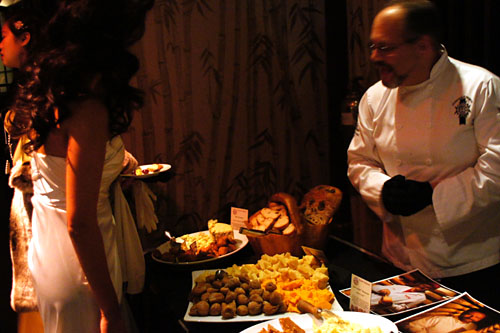 Our first stop was the
Cheese Impresario
table, where Barrie Lynn was presenting her "Interactive Artisanal Cheese Pairing Adventure Experience," in which she pairs cheese with some unusual accoutrements (e.g. chocolate-covered fruit). Barrie was joined by Wisconsin Master Cheesemaker Joe Widmer of
Widmer's Cheese Cellars
(pictured above).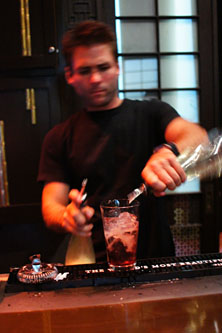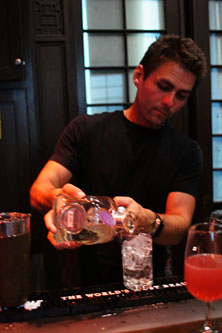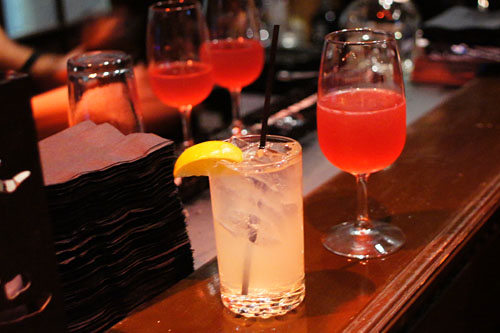 All that cheese was making us thirsty, so we promptly headed over to the bar to sample Blogger Prom's signature cocktail, the Pinky Confidential (
Pinky vodka
, Chambord, lemon juice, simple syrup, optional egg white, powdered sugar), as well as a superb margarita made with
Casa Noble tequila
. Also featured were drinks with
Zaya rum
and caipirinhas made from
Cabana cachaça
. Cocktails not your thing? No problem, red and white wines on offer from
Fresh & Easy
. Alternatively, representatives from
Dalmore
were pouring a range of their single-malt Scotch whiskys, while
The Beer Chicks
were serving up locally-crafted
Eagle Rock Brewery
beers. Get too wasted off the free booze?
Y Drive L.A.
was even on hand to get you home safely.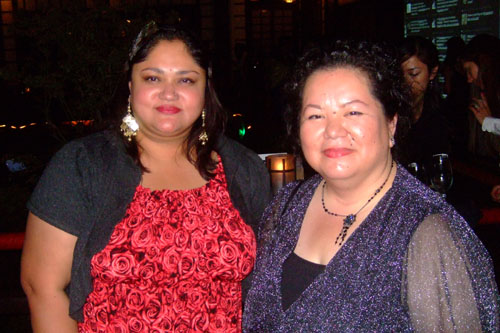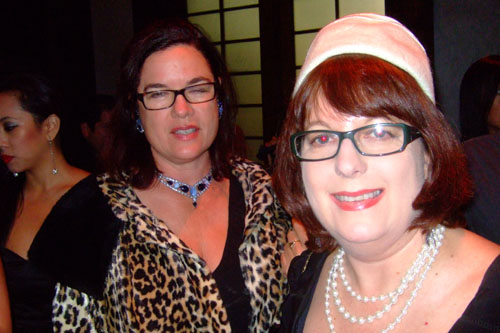 Left
: Abby, who organizes the dining club
Pleasure Palate
, along with group member
Wasima
.
Right
: That's Pat Saperstein on the right, senior editor at
Variety
and author of
Eating L.A.
, sort of the
grande dame
of LA food blogging (she started way back in '04).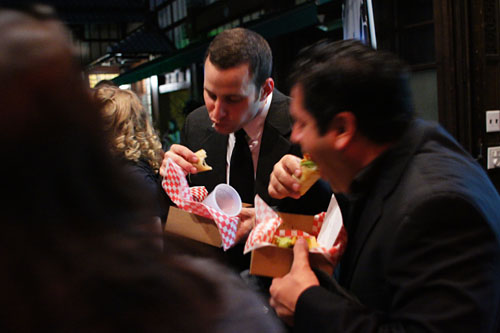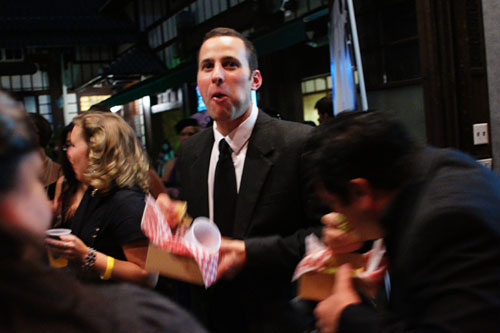 When we spied Josh of
Food GPS
and Bill of
Street Gourmet LA
ferociously tearing into some tacos, we knew that we had to get in on some of that!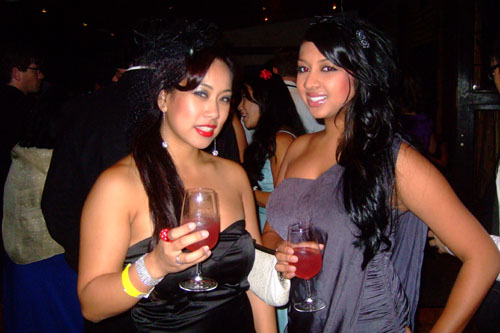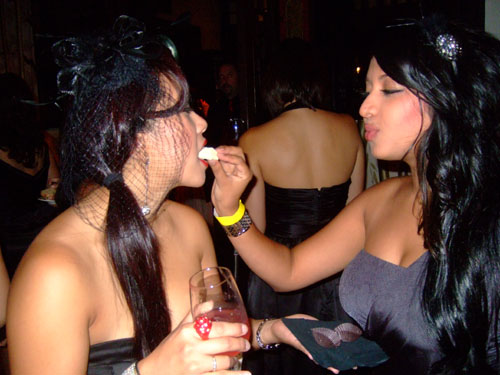 We waited a good 30 minutes in the taco line, but the wait was made much more bearable by
Marian the Foodie
and her fried Roshni.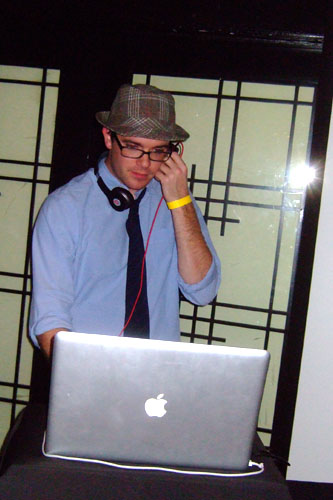 Tunes were provided by
DJ Steve
. The Prom theme may have been retro, but there were no wheels of steel, no ones and twos tonight, merely a MacBook Pro.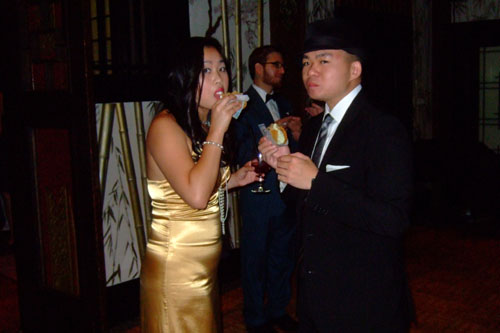 Evelina and Wesley, the
Two Hungry Pandas
, looked, well, hungry (chomping on some
Coolhaus
). They were still noncommittal, though, on whether or not they would ever start blogging again!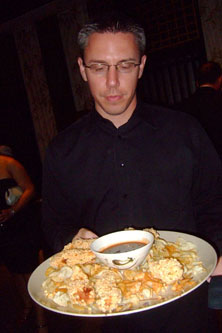 Passed hors d'œuvre helped sate us while we were waiting for tacos. Here was the Japanese Rice-Cracker Crispy Chicken with Spiced Plum Sauce.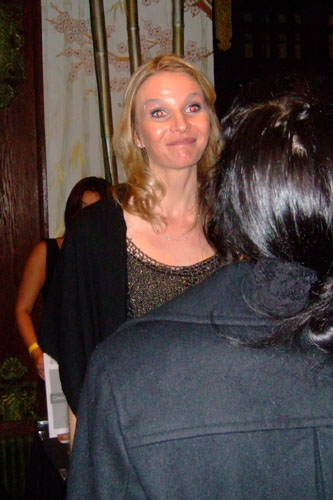 Diana Takes a Bite
, with some major red-eye (in a break from the norm, I was using a P&S camera tonight).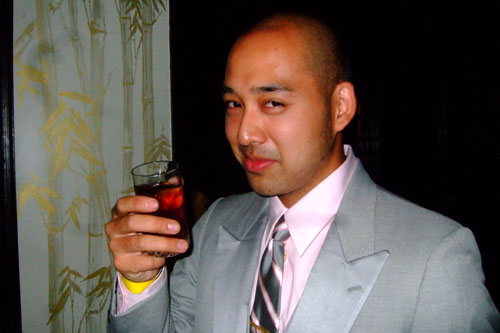 The one and only
Vinh
, Yelp celebrity.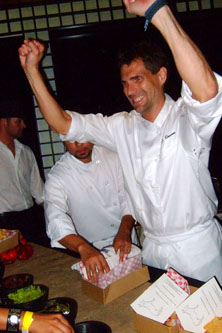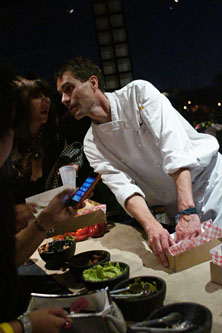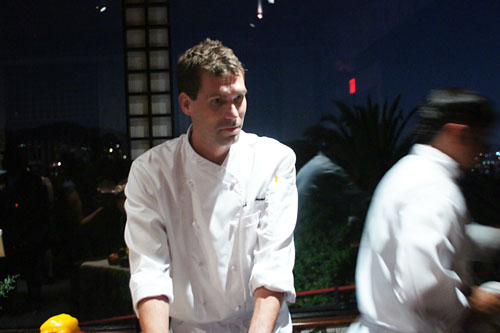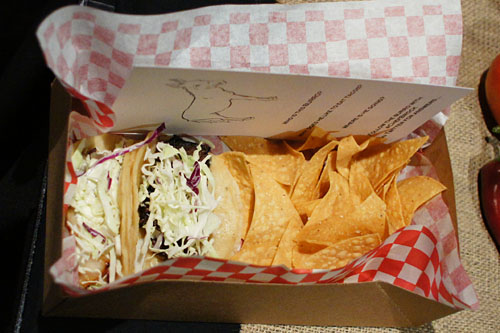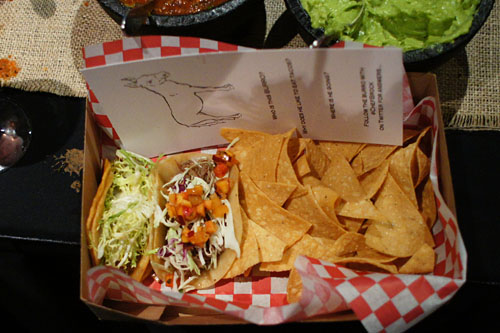 We finally made it!
Chef Brock Kleweno
was manning a taco stand, just like he does at the
Farmer's Market
that Yamashiro hosts on Thursdays. A quartet of tacos was available: Miso-Sake Black Cod, Cabernet & Soy Braised Short Rib, Hoisin Duck Confit with Black Plum Salsa, and a special Blogger Prom Kleweno Farm's Smoked Sausage with Maple-Black Pepper Aioli. Accompaniments included Ginger Pico De Gallo, Wasabi Guacamole, Sweet Chili Salsa Roja, Bread & Butter Shishitos, and Sweet & Spicy Daikon Radish.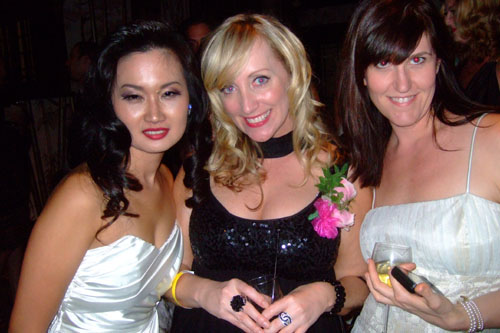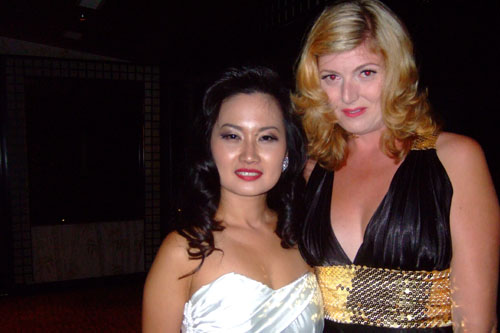 Left
: With Victoria of
Vixen's L.A. Happy Hours
(and fellow
Table 20 best bartender contest
judge) and Rachael Narins, one half of private supper club
Chicks with Knives
.
Right
: Elliott (yes, a girl named Elliott that's not on
Scrubs
) of truck-centric blog
F for Food
.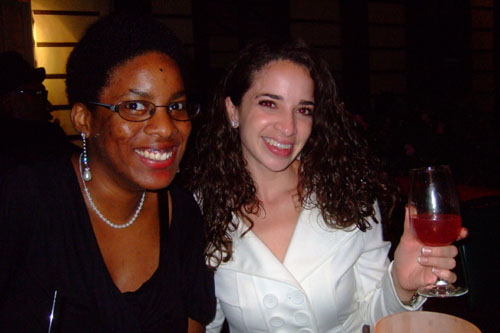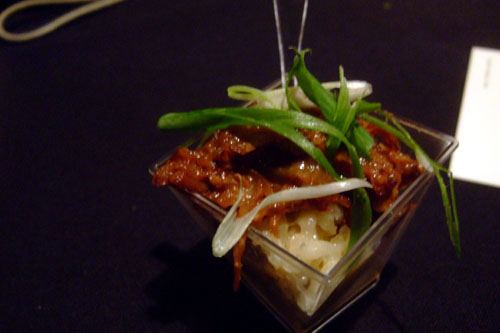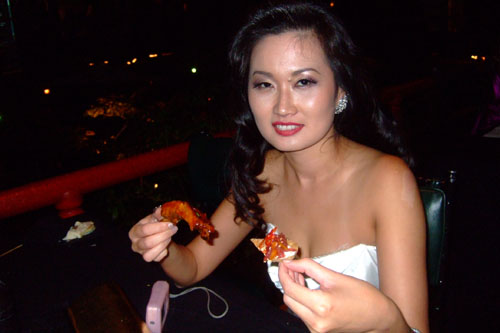 At this point, we were looking to sit down, and joined a table with Melody Simpson from
Hollywood The Write Way
and Michelle Matus, brand ambassador for
Pinky vodka
. Here, we took full advantage of the trays of food passing by us and chowed down on Charred Albacore with Serrano Chilies, Blackened Shallots, Cilantro and Tomatillo-Ponzu Salsa on a Tortilla Chip; Hoisin-Braised Kurobuta Pork Carnitas with Scallion Risotto and Honey-Mustard Sauce; Hukilau Poke: Ahi, Teardrop Tomato, Macadamia Nuts and Soy-Sesame Marinade on a Wonton Crisp; and Asian Baby Back Ribs with House-Made BBQ Sauce.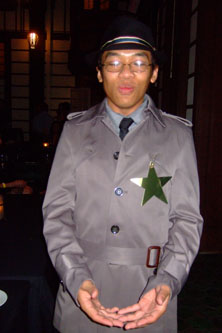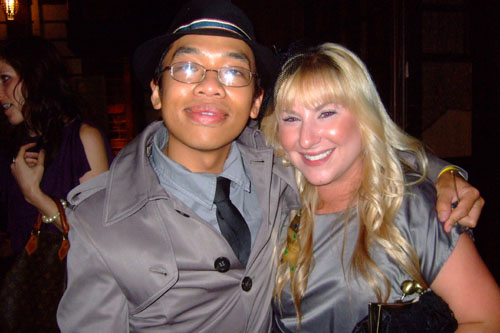 Prom Committee member HC of
LA and OC Foodventures
, with his date Jen. A much better photo of him compared to
last year's
, no?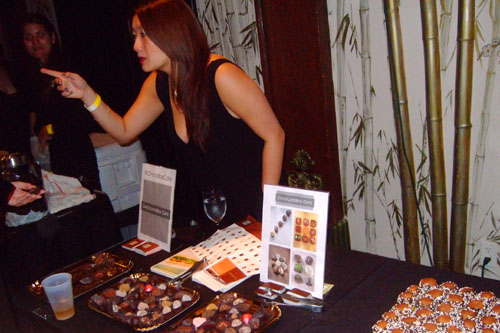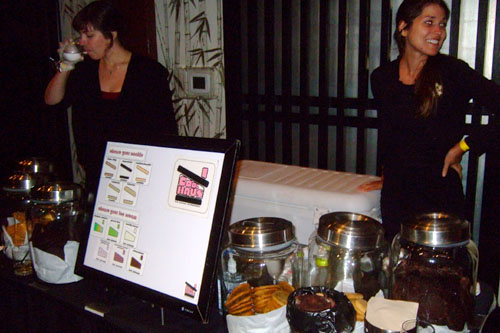 Time for the sweet stuff!
ChocolateBox Cafe
served up a fabulous spread of cacao-laced treats, while
Crumbs Bake Shop
brought out a bevy of mini cupcakes. Rounding things out was
Coolhaus
, doling out their legendary ice cream sammies.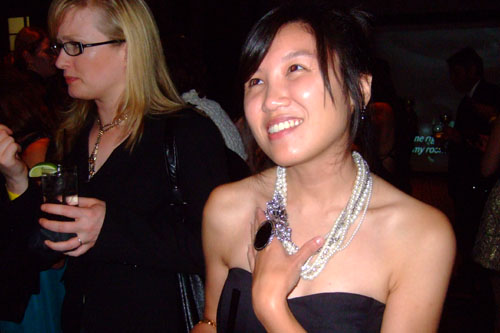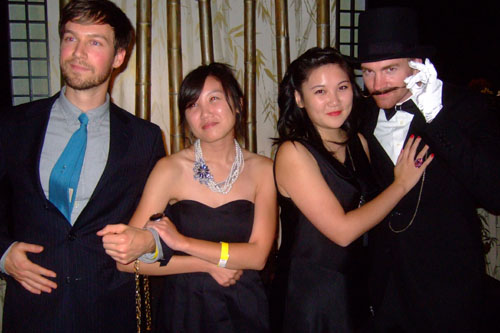 Connie of
Hey Hey Scenesters!
and sister Jenny of
The Next Big Ng
, with their respective boy toys.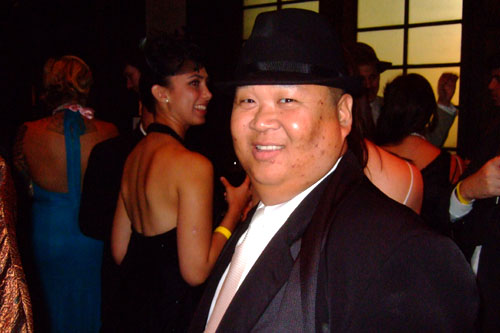 Left
:
Remil
--not really a blogger, but a legend on Twitter.
Right
: With
Rachael Narins
, again. Check her out at
Test Kitchen
, Thursday 9/30.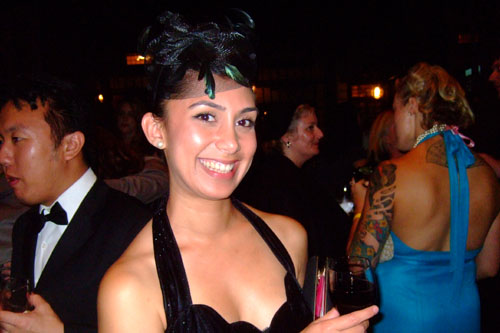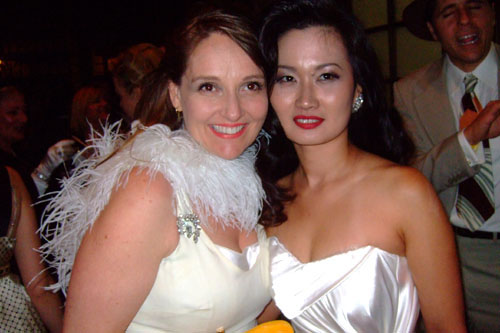 Left
: Nastassia of
Let Me Eat Cake
, and most recently of
The Manila Machine
food truck. LAist's
Sam Kim
in the background.
Right
: That's Lucy Lean of
Ladles and Jellyspoons
, who was formerly the editor of
Edible LA
.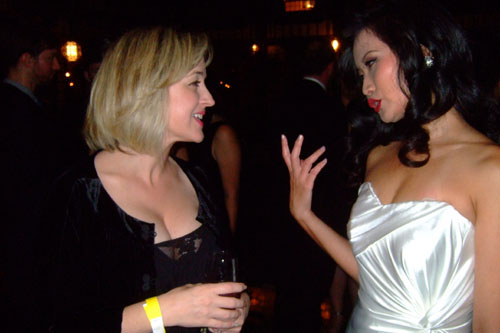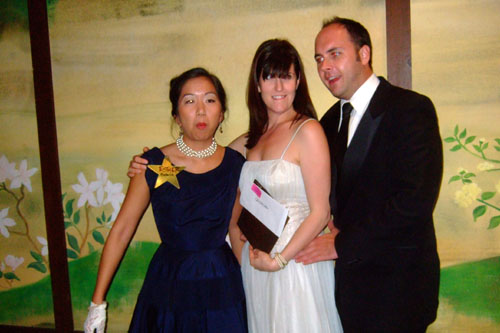 Left
: With
BakeSpace
founder Babette Pepaj, who perhaps runs the most highly-traffic blog out of all of us.
Right
: Prom Committee member
Esther
,
Rachael
again, PR man
Edward Allen
.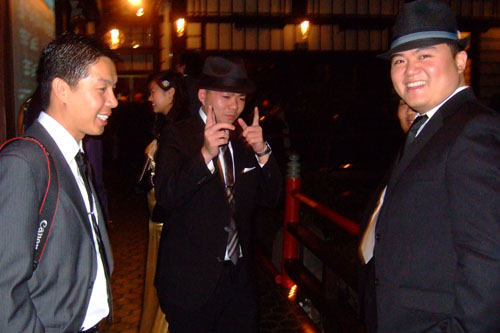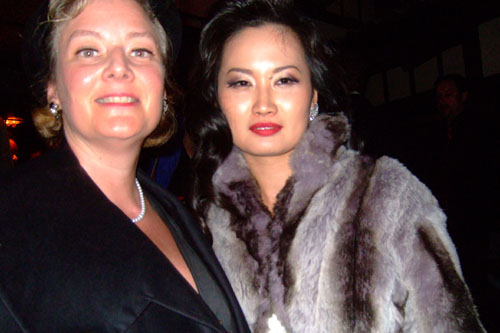 Left
: Hong, one half of
Ravenous Couple
; Wes, one half of
Two Hungry Pandas
; and Danny, the whole of
Kung Food Panda
.
Right
: On the way out with
Mary Hall
, the
Recessionista
.
This year's Blogger Prom afterparty was held at none other than the white-hot pop-up concept
Test Kitchen
. This was a booze-only affair, featuring gratis pours of
Moonshine
clear corn whiskey,
Bacardi
rum,
Landy
cognac,
Luksusowa
vodka, and
Real de Mexico
tequila. Manning the bar were Julian Cox (
Rivera
), Joel Black (Caña), and Pablo Moix (La Descarga).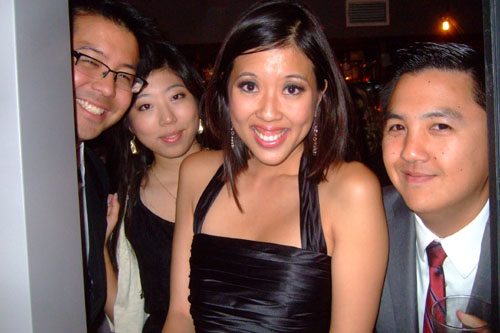 Left
: Right away, we ran into TK's resident photographer
Ryan Tanaka
and Helen of
I'm Hungry and Proud of It
.
Right
:
Michelle Woo
with hubby
Matt
. Also Trevor Chang, Director of Partner Outreach for
Project by Project
(who I met at this year's
Plate by Plate
).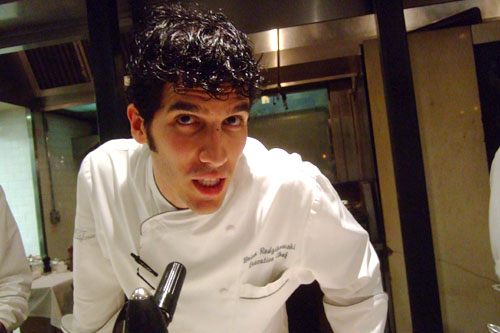 Chef Brian Redzikowski
from the
Thompson Beverly Hills
hotel was guest cheffing tonight.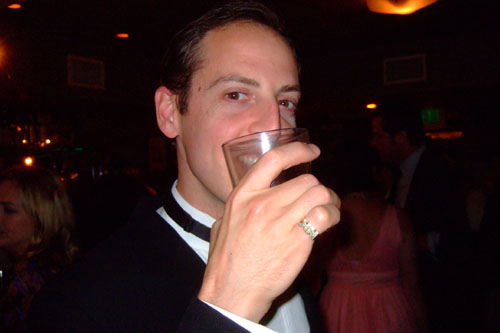 We have to end with a shot of our Prom King, Neil of
Food Marathon
, who, along with Queen Joz of
Jozjozjoz
, will reign supreme until next year rolls around. Congrats to the
cute couple
!
For more embarrassing and awkward photos, check out the official Blogger Prom photographer
Heather Kincaid
.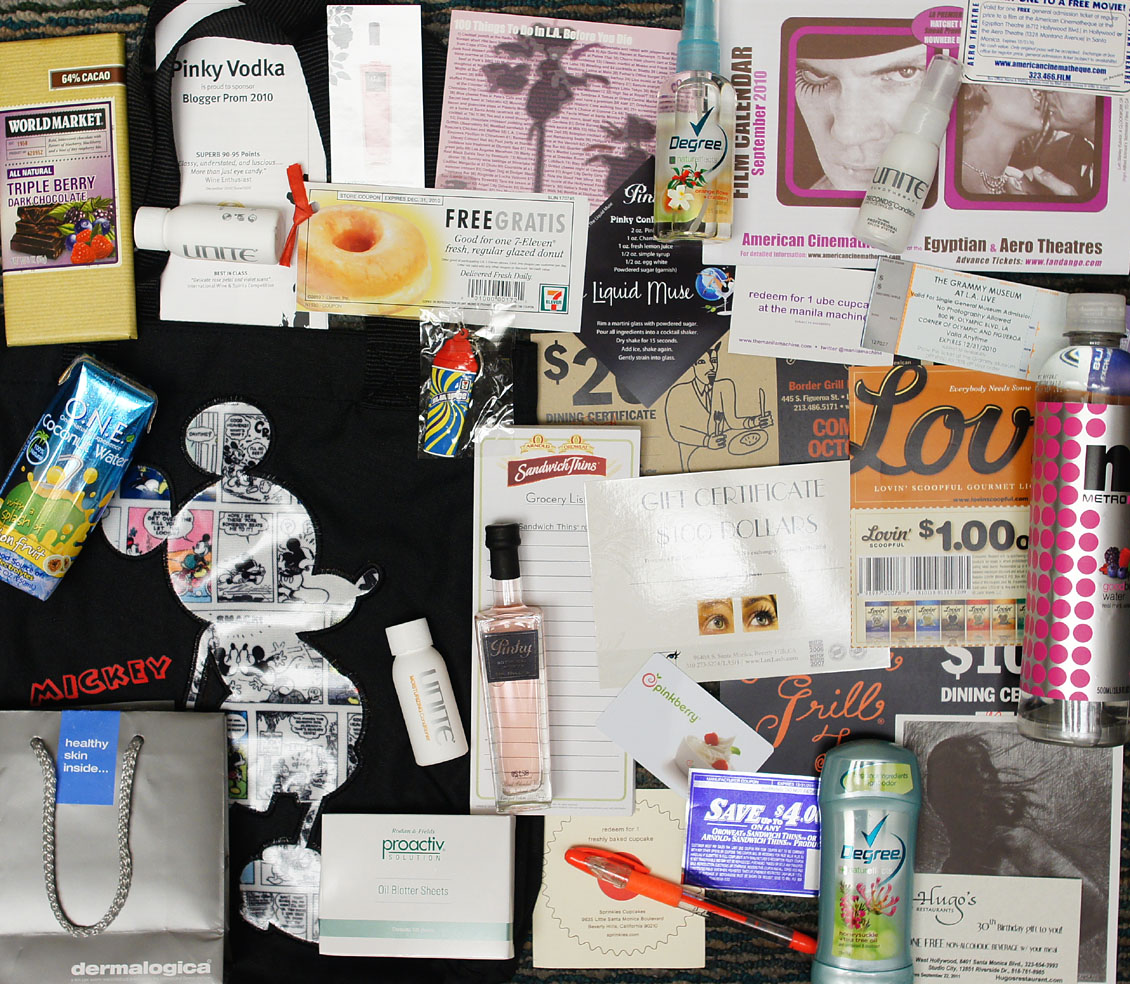 And the swag: