LudoBites 6.0 at Max (Sherman Oaks, CA)
LudoBites 6.0 at Max
13355 Ventura Blvd, Sherman Oaks, CA 91423
818.784.2915
www.ludobites.com
Thu 10/21/2010, 06:45p-11:00p

I didn't get a reservation
.
No joke. I hope that this puts to rest accusations that "
half the tables each night are reserved for food bloggers, critics, friends of the chef and other sycophants
."
I stayed late at work on the 12th to make full use of my employer's 45Mbps T3 connection, hoping that the extra speed would boost my chances of scoring a coveted ressie. I had multiple browser windows open (including one dedicated to
Krissy's tweets
), and was punching F5 with gleeful abandon from 4:59 to 6:31. Sure, I managed to score a few time slots, but when I went to confirm, OpenTable, of course, crapped out on me. It was a
disheartening ordeal
, certainly. OpenTable, at least, has
apologized
for the debacle.
Fortunately, bloggers do tend to stick together (as this
anonymous commentator
sagely pointed out), and I was graciously extended an invitation to join
Darin Dines
' party of four on opening night. I could not have asked for a better resolution.
This time around, LudoBites is setting aside a dozen seats for walk-ins, so I imagine that I'll attempt to snag a few of those as well somewhere down the line. The series runs from October 21st to December 5th--with a hiatus from November 12th to November 29th (to allow Ludo to cater events for Tiffany and Louis Vuitton)--and will be held at André Guerrero's
Max
(recently known as Marché) in Sherman Oaks. Guerrero, for his part, also owns
The Oinkster
, and plans to reopen Max next year.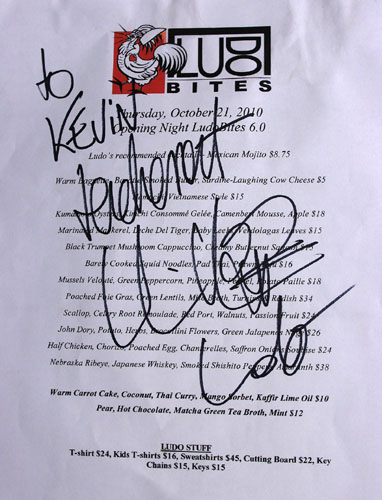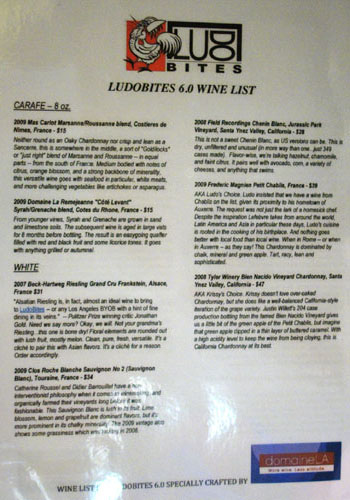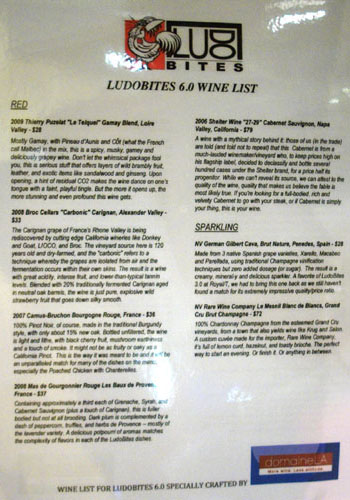 The opening night menu, with plenty of what we've come to expect from Ludo, along with some rather unusual twists thrown in for good measure. Note, importantly, that this is the first time that LudoBites has had a liquor license, hence the wine list (curated by
Domaine LA
). Click for larger versions.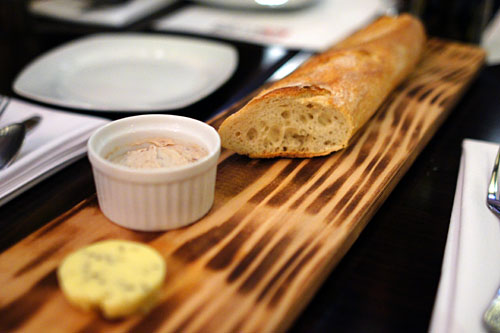 Warm Baguette, Baratte Smoked Butter, Sardine-Laughing Cow Cheese [$5.00]
The bread arrived at the table nicely warm, with classic baguette flavors and textures. The two paired butters, meanwhile, were quite intriguing. The
beurre de baratte
is a French style of butter creamed with a churn instead of a centrifuge; here, it came doused with a hefty amount of smokiness. The sardine-cheese amalgam was even more interesting, showing of a brazenly fishy character over a soft base of luscious cheese; it was almost canned tuna-like in essence, and quite delicious.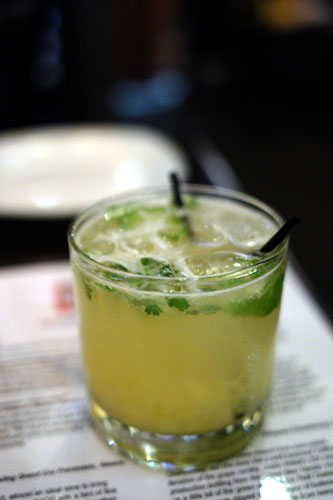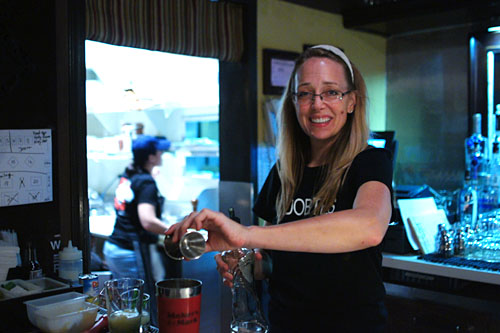 The new LudoBites will be featuring a special cocktail each night, and tonight we had the Mexican Mojito [$8.75], made with
Tequila Real de México
. Apparently, this was the tequila that Ludo drank an entire bottle of (with no subsequent hangover) at the infamous
Mexico-vs-France
match of the World Cup. In any case, it was certainly a welcomed twist to the standard mojito, with the cilantro beautifully balancing the heft of the tequila, all with a subtle undertone of spicy jalapeño--nice. Serving as bartender tonight was Jan Purdy, Guerrero's business partner-
cum
-pastry chef and former romantic interest.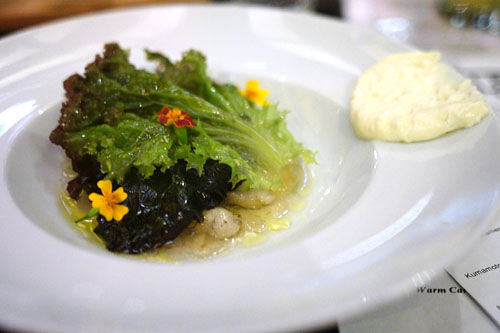 Kumamoto Oysters, Kimchi Consommé Gelée, Camembert Mousse, Apple [$18.00]
Heightened by the savoriness of the marinated lettuce leaves, Kumamotos were expectedly briny, and transitioned wonderfully to the lovely, crisp, juicy sweetness of pickled apple. A refreshing start to the meal, though I did find the Camembert a bit domineering when thrown into the mix.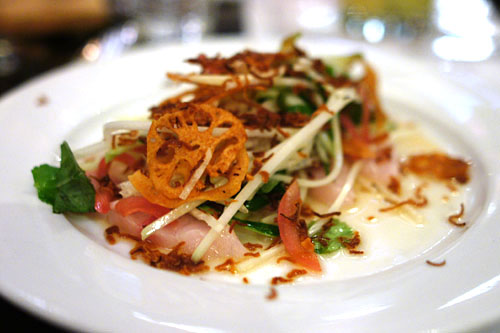 Hamachi, Vietnamese Style [$15.00]
Arguably my favorite course of the night, hamachi sashimi came dressed in a selection of Vietnamese-inspired toppings: jicama, papaya, lotus root, shallot, and rice wine vinaigrette, among other ingredients. The clean, subtle relish of the yellowtail was gorgeously complemented by its tart 'n' tangy accoutrements, and I loved the savory weight of the shallot. Perfectly balanced, just a faultless mélange of tastes and textures.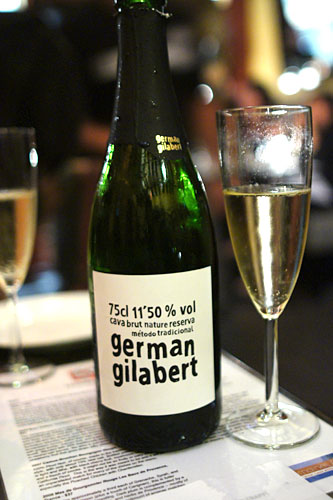 With our mojitos dispensed with, we turned to wine, and what better way to start than with some bubbles? The NV German Gilbert Cava, Brut Nature, Penedes, Spain [$28] was a fitting tipple--unabashedly dry, yet with a soft, almost feminine character that just begged to be drunk.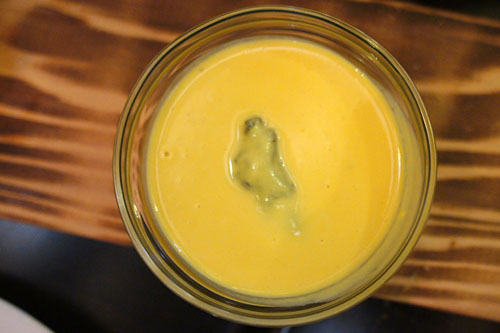 Black Trumpet Mushroom Cappuccino, Creamy Butternut Squash [$15.00]
We have here a cool mushroom-potato base, topped with a layer of warm butternut squash soup. On the palate, the sensation was clearly sweet (but not overwhelmingly so) at first, but soon transitioned to the far more savory base of the cappuccino--with strong notes of potato and garlic--while the finish was imbued with the earthy essence of mushroom. A fascinating study in contrasting tastes and temperatures.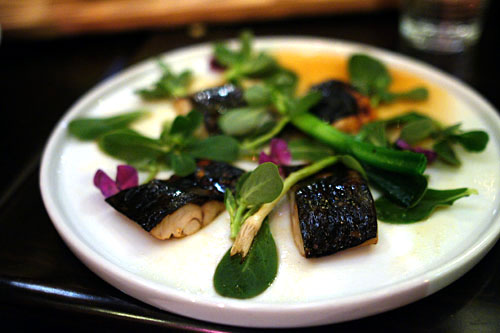 Marinated Mackerel, Leche De Tigre, Baby Leeks, Verdolagas Leaves [$15.00]
Mackerel was a polarizing course. It was, expectedly, quite fishy in savor, and had a skin that was coated in sugar then torched in a brûlée-esque manner. The resultant interplay of sweet and briny flavors was slightly disconcerting actually. The key, though, was the verdolagas (purslane). Its piquant taste adroitly offset the weight of the mackerel, completing the dish
perfectly
.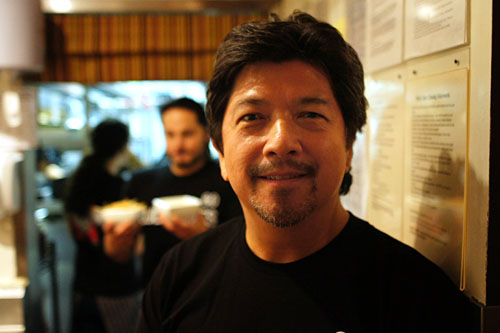 Max/Marché/Oinkster owner André Guerrero. We chatted briefly about his upcoming restaurant projects--some exciting things in store!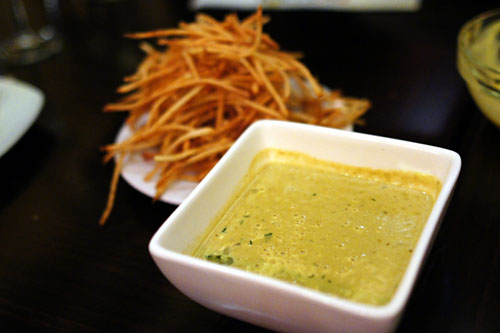 Mussels Velouté, Green Peppercorn, Pineapple, Fennel, Potato Paille [$18.00]
Mussels, presented here in velouté form, showed off a complex interaction of sweet and ocean-y flavors, which then led to a lingering finish redolent of peppercorn. The
pommes paille
(potato straws), meanwhile, were a tasty, crispy, salty complement (though rather difficult to eat). Krissy even likened the dish to a deconstructed
moules frites
.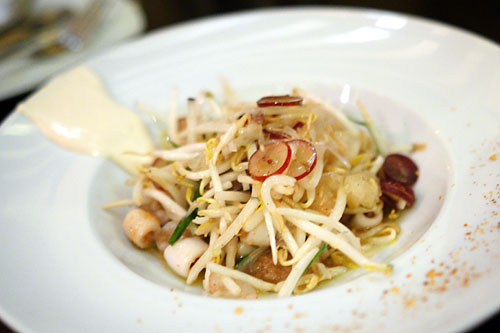 Barely Cooked Squid Noodles, Pad Thai, Prawn, Tofu [$16.00]
The squid was suitably tender here--though I would've liked more snappiness--and went beautifully with the crunchy bean sprouts. Flavor-wise, the calamari's subtle sweetness was deftly augmented by the use of coconut, and I really appreciated the bit of nuttiness in the dish as well, but I could've done without the pineapple and grapes. Lovely, lingering heat here from the application of red chili pepper, too.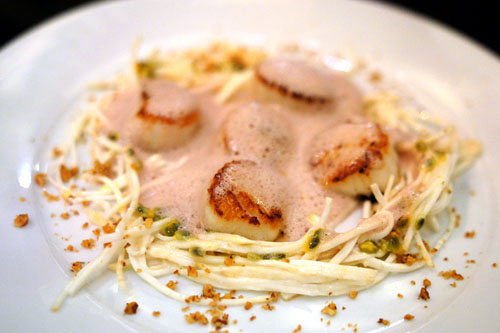 Scallop, Celery Root Remoulade, Red Port, Walnuts, Passion Fruit [$24.00]
Scallops were expertly cooked, showing off some nice caramelization and a suitably soft consistency. Their sweetness was aptly balanced by the vegetal tang of the celery root, while the passion fruit contributed just a tinge of tart sweetness. Very enjoyable texture on the celeriac, as well.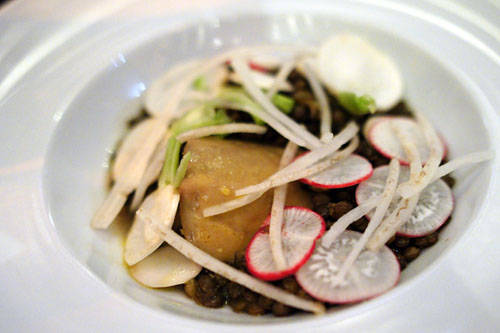 Poached Foie Gras, Green Lentils, Miso Broth, Turnips & Radish [$34.00]
I can always count on Ludo for his inventive presentations of foie gras, and this was no exception. Since the liver was poached, it had a simply amazing texture to it, with an almost "eggy" character that I adored. The foie, subtle yet profound in savor, was simply delectable on its own. However, I did also appreciate the tempering earthiness imparted by the lentils, as well as the great bit of vegetal tang from the turnips and radish. Probably one of the best preparations of hot foie gras that I've ever had.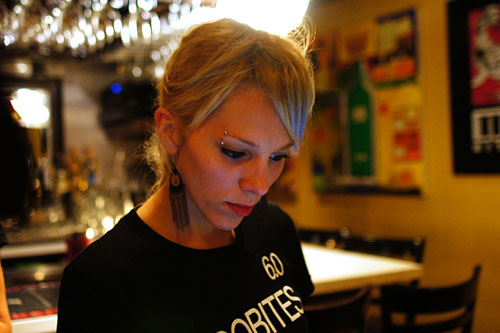 Server extraordinaire Emileigh, whom I first encountered at
LudoBites 5.0
. Look for the blue hair.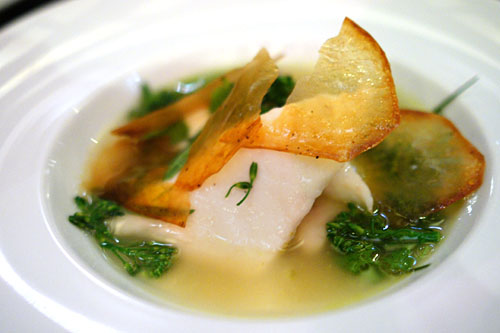 John Dory, Potato, Herbs, Broccolini Flowers, Green Jalapenos Nage [$26.00]
Dory was suitably tender and immensely delicate in flavor. The potato crisps, thus, added a great bit of saltiness to the fray. Even better was the broccolini, with its bright, green savor that really made the dish for me.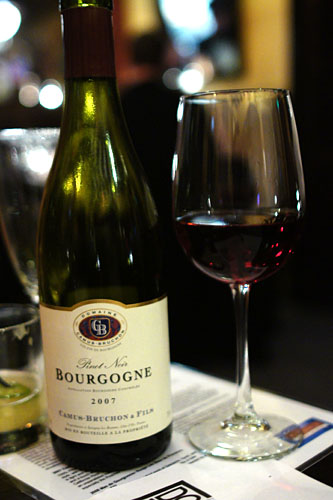 We needed a red to go along with the more substantial courses to follow, and Krissy recommended the 2007 Camus-Bruchon Bourgogne Rouge, France [$36] for us. This was a light, lovely wine, pretty much what you'd expect from the region, with the requisite notes of cherry and smoke over a backbone of leather and earth.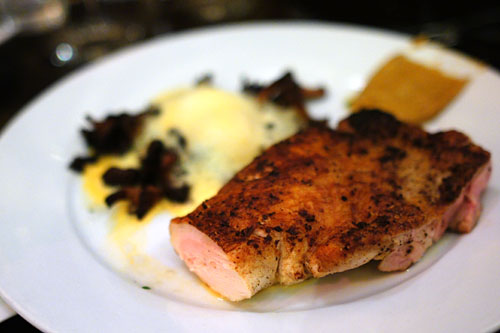 Half Chicken, Chorizo, Poached Egg, Chanterelles, Saffron Onions Soubise [$24.00]
Chicken was marinated in chorizo, then cooked sous vide, resulting in some of the best
poulet
that I can recall ever having. Unbelievably tender and undeniably succulent, the chicken was simply a joy to eat, especially when taken in concert with the bird's fantastically savory skin. The chanterelles and runny, poached egg added further gravity to the dish, but the chicken easily stood alone. A table favorite, though I could've done without the soubise.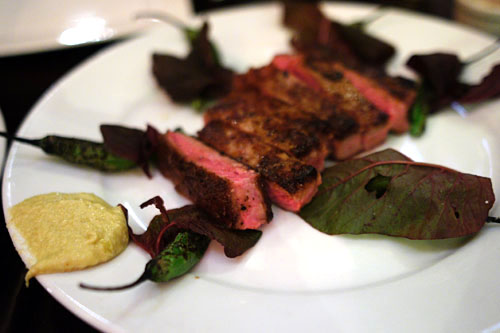 Nebraska Ribeye, Japanese Whiskey, Smoked Shishito Peppers, Amaranth [$38.00]
Our final savory course of the night brought us the best steak that Ludo's ever served. The meat, American wagyu, was as rich, as unctuous as you'd expected, with an almost foie gras-like savor to it that was keenly balanced with a bit of bitter char. The beef, certainly, was tasty alone, but was even better when paired with the heat of the shishitos and the tangy amaranth leaves.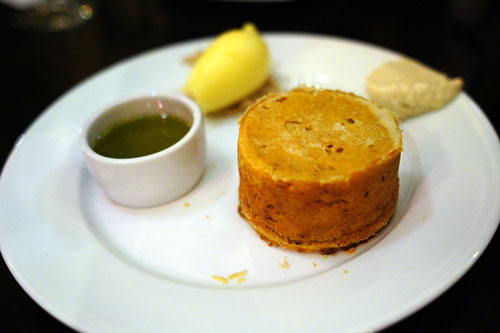 Warm Carrot Cake, Coconut, Thai Curry, Mango Sorbet, Kaffir Lime Oil [$10.00]
Ludo's first dessert was inspired by the Thai soup
tom kha
. We were instructed to pour the oil on top of the cake, then eat everything together in one bite. The effect was quite amazing, as the dish vividly recalled the essence of the coconut milk-based soup. Very cool.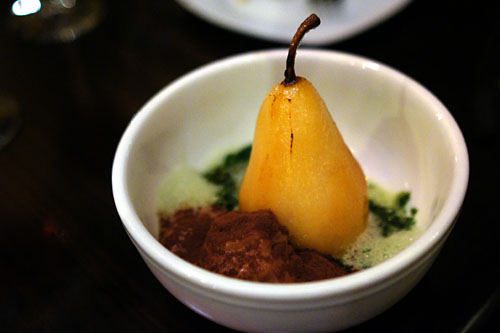 Pear, Hot Chocolate, Matcha Green Tea Broth, Mint [$12.00]
Finally, we had a dish of poached pear, an undeniably classic dessert, but with a Ludo twist, of course. The pairing of chocolate with the pear is fairly traditional, but the use of matcha was a pleasant surprise, effectively moderating the sweetness of the fruit with a great touch of astringency.
And with that, another iteration of LudoBites has been thrust upon us once again. Ludo's food seems more deliberate, more articulate this time around, and I love some of the more whimsical, globally-inspired touches that have been incorporated on the plate. v6.0 is strong contender for the title of the top LudoBites yet, but I'll have to reserve judgment until I get another visit under my belt...if I can.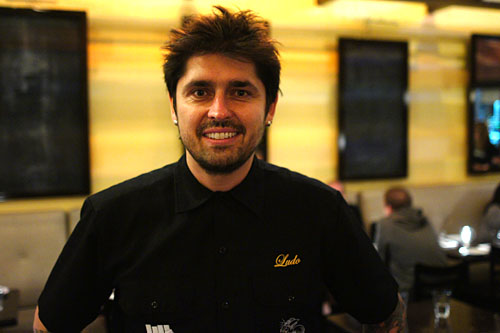 Previous LudoBites posts: v5.0 at Gram & Papas [1], v4.0 at Gram & Papas [1], v3.0 at Royal/T [2] [1], v2.0 at Breadbar [1]
.