Anjin (Costa Mesa, CA)
Anjin Restaurant
3033 Bristol St, Costa Mesa, CA 92626
714.979.6700
www.yelp.com/biz/anjin-costa-mesa (restaurant has no web site)
Fri 01/07/2011, 09:05p-10:45p

At this point, I think most of us agree that
Totoraku
is the best
yakiniku
(Japanese BBQ) in the Southland. However, if you're an Angeleno who hasn't been granted the Golden Ticket to Totoraku, you might consider Manpuku, Sansui Tei, or Tamaen for your Japanese BBQ cravings. In Orange County, people seem to be divided into two camps: one in favor of Anjin, and one that prefers
Tsuruhashi
. I'm a fan of the latter, but figured that it was time for me to see what the fuss was all about at Anjin.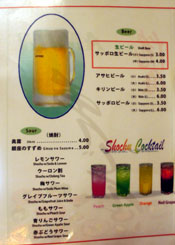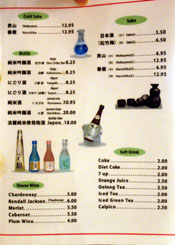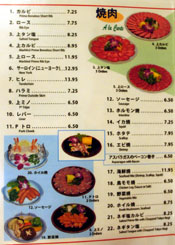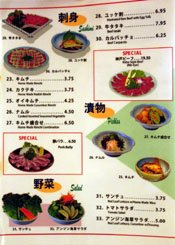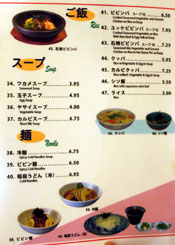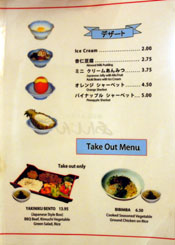 Anjin's menu is fairly expansive and contains all your favorite
yakiniku
cuts, as well as a selection of the requisite Korean-inspired dishes. Click for larger versions.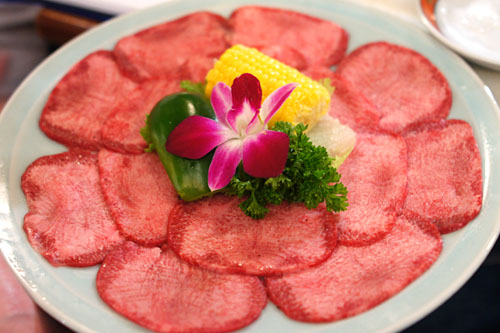 Salted Tongue [$8.25]
Ever since I had an amazing preparation of
tan
during my first visit to
Totoraku
, the meat has been an absolute must for me when it comes to Japanese barbeque. Anjin's version wasn't quite as revelatory, but was delicious nonetheless--lightly salted, with a heady, luscious beefiness that was deftly countered by a bit of the provided lemon juice. I also appreciated the meat's texture, with its subtle bit of rubberiness and bite.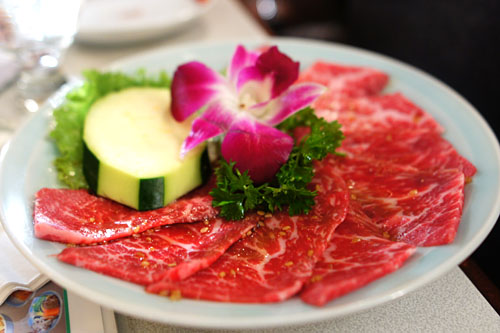 Marbled Prime Boneless Short Rib [$8.95]
Here was the
karubi
, Anjin's take on classic Korean
galbi
(marinated short ribs). The meat was nicely marbled, and showed off a prototypical, yet immensely satisfying flavor, deftly set off by a touch of bitterness from the char.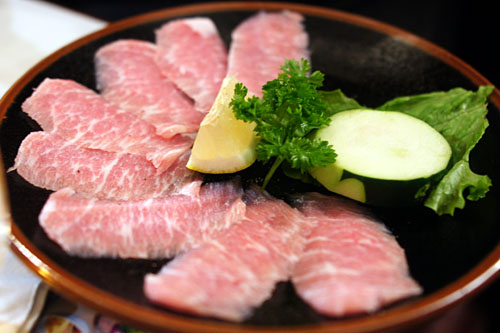 Pork Cheek [$6.50]
I actually preferred this pork cheek to
Tsuruhashi's version
, which I found overly tough. This preparation was a bit more tender, a bit more fatty, with a restrained, yet distinctly porcine flavor.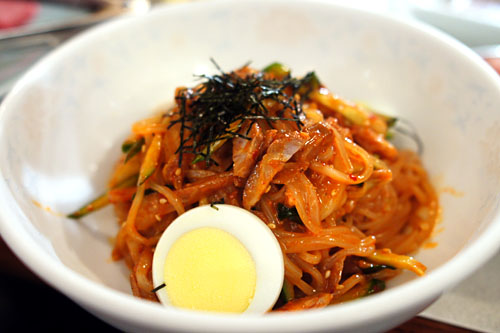 Spicy Cold Noodles [$6.50]
Taking a break from all the meat, next up was a bowl of spicy cold noodles, done in the same vein as a Korean
bibim guksu
. I appreciated the noodles' bright, clean flavors and piquant heat, perked up with just a touch of tangy sweetness. Very nice.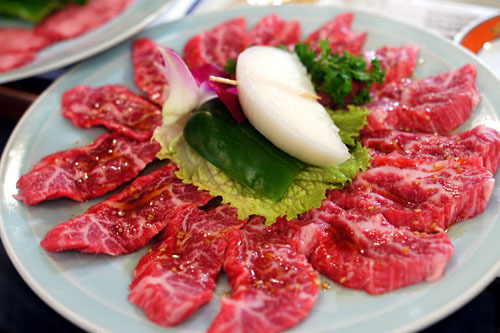 Marbled Prime Rib Eye [$11.95]
For me, the rib eye (
rosu
) was easily the most luxurious course of the night. As you'd expect, the meat arrived tender, juicy, and unabashedly beefy, yet well balanced and not overly heavy or rich.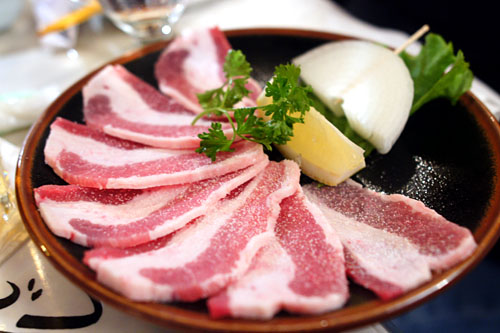 Pork Belly [$6.50]
You can think of this as
samgyeopsal
, or Korean-style uncured bacon. Compared to the pork cheek above, the belly was fattier and more flavorful, with a silkier mouth feel.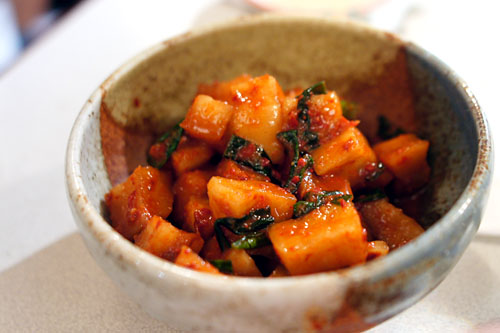 Home Made Radish Kimchi [$3.75]
We should've started the meal with this. It's
kkakdugi
or
mu kimchi
, basically kimchi made with daikon radish instead of napa cabbage (
baechu
). Light, spicy, and refreshingly crunchy, this was a great change of pace from the weight of all the preceding meat.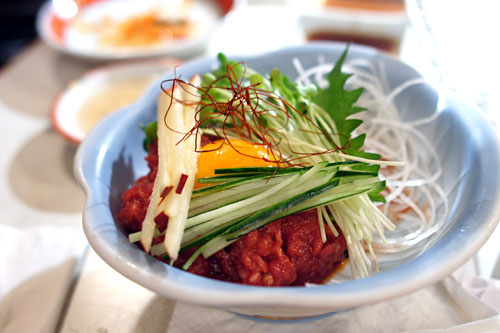 Marinated Raw Beef with Egg Yolk [$6.95]
We concluded the evening with
yukhoe
, otherwise known as a Korean streak tartar. The version here was serviceable, but paled in comparison to what I'd had previously. The meat lacked distinctiveness, and the various ingredients didn't meld as well as I'd hoped for.
This wasn't the best
yakiniku
meal that I've had, but it was certainly an enjoyable one. I'd perhaps give a slight edge here to
Tsuruhashi
, which seems just a bit more polished, though a revisit there is certainly in order.