Fraiche (Culver City, CA)
Fraiche
9411 Culver Blvd, Culver City, CA 90232
310.839.6800
www.fraicherestaurantla.com
Thu 12/16/2010, 07:30p-11:55p

Over the past year, Chef Benjamin Bailly made his mark over at West Hollywood's
Petrossian
, where he turned out caviar-centric fare that won the hearts and minds of legions of bloggers and foodistas alike. However, Petrossian just never hit its stride with the populace at large, and the restaurant was notorious for its slow business, often serving only a handful of covers each night. We all knew that this wasn't a sustainable situation; sooner or later, Bailly would be out the door. Sure enough, the Chef cooked his final meal at Petrossian on November 5th, and started up at Fraiche merely two days later with a totally revamped menu. Obviously, I had to check the place out, and a dinner organized by Danny of
Kung Food Panda
afforded me the perfect opportunity.

Others in attendance included a lot of familiar faces:
Christine
, Darin of
Darin Dines
, Evelina and Wes of
Two Hungry Pandas
, Hong and Kim of
Ravenous Couple
, Julian of
Jewelz, What Are We Doing Today?
,
Matt
, Pam of
Rants and Craves
,
Remil
, Rosa of
Dining with the Catty Critic
, Ryan of
Epicuryan
,
Weezermonkey
,
Will
from
FoodDigger
, and Yulree of
YFT
.
But wait, there's more
: Helen of
I'm Hungry and Proud of It
was also in the house, dining with a gaggle of girlfriends. Matt of
Mattatouille
was present too, as were
LAist's
Sam Kim, ex-
Bastide
chef
Joseph Mahon
, and
David Haskell
. Hell, even Ila of
I Nom Things
stopped by. Fraiche was
the
place to be on this Thursday night, apparently.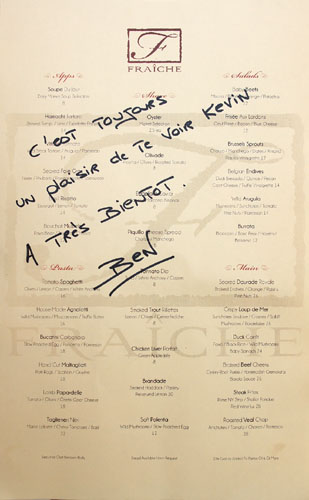 The dinner menu and cocktail/beer list are shown above. Compared with what was previously on offer at Fraiche, Bailly's completely overhauled menu slants more heavily toward rustic French, but still features plenty of Italian influence for good measure. Plates are smaller, and prices lower, to boot. For this dinner, we enjoyed a family-style tasting menu paired with cocktails, priced at $50 per person. Click for larger versions.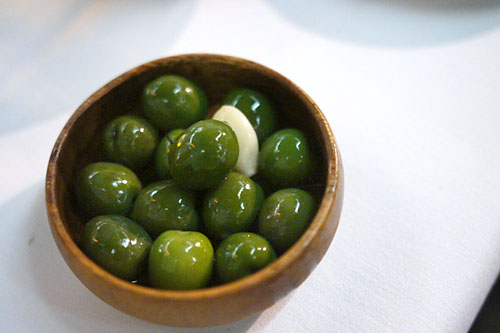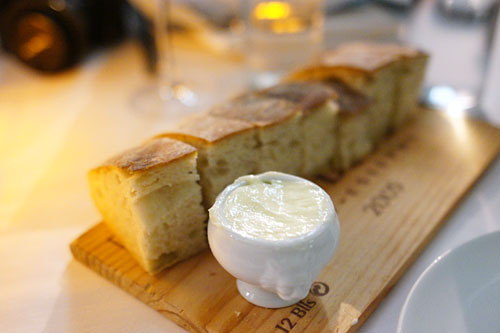 Olives, bread, and butter to start, natch.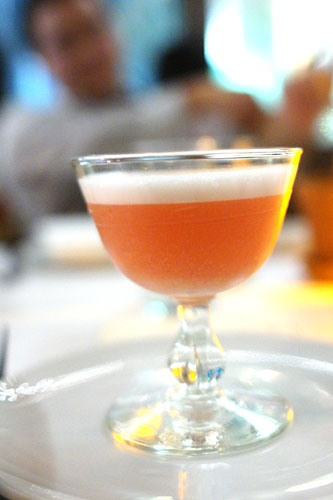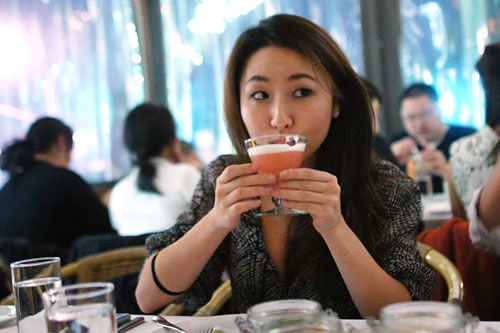 Festivus
| Pine Liquor, St-Germain, Egg White
The gauntlet of libations by Fraiche bartender
Kiowa Bryan
kicked off with glasses of the Festivus, a new cocktail not yet on Fraiche's menu officially. I really enjoyed the interplay between the concoction's grapefruit-y sweetness and the boozy tinge of pine liquor. At the same time, the egg whites added a light frothiness to the fray that finished the drink beautifully.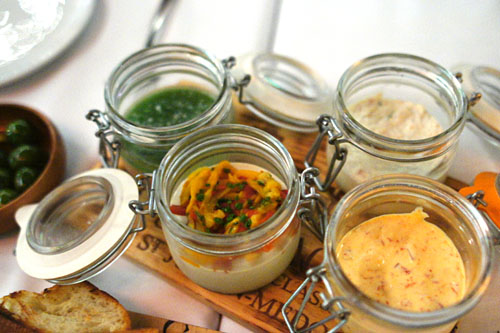 Chicken Liver Parfait
| Green Apple Jelly
Smoked Trout Rillettes
| Lemon / Chives / Crème Fraîche
Piquillo Cheese Spread
| Chorizo / Manchego
Tonnato Dip
| Tuna / White Anchovy / Capers
Soon enough, a quartet of potted meats were placed before us, accompanied by more crusty baguette bread. I began with Bailly's piquillo cheese spread, the Chef's riff on classic pimento cheese, substituting piquillos for pimentos, Manchego for cheddar, and chorizo for bacon. It was delicious, with the piquant pepper playing off the creamy cheese beautifully. I then moved on to the
tonnato
(tuna) dip, which I also enjoyed, its strong, seductive fishiness tempered deftly by the tangy capers and peppers. The parfait, meanwhile, showed off prototypical flavors of chicken liver, moderated by the application of cream and eggs, and accented by a touch of sweetness from the green apple. I ended with the trout rillettes, my favorite of the foursome. Its superb brininess was mouth-watering, and perfectly balanced by the zest of lemon and chive.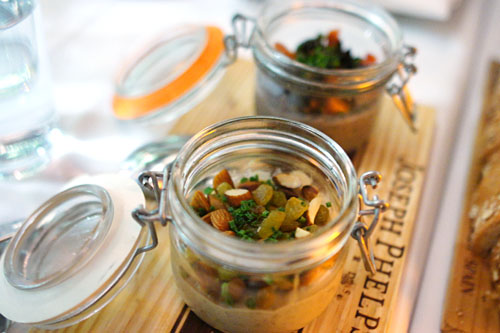 Eggplant Caviar
| Raisins / Marcona Almonds
Olivade
| Ricotta / Olives / Roasted Tomato
The next spread gave us Bailly's non-meat jars. The eggplant caviar, or
ikra
, demonstrated a strong, smoky flavor, augmented by the sweetness of raisins and a bit of nuttiness from the Marconas. I enjoyed the olivade more, with its subtle olive flavor heightened by the lusciousness of ricotta and perked up by the use of sweet roasted tomato--tasty.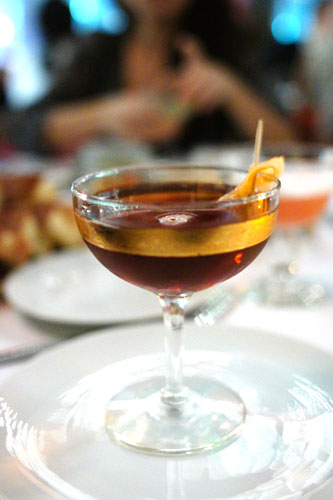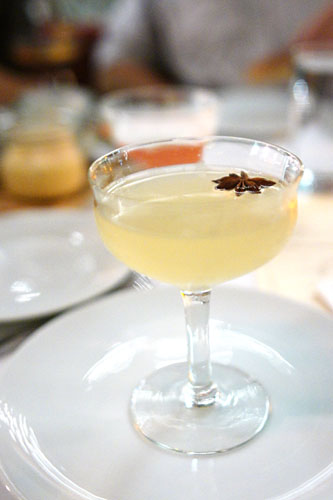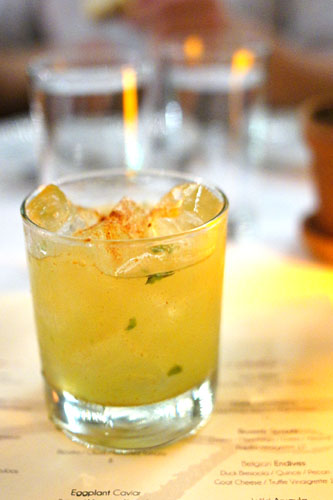 Turkey Dinner
| Clove Infused Wild Turkey, Cranberry Juice, Cynar, Candied Orange Peel
The Good Apple
| Granny Smith Infused Vodka, Fennel & Clove Infused Simple Syrup, Lemon
Poison Ivy
| Vodka, Basil, Honey, Smoked Sea Salt, Cayenne, Lemon
The next round of cocktails was soon brought before us. First up was the Turkey Dinner, a hefty affair showcasing the bittersweet essence of Cynar and orange over a marked Bourbon base. The Good Apple was quite good indeed, with a sweet-herbal nose leading to heavy, sweet-savory flavors on the palate, perked up just a bit by the licorice tinge of star anise. My favorite of the bunch was the Poison Ivy, with the vodka-basil-honey providing a great sweet-pungent stage for the cayenne to sing.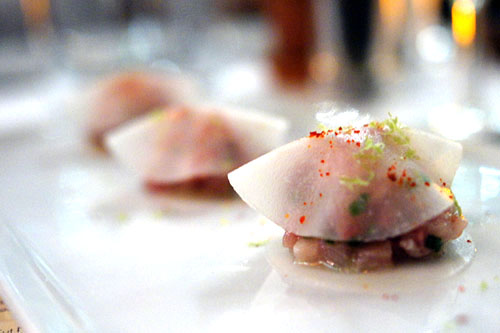 Hamachi Tartare
| Shaved Turnip / Lime / Espelette Pepper
Hamachi was expertly accented by the sharp tang of lime and the slight prick of heat of the espelette, while the shaved turnip served as an interesting textural element. Very nice.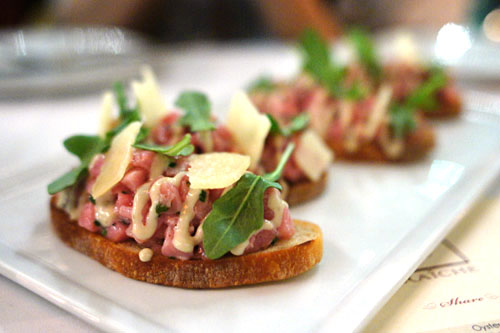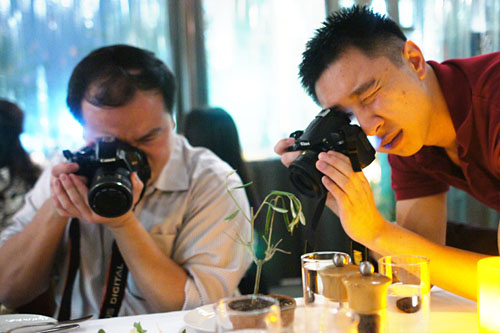 Vitello Tonnato
| Veal Steak Tartare / Arugula / Parmesan
Vitello tonnato
refers to a traditional Italian dish of cold veal, dressed with a tuna-based sauce. Bailly's version was an admirable take on the original, with the mild flavor of the veal going beautifully with its creamy, luscious topping. The arugula, meanwhile, added a bitter contrast to the dish that helped lighten things up. Effective.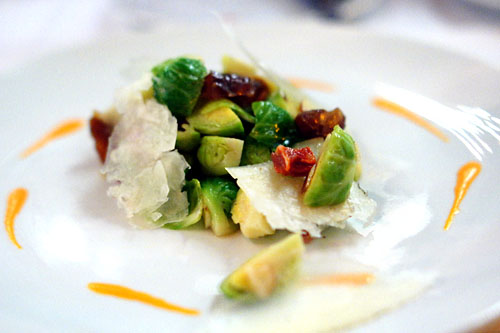 Brussels Sprouts
| Chorizo / Manchego / Dates / Almond / Piquillo Vinaigrette
Next up, a very strong presentation of Brussels sprouts. I really appreciated how their inherent bitterness was so deftly preserved and highlighted here. At the same time, the chorizo added a bright bit of saltiness to the fray, and the Manchego some tempering gravity. The dates were a somewhat curious addition, but their sweetness wasn't at all distracting as I'd feared.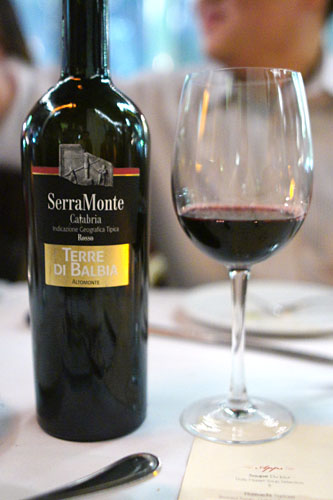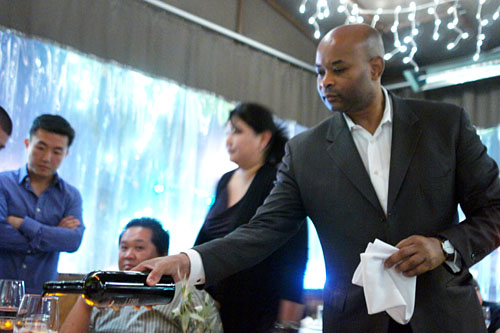 Spotting us all dining in the patio, David Haskell decided to send over a bottle of the Terre di Balbia SerraMonte from Calabria, Italy. Made from the Magliocco grape mostly, the wine was full of dark berry fruit flavors and spice, with just enough of a tannic kick to keep things interesting. A lovely pick from Haskell.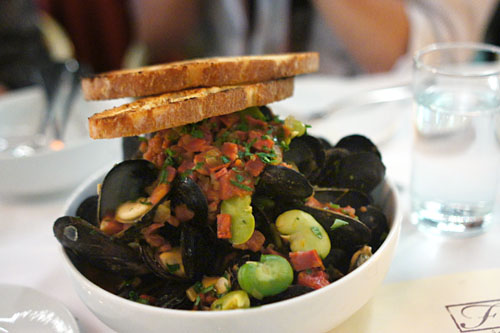 Bouchot Mussels
| Fava Bean / Tomato / Chorizo
I wasn't as keen on the mussels, finding their consistency a bit too soft for my tastes. Also, though I enjoyed the fava beans and chorizo in the dish, the tomato was a bit overwhelming, hiding the mussels' natural savor somewhat.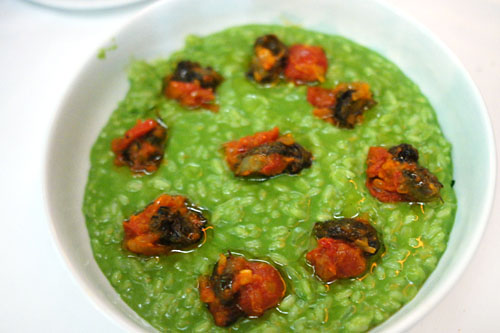 Basil Risotto
| Escargot / Lemon / Tomato
Basil risotto was tasty, with the rice nicely accented by the inclusion of the bright, piquant flavors of basil. The snails, meanwhile, served as savory focal points in the dish, and also made things more interesting texturally.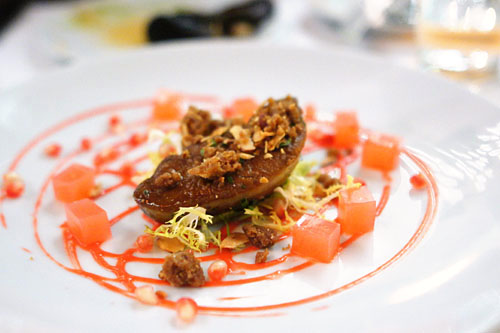 Seared Foie Gras
| Frisée / Rhubarb / Pomegranate / Speculoos
Foie gras arrived expertly cooked, showing off the prototypical richness that I'd expect from the liver. Not surprisingly though, the combination of pomegranate, rhubarb, and
speculoos
(a type of sweet-spicy biscuit) made the dish overly saccharine, and although the frisée did help temper the course, it still didn't go far enough for me.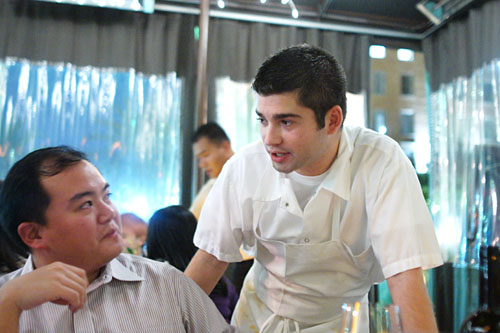 Bailly checks in with Danny on the progress of the meal.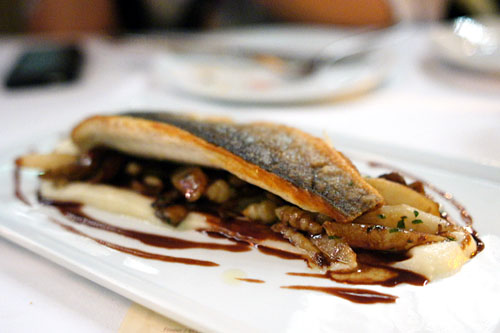 Crispy Loup de Mer
| Sunchokes Soubise / Crosnes / Salsifi / Mushrooms / Bordelaise
One of the highlights of the meal for me was Bailly's loup de mer, or Mediterranean sea bass. I thoroughly enjoyed the fish's rich, savory flavor, tender flesh, and crisp, salty skin. At the same time, the use of sunchokes and crosnes served to balance and integrate the dish, while the mushrooms and bordelaise added further weight to the course.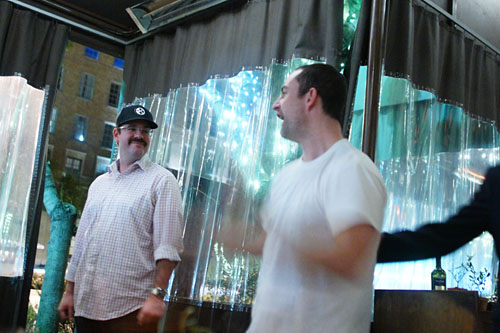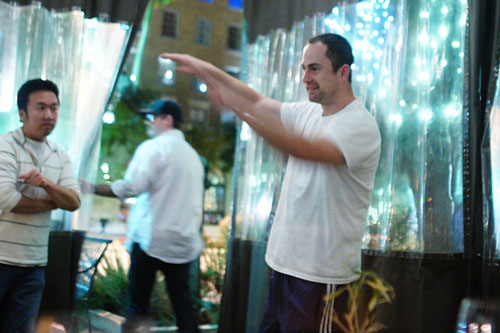 At this point, Chef Joseph Mahon and David Haskell (accompanied by Sam Kim) decided to make an appearance. The two were, of course, fresh off Magnum, their collaborative
pop-up dinner series at Biergarten
. I must say though, I'm not feeling the porn 'stache that Mahon's sporting these days...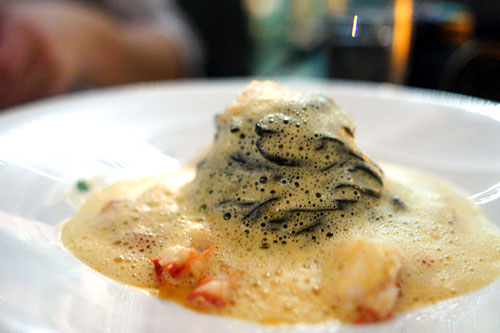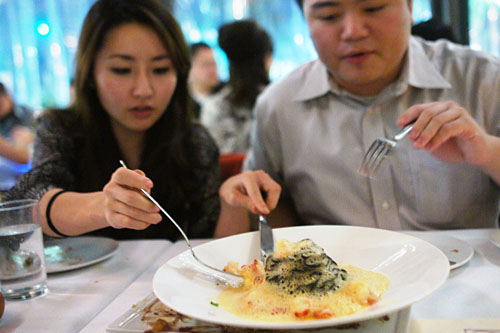 Taglierini Neri
| Maine Lobster / Cherry Tomatoes / Basil
Our first pasta course of the evening was this squid ink taglierini (thin ribbon pasta) with lobster. I adored the pasta's firm, al dente texture, and well as the sweet, briny flavors of its accoutrements, with the tomato in particular adding a lovely succulence to the dish. Very satisfying.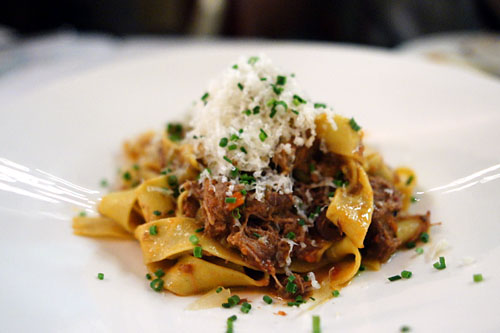 Lamb Papardelle
| Tomato / Olives / Onetik Goat Cheese
Papardelle also arrived adroitly prepared. The lamb gave the pasta a rich, rustic, hearty flavor that was beautifully perked up by the inclusion of tomato and olives. Nice!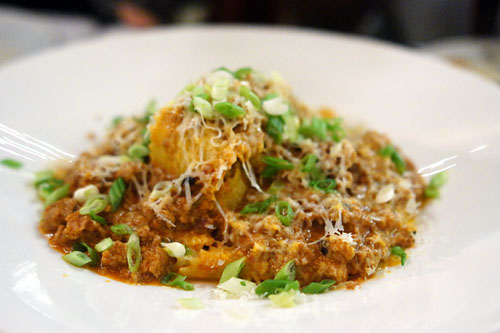 Hand Cut Maltagliati
| Pork Ragù / Scallion / Gruyère
The maltagliati was arguably my favorite of the four pastas. The pork ragù was probably the best version that I've ever had, with a profound porcine richness augmented by the Gruyère, yet perfectly countervailed by the peppery cuts of scallion.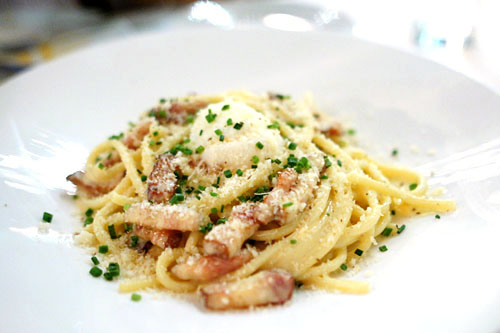 Bucatini Carbonara
| Slow Poached Egg / Pancetta / Parmesan
It's hard to go wrong with a carbonara, and this was no exception. The combination of egg and Parmesan added an incredible weight and depth of flavor to the bucatini (hollow spaghetti), and I loved the saltiness imparted by the pancetta as well.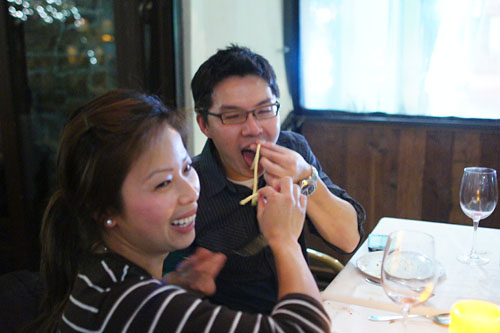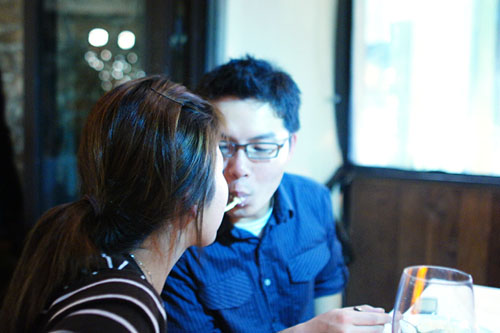 Using the bucatini in lieu of spaghetti, Hong and Kim pay homage to that famous scene in
Lady and the Tramp
.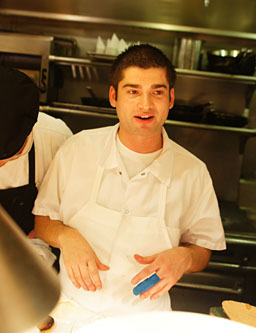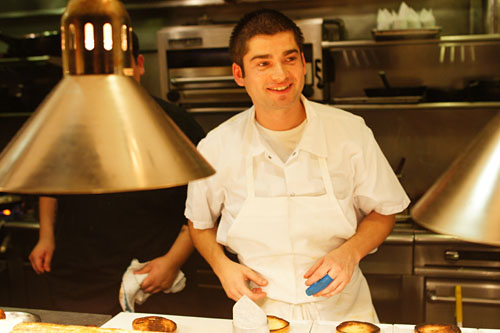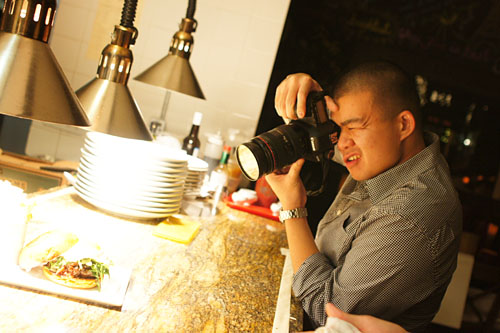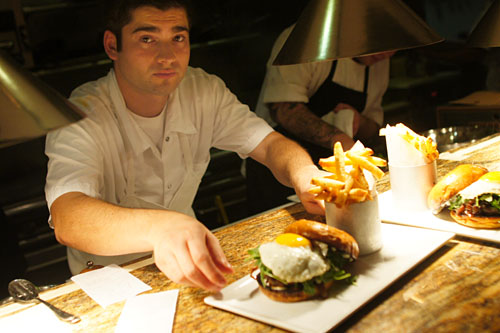 We took a break from eating and moseyed on over to the kitchen to watch Chef Bailly plate and serve our next course: his signature Truffle Burger.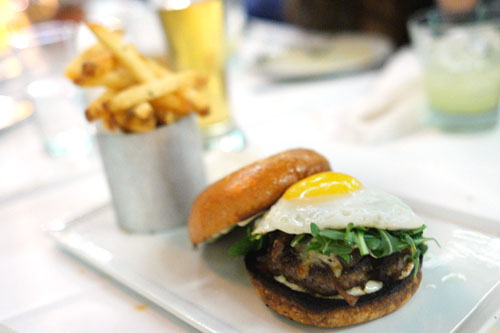 Truffle Burger
| Onion Fondue / Boschetto / Truffle Aioli / Egg
Bailly's truffle burger isn't usually served at dinner, but the Chef made an exception for us. We should be thankful, as the burger was quite a sight to behold, and taste. The patty was expectedly decadent, succulent, teeming with a rich, heady savor accented by an almost foie gras-like lusciousness. The Boschetto cheese and truffle aioli, meanwhile, added even further luxury to the dish, while the arugula served to give the burger a tempering, peppery bite. The fries were, as expected, spot on as well.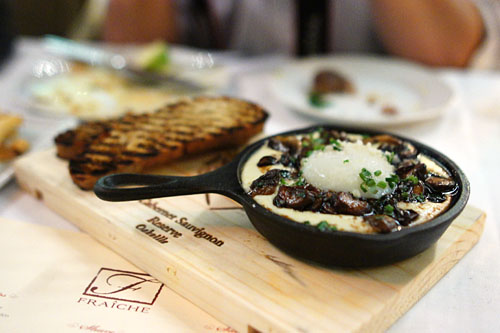 Soft Polenta
| Wild Mushrooms / Slow Poached Egg
Our final savory course of the night brought us Bailly's polenta. It showcased a faultless, gritty yet creamy consistency, with the mushrooms adding just that perfect amount of umami-tinged earthiness to the dish. The runny egg, of course, made things even better.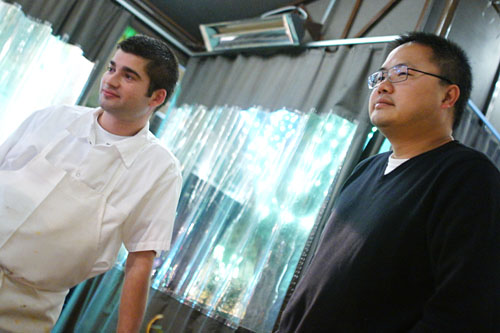 Bailly with
Will
from
FoodDigger
.


Time for the sweet stuff! Above we see the dessert and after-dinner drink menus. Click for larger versions.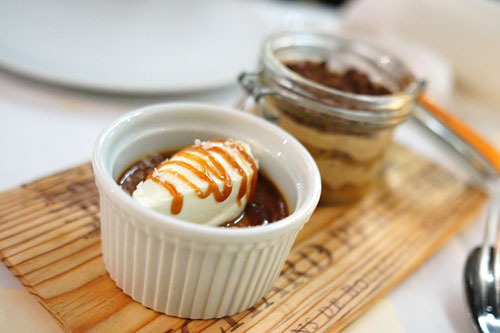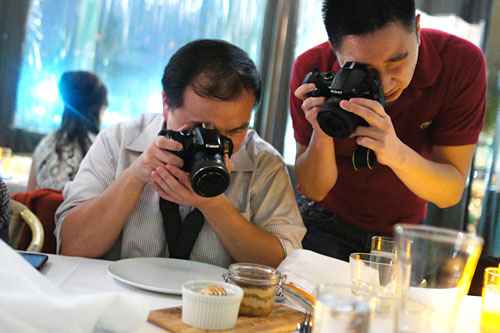 Pot De Crème
| Manjari Chocolate
Pot De Crème
| Caramel
Praline Tiramisu
| Rum Espresso / Vanilla Bean
We started off dessert with two pots de créme--caramel and chocolate--both expectedly sweet, but both finished with a delightful salty tinge. Joining them were two jars of praline tiramisu: light and airy in body, with subtle vanilla and coffee flavors leading to shockingly boozy notes on the finish.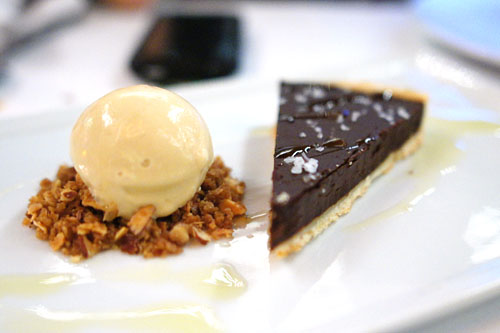 Chocolate Tart
| Tres Leches Gelato / Almond Crumble
Next up was a rich, dense chocolate tart, nicely complemented by the paired tres leches gelato, while the almond crumbles added a hint of nuttiness and an immensely enjoyable crunch to the course. My favorite of the sweets.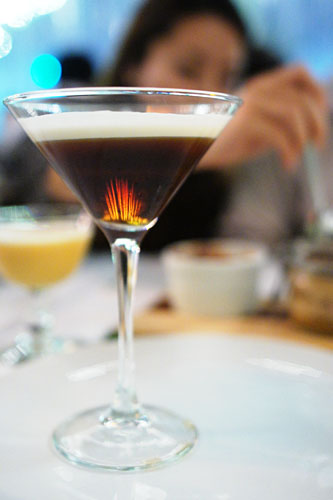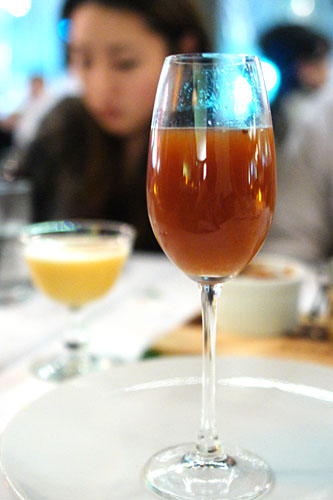 To pair with our desserts, we were provided three off-menu cocktails. First up was a classic Egg Nog, which showed off a fantastic creamy sweetness under an overarching booziness, with just a lovely tint of cinnamon spice. We also had a Deconstructed White Russian, a fitting tribute to the original with a delicious interplay between the cream and vodka. Finishing things off was a Holiday Hot Toddy, made with rum, ginger, honey, gingerbread bitters, cinnamon, and hot water. It was a spicy-sweet concoction with a slight medicinal tinge, somewhat reminiscent of Indian tea.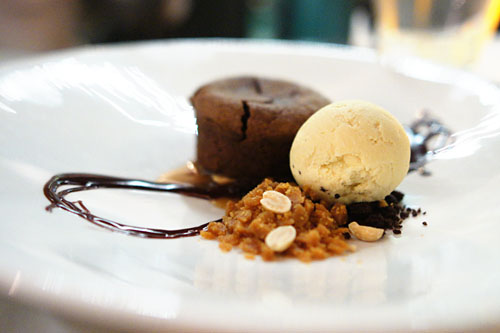 Chocolate Coulant
| Toffee / Peanut Butter Ice Cream
Here was Bailly's take on the ubiquitous "molten chocolate cake," first created, interestingly enough, by the famed Michel Bras. What set this one apart from the rest was the peanut butter ice cream, which did a great job in moderating the gravity of the chocolate (and I don't even like peanut butter). I also enjoyed the toffee bits for their crunch and additional nutty sweetness.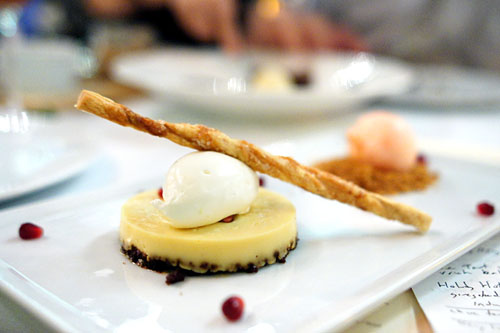 Key Lime Tart
An off-the-menu dessert, the key lime tart lived up to its name, putting forth a lip-puckering sourness suitably subdued by its topping of crème fraiche and its sugary cake base.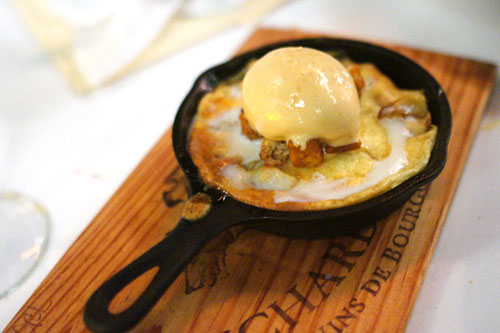 Apple & Pear Clafoutis
| Brown Butter / Candied Brioche / Caramel Ice Cream
We closed with Bailly's clafoutis, basically a commixture of pear, apple, brown butter, and brioche batter, baked in a pan. As you might expect, it was a hot, heavy dish, awash in fruity sweetness and adroitly accented by the caramel ice cream.
The young chef is off to a strong start here at Fraiche, and apparently, I'm not the only one who thinks so: the place was operating near capacity throughout most of the night. The cooking was, for the most part, quite tasty, more rustic versus refined vis-à-vis his work at
Petrossian
, and a good fit for the space. That being said, as this was a 20+ course dinner with 20 people, I didn't get to really savor the fare as much as I would've liked. A more relaxed meal with more time to properly digest and contemplate the food may be called for in the future.