Gulfstream (Newport Beach, CA)
Gulfstream
850 Avocado Ave, Newport Beach, CA 92660
949.718.0188
www.hillstone.com/#/restaurants/gulfstream/
Sat 12/18/2010, 06:00p-07:30p

Gulfstream may not seem like the type of place that I typically report on, but the restaurant holds a special place in my heart. In the early 2000's, my halcyon days of eating, Gulfstream was one of my most cherished places to dine. It managed to acquire this status due to a singular dish: the crab cakes. The cakes were a revelation when I first tasted them, a far cry from the over-breaded, over-cooked, over-seasoned monstrosities that I was used to. They were the best that I'd ever had, and remained the best despite considerable competition from authentic Maryland preparations, home-made versions, even haute Michelin-starred iterations.
Unfortunately, it'd been far too long since my last visit to Gulfstream--five years at least--so the question that I had in mind was simply:
are they still the best?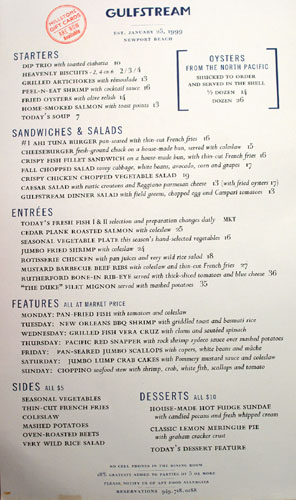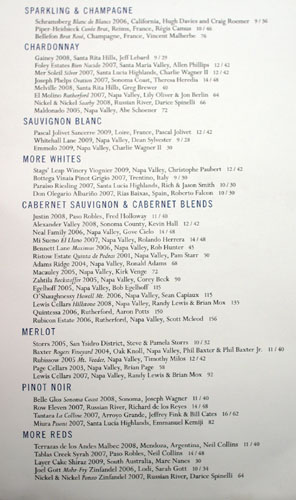 Gulfstream is "inspired by classic seafood houses from America's culinary history," so it's not surprising that the menu is seafood heavy, and largely unchanging. Note that the availability of the crab is only guaranteed on Saturdays as a special, though they may be on offer other days as well. Click for larger versions.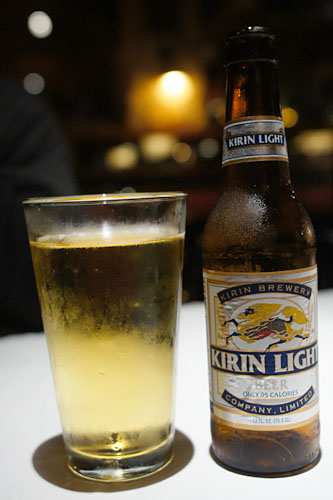 I started out with the restaurant's only bottled beer (curiously), a Kirin Light [$6].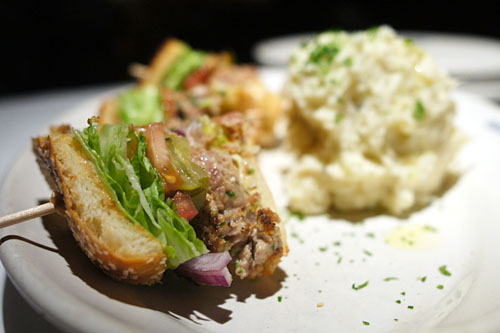 #1 Ahi Tuna Burger [$16.00]
| pan-seared with thin-cut French fries
We started with one of Gulfstream's signature items, their tuna burger, which I'd had previously for lunch. I appreciated how the ahi wasn't cooked all the way, resulting in a supple, soft consistency in the center of the patty. Flavor wise, the fish was textbook tuna--delicate and delicious--and very well integrated when taken in concert with the lettuce, tomato, and onion. The paired mashed potatoes (substituted in place of fries) were light on salt, but still quite tasty nevertheless, and I enjoyed the corn kernels mixed in for texture.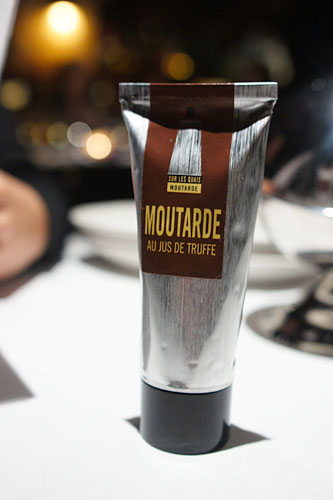 One of my dining companions decided to bring along some newly-acquired French
moutarde au jus de truffle
, or truffle mustard. It added a heady, earthy zing to everything it touched, and went particularly well with the mashed potatoes and crab cakes.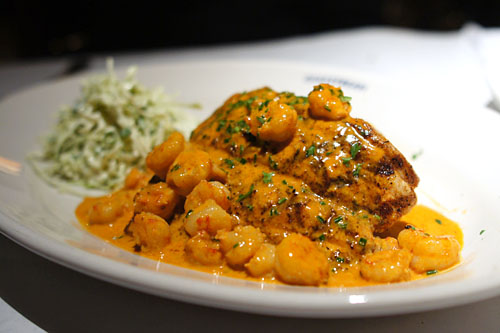 Pacific Red Snapper [$30.00]
| with rock shrimp zydeco sauce over mashed potatoes
Ever the pessimist, I half expected the snapper to come out overcooked, dry, and flavorless. Thus, imagine my surprise when the fish arrived cooked through, but still tender, moist, and savory, with a great bit of bitter char to boot. The snapper went rather well with its spicy zydeco dressing (a Creole-inspired sauce), and the shrimp, amazingly, were properly cooked, still snappy and briny in character. Quite nice.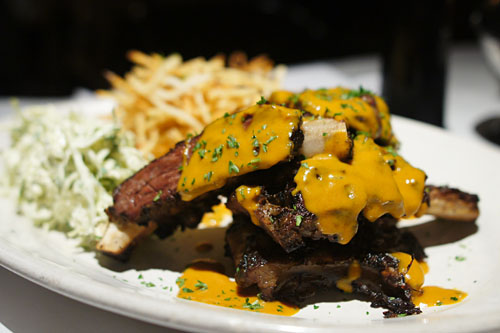 Mustard Barbecue Beef Ribs [$27.00]
| with coleslaw and thin-cut French fries
Beef ribs were literally falling-off-the-bone, and teeming with the sweet, savory, smoky flavors of barbecue. The mustard, meanwhile, added a bright counterpoint to the otherwise dark flavors of the dish. I enjoyed the shoestring fries as well (though they were a chore to eat), with their crisp, crunchy consistency and slight herbal note.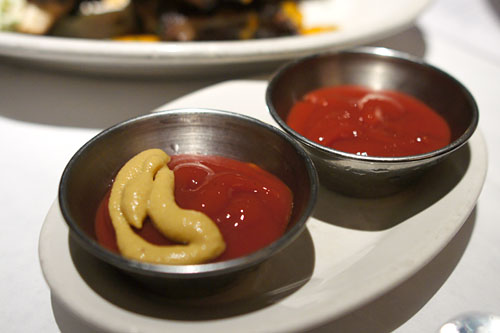 The fries went superbly with the admixture of truffle mustard and ketchup (Chinese restaurant style).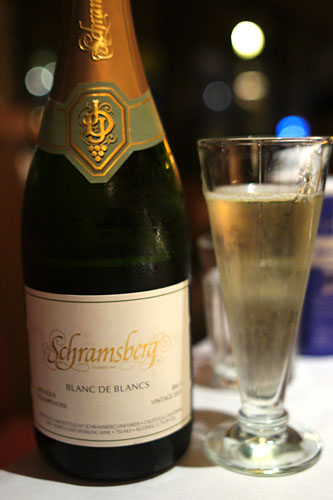 With our beers dispensed with, we ordered up a bottle of the 2007 Schramsberg Blanc de Blancs [$32], sort of a prototypical California sparkler: crisp and dry, with lemon, apple, and toast, backed by a good minerality.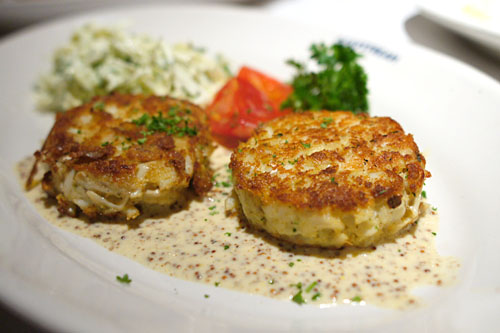 Jumbo Lump Crab Cakes [$32.00]
| with Pommery mustard sauce and coleslaw
The moment of truth: Is this still the best crab cake ever? I'm happy to report that
yes
, it still is. The most defining characteristic of Gulfstream's cakes is that they're almost all crab, with very little filler. This makes for a cake that's somewhat fragile, but positively brimming with the sweet, briny essence of crab. It's a crab cake that really tastes like crab--no cutting corners here. They were delectable alone, but even better when consumed with the piquant tang of the paired Pommery mustard. The sweet, peppery coleslaw wasn't half bad either.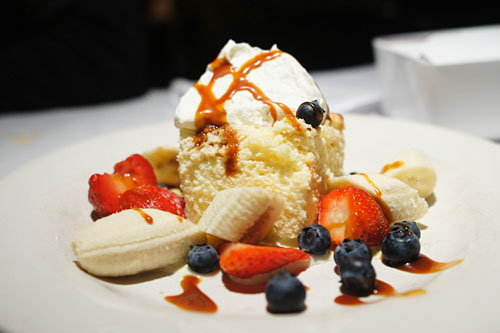 Tres Leches Cake [$10.00]
Though I used to come here for the crab cakes, I soon discovered another gem in the form of the tres leches cake, an off-menu special. It's basically a sponge cake soaked in evaporated milk, condensed milk, and heavy cream, with an undeniably satisfying sweetness perfectly accented by the hefty sugariness of the caramel. It was so good that we were compelled to order two more to go!
This was as satisfying of a meal as I've ever had at a casual-dining chain restaurant. Eating here was like revisiting an old friend--we're talking good, simple food, little pretense, and a hefty dose of nostalgia thrown in for good measure.
She's still got it!