Pan Am Room (Santa Monica, CA)
Pan Am Room
3221 Donald Douglas Loop S, Santa Monica, CA 90405
310.390.6565
www.typhoon.biz/?page_id=1640
Tue 01/11/2011, 07:05p-10:00p

Opened way back in 1988, Brian Vidor's Typhoon at the Santa Monica Airport has remained a fixture on the SM dining scene for over 20 years. The restaurant made its name by introducing Angelenos to its Pan-Asian, sometimes insectoid-focused fare. Based on the success of Typhoon, Vidor opened up sushi bar The Hump in September 1998, upstairs from the original restaurant in what used to be an observation deck.
The Hump served as a training ground for some of LA's most celebrated sushi chefs, and became well-known for its pricey, luxurious, and often exotic
omakase
dinners. There were even rumors abound that items such as horse, blowfish, and whale were available at the restaurant. It was that last ingredient, though, that resulted in The Hump's downfall. In early 2010, law enforcement was notified that The Hump was, in fact, serving whale, endangered
sei
whale, to be specific. Typhoon and sushi chef Kiyoshiro Yamamoto were subsequently charged; Vidor apologized profusely; a six-figure fine was paid; a substantial donation was made; and The Hump
shuttered
in March of last year.
With The Hump's space now vacant,
something
had to take its place. That something, it turns out, is the Pan Am Room, a casual Pan-Latin eatery that's been in a sort of soft opening mode for the past couple months. In charge of the kitchen is one Norman Fierros. An Arizona native, Fierros moved to Southern California in the 1960's, becoming, interestingly enough, a celebrity hairstylist in Beverly Hills. In his free time, however, Fierros studied cooking, and when he returned to Phoenix in 1980, he ended up opening a taco stand-
cum
-art gallery called Fina Cocina. Fina Cocina was a smashing success, and eventually led to a string of seven restaurants in Phoenix, many of them spectacular and dramatic in both their openings and closings. Fierros even garnered a James Beard Rising Star Chef award in 1990 for his pioneering work in
nueva Mexicana
cuisine.
Fierros' last restaurant Norman's Arizona, which debuted in 1998, was widely lauded, but once again, financial mismanagement reared its ugly head, and the location was seized by the IRS after taxes went long unpaid. Fierros then relocated to Los Angeles once again, but quickly developed Guillain–Barré syndrome, which kept him out of the business for nearly a decade, though he did do some occasional consulting gigs during the time. From what I gather, Fierros is still experiencing complications from GBS, and as a result, the kitchen is now helmed by Chef Filemon Vasquez.

The interior has been revamped, but vestiges from The Hump still remain, the most obvious of which is the etched glass mural of the Himalayan mountain range, now rechristened as the Andes. The space is small, with about eight tables and a 10-seater bar.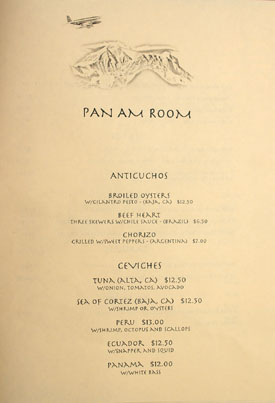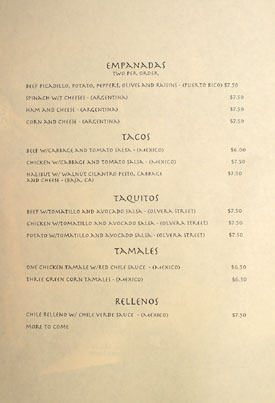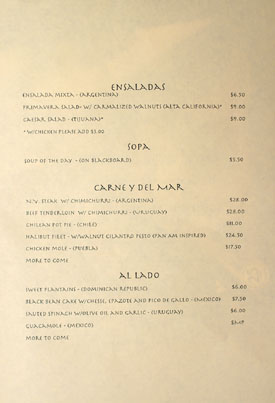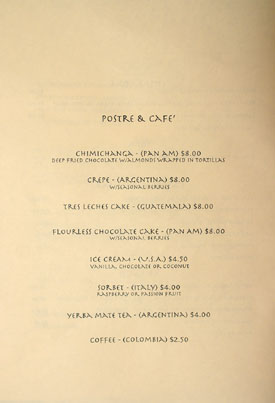 The menu presents a small selection of casual Latin American fare, and is still very much a work in progress. Click for larger versions.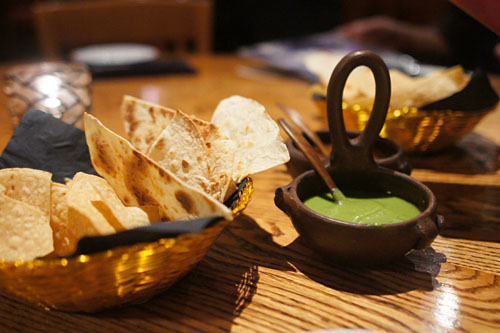 In addition to the standard chips, what I believe are baked tortillas are also provided.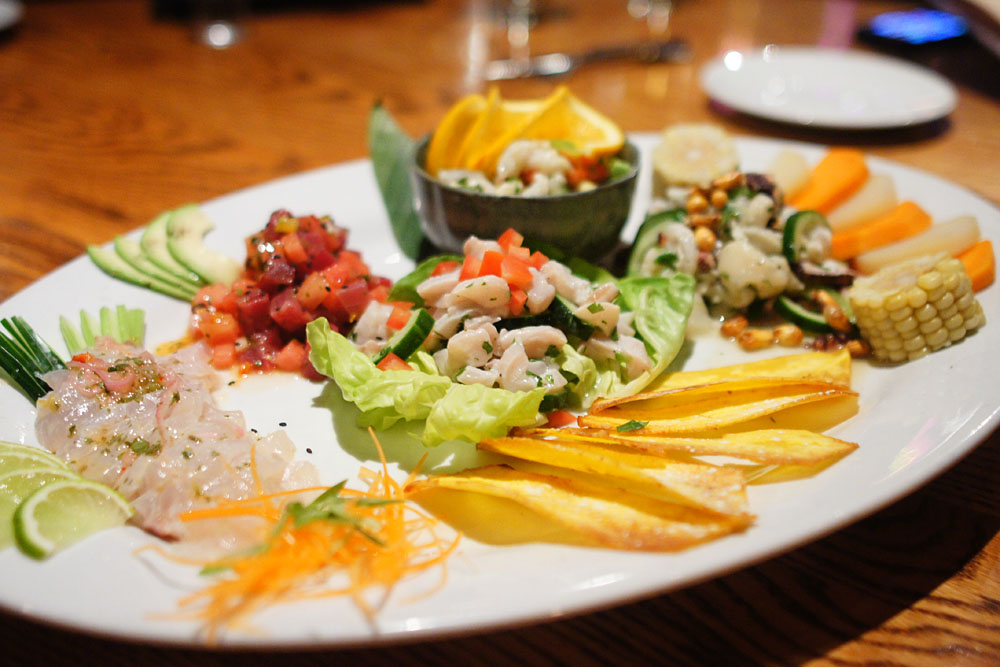 Peru [$13.00]
| w/shrimp, octopus and scallops
Panama [$12.00]
| w/white bass
Sea of Cortez [$12.50]
| w/shrimp or oysters
Tuna [$12.50]
| w/onion, tomatoes, avocado
Ecuador [$12.50]
| w/snapper and squid
Naturally, we wanted to start the evening off with some ceviche, and the kitchen ended up sending out a platter consisting of all five types on offer. I attacked the Peruvian preparation first, and enjoyed the ceviche's creeping, lingering brine, overarching tanginess, and pleasing textural variation (finding the toasty
cancha
particularly appealing). The Panamanian version featured substantial, meaty pieces of sea bass, mild in taste and complemented by bright flavors of cucumber and celery. Next up was the Sea of Cortez, which had a prick of spice that I much appreciated. The Tuna, meanwhile, was arguably the most untraditional version, with a nice vegetal sweetness to go along with the delicate savor of the fish. I finished with the Ecuadorian presentation, perhaps the least distinctive of the quintet, with the essence of the snapper a bit lost among its accompaniments.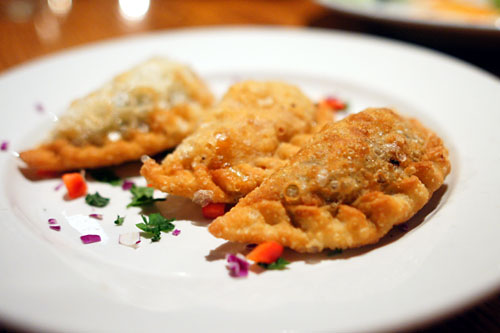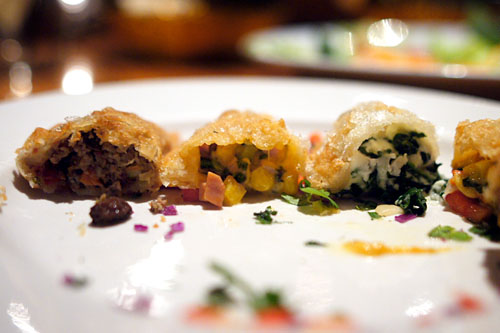 Beef Picadillo, Potato, Peppers, Olives and Raisins [$3.25]
Spinach w/5 Cheeses [$3.25]
Ham and Cheese [$3.25]
An empanada trio was up next. The Puerto Rican version came stuffed with
picadillo
, a sort of ground beef hash. It had a definite beefiness to it, but was also tinged with just a touch of sugary spice--not overwhelming, but just sweet enough to make it interesting. The Argentine-inspired ham empanada was also quite tasty, as was the spinach variation, showing off a nice interplay between the vegetable and the heft of the cheese.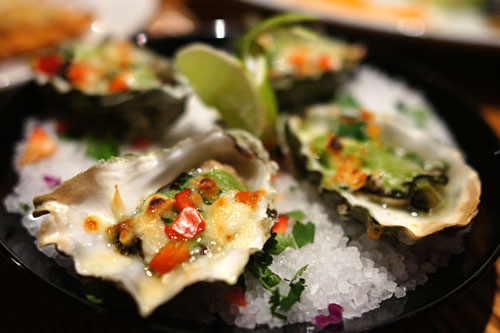 Broiled Oysters [$12.50]
| w/cilantro pesto
I usually prefer my oysters raw, but definitely enjoyed this dish, which I'll liken to a Latin American Oysters Rockefeller. The bivalves' signature brine was nicely preserved, yet beautifully accented by the vegetal tang of its pesto accoutrement.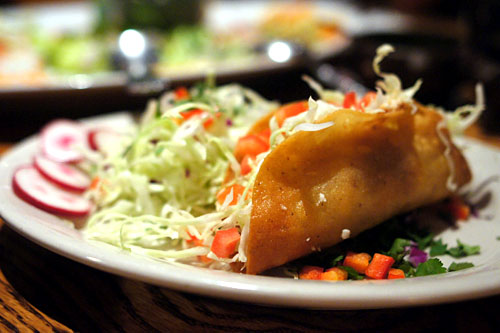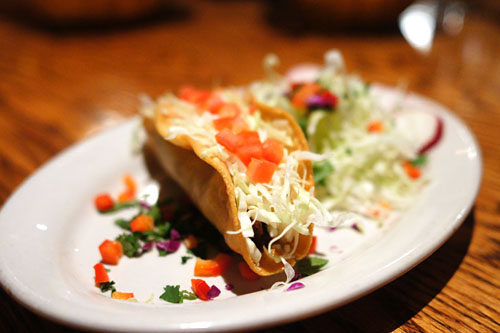 Chicken w/Cabbage and Tomato Salsa [$7.50]
Beef w/Cabbage and Tomato Salsa [$6.00]
A duet of tacos followed. I didn't get to sample the chicken version, but the beef taco was quite serviceable, with tender, slightly peppery meat deftly balanced by its vegetal embellishments, while the hard shell added some textural play.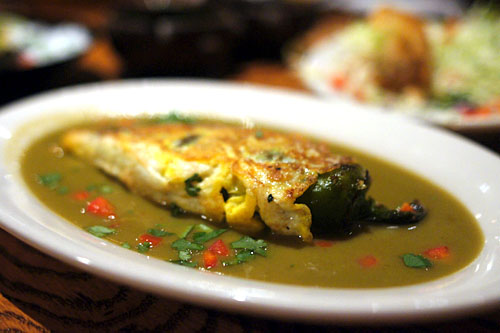 Chile Relleno w/Chile Verde Sauce [$7.50]
The chile relleno was one of the better versions that I've had, with a great interplay of flavors between the hefty cheese, spicy chile verde dressing, and light, crunchy chile pepper. A highlight of the evening for me.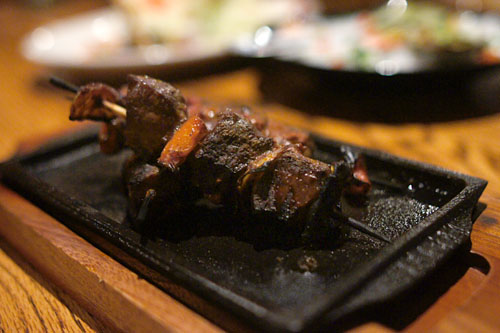 Beef Heart [$6.50]
| three skewers w/chile sauce
Beef
anticuchos
needed some work. The meat was cooked too thoroughly for my tastes, and I wanted more seasoning, more spice. For a fabulous version of the dish, one just has to look toward
Ricardo Zarate
.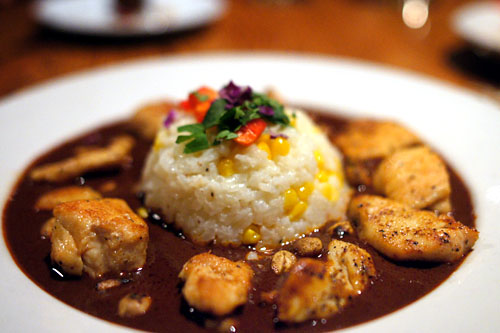 Chicken Mole [$17.50]
Of course, I just had to give the mole a whirl. I actually quite liked it, finding the sauce to be a rich mix of smoky, spicy, and sweet flavors. It was superb with the paired chicken, and was delectable even when eaten with the rice alone. I just wished that the chicken were served in more substantial pieces.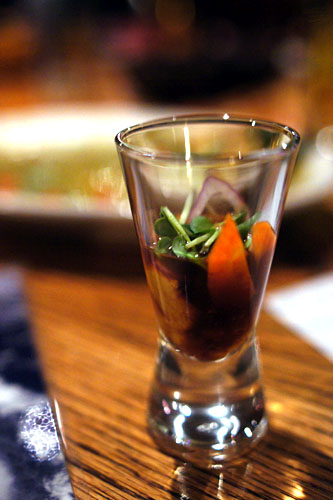 Uni Shooter
Here was a complementary uni shooter, which did an admirable job in showing off the inherent sweet brine of the urchin, all balanced by a bit of vegetal tang. Nice.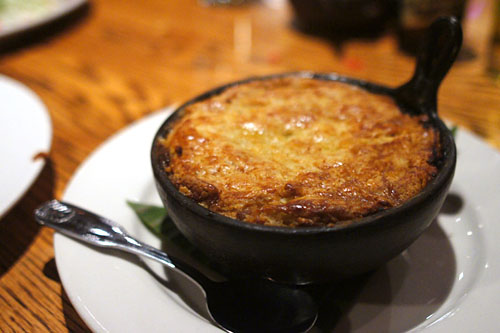 Chilean Pot Pie [$11.00]
The biggest surprise of the night was this Chilean pot pie, which I'll assume is a version of the traditional
pastel de choclo
. It was one of the best pot pies I've ever had, demonstrating a perfect combination of flaky crust, tender meat filling, and tempering vegetables.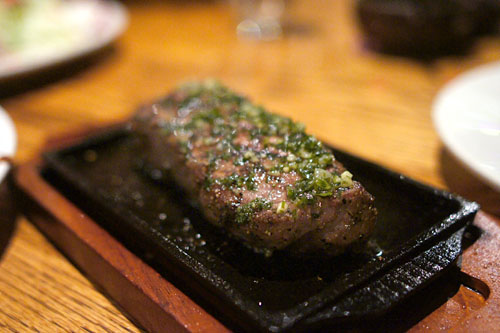 N.Y. Steak w/Chimichurri [$28.00]
Our final savory course of the meal brought us a grass-fed strip of Uruguayan beef, dressed in a chimichurri sauce. The meat managed to be lean, yet succulent, with a rather robust flavor. It was tasty enough, but I wanted to see more kick, more bite from the chimichurri.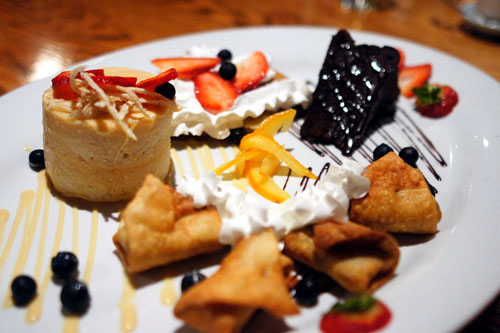 Crepe [$8.00]
Flourless Chocolate Cake [$8.00]
| w/seasonal berries
Tres Leches Cake [$8.00]
Chimichanga [$8.00]
The sweet ending--an array of four desserts to close out the evening. Crêpes were quite good, with a fine, crisp texture and lovely fruit filling. The chocolate cake, meanwhile, was fairly standard, except for its subtle bit of spice on the finish. The
pastel tres leches
, on the other hand, lacked the sweet, milky richness that I was looking for, and ended up being rather dry. The chimichangas (a holdover from Norman's Arizona), finally, were a pleasant surprise, with their sweet chocolate filling playing beautifully with the fried pastry dough.
High-end sushi to casual pan-Latin--an intriguing transition to be sure. This was an enjoyable meal overall, though there were certainly a few misses, not unexpected given the circumstances. I just hope that the menu continues to evolve, develop, and grow. In the mean time, fans of Typhoon would be wise to wander upstairs and give the Pan Am Room a spin.