Night + Market (West Hollywood, CA)
Night + Market at Talesai
9041 Sunset Blvd, West Hollywood, CA 90069
310.275.9724
www.nightmarketla.com
Wed 03/30/2011, 08:00p-11:15p
The story of Night + Market must begin with the story of Talesai. It all started with Prakas Yenbamroong, a native of Thailand who immigrated to the US in the 1970s to pursue an MBA at Cornell University. After graduating, he took up a post at Thai Farmers Bank (now known as Kasikornbank), who'd sponsored his degree, working there for four years, first in Bangkok, then in London, and starting in 1979, in Los Angeles. Prakas left the company in 1982 (the same year that son Kris Yenbamroong was born), and opened Talesai ("desert" in Thai) on the Sunset Strip later that year, his reasoning being that he felt a need for a high-end Thai restaurant that could be used to entertain business clients.
Not being a particularly good cook himself, he enlisted Vilai Yenbamroong, his own mother, to serve as Talesai's Executive Chef. Vilai had always been known as a great cook, and her Thai-Chinese ancestry provided her the necessary culinary background to get really creative with the food. Talesai was a success, attracting a good portion of the Sunset crowd with its approachable Thai fare. This allowed Prakas to open up a
second Talesai location
in 1992, which he later sold to his brother as a sort of a wedding gift. He also opened up the smaller, more casual
Cafe Talesai
in Beverly Hills in August 2000, which is currently run by Prakas' wife, Sumitra Yenbamroong. There were even plans to open up more Cafes in Orange County and San Diego, but those locations never materialized.
Fast forward to 2008. Kris had just moved back to LA from New York (after going to school for film and graphic arts), and was ready to take over the family business, having grown up working at Talesai and cooking with his grandmother Vilai. Talesai closed briefly for renovation, then reopened in November 2008 with Kris firmly in charge, a more contemporary decor, and a renewed emphasis on the wine program. In addition, Kris wanted to incorporate some of the grittier fare that he ate in Thailand (his family moved back during his high school years). However, his new dishes didn't take, since Talesai's customers were keen on sticking with the same food that they'd been enjoying at the restaurant for years.
The solution to this quandary came in the form of the space adjacent to Talesai, which formerly held a dry cleaner and served as offices for the Key Club (once the legendary
Gazzari's
). Kris snatched up the spot, and initially planned to use it as a private dining room. Then, as fate would have it, Kris decided to enjoy a dinner at
LudoBites
. He expressed his dilemma to Ludo, and the Chef helped him and his father come up with the idea of using the newly acquired space to serve all the food that Kris wanted to cook next door, but couldn't. A fellow diner that evening,
FoodDigger
's
Brian Liu
, helped to come up with the name for this new venture:
Night + Market
.
Night + Market officially debuted on December 2 last year, and focuses on serving dishes inspired by the street food that Kris enjoyed during his time in Thailand, specifically the heavier, meatier dishes of northern Thailand. In addition, Kris, being somewhat of a wine nut himself, has paid particular attention to the wine list, which features reasonably-priced bottles from small, boutique producers (and which, amazingly, only has one Riesling). A smattering of beers is also available, and Kris is even working on adding cocktails to the menu.

In stark contrast to the dark, subdued environs of Talesai, Night + Market's vibe is light, bright, and brazenly minimalist. Small tables dot the perimeter of the room, but our large party of ten was seated in one of the two wooden communal tables. Video clips are projected onto one of the restaurant's bare white walls, while miscellaneous artwork for sale (and sometimes Kris' own photography) covers the others. In the future, Night + Market might even open up its back patio for dining, which is currently being used to grow various fruits and herbs for the restaurant.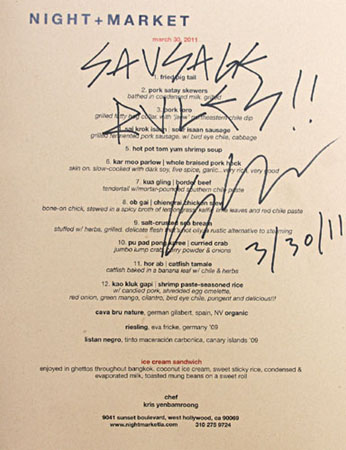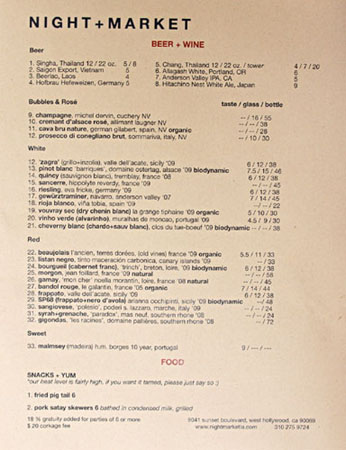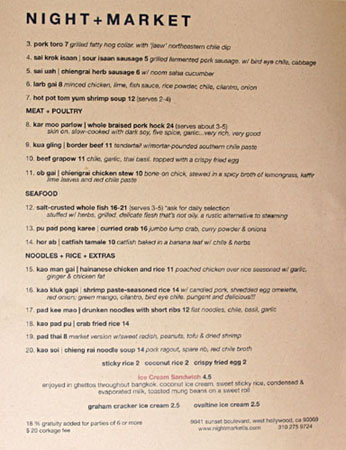 You'll have no problem ordering à la carte here, but we had requested a tasting menu of a dozen or so courses, served family style. Kris paired a trio of wines with our meal:
cava brut nature, german gilabert, spain, NV organic [$28]
;
riesling, eva fricke, germany '09 [$38]
; and
listan negro, tinto maceración carbonica, canary islands '09 [$33]
. In addition, we also ordered up three more bottles:
pinot blanc 'barriques', domaine ostertag, alsace '09 biodynamic [$46]
;
gamay, 'mon cher' noella morantin, loire, france '08 natural [$45]
; and
frappato, valle dell'acate, sicily '09 [$38]
. Click for larger versions.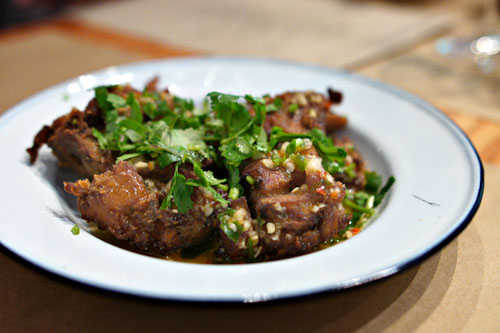 1: fried pig tail
Kris started things out with a bang, serving up a plate of his pig tails. The tails, somewhat to my surprise, were very heavy--think of a combination of lean and fat, nicely crisp, all wrapped around a chunk of tailbone. They were also somewhat spicy, with a touch of sweetness deftly countered by the use of cilantro. This was a table favorite, and we even ordered two more plates toward the end of the meal.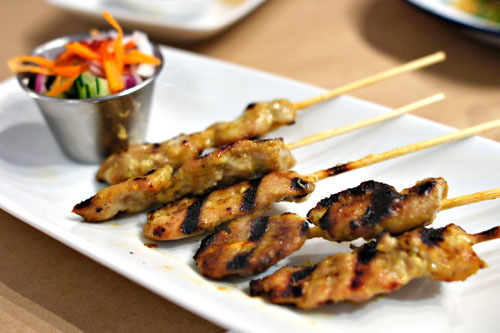 2: pork satay skewers
| bathed in condensed milk, grilled
If you had to come up with
the
stereotypical Thai dish, it'd probably be pad thai (more on that later), but pork satay would probably ring in at a close second or third (the irony being that both dishes aren't strictly Thai in origin). The version here was certainly a cut above your typical preparation, with a lovely porcine savor tinged by just a bit of sweetness, courtesy of condensed milk. I enjoyed the pork alone, but it was even better when eaten in concert with the tangy smack of the accompanying vegetables.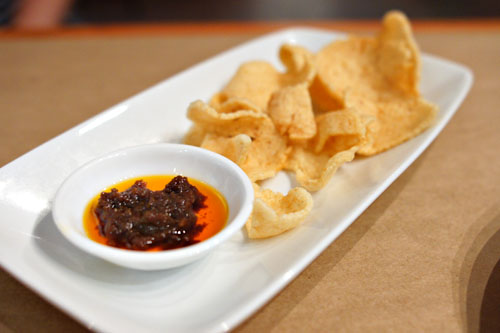 Bonus: shrimp crisps
Kris then surprised us with an off-menu plate of shrimp chips. Wonderfully crisp, these had a deeper, brinier flavor than your typical crackers, and were a joy to eat either with or without the paired dipping sauce.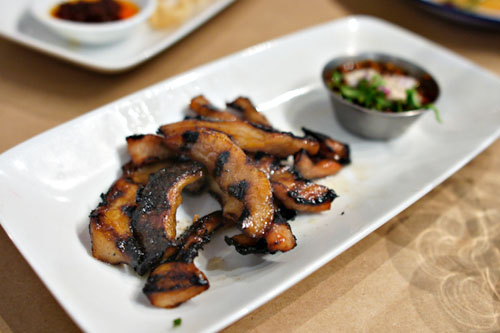 3: pork toro
| grilled fatty hog collar. with 'jaew' northeastern chile dip
I'm intrigued with anything that has
toro
in its name, and this was no exception. What we have here is grilled pig collar, so I suppose that it should more appropriately be called pork
kamatoro
. Nevertheless, this remains one of the restaurant's most popular dishes, showing off a firm, yet supple consistency with a thoroughly fatty character and subtle sweetness, all balanced by a touch of bitter char. Use some of the included
jaew
(a dried chile condiment with galangal) to balance out the sheer heft of the meat.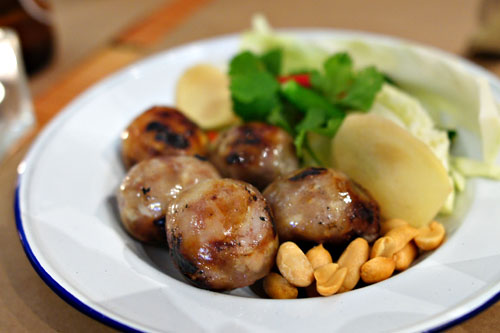 4: sai krok isaan / sour isaan sausage
| grilled fermented pork sausage. w/ bird eye chile, cabbage
Next up was one of my most anticipated dishes: sour fermented sausage (
sai krok
), done in the northeastern (
Isan
) style. The sausage itself was delightfully tangy, from both the fermentation process and the use of lime, and was deftly complemented by the stinging heat of the tiny bird's eye chilies (be careful with those!). The cabbage, thus, helped to temper the intense flavors going on here, and I really appreciated the additional texture and nuttiness of the peanuts.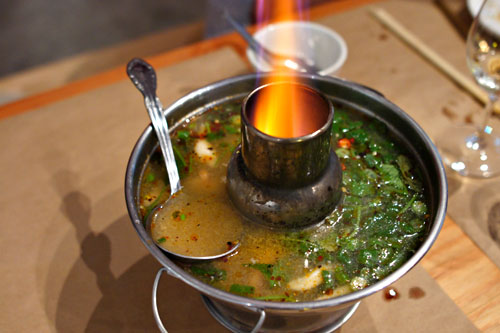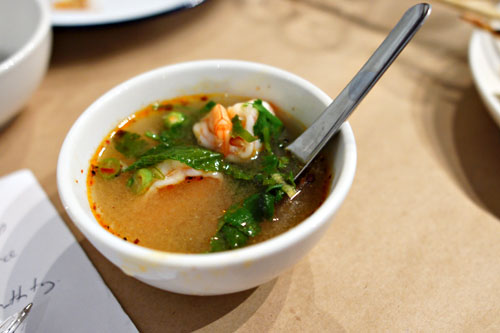 5: hot pot tom yum shrimp soup
A Thai meal just wouldn't seem complete without a steaming bowl of
tom yum
right? We were presented with a quintessential example of the soup--aromatic, hot, and sour, with bold, intense flavors of coriander, kaffir lime, galangal, and lemongrass all working together in perfect unison. I especially appreciated the fact that the shrimp were cooked through, but not overdone.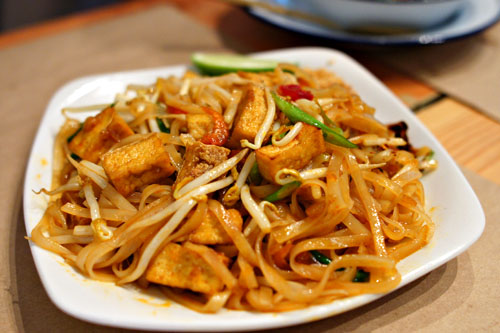 Supplement: pad thai
| market version w/ sweet radish, peanuts, tofu & dried shrimp
Pad thai has been incorporated into the repertoire of American Thai food so much that it almost seems trite at this point. Night + Market's version, thus, was an attempt to bring the dish back to its more humble roots. The noodles took on more of an important role here, and overall the dish was a bit less sweet than usual, with a wonderful touch of savoriness imparted by the dried shrimp. I also appreciated the crunch of the bean sprouts, as well as how the tofu cubes deftly stood in for the usual protein of shrimp or chicken.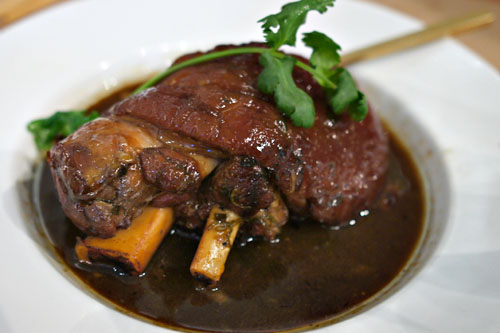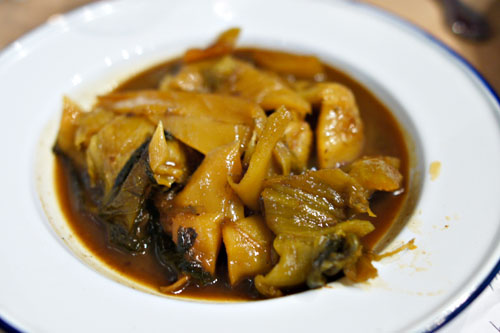 6: kar moo parlow / whole braised pork hock
| skin on. slow-cooked with dark soy, five spice, garlic...very rich, very good
According to Kris, in Thailand, pig hocks are traditionally served from street vendors in sliced form, taken with rice and various vegetables. However, he always wanted to have the cut whole, to be enjoyed family-style, and so that's exactly what he did here, pairing the pork with mustard greens and pounded chile with vinegar. As you'd expect, the dish was unabashedly fatty, with a tender, almost gelatinous consistency and deep, dark, umami-laced flavors tinged with a good amount of sugariness to boot. Very reminiscent of the Chinese-style pork knuckle (e.g.
ti pang
) dishes I've had.
7: kua gling / border beef
| tendertail w/mortar-pounded southern chile paste
Here was a plate of delightfully tender beef, dry stir-fried and swimming in a fiery pool of chile oil. Peppery and tangy, it was absolutely superb over rice.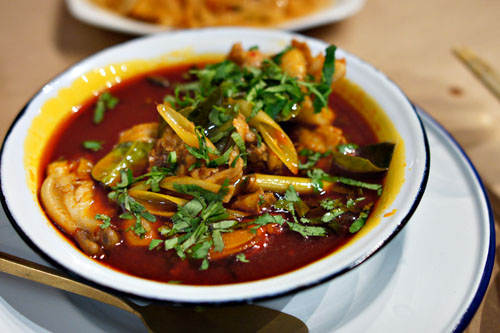 8: ob gai / chiengrai chicken stew
| bone-on chick, stewed in a spicy broth of lemongrass, kaffir lime leaves and red chile paste
Chiang Rai-style chicken arrived surprisingly tender, joined by the pronounced heat of the dish's chile-based broth and the marked tanginess of lemongrass. This was fantastic with the subtly saccharine coconut rice, and I appreciated how the chicken was still the star of the show, despite all the other strong flavors at play.
9: salt-crusted sea bream
| stuffed w/ herbs, grilled. delicate flesh that's not oily. a rustic alternative to steaming
Sea bream arrived whole, its fine, white, soft flesh demonstrating a clean, delicate flavor. I really wanted to taste more from the fish's herb stuffing though. As it stood, the bream was a bit one-dimensional, making its two accompanying condiments a necessity.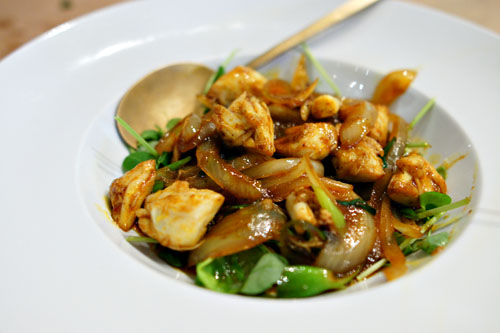 10: pu pad pong karee \ curried crab
| jumbo lump crab, curry powder & onions
Lovely chunks of crab were tender and sweet, adeptly set off by the heady combination of piquant curry sauce and onions, all tempered by the included greenery. Try this over rice.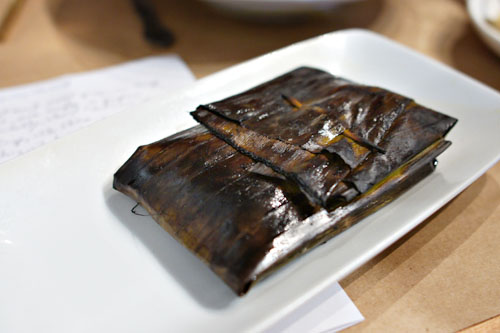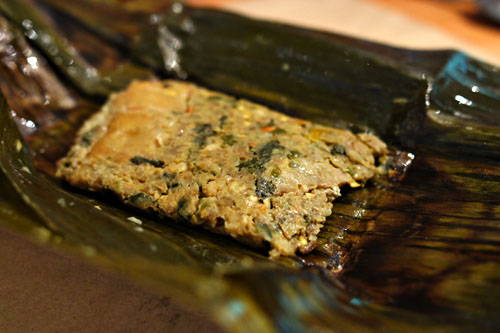 11: hor ab / catfish tamale
| catfish baked in a banana leaf w/ chile & herbs
Surprisingly, I quite liked the
hor ab
, given that I'm not a fan of catfish usually. The herbs and chile employed here worked wonders in augmenting the fish's firm, lean, mild flesh, making for a very enjoyable experience indeed.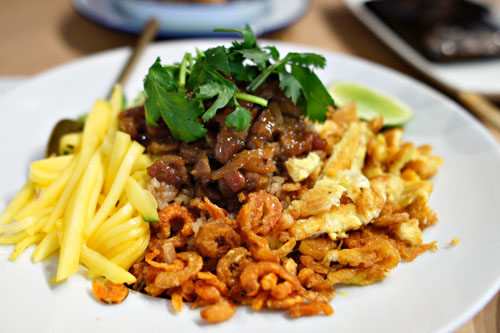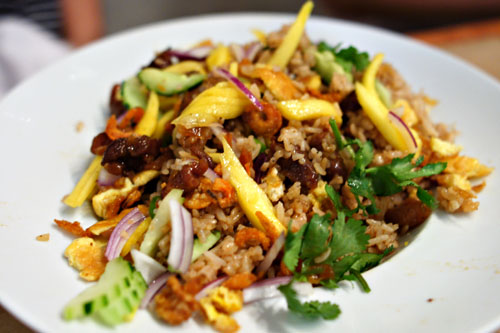 12: kao kluk gapi / shrimp paste-seasoned rice
| w/ candied pork, shredded egg omelette, red onion, green mango, cilantro, bird eye chile, pungent and delicious!!!
The last dish on our set menu was the
khao kluk gapi
, one of my favorite courses of the evening. The combination of shrimp paste and dried shrimp (
kung haeng
, or more familiarly
xia mi
in Chinese) gave the rice a superb umami-laced savor, while the candied pork contributed just the right amount of porcine sweetness. At the same time, the onion, mango, cucumber, and cilantro brightened up the dish, making for just a wonderful mélange of tastes and textures.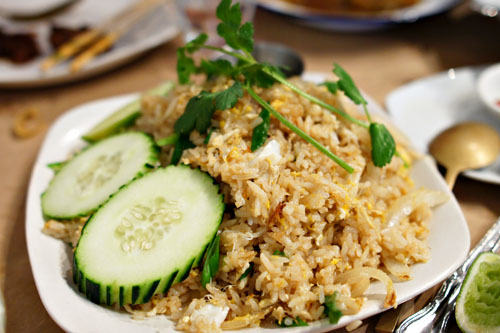 Supplement: kao pad pu / crab fried rice
Though the savory portion of our meal proper was over at this point, some of my dining companions were raving about the crab fried rice, so we had to give it a try. Indeed, it was a wonderful rendition of the dish, with the sweet brine of crab adding a perfectly placed touch of ocean-y complexity to the rice.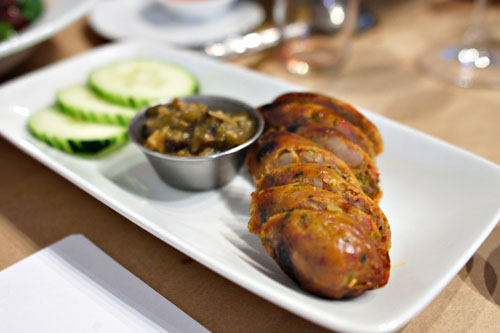 Supplement: sai uah / chiengrai herb sausage
| w/ noom salsa cucumber
As with the crab fried rice, similar things were said about Kris'
sai ua
(usually referred to as Chiang Mai sausage), and we had to order it as well. Given my penchant for sausage, it's not surprising that I enjoyed it, finding the
sai ua
to be a delightfully gritty admixture of sweet, salty, and spicy pork flavors, deftly balanced by the application of various herbs. The
noom
salsa (Anaheim and Serrano peppers, coriander root, fish sauce, lime, shallot, garlic), meanwhile, was a bonus.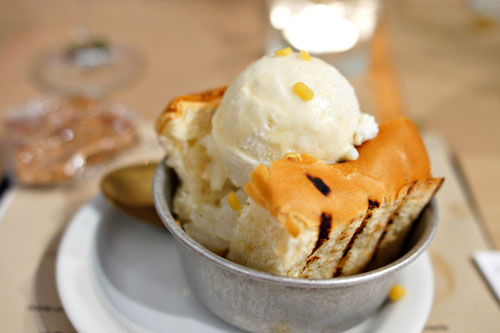 13: ice cream sandwich
| enjoyed in ghettos throughout bangkok. coconut ice cream, sweet sticky rice, condensed & evaporated milk, toasted mung beans on a sweet roll
Our dessert was perhaps the most interesting "ice cream sandwich" that I'd ever had. The interaction between the coconut ice cream and sticky rice, augmented by condensed/evaporated milk, was faultless, and I even enjoyed the mung beans, which I usually don't care for. All this sweetness was then moderated by the two pieces of bread, procured from a local Mexican bakery. Very nice.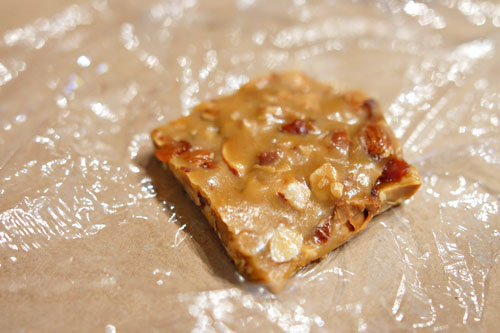 Bonus: bacon almond brittle
One of my dining companions, Cathy, brought along some of her bacon almond brittle for us to sample (recipe
here
). As expected, it was a hit, with a delectably lip-smacking interplay between the salty bacon and sweet brittle, all accented by lovely notes of almond.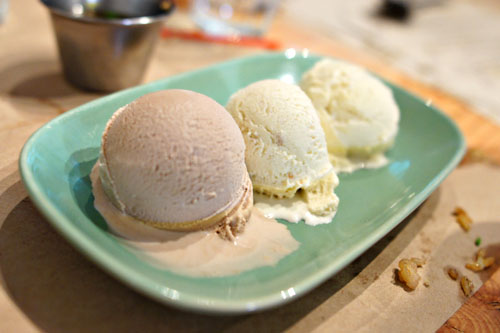 Bonus: ice cream
Toward the end of the evening, I asked Kris about his ice creams, which it turns out are all home-made. He was gracious enough to bring out a plate of all three varieties on offer: Ovaltine, Graham Cracker, and Malted Milk. All three were delightful, deftly showing off the essence of their respective flavors.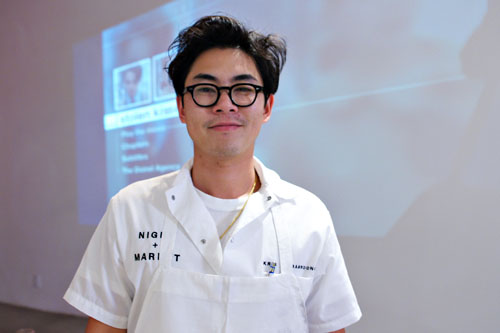 Chef/Owner Kris Yenbamroong.
Though Kris is basically running two very different Thai restaurants simultaneously now, he appears to be handling things in stride. Indeed, this was one of my best Thai cuisine experiences ever, with flavors that were sharp, lusty, focused, and a refreshing departure from the typical fare that we're exposed to. Certainly then, if you're feeling hungry on the Sunset Strip, Night + Market should be near the top of your list.