Wood & Vine (Los Angeles, CA)
Wood & Vine Restaurant
6280 Hollywood Blvd, Los Angeles, CA 90028
323.334.3360
www.woodandvine.com
Thu 03/24/2011, 07:00p-10:55p

I often lament the dearth of quality Hollywood eateries, but I had high hopes for the new
Wood & Vine
, which opened just about a month ago (on February 23rd). Wood & Vine represents the first project from partners Scott Kay, Uday Sehgal, and Tony Young, who collectively form
Vine Street Partners
. Situated in the historic 1923 Taft Building, right next to Delphine and across the street from the Pantages, W&V is a public house concept helmed by Executive Chef Gavin Mills.
About the Chef
: Gavin Mills hails from Southend-on-Sea in Essex, England, and got his start in cooking by helping out his mum in the kitchen. He attended the South East Essex College of Arts and Technology (formerly Southend College) from 1994 to 1996, and moved to London shortly after graduation. He landed his first gig at the Michelin-starred Greenhouse, working under none other than celebrity chef
Gary Rhodes
. Following, Mills served as a commis at Nigel Wilkinson's venerable RSJ Restaurant, where he stayed until 1997. He then moved to Nico Ladenis' Nico Central, and in 1998, transitioned to Ladenis' three-Michelin-star Chez Nico, working as a demi chef de partie. Mills then took on a position at Moxhams Fish Restaurant in 1999, and stayed there for two years, while his next job was at 1 Lombard Street (one
macaron
).
In 2002, Mills decided to make a big move after cooking for eight years in England, relocating to Santa Barbara to work at his uncle's restaurant, the now-defunct Sage and Onion. He served as Sous Chef there until 2005, when he moved to Charleston, SC to cook at Peninsula Grill. In March 2006, Mills started his first Executive Chef role at Carolina's Restaurant, also in Charleston. 2007 saw the Chef leave South Carolina and head up north to New York, where he was Sous Chef at Mas (farmhouse) in Greenwich Village. In 2008, he became Executive Chef at Broadway East, where he apparently wasn't allowed to serve red meat. It was also during this time that he participated on the TV show
Chopped!
, winning the "Chocolate, Mussels and Figs" battle. Mills, however, had a falling out with Broadway East's owner after consideration contention over the restaurant's concept, and left in May 2009. He thus moved back to California, finding a home as Sous Chef for
Bastide
's
Joseph Mahon
. Following Mahon's departure late last year, Mills joined the team at Wood & Vine, where he's able to get back to what he enjoys the most: farm-to-table cooking.
Supporting Mills at the front-of-the-house is General Manager Albert Rothman, a Penn State graduate who's spent the last eight years in the hospitality industry. He's served stints at the Thompson, the Peninsula Beverly Hills, the Beverly Wilshire, and most recently, at the Montage Beverly Hills, where helped open Scott Conant's
Scarpetta
.



The roughly 4,000 square-foot space was penned by the Los Angeles-based
Kelly Architects
, and has a sort of rustic, yet refined vibe. The restaurant exists on two levels, the first of which features a rather large wooden bar and a smattering of tables, while the second, more sedate floor (where we were seated) is home to additional dining space. Perhaps the most interesting feature is the large patio out back (closed this evening due to rain), built on the site of a former parking lot.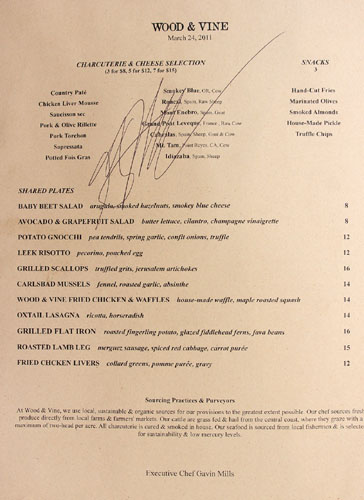 Mills' menu here at Wood & Vine is short but sweet, featuring a small selection of shareable plates with an emphasis on the incorporation of local, sustainable, and organic products. Click for a larger version.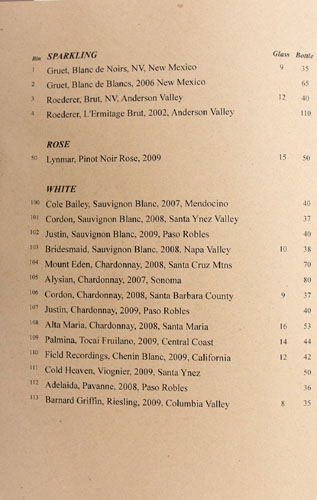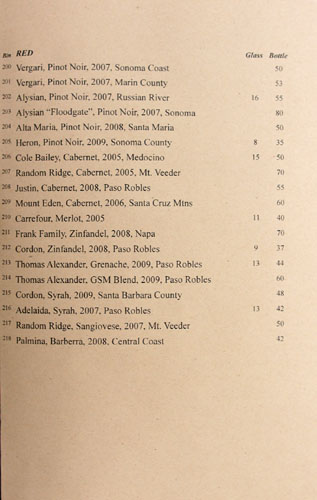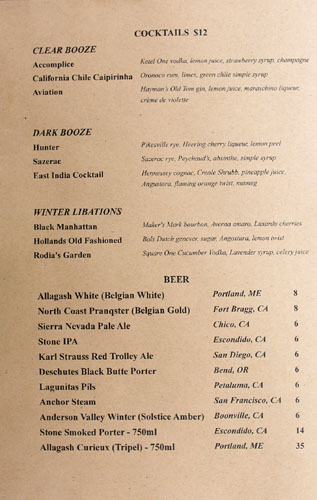 Given the gastropub-y feel of the place, libations are definitely worth noting as well. The restaurant features wines from small-batch Californian producers, and also sports a focused selection of micro brews and classic cocktails, with special attention paid toward rye whiskey. Click for larger versions.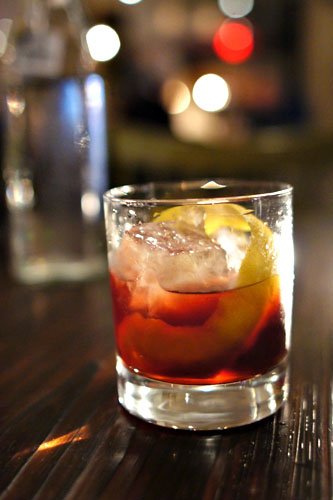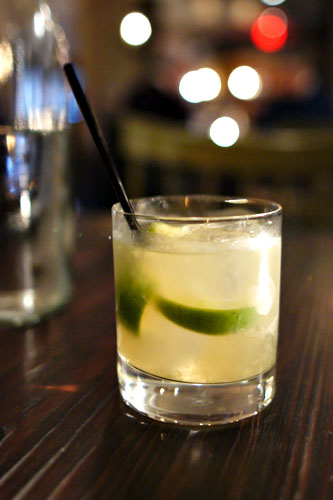 Hunter [$12.00]
| Pikesville rye, Heering cherry liqueur, lemon peel
California Chile Caipirinha [$12.00]
| Oronoco rum, limes, green chile simple syrup
Given Wood & Vine's penchant for rye, I started off with the Hunter, a lovely libation that balanced the power of the whiskey with the cloying sugariness of the Heering. It was a perfect combination that was elevated even further by the citric zest of lemon. My dining companion, a noted connoisseur of the mojito, naturally chose the California Chile Caipirinha. It was a delicious riff on the traditional cocktail, with a delightful touch of biting heat on the finish.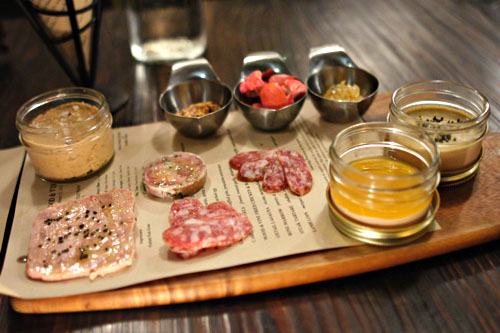 CHARCUTERIE SELECTION [$15.00]
All sausages, terrines, and associated meat products at Wood & Vine are cured, smoked, or prepared in-house, not surprising given Chef Mills' particular propensity for the art of charcuterie. I'm told that he breaks down an entire Duroc hog weekly, and hell, even his Twitter handle is
snout2tail
. Here's what we enjoyed tonight, paired with Bill's Bees honey, housemade pickles, whole-grain mustard, baguette, and lavender lavash:
Saucisson Sec - I started with the Saucisson Sec, which is French for "dry sausage." It's a type of salami, and showed off a lovely, pure, porcine goodness, with a nice bit of fattiness and finished with a touch of spice.
Sopressata - The Sopressata, meanwhile, was somewhat similar, though I felt that its flavor was even more intense, with more of a sweet character compared to the Saucisson.
Pork Torchon - Next up was the circular torchon, which had a coarse, gelatinous consistency and delectable flavor, all bound by a delightfully salty kick.
Country Paté - Here was Mills' take on the classic pate de campagne, which I found gritty, rustic, and unabashedly savory, with a profound depth of flavor.
Pork & Olive Rillettes - Rillettes was one of the best I've had, with a silky smooth texture and heady relish deftly set off by the tang of olive. Fantastic over the toasted baguette.
Potted Foie Gras - Foie gras was delicious as well, demonstrating the wonderfully restrained smack of liver, perfectly complemented by the subtle sweetness of its jelly topping.
Chicken Liver Mousse - We ended with this mousse, which expertly conveyed the essence of chicken liver while balancing its heft with a beautiful bit of spiciness. Very nice.
Overall, I was duly impressed with this spread, which was easily one of the best preparations of charcuterie that I've ever had (and a fantastic value to boot). In addition to the above items, Mills is working on his own prosciutto, which should be ready to eat in about six months' time, so definitely look out for that.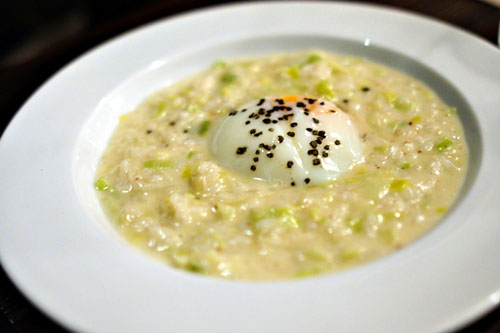 LEEK RISOTTO [$12.00]
| pecorino, poached egg
Given my proclivity for both risotto and poached eggs, this dish was an absolute must-order. I wasn't let down. The rice itself was creamy, but not heavy, perfectly balanced by the light tang of the leek, yet augmented in gravity by the sheer lusciousness of that egg. Meanwhile, the finish was teeming with salty flair, courtesy of the sprinkle of black Hawaiian sea salt.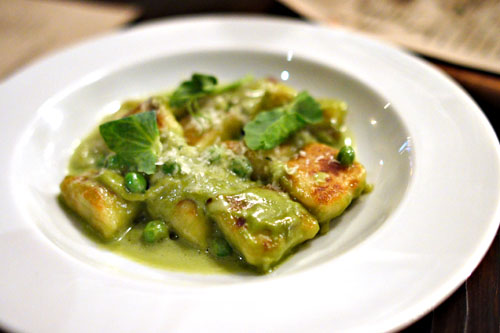 POTATO GNOCCHI [$12.00]
| pea tendrils, spring garlic, confit onions, truffle
Potato gnocchi are made fresh daily, and were also quite impressive. The dumplings were soft, dense, and substantial in weight. They were deftly moderated by the light, bright flavors of the peas and onions, while additional complexity was conveyed the overarching notes of truffle in the dish.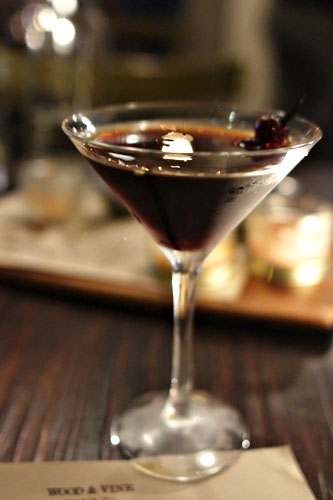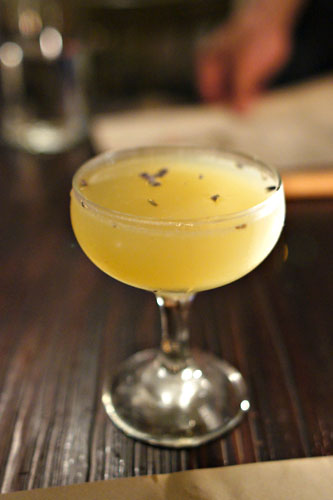 Black Manhattan [$12.00]
| Maker's Mark bourbon, Averna amaro, Luxardo cherries
Rodia's Garden [$12.00]
| Square One Cucumber vodka, lavender syrup, celery juice
With our drinks dispensed with, it was now time to order round two. At our server's recommendation, I went with the Black Manhattan, a great twist on the classic cocktail. The sweet, herbaceous nature of the Averna paired beautifully with the bourbon, and the additional kick of sweetness from the cherries was superb. The Rodia's Garden, meanwhile, was a different beast altogether. It showed off a distinct cucumber character initially, which was then intermixed with a distinct floral-celery essence, all finished with the licorice tinge of fennel seeds.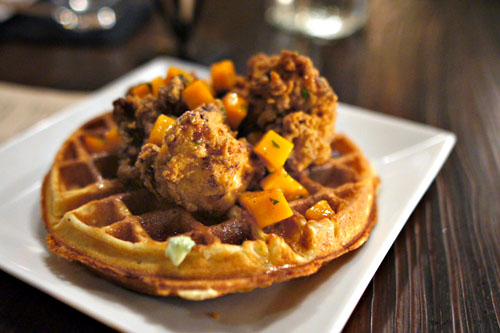 WOOD & VINE FRIED CHICKEN & WAFFLES [$14.00]
| house-made waffle, maple roasted squash
Modeled after the infamous dish at
Roscoe's House of Chicken and Waffles
, this is the most popular item on Wood & Vine's menu, and for good reason. The bird itself was succulent, tender, with a delightfully crisp skin and a subtle sugariness. It went surprisingly well with the thick, fluffy waffle, while the squash added another level of restrained sweetness. I was skeptical of the dish, but everything came together very nicely.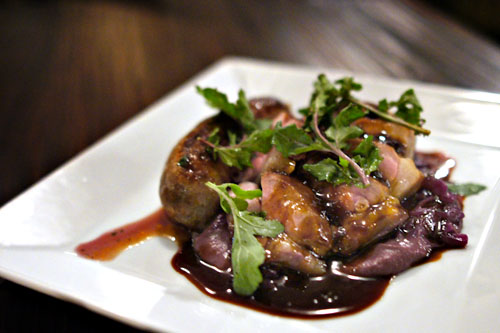 ROASTED LAMB LEG [$15.00]
| merguez sausage, spiced red cabbage, carrot purée
I'd heard that Chef Mills had recently butchered a whole lamb, so I had to try this dish. The leg was suitably tender, juicy, and fatty, with a definite ovine relish. It went well with the spiced cabbage, but the carrot purée was too sweet for me, muting some of the meat's inherent savor. The merguez, meanwhile, was excellent, with a rich flavor and lovely bit of spice that just tied everything together.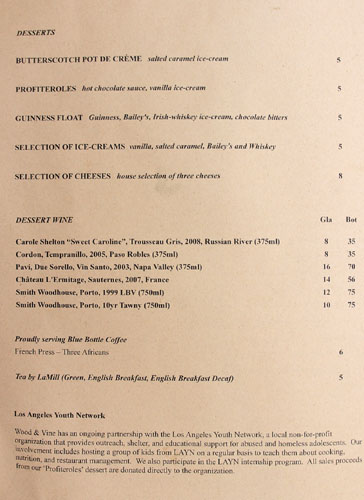 Of course, we saved room for Wood & Vine's small smattering of sweets, all priced at a very reasonable $5. Click for a larger version.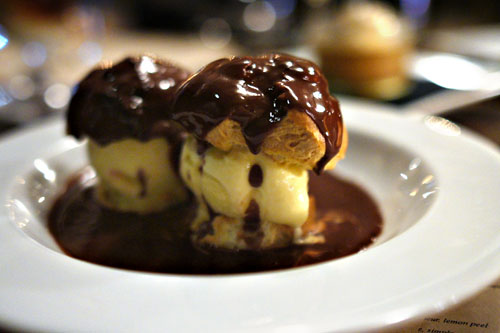 PROFITEROLES [$5.00]
| hot chocolate sauce, vanilla ice-cream
For the uninitiated, a profiterole is a sort of puffed pastry, formed into a small round sphere, then stuffed with ice cream. This was a classic preparation of the dessert, with the vanilla and chocolate playing off each other nicely, all tempered by the pastry. Note that all sales from this dessert are donated directly toward the
Los Angeles Youth Network
, a local non-profit focusing on support for homeless youth.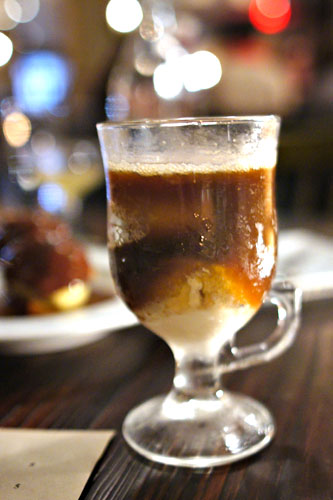 GUINNESS FLOAT [$5.00]
| Guinness, Bailey's, Irish-whiskey ice-cream, chocolate bitters
Think of this next concoction as an
adult root beer float
. It was a real treat, with the ice cream doing a great job in balancing the bite of the beer and bitters, while the finish was awash in the creamy flavors of Bailey's.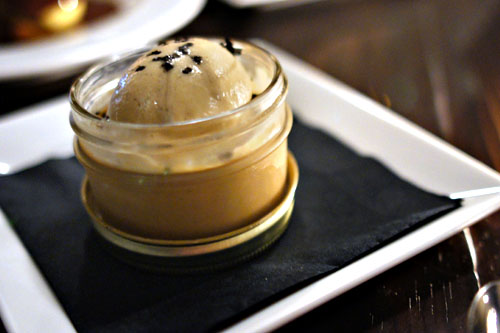 BUTTERSCOTCH POT DE CRÈME [$5.00]
| salted caramel ice-cream
We ended the evening with quite possibly the best
pot de crème
that I've ever had, which our server was raving about as well. The butterscotch served as a rich, heavy, saccharine base for the dessert, and was deftly heightened even more by the flavors of caramel. This sweetness, however, was then adroitly countervailed by a sharp touch of saltiness on the finish. I liked it even better than
Mozza
's famed butterscotch
budino
.
I was suitably impressed with my meal at Wood & Vine. Mills' cooking was spot on for the most part--bold, lusty, and hearty--and the drinks didn't disappoint either. Particularly exemplary was the Chef's spread of housemade charcuterie, which was among the best I've tasted. The restaurant is off to a promising start, and I think that I may have even found my new go-to spot in Hollywood.