Xiomara on Melrose (Los Angeles, CA)
Xiomara Restaurant
6101 Melrose Ave, Los Angeles, CA 90038
323.461.0601
www.xiomararestaurant.com
Sat 03/12/2011, 08:00p-11:30p

Regular readers may recall last year's
Plate by Plate
tasting benefit. The annual event is celebrating its ninth year in 2011, and this year I've become more involved with the Plate by Plate's parent organization,
Project by Project
. As such, the group held sort of a kick-off meeting at Xiomara on Melrose, and of course, food was a major part of the evening.

About the Chef
: Xiomara is the eponymous brainchild of long-time chef-slash-restaurateur Xiomara Ardolina. Ardolina was born in Cuba, but immigrated to the US at the tender age of 13. Her first foray into LA dining started in 1979 with the debut of The Epicurean in La Canada. That restaurant shuttered in 1991, only to be replaced by the original Xiomara in Pasadena. There, Ardolina started off cooking classical French, but transitioned to Nuevo Latino cuisine in 1996, paying homage to her Cuban roots. Following the success of Xiomara, she opened Xiomara on Melrose in 2003, as well as Cafe Atlantic, a more casual adjunct to the Pasadena restaurant (both shuttered in 2007). However, just last year, Ardolina stepped out of the Chef's role and once again revamped her menu here. California Cuisine is the name of the game now, as executed by new Executive Chef Michael Reed.
A native Californian, Chef Reed grew up around farming and agriculture, and largely developed his interest in cooking due to the efforts of his mother. He eventually enrolled at the famed Culinary Institute of America in Hyde Park, and during his time here,
staged
under Gabriel Kreutier at The Modern. Following graduation, Reed returned back home to California, taking on a position at
Sona
with David Myers. From here, he moved to
Osteria Mozza
, where he was able to cook with Nancy Silverton and Matt Molina, and also dabbled a bit in catering. Reed joined Xiomara's team back in September 2010, and is aided by Chef de Cuisine Brandon Furlow, Sous Chef Fernando Ramirez, and Pastry Chef Bobbi Jo Shapiro.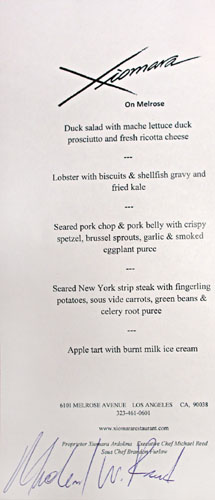 Given PbP's ties with Chef Reed, the restaurant was able to offer up a special five-course prix fixe menu, priced at an astoundingly reasonable $20pp, all inclusive. Click for a larger version.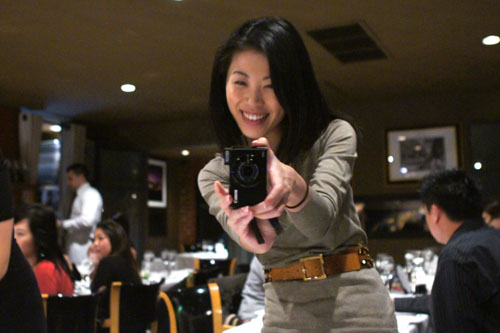 Project by Project
's Director of Operations & Legal Counsel
Annie Lin
.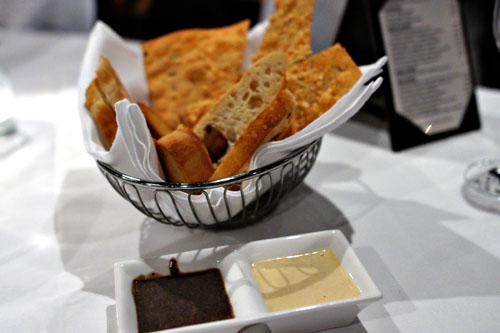 The bread selection was one of the better iterations that I've encountered in a while, with the flatbread and garlic bread being particularly notable.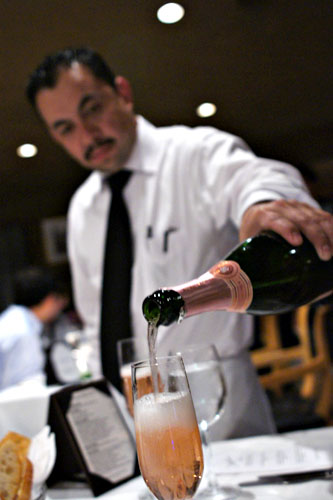 Thanks to PbP President
JT Kim
for hooking up the complementary wine.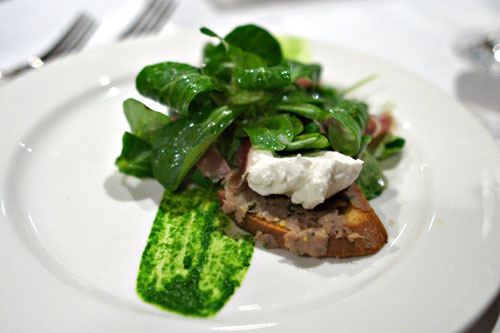 1: Duck salad with mache lettuce, duck prosciutto, and fresh ricotta cheese
A salad was a nice way to start off the meal. I enjoyed the salty savor of the duck, and how it played with the light vegetal tang of the mache. At the same time, the ricotta added a nice bit of heft to the dish.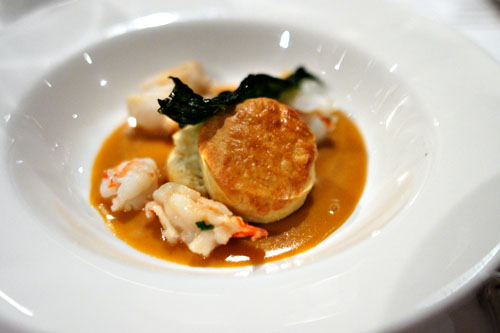 2: Lobster with biscuits, shellfish gravy, and fried kale
Here was a dish that could almost be thought of as a reimagined lobster bisque. Some of the bits of lobster were a touch overdone, but the crustacean's sweet, briny flavor was there, augmented by the heady, ocean-y essence of the paired shellfish broth. The biscuit, meanwhile, added a contrasting textural element, and helped to temper the dish.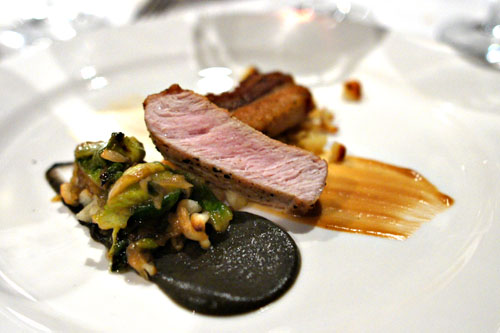 3: Seared pork chop and pork belly with crispy spaetzle, Brussels sprouts, garlic, and smoked eggplant purée
The pork was probably my favorite course of the quintet. I began with the chop first, and appreciated its supple consistency and delectable porcine sapor. The belly was also quite tasty, with its delightfully crisp crust. In addition, I appreciated the smokiness imparted by the eggplant, as well as the moderating astringency of the Brussels sprouts.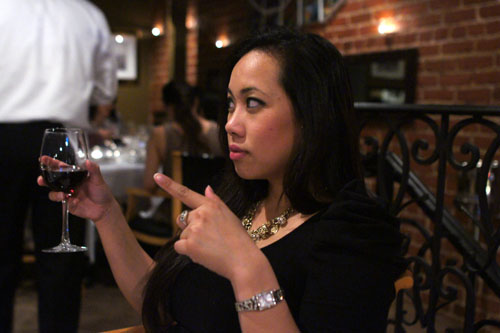 Project by Project
's Manager of Multimedia
Marian Bacol-Uba
.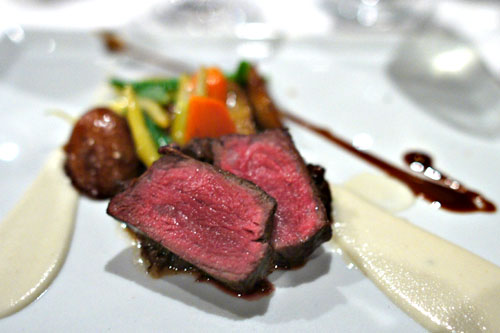 4: Seared New York strip steak with fingerling potatoes, sous vide carrots, green beans, and celery root purée
Our final savory brought us deftly cooked cuts of strip steak, wonderfully beefy, with a satisfying consistency to boot. Unfortunately, the steak was sitting atop a mound of shredded braised short rib, which I found overwhelming salty. As such, the veggies and the potato in particular were key in balancing the dish.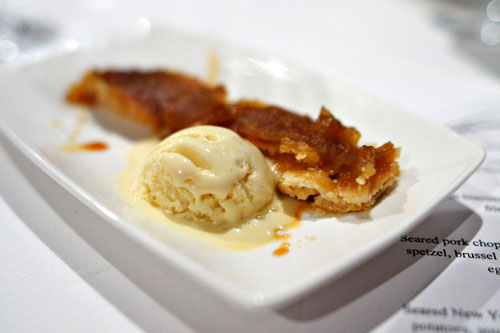 5: Apple tart with burnt milk ice cream
The apple tart was tasty enough, though fairly prototypical. However, I did appreciate the additional complexity of flavors from the burnt milk ice cream.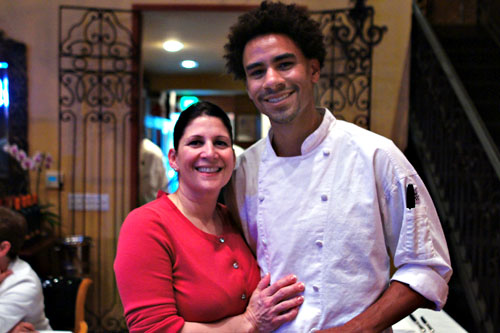 With Xiomara's Executive Chef Michael Reed.
Unfortunately, I never had the chance to sample Xiomara's modern Cuban fare back in the day. That being said, Reed and company seem to be turning out a competent interpretation of Cal cuisine fare, though really I'd need to try the regular menu to give the restaurant a fair shake. One thing I can't argue with though: $20 for all this was a
ridiculous
value.