Vu (Marina del Rey, CA)
Vu Restaurant
14160 Palaway Way, Marina del Rey, CA 90292
310.439.3033
www.vurestaurantmarinadelrey.com
Sat 03/19/2011, 06:30p-01:15a

Very few people know this, but I once lived a short stint in Marina del Rey, and over those several months, I was sorely unimpressed with the restaurant offerings within the City's boundaries. Given this rather dreary culinary landscape, the new Vu restaurant at the Jamaica Bay Inn, with its "progressive comfort food" by Chef Kyle Schutte, promises to be the most exciting restaurant to hit MDR in the past couple years.
About the Chef
: Schutte hails from the small town of Purcellville, Virginia, and started taking an interest in food at an early age. After graduating high school, he studied psychology for three years, but soon decided that he wanted to cook. In order to garner some experience in the kitchen, he started working at Leesburg's well-regarded Tuscarora Mill restaurant in May 2004. Schutte cooked there for four months, then enrolled at the Art Institute of Atlanta in October that year. He excelled in his studies at the AIA, and graduated with honors in the spring of 2006 with a 4.0 GPA. Soon afterward, Schutte left his position at McCormick & Schmick's and secured employment at Atlanta's celebrated ONE Midtown Kitchen, working under none other than Executive Chef
Richard Blais
(of
Top Chef
fame). Blais eventually left the restaurant, and was replaced by Tom Harvey in 2007, who promoted Schutte to Sous Chef. Following Harvey's departure in April 2009, Schutte moved to XO restaurant in Cornelius, NC, where he assumed his first Executive Chef role. Finally, in July 2010, he accepted the head chef position at
Vu
, debuting the restaurant last December.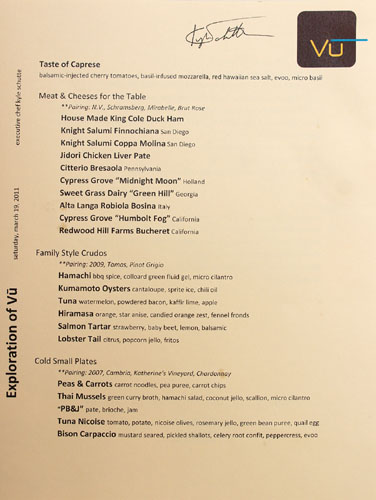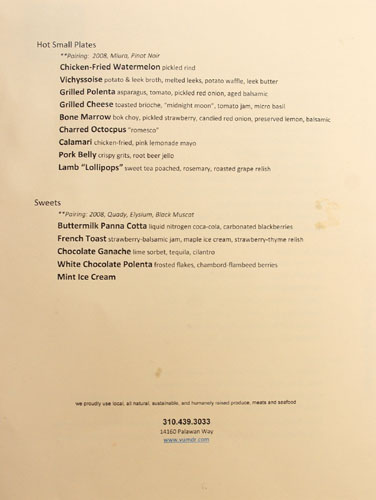 Schutte's food here at Vu can be likened to a marriage of modernist cuisine and comfort food, and is best experienced in small plates format. Thus, I arranged for a special 27-course degustation, priced at a very reasonable $100, with wine pairings from AGM Toshi Yuhara ringing in at an additional $50. Click for larger versions.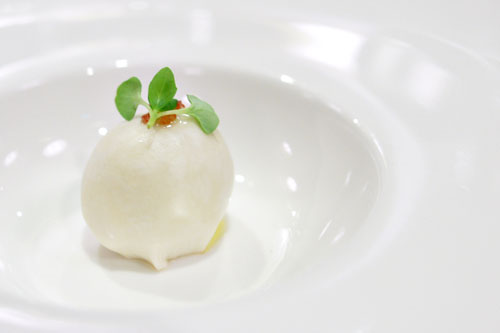 1: Taste of Caprese
| balsamic-injected cherry tomatoes, basil-infused mozzarella, red hawaiian sea salt, evoo, micro basil
We started things off with a reimagined
insalata Caprese
, seemingly one of the most
popular
dishes
favored
for
deconstructivist
cooking
. The mozzarella-covered globule showed off a pleasantly firm consistency, and effectively conveyed the essence of the famous salad, with the balsamic pudding providing a proper prick of piquancy upon mastication.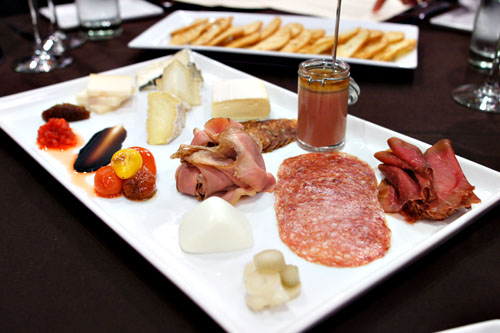 2: Meat & Cheeses for the Table
N.V., Schramsberg, Mirabelle, Brut Rose
Next up was a beautiful spread of cheese and charcuterie for the table, garnished with apple-pear compote, pickled strawberries, balsamic pudding, blistered tomatoes, hard-boiled egg, and pickled fennel.
Cypress Grove "Humbolt Fog", California - A creamy, luxurious goat's milk cheese with a markedly salty, tangy character that was almost reminiscent of blue cheese.
Cypress Grove "Midnight Moon", Holland - This was a somewhat firm, dense, aged goat's milk cheese with a mildly nutty flavor tinged with just a touch of sweetness.
Redwood Hill Farms Bucheret, California - I found this one quite powerful, with a nice tanginess paired with a creamy, substantial body.
Alta Langa Robiola Bosina, Italy - An interesting blend of all three types of milk, with a sweet, luscious, subtly tart flavor not unlike that of Brie. My favorite of the quintet.
Sweet Grass Dairy "Green Hill", Georgia - A cow's milk cheese done in the Camembert style. Expectedly decadent, with a distinct mushroom-y essence.
Jidori Chicken Liver Pate - A superb rendition of pâté, with a sharp sweetness on the attack leading to the strong, signature savor of liver on the finish. Eat this one with the accompanying toast.
Knight Salumi Coppa Molina, San Diego - My favorite of the meats. I loved the Coppa's supple texture and its spicy, lingering, chorizo-esque, in-your-face flavor.
House Made King Cole Duck Ham - Made from the smoked breast of Pekin duck, the ham was indeed "hammy" in character, with a delightful smokiness and a heady, duck-y relish.
Knight Salumi Finocchiona, San Diego - Finocchiona refers to a type of Tuscan-style, fennel-flavored salami. I rather enjoyed it, finding the fennel's sweet spice a great pair with the weight of the pork.
Citterio Bresaola, Pennsylvania - Made from lean beef, the bresaola was the mildest of the meat selections, with a very light spiciness and a good amount of pure bovine sapor.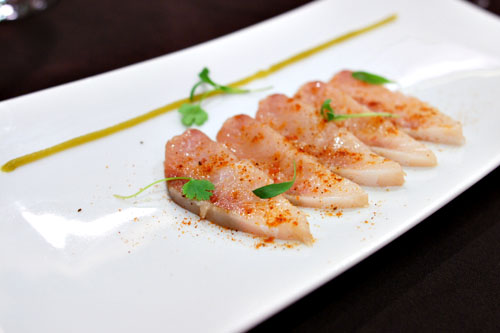 3: Hamachi
| bbq spice, collard green fluid gel, micro cilantro
2009, Tamas, Pinot Grigio
Our first of the raw seafood courses brought us hamachi. The fish itself was very strongly flavored, and thus, the herbaceous, astringent flavors of the collard and cilantro were key in balancing the dish. However, I really wanted to taste more of the BBQ spice, which I felt was too muted here.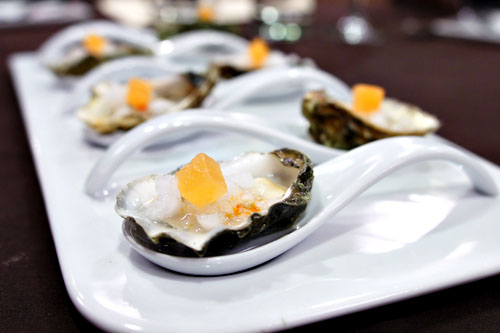 4: Kumamoto Oysters
| cantaloupe, sprite ice, chili oil
2009, Tamas, Pinot Grigio
As regular readers might know, Kumamotos are my favorite type of oyster. Here, their crisp, sweet brine was certainly present, augmented by the cantaloupe gelée, but I found the Sprite ice a bit disconcerting. I would've liked to have tasted more from the chili oil as well.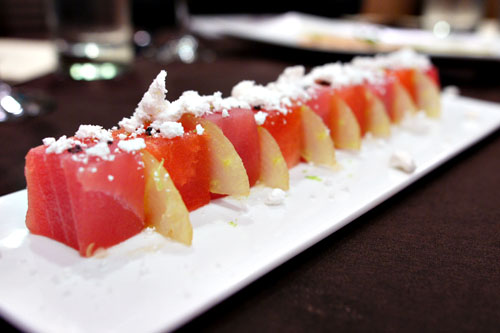 5: Tuna
| watermelon, powdered bacon, kaffir lime, apple
2009, Tamas, Pinot Grigio
Tuna and watermelon is a fairly safe, but effective pairing. It worked well enough here, but the key to this dish for me was the bacon powder, which added a kick of saltiness to the fray that deftly set off the sweetness of the fruit.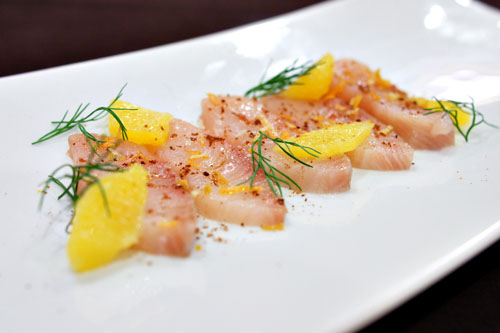 6: Hiramasa
| orange, star anise, candied orange zest, fennel fronds
2009, Tamas, Pinot Grigio
Hiramasa was somewhat fatty in flavor, with a slight sweetness that was enhanced by the use of citrus. At the same time, the aniseed notes from the fennel and star anise served to provide a touch of piquancy to complete the dish.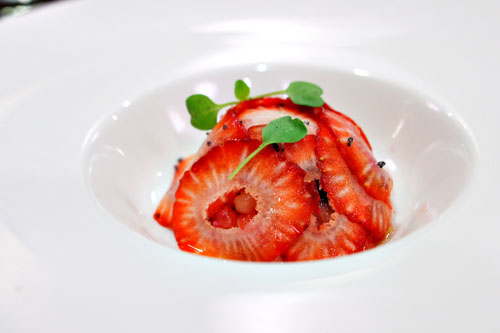 7: Salmon Tartar
| strawberry, baby beet, lemon, balsamic
2009, Tamas, Pinot Grigio
Salmon was the least successful of the crudos for me, as I felt that the fish was overwhelmed by the combined sweetness of the beets and strawberries. The countervailing tartness from the lemon and balsamic helped somewhat, but weren't enough to balance the dish.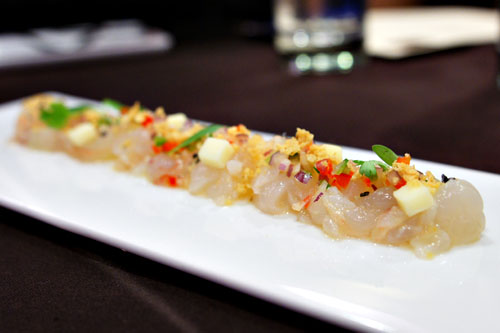 8: Lobster Tail
| citrus, popcorn jello, fritos
2009, Tamas, Pinot Grigio
The lobster, on the other hand, was easily my favorite of the seafood sextet. Apparently inspired by Ecuadorian ceviche, Schutte's version substitutes popcorn jello and Fritos for toasted corn. The end result was a somewhat Latin American-inspired dish, with a delightfully salty, almost
Doritos
like flavor on the attack, balanced by citrus, and leading to the subtle flavor of lobster on the finish. A very nice interplay of tastes and textures.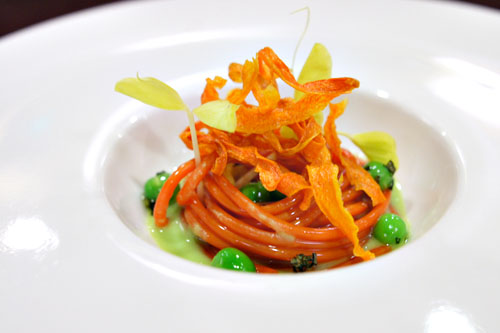 9: Peas & Carrots
| carrot noodles, pea puree, carrot chips
2007, Cambria, Katherine's Vineyard, Chardonnay
I'm a bit of a pea slut, so I'm not surprised that this classic pairing of carrots and peas was one of the highlights of the meal for me. This was a refreshing dish, with the essence of the peas so forcefully and elegantly conveyed, yet set off by the sweetness of carrot and augmented by the weight of olive oil. Just a simple, but delectable mélange of flavors, and a great amalgamation of contrasting textures as well.
10: Thai Mussels
| green curry broth, hamachi salad, coconut jello, scallion, micro cilantro
2007, Cambria, Katherine's Vineyard, Chardonnay
The quintessence of a Thai green curry was faithfully reproduced in this dish, with the piquant, coconut-tinged sweetness of the curry playing deftly off of the brine of the mussel. A very nice consistency on the bivalve as well.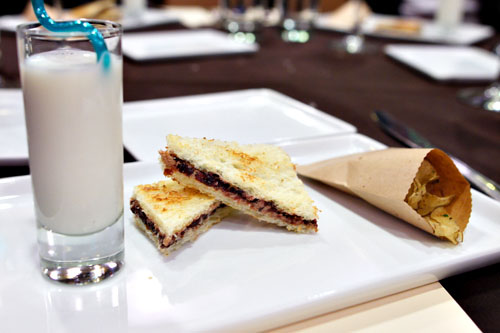 11: "PB&J"
| pate, brioche, jam
2007, Cambria, Katherine's Vineyard, Chardonnay
Meant to be a childhood throwback of sorts, here was Schutte's version of an "adult" PB&J. The substitution of chicken liver for peanut butter worked for me, as I definitely appreciated how it was moderated by the cranberry jelly. At the same time, a bag of dehydrated celery seed-parsley chips added some levity to things. I wasn't so sure that the milk was needed however (though I did appreciate the twisty crazy straw).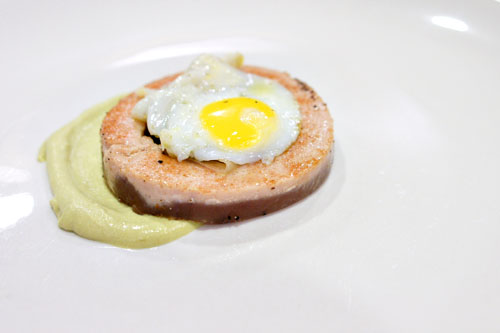 12: Tuna Nicoise
| tomato, potato, nicoise olives, rosemary jello, green bean puree, quail egg
2007, Cambria, Katherine's Vineyard, Chardonnay
Next up was a deconstructed version of a Nicoise salad, which traditionally comprises tuna, egg, green beans, olives, potatoes, and tomatoes. I rather liked the dish, finding that the flavors of the classic salad were faithfully reproduced here; I especially enjoyed the interaction between the tuna, tomato, and potato. One interesting thing to note is that the tuna was actually made from puréed ahi, glued together using transglutaminase. This tuna "slurry" did an admirable impersonation of the real thing, though it was perhaps a bit overdone.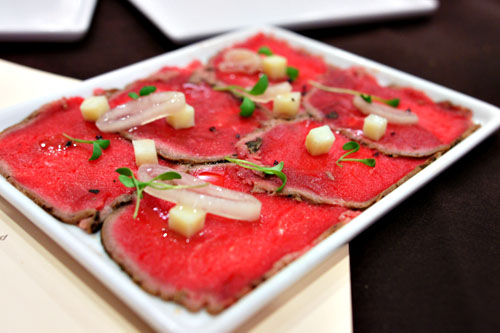 13: Bison Carpaccio
| mustard seared, pickled shallots, celery root confit, peppercress, evoo
2007, Cambria, Katherine's Vineyard, Chardonnay
Bison was mustard seared, but unfortunately I didn't get too much of that mustard tang. Rather, I enjoyed the meat's mild, lean flavor, countervailed by the sourness of the pickled shallots and slight piquancy of the sous vide celeriac.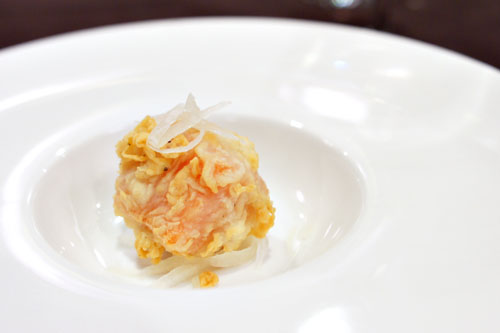 14: Chicken-Fried Watermelon
| pickled rind
2007, Cambria, Katherine's Vineyard, Chardonnay
The chicken-fried watermelon we see here is quickly becoming one of Chef Schutte's signature dishes, and I can see why. The flour, buttermilk, and pepper coating provides a wonderful bit of savoriness that goes surprisingly well with the juicy sweetness of the fruit, while the pickled rind kicks things up another notch with its tempering sourness.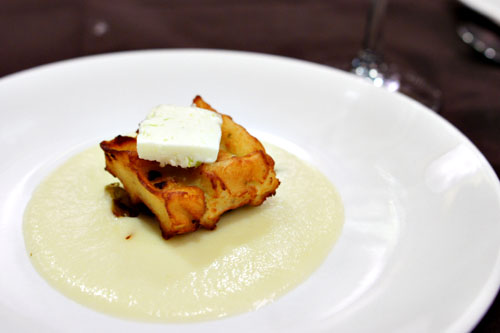 15: Vichyssoise
| potato & leek broth, melted leeks, potato waffle, leek butter
2008, Miura, Pinot Noir
Traditionally, a vichyssoise is a potage of potatoes, onions, leeks, and cream, typically served cold. Schutte's reimagined version managed to be another one of my favorite courses of the night. The potato waffle served as a fantastic base to the dish, while the contrasting tanginess of the leeks balanced things out beautifully. A very comforting dish to be sure.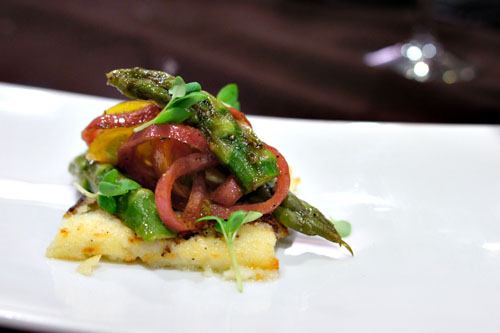 16: Grilled Polenta
| asparagus, tomato, pickled red onion, aged balsamic
2008, Miura, Pinot Noir
I'm starting to warm up to polenta more and more, and I certainly enjoyed this preparation. The polenta itself formed a rich, rustic stage on which the bright, tangy flavors of the veggies could really sing; I enjoyed the asparagus in particular. Nice.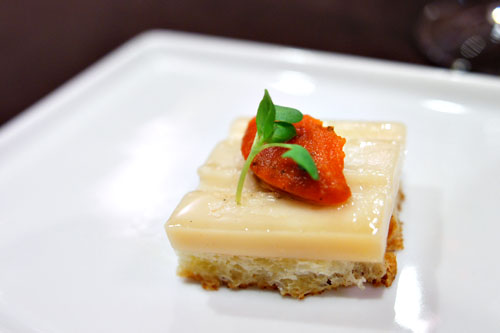 17: Grilled Cheese
| toasted brioche, "midnight moon", tomato jam, micro basil
2008, Miura, Pinot Noir
This next course, with its cheese, tomato, basil, and olive oil, recalled the essence of a traditional pizza Margherita. The flavors were comforting, homey even, but the cheese needed to be more supple, more melty, and less dense.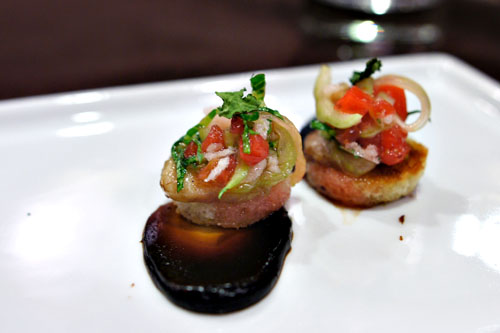 18: Bone Marrow
| bok choy, pickled strawberry, candied red onion, preserved lemon, balsamic
2008, Miura, Pinot Noir
Here was definitely one of the more interesting preparations of bone marrow that I've had. The admixture of bok choy, strawberry, onion, lemon, and balsamic formed a tangy-sweet flavor profile that effectively countered the weight of the bone marrow. However, the rich, luscious essence of the marrow was somewhat lost in the process.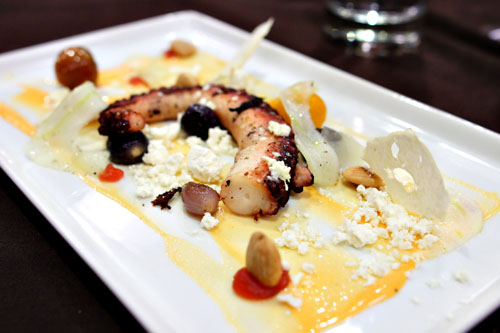 19: Charred Octopus
| "romesco"
2008, Miura, Pinot Noir
I'm a man who enjoys his
taffy
octopus, and I enjoyed this version very much so. The cephalopod itself was prepared sous vide, and showed off a firm, yet satisfyingly supple consistency and beautiful char. It was a joy to eat alone, but even better when paired with the deconstructed romesco sauce of piquillo aioli, red wine pudding, marcona almonds, tomato, shaved fennel, and elephant garlic. Definitely a favorite.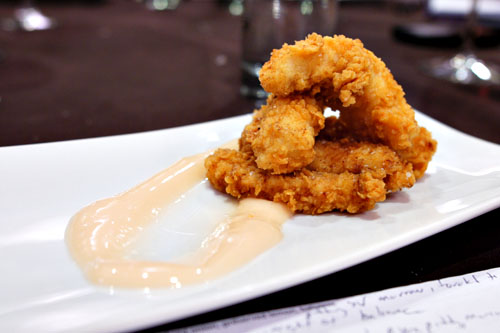 20: Calamari
| chicken-fried, pink lemonade mayo
2008, Miura, Pinot Noir
Another favorite of mine was the chicken-fried calamari, which turned out to be one of the best preparations of fried squid that I've ever had. The squid was of Japanese origin, and was fried in a buttermilk-paprika crust. The end result was a stupendously tender flesh, covered in a delightfully crisp, savory crust. I thoroughly enjoyed devouring the calamari by itself, finding the lemonade mayo a tad unnecessary.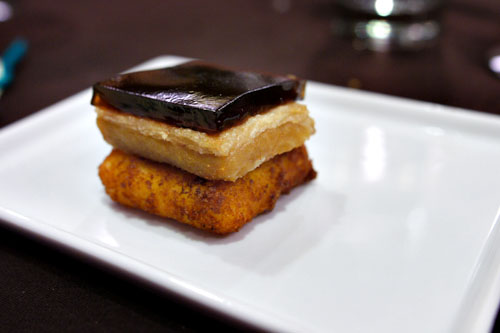 21: Pork Belly
| crispy grits, root beer jello
2007, Bianchi, Plummer Vineyard, Petite Syrah
Aside from the chicken-fried watermelon, this is probably Chef Schutte's most well-known dish here at Vu. It comprises a three-day brined pork belly, which is then further bathed in lard, then placed atop a disk of fried grits and topped with a root beer gel. I enjoyed the belly's unabashedly savory, undoubtedly porcine savor, and how the meat was fatty, but not overwhelmingly so. The grits, on the other hand, cut the gravity of the pork beautifully, but I wasn't as keen on the root beer, which just seemed too sugary. One of my dining companions even likened the overall effect to Chinese
dan ta
(egg tarts).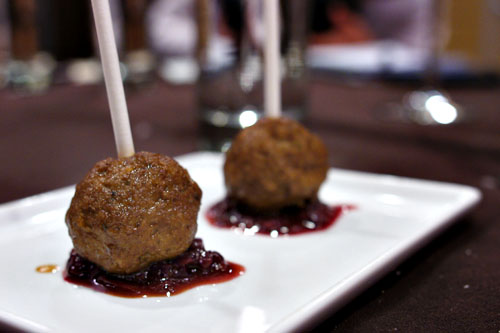 22: Lamb "Lollipops"
| sweet tea poached, rosemary, roasted grape relish
2007, Bianchi, Plummer Vineyard, Petite Syrah
For our final savory course of the evening, Schutte served us a duet of Niman Ranch lamb lollipops, stuffed with Cypress Grove's Lamb Chopper sheep's milk cheese. The meat itself was intensely lamb-y to be sure, with a wonderful herbaceous complement in the form of the rosemary. At the same time, the cheese added even further heft and depth to the dish, though I was ambivalent on the grape relish.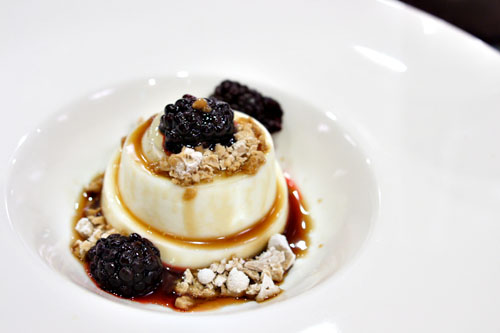 23: Buttermilk Panna Cotta
| liquid nitrogen coca-cola, carbonated blackberries
2008, Quady, Elysium, Black Muscat
Now for the sweet stuff. Panna cotta arrived characteristically rich, dense, and creamy, with a nice bit of sugary effervescence from the nitro Coke. Meanwhile, the carbonated berries added further pricks of acerbic flair to the palate, making for a pretty interesting panna cotta in the end.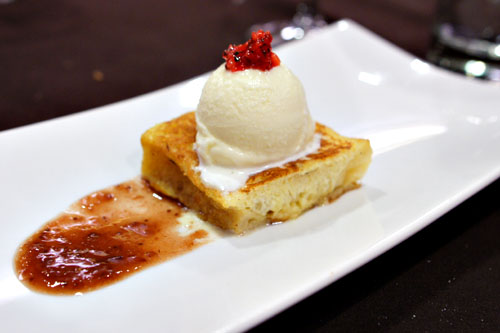 24: French Toast
| strawberry-balsamic jam, maple ice cream, strawberry-thyme relish
2008, Quady, Elysium, Black Muscat
I've never been a fan of French toast, though I certainly didn't mind this version. We start with a classic base of eggy toast, joined by the wonderful weight of the maple and further accented by strawberry and balsamic, closed out by just a hint of herbaceousness from the thyme. Nice.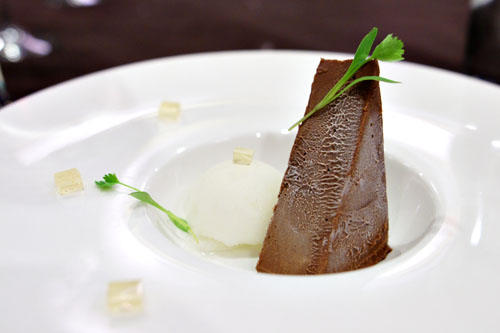 25: Chocolate Ganache
| lime sorbet, tequila, cilantro
2008, Quady, Elysium, Black Muscat
As you'd expect, the ganache arrived dense, heavy, and brazenly chocolate-y. The lime was effective in countering its power, but was too tart, too bracing for me. My favorite part of the dessert was actually the cilantro, which added a nice green bite on the finish.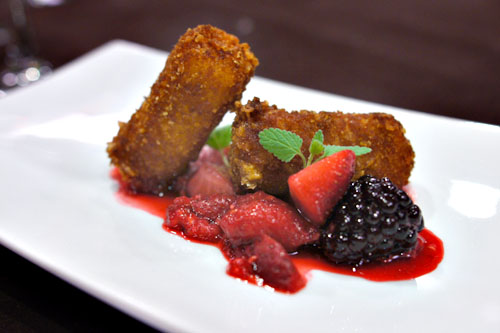 26: White Chocolate Polenta
| frosted flakes, chambord-flambeed berries
2008, Quady, Elysium, Black Muscat
I believe this was my first time having polenta in dessert form, but I gotta say that I quite enjoyed it. The white chocolate added a lovely sweetness to the polenta, and I loved its crunchy frosted flakes crust. Taken in concert with the fruit, it was like eating breakfast!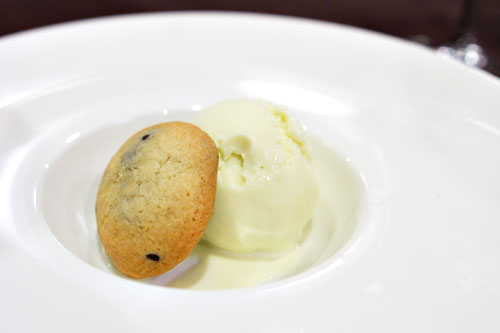 27: Mint Ice Cream
2008, Quady, Elysium, Black Muscat
We finished with my favorite dessert of the fivesome. It was relatively simple--a mint ice cream--but the flavor of the peppermint was the most concentrated and focused that I'd ever experienced. It was a refreshing jolt to the palate to close out the meal, and melded wonderfully with its paired chocolate chip cookie.
Without a doubt, Vu brings a breath of fresh air to the Marina del Rey dining scene. Certainly though, the food was controversial. My dining companions and I found ourselves rather vehemently debating the merits of various dishes; not everything worked for everyone, but we all appreciated the journey. In the end, Chef Schutte was able to present familiar flavors in new ways, making for a dining experience that's refined yet whimsical, irreverent even. Just be sure to come in with an open mind.