The Hungry Cat (Los Angeles, CA)
The Hungry Cat
1535 Vine St, Los Angeles, CA 90028
323.462.2155
www.thehungrycat.com
Thu 03/10/2011, 08:00p-11:30p

Compelling dining options around Hollywood seem to be few and far between, but I've always viewed The Hungry Cat as one of the more promising choices. Helmed by Chef/Owner David Lentz (husband of Suzanne Goin), THC is Lentz's homage to the rustic seafood-centric eateries that dot the Atlantic coast. I finally made it out here thanks to the efforts of longtime
kevinEats
reader
Brian Resnick
, who also happens to serve as assistant to
Steven Levitan
, creator of the critically-acclaimed television series
Modern Family
.
About the Chef
: Lentz hails from Maryland, and grew up around Chesapeake Bay and its bounty of fish, crab, clams, and oysters. He first learned about the joys of food at a young age, fishing with his father and cooking by his mother's side in the family kitchen. In his household, seafood wasn't merely sustenance, but a way of life. While studying drama in college, Lentz enrolled at the Baltimore International Culinary College, loved it, and soon decided to pursue his passion for cooking full time. During school, he served stints at the Maryland eateries Antrim 1844 in Taneytown and Milton Inn in Sparks.
Following, he
staged
at the Michelin-starred Cliveden House Hotel in Taplow, England. In 1996, Lentz returned back to the States to take on a saucier position at The Heights in San Francisco, working under Charles Solomon. The next year, he moved to Miami to cook at China Grill, but was quickly transitioned to sister restaurant Blue Door at the Delano Hotel. Here, he worked with Claude Troisgros to create the restaurant's well-received French-Brazilian fusion cuisine, then spent the next two years heading up the kitchens at China Grill's Las Vegas outpost in Mandalay Bay.
In October 2000, the Chef headed west to LA, first landing at Mark Peel's Campanile. It was around this time in 2001 when Lentz was introduced to his future wife and business partner Suzanne Goin. He was dining at
Lucques
, and was introduced to Goin by her sister Jessica. From Campanile, Lentz consulted on the menu for Firefly in Studio City, then opened up Mediterranean eatery Opaline with David Rosoff in 2002. The restaurant shuttered in 2004, the same year that he and Goin were married. This union allowed the two chefs to debut The Hungry Cat in March of 2005, situated on the ground floor inner courtyard of the Sunset & Vine complex. THC was a hit, and ultimately led to the opening of The Hungry Cat Santa Barbara in April 2007, two weeks after the couple had their first children--twins.


The menu arrives tightly packed on a narrow strip of paper, a showcase for the bounty of the ocean--the seafood averse will have a tough time getting their fill here. Meanwhile, there's also a surprisingly ambitious cocktail program, which prides itself on its use of fresh fruits. Click for larger versions.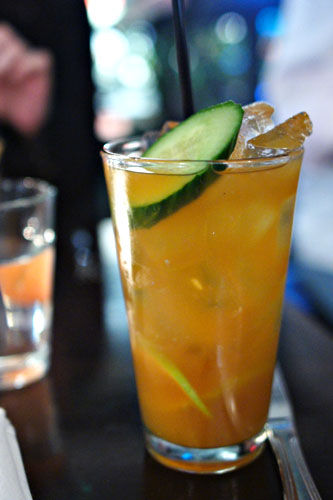 Despite several appealing selections on the cocktail list, I went with a Pimm's Rangoon, which was recommended to me earlier in the day by Tsz (see below). I rather enjoyed the drink, with its sweet, spicy base of Pimm's paired with the tartness of ginger soda and citrus, all under cool, refreshing overtones of cucumber.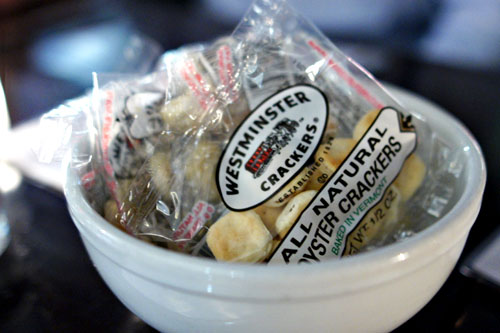 In lieu of a bread basket, The Hungry Cat instead serves up a bowl of Westminster oyster crackers, a testament to Chef Lentz's East Coast roots.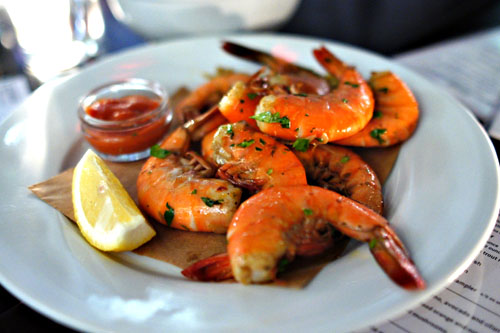 1/2 lb peel n' eat shrimp [$17.00]
We kicked things off with a plate of Hungry Cat's signature peel 'n' eat shrimp. The crustaceans arrived wonderfully chilled, and showed off a delicate, subtly sweet flavor and satisfyingly supple texture. They were a joy to eat alone, and even better with dabbed with a bit of that piquant cocktail dressing (hint: try eating them shell on for some extra textural variation). I found these somewhat reminiscent of the
Peel and Eat Shrimp Boil
that I had recently at
Son of a Gun
.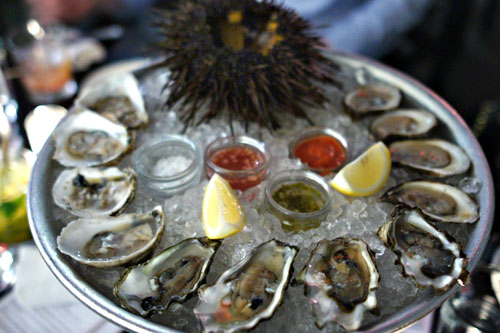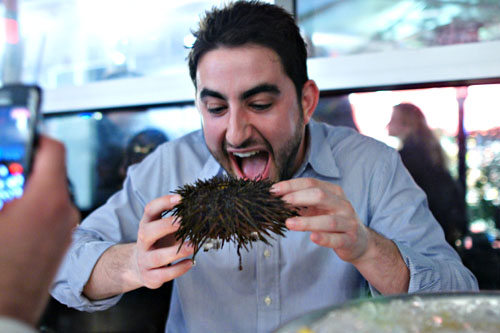 sea urchin [$12.00]
dozen oysters [$30.00]
An impressive platter of seafood goodies was up next. Three types of oysters were on offer (left to right): Watch Hills from Rhode Island, Hama Hamas from Washington, and Beausoleils from New Brunswick. I first attacked the Hama Hamas, which I found to be the briniest of the bunch. On the other hand, the Beausoleils were much more delicate in nature, with a very restrained sweetness. The Watch Hills, meanwhile, were somewhat in between the two in terms of flavor. With the oysters dispensed with, we took a crack at the sea urchin. This was actually my first time having uni directly out of the shell, and it was a messier affair than I would've preferred. Nevertheless, the roe itself was quite tasty, with a very subtle brine and a good amount of butteriness to boot.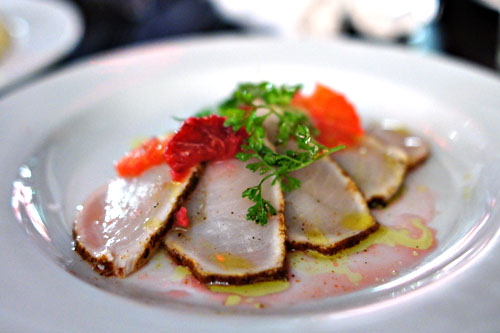 moroccan spiced swordfish, pistachio, blood orange and mint [$12.00]
Swordfish was characteristically firm in consistency, with a very subtle savor that was nicely complemented by the application of Moroccan seasonings and mint, though I wasn't quite as sold on the blood orange. A solid dish, though I would've liked to have tasted more of that spice.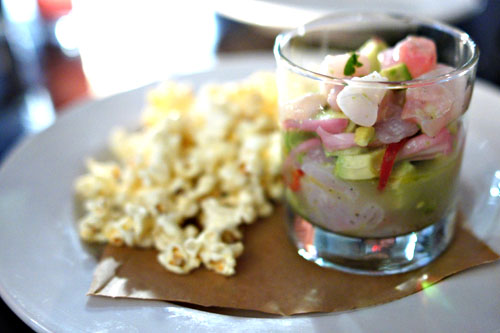 fluke ceviche, pisco, lime, pickled jalapeno, avocado and cilantro [$12.00]
Ceviche, unfortunately, was a letdown. The fluke's marinade of pisco and lime was absolutely overwhelming in its acidity and alcohol. I could barely taste the fish, not to mention the avocado or cilantro. The kitchen could definitely use a lesson from ceviche maestro
Ricardo Zarate
! Fortunately though, the popcorn, with its sprinkle of chili powder(?), was superb.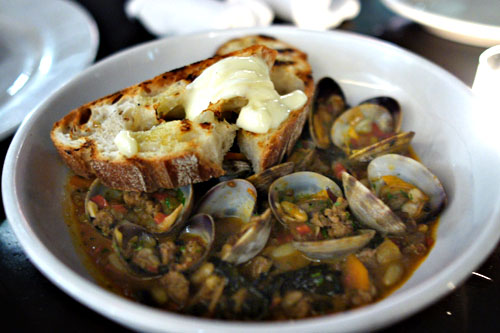 house-made chorizo and braised clams, shell beans, black kale, grilled bread and aioli [$22.00]
I'm somewhat of a chorizo fiend, but the clams and chorizo dish failed to live up to expectations. The clams themselves were fine, but my issue was that the interaction between the sausage and the kale failed to materialize. The vegetable just seemed very astringent, and served as a discordant element in the course.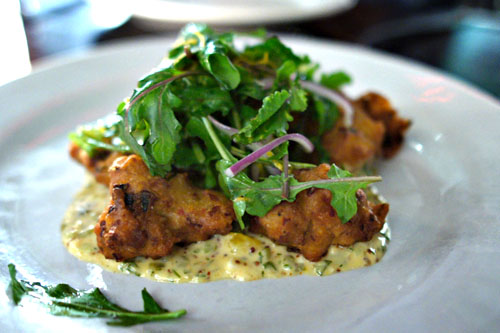 oyster and pork belly beignets, remoulade and arugula [$12.00]
Beignets, on the other hand, were delicious, showing off a wondrous base of oyster-y goodness, backed by the weight of pork belly. The fritters were superb alone, but even better when paired with the tangy richness of the remoulade. I wanted more!


The dessert selection is unexciting, though an uncommonly large selection of after-dinner drinks is offered. Click for larger versions.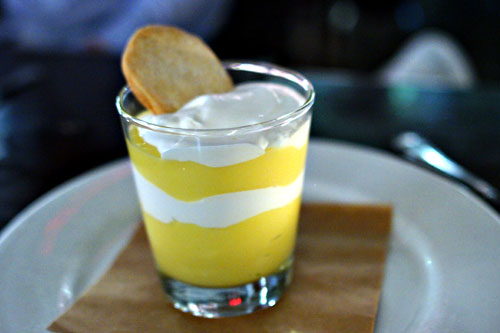 meyer lemon curd parfait [$7.00]
The parfait was about what you'd expect, with the sugariness of the cream playing nicely off the tartness of the Meyer lemon. I was concerned that the dessert would be overly sour, but fortunately its tanginess was fairly subdued.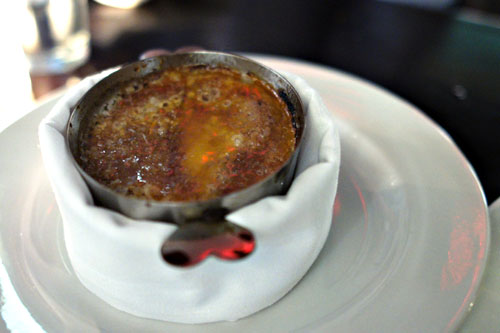 chocolate bread and butter pudding [$8.00]
Bread pudding was competent, though unspectacular. The dessert had a nice base of sweet chocolate, but also demonstrated a certain savory character that was a touch disconcerting.
Unfortunately, I left The Hungry Cat disheartened by a few of the dishes--the ceviche in particular--but at the same time, the beignets and the shrimp were standouts to be sure. I suppose the lesson here is
be careful what you order
. Next time, I think I'll stick with what the kitchen seems to do best: simply-prepared, raw seafood.
---
Prior to The Hungry Cat, I made a quick stop over at
Neal Fraser
's
BLD
. BLD's Chef,
Diana Stavaridis
, holds a weekly Tweet-a-Dish contest, wherein people tweet her ideas for dishes. She then chooses a winning entry, and features the dish on the menu as a Plats du Jour special. This week's winner was none other than Tsz of
Gastrophoria
, with her fish taco.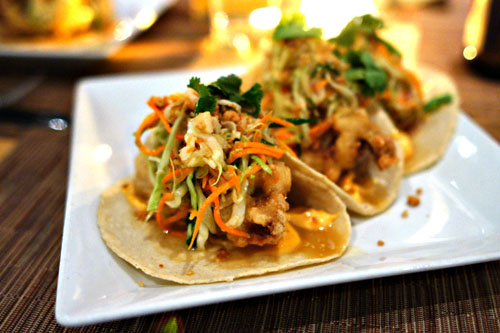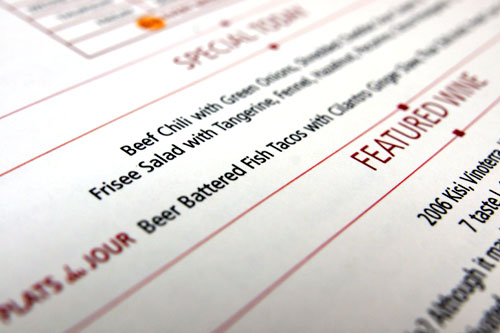 Beer Battered Fish Tacos with Cilantro Ginger Slaw, Thai Chili Aioli, Fresh Corn Tortillas [$15.00]
Though Tsz's original recipe called for
Turmeric and Ginger Dusted Alaskan Cod
, Chef Stavaridis reworked the recipe to give the tacos an almost Southeast Asian tinge. Rock cod was used in lieu of Alaskan cod, and the fish itself was superb, with a crisp crust leading to a wonderfully moist flesh imbued with just a subtle hint of sweet coconut flavor. The touch of heat from the chili and Sriracha aioli was a nice touch too, and the bright, refreshing crunch of the veggie slaw balanced the dish. I loved the slight nutty crunch of the macadamia bits as well. Overall, just a great combination of tastes and textures, and probably the best fish tacos that I'd ever eaten; they could easily hold their own on BLD's regular menu.
See
here
for a behind-the-scenes look at the making of the taco.