Dessert Hour with Chef Dan Moody at Scoops Westside (Los Angeles, CA)
Dessert Hour with Chef Dan Moody at Scoops Westside
3400 Overland Ave, Los Angeles, CA 90034
323.405.7055
twitter.com/scoopswestside
Wed 07/06/2011, 09:00p-10:05p

On Wednesday evening,
Chef Dan Moody
popped up for one-night-only at
Matthew "Mattatouille" Kang
's seminal ice creamery
Scoops Westside
to showcase a foursome of desserts. But don't call his
Dessert Hour
--which really lasted for more like five hours--a pop-up; rather, the preferred nomenclature is "one-night food event."
Moody is perhaps best known for his stints at LudoBites versions
3.0
to
6.0
. However, he's also cooked at
Test Kitchen
(where he made his infamous
Foie Gras Powdered Donuts
), and hosted his
real
pop-up,
Relate
, down in San Diego in February. He and Kang actually came up with the idea of Dessert Hour after bemoaning the lack of space for a second iteration of the pop-up. What was sort of interesting this evening was that, unlike at most temporary restaurants, the host in this case, Scoops, kept on serving its regular menu of ice cream all while Dessert Hour was going on--
leveraging synergies
, and all that.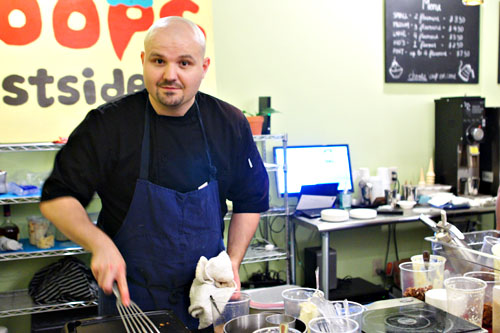 Chef Moody's station in the back, replete with induction burner and, more importantly, the inimitable
Dr. Tomostyle
(not pictured).

Playing to a standing room-only crowd.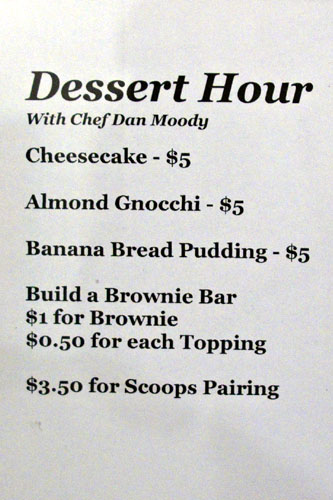 The night's menu--short and sweet (literally).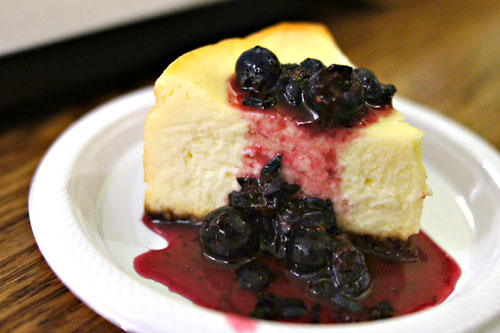 Cheesecake [$5.00]
First up was Chef Moody's signature cheesecake, which has made appearances at both
Relate
and
Test Kitchen
. It was a classic preparation in essence: creamy and custard-y, with a subtle tanginess nicely set off by the cake's sugary berry accompaniment. I especially enjoyed the textural contrast provided by the crust.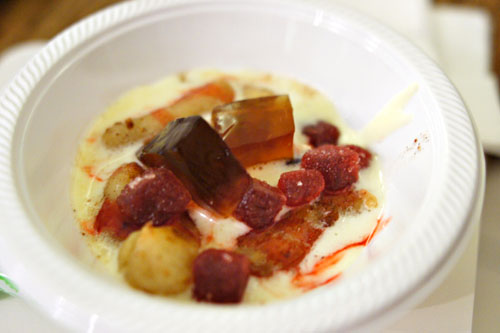 Almond Gnocchi [$5.00]
| Amaretto Gelée, Strawberry Yogurt, Strawberry Pâtes de Fruits
Served hot, the gnocchi were surprisingly substantial, showing off a sweet nuttiness further heightened by the application of amaretto jelly. As such, the incorporation of strawberry served to temper and balance the dish. The most unconventional dessert of the night, surely.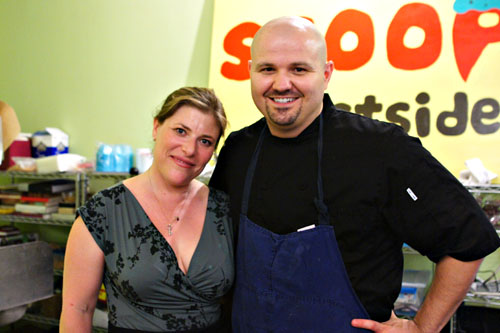 Moody with helper
Julie Wolfson
.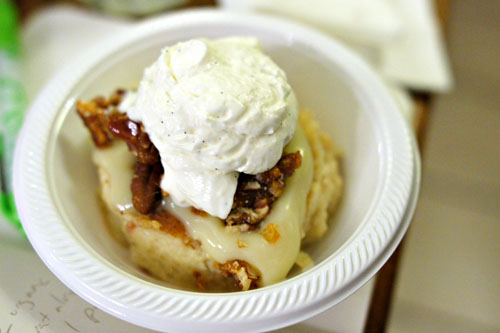 Banana Bread Pudding [$5.00]
| à la Bourbon Pecan Pie
Next up was a dessert that Moody originally served at
Relate
earlier this year--probably my favorite of the four. I really liked the sheer booziness of the pudding, and how its flavors meshed with the light whipped cream topping. The crunch of the nuts was quite satisfying as well, and I enjoyed the temperature contrast in the dessert too.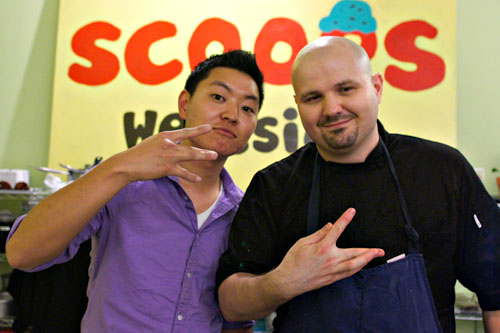 With Scoops
Vestsiiide
maven
Matt Kang
.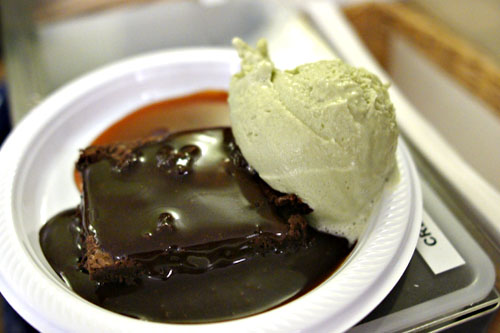 Build a Brownie Bar [$5.50]
An interactive dessert: start with a base of brownie for $1.00, then add on some Scoops ice cream for $3.50, followed by a variety of toppings--strawberry pâte de fruit, cognac caramel, peanut butter sauce, Kahlua gelée, rum chocolate--at $0.50 each. We went with the Moody-recommended combination of green tea ice cream paired with caramel and chocolate, and the result was quite tasty indeed. Taken alone, the ice cream was superb, quite possibly the best green tea version I've had in fact. It was a smart choice here, conveying a wonderful astringency that deftly played off the almost cloying sweetness of the chocolate-caramel.
Overall, a fun time with Moody and company. The Chef was able to show off his passion for desserts, and a great time was had by all. Given the success of the event, don't be surprised if Dessert Hour
Part Deux
pops up soon. As for what's next for Moody, he will
not
be returning to LudoBites 007, but he
is
working on Relate v2.0, which is slated for an August release, so definitely be on the lookout for that.