LudoBites 6.0 at Max (Sherman Oaks, CA) [2]
LudoBites 6.0 at Max
13355 Ventura Blvd, Sherman Oaks, CA 91423
818.784.2915
www.ludobites.com
Sun 12/05/2010, 08:45p-12:55a

December 5th marked the conclusion of another rousing round of LudoBites, LA's original pop-up restaurant, held this time at Andre Guerrero's Sherman Oaks eatery Max (a.k.a. Marché). This version was arguably one of Ludo's strongest yet, and certainly the most controversial.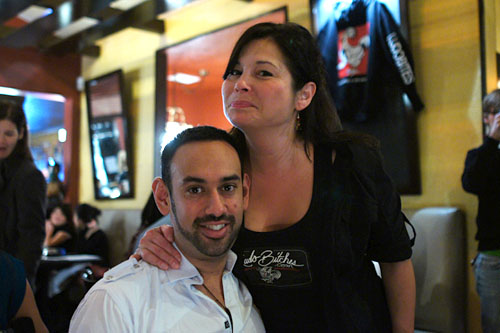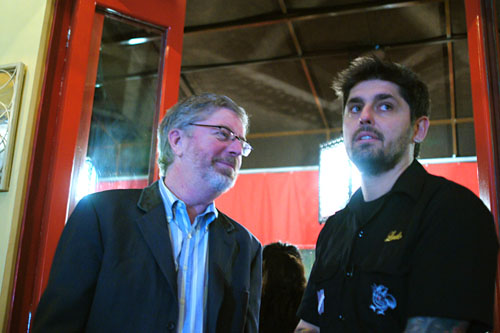 Look who followed us in--Jo of
My Last Bite
(in
Ludo Bitches
attire, natch) and husband Peter.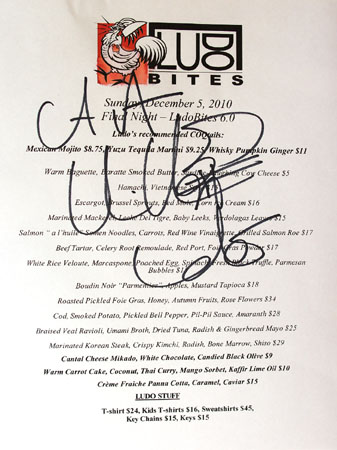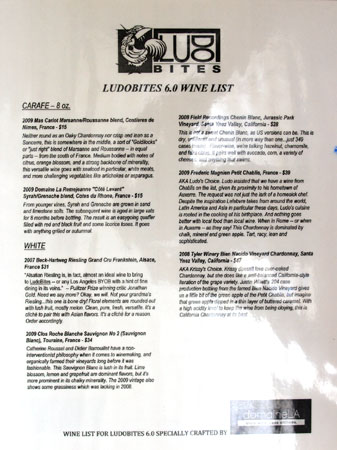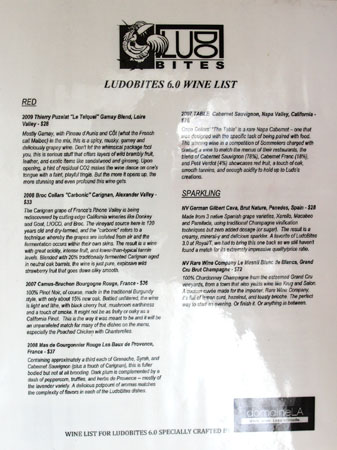 Above we see the final night's menu, along with the restaurant's wine list, curated by none other than Jill Bernheimer of
Domaine LA
fame. Click for larger versions.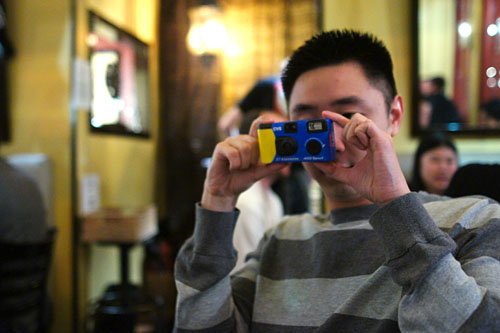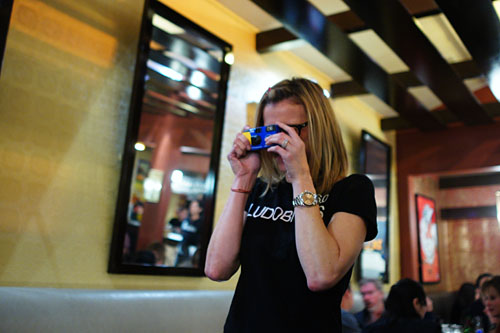 Takin' it back to the old school
: disposable film cameras for all. Photos to be posted on Ludo's
Facebook
.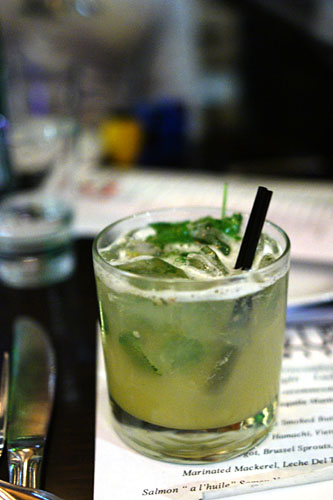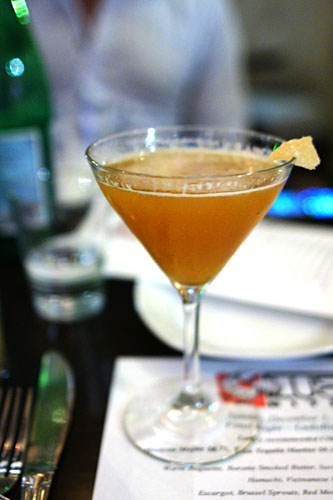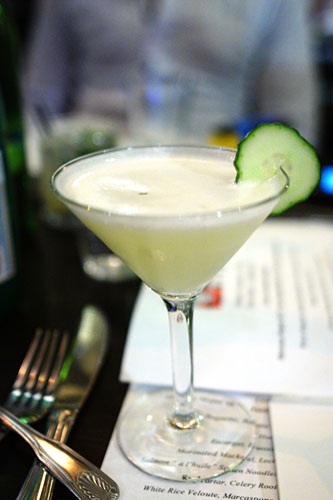 This is the first time that LudoBites has featured cocktails (
COQ
tails), and of course, we had to order all three on offer this night. I had the Mexican Mojito [$8.75] during my last dinner here, and it was basically the same story as before: a twist on a classic mojito with the additional heft of the tequila and tinged with a hint of heat--tasty. The Whisky Pumpkin Ginger [$11], meanwhile, showcased autumn-y sweet and spicy flavors over a base of whiskey, all leading to subtle notes of pumpkin on the finish. Finally, we had the Yuzu Tequila Martini [$9.25], the least successful of the trio, which demonstrated undertones of tequila balanced by the sharp tang of yuzu--a bit one note for me.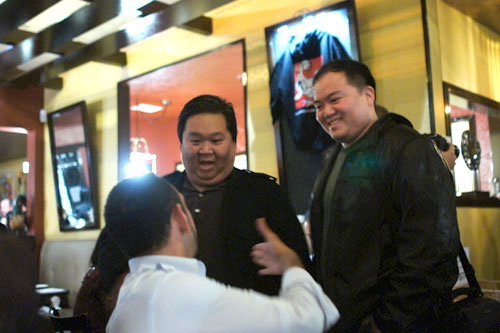 The
Panda
Clan
makes a rare public appearance.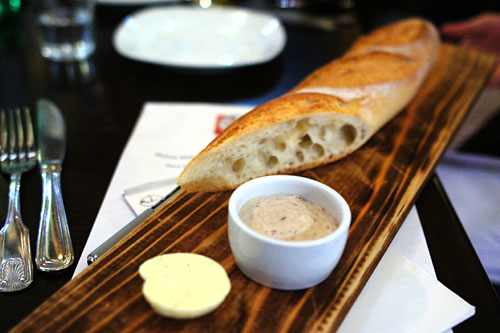 Warm Baguette, Baratte Smoked Butter, Sardine-Laughing Cow Cheese [$5.00]
As before, we began with a serving of classic, crusty baguette, accompanied by two interesting spreads.
Beurre de baratte
is a French style butter made with a churn instead of a centrifuge; here, it came imbued with a hefty amount of smoke. The sardine-
Laughing Cow
blend was even more intriguing, showing of a marked fishiness over a luscious base of creamy cheese; it was almost canned tuna-like, and utterly addictive.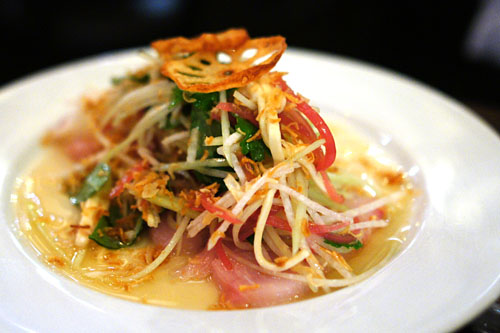 Hamachi, Vietnamese Style [$15.00]
This was my favorite course from last time, and once again, it made a very, very strong showing. What we had was raw hamachi topped with an array of Vietnamese-y ingredients: jicama, papaya, lotus root, shallot, and rice wine vinaigrette, among other items (seems like something out of
Red Medicine
!). The clean, delicate flavor of the yellowtail was beautifully matched by its bright, bold accompaniments, and I adored the savory component of the shallot. Perhaps the best hamachi dish I've
ever
had.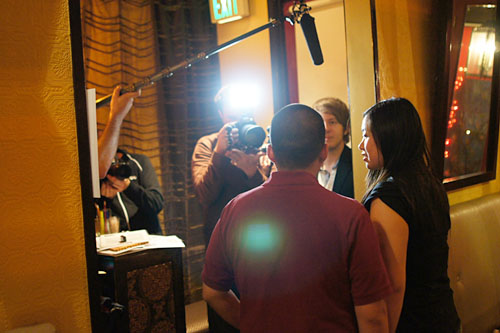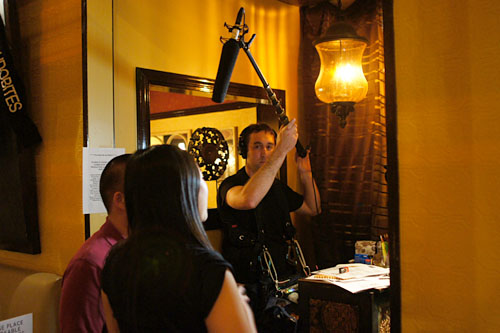 Some serious filming going on tonight.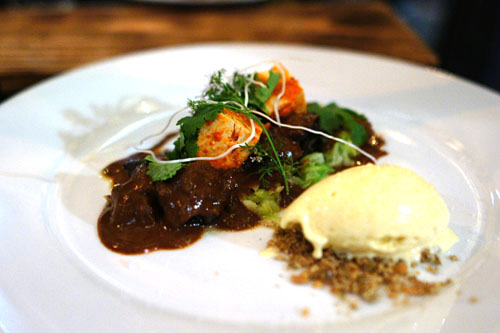 Escargot, Brussel Sprouts, Red Mole, Corn Ice Cream [$16.00]
I didn't quite understand this dish. The escargots, tender and toothsome, were covered in a sweet 'n' spicy red mole, and were joined by cubes of marinated tofu. The overall effect of eating it was not unlike a "savory doughnut," as one of my dining companions put it. At the same time, the corn ice cream was certainly tasty, but I didn't comprehend its role in the dish. I also didn't get much from the Brussels sprouts, which is unfortunate, as I think that their bitterness could've helped integrate things.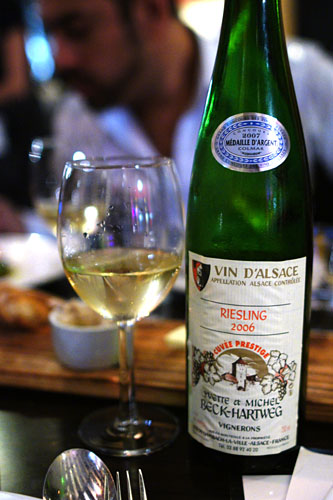 With our cocktails downed, it was time for some wine. First up was the 2006 Beck-Hartweg Riesling Grand Cru Frankstein, Alsace, France [$31], a prototypical Alsatian Riesling with dry, clean fruit flavors and a bright acidity. Absolutely lovely.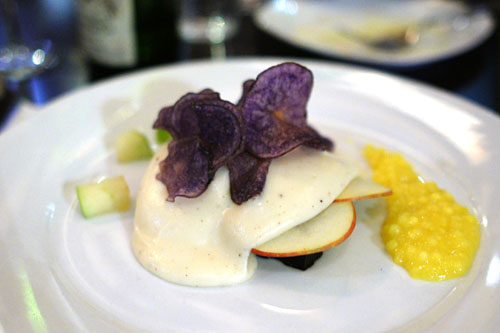 Boudin Noir "Parmentier", Apples, Mustard Tapioca [$18.00]
I must say that this was Ludo's strongest preparation of boudin noir yet (he also served it at
Gram & Papas
as well as
Breadbar
).
Parmentier
, named after French botanist and potato activist Antoine-Augustin Parmentier, is a culinary term referring to a dish featuring potatoes, and indeed, the mashed potatoes were key here. It tempered the boudin beautifully, forming a delicious amalgam with the pudding, while the apples added a great crunch and juicy sweetness to the dish. I also quite liked the crisp purple potato chip topping as well. Very nice.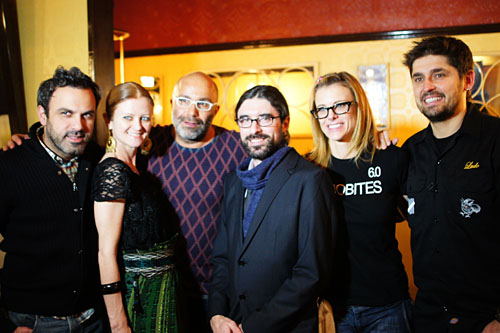 Ludo and Krissy with some well-dressed people that I don't know--they sure do look arty though.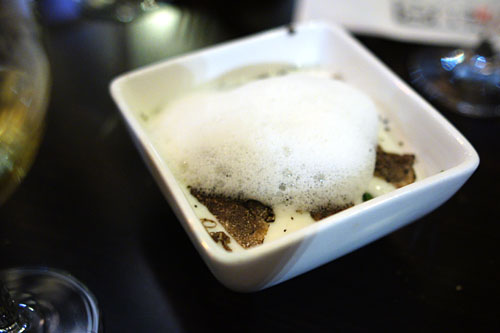 White Rice Veloute, Mascarpone, Poached Egg, Spinach, Fresh Black Truffle, Parmesan Bubbles [$15.00]
As expected, the velouté showed off marked ricey-y notes initially, thoroughly augmented by the lusciousness of poached egg and Parm. To this, I appreciated the application of heady, earthy truffles, but the star of the show here was clearly the spinach, which had a fantastic astringency that completed the dish for me.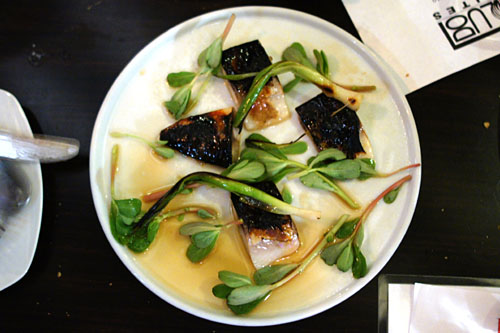 Marinated Mackerel, Leche Del Tigre, Baby Leeks, Verdolagas Leaves [$15.00]
I was somewhat ambivalent on the mackerel last time, finding the combination of the fish's briny flesh and its sweet, sugar'd-and-torched skin a bit challenging. Fortunately, the flavors this time around were a much more harmonious, making it one of the strongest courses of the evening. And again, the tempering effect of the purslane and leeks was
absolutely key
in balancing the dish.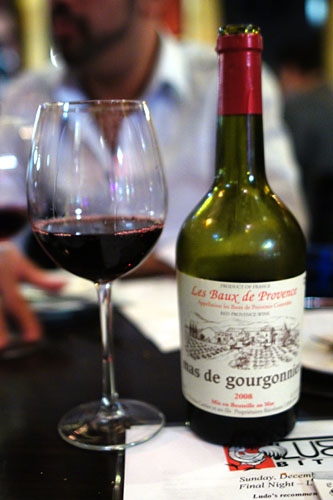 Moving on to the red stuff now, we'd originally wanted a bottle of the Gamay, but since they were out, we settled on the 2008 Mas de Gourgonnier Rouge Les Baux de Provence, France [$37] instead--not a bad decision. A lovely, multifaceted wine, spicy and loaded with dark fruit, with some booziness showing as well.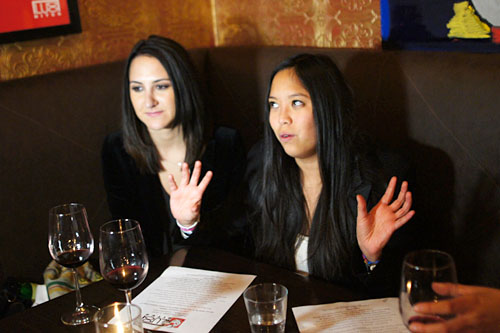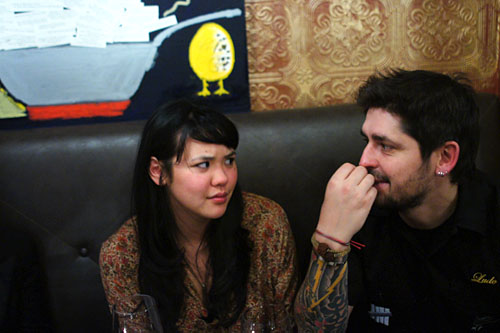 The
Boobs4Food
table--eight boobs, lots of food.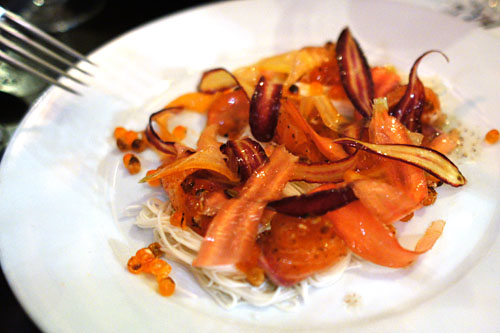 Salmon "a l'huile", Somen Noodles, Carrots, Red Wine Vinaigrette, Grilled Salmon Roe [$17.00]
This was somewhat reminiscent of the
Salmon a l'Huile
dish Ludo served during
the last night of Version 5.0
. I rather liked the dense, fishy weight of the salmon, augmented by the heft of olive oil. To this, the carrots and grilled roe added a super, lingering brine, while the somen did a superb job in balancing the course.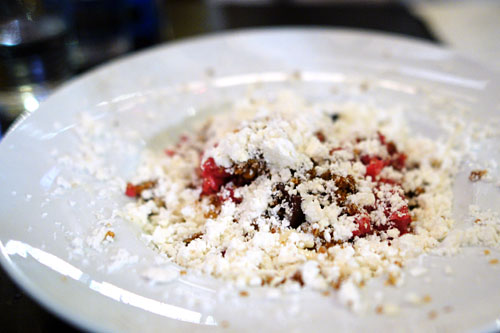 Beef Tartar, Celery Root Remoulade, Red Port, Foie Gras Powder [$17.00]
Beef tartar was perhaps the most interesting version of the dish I've ever had. I liked the use of foie gras "snow," but I would've liked to have tasted more beefiness from the course. I found the celery root remoulade tasty, but rather strong, and prone to overwhelming the beef's inherent flavor.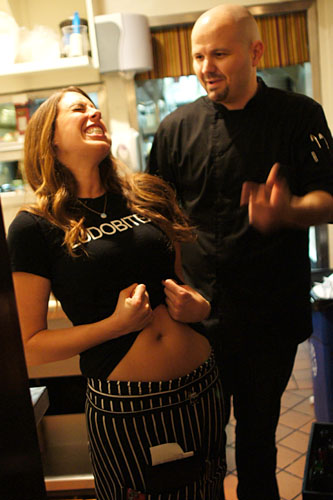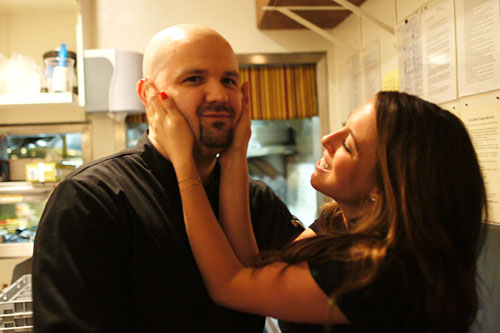 Now's
that's
a sexy-ass stomach for
Chef Dan
to raspberry.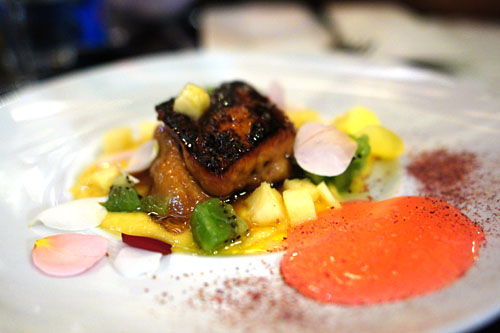 Roasted Pickled Foie Gras, Honey, Autumn Fruits, Dried Rose Flowers [$34.00]
It's always interesting to see what Ludo does with foie gras, since it's obvious that he enjoys working with the ingredient. This time, he paired with the liver with honey, kiwi, mango rosewater gelée, and rose petals. Though the foie itself was expertly cooked, the overall effect was perfume-y, floral, almost like eating a flower, and not surprisingly, was too sweet for my tastes.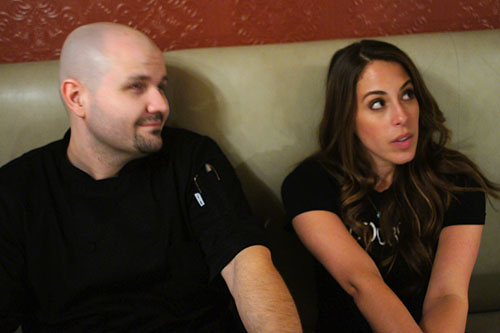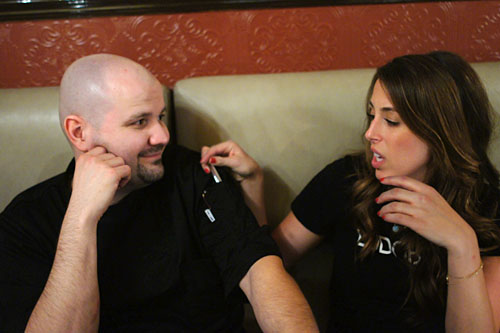 These two need to get a room.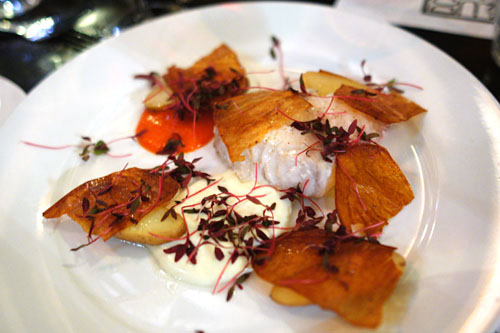 Cod, Smoked Potato, Pickled Bell Pepper, Pil-Pil Sauce, Amaranth [$28.00]
Cod was one of the standouts for me, and easily the best version of the fish that Ludo's ever served. The cod was tremendously tender, moist, and succulent, and I loved the smoky character imparted by the potato, as well as the prick of heat courtesy of the pil-pil (chili pepper) sauce.
Braised Veal Ravioli, Umami Broth, Dried Tuna, Radish & Gingerbread Mayo [$25.00]
Veal was expectedly tender and showed off a mouth-watering, umami-laced savoriness. This was beautifully balanced by the various radishes at play, though I wasn't quite as sold on the gingerbread mayo.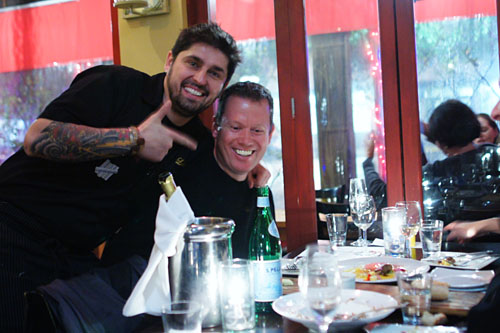 Walter Manzke
and company mixing it up at Table 1.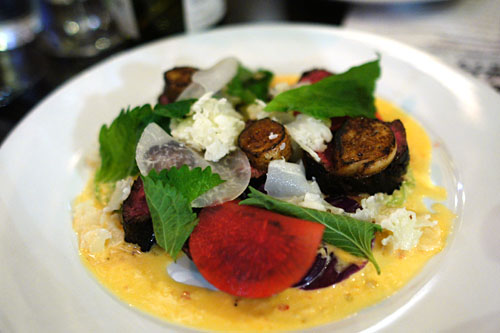 Marinated Korean Steak, Crispy Kimchi, Radish, Bone Marrow, Shiso [$29.00]
Beef demonstrated a delectable,
galbi
-like sweetness and was one of Ludo's strongest presentations of steak yet. It was delicious alone, but even better when taken with the piquant bits of crispy kimchi and radish. Quite nice.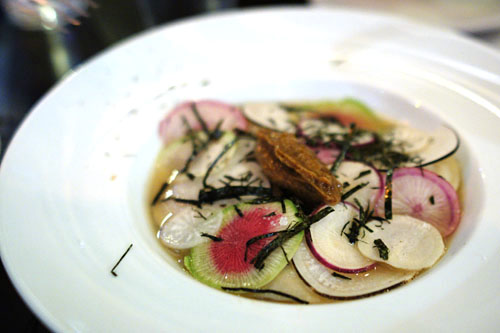 Braised Veal Ravioli, Umami Broth, Dried Tuna, Radish & Gingerbread Mayo [$25.00]
Our table decided to order another round of the ravioli (the hamachi too, but they were sold out).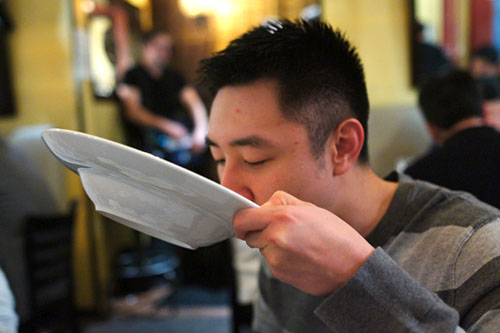 The broth was damn tasty, apparently--
Darin
like.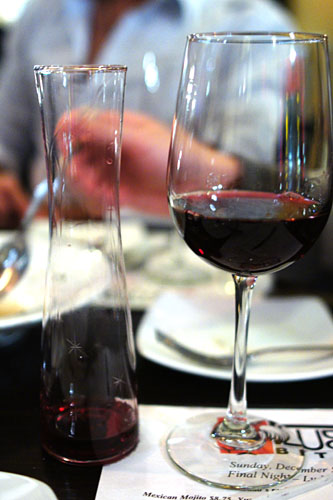 To complete the meal, we ordered a carafe of the 2009 Domaine La Remejeanne "Côté Levant" Syrah/Grenache blend, Cotes du Rhone, France [$15], an easy-drinking, pepper- and light fruit-laced wine to round out the desserts.
Crème Fraiche Panna Cotta, Caramel, Caviar [$15.00]
With this, Ludo seemingly presented a reworked version of his famed
Panna Cotta, Caviar, Caramel
dessert from all the way back at
Breadbar
, which, interestingly, was actually first developed during his stint at
Bastide
. The panna cotta is based on crème fraiche instead of vanilla this time, and the form is rectangular instead of round, but the effect is similar. The cream definitely served as a base to the dish that really allowed the other ingredients to take center stage. Mixing the caramel and caviar resulted in a deft sweet-salty interplay that was not unlike the sensation of a salted caramel. Yummo--one of Ludo's best desserts ever.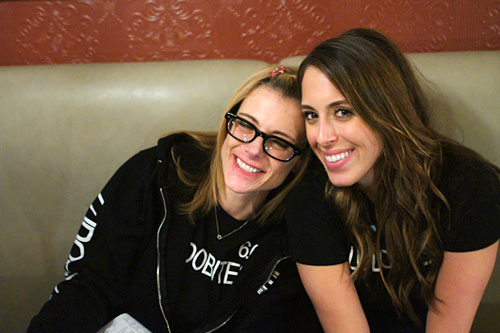 Cute.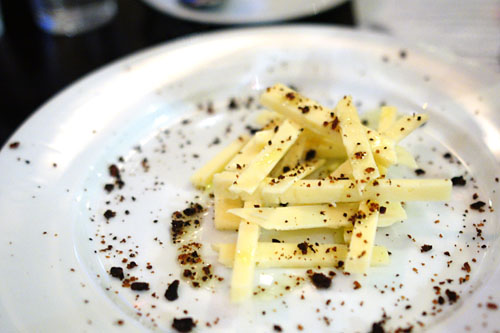 Cantal Cheese Mikado, White Chocolate, Candied Black Olive [$9.00]
Mikado is a type of pick-up sticks game, and also refers to the European brand name of the legendary snack
Pocky
, so you can understand where the name of the dish comes from. I tasted a lot of sweet olive initially, but this transitioned nicely to the earthy, salty, buttery flavor of the Cantal, deftly interlaced with sweet bits of white chocolate. Surprisingly effective.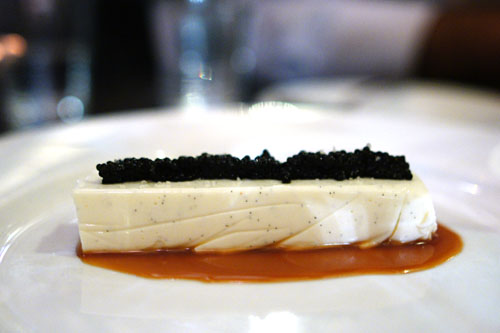 Crème Fraiche Panna Cotta, Caramel, Caviar [$15.00]
We enjoyed the panna cotta so much that another serving was in order.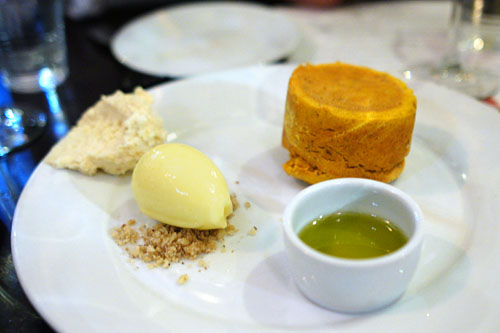 Warm Carrot Cake, Coconut Thai Curry, Mango Sorbet, Kaffir Lime Oil [$10.00]
Our final dessert was partly inspired by the Thai coconut milk soup. I made sure to eat everything together in one big bite. The resultant amalgamation vividly recalled the essence of
tom kha
, with the various ingredients in great balance.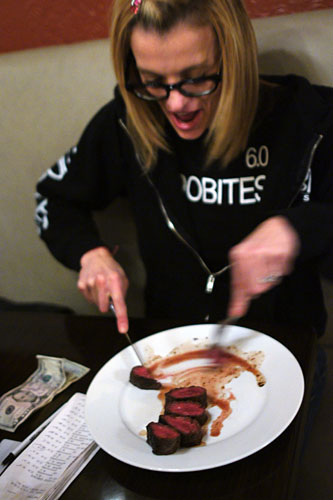 With dinner service completed, Krissy was free to chow down on some Korean steak!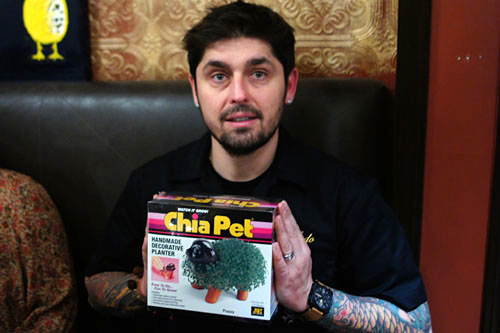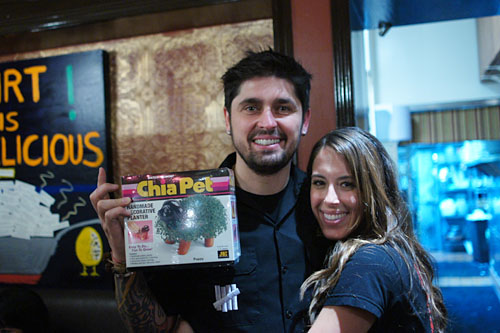 A Chia Pet makes the perfect gift for your favorite chef. Chia sprouts and seeds are actually edible (according to gift giver Jessica), so perhaps we're witnessing the birth of a future LudoBites dish...
ch-ch-ch-chia!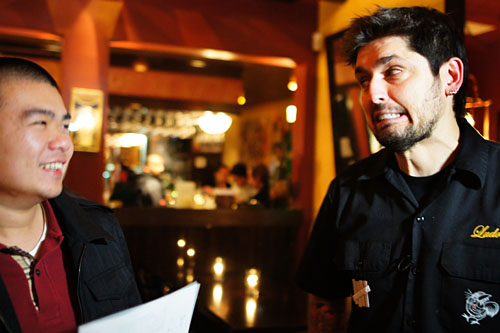 The
Two Hungry Pandas
score some baguette action to go.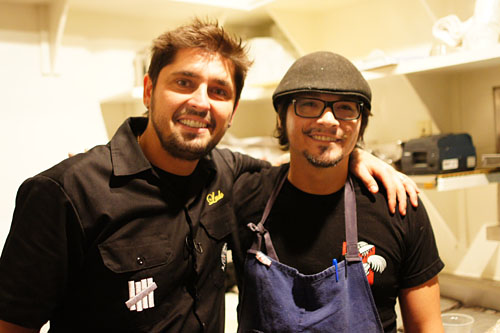 Ludo with protégé Sydney Hunter III (
Fraiche
, Riva, Bastide, L'Orangerie).
And with that, we come to the close of another chapter in the LudoBites saga. So what's in store for v7.0? Well, we don't know much, but the Lefebvres are still looking for a new location, Ludo is toying with the idea of doing a prix fixe menu, and there's a possibility of LudoBites traveling cross country, but other than that, we'll just have to wait and see. Look out for LudoBites 7.0 next year in the January-February-March time frame.

Previous LudoBites posts: v6.0 at Max, v5.0 at Gram & Papas [1], v4.0 at Gram & Papas [1], v3.0 at Royal/T [2] [1], v2.0 at Breadbar [1]
.