Ibaraki Benefit Dinner at Comme Ca (West Hollywood, CA)
Ibaraki Benefit Dinner at Comme Ca
8479 Melrose Ave, West Hollywood, CA 90069
323.782.1104
www.commecarestaurant.com
Wed 05/18/2011, 07:00p-11:10p

On May 16th
, some of LA's most vaunted chefs gathered at Breadbar Century City to host a dinner benefitting disaster relief efforts for the quake-devastated region of Ibaraki, Japan. The event was hosted by Breadbar's
Noriyuki Sugie
, a native son of Ibaraki, and showcased the talents of Hiroyuki Urasawa (
Urasawa
, Ginza Sushi-ko), Michael Cimarusti (
Providence
, Water Grill), Walter Manzke (
Church & State
,
Bastide
), David Myers (Comme Ça,
Sona
), and Ramon Perez (
Sona
).

Tonight's dinner, hosted by Myers, was a follow-up to Monday night, and featured a younger set of chefs: Jon Shook & Vinny Dotolo (
Son of a Gun
,
Animal
), Roy Choi (A-Frame, Chego), Michael Voltaggio (INK,
The Dining Room
), and Jordan Kahn (
Red Medicine
,
XIV
), in addition to Sugie and Myers himself.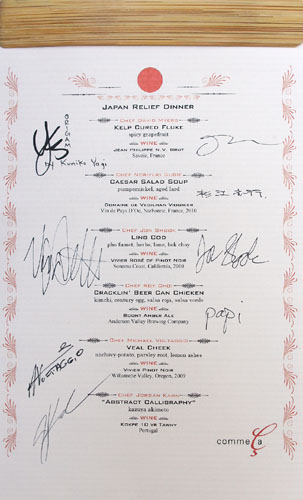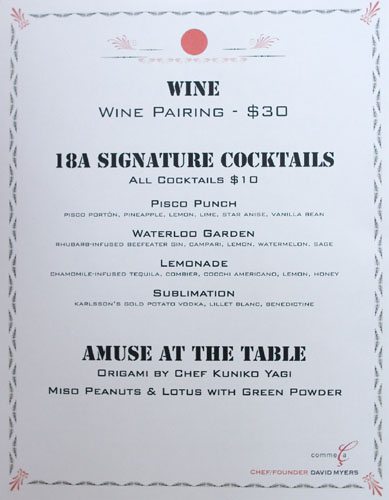 Our menu this evening was a six-courser priced at $110pp, while wine pairings were available for an extra $30. In addition, Julian Cox was in the house with a special quartet of $10 cocktails on offer. Click for larger versions.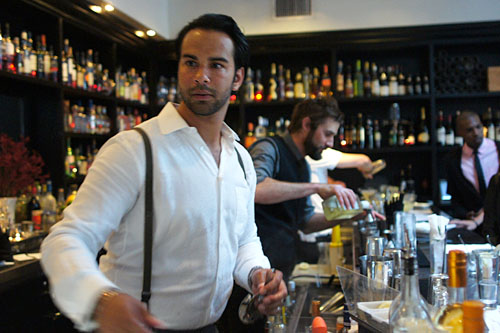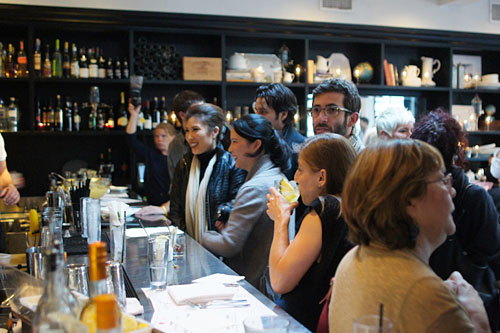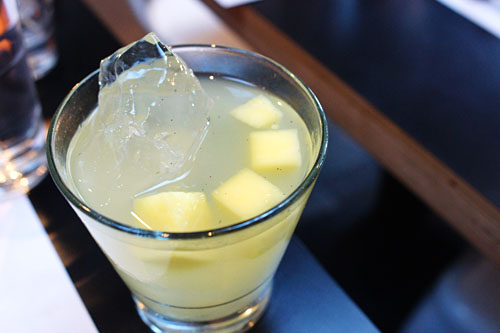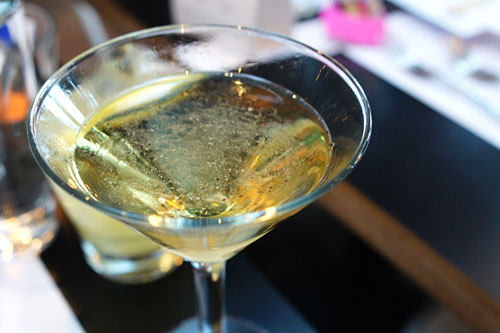 Pisco Punch
| pisco portón, pineapple, lemon, lime, star anise, vanilla bean
Sublimation
| karlsson's gold potato vodka, lillet blanc, benedictine
Speaking of those cocktails, naturally we had to start with a twosome. The Pisco Punch was superb, demonstrating a complex sweetness kissed with overtones of vanilla, while the tartness of the citrus fruit formed a wonderful backbone with the pisco. The Sublimation, meanwhile, was also quite delicious, with a delectable herbaceous flair that paired well with the vodka--it sort of reminded us of a boozy ginger ale!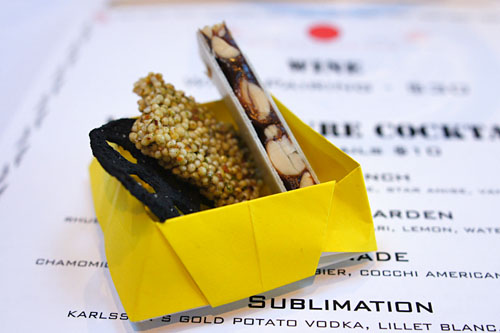 Amuse Bouche: Miso Peanuts & Lotus with Green Powder
[
Kuniko Yagi
]
Placed before us on our table was a trio of snacks from Sona's former Chef de Cuisine, Kuniko Yagi, presented in an origami tray designed by the chef herself. I started with the "sandwich" of miso and peanuts, which showed off surprisingly deep, earthy flavors of fermented soybean, all moderated by the comparatively mild peanuts. Next was the lotus root, which was delectably savory, and almost potato chip-like in character. Last up was the
senbei
-like cracker, the most complex of the threesome, with a nice interplay of sweet and buttery flavors, all leading to a lingering, spicy finish.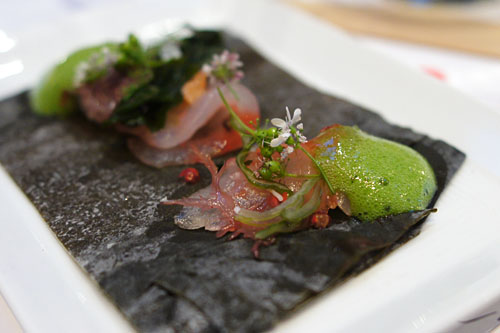 1: Kelp Cured Fluke | spicy grapefruit
[
David Myers
]
Jean Philippe N.V. Brut, Savoie, France
The meal proper got off to an interesting start with Myers' fluke, which was done up in
kobujime
fashion, a process in which fish is treated with
konbu
. The kelp absorbs excess moisture from the fish, resulting in a bolder, more assertive flavor; I last experienced this technique at
Mori Sushi
shortly before the restaurant was sold. In any case, whatever was done worked here, with the kelp deftly augmenting the fluke's inherent relish. At the same time, the tart, piquant smack from the citrus served as a fitting counterpoint in the dish, and I loved the peppery kick from the pink peppercorns as well.
2: Caesar Salad Soup | pumpernickel, aged lard
[
Nori Sugie
]
Domaine de Vedilhan Viognier, Vin de Pays D'Oe, Narbonne, France, 2010
What we had here was basically a Caesar salad in liquid form. The salad's traditional flavors were faithfully hinted at, though not conveyed outright, and went surprisingly well with the bittersweet flair from the lard and bread combination. This was a hearty, heartwarming soup, surprisingly rich, with an almost "hammy" savoriness to it. I especially appreciated the vegetal counterpoint provide by the microgreens. Actually, I found it a bit fascinating that Sugie used pumpernickel and aged lard here, two items that were prominently featured in his course on
Monday
. I guess he was determined to make full use of those ingredients!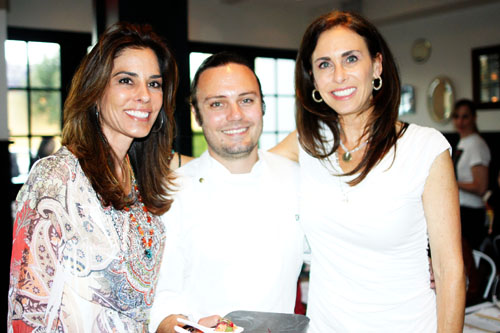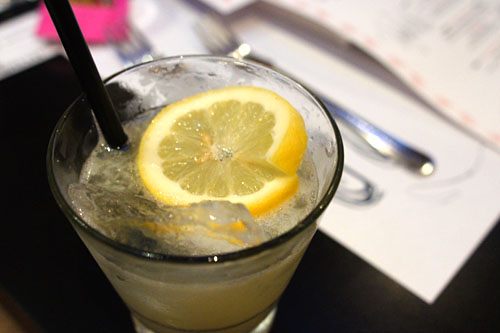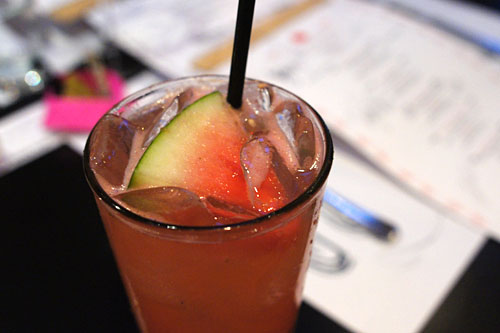 Lemonade
| chamomile-infused tequila, combier, cocchi americano, lemon, honey
Waterloo Garden
| rhubarb-infused beefeater gin, campari, lemon, watermelon, sage
With our cocktails drunk up, it was time to go another round. The adult Lemonade had a great foundation of tequila, all layered with contrasting sweet and herbal flavors that worked beautifully--it was just
a bit
better than Mike's! As much as I liked the Lemonade, I enjoyed the Waterloo Garden even more, with its juicy watermelon base perked up by the slight astringency of the Campari and a touch of pepperiness from the sage.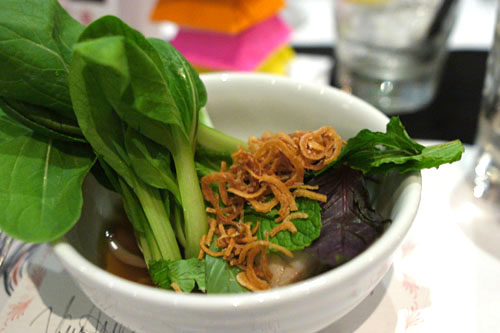 3: Ling Cod | pho fumet, herbs, lime, bok choy
[
Vinny Dotolo & Jon Shook
]
Vivier Rosé of Pinot Noir, Sonoma Coast, California, 2010
What was presented tonight was actually very similar to a dish that I had at
Son of a Gun
opening night, one that used pink grouper in place of lingcod. I preferred this version though. In essence, this was what I imagine a lingcod
pho
would be like! This fish itself was firm, lean, and meaty in body, with a subtly sweet savor that played wonderfully with the course's intense, heady Southeast Asian flavor. Very satisfying--I wanted a bigger bowl.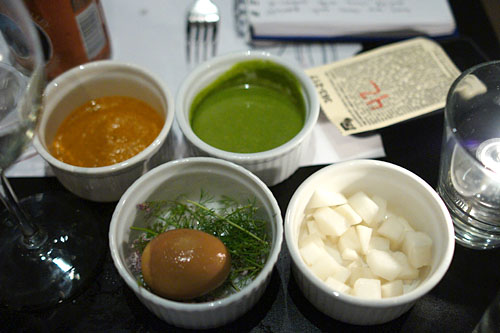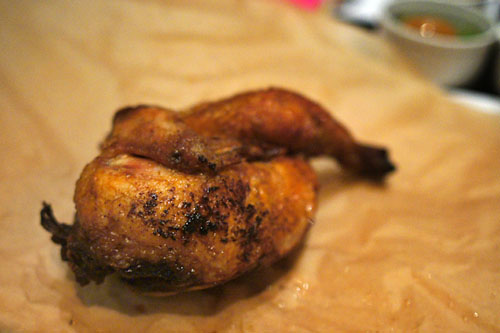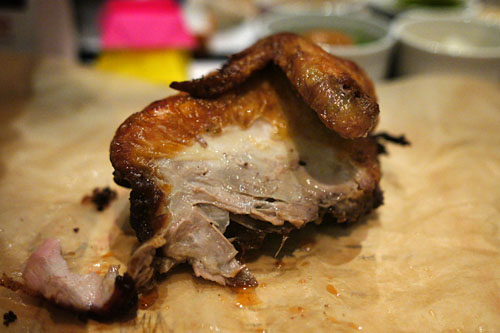 4: Cracklin' Beer Can Chicken | kimchi, century egg, salsa roja, salsa verde
[
Roy Choi
]
Boont Amber Ale, Anderson Valley Brewing Company
Choi put forth his famous beer can chicken, which happens to be the signature dish over at
A-Frame
. As expected, the half-chicken was just about perfectly cooked, arriving at the table moist, tender, and draped in its wonderfully savory skin. The bird actually stood very well on its own, though I did appreciate the quartet of accoutrements presented, the two salsas especially. Nice crunch from the
moo
(daikon) kimchi as well, though I didn't quite understand the pairing of the egg.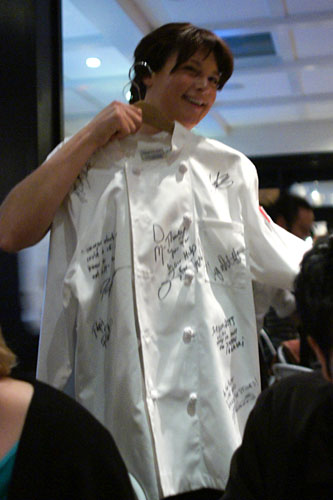 Our lovely server showing off the signed chef's coat that was being auctioned. I took a shot at it, but ended up being outbid (though I'm told that they might be willing to do a second signed jacket...).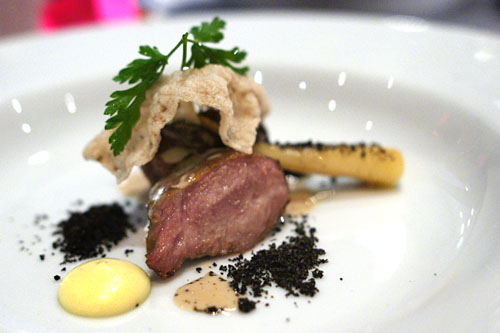 5: Veal Cheek | anchovy-potato, parsley root, lemon ashes
[
Michael Voltaggio
]
Vivier Pinot Noir, Willamette Valley, Oregon, 2009
Voltaggio was put in charge of the meat, and he decided to go with veal, a somewhat risky proposition. Indeed, I often find veal boring, but what we had tonight was just about the antithesis of humdrum. The meat itself was probably the most tender preparation of veal that I've ever eaten (chewing was barely required), and conveyed a delightfully robust flavor, ever so slightly tinged with an undertone of sweetness. This then paired with the almost bittersweet taste from the citrus, while the anchovy-potato served as a
smart
addition to the dish, counterbalancing some of the flavors at play while also mixing things up texturally.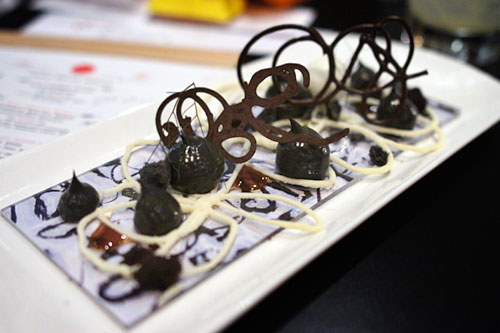 6: "Abstract Calligraphy" | kazuya akimoto
[
Jordan Kahn
]
Kokpe 10 yr Tawny, Portugal
Clearly, the prize for the most abstruse menu description of the month goes to Kahn, who chose to create a dish inspired by the artwork of
Kazuya Akimoto
, an abstract expressionist painter from Tokyo. Reconditeness aside, the dessert was pretty spectacular. It utilized a lovely base of black sesame, which had a sweet nuttiness that played well with the combination of yogurt and chocolate, while the use of malt and fennel added a great savory flair to the dessert.
This dinner was a marked departure from the relative serenity of Monday night. Given who was in the kitchen, it wasn't surprising that the evening turned out loud, bold, and brash. This energy, this excitement was translated to the food, with the chefs turning out an impressive series of dishes that deftly conveyed their individual styles on the plate. A successful evening to be sure, and that's not even taking into account the over $20,000 raised!