LudoBites America at Casa Pulido (Redondo Beach, CA)
Ludo Bites America at Casa Pulido
228 Ave I, Redondo Beach, CA 90277
310.540.8028
www.ludobites.com
Wed 06/01/2011, 08:00p-12:20a

163 calls,
sans
a redial button.
That's what it took to get through to Casa Pulido Tuesday evening at precisely 5:00. Of course, I'm talking about the latest incarnation of
LudoBites
, set to run one-night-only at the decidedly old-school Mexican joint in Redondo Beach. Sadly, once I got through, a phone snafu prevented the person on the other line from hearing me. My hopes were dashed. Fortunately,
a certain somebody
was able to secure a table, and I was able to sneak on to her reservation (thanks Diana!).
In case you've been completely out of it, over the past several months, Ludo and Krissy have been on the road filming their new television series,
LudoBites America
, which debuts July 19th on the Sundance Channel. The show follows the couple as they travel across the US, trying their darndest to reinvent, refine, and reinterpret classic American cuisine. Partnering with local eateries, the duo attempts to revive a community's interest in food by combining Ludo's haute French cooking with a bit of local flavor.
So far, they've graced the likes of Mobile, Alabama; Raleigh, North Carolina (
It's All About The Hog
at
Gravy
on 3/24); Santa Fe, New Mexico (
Ludo Gets Fired Up On Chile!
at
Tecolote Cafe
on 4/4); Denver, Colorado (
All Buffalo Menu
at
Biker Jim's Dogs
on 4/13); and Omaha, Nebraska (
French Soul Food
at
Big Mama's
on 5/21). Of course, given that LA gave birth to the entire concept of LudoBites, it was only fitting that the restaurant return to SoCal for a finale at Casa Pulido, a 40-plus year old, family-owned eatery located not too far away from the Lefebvre's home in Manhattan Beach.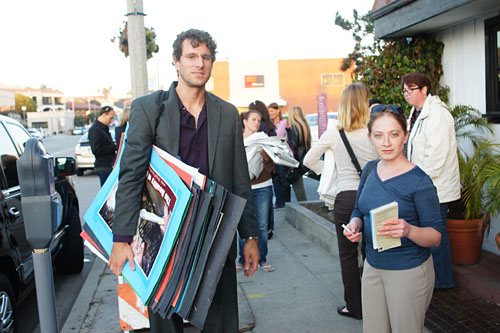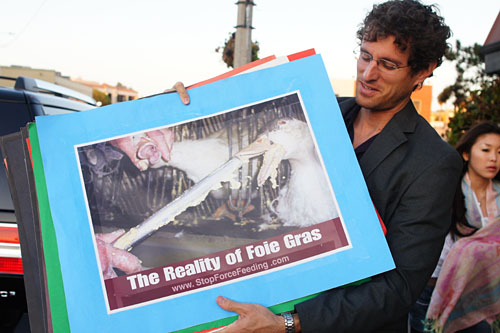 We were greeted by a small crowd when we arrived. Why, it was none other than the our good friends the
foie gras crusaders
, the very same group that picketed
Providence
a while back. We made sure to order up an extra helping of the foie quesadilla in their honor.
How much cruelty can I swallow?
Quite a bit, I assure you.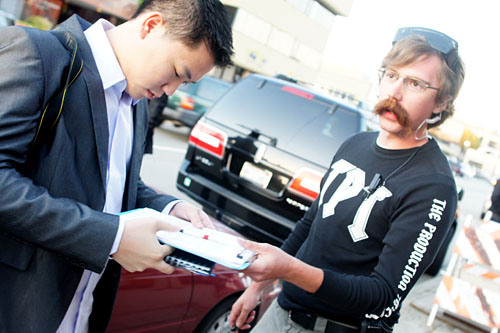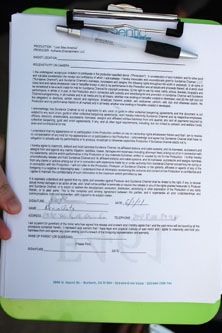 A mustached man accosted us, and I thought we were being handed a petition to ban foie gras. Rather, it was a release form for the filming that was going on inside. Click for a larger version.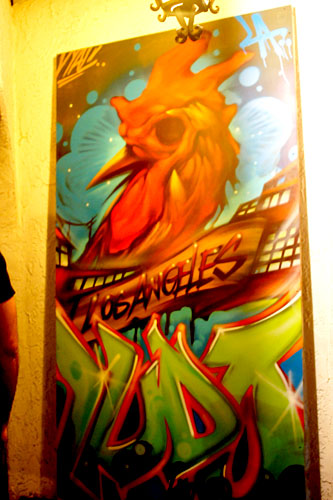 Upon entering, we were greeted with a large painting by graffiti artist
Vyal One
. As part of the show, LudoBites solicits a local artist to create a unique artpiece to commemorate each pop-up.

The place was packed, with nary an empty table in sight. Not a good sign:
we ended up waiting over an hour to be seated
.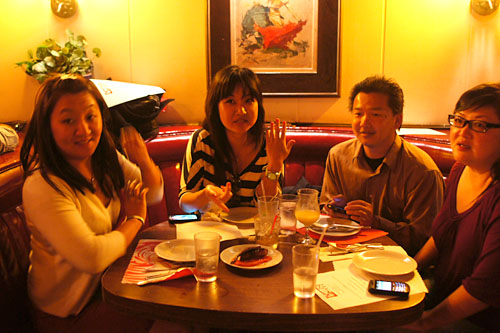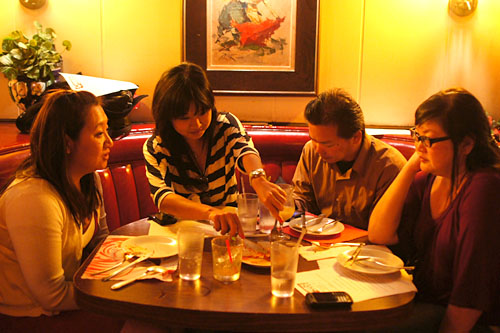 Some familiar faces: Holly of
The Endless Supper
(yes, she changed her blog name
yet again
) and Anita of
Diary of a Mad Hungry Woman
, along with two of their compatriots.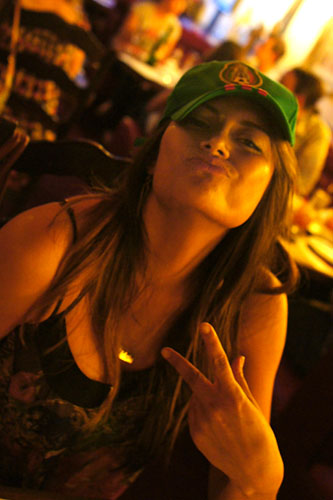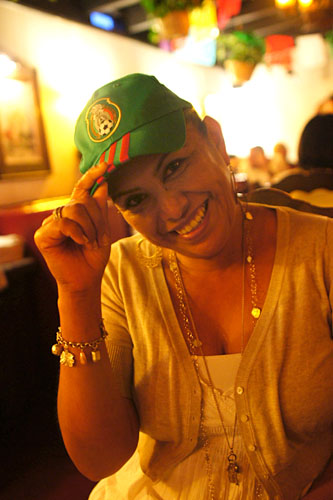 The ladies of
Guelaguetza
: Bricia Lopez and mother Maria Monterrubio (both seen here modeling a Mexico soccer cap--a gift for Ludo).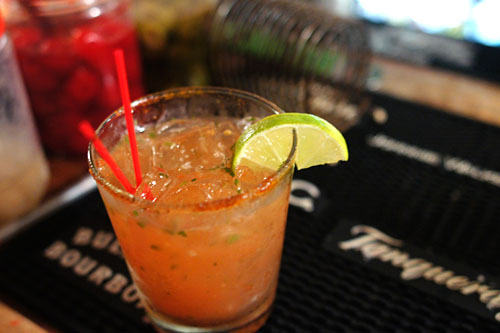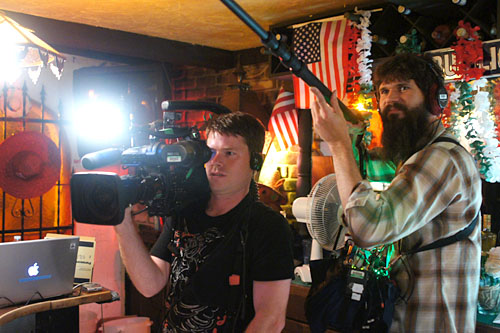 During our wait, we sauntered over to the bar and ordered up the night's signature $8 cocktail, Ludo's "Salsa-Rita," made with Salsa Tomato Water, Lime, Cilantro, Real Reposado Tequila, and a Sugar Chile Rim. It was actually surprisingly delicious, conveying the tart, tangy essence of salsa nicely, and finishing it with a great kick of spice from the chili rim. I wanted some chips to go along!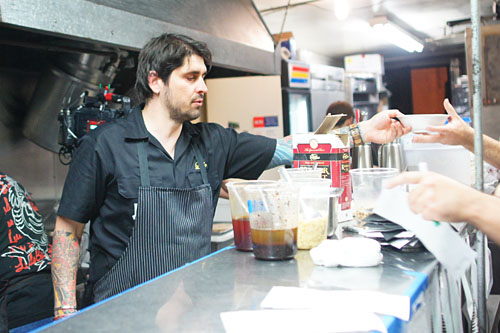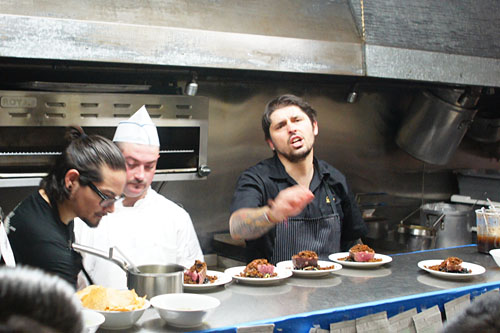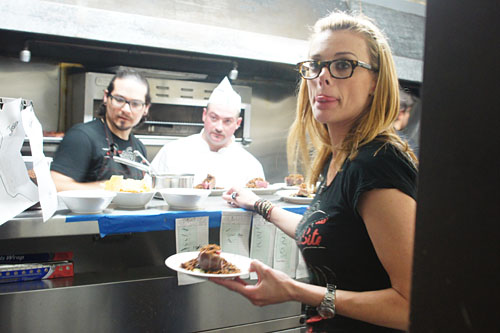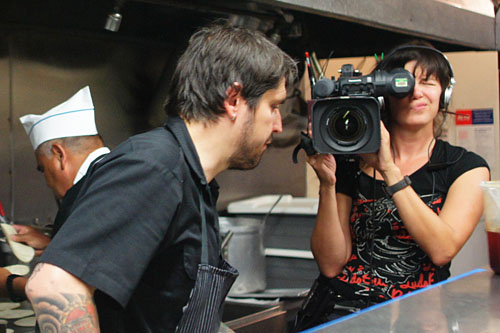 Merde!
Drama and despair in the kitchen, all captured on film. Note the presence of Chef and Johnny Depp look-alike Sydney Hunter III, fresh off his recent gig at
Bastide
.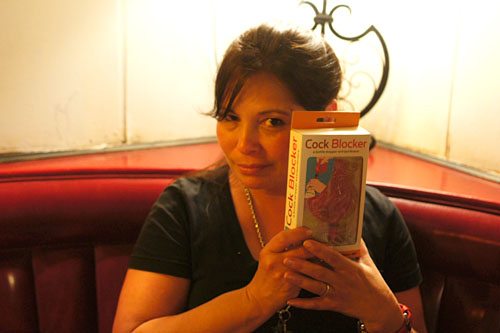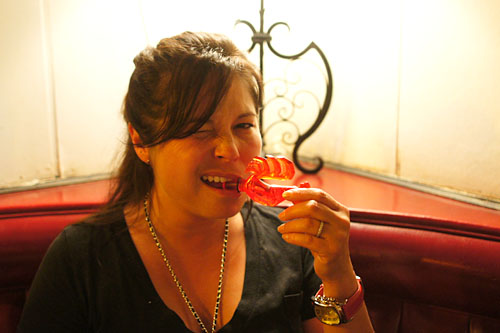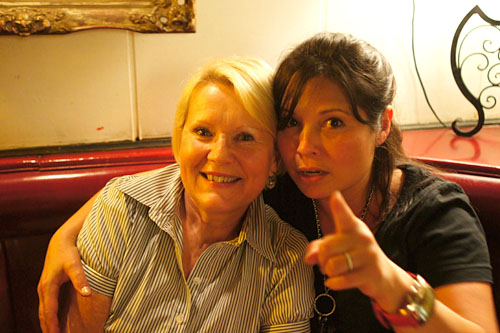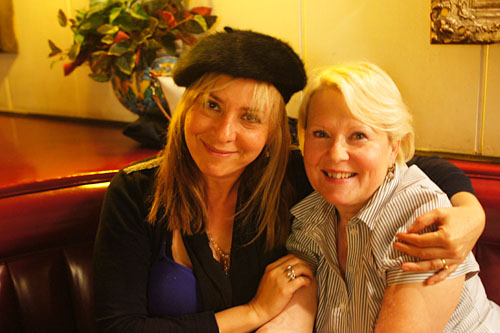 Back in the dining room, nobody was surprised to see Jo of
My Last Bite
in the house, though her "Cock Blocker" device did catch me off guard. Joining Jo was none other than Mother Lefebvre, here from France to see the twins.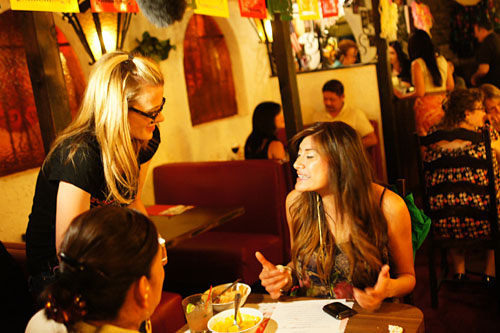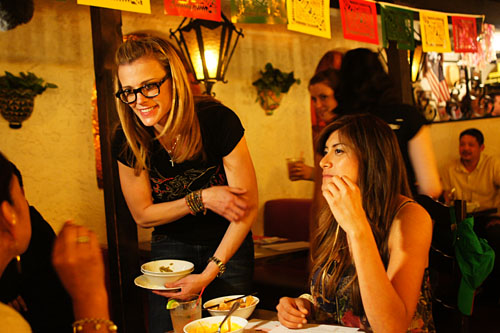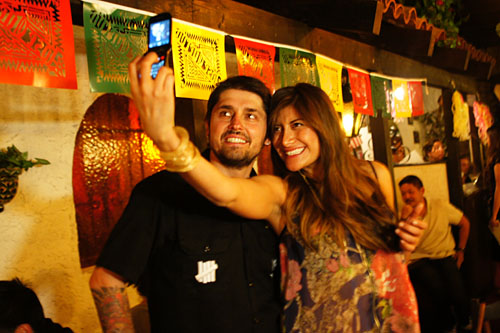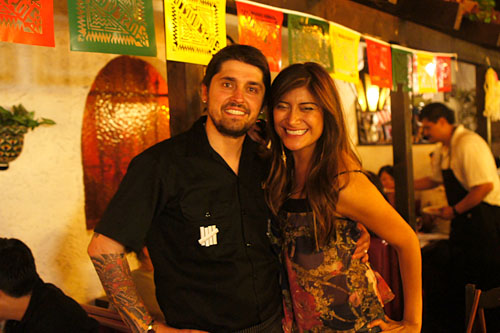 Both Ludo and Krissy came out to cavort with Bricia and her megawatt smile.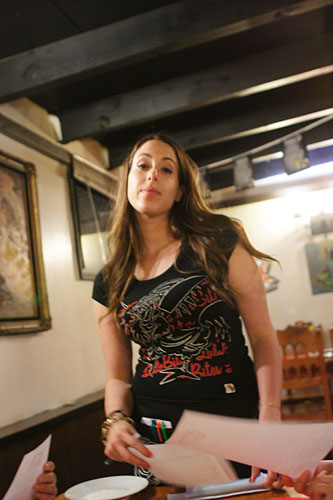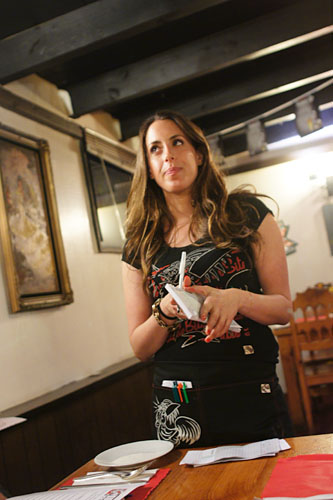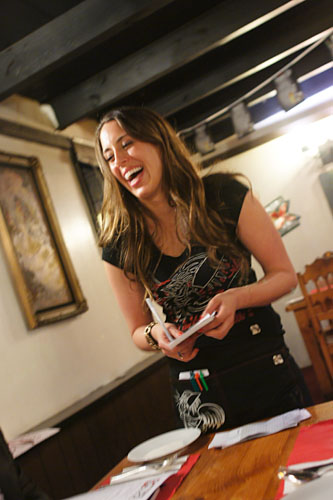 When we were finally (
finally!
) seated, we were greeted with yet another familiar face: our lovely server Jessica from the last LudoBites iteration at
Max
.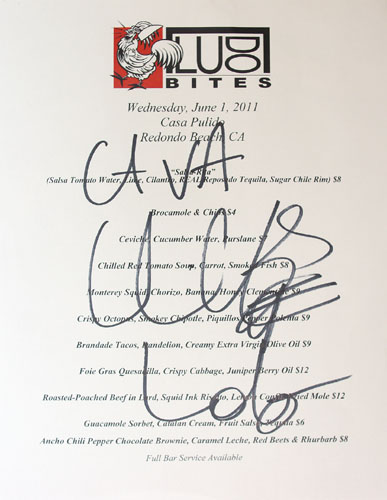 Casa Pulido was transformed into
Casa PuLudo
, with a menu comprised of "Tapas French Mex" fare. Naturally, with our party of six, we easily gamuted it, ordering everything on the menu--
times three
. Click for a larger version.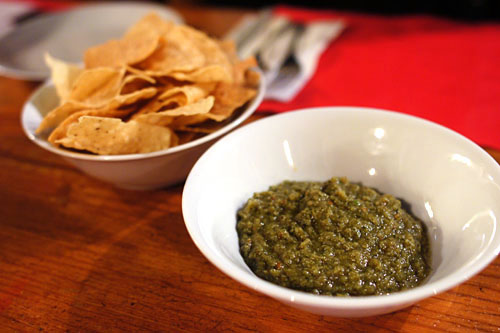 Brocamole & Chips [$4.00]
Brocamole
came out looking more like
brocalsa verde
. It didn't have the weight of guacamole, but was instead surprisingly light, nicely conveying the essence of broccoli with a tangy, acidic kick. A bit strange at first, but surprisingly addictive.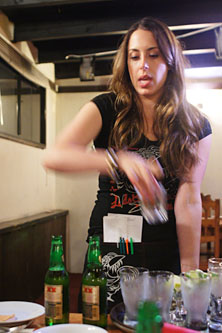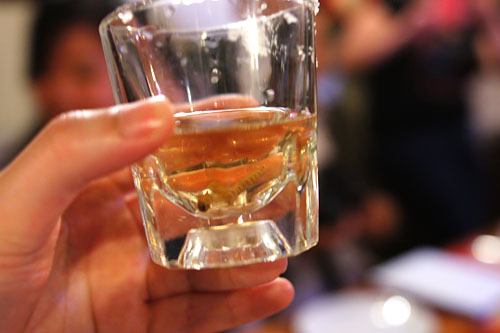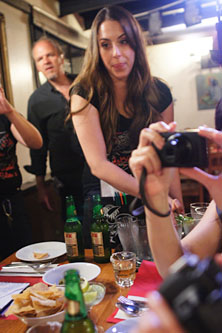 Some mezcal to kick off the meal. Of course, I ended up getting the worm, which turned out to be quite the spectacle (the camera crew made sure to get
that
on film). Really, it wasn't offensive at all, tasting much like its accompanying booze and serving as more of a textural component.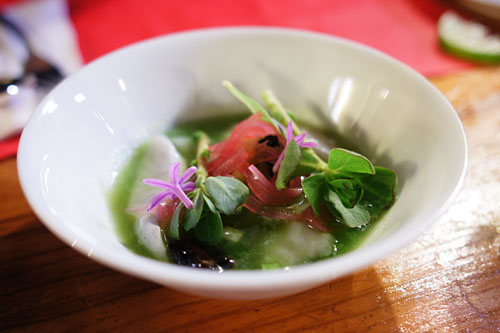 Ceviche, Cucumber Water, Purslane [$7.00]
Ludo's ceviche featured a mild, dense base of fish played against a cool, refreshing broth of cucumber. It was an effective combination, but the key here was clearly the purslane, which showed off a good bit of tartness that really tied everything together for me. I quite appreciated the crunch of the red onion as well.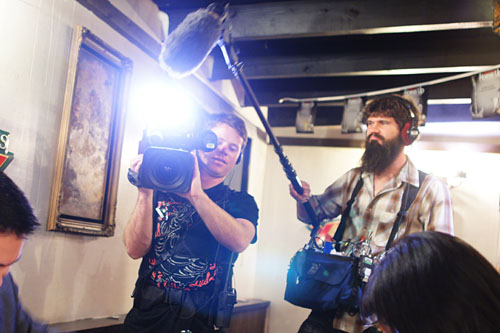 I had a strange feeling that we were being watched...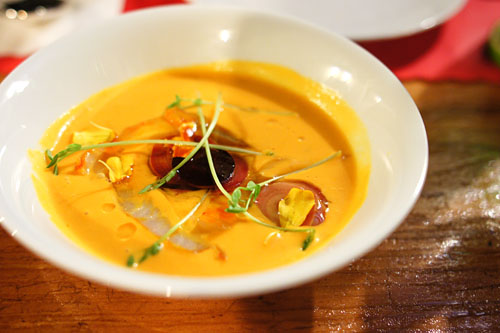 Chilled Red Tomato Soup, Carrot, Smoked Fish [$8.00]
Soup was quite bracing to say the least. The smoky savoriness of the fish was in-your-face from the get go, and lingered long on the palate. At the same time though, the tomato really did work in terms of tempering the sheer power of everything. What made this special, however, were the carrots, which contributed a delightful sweet crunchiness to the fray, as well as the sprouts, with their green, light, peppery tang that served to balance the dish. Somewhat reminiscent of Ludo's famous
Chorizo Cantaloupe Cornichon
from
Version 2.0
.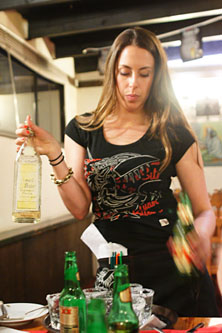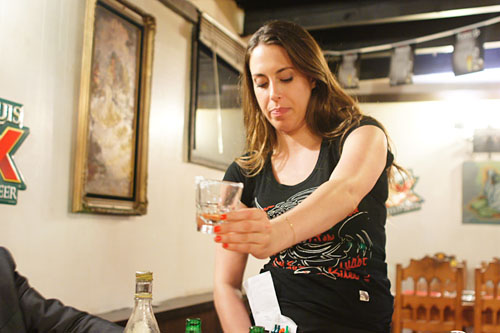 Pouring out a little
mezcal
for Bricia.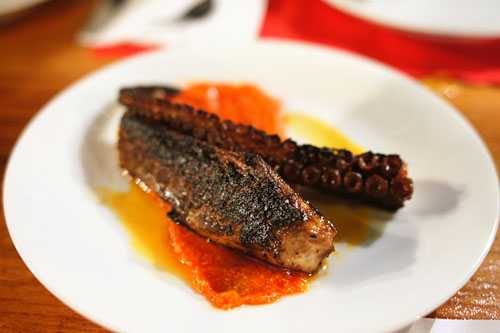 Crispy Octopus, Smokey Chipotle, Piquillos Pepper Polenta [$9.00]
Octopus was one of the stronger courses of the evening, with a pleasantly supple, yet still snappy consistency. Its flavor was delectable ocean-y, with a lovely bit of creeping spice courtesy of the chipotle, as well as a tinge of sweetness from those piquillos.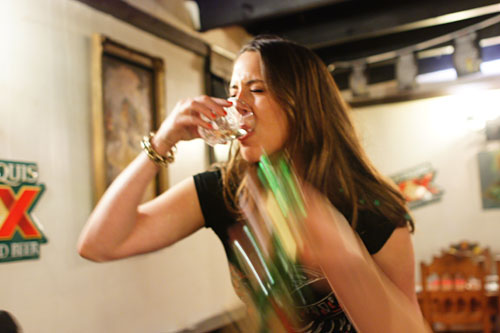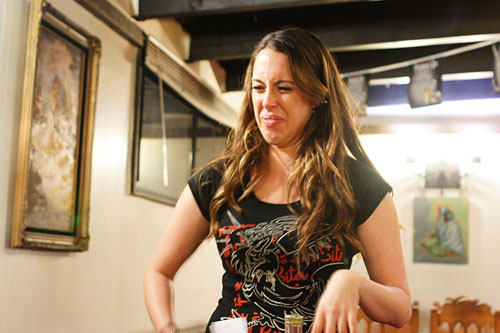 Jessica gets the worm now--DO NOT WANT.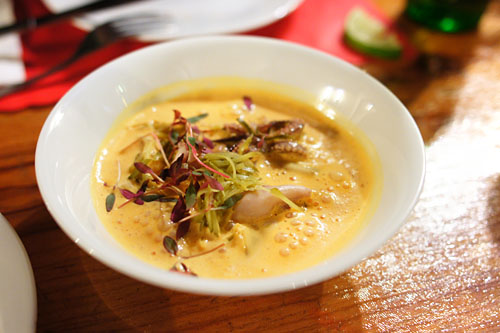 Monterey Squid Chorizo, Banana, Honey Clementine [$9.00]
Squid had a lovely texture, with a great natural sweetness at play. The chorizo worked well here, but the combination of citrus and banana was veering toward the overly sugary. I would've liked more heat perhaps to balance things out a bit.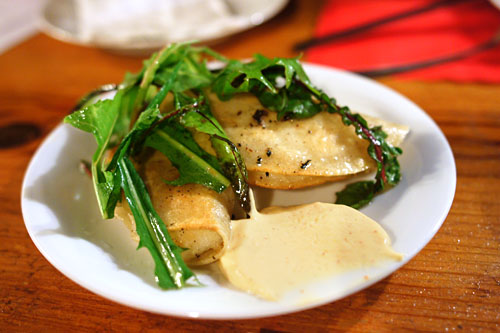 Brandade Tacos, Dandelion, Creamy Extra Virgin Olive Oil [$9.00]
I'm a sucker for salt cod, so I guess it should come as no surprise that Ludo's potato taco was my favorite course of the meal. Brandade was mixed with potato purée, making for a magical interplay of flavors that recalled the
tacos de papa
that I enjoyed during my summer in the D.F. I thoroughly enjoyed the textural contrast between the creamy brandade and taco's crispy fried tortilla shell, while the dandelion leaves imparted a wondrous bitterness to things.
A note: apparently, these tacos were inspired by a similar dish on the menu at the Redondo Beach outpost of
Chronic Tacos
, which happens to be owned by
Jackass
' Wee Man, Jason Acuña. In fact, Acuña, known around these parts of
Oui Oui Man
, was present this evening and seated next to
Jo
I'm told. Not sure how I missed him, though I guess he is quite small.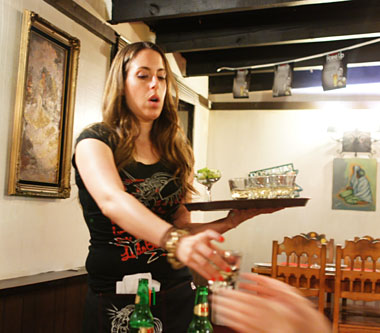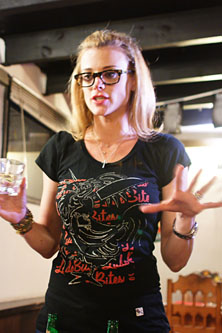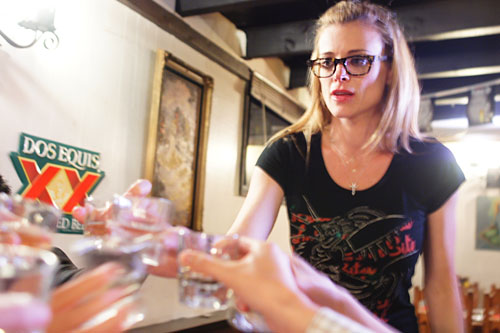 A round of Real de México tequila for everybody, including Krissy.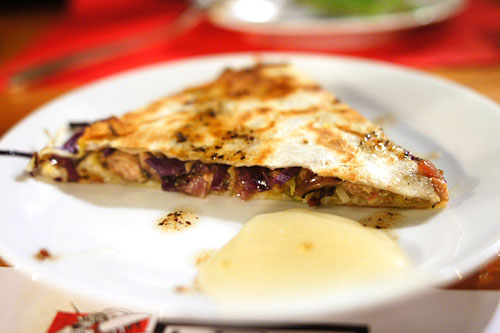 Foie Gras Quesadilla, Crispy Cabbage, Juniper Berry Oil [$12.00]
The bane of our aforementioned protesters was easily the best quesadilla that I'd ever eaten. It was surprisingly well-integrated, with the foie gras serving as a wonderful focal point in the dish, playing perfectly with the
queso
, while the cabbage did a superb job in moderating the liver. It's probably safe to say that this turned out markedly better than Ludo's infamous pig ear quesadilla from
Top Chef Masters
.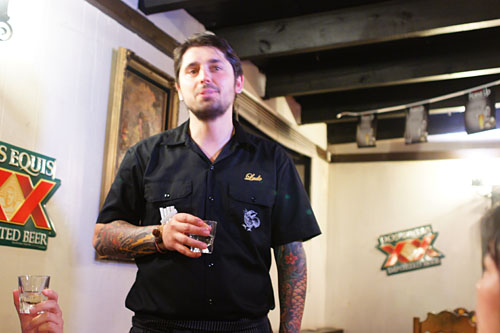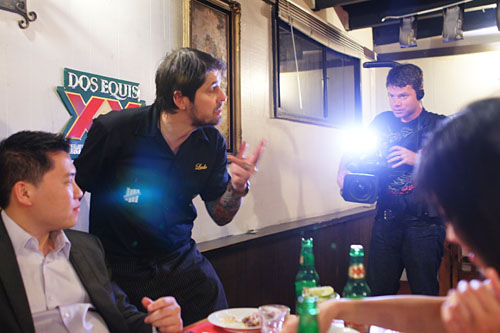 After a night like this, Ludo could use a drink as well.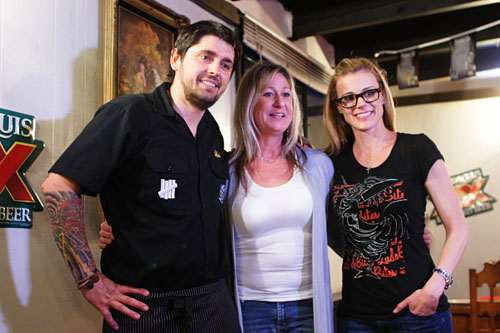 The requisite photo with Ludo and Krissy.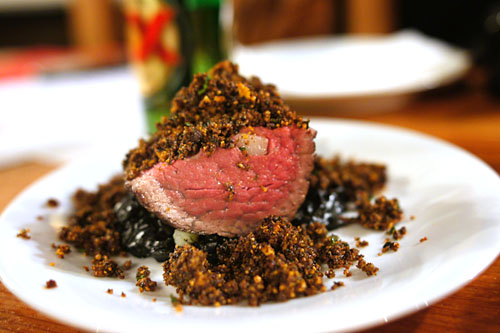 Roasted-Poached Beef in Lard, Squid Ink Risotto, Lemon Confit, Dried Mole [$12.00]
Beef arrived suitably tender, and went just swimmingly with its bed of black risotto. We all know of Ludo's mole at
Version 3.0
, but this dried preparation was even more intriguing, serving as a complex counterpoint to the meat. I did find the sourness of the lemon confit a touch too powerful however.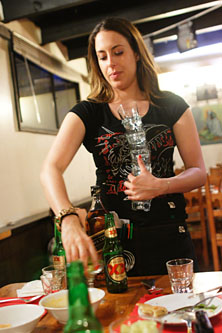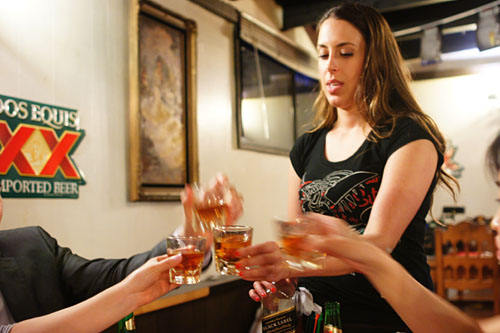 Jessica busts out an entire bottle of Johnnie Walker Black Label for our last round.
Ancho Chili Pepper Chocolate Brownie, Caramel Leche, Red Beets & Rhubarb [$8.00]
Unfortunately, this dessert just didn't come together for me. I really wanted to taste more spice. As it stood, the brownie was pretty much just like any other, and though the caramel helped somewhat, the whole dish seemed surprisingly tepid.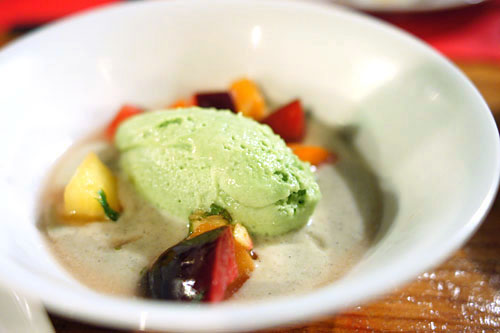 Guacamole Sorbet, Catalan Cream, Fruit Salsa, Tequila [$6.00]
Ludo's
Campfire Smoked S'mores, Guacamole Sorbet
from
Version 5.0
was divisive to be sure. Well, the notorious guac sorbet made another appearance tonight, and fortunately, seemed to work better the second time around. It actually paired with the almost
fascinating
sweetness in the dessert, which almost had a bubblegum-esque flair to it for me, while another one of my dining companions likened it to a "Chinese cake."
Overall, tonight's dinner was actually more cohesive than a typical LudoBites experience, though the cuisine didn't exhibit the same level of polish, being brasher, grittier, and particularly evocative of the restaurant's brazenly ephemeral nature. As for what's next for LudoBites, the pop-up will return sometime in August if all goes according to plan, after Ludo and Krissy get a much needed bit of R&R and some quality time with the kids. The location is already secured, so stay tuned...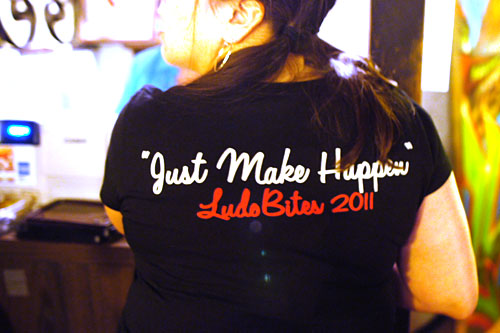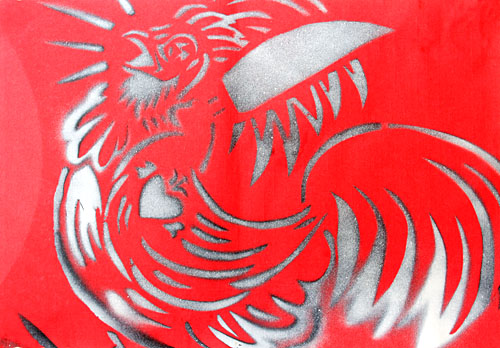 Previous LudoBites posts: v6.0 at Max [1], v5.0 at Gram & Papas [1], v4.0 at Gram & Papas [1], v3.0 at Royal/T [2] [1], v2.0 at Breadbar [1]
.