Test Kitchen (Los Angeles, CA) [8]
Test Kitchen
9575 W Pico Blvd, Los Angeles, CA 90035
310.277.0133
www.testkitchenla.com
Tue 09/14/2010, 08:00p-11:10p
Up to this point, Test Kitchen has successfully showcased the talents of a number of Executive Chefs and Chefs de Cuisine. TK co-founder
Brian
, however, had always wanted to provide a forum where up-and-coming Sous Chefs could show off their own culinary repertoires. Thus, the idea for a "young guns" night was born.
A troika of chefs was selected to participate. Perhaps the most well-known of the group is recently-departed
Top Chef
contestant
Amanda Baumgarten
, who currently works as a Sous Chef at Downtown's
Water Grill
. Previously, she held Executive Sous Chef positions at
Ford's Filling Station
and Paperfish, and before that, worked at
Patina
and
Melisse
. Baumgarten attended the Le Cordon Bleu school in London, and also cooked at La Tante Claire and Le Gavroche. We also have
Dan Moody
, a.k.a.
The RelationChef
. The CIA-trained Moody cut his teeth at L'Orangerie under Ludovic Lefebvre's tenure, and is a fixture in the kitchens at
LudoBites
. Rounding out the triad is Dylan Hallas, whom I first met at
The Tasting Kitchen
in Venice. Hallas attended the CSCA, graduating in 2003, with his first job out of school being at Pasadena's
Trattoria Tre Venezie
. He also cooked at
Osteria Mozza
,
The Bazaar
, Vincenti,
Providence
, the
short-lived Ursa
, and is currently slated to join the team at Jeffrey Cerciello's upcoming
Farm Shop
.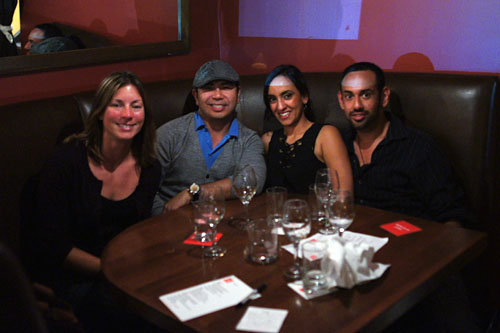 Longtime reader
Jai
brought along a few foodies from UCLA Anderson's FEMBA program: Andrea, Ric, and Iknam. He also generously provided a trio of wines for us to enjoy: the Perrier-Jouët Champagne Belle Epoque, a 2009 Pascal Janvier Jasnières Cuvée du Silex from the Loire Valley, and a 1994 Spottswoode Cabernet Sauvignon from Napa.
Other foodie types in attendance included Elliott of
F for Food
,
Grand Cheng
,
Julie Wolfson
from
LAist
, Linden of
The Gastronomnom
(along with his better half
Amy
), Lynn of
Overworked Underfed
, omnipresent photo guy
Ryan Tanaka
, and Shauna of
The Minty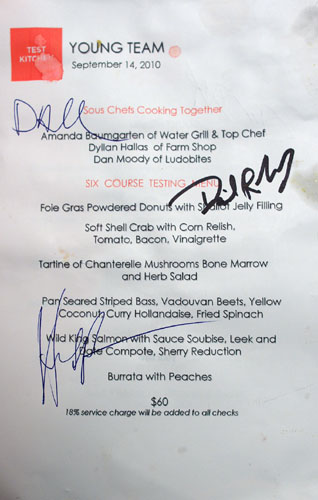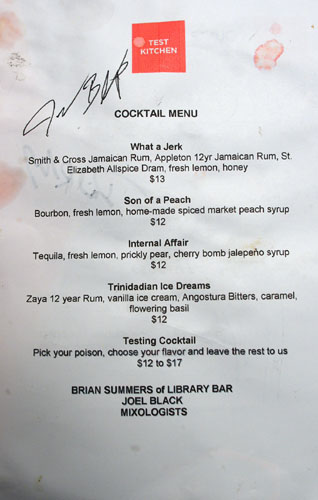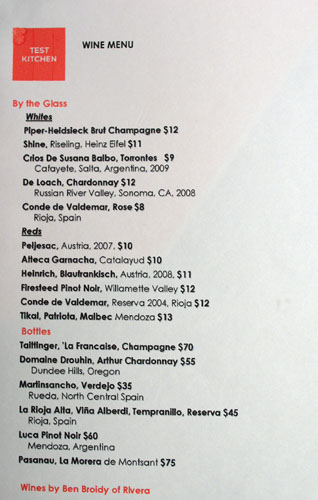 Tonight's menu was a six-courser for $60. A foursome of cocktails, meanwhile, was created for the dinner by mixologists Brian Summers and Joel Black. Click for larger versions.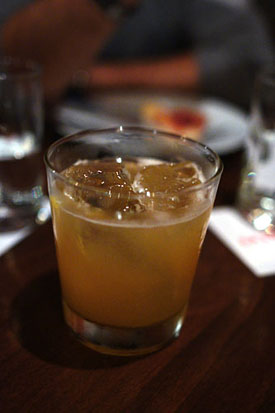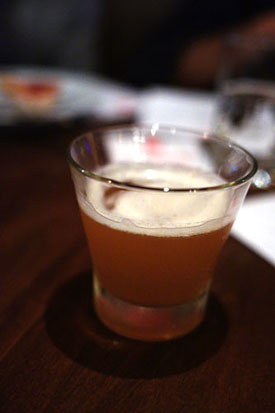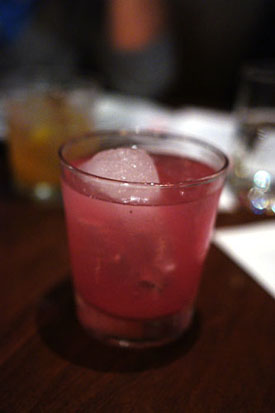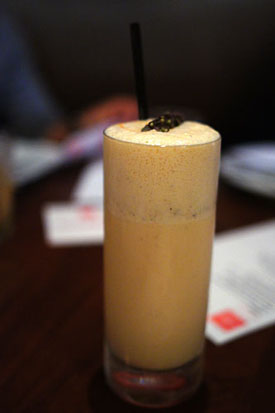 Naturally, we had to order a round of all the cocktails. First up was the What a Jerk (Smith & Cross Jamaican rum, Appleton 12yr Jamaican rum, St. Elizabeth Allspice Dram, fresh lemon, honey), which had a great bit of citric tang on the nose and attack, leading to a weighty body characteristic of rum. The finish was fantastic, resplendent in notes of sweet-spicy goodness. The Son of a Peach (bourbon, fresh lemon, home-made spiced market peach syrup) was even better, with a superb interplay between the gravity of the whiskey and the sugariness of peach, all moderated by an amalgam of cinnamon, black pepper, fennel, and coriander.
Next, we had the Internal Affair (tequila, fresh lemon, prickly pear, cherry bomb jalapeno syrup), which had a lovely spicy-saccharine nose and a weighty, woody base of tequila perked up by a bit of sweetness and a tinge of heat from the jalapeno. We ended with my favorite of the quartet, the Trinidadian Ice Dreams (Zaya 12 year rum, vanilla ice cream, Angostura bitters, caramel, flowering basil). I loved the almost tropical sweetness of the cocktail, intensified by the overarching weight of the caramel, all over a luscious base of ice cream. The basil and bitters, at the same time, provided a tempering complexity--excellent.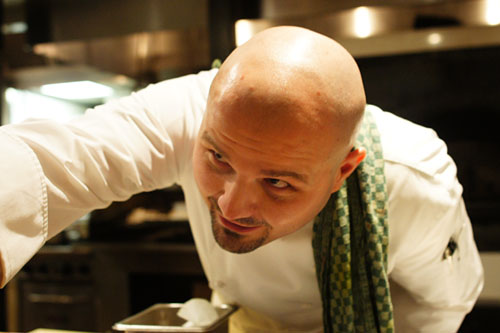 Chef Dan Moody.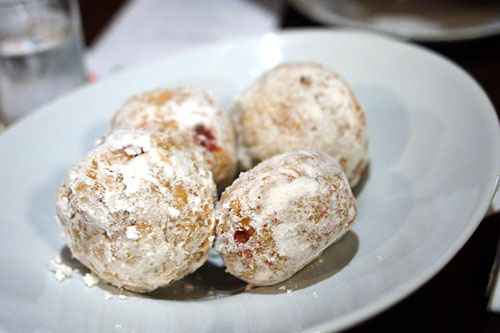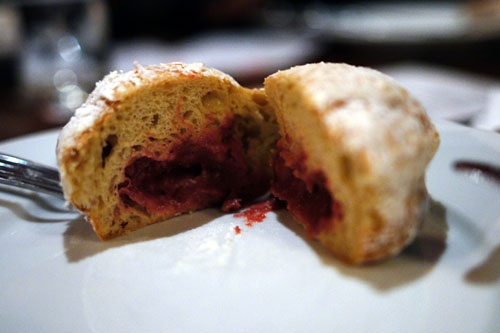 1: Foie Gras Powdered Donuts
| Shallot Jelly Filling
Moody was up first, and hit it out of the park with an almost
Ludo
-esque presentation of foie gras. Though these beignets may look like your typical jelly-filled doughnuts, they were anything but, showing off subtly sweet, delicate notes of foie, beautifully complemented by a carnelian filling of leek, beet, fig, and shallot. I very much appreciated how the liver was countervailed by the vegetal notes of the leeks and shallots--making for a rather well-integrated dish--as well as the slight sugariness provided by the employment of tapioca powder on the donuts' exteriors.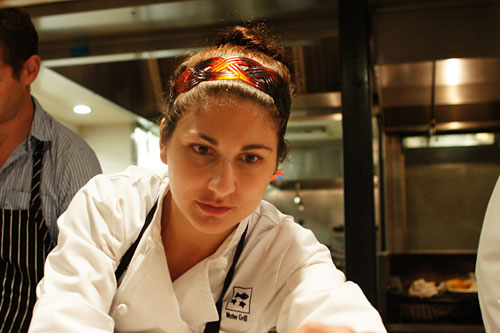 Chef Amanda Baumgarten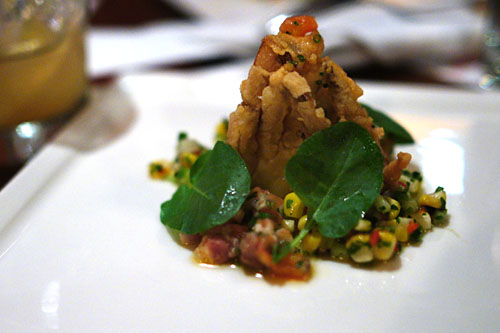 2: Soft Shell Crab
| Corn Relish, Tomato, Bacon, Vinaigrette
Regular readers will recall that I'm no fan of soft shell crab. Baumgarten's version here, however, was one of the strongest I'd ever had. The crab itself was deftly prepared, showing off the nature of the crustacean beautifully, and had a superb texture to boot. I was afraid that the corn would be overwhelming, but rather, it accented the decapod's inherent sweetness perfectly. Even better were the tomatoes, which added a refreshing, juicy succulence to the dish.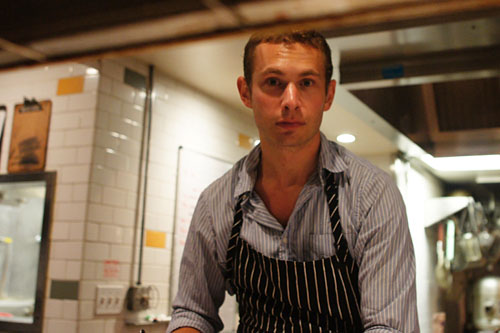 Chef Dylan Hallas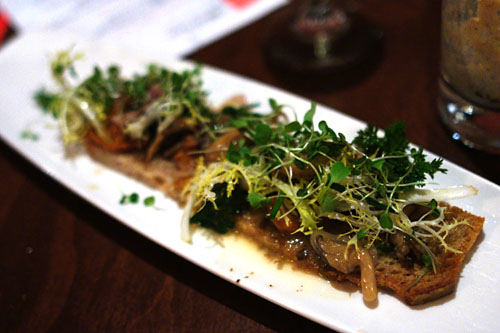 3: Tartine of Chanterelle Mushrooms
| Bone Marrow and Herb Salad
Hallas' tartine (a fancy word for open-faced sandwich) was another standout of the meal, easily one of the top bone marrow dishes I've eaten. I loved how the mushrooms worked alongside the heft of the marrow, forming a gorgeous admixture of tastes and textures. This was expertly balanced, however, by the usage of the various veggies (parsley, tarragon, frisée) paired with a red wine vinaigrette and olive oil. The toasty bread, meanwhile, served as a moderating element, and also added an apt crunch to the course.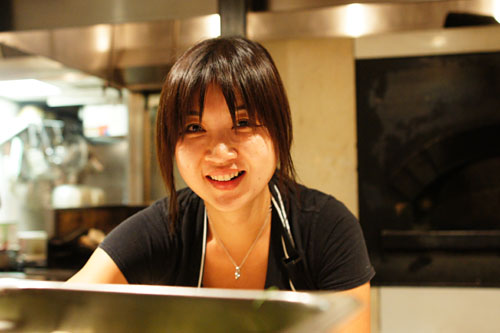 Yes, that's Holly of
The Michelin Project
cooking in the kitchen. She was brought on by Moody, who'd worked with her previously at
LudoBites 4.0
(she was a
stagiaire
there).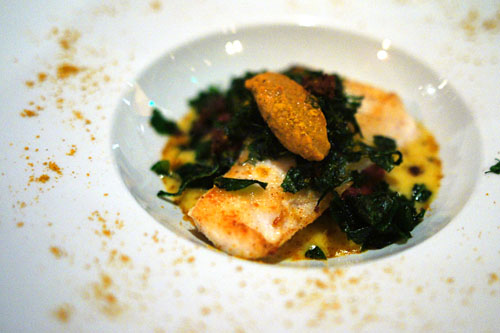 4: Pan Seared Striped Bass
| Vadouvan Beets, Yellow Coconut, Curry Hollandaise, Fried Spinach
Bass came well-cooked, and I really enjoyed the stark temperature contrast presented by the fiendishly tart frozen vinaigrette. However, the sweetness of the coconut was a bit distracting for me, and I could've used less vadouvan as well; I wanted the character of the fish itself to be more apparent. Things were improved, though, by the application of beets and spinach.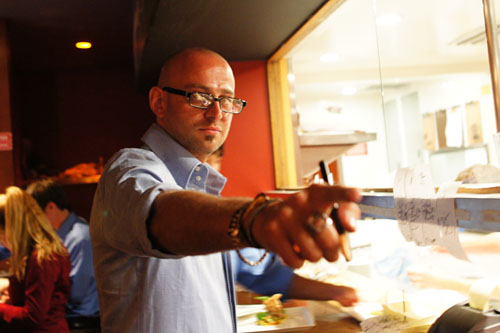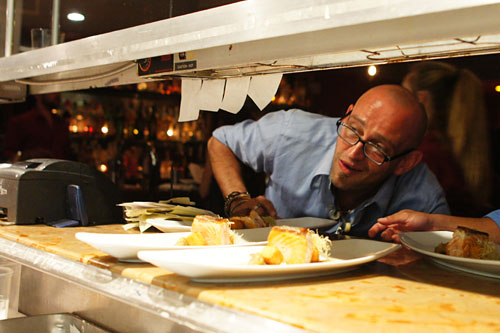 Baumgarten's
Top Chef
best bud
Alex Reznik
was helping to expedite. Reznik, of course,
recently left Ivan Kane's Cafe Was
, and is currently looking for a new project; he is not, however, working for
Vartan Abgaryan
at this point (as I previously speculated). The two chefs actually met and became good friends after working at Lutece at the Venetian, Las Vegas.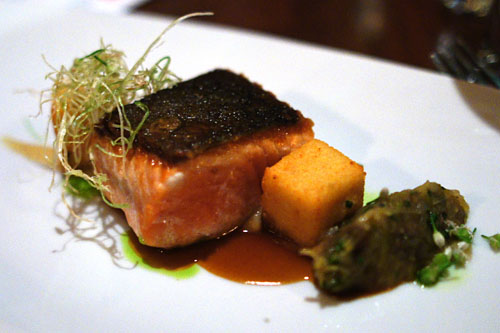 5: Wild King Salmon
| Sauce Soubise, Leek and Date Compote, Sherry Reduction
The salmon arrived with an interesting story: apparently, it was caught by a Captain Andy Nitby, who won a lottery that allowed him to fish for this Alaskan salmon pre-season. In any case, the fish came adroitly cooked to a pleasantly rare temperature, and demonstrated a beautifully briny, fatty character with a great savoriness. The salmon easily stood alone, though the sherry reduction (replete with a bit of veal jus I think) did augment its flavor. I also appreciated the slight piquancy of the leek-date compote, though the soubise was a bit too potent for me.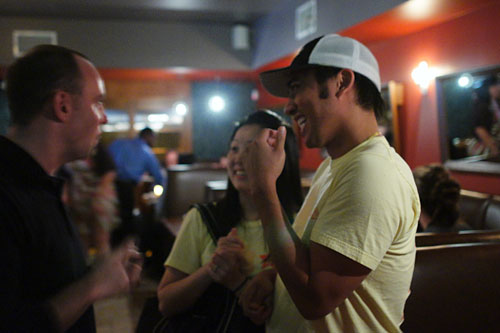 Starry Kitchen's
Thi and Nguyen Tran were in the house, seen here chatting with
Stephane Bombet
.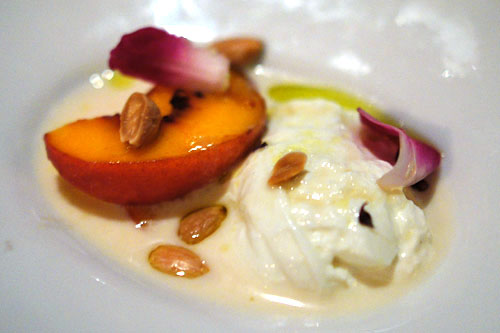 6: Burrata
| Peaches
Dessert was somewhat unconventional, not surprising given that the dish was originally intended to be a savory course. Hallas chose to use Di Stefano burrata, which he paired with cherry liqueur-infused peaches in a sweet & sour almond syrup. The dish showed off an intriguing interaction between the unabashed sweetness of the fruit and the bit of saltiness from the cheese, all leading to a delightfully nutty finish; it was a slightly disconcerting experience at first, but it worked.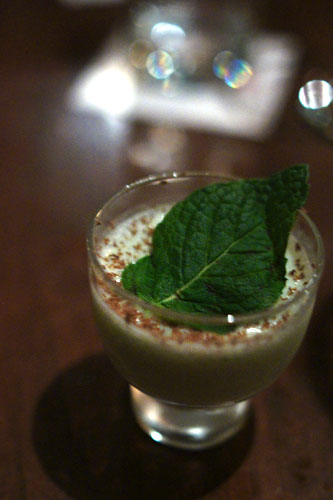 To celebrate the fact that Test Kitchen is now the most written about restaurant on this blog (surpassing my six posts about
Urasawa
),
Brian
had Joel Black whip up a celebratory shot. The resultant concoction was deemed the Drunken Mint Chocolate Chip (vodka, vanilla ice cream, white crème de cacao, mint, amaretto, dark chocolate), and was simply superb, drinking like a boozy mint chocolate chip ice cream--this one needs to go on the cocktail list pronto!
Tonight's dinner at Test Kitchen was another success, a fitting tribute to the unsung heroes of the kitchen. And in fact, I wouldn't mind if
each one
of these three chefs got his or her own night here.