Burger Parlor (Fullerton, CA)
Burger Parlor
108 W Wilshire Ave, Fullerton, CA 92832
714.525.5111
www.burgerparlor.com
Fri 07/01/2011, 08:00p-10:40p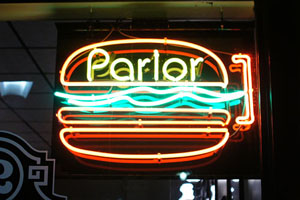 Now normally, the opening of a new burger joint, especially one in Fullerton, would hardly register a blip on my culinary radar. So why is Burger Parlor different? Well, it happens to be helmed by one
Joseph Mahon
, an OC native who's cooked at the likes of Café Boulud in New York, David Myers'
Sona
, and most recently, at the newly-departed
Bastide
. He's also been collaborating with
David Haskell
on the duo's
Magnum
dinner series. Mahon instituted "Burger Mondays" at Bastide, and due to the positive response from the series, he knew that his next project was going to be a chef-driven hamburger concept.
Described by the Mahon, somewhat oxymoronically, as a "permanent pop-up," Burger Parlor represents the Chef's vision of a contemporary burger restaurant. It's located in the heart of Downtown Fullerton, only a few miles away from his hometown of La Habra (he currently lives in Brea). Burger Parlor pops up every Wednesday through Saturday from 6:00p-11:00p at the
Rialto Cafe
, a local breakfast and lunch spot. The restaurant debuted in early June, and has already been deemed by many to be OC's best burger. This facet, combined with my
previous history
with the Chef, made Burger Parlor a must-try.

As one would expect, the ambiance is decidedly casual, with a smattering of tables along the walls, a small bar, and, when the weather's right, even a couple of tables set up outside.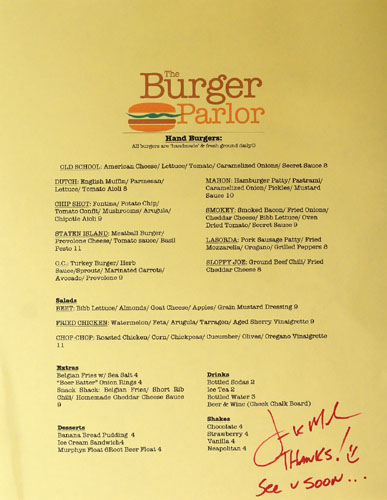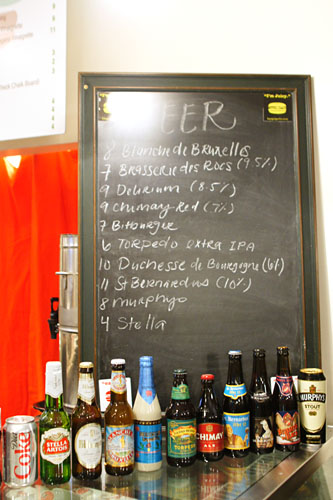 Burger Parlor's menu touts a selection of nine "hand burgers," constructed with Nebraska Angus beef, ground daily, as well as fresh-made buns and housemade condiments. There's also a selection of salads, sides, desserts, and shakes, while a focused list of craft beers rounds out the offerings. Click for a larger version.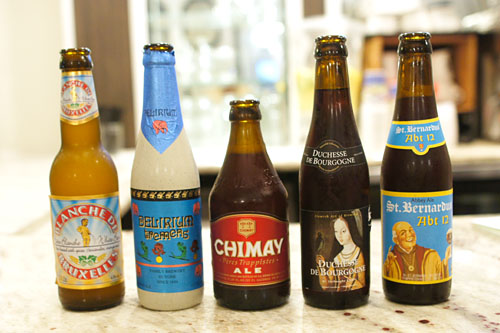 Speaking on those beers, we started with a fivesome: Blanche De Bruxelles [$8], Delirium Tremens [$9], Chimay Première (Red) [$9], Duchesse De Bourgogne [$10], and St. Bernardus Abt 12 [$11].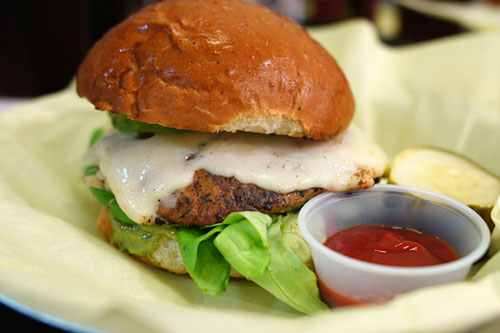 O.C. [$9.00]
| Turkey Burger/ Herb Sauce/ Sprouts/ Marinated Carrots/ Avocado/ Provolone
Since we were dining in Fullerton, perhaps it was fitting that we started out with the OC burger. Apparently, the denizens of Orange County are more health-conscious than most, hence the use of a turkey patty here. Given my previous experience with such things, I was expecting a dry, bland burger, but Mahon's was anything but. Rather, the meat was moist, supple, and wonderfully savory, beautifully complemented by the paired herb sauce and provolone. I was impressed by how the kitchen was able to develop such great flavors, and I do not hesitate in calling this the best turkey burger I've ever had.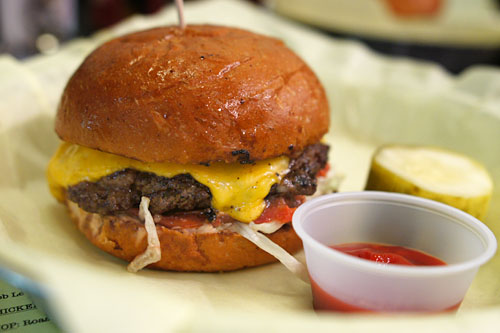 OLD SCHOOL [$8.00]
| American Cheese/ Lettuce/ Tomato/ Caramelized Onions/ Secret Sauce
We moved on from the O.C. burger to the O.G. burger. The patty itself was spot on, and melded faultlessly with the American cheese, while the lettuce and tomato helped brighten things up. I appreciated how the caramelized onions were restrained in their sweetness, and the tangy "secret sauce" did a wonderful job in tying everything together. Classic flavors, superbly executed.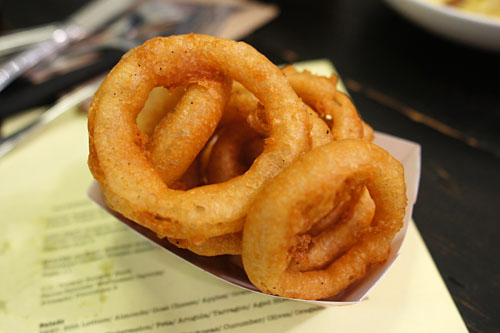 "Beer Batter" Onion Rings [$4.00]
From what I've read, people seem to rave about Mahon's onion rings, and now I understand why. Compared to most other preparations, these were more nuanced, with a delightfully light, airy texture and a subtle sweetness that really showed off the inherent flavor of onion. Indeed, we ended up ordering another round later on in the meal.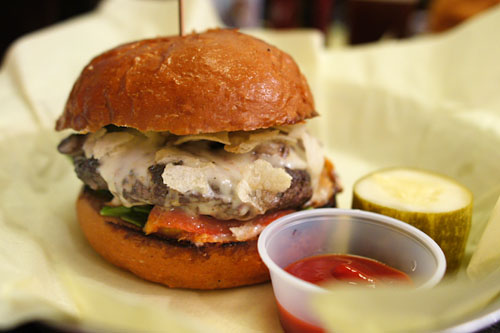 CHIP SHOT [$9.00]
| Fontina/ Potato Chip/ Tomato Confit/ Mushrooms/ Arugula/ Chipotle Aioli
Adding potato chips on a burger--why didn't I think of this earlier? The combination of beef, fontina, and mushrooms was just about perfect, and I definitely enjoyed the countervailing flavors of the arugula and tomato. However, the addition on those chips is what took this burger to the next level, adding a salty, crunchy tinge to the dish that I found immensely satisfying. One of our favorites.
MAHON [$10.00]
| Hamburger Patty/ Pastrami/ Caramelized Onions/ Pickles/ Mustard Sauce
Of course, we had to try Mahon's signature burger. Here, the inclusion of pastrami contributed a lovely bit of additional complexity to the beef that I loved. Both meats were linked together nicely by the Swiss cheese, but the key here was the offsetting tanginess from the pickles and mustard. Another one of our favorites.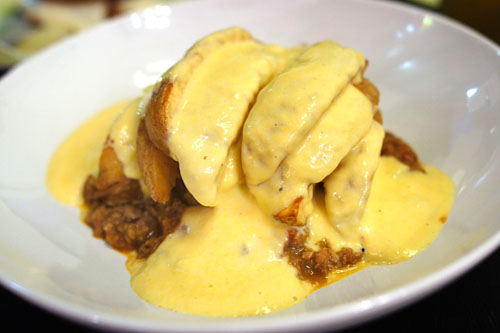 Snack Shack [$9.00]
| Belgian Fries/ Short Rib Chili/ Housemade Cheddar Cheese Sauce
Here was Mahon's riff on the old standby, chili fries. I've never had a bad version of the dish, and this was certainly no exception. The potatoes actually took on a larger role here than in more traditional preparations, but naturally, the short rib chili was the star of the show, joining forces with the (surprisingly delicate) cheddar to form a tasty amalgamation indeed.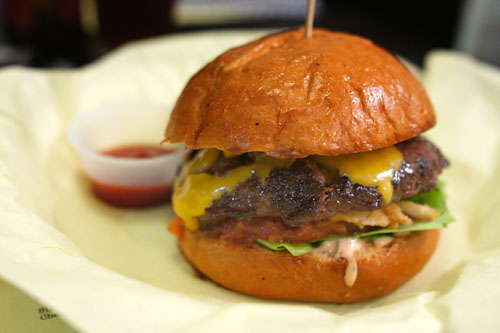 SMOKEY [$9.00]
| Smoked Bacon/ Fried Onions/ Cheddar Cheese/ Bibb Lettuce/ Oven Dried Tomato/ Secret Sauce
I'm not usually a huge fan of smoky flavors in my burger, but yet I thoroughly enjoyed this. The bacon added a very noticeable touch of smoke to things, but it wasn't too in-your-face, which I appreciated. At the same time, the tomato and secret sauce provided counteracting flavors here that worked gorgeously. My favorite part? Those delightful fried onions.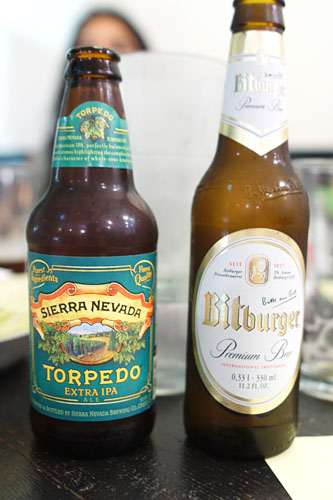 More brewskies: Sierra Nevada Torpedo Extra IPA [$6] and Bitburger Premium Pils [$7].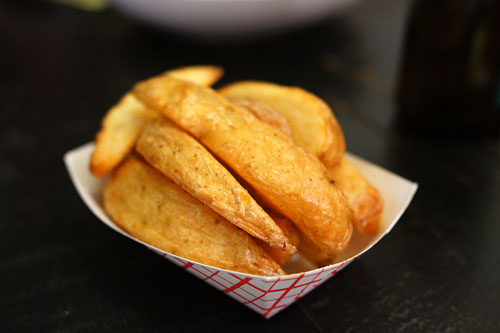 Belgian Fries w/ Sea Salt [$4.00]
At this point, we wanted to try some of the fries naked, without all the accoutrements present in the Snack Shack. These were some of the largest
frites
that I'd ever had, and really showed off the true character of potato, accented by just a touch of sea salt. A nice change of pace from the thin, extra-crispy versions that I typically encounter.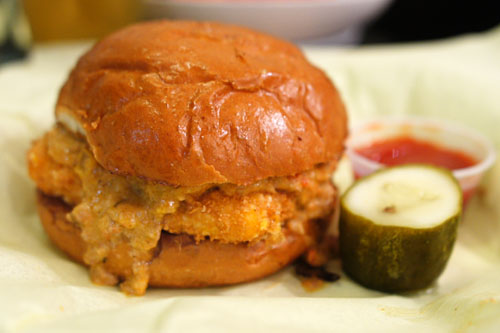 SLOPPY JOE [$8.00]
| Ground Beef Chili/ Fried Cheddar Cheese
A staple of culinary Americana, a traditional sloppy joe consists of ground beef, onions, tomato sauce, and various spices, served like a hamburger. Mahon's version was a fitting modernization of the original recipe, one that still retained the dish's low-brow charm. Not unexpectedly, the chili was the main attraction here, and worked surprisingly well with the fried cheddar.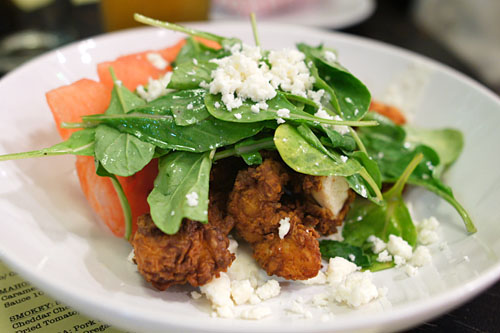 FRIED CHICKEN [$9.00]
| Watermelon/ Feta/ Arugula/ Tarragon/ Aged Sherry Vinaigrette
When I saw this on the menu, I was instantly reminded of Mahon's
Watermelon Salad/ Fried Chicken/ Tomato/ Feta/ Mache/ Aged Sherry Emulsion
dish from his
Bastide
days. The chicken, naturally, was the hero here, and would've been quite enjoyable by itself. However, the bird went swimmingly with the subdued, succulent sweetness of the watermelon, while the feta cheese added a nice bit of gravity to the salad. Very nice touch of astringency from arugula as well.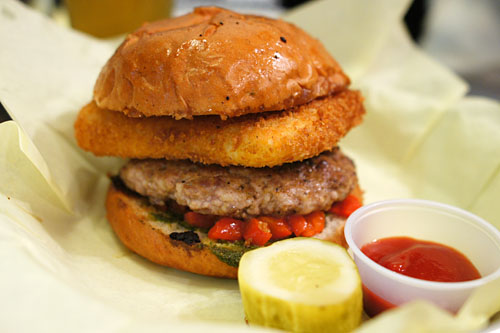 LASORDA [$8.00]
| Pork Sausage Patty/ Fried Mozzarella/ Oregano/ Grilled Peppers
Named, ostensibly, after famed Dodgers manager Tommy Lasorda and his eponymous dish at the defunct Larry Parker's diner in Beverly Hills, here was the only burger on the menu to use pork as the main ingredient. I appreciated the diversity, and the patty was delicious, pairing perfectly with the grilled peppers and oregano. My only concern was the cheese, which was a bit overwhelming, outshining the pork at times. Mahon described this as his "carny" burger, and he wasn't kidding!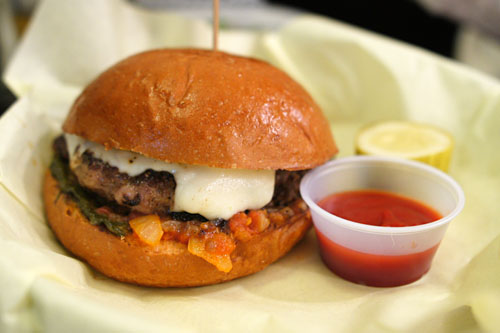 STATEN ISLAND [$11.00]
| Meatball Burger/ Provolone Cheese/ Tomato Sauce/ Basil Pesto
At this point, we were already quite full, but Mahon decided to send out one last burger as a gift. The borough of Staten Island features a higher percentage of Italians than any other place in the US, so it's fitting that it should be the inspiration behind Mahon's homage to the classic Italian meat ball sandwich. The various ingredients really did work together well here, deftly recalling the sensation of biting into a classic meatball sub. I especially enjoyed the bright flavors of the pesto.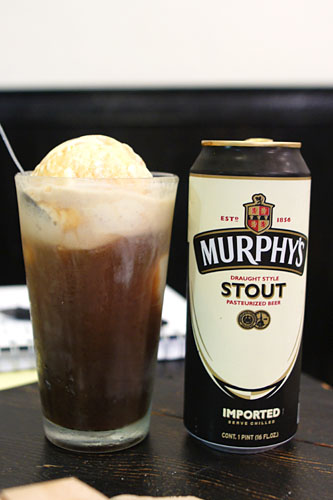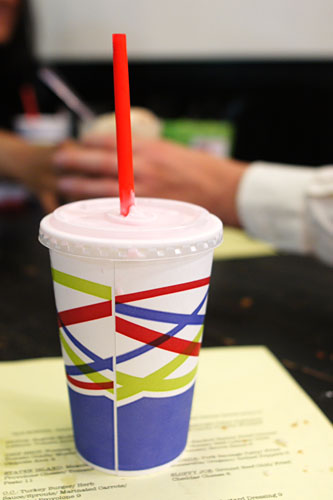 Time for some dessert libations. A float incorporating Murphy's Irish Stout [$6] was a tantalizing take on your childhood root beer version, with the chocolate-y, coffe-esque smack of the beer working beautifully with the vanilla ice cream. The Strawberry Shake [$4] was also spot-on, conveying delectable berry flavors that I reveled in.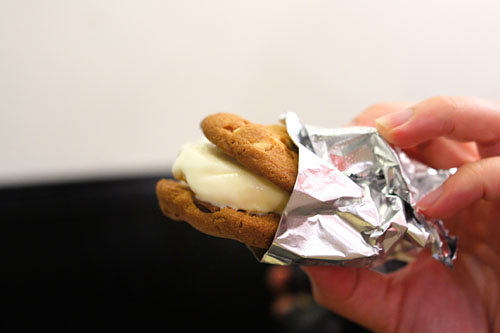 Ice Cream Sandwich [$4.00]
Mahon wrapped things up with two more complementary desserts. The first was this ice cream sandwich, with its classic interplay between the vanilla ice cream and the chocolate chip
and
white chocolate chip cookies.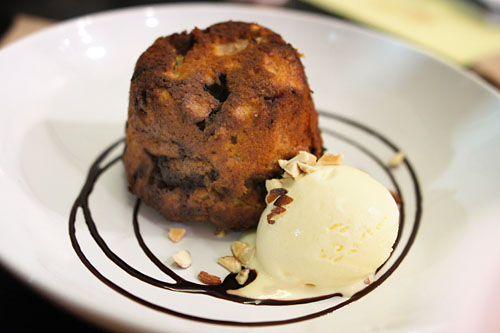 Banana Bread Pudding [$4.00]
We ended with a delightful bread pudding. Here, I enjoyed the sugary spice in the dish, and how that played with the subtle flavors of banana. Meanwhile, the chocolate lent depth and body to the dessert, and of course, the paired ice cream served to temper things.
I approached Burger Parlor with some trepidation, but Mahon and company really did deliver. I appreciated the sheer diversity of the burgers here, as well as the thought and care that went into each dish. Best burgers in OC? I can believe it.