LQ Fooding Around in LA at Starry Kitchen (Los Angeles, CA)
LQ @ SK
350 S Grand Ave, Los Angeles, CA 90071
626.817.6762
www.bistrolq.com
Mon 05/23/2011, 07:00p-09:30p

As you've probably heard by now, Laurent Quenioux's
Bistro LQ
has shuttered. The sad news was
announced
in March, and since then, the Chef has continued his role at Vertical Wine Bistro, where he became Executive Chef
late last year
.
In his spare time, Quenioux has also been working on launching "LQ Fooding Around in LA," his own pop-up dinner series that's debuting at none other than Nguyen and Thi Tran's
Starry Kitchen
. Starry Kitchen is mainly a lunch spot, and only offers up dinner Thursdays and Fridays, so it made sense to have Quenioux come in and do dinners Sunday through Tuesday, every other week. LQ@SK will officially debut the first week of June, and will last anywhere from three to six months. In addition, starting this week, the Chef will also have a dish (think
boudin noir banh mi
) on Starry Kitchen's lunch menu.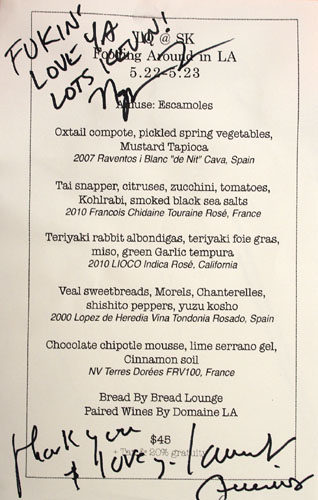 At Starry Kitchen, Quenioux will dishing up a five-course (plus amuse) prix fixe menu, priced at a reasonable $45pp. Given that this was a preview dinner, a complementary
all rosé
wine pairing by Jill Bernheimer of
Domaine LA
was also provided. Click for a larger version.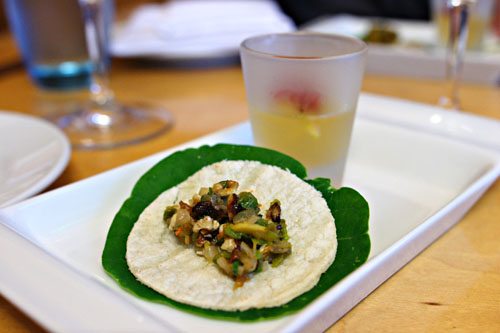 Amuse: Escamoles
Now here was a first for me. Otherwise known as "insect caviar,"
escamoles
are a Mexican delicacy of ant larvae, typically harvested from the base of maguey or agave plants. The examples here, taken from Oaxaca then brought Stateside through Tijuana (at $67/lb I'm told), weren't offensive at all, but rather quite tasty. The larvae were fairly mild on their own, with a slight earthy relish that went beautifully with the citrus and veggies, and I especially liked the tang from the nasturtium and how that played against the tortilla. Lime-spiked beer, meanwhile, served as a fitting chaser to the dish. I could've used a few more of these!
A passable plate of bread was provided by upstart Downtown bakery Bread Lounge.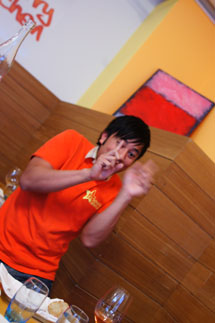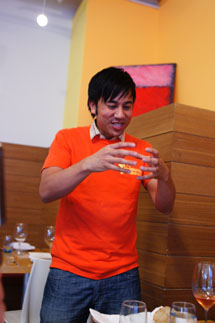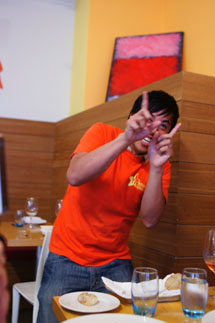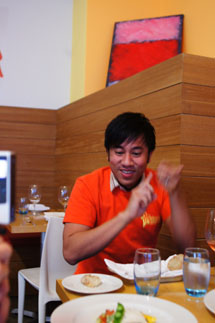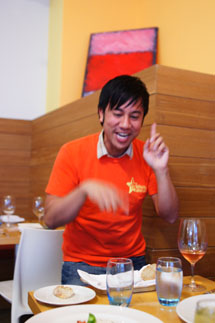 Nguyen can get quite worked up when describing a plate.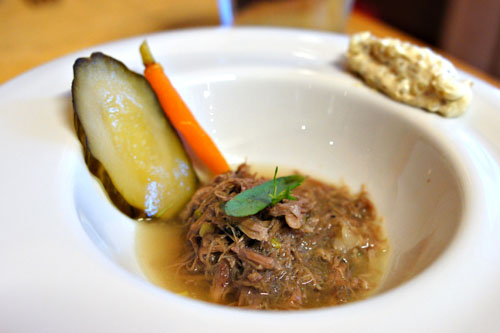 1: Oxtail compote, pickled spring vegetables, Mustard Tapioca
2007 Raventos i Blanc "de Nit" Cava, Spain
A compote of oxtail showed off a ridiculous tenderness, as expected, and also conveyed a sweet spice that deftly complemented the beef's inherent savoriness. It was a flavor combination that actually linked up quite well with the rather restrained relish of that mustard tapioca. At the same time, I appreciated the countervailing tartness and crunch from the pickles.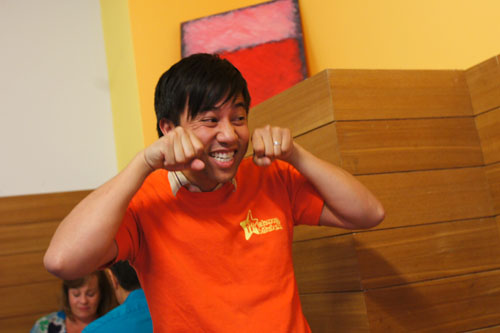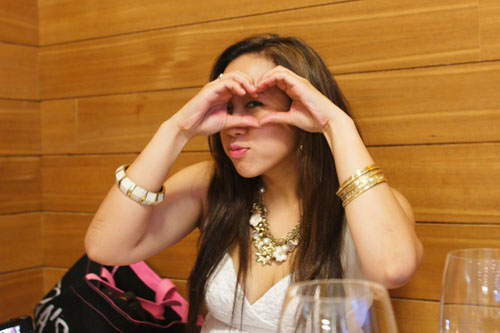 Nguyen and
Marian
exchanging "Asian pose" faces.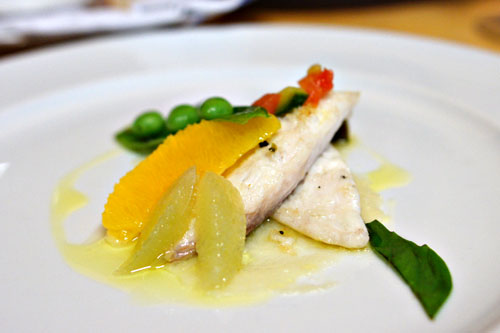 2: Tai snapper, citruses, zucchini, tomatoes, Kohlrabi, smoked black sea salts
2010 Francois Chidaine Touraine Rosé, France
Snapper arrived suitably soft, with a subtly peppery tinge. It was certainly serviceable, but I wanted bolder, more lusty flavors here; it was almost like the kitchen was holding out on us. Though the veggies (the peas especially) paired well with the fish, I didn't feel that the
tai
quite stood up to the citrus.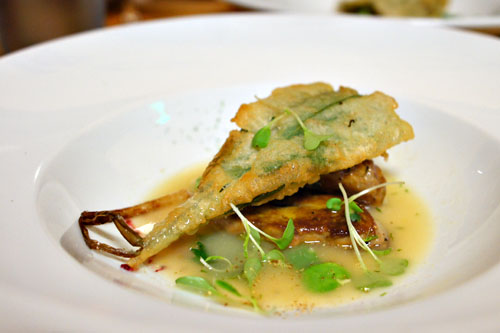 3: Teriyaki rabbit albondigas, teriyaki foie gras, miso, green Garlic tempura
2010 LIOCO Indica Rosé, California
Given my historic distaste for overly saccharine foie, the mere thought of a
teriyaki
preparation threw up a big warning flag for me. Fortunately though, the sauce was delicately applied here, adding a touch of sugariness to the liver, but not overwhelming it. The foie was actually quite delicious, and actually served as a surprisingly fitting complement to those delightfully savory rabbit
albondigas
meatballs. Both elements, meanwhile, were perfectly balanced by the bright flavors of the tempura'd green garlic, as well as what I believe was shiso. A lovely dish--as
Christina
said:
these balls are good!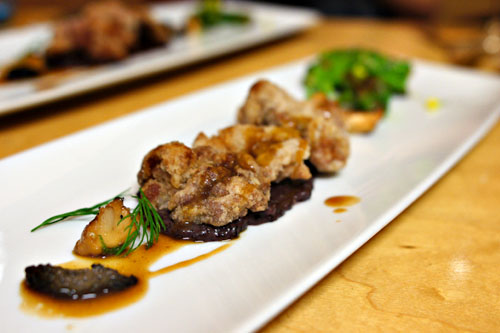 4: Veal sweetbreads, Morels, Chanterelles, shishito peppers, yuzu kosho
2000 Lopez de Heredia Vina Tondonia Rosado, Spain
Sweetbreads rarely disappoint, and indeed, these Starry Kitchen-inspired nuggets were some of the best that I've experienced in a seemingly long while. Wonderfully crisp and teeming with flavor, the sweetbreads were a joy to eat alone, and even better when taken with their bed of forbidden rice. The mushrooms helped to elevate the weightiness of the dish even further, while the
yuzukosho
lent a piquant counterpoint to things. The key here for me though were the shishitos, which had a nice bit of heat that cut right through the sweetbreads. My favorite course of the evening.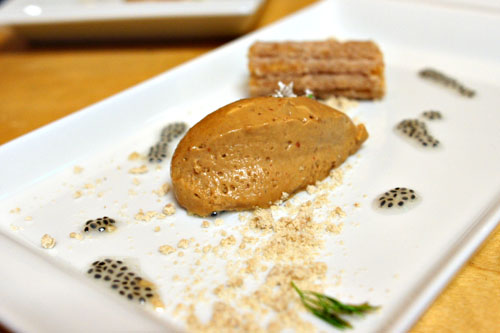 5: Chocolate chipotle mousse, lime serrano gel, Cinnamon soil
Now this was pretty neat. The mousse showed off a prototypical chocolate sweetness initially, but then transitioned to a lovely bit of creeping chipotle-infused spice on the palate. The churro and cinnamon crumbs really did a nice job in tempering the heat, and I adored the peppery kick of those cilantro flowers. Nice!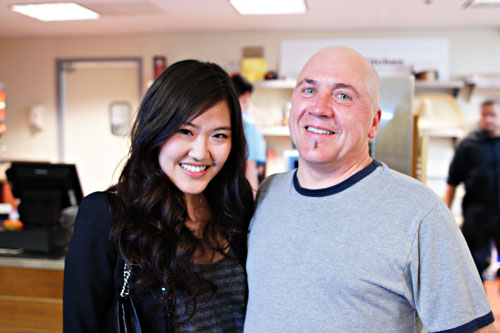 Christina
and
Chef Quenioux
.
All in all, a delicious showing from Chef Quenioux. He was really able to show off his eclectic style, providing us with a suite of dishes that, for the most part, were successful in marrying his French roots with some unexpected culinary influences. It'll be fascinating to see how his cooking evolves over the months here at SK. As for what's next for Quenioux, the Chef is still working on some collaborative projects, and will be making an appearance at this year's
Plate by Plate
tasting benefit as well. However, he's also stated that his "roots remain in Pasadena," so look out for a permanent restaurant on the East Side in the coming year.