Nana San (Newport Beach, CA)
Nana San Sushi
3601 Jamboree Rd, Newport Beach, CA 92660
949.474.7373
www.yelp.com/biz/nana-san-newport-beach (restaurant has no web site)
Sat 07/02/2011, 08:30p-11:05p

When you talk about sushi in Orange County, names such as
Sushi Wasabi
, Ohshima, Ikko, Murasaki, Shibucho, and perhaps even Makizushi in Irvine inevitably pop up. However, the O.G. O.C. sushi spot is probably Ango Tei in Costa Mesa, which opened way back in 1982 (making it as old as I am!). Angotei's owner and
itamae
, Ango-san, cultivated a passionate following throughout the years, but eventually handed over control of the restaurant to his step-son, Goro Sakurai. Goro-san continued his step-father's legacy, but would wind up selling the place in December 2007. Fans of Ango Tei were devastated, but hope reappeared in August 2009, when Goro-san and wife Judy debuted Nana San in the old Yuki Sushi spot in Newport. The restaurant is located in a strip mall directly across from the Corona Del Mar Freeway (State Route 73), hence the same
Nana San
, which translates to "seven-three."

Nana San's interior has been spruced up a bit from its old Yuki Sushi days, striking me as surprisingly chic with its wide swaths of honey-toned wood. The space is certainly small, with but a smattering of seats along the walls and a dozen or so spots at the sushi bar.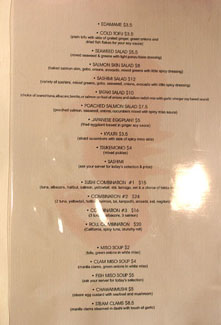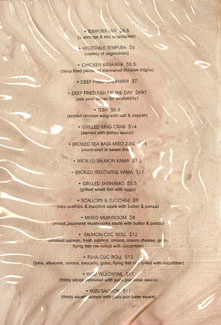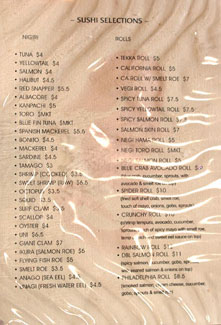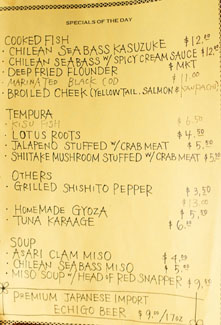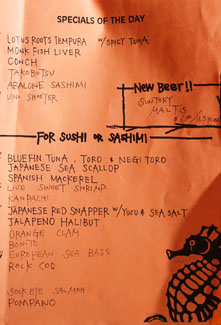 Nana San's menu features all your Japanese favorites, but I recommend that you focus your attention on the daily specials. Or better yet, do as we did and go
omakase
, a very reasonable proposition here at less than $50 per person. Click for larger versions.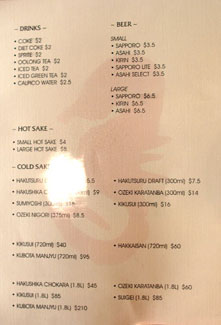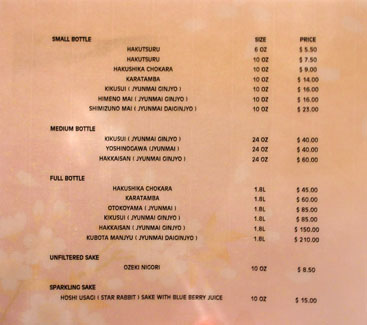 To drink, a respectable selection of beers and sakes is available. Click for larger versions.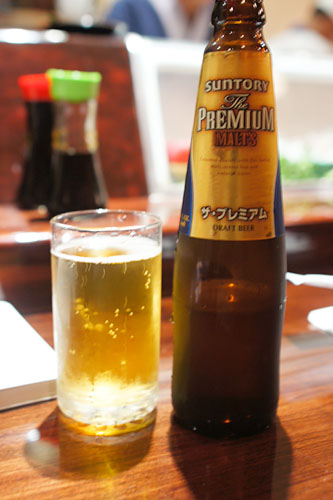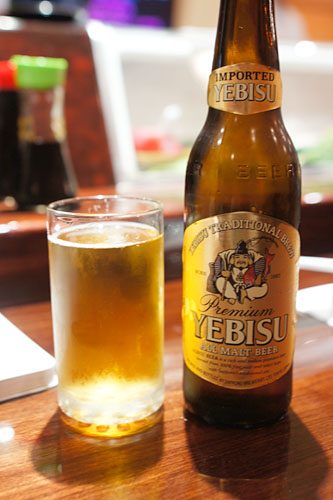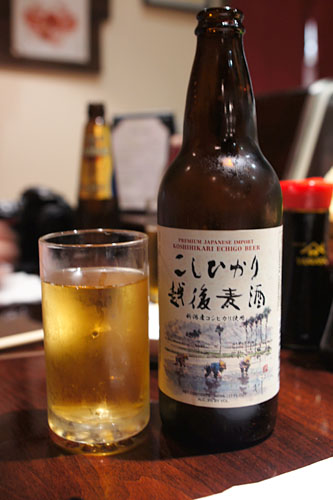 Speaking of the
biru
, we started with a threesome: Suntory The Premium Malt's [$6], Yebisu Premium [$6], and Koshihikari Echigo [$9].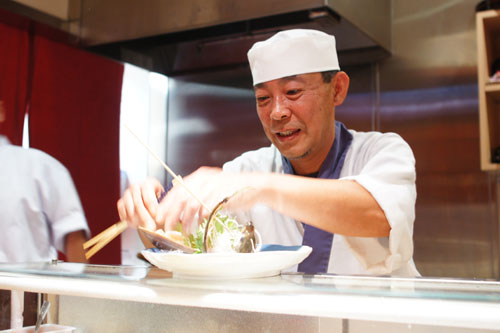 Here, we see our
itamae
, Ken Nakamura, plating our sashimi course. Ken-san's a longtime veteran of Ango-Tei, having been there pretty much since the place opened.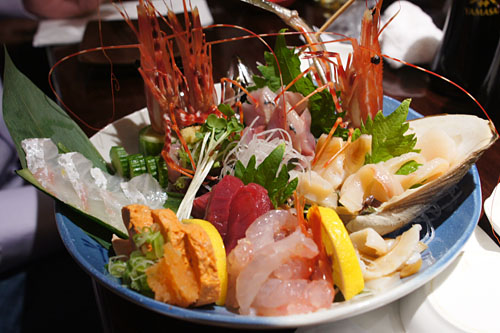 1: Sashimi Selection
Split amongst three people, our sashimi platter comprised the following, served with a ponzu dipping sauce:
Aji / Spanish Mackerel: Aji's one of my favorites when it comes to sushi, and this version didn't disappoint, with its pure mackerel flavor perfectly set off by the tangy ponzu.
Amaebi / Sweet Shrimp: Live shrimp were dispatched right before us, their still-squirming, disembodied heads placed vertically on the plate--talk about fresh! The shrimp was probably my favorite item here, showing off a faultless, supple yet snappy texture that I loved, along with a delicate, lightly briny flavor that didn't require any further saucing.
Aoyagi / Orange Clam: Clam was just like it should be--firm, yet pliant, with a marked salinity that was like tasting the ocean.
Kuromaguro / Blue Fin Tuna: Bluefin was very nice, with a silky, immensely satisfying consistency and prototypical tuna flavor.
Tai / Red Snapper: Japanese snapper was dabbed with yuzu, giving the fish a wonderful tanginess that linked up nicely with the ponzu.
Ankimo / Monkfish Liver: Last but certainly not least, the so-called "foie gras of the sea." The liver was actually quite lovely, with a very delicate, mild flavor tinged with an ocean-y goodness that I really appreciated.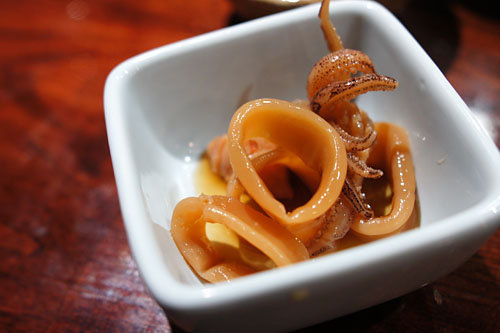 2: Soy-Marinated Raw Squid
Squid arrived diced up and imbued with the essence of its soy sauce-based marinade. The
ika
's flesh was firm, bordering on rubbery, with a satisfying chew, while its flavor showed off the sweetish, umami-rich relish of soy.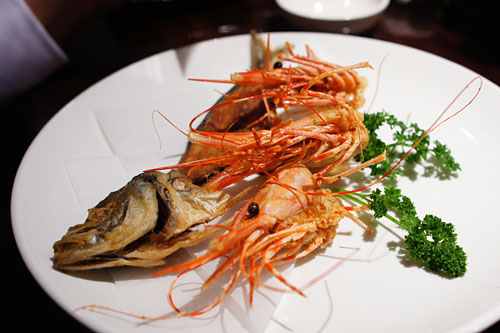 3: Deep-Fried Shrimp Heads and Mackerel Bones
The still-moving shrimp heads from above were subsequently brought back into the kitchen to be deep fried. Transformed into crispy little critters, they were, of course, fantastic, wonderfully savory with a stupendously crunchy texture--I wanted a few more! As good as the shrimp was, the deep fried mackerel (the scraps from our first course as well) was arguably even better. Bones were turned into delectable "crackers," positively imbued with loads of fishy, umami-laced goodness.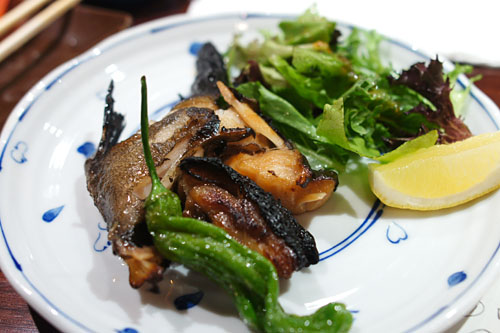 4: Broiled Black Cod Collar
Cod cheek, or
kama
, came marinated in what I believe was sweet miso. This gave the fish a marked saccharine note that worked well with its otherwise savory flavor. At the same time, the cod's consistency was remarkably tender, gelatinous even, with a marked oiliness typical of the fish, while the inclusion of shishito pepper and greens was key in balancing things out.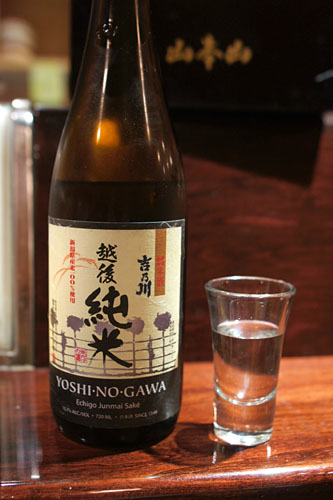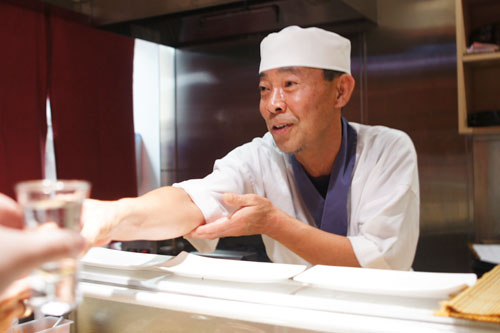 With our beers dispatched with, we moved on to sake, specifically the Yoshi No Gawa Echigo Junmai [$40] from Niigata Prefecture. A 65%
seimaibuai
sake, the Yoshinogawa was quite nice, a somewhat viscous libation that was nonetheless refreshing, with a lovely base of citrus, melon, and spice, grounded by a backbone of alcoholic heat. We, of course, offered some to Ken-san as well.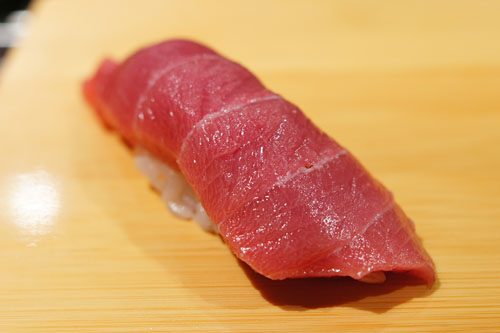 5: Chu-toro / Medium Fatty Tuna Belly
Our gauntlet of
nigiri
began with toro,
Urasawa
style. Despite not showing off much visible veining, the tuna was actually quite melty, with just the right amount of fattiness for chutoro. Delish.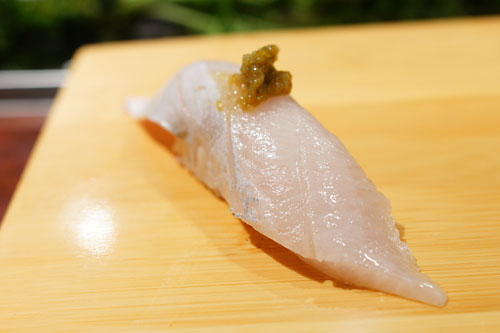 6: Kanpachi / Amberjack
The kanpachi here was a subtle fish, one deftly amped up by the use of
yuzukosho
(a blend of yuzu, salt, and chili pepper), which provided the perfect salty-spicy tang to offset the otherwise mild amberjack.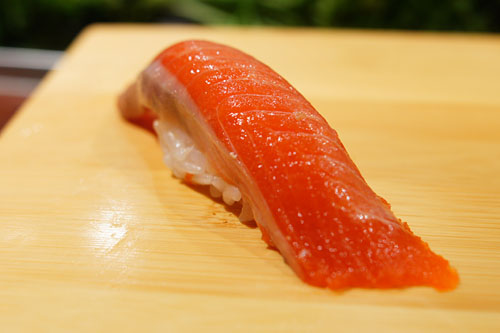 7: Benizake / Sockeye Salmon
Salmon can often be fairly pedestrian as sushi, but the sockeye here was a cut above what you typically get. It was somewhat less fatty than I expected, with a more restrained, more complex character that I really appreciated.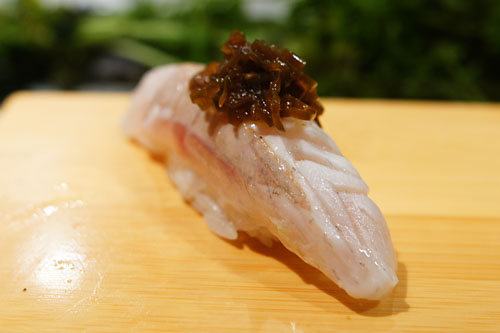 8: Suzuki / European Sea Bass
Seabass isn't something you see in sushi form too often, and here the fish came topped with strands of marinated shishito, an even rarer treat. This was absolute genius, as the pepper contributed notes of smokiness and astringency that balanced out the bass perfectly.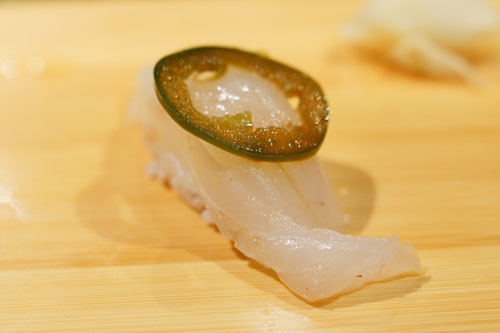 9: Hirame / Jalapeño Halibut
Crisp and snappy, halibut was very nuanced in flavor. As such, I was concerned that the jalapeño would be overwhelming. Fortunately though, the pepper was restrained in its heat, adding a crisp prick of spiciness to the fish that actually worked out rather well.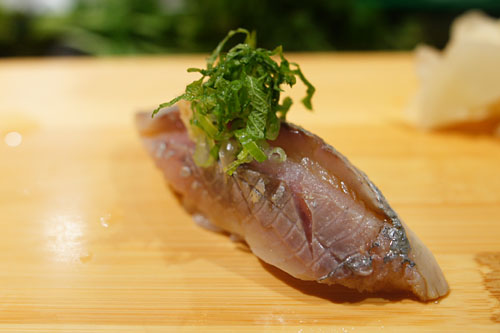 10: Koban Aji / Pompano
Not only have I never had pompano at a sushi restaurant, I've never had it at
any
restaurant, only at home. It's a shame though, because the fish was one of the most interesting things I ate all night, with a fantastically "meaty" texture that I adored. It arrived marinated in ponzu, and had a focused, fishy flavor that went beautifully against the minty tang of shiso.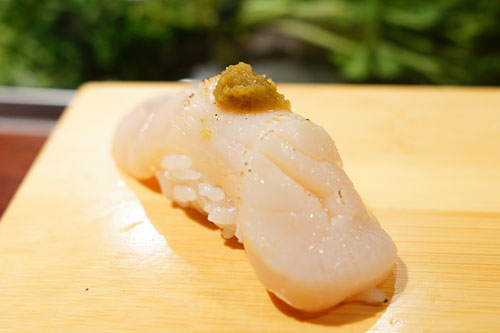 11: Hotate / Scallop
Scallop was lightly seared, which helped bring out its natural sweetness. Meanwhile, the use of sea salt and
yuzukosho
provided the requisite countervailing notes. Yum!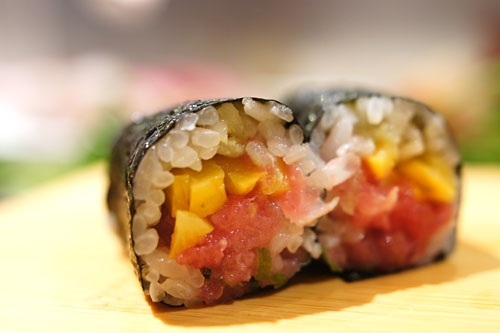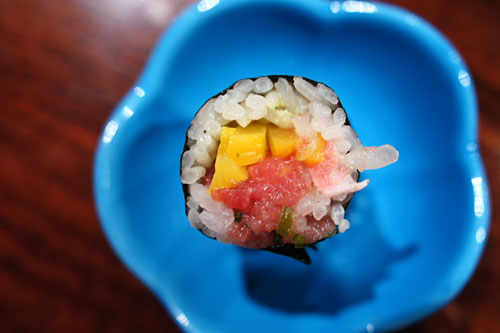 12: Taiwan-Style Negitoro
Now here was something interesting. Ken-san described this as a "Taiwan style"
negitoro
maki roll. Apparently, the rationale behind this nomenclature was due to the use of Chinese pickles (
zha cai
) in place of the more usual accompaniments such as
takuan
(pickled daikon). In any case, it was marvelous, with a perfect interplay between the richness of the toro and the tartness of the veggies.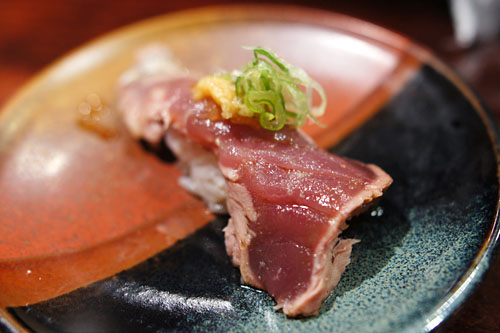 13: Katsuo Tataki / Seared Bonito
Our last
nigiri
piece brought us katsuo tataki. Here, I enjoyed how the searing heightened the savoriness of the fish, lending gravity and depth to the bonito that played well with its topping of ginger and scallion.
At this point, we requested something special, and Ken-san suggested conch, a rarity at most sushi places.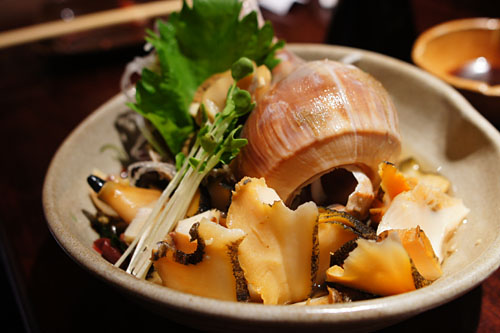 14: Makigai / Conch
Conch can be roughly divided into "white meat" and innards. Most people eat the former, which is firm and relatively mild in flavor, with a slightly sweet, saline savor. The "guts," meanwhile, are much more in-your-face, with an almost liver-y relish that may not be for everybody. After we finished the conch, we eagerly supped up the remaining broth, which had a delectably briny, umami-heavy taste that we loved.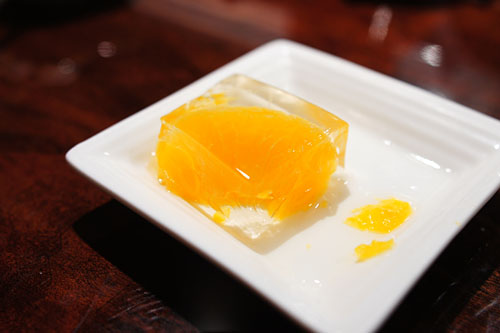 15: Mandarin Orange Gelée
Dessert comprised a singular suprême of mandarin orange, encased in gelatin. Sweet, juicy, and refreshing, it was a fitting bookend to the meal.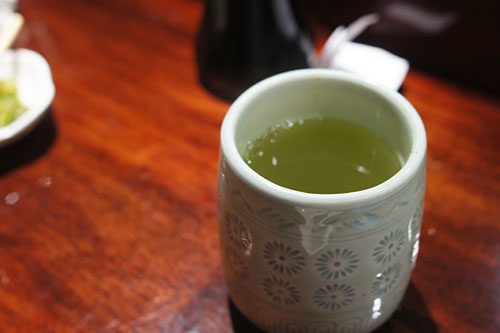 16: Green Tea
A piping hot cup of
agari
green tea, naturally, was served with dessert.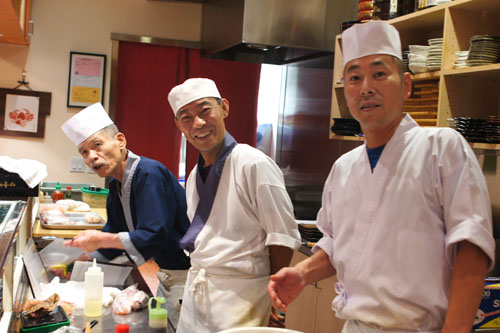 Behind the counter: Ango-san, Ken-san, and Goro-san.
Nana San's been open for nearly two years now, and it's quite unfortunate that I only discovered it now. The food was pretty much spot-on throughout the meal, and I appreciated the additional
Nozomi
-esque flourishes--such as the jalapeño and shishito toppings on the sushi--that set the place apart, while the friendly demeanor of the staff only made the experience better. In the race to become OC's best sushi, Nana San is without a doubt a top competitor, and should be on your short list to try.