Bruxie (Orange, CA)
Bruxie
292 N Glassell St, Orange, CA 92866
888.927.8943
www.bruxie.com
Mon 05/02/2011, 07:05p-07:25p
After hitting up
Marian the Foodie
's sandwich and beer tasting at
Bruery Provisions
, we weren't quite full, and thus decided to make a quick trip up Glassel Street to try out the waffle-focused Bruxie, one of the hottest new restaurants to descend upon the north OC dining scene in a while.
Not surprisingly, the story of "The Bold Fold" begins in Belgium. Friends Dean Simon and Philippe Caupain were on vacation in the country, and were struck by the sheer quality of waffles they were able to find there. Inspired by the trip, the two decided to start a waffle batter business in 2005. Named
Brux Waffles
(after a shortened form of
Brussels
), the company focused on selling mixes to high-end hotels (including the Montage and St. Regis), restaurants, and cruise lines. Brux was a hit, and the partners soon began considering the possibility of a dedicated restaurant serving their waffles.
They subsequently brought on longtime compatriot Kelly Mullarney, now director of operations, who helped develop the concept. Simon, who's lived in Orange for over 20 years, chose to place Bruxie in its current location due to its proximity to Chapman University and the vibrant Old Towne Orange historical district. The threesome ended up making an undisclosed offer to the owners of the 61-year-old Dairy Treet building and, aided by Simon's wife Cindy, began renovations on October 1st last year. Bruxie, a portmanteau of
Brux
and
Belgie
(a slang term for the waffles), officially debuted on November 8th.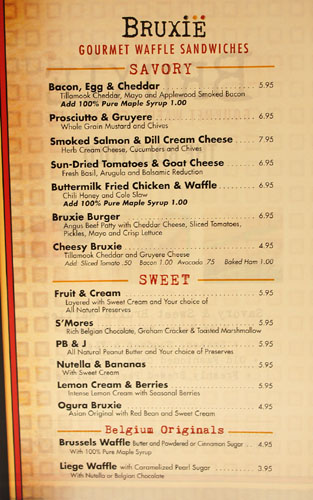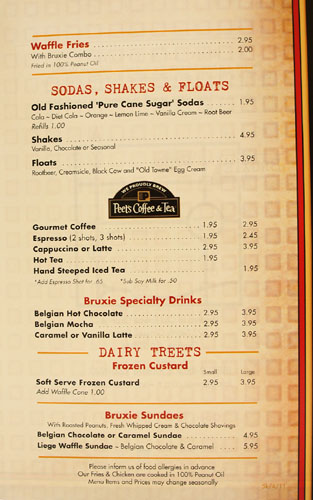 The key to Bruxie, of course, are the waffles. Don't expect your typical doughy, sugary, pancake-y American-style versions here though. Rather, the restaurant specializes in a traditional Brussels recipe formulated by Caupain, who happens to be a Belgian native. The proprietary batter utilized is leavened by yeast instead of baking powder. This makes the waffles crisp, light, and airy outside, yet moist, creamy, and delicate inside. The waffles are also decidedly low on the sweetness factor, which is crucial in making them work in sandwiches. However, Bruxie also produces a thick, dense, sugary Liège-style waffle that has pearl sugar cooked into the batter; this one's not available in sandwich form, but is instead eaten with chocolate or Nutella.
In addition to the waffle sammies, Bruxie also pays homage to its building's former tenant by offering up an assortment of dairy "treets," the most intriguing of which is the genuine soft serve frozen custard, made with egg yolk and sourced from a producer back in Wisconsin. It's the basis for all of Bruxie's other shakes, floats, and desserts. Click for larger versions.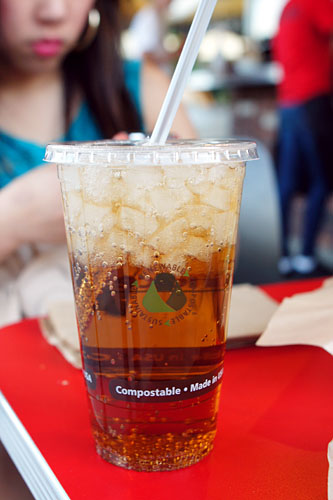 To drink, we started with one of Bruxie's pure can sugar sodas [$1.95], produced for the restaurant by a local Orange County soda company. I sampled the Vanilla Cream flavor, which was reminiscent of A&W Cream Soda, but with a brighter, more intense flavor.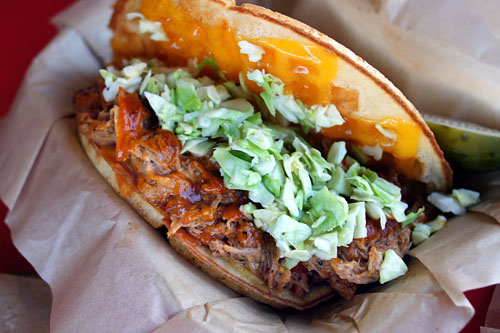 Carolina BBQ Pulled Pork [$7.95]
| Slow-Roasted Pork with Cheddar Cheese, Cider Slaw, Bruxie-made BBQ Sauce
Bruxie offers a rotating selection of specials, one of which was this lovely pulled pork sandwich. Done up in a Carolina barbeque style, the meat was expectedly tender, yet not overly sweet, showing off a delectable pork-y savoriness augmented by the slight spiciness from the housemade dressing. The cheddar, meanwhile, added further heft to the sandwich, while the cider slaw did a great job in balancing the dish with its refreshingly piquant crunch.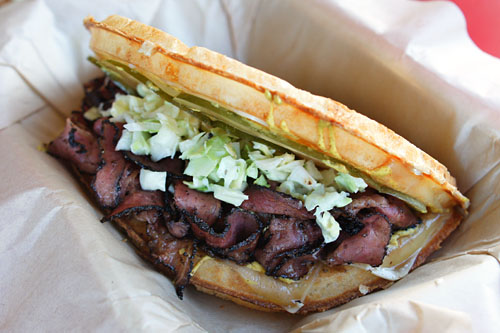 Hot Pastrami [$7.95]
| Boar's Head Pastrami, Gruyere, Spicy Brown Mustard, Cider Slaw and Half-Sour Pickles
Next up was an experimental pastrami sandwich that I enjoyed even more. The pepperiness from the pastrami worked beautifully with the cheese, and I really appreciated the additional bit of kick from the mustard as well. At the same time, the same cider slaw used above once again worked wonders in moderating the meat, and the pickles provided an extra touch of tanginess to boot. Delish.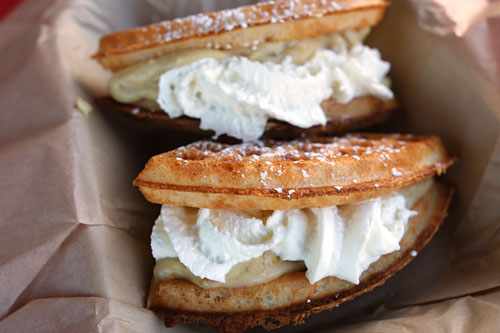 Banana Creme Pie [$5.95]
| Caramelized Banana Cream with Fresh Whipped Cream
We finished with another work-in-progress, Bruxie's delightful take on a classic banana cream pie. Here, I really appreciated the restrained sweetness and almost ethereal body of the whipped cream, as well as how the waffles served to ground and temper the dessert.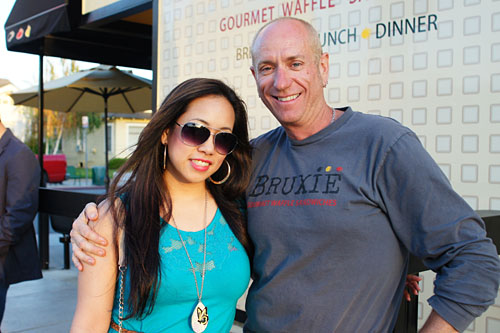 Marian
and Bruxie partner Kelly Mullarney.
Though Marian had been raving about Bruxie for months now, I'd always been skeptical about the place. The problem had to do with my preconceived notions about waffles, and how they just couldn't work as sandwich "bread." Well color me a convert--the waffles here weren't what I'd imagined at all, but instead performed wonderfully as vessels for a variety of fillings both sweet and savory. As for what's next for the Bruxie trio, rumor is that they're actually looking to open outpost #2, so be on the lookout for that.