Hama Sushi (Los Angeles, CA)
Hama Sushi
347 E 2nd St, Los Angeles, CA 90012
213.680.3454
www.yelp.com/biz/hama-sushi-los-angeles (Yelp, restaurant has no web site)
Sat 07/09/2011, 06:15p-07:30p

When talking about the top sushi places in Little Tokyo, names such as Sushi Gen, Komasa, Go 55, and Hama invariably come up. Amazingly, I'd largely ignored these restaurants on the blog, so when I found myself in Downtown one afternoon, I made it a point to stop by one of them. Hama Sushi, conveniently located in the historic
Japanese Village Plaza
, was up today, hopefully the first in a series of DTLA sushi visits.

Inside, things are cramped, and rather whimsically old-school (it sort of had an 80's vibe to me). The restaurant consists of a roughly 20-seater sushi bar, augmented by a small room in the front with space for about eight diners. Three
itamae
hold court at the bar, and opinions differ on which is superior. We were tended to by Kayama-san, the eldest of the trio, and we had no complaints. Note, however, that all three tend to keep their heads down preparing sushi, rather than chatting up guests, so keep that in mind if you prefer chefs of the more garrulous variety.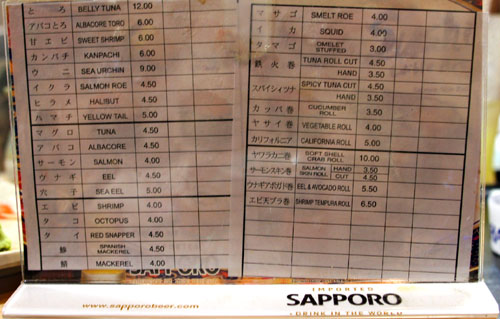 The menu here at Hama Sushi is fairly standard--just your typical varieties of fish, nothing too out of the ordinary, and you can even get California rolls (usually not a good sign). Also keep in mind that no
omakase
option is offered (also usually not a good sign). Click for a larger version.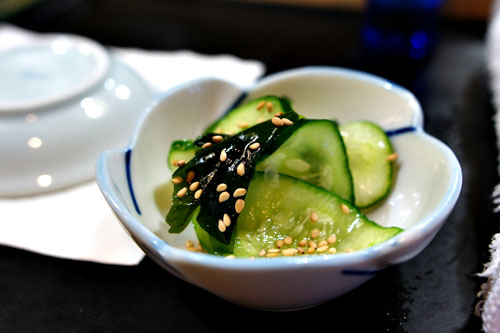 To kick things off: some pickled cucumber
tsukemono
, garnished with sesame seeds and seaweed. The
kyuri
's crisp, tart flavor actually worked nicely as a palate cleanser between sushi courses.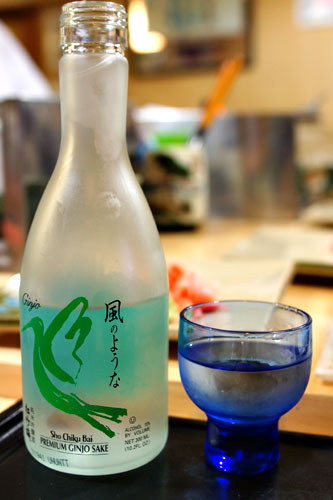 We ordered up a small chilled bottle of Sho Chiku Bai Premium
junmai ginjo
sake [$10] to start, from producer
Takara
up in Berkeley. It was an easy drinking sake, smooth and viscous, with a juicy, fruity palate--great for sake newbies.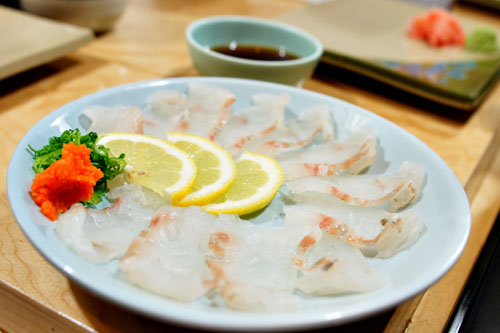 Halibut Sashimi
Following the lead of Barrett Prendergast (of the defunct blog
Farm Fresh Foodies
), who was sitting next to us, we requested a plate of halibut sashimi as our first course. It was exactly as I expected: lean, supple, and mild. The included ponzu dipping sauce, thus, was key in adding a piquant counterpoint to the dish.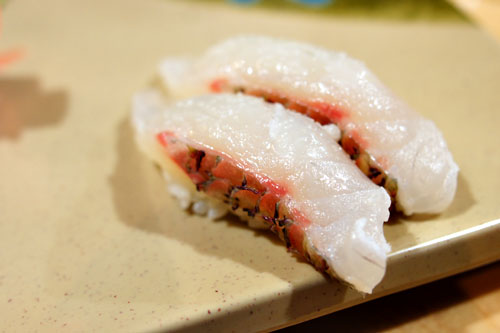 Red Snapper / Tai [$4.50]
Also recommended by Barrett was the tai, which was wonderfully textured, showing off a great interplay between contrasting notes of wasabi and sea salt. One of my favorite bites of the evening.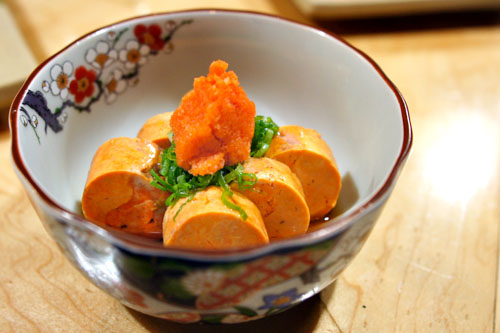 Monkfish Liver / Ankimo
Disks of monkfish liver were mild and delicate, with a creeping bit of liver-y essence that paired well with the tempering tang of scallion and
momiji oroshi
(spicy grated daikon).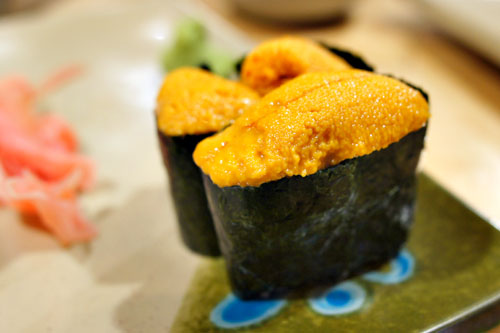 Sea Urchin / Uni [$9.00]
We had to try the uni, of course. The urchin conveyed a very clean flavor, yet one still imbued with an ocean-y, saline taste that deftly played against the nori. My only concern here was that the roe was a bit too cold, muting some of its flavor.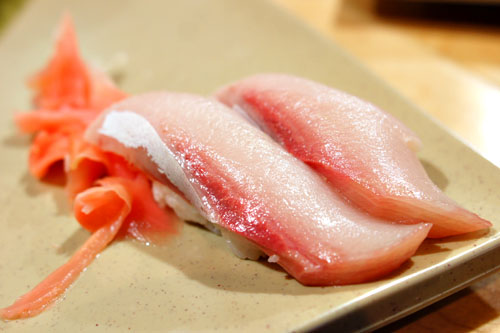 Yellow Tail / Hamachi [$5.00]
Hamachi was a prototypical example of the fish, with an oily, fatty character that was duly accented by the application of a dab of
murasaki
(soy sauce).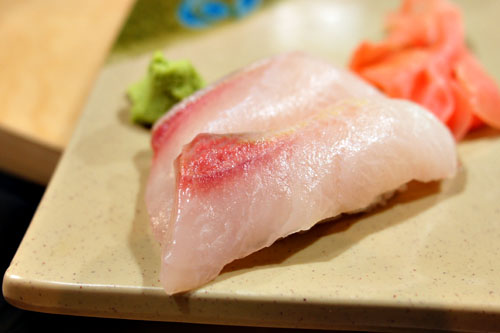 Amberjack / Kanpachi [$6.00]
Kanpachi, meanwhile, was firm yet creamy, with a good amount of fat as well, along with an almost mouth-coating texture.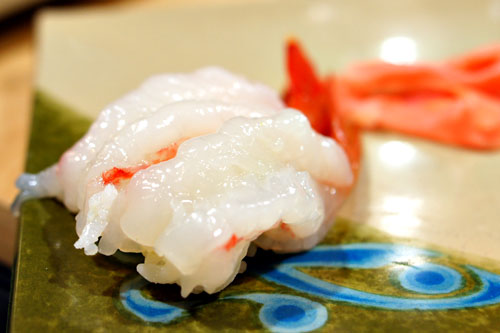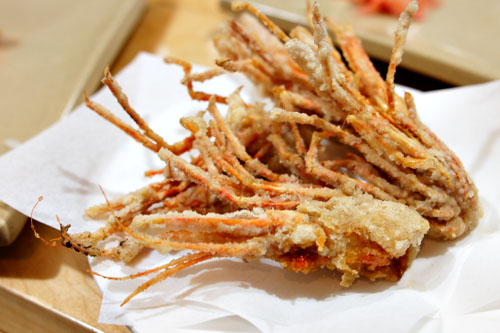 Sweet Shrimp / Amaebi [$6.00]
Amaebi is almost always a highlight of my sushi meals, and tonight was no exception. The shrimp showed off their usual sweetness, brightened by a hint of wasabi spice, and I also greatly enjoyed their luscious yet snappy consistency. And the deep fried heads? Delicious as expected.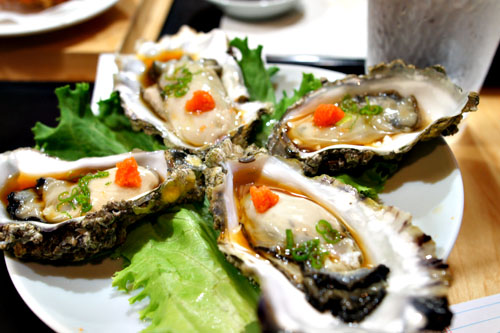 Oysters on Half Shell
These were quite possibly the largest oysters that I'd ever had, with one piece requiring multiple bites. Using a smaller variety, such as Kumamoto or Kusshi, would've been more appropriate here, but the flavor was correct: a growing bit of salinity balanced by the application of ponzu, scallion, and grated daikon.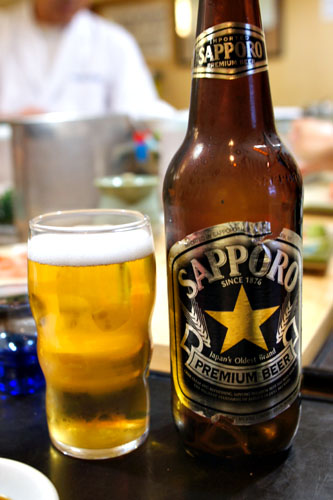 A large bottle of Sapporo [$7] to end the meal on.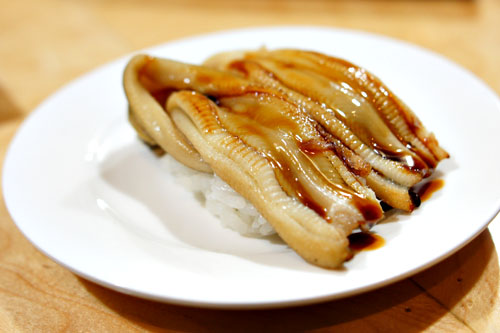 Sea Eel / Anago [$5.00]
Our first cooked sushi of the night brought us anago, which was quite lean, with a mild fishiness deftly paired with the sweetness of the included eel sauce.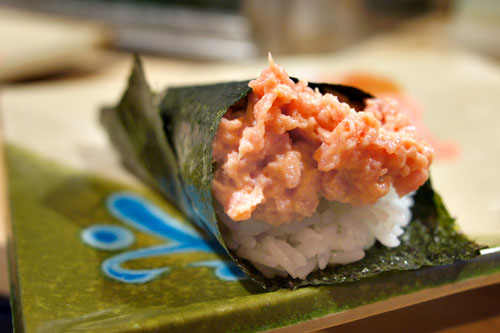 Spicy Tuna Hand Roll [$3.50]
One of the items that's oft recommended here at Hama is the Spicy Tuna Handroll, so we had to give it a try. I don't usually order
temaki
, but this was surprisingly good, with a lovely hint of heat to go along with the luxuriousness of the tuna, while the nori and rice served to ground the course.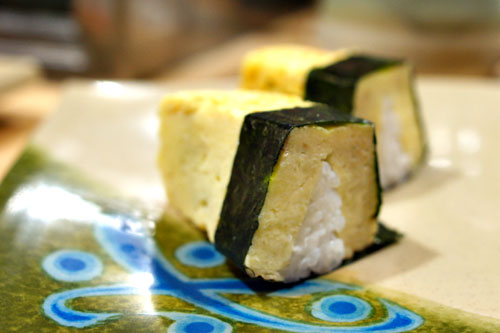 Omelet Stuffed / Tamago [$3.00]
We ended with the usual closer of tamago. Hama's was slightly saccharine, with a nice countervailing savoriness provided by the bands of nori.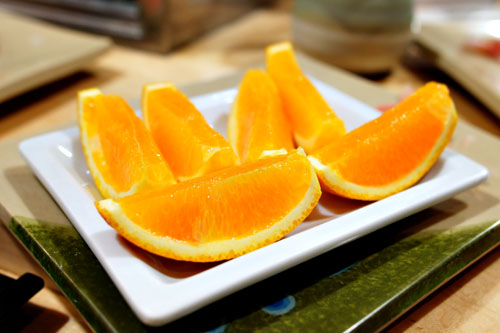 For dessert: some of the juiciest, sweetest slices of orange that I'd had in a while. I appreciated how the segments came pre-separated from the rind (hence nothing stuck in your teeth).
Coming into Hama, I'd heard some mixed reviews concerning the quality of the food and the harsh demeanor of the chefs, but fortunately, neither was an issue. Rather, we found our
itamae
cordial, and the sushi quite tasty, with no major faults. And at $35pp for food, Hama wasn't a bad value either. One of my dining companions even commented that the sushi here was superior to that of Restaurant Komasa two doors over--I look forward to finding out myself if that's the case!
---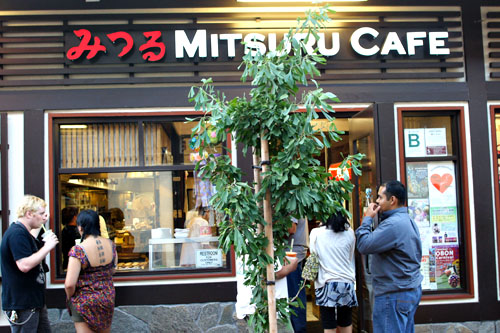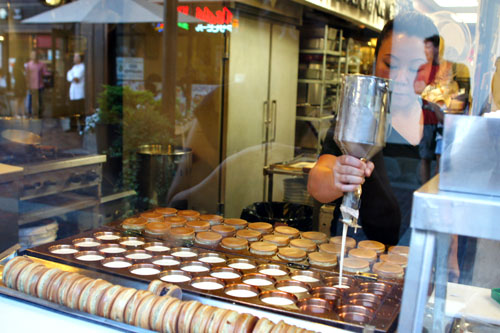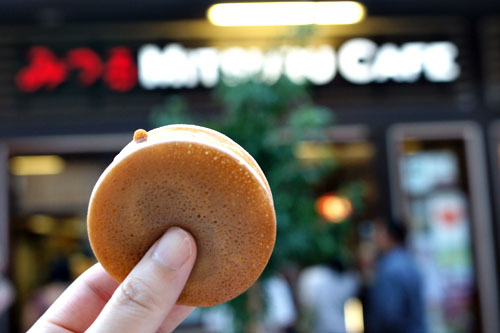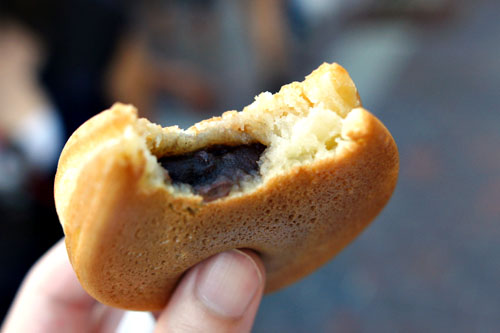 After our meal, we headed over to the nearby Mitsuru Cafe for dessert. The place is known for its
imagawayaki
[$1.25], a type of sweet comprised of azuki red bean paste enveloped in a light, fluffy, yet chewy baked batter. Yum.
---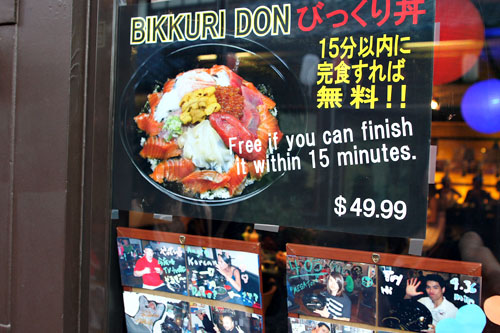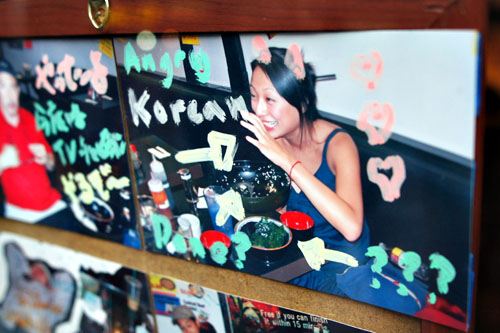 Continuing our trek through Japanese Village Plaza, we passed by Wakasaya, home of the Bikkuri Don challenge: finish a ginormous $49.99
donburi
bowl and miso soup in under 15 minutes, and the meal is free. Looking closer, we noted a picture of none other than notoriously angry Korean Christine "
olivejina
" Fang (née Choi), forever immortalized as the first female contender to complete the challenge.