Ramen Bull at Breadbar (Los Angeles, CA)
Ramen Bull at Breadbar
8718 W 3rd St, Los Angeles, CA 90048
310.205.0124
www.breadbar.net
Wed 07/06/2011, 07:05p-08:45p
When it comes to hosting pop-ups and related dinners in LA, Breadbar reigns supreme. Who can forget the likes of the
Ibaraki benefit dinner
,
Bistronomics
,
Hatchi
, and of course, the original
LudoBites
, among others? The latest in this long line of temporary eateries is
Ramen Bull
, a modern ramen concept from Breadbar's resident chef,
Noriyuki Sugie
. The series runs from June 8th to September 1st, Mondays through Saturdays, from 5:00p to 10:00p.
Though Chinese in origin, ramen is often viewed as sort of
the
Japanese noodle dish. A typical bowl of ramen comprises a mass of wheat noodles in an umami-rich pork- or chicken-based broth, flavored with soy sauce, salt, or miso, and accompanied by a variety of toppings including sliced pork, egg, scallions, fishcake, and kelp. Ramen Bull, however, bucks the trend with its bovine-centric menu. The broths here are beef-based, and all the proteins come from cow as well, while garnishes include soy-marinated poached egg, wood ear mushroom, and scallions.

Ramen comes in five standard variations on Ramen Bull's menu, differing only in the protein utilized: beef short rib, oxtail, beef tongue, spicy ground beef, and corned beef. In addition, all the meats are available as sides, and there's a selection of interesting sodas to wash it all down. There's even an off-menu
vegetarian
ramen, which seems like quite the achievement.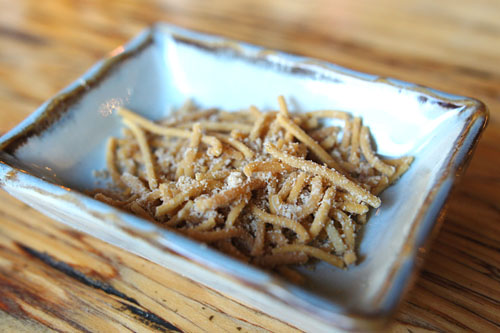 We began with an "amuse bouche" of sorts, a small bowl of dry ramen, flavored with sea salt and vinegar powder. The noodles were loaded with flavor and quite addicting, with an intense savoriness at first, followed up by a creeping bit of tartness from the vinegar. These actually reminded me of my childhood habit of eating dry chunks of instant ramen!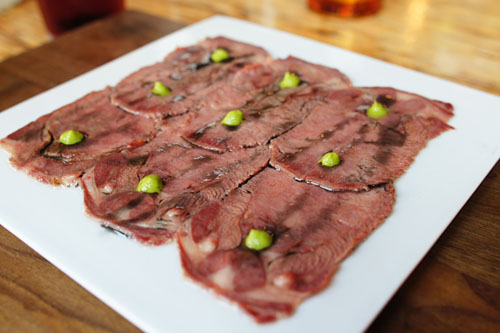 beef tongue [$5.00]
We were subsequently brought a side of beef tongue. It was absolutely lovely, unabashedly rich and probably the tenderest preparation of tongue that I've ever had, with a wonderful bovine sapor moderated by the piquancy of the tiny dollops of ginger-scallion purée.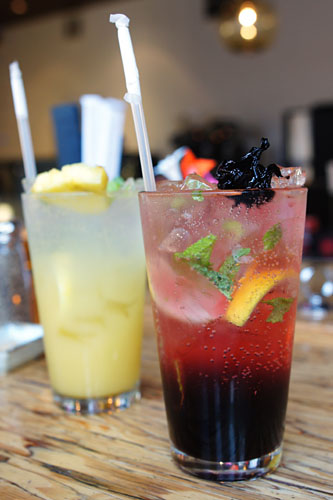 Of the intriguing sodas offered, two are actually made in-house. The Hibiscus Tea Soda [$4] showed off a delightfully succulent sweetness that was tempered by the cool tang of the included mint. The Pineapple Soda [$4], meanwhile, was also delicious, with a remarkably pure pineapple flavor that was reminiscent of biting into the fresh fruit.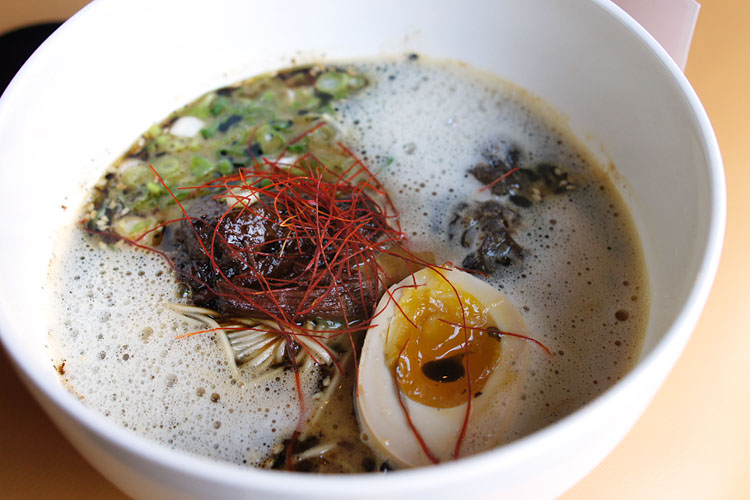 short rib ramen [$14.00]
Our first bowl of ramen was of the short rib variety, with its rich, heady aromas grabbing my attention instantly. The meat was expectedly tender, and showed off the dark, heavy, lingering flavors that one would expect from short rib. At the same time, the scallions provided an offsetting tang, while the broth itself had a subtle bitterness that helped balance the dish. I also appreciated the slight chew of the straight, thin wheat noodles here, as well as the delicate crunch of the wood ear fungus. Note that we requested that our ramen be split into two portions, so the photos depict only half of a standard bowl.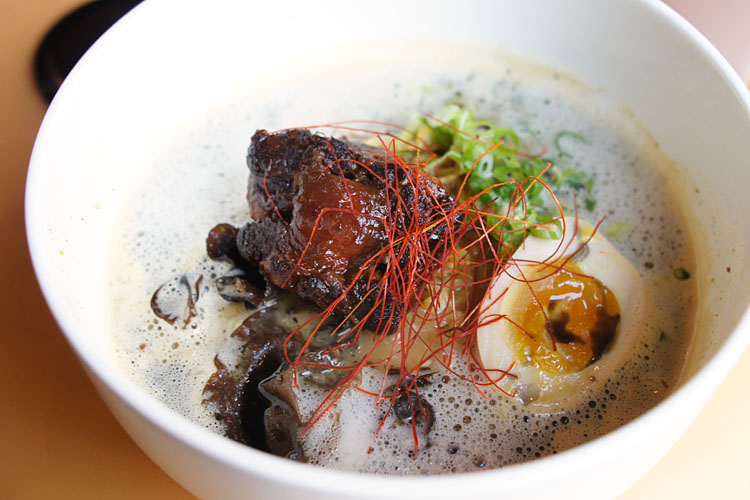 ox tail ramen [$16.00]
Our next ramen came with a delightful chunk of oxtail, served on the bone. And indeed, the meat was falling-of-the-bone tender, and even more decadent than the short rib above, with a subtly sweet, almost BBQ-like flavor to it that I rather enjoyed. Again, the sheer gravity of the beef was countered by the hints of astringency in the broth. And the poached egg? Superb. Note that Chef Sugie changes up his noodles for each ramen dish, and for this particular one, he used a curlier, slightly thicker wheat noodle, which had a more solid texture and bite.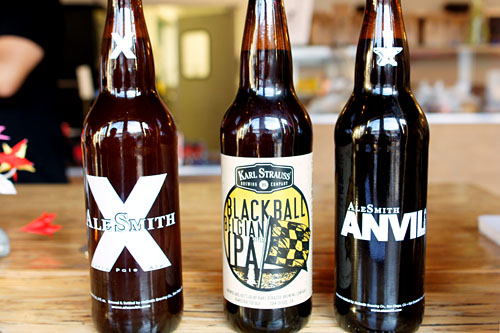 Ramen Bull features BYOB and no corkage on beer, so we brought along a threesome: AleSmith X IPA, Karl Strauss Blackball Belgian IPA, and AleSmith Anvil Ale ESB. We ended up finishing only the first two, so we left the Anvil behind for Sugie and his staff to enjoy.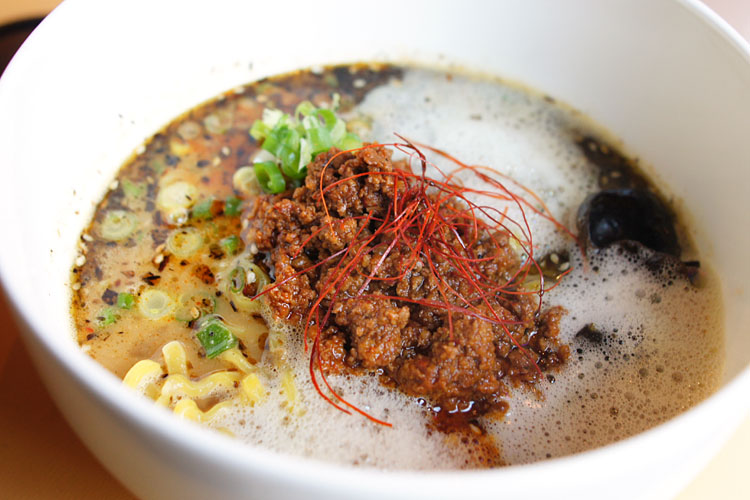 spicy ramen [$14.00]
For his spicy ground beef ramen, the Chef utilized a thick wheat noodle, which was considerably chewier than the versions used above. This was perhaps to balance out the less substantial nature of the ground beef. In any case, I appreciated the palpable heat in the dish, but at the same time, was thankful that it wasn't overwhelming. The soy-marinated poached egg was actually served on the side here, and it was nice to enjoy it alone.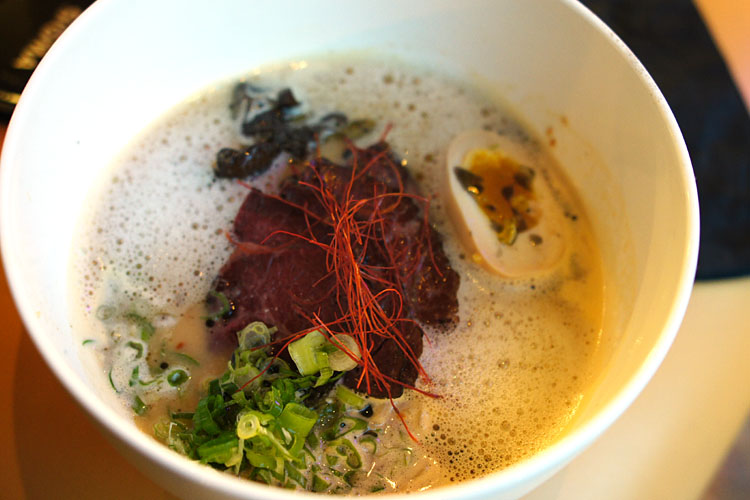 corned beef ramen [$14.00]
Our final bowl of ramen was arguably the most cohesive. In it, Chef Sugie used noodles made from organic Canadian flour, which is certainly something you don't encounter too often. They were the silkiest noodles by far, and thus worked beautifully with the tougher, more austere consistency of the corned beef. Perhaps more so than in any other dish, the meat really stood alone here, its brazenly salty flavor unapologetically coming to the fore.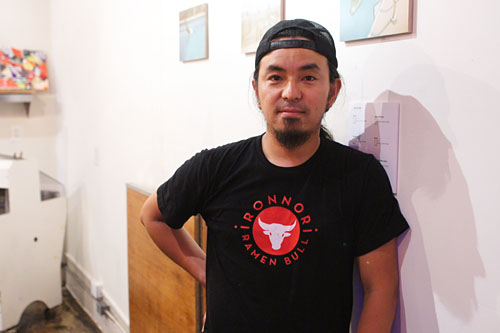 Ramen Bull's creator, Chef Noriyuki Sugie.
I don't consider myself a ramen expert (see
Go Ramen
or
Rameniac
for that), but I must say that it was great to be able to taste Chef Nori's modern riff on this iconic dish. Having beef as the base ingredient is certainly a game changer, and represents an almost completely different eating experience for me, one that's nonetheless delicious. I don't view beef ramen as superior or inferior to more traditional pork-based products, but rather as a refreshing departure from the norm.