Shake Shack (New York, NY)
Shake Shack Madison Square Park
1 E 23rd St, New York, NY 10010
212.889.6600
www.shakeshack.com
Mon 10/03/2011, 03:30p-04:20p

On the final day of my last trip to New York (which saw dinners at
Kajitsu
and
wd~50
), I was looking for a quick place to catch lunch before flying back to LA, and Shake Shack fit the bill nicely.
Shake Shack was the design of legendary restaurateur Danny Meyer and his vaunted
Union Square Hospitality Group
, a company that owns some of NYC's most beloved eateries, including Eleven Madison Park, The Modern, Gramercy Tavern, and the place that started it all, Union Square Cafe. Teaming up with longtime compatriot David Swinghamer (who serves as Shake Shack's CEO), he opened the first outpost in July 2004 in the Flatiron District as an homage to the childhood foods he grew up eating in the Midwest. The restaurant was a smash hit pretty much from the get-go, and was named the City's best burger by
New York Magazine
in 2005. Shake Shack's success meant that Meyer had to decide if he wanted to stay put with one location, or expand; he went with the latter option.
The second outpost opened in October 2008 on the Upper West Side, while another kiosk debuted inside the NY Mets' Citi Field the following year. 2010 saw two Shake Shacks bow in Manhattan--one in Midtown's Theater District and another in the Upper East Side (a stone's throw away from
Papaya King
)--while two others opened up in Miami's South Beach and at Saratoga Race Course in Saratoga Springs, New York. In April 2011, the franchise made its first appearance outside the US, with a location at the Mall of the Emirates in Dubai; this was quickly followed by another at The Avenues mall in Kuwait City. Shake Shack moved to Washington DC's Dupont Circle in May last year, and June saw another concession stand debut at Nationals Park, home of the Washington Nationals baseball team. These were joined by further outposts in Westport, Connecticut and NYC's Battery Park City. Yet another restaurant opened last December in Brooklyn's Fulton Street Mall, and plans are underway for a Shake Shack at Grand Central Terminal, as well as one in Westbury, Long Island.
We, of course, had to try out the original.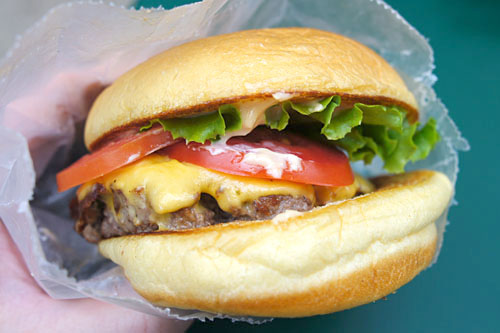 ShackBurger [$4.50]
This is the burger that built an empire. It all begins with a four-ounce patty of proprietary blend Angus beef from renowned "Meat Prince"
Pat LaFrieda
, ground daily and formed by hand. The meat is cooked to a medium temperature, and served with a slice of American cheese, green leaf lettuce, plum tomato, and ShackSauce (think Thousand Island or Russian dressing), all on a grilled potato bun. The result, well, is pretty fantastic, with a perfect interplay between the savory, succulent meat and the gooey cheese, all beautifully balanced by the tomato and lettuce and tied together by the tangy ShackSauce. All the elements just worked in unison flawlessly, making this one of the best burgers that I'd had in a while.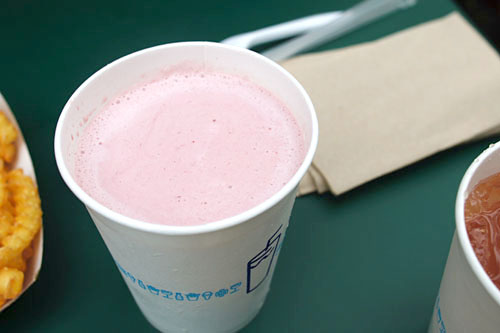 Strawberry Shake [$5.00]
Of course, we had to try one of Shake Shack's eponymous shakes, which are hand-spun and available in chocolate, vanilla, strawberry, caramel, peanut butter, and black & white varieties. We ordered the strawberry version, and it was exactly what I was expecting, with a pronounced berry flavor and a
thick-ass
consistency.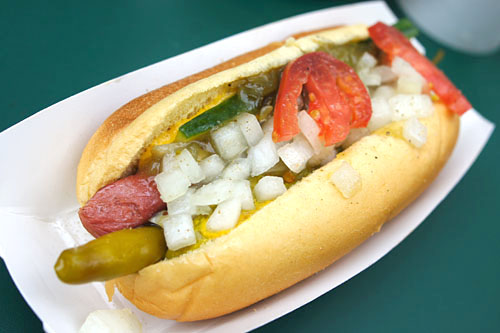 Shack-cago Dog [$4.00]
The Shack-cago Dog is Shack Shack's tribute to the famed Chicago-style hot dog. The star of the show is a Vienna all-beef frankfurter, split in half and griddled crisp. The dog is placed in a potato bun, and "dragged through the garden," topped with
Rick's Picks
relish, onion, cucumber, pickle, tomato, sport pepper, mustard, and celery salt. This all makes for a pretty reasonable, and tasty, approximation of the Chicago Dog, with all the ingredients coming together nicely. I especially enjoyed the snappiness of the wiener, and the refreshing piquancy of the sport pepper.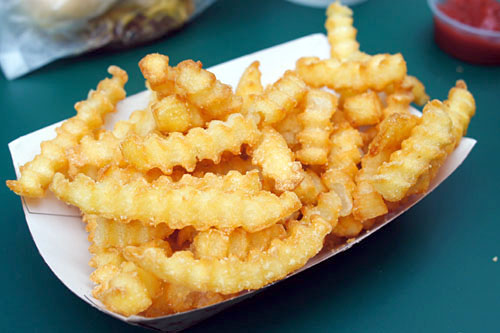 Fries [$2.65]
Fires, naturally, were a must, and I really appreciated how the crinkly variety (somewhat hard to find these days) was used here. Made from Yukon Gold potatoes, the fries were spot on, perfectly crisp on the outside, yet with a creamy, starchy interior.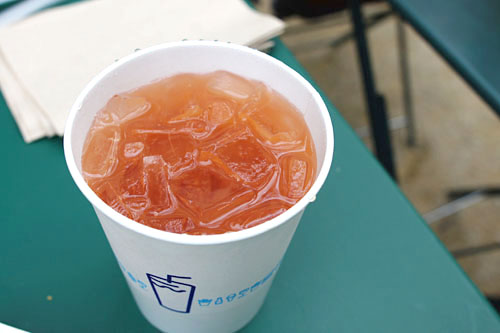 The Arnold Palmer [$2.15]
A lighter beverage was also called for: a textbook Arnold Palmer, a 50/50 mix of lemonade and iced tea.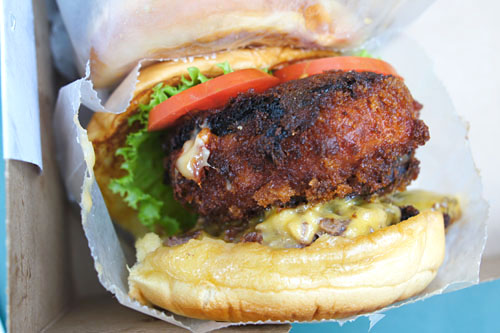 Shack Stack [$8.50]
Not quite sated at this point, we also requested a Shack Stack, which is basically a ShackBurger with the addition of a deep-fried, muenster- and cheddar-stuffed portobello. It was pretty much completely over-the-top in a devilishly delicious manner, with the mushroom-cheese combo adding a profound earthiness, richness, and depth to the burger that complemented without overwhelming.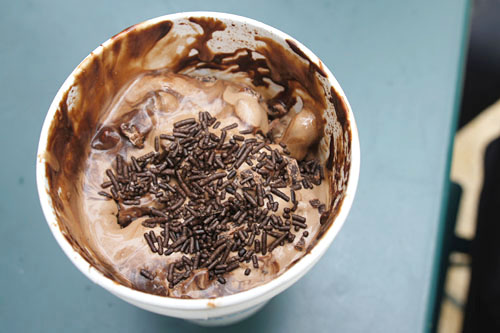 Shack Attack [$6.50]
Rounding things out for dessert was one of Shake Shack's so-called "Conceretes," which is a frozen custard blended with various mix-ins. Shown above is the Shack Attack, comprised of chocolate custard, hot fudge, chocolate truffle cookie dough, Valrhona chocolate chunks, and chocolate sprinkles. We're talking serious chocolate overload here--decadent, totally excessive, and sort of awesome.
There's a lot of hype surrounding Shake Shack, but the place was pretty damn impressive overall, serving up the best fast food burger that I'd ever experienced, and easily beating out the likes of In-N-Out or Five Guys. The quality was evident in every bite, and I can only hope that Meyer and company decide to expand to Los Angeles in the future. I'd gladly trade for
Umami Burger
!