Table20.com LA's Best Bartender Contest 2011 Finalist Selection
Table20.com LA's Best Bartender Contest 2011 Finalist Selection
labestbartender.eventbrite.com
Mon 09/19/2011, 06:20p-09:40p
Last fall,
Table 20
, an upcoming web site dedicated to facilitating restaurant/bar industry hiring, set out to find
LA's best bartender
. After an exhaustive nomination and voting process, Library Bar's Matt Biancaniello was selected as the City's top drink slinger, beating out fellow finalists Joseph Brooke (The Edison), Max Diaz (Cicada Club, Cole's), Devon Espinosa (
The Tasting Kitchen
), Dee Ann Quinones (The Parlour Room, Philippe Chow, Street), and Alex Straus (Hemingway's Lounge, Suite 700).
This year, the competition's been kicked up a huge notch. The contest will be certified by the
United States Bartenders' Guild
, and will be run in partnership with
Karlsson's Vodka
, which means a bigger, badder ass event for everyone involved. The judging as also been stepped up, with this year's panel being comprised of:
Matthew Biancaniello: Bartender at Library Bar, LA's Best Bartender Winner 2010
Dale DeGroff: "King Cocktail", Author of The Craft of the Cocktail and The Essential Cocktail, 2009 James Beard Foundation Outstanding Wine & Spirits Professional Award Winner
Jessica Gelt: Writer for the Los Angeles Times covering Food & Nightlife
Johnny Iuzzini: Head Judge on Top Chef: Just Desserts, 2006 James Beard Outstanding Pastry Chef Winner
Bricia Lopez: Restaurateur at Guelaguetza, LA Weekly "Best of LA People" Person, Cocktail Muse
Marcos Tello: Bartender at The Varnish, President of USBG LA Chapter, Founder of Sporting Life
A total of
42 bartenders
were nominated this year. Of these 42, the contestant with the most popular votes,
Joseph Brooke
(Copa d'Oro, The Edison, and most recently, Next Door Lounge), was selected as the People's Choice winner and automatically advanced to the final round. To determine the next two finalists, 17 of the nominees created an original Karlsson's vodka cocktail, and the top two--as chosen by Matt Biancaniello, Marcos Tello, and
Death & Co
owner David Kaplan--moved on to the finals. That process is documented below.
Note: As I arrived a tad late to the event, the first two cocktails, Su Novia and Cali Gold, were not documented. My apologies to the competitors.

Marcos Tello took on bartender duties, meticulously crafting every cocktail recipe submitted.

Blues in Orbit (Karlsson's Gold vodka, ripe plum, fresh lemon juice, St. Vincent orgeat, fresh cracked black peppercorn) - One of my early favorites: a sweet, nutty, viscous concoction tinged with a superb herbaceousness from the black pepper.

Mrs. Roper (Karlsson's Gold vodka, Carpano Antica, Campari, grapefruit juice, tonic water, long grapefruit peel) - Lovely citrus notes from the grapefruit were deftly played off the bitterness of the Carpano and Campari, all over a marked base of vodka.

Guns and Moses (lime juice, Maraska Maraschino, Cherry Manischewitz, Karlsson's Gold vodka, rose water, rose petal) - Some juicy cherry flavors in this one that paired well with the wine-y tang of the Manischewitz. Nice floral overtones from the rose, and loved the name!

Big Red (strawberries, Karlsson's Gold vodka, lemon juice, Averna, Velvet Falernum) - A light, fruity libation, perfect for summer quaffing. Loads of lip-smacking strawberry essence here, with a great herb-y counter from the Amaro Averna (some of us even tasted basil).

Firelight Fernando (lime juice, simple syrup, Karlsson's Gold vodka, yellow bell pepper, sea salt, lime peel) - A delightful commixture of sweet and savory flavors here, with a bell peppery aroma that I adored. Perhaps adding a touch of spice would've pushed this one over the top though.

Nectar of the Damned (Karlsson's Gold vodka, heirloom tomato syrup, orange juice, cilantro, red jalapeño, smoked salt, tomato) - A cilantro laced nose gave way to the saccharine smack of tomato on the palate. We were all yearning for more heat from jalapeños, however, to balance out the sweetness.

Ökade (fresh lime juice, agave syrup, Aperol, Karlsson's Gold vodka, orange zest) - This had an almost punch-like relish, with a noticeable heft from the agave and a nice lightening tartness from the lime. In case you're wondering, the name means "increased" in Swedish.

The Seriously Dangerous (lemon juice, agave nectar, cherry tomatoes, basil leaves, Karlsson's Gold vodka) - The judges remarked that this drink featured "flavor profiles that work," but derided its "simple arithmetic." I found focused sweet and vegetal notes in need of a spicy or savory counterpoint.

All That Glitters (Marcos' Mistake) (Regan's orange bitters, rosemary, Amaro Montenegro, Cocchi Americano, Karlsson's Gold vodka) - A mislabeled bottle resulted in Montenegro instead of Combier. Ironically, the result was the favorite of the evening, with its complex, "all booze" flavors.

Batida de Patata (Karlsson's Gold vodka, passion fruit, sweetened condensed milk, lime, Angostura bitters, mint) - A pretty neat interplay of milky and fruity flavors here I thought, while one imbiber likened its taste to "melted sorbet." FYI: the name means "whipped potatoes."

Competition organizer Trevor Smith.

Waltz #2 (Karlsson's Gold vodka, Amaro Montenegro, Massenez Poire-Williams eau de vie, cinnamon bark syrup, fresh lemon juice, pear) - I could go on about the great interplay between the pear and cinnamon, but I'll just quote Dave Kaplan: "I'd drink the fuck outta that." 'Nuff said.

All That Glitters (Regan's orange bitters, rosemary, Combier Liqueur d'Orange, Cocchi Americano, Karlsson's Gold vodka) - Sadly, the correct presentation of this cocktail failed to live up to Marcos' Mistake, with the Combier giving the drink a candied sweetness that threw off the balance.

The Administrator (Karlsson's Gold vodka, turbinado syrup, rhubarb bitters, lime wedges, strawberry, red basil) - To quote David again: "8-12 year olds would love that!" Matt, meanwhile, likened the drink to Flintstones vitamins and yearned for a "stirred only" contest due to the cloying sweetness.

Faster Young Fruit (Karlsson's Gold vodka, Dolin Blanc vermouth, fresh lemon juice, simple syrup, seltzer, long grapefruit peel) - This "vodka Collins with vermouth" was refreshingly tart, with a fantastic effervescent character. According to David, "you can sell this shit!"

The Wallflower (Karlsson's Gold vodka, Galliano, Licor 43, fresh lemon juice, fennel) - This was generally well received among the judges and spectators. Lovely anise flavor here, which went well with the vanilla essence of the Licor 43.

Garden of Eden (Karlsson's Gold vodka, simple syrup, Som pomegranate drinking vinegar, sweet heirloom tomato, purple basil, cherry tomato) - Lots of tomato on the palate here, paired with a tanginess from the basil. One of the judges described it as "flat" however.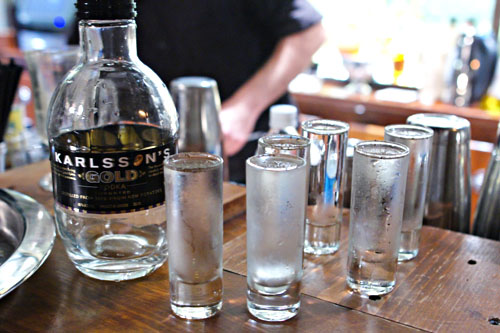 After sampling all the cocktails, Karlsson's District Manager Lauren Simmons treated us to shots of her potato vodka, replete with a bit of cracked black pepper sprinkled on top. It'd been a long while since I'd done a vodka shot, but the Karlsson's was surprisingly smooth, with a definite flavor to it and strong viscous quality that I enjoyed. A lot more interesting than your typical vodka.
After tens of minutes of deliberation, Matt, Marcos, and David chose Blues in Orbit (from Harvard & Stone's
Brian Summers
) and Faster Young Fruit (from Bar | Kitchen's
Daniel Zacharczuk
) as the two winners. The Blues in Orbit was Matt's #1 choice, and David loved its creamy finish. Faster Young Fruit, meanwhile, was Marcos' top selection, and he loved how you could just pick out every component so clearly. Following, in a separate session, The Tasting Kitchen's
Justin Pike
(Su Novia) and The Varnish's
Devon Tarby
(Waltz #2) were selected by the six judges to round out the five bartenders that will compete live in the finals.
The finals will take place on Sunday, October 9th from 2:00p to 8:00p at
Elevate Lounge
in Downtown LA. Competitors will be challenged to create three classic cocktails, two original cocktails, and one cocktail featuring Karlsson's Gold Vodka. They'll have do to this live, under the watchful eyes of the judges, and will have to show off their charm and charisma at the same time--no easy feat! The event is open to the public, so buy your tickets
here
, enjoy some killer drinks, and mingle with the City's cocktail cognoscenti.
Hint: use the discount code "kevineatsndrinks" to save $5 while supplies last!